Boston High School:

Fryeburg
June, 25, 2012
6/25/12
3:17
PM ET
By
Gary Hawkins
| ESPNBoston.com
Longtime Bangor High School boys' basketball coach Roger Reed reluctantly resigned recently after being informed by the administration to make a choice between coaching and serving in the legislature.

Leonardi Reed, 73, submitted his resignation a day before winning the Republican primary to represent House District 23 in the Maine Legislature. Reed will face Democrat Richard Thomas in the Nov. 6 general election for the right to fill the seat formerly held by Rep. David E. Richardson, who is also a Republican.
Reed, who retired this spring after a 47-year career as a teacher, hoped to continue coaching the Rams. In 27 seasons he led them to eight Class A state championships. In a career than began at Bangor Christian Academy, Reed has a career record of 571-201, a .740 winning percentage. After going 7-11 in his first year at Bangor, Reed's teams posted 26 straight winning season including a 14-6 mark last winter. The Rams won their eighth state title under Reed in 2011.
Reed wanted to continue coaching next season but was told Bangor principal Paul Butler that demands of time and travel to Augusta would be too great to do both jobs. The Legislature is in regular session during the winter months.
"Somewhere and sometime ago, it was decided that I wouldn't be allowed to do both," Red told the
Bangor Daily News
. "I really don't think that it has anything to do with logistics. I was assured by all who encouraged me to run that I would have no reason to give up coaching."
Butler, who played for Reed in the late 1980s, said he asked several people if someone could serve in both capacities and do justice to both jobs. He determined than it wasn't "It was an honest, good-faith decision. I think Bangor High School athletes and our program deserve 100 percent of a person's attention, and I just felt that it was untenable for somebody to do both," he told the BDN.
"Once I made the decision, I waited until after the season and asked Roger to choose us," Butler said. "I wanted, and offered, to have Roger back as coach and gave him until June to make that decision. I told him the only time I ever rooted against him was going into the primary."
WESSEL WINS JOHN WILKIN AWARD
Scarborough High School senior Ben Wessel won the Dr. John Winkin Award, presented annually to the state's top baseball player at the senior all-star game. Wessel sustained a torn ulnar collateral ligament which prevented him from pitching the Red Storm in the second half of the season but he returned to the lineup as a designated hitter and helped the team to the Western Maine Class A title.
Wessel led the Southern Maine Activities Association in batting average (.486), slugging (.943), on-base percentage (.600), RBI (21), triples (4) and home runs (2). As a pitcher the right-hander went 6-0 with a 0.62 earned run average and struck out 45 batters in 34 innings.
He expects to undergo Tommy John surgery in July and will attend the University of Rhode Island this fall.
GEAUMONT NAMES MISS MAINE SOFTBALL
Thornton Academy senior Julia Geaumont could have won the Miss Maine Softball Award as a pitcher or a hitter. She excelled at both. Geaumont got the good news at last week's senior all-star games. The award is presented annually by the Maine High School Softball Coaches Association.
This season Geaumont went 14-2 on the mound with an 0.84 earned run average and 136 strikeouts. At the plate, she batted .679 with 10 home runs and 38 RBI. Geaumont, who will attend Bowdoin College next fall, was also named Gatorade and Southern Maine Activities Association player of the year.
SANFORD NAMES NEW MASCOT
Soon after its boys track and field team won the Class A state championship, Sanford High School announced its new mascot.
Superintendent David Theoharides reported the new mascot will be the Spartans. Students in grades seven through 12 voted on four new nicknames — Spartans, Pride, Stampede and Cardinals. The Spartans claimed 587 votes to 423 for Pride, 202 for Stampede and 113 for Cardinals. The new mascot will go into effect starting with the 2012-2013 school year.
Sanford's school committee voted 4-1 last month to retire the Redskins mascot, the last high school in the state with such a nickname.
STATE CHAMPIONSHIPS
Baseball and softball championships in four classes were decided on June 16 at venues in Bangor and Windham. Eastern Maine teams swept the softball championships while East and West split for the baseball titles.
Class A Baseball
Messalonskee 6, Scarborough 3: The Eagles took advantage of seven errors by the Red Storm to win their first Class A title. All six of Messalonskee's runs were unearned. The Eagles turned two double plays including a memorable one in the bottom of the fifth when shortstop Sam Dexter dove for a ball in the hole, relayed it to second to younger brother Jake who threw to first. Messalonskee finished at 15-5, winning its last 10 games.
Class B Baseball
Falmouth 2, Foxcroft 0: Ninth-place hitter Ryan Conley ripped a two-run double in the second inning to lead the Yachtsmen to their first state title since 1998 and their first in Class B. Starter Thomas Fortier pitched a complete game, holding the Ponies to two hits while striking out six. Falmouth finished at 17-3.
Class C Baseball
Dirigo 6, Calais 1: The Cougars took an early lead and senior Ben Holmes preserved it to give the Cougars their second title in three years. Dirigo took a 4-0 lead in the bottom of the second, the big hit a two-run double from Caleb Turner. Holmes finished with eight strikeouts in running his season record to 12-1. Dirigo finished at 19-1 overall while three-time reigning Eastern champion Calais closed at 18-2.
Class D Baseball
Bangor Christian 7, Buckfield 3: Sophomore Cody Collins drove in four runs on a pair of singles and a double to lead the Patriots to their first baseball title. The Eastern Maine champs scored five runs in the first inning en route to the win. They finished at 19-2 while Buckfield closed at 17-2.
Class A Softball
Cony 2, South Portland 0: Junior Sonja Morse pitched a one hitter and struck out 10 to lead the Rams to their first state title since 1983. Morse lost her no-hitter with two outs in the bottom of the seventh inning. She also issued a walk but both runners were picked off as she faced the minimum number of batters. Cecelia Fuller singled home both Cony runs in the fifth inning.
Erin Bogdanovich allowed three hits and struck out 13 for South Portland (17-3). Cony finished at 20-0.
Class B Softball
Old Town 4, Fryeburg 1: Junior Kendra Hayward struck out 15 and contributed a two-run double to lead the Coyotes to their first state championship. Hayward allowed three runs in four Eastern Maine games while striking out 38 batters in 28 innings for fifth-seeded Old Town. The Coyotes finished at 17-4 while defending Class B champion Fryeburg closed at 18-2.
Class C Softball
Bucksport 2, Dirigo 0: Cassidy Adams pitched a two-hitter to lead the Golden Bucks to their first Class C title. The Bucks, who dropped down a class this season, reached the Class B title game last year before losing to Fryeburg. They last won a Class B title in 2006 and have gone five for eight in championship games. The win completed a perfect season at 20-0.
Class D Softball
Penobscot Valley 4, Richmond 2: Jenna Hope's two-run single in the third inning capped a three-run rally to lead the Howlers to their first state championship. Winning pitcher Kayla Dube allowed four hits, including three bunt singles, while striking out 14. Penobscot Valley finished at 19-1, while Richmond, playing in its third straight state title game, finished at 16-2.
LACROSSE
Class A Boys
Scarborough 9, Cheverus 4: Ryan Pallotta scored five goals as the Red Storm rolled to its third straight state championship. Scarborough finished at 14-1.
Class B Boys
Falmouth 7, North Yarmouth 4: Charlie Fay scored three goals to lead the yachtsmen to their second straight state championship. It was Falmouth's third win this season against North Yarmouth and also the second straight time the Yachtsmen have beaten the Panthers in the state final.
Class A Girls
Scarborough 11, Brunswick 9: Mary Scott scored four goals to lead the Red Storm to their third consecutive state championship. Scarborough (15-1) also defeated Brunswick (14-2) in last year's state final by a score of 13-11.
Waynflete 16, Freeport 5: Martha Veroneau had four goals and five assists to lead the Flyers, who were playing in their fourth straight championship game. Sadie Cole added five goals and Walker Foehl scored four for Waynflete (14-1) which rallied for wins against Falmouth and Cape Elizabeth in the regional tournament.
September, 14, 2011
9/14/11
2:55
PM ET
By
Gary Hawkins
| ESPNBoston.com
The first two weeks of the Maine high school football season produced a number of surprises.

Here's a rundown of some of the highlights in each of the three classes:
Class A
Cheverus keeps rolling along despite the loss of several players from last year's state championship team. Senior Cam Olson stepped in at quarterback after playing behind Fitzpatrick Trophy winner Peter Gwilym for two years and last week threw three touchdown passes. Spencer Cooke, who scored four TDs in the state game last fall, has emerged as one of the state's top running backs. The Stags are 2-0 and have outscored opponents 94-21.
Lawrence keeps rolling along in Class A's Pine Tree Conference. The Bulldogs traveled to Bangor and knocked off the Rams 32-25 last Saturday night to go to 2-0. Shaun Carroll led the way with 224 rushing yards and four touchdowns, Lawrence has won its last 11 regular season games, dating back to a 2009 loss to Bangor. Prior to that, the Bulldogs had won 36 regular season games in a row. They are 8-1 against Bangor since 2005.
Many high school handicappers picked Bonny Eagle and Windham among the teams to beat in North Division of the Southern Maine Activities Association (SMAA), but both teams are winless after two weeks. Windham fell 28-20 to a strong Deering team last week while Bonny Eagle fell, 31-28, to upstart Massabesic. Lewiston, one of the PTC favorites, dropped to 1-1, losing 48-27 to Messalonskee, another team that has emerged as a contender. Along with Massabesic, Sanford is the surprise of the SMAA South. Last week, the Redskins knocked off a good Scarborough team 23-12 for one of its biggest wins in years.
Class B
This class is the most competitive in the state at least at the top where four teams in each of the two divisions are unbeaten. Included in those ranks are the two teams who met in the state final last fall, Mountain Valley and Leavitt. Mountain Valley has outscored opponents 81-23 so far while Leavitt, led by quarterback and linebacker Jordan Hersom, holds an 83-12 advantage over opponents.
Mt. Blue may be the most dangerous contender in the class. The Cougars dropped down from several years in Class A this season and in two games have outscored the opposition 87-6. Falmouth, Wells and Fryeburg are also 2-0 as are Waterville and Gardiner. The latter two teams meet Friday night in Gardiner. Waterville must find a way to stop running back Alonzo Connor who is looking to eclipse his total of 31 touchdowns form last year. In two games so far, Connor has scored 10 touchdowns.
Falmouth, which has outscored opponents 98-7 plays this week against Marshwood.
Class C
Foxcroft Academy and Yarmouth are the talk of Class C so far. They play in different divisions and don't meet in the regular season, but could well square off for a state championship in November. Yarmouth is the defending state champ and so far the Clippers have scored 92 points and allowed seven. Foxcroft has been equally impressive outscoring opponents 108-8. There are contenders in each division. Bucksport, Orono and John Bapst are all 2-0 in the Little Ten Conference headed by Foxcroft while Freeport and Lisbon are unbeaten the Campbell Conference South along with Yarmouth.
Maranacook and Winslow are 2-0 in the Campbell's North division and play this week in Winslow. The Black Raiders dropped down to Class C this season and are cruising so far, but they'll face a big test in Maranacook and 6-foot-4, 210-pound running back Luke Emery.
June, 2, 2011
6/02/11
11:04
PM ET
By
Gary Hawkins
| ESPNBoston.com
Waterville High School track and field coach Ian Wilson deflects credit when it comes to the championships his teams have enjoyed during both the indoor and outdoor seasons. But he's been the driving force behind the Purple Panthers' success since taking over in the late 1990s.

The Waterville girls are a solid favorite at this weekend's Class B state championships at Cony High School in Augusta. A win would give the team its fourth straight state championship. Under Wilson, the Waterville girls won a state Class A championship in 2002 as well as indoor titles 2000-02 and 2011.
[+] Enlarge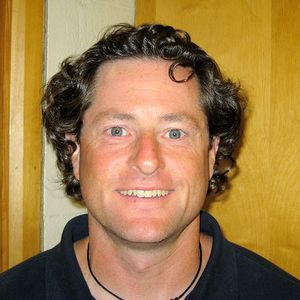 Gary HawkinsWaterville High School track and field coach Ian Wilson.
"The girls look to be in a strong position," Wilson said. "The guys have a good chance [although] I would say Falmouth in probably the favorite."
Wilson has built the program through hard work and enthusiasm for his sport. Since he began, Waterville's enrollment has dropped from 850 students to about 600 and the team dropped to Class B in 2006 in outdoor track after petitioning up to Class A for several years.
"We were so far below the cutoff [for Class A]," Wilson explained.
The number of participants remains high, however, particularly at the junior high level where there are between 70 and 90 kids out for track.
"I really try to beat the bushes and try to encourage kids to give it a shot," Wilson said. "Once they see the benefits, they'll stick it out. If they start to experience success, you get them back for another year."
Wilson said he had no master plan when he started, but he did build gradually, first focusing on winning regular season meets, followed by conference championships.
"Then you can focus on state championships," he said.
These days, state championships are the goal, although the Panthers haven't lost a regular season meet in some time. Wilson has no problem resting his athletes for the big meets, however.
"Once kids have faith in the program, you can rest," he said.
Once Wilson gets the athletes, he and his staff knows how to train and motivate them. In a place deep inside the school known as "The Cage," Wilson often has his athletes lay on a cement floor and pretend they're at the beach while visualizing their events and their performance.
Skepticism soon turned into enthusiasm once they saw the results.
"Track is a sport you don't have to work at from age 5," Wilson said. "It's a combination of personality and physical skills."
Certain personality traits favor particular events Wilson said.
"If you want to find distance runners go into the AP classes and get the skinny kid," he said. (They) tend to be cerebral kids."
Wilson, who also coached the girls soccer team to State Class A title in 2009, borrows kids from other sports for his track team. All of the throwers on the boys team come from the football team, he said, while sprinters and hurdlers often have soccer and basketball backgrounds.
Wilson and one of his assistants work with the sprints, jumps and throws while another works with distance runners and another with throwers.
"That really seems to work well," he said. "Sometimes too many cooks spoil the stew."
Although all events are covered evenly, Waterville has always produced excellent results in the hurdles, an event where improved technique can earn valuable tenths and hundredths of seconds. Wilson is continually trying to improve himself as a coach, too, attending clinics and seminars each summer
"The best thing I ever did was get involved in the USATF coaching courses," he said. "I began going and realized I knew very little. Those people are incredible. They'll share anything with you."
Waterville success in track and field hasn't precluded championships in other sports. The baseball team won a state title last spring and is favored to repeat this year and the girls basketball team won three state titles while the indoor track teams continued to thrive.
BASEBALL WRAPUP
The regular season ended this week with conference titles scheduled for the weekend and tournament play to begin next week.
In Class A, Cheverus is the top-seeded team in the West, thanks to Tuesday's 6-2 win against Westbrook. Both teams are 14-2. In the East, Lewiston, at 15-1, is seeded No. 1. Foxcroft Academy (15-0), which competes in Class C East, was the only baseball team inthe state to finish the regualr seaosn unbeaten.
Top 10
1. Cheverus
2. Westbrook
3. Lewiston
4. Deering
5. Bangor
6. Scarborough
7. Waterville
8. Cape Elizabeth
9. Greely
10. St. Dominic
BATTLE OF THE UNBEATENS
Four teams finished the regular season unbeaten including defending Class A champion South Portland and defending Class D champ Richmond. Georges Valley, in Class C West, and Fryeburg, in Class B, also went undefeated.
Top 10
1. South Portland
2. Scarborough
3. Fryeburg
4. Brewer
5. Messalonskee
6. Thornton
7. Cony
8. McAuley
9. Medomak
10. Yarmouth
May, 19, 2011
5/19/11
3:31
PM ET
By
Gary Hawkins
| ESPNBoston.com
A Westbrook High School team that has won baseball games at every level appears primed to cap it off this spring with its first Class A state championship in 60 years.

Many of this year's group of seniors reached the Little League World Series six years ago followed by two appearances in the Babe Ruth World Series, first for 13-year-olds and three years ago reaching the championship game for 15-year-olds.
"They're definitely used to winning," coach Mike Rutherford said.
The Blue Blazes are 9-0 so far this season with seven shutouts. Senior pitchers Scott Heath and Sean Murphy are a combined 7-09 and have yet to allow a run while Matt Weimer, another senior, is 2-0.
Heath, a left-hander, who will play for the University of Maine next year, has pitched a pair of one-hitters so far this season. His fastball is in the high 80's and he features a good slider.
"He may be the toughest kid I've ever coached," said Rutherford, who coached at Portland High for 12 years and won a state title. "If things don't go his way it doesn't bother him."
Heath inherited some of that toughness from his father Mike, a high school football player and wrestler, as did his freshman brother Kyle who is the team's catcher.
Scott is also an accomplished hitter and he chose Maine because coaches assured him he would be able to hit as well as pitch "I believe he's a bettor pitcher/outfielder than he is a pitcher in Division I," Rutherford said.
Murphy, who has verbally committed to attend St. John's University, missed all but a few innings of last season with a shoulder injury "Not having him last year hurt us," said Rutherford, who team lost in the Western Maine semifinals.
Before he was hurt, the 6-foot-5 right-hander was throwing in the high 80's with a good slider, but is now in the mid 80's as he tries to regain his arm strength. St. John's coaches plan to take a second look at him later this season.
May, 6, 2011
5/06/11
1:36
PM ET
By
Gary Hawkins
| ESPNBoston.com
After flirting with playing baseball and football at a couple of Division I colleges, Cony High School's Luke Duncklee has decided to play both sports at Division III Colby College in Waterville.

Duncklee was recruited by the University of Maine and guaranteed a roster spot on its baseball team but held off on making a decision. He later applied to the United States Military Academy at West Point where he drew the interest of football coaches after supplying a highlight tape. But he failed to pass a physical after a faint heart murmur was discovered.
"I weighed all my options," Duncklee said. "I had to decide what was best for me, not only athletically but academically."
One of his options was Colby, which expressed a desire for Duncklee to attend as long as two years ago.
Duncklee has starred in both sports at Cony in Augusta throughout his high school career. He also played hockey for three years at the Capital City school. As a sophomore he helped the Rams to the Class A baseball state championship where hit a home run in Cony's 2-1 loss to Deering. A center fielder, he was later selected to the Maine Sunday Telegram all-state first team.
"I definitely recruited Luke for a couple of years," Colby baseball coach Dale Plummer said. "I've seen him play a lot of games in the last few years. Obviously, he's one of the best players we can get here."
Duncklee became more interested in football after he was shifted to quarterback his junior year. Prior to that he played receiver and defensive back. Once he moved the quarterback, the Rams employed his ability to both throw and run. Over his final two seasons, Duncklee accounted for 50 touchdowns running and passing and nearly 5,000 yards.
His senior year, he passed for 1,440 yards and rushed for 1,147, combining for 26 touchdowns.
"Basically if I wasn't passing I was running and if I wasn't running I was passing," the 6-foot-1, 180-pound Duncklee said. "We had a pretty wide open playbook."
With Colby's Nick Kmetz returning for his senior year at quarterback next fall, Duncklee will likely be a backup. He will probably gets some looks as a slot receiver or defensive back.
"I actually like it a lot," Duncklee said of defense. "I started by sophomore year and I loved it, but it was kind of tough playing both ways."
Duncklee played some defense last season. In fact, in a playoff game against Mt. Blue, he played offense and defense the entire game, punted and returned kicks.
He thought about playing either football or baseball at West Point. He visited the campus and watched a football game and later sent a highlight tape to the coaching staff.
"I met with the coaches when I visited there," he said. "I was going to play. I would have been on the team."
Duncklee may reapply to West Point and ask for a waiver. He's known about his heart murmur for five years and said it's never affected him.
For now, though, he's committed to Colby and playing two sports. It's not unprecedented. Three members of this year's baseball team also played football.
"These guys just have a routine," Plummer said. "You go to class, you go to practice, you study. It's takes discipline."
Despite its central Maine location, very few kids from the state go to Colby where admission standards are very high or play on its athletic teams.
"We're excited about it," Plummer said of Duncklee's arrival. "I think Maine kids are gritty kids."
MPA returns to two thirds rule
More high school teams will make the postseason next fall after membership of the Maine Principals' Association voted to allow two thirds of the teams governed by sports under the Heal point scoring system to qualify for tournaments. For the past two years, 50 percent of teams qualified for postseason play.
MPA members voted for two thirds measure by about a 2-1 margin at the organization's annual spring conference. A survey recently conducted by the MPA of member schools revealed that about two thirds of those schools favored returning to two thirds standard, The MPA also voted to retain a rule that limits non-countable or exhibition dates to five for a season along with one non-countable date between the end of the regular season and the beginning of the postseason.
Top pitching performances
Lincoln Academy's Brandon Reilly struck out 21 batters to lead the unbeaten Eagles to a 4-3 win against Oak Hill in nine innings. Reilly allowed two hits and walked four.
Max Andrews of John Bapst fanned 11 and walked two as the Crusaders downed Old Town 13-1 in a game called after five innings because of the 10-run mercy rule. Andrews also hit a pair of home runs and drove in five.
South Portland's Andrew Richards fanned seven and didn't walk a batters as the Red Riots downed Portland 7-0. Richards allowed just two hits and at one point retired 23 consecutive batters.
Waterville senior Tim Locke pitched a perfect game in a 19-0 win over Mt. View called after five innings due to the mercy rule. Locke struck out 10 for the defending Class B state champions.
Sibling batteries
Two of the top pitching and catching combinatons in the state are comprised of brothers. At Westbrook, senior left-hander Scott Heath and freshman Kyle Heath form a strong battery. Scott, who helped Westbrook to the Little League World Series six years ago, will pitch at the University of Maine next season.
At Lewiston, senior catcher McKae Hyde and his sophomore brother and catcher Corbin are another potent combination. McKae will play at Bates College next season. The teams could meet in the Class A state championship game. Westbrook is 4-0 in Western Maine while Lewiston in 5-1 in the East.
Hermon High gets donation
A $100,000 donation by UFC president Dana White to his alma mater will mean significant upgrades to the athletic complex at Hermon High School.
A multiports scoreboard/message center has already been purchased and will be located in one corner of Pottle Field. Additional seating for the football field is also been purchased and will increase the seating capacity from 550 to 800. Hermon is scheduled to field a varsity football team this fall for the first time.
White, 41, graduated form Hermon in 1987. He lives in Las Vegas where he serves as president and CEO of Ultimate Fighting Championship.
Baseball Top 10
Westbrook
Bangor
Deering
South Portland
Biddeford
Lewiston
Waterville
Cape Elizabeth
Lincoln
Erskine
Softball Top 10
South Portland
Scarborough
Brewer
Cony
Biddeford
Fryeburg
Messalonskee
Thornton
Oak Hill
Hermon
January, 14, 2011
1/14/11
2:28
PM ET
By
Gary Hawkins
| ESPNBoston.com
Peter Webb of Stetson has been the State Basketball Commissioner in Maine for the past 21 years. The commission oversees the five officiating boards in the state and is responsible for assigning officials for tournament play. Webb, who officiating high school and college games for 30 years, took time out recently for a few questions.

Q: How has officiating changed since you began?
A: "To a great extent it hasn't changed. Statewide. The big change is an increase in ongoing communication throughout the state, on the administrative and training side. Results statewide are a more consistent application of the rules. Years ago, the biggest difference is the offense was favored, which is not the case today. Today every situation matters the same to both teams."
Q: Assess the state of high school officiating today.
A: "We believe high school officiating in Maine is in very good order. Schoolboy and schoolgirl basketball remains a major focal point from November to early March way beyond many other states. With the scrutiny there is out there, it speaks well of the time and effort that is put into basketball officiating in Maine."
Q: Are there enough officials?
A: "Yes, not an overabundance but an ample supply. Annually each of the five boards of officials sponsor an extensive course each fall for prospective officials. It's followed up by a written exam and a floor test."
Q: How is the training?
A: "Maine has a near 70 year relationship with IAABO, the International Association of Approved Basketball Officials. Videotapes and DVDs are used in addition to observations. Maine has always paid attention to training."
Q: Three man vs. two man — how much better with three?
A: "There's no question it's better with three. I observe about 150 or 160 games a year. And I do observe beyond Maine in another role I'm in. Eighty percent of the games I see need the service of a crew of three. The game changed from an officiating point of view drastically with the three-point arc. It requires a substantially different responsibility for the trail official. The other thing is there was a day when most of the defensive pressure didn't come about until two or three minutes left in the game. Today, typically with boys and girls there's pressure all game long. We've had crews of three completely in our tournaments for at least a dozen years. About 30 percent of the regular season games are crews of three. It isn't a great difference in cost."
Q: Are there any points of emphasis this year?
A: "There are five points of emphasis this year, arrived at by the national federation for state high schools. The points of emphasis for this year, both for the NCAA level and high school, include rules enforcement. Really it means don't bring your personal version of the rules to the game. The second point of emphasis is on sportsmanlike behavior of players and coaches. The third point is pretty much contact, especially on the perimeter. Officials have been encouraged to give that a lot of attention. The fourth point is closely guarded situations. The rule is six feet between the offensive and defensive player. The fifth one is referred to as the principle of verticality. Just because the defender is airborne, it doesn't make him wrong or the offensive player wrong. But they must be vertical. It also applies in rebound play, too."
Q: What's most difficult call or rule to enforce?
A: "The most difficult rule to enforce is traveling, no question. You have to watch the defender and a third person coming to set a screen while also watching the person with the ball. That's what makes traveling difficult. A block-charge is probably the easiest rule for a well trained official."
Q: Have fans or coaches changed in their approach to officials?
A: "Overall I don't think it's changed. I think schools have changed their approach to how they regulate them."
Q: How are officials chosen for the tournament?
A: "There's a long-time system in place. They have to have officiated a minimum of 50 regular-season Heal point games overall and 15 in that season to be eligible to be considered. They must also be fit and injury free. The commissioner has to have seen them officiate. Forms are sent to schools and coaches say who they would recommend. We usually have just about 100 for the three tournament sites. Coach recommendations and regional board recommendations are given consideration. I finalize it.
Q: What makes a good official?
A: "The quality official is someone who probably has a basketball background. From that point on, you truly have to have a passion for officiating. It's obvious you have to have a mastery for the rules and the mechanics. You also have to be high on the composure side. It's a rare official who gets to the varsity level in Maine prior to
five years. Without the commitment and passion you're not going to make it. Basketball is played in a big living room compared to other sports and the emotions are high. The people around the court, it's kind of like Sunday school, you have to forgive them when they complain. The good official gets every bit as much of an adrenaline flow as a ballplayer when he's doing things well."

BOYS BASKETBALL TOP 10
1. Cheverus (7-0) The defending Class A state champions continued to roll through Western Maine with a 51-35 win against a good Thornton club in Saco.

2. Camden Hills (9-0) Keegan Pieri, a 6-foot-6 guard, returned after a month-long suspension to help the Wndjammers win 74-48 at previously unbeaten Winslow.

3. Bangor (8-1) After an opening loss, the Rams have reeled off eight straight, including Tuesday's 49-35 win at Mt. Blue.

4. Hamden (7-2) The Broncos lost a 57-55 squeaker at Mt. Blue then bounced back with a 66-45 win against Messalonskee.

5. Edward Little (8-1) The two-time defending Eastern Maine champs downed Mt. Ararat 63-42 then nipped Brunswick 64-63.

6. Mt. Blue (7-2) The Cougars knocked off Hampden at home 57-55 but faltered a couple of nights later in losing to Bangor, 49-35.

7. Mountain Valley (9-0) The Falcons are going for their second straight unbeaten regular season. They recently faced their toughest test to date in a 52-45 win over Dirigo.

8. Thornton (5-2) After a 5-0 start the Trojans lost 50-48 to Deering then were beaten at home by Cheverus, 51-35.

9. Cape Elizabeth (6-1) After a loss to Yarmouth, the Capers bounced back with wins against Greely and Gray-New Gloucester.

10. Ellsworth (8-0) The Eagles remained unbeaten but face their toughest test of the season this week against unbeaten Mount Desert Island.

MILESTONES

Junior point guard D.J. Johnson of Islesboro scored his 1,000th point recently against Calvary Chapel.

Senior forward Maggie Sabine of Oak Hill topped the 1,000-career point mark with a 21-point performance against Rockland.

GIRLS' BASKETBALL TOP 10
1. McAuley (7-0) The Lions, who routed Scarborough and topped Bonny Eagle, 48-33, await a couple of late-season tests against in-town rival Deering.

2. Cheverus (7-1) The Stags' only blemish is a three-point loss to McAuley. They're coming off a 34-point win against Thornton.

3. Deering (7-0) The Rams had surprisingly close wins against Biddeford (48-37) and Thornton (53-46).

4. Morse (10-0) The Shipbuilders remained unbeaten with a big 59-47 victory against previously unbeaten Edward Little.

5. York (10-0) The defending Class B champions downed Greely 48-22 and have yet to be challenged.

6. Leavitt (10-0) The Hornets kept pace with York in Class B West with a 66-61 statement win against Nokomis.

7. Gorham (6-1) The Rams, whose only loss is to unbeaten Deering, cruised to a big victory against Kennebunk this week.

8. Windham (7-2) The Eagles' only losses tis seaosn are to McAuley and Cheverus. Next up is a key test against Gorham.

9. Edward Little (8-1) After losing to Morse in a battle of unbeatens, the Red Eddies bounced back with wins against Brunswick and Mt. Ararat.

10. Hampden (8-1) After losing a showdown against Edward Little, the Broncos rebounded with wins over Mt. Blue and Messalonskee.

BOYS' HOCKEY TOP 10
1. Lewiston
2. St. Dominic
3. Biddeford
4. Brewer
5. Falmouth
6. Houlton/Hodgdon
7. Waterville
8. Greely
9. Edward Little
10. Cheverus

WRESTLING TOP 10
1. Noble
2. Camden Hills
3. Massabesic
4. Belfast
5. Mountain Valley
6. Lisbon
7. Marshwood
8. Mt. Blue
9. Fryeburg
10. Dirigo