Boston High School:

Garrett DelleChiaie
June, 22, 2013
6/22/13
12:28
AM ET
By
John McGuirk
| ESPNBoston.com
LEOMINSTER, Mass. -- Throughout the week leading up to the 13th Annual Shrine Chowder Bowl Classic, the Western Mass. all-stars were provided a daily history lesson by their coaches on the inadequacies of past teams who have come up short in this event.

It had been nine years since Western Mass. had last won this game. For many of these current players, they were just in elementary school at the time. With a collective promise to revamp history, Western Mass. succeeded in carrying out its promise
Friday night after shutting out the Central Mass. all-stars 13-0 at Doyle Field.

The Western Mass. defense was solid through all four quarters, keeping Central Mass. in check and forcing them into committing six turnovers, including five interceptions.

"This was a total team effort," said Springfield Central defensive back Tejano Smith, who finished with two picks. "We pushed each other and got through this. All week long we were saying when the ball is in the air it's ours."

In all, the defense held Central Mass. to just 149 yards. Anytime they tried to sustain a drive, it would end with a turnover. Western Mass piled up 237 yards of offense with East Longmeadow receiver Sam Blake hauling in four passes for 84 yards and Greenfield quarterback Zak Bartak completing 5-of-9 passes for 83 yards.

After a scoreless first quarter, Western Mass. got the break it was looking for early in the second. Smith stepped in front of a pass by Shrewsbury's Mike Coggeshall, putting the ball on the Central Mass. 28. A Blake 29 yard reception set the stage for Turners Falls running back Ryan Wilder to blast over the goal line from a yard out with 4:52 left before halftime to give Western Mass. a 6-0 lead after kicker Liam Murphy's PAT was blocked. Wilder also had a solid game as he rushed for 65 yards on 17 attempts.

"The offensive line did a great job tonight," said Wilder, who will play at Westfield State next fall. "They did a great job creating holes and getting the seams for me. It's been a pleasure coming out here and getting a win for Western Mass. It's been an awesome time doing this and getting to meet new people and making new friends."

Just prior to the half, Western Mass. had a chance to pad its lead. After Minnechaug's Demetri Strange partially blocked Shepherd Hill kicker Chris Dutting's punt, Western Mass. had the ball on its own 31. A 15-yard catch by West Springfield's Chris Lipscomb combined with a couple of runs from Springfield Central's Aaron Owens moved the ball to the Central Mass. 9 yard line. But Chicopee Comp quarterback Tom Duffy lost the handle off a snap that was recovered by Nashoba's Cam Rothfuss to deny the threat.

"We had a couple of turnovers which stung us a bit," Central Mass. and Auburn coach Jeff Cormier said. "I felt our kids played with a lot of heart. Western Mass. made some plays and key times and we needed a few more opportunities that we didn't get. We were in this game and I can't say enough about the quality of kids we have on this team.

"They battled to the end. The nature of these kids, on both teams, is they are all competitive. They didn't get here because they take plays off and I'm very proud of the way our kids especially competed tonight."

Leading by six at the break, Western Mass. knew the score was still to close for comfort. With the offense sporadic at best, it was no secret that the defense needed to continue its high-level of play for them to hold on. Early in the third, they did just that after Springfield Central defensive back Bryan Rivas picked off Leominster quarterback Garrett DelleChiaie. It was one of two interceptions made by Rivas on the night.

However the offense failed to get any points off the turnover. Another DelleChiaie pick by Smith went for naught early in the fourth after Murphy missed a 37 yard field goal attempt thus keeping the hopes of Central Mass. alive. But moments later, Coggeshall had his pass interception by St. Joesph's of Pittsfield defensive back Jon Bianchi.

Bianchi's interception had Western Mass. setting up camp on the Central Mass. 32. Not about to let this latest opportunity fall by the way side, Wilder ran off tackle for 16 yards, and moments later, Duffy connected with Blake for a 13 yard scoring strike with 3:54 remaining. Following Murphy's PAT, Western Mass. was now in control leading by 13.

"Sam Blake was open all night," Duffy said. "He's an incredible athlete. I knew all I had to do was throw it up there and he would catch it. Our coaches preached to us every day that we were 1-10-1 against Central Mass. overall and we knew we had so much talent coming out of the west this year. We had a two hour ride to get here and we didn't want to come here for nothing. It's a very humbling experience to be here and I feel honored to have played in this game."

On the final Central Mass. possession of the evening, they managed to drive to the Western Mass. 30 in hopes of avoiding the shut out. However, the defense continued to prosper, forcing them to turn the ball over on downs and allowing Western Mass. to run out the clock and celebrate after nine grueling years. Central Mass. still holds a 10-2-1 lead in the series.
October, 26, 2012
10/26/12
11:48
PM ET
By
John Botelho
| ESPNBoston.com
LEOMINSTER, Mass. -- The Brockton High football team has been searching for a key win they could hang their hats on all season.

After alternating wins and losses in the first seven weeks, the No. 9 Boxers finally put together to wins in a row when they bested No. 14 Leominster, 14-6, on the road at Doyle Field on Friday night.

"It was huge," said Brockton senior receiver and defensive back Micah Morel. "We've been waiting to get that two wins straight to get the ball rolling and pick up some momentum going into the late part of the season. We want to get on a nice run. This was definitely a big win, because Leominster is a really good team."

The Blue Devils (5-3) only found the end zone once despite moving the ball pretty well all night. They finished with 316 yards of total offense, led by Garrett DelleChiaie's 225 passing yards.

"They moved it in the middle of the field because they're a good team and their very well-coached," Brockton head coach Peter Colombo said. "We talked to the kids all year about adversity, and bending, but always hanging tough. The kids believe they can stop other teams.

"I love our defense, and they're getting better all the time. That's a really good team and holding them to six is not easy."

Early on, it looked Leominster was headed for a night filled with offensive fireworks.

After they forced a turnover on downs on Brockton's game-opening possession, DelleChiaie hit a wide open Jake Allain for a 55-yard strike on what looked like a blown coverage. Kervin Jean-Claude chased him down from behind, finally bringing down with a desperation dive at his legs from behing.

The next play Shane O'Donnell cruised through a huge hole the offensive line created for another five yards. Just as it looked like Brockton didn't have an answer for anything Leominster was doing, Jean-Claude forced stripped Mayson Williams on the next carry and the Boxers came away with the ball.

The Boxers went the other way but eventually stalled out and gave the ball after another turnover of downs. Leominster took over at their 33 with 2:40 left in the first, and a false start sent them backward before they could even get a snap off.

The false start, however, was the only thing that didn't go right on that drive. DelleChiaie tossed a play-action pass to Neil O'Connor in the flat and he raced 26 yards for a first down. He caught the next pass, a 12-yard out pattern that moved the sticks again.

O'Donnell went 14 yards up the middle on the next handoff, setting up a first down at the Boxer 20. DelleChiaie dropped back and floated a ball to the back left corner of the endzone that came down in O'Connor's outstretch hands for a touchdown just 1:17 after the drive began.

A bad snap meant Leominster didn't get a point after try off but they had a 6-0 lead and a ton of momentum.

Brockton, which rushed for 264 yards in the win, benefitted from a late-hit penalty on the ensuing kickoff. They went to work on a 10-play drive that last just over five minutes and went 51 yards before quarterback Austin Roberts followed his offensive linemen into the endzone on a 1-yard keep play up the middle.

Levon Merian's kick was good and the Boxers led 7-6.

Brockton's defense forced Leominster into a turnover on downs on the ensuing drive, taking over at their own 33.

Aaron LeClair made sure the Boxers extended their lead on the next drive – and he never he touched the ball. On the third play of the drive, he took two linebackers out of the play with blocks that sprung Luis Jimenez for a 37-yard gain. The next play, he played the role of lead-blocker again, this time putting a linebacker flat on his back Roberts scampered in from 13 yards for another score.

"I'll have to credit Ralph Roberts," Colombo said. "He coaches our wideouts and they're blocking the hell out of people. Aaron is a great blocker."

LeClair put an end to Leominster's attempt at adding a quick score before the half when he picked off DelleChiaie on the next drive. He took the ball 41 yards the other way before being forced out of bounds.

A penalty moved the Boxers backward as time wound down, and Merian's field goal attempt from 36 yards had the distance but hooked just wide as the half ended.

The third quarter was controlled almost entirely by Leominster's offense. Their opening drive lasted just shy of four minutes and ended in a turnover on downs. Brockton went three-and-out – their only three offensive plays of the quarter – resulting in a punt back to the Blue Devils.

For the remainder of the quarter, Leominster held the ball but couldn't get it into the endzone. Brockton finally forced a turnover on downs on the second play of the fourth quarter.

"Ending the third quarter without giving up a point was a big lift for us," said Morel. "Everything clicked together. We played with a lot of passion. There was a lot of communication. Talk, talk, talk. Just making sure everyone was in the right position."

Brockton followed up with a lengthy drive of its own, running just over seven minutes off the clock before punting in a fourth-and-8 from their own 41. Justin Ahanon's punt finally settled at the 8-yard line, giving Leominster a long field and long shot at a comeback win.

After advancing the ball as far as the 34, DelleChiaie tossed a pass deep down the left sideline into double coverage. De'Andre Brown raced under the ball for an interception.

Brockton picked up a first down when Roberts took an option-keeper 11 yards up field on the next possession and was able to take knees from there to end it.

The Boxers spread out the yards in the win.

Roberts had 14 carries for 67 yards (and was 2-for-3 passing for 33 yards), Ricardo Calixte had 12 carries for 60 yards, Leclair finished with 54 yards on nine carries and Jimenez had 49 yards on four carries.

AERIAL ATTACK NOT ENOUGH
Interceptions aside, DelleChiaie had a pretty impressive day throwing the ball for the Blue Devils. He went 13-for-19 passing in the win while accounting for 225 yards through the air. O'Connor was his top target all night, catching seven balls for an impressive 111 yards in the loss.

Allain was the only other person with more than one catch, and he had two of them for 73 yards.

While the passing game picked up plenty of yards, the running game was never able to their feet underneath them, and finished with just 91 total yards on the ground.

"It's one of those games where we just couldn't get the ball in," said Blue Devils coach Dave Palazzi. "They played us tough and really locked us down when we got inside the 20. It was tough to connect. We had a few new wrinkles in there but we just didn't make the plays today."
October, 26, 2012
10/26/12
1:04
AM ET
NO. 23 CENTRAL CATHOLIC (6-1) AT LOWELL (6-1)
The Skinny: Both teams enter with a 1-0 MVC record, coming off their first league games last week. Lowell rolled over Billerica 56-34 while Central Catholic slipped past Chelmsford 28-21. Cam Latta has picked up where R.J. Noel left off at quarterback this year for Lowell at quarterback, throwing for 12 touchdowns and running for seven more. Central Catholic running back Santino Brancato leads the Raiders with eight touchdowns on the season, none bigger than his final score last week with 41 seconds remaining which was the game-winner over Chelmsford.

Scott Barboza: This will be high-scoring, but relatively tame by MVC standards. Central, 34-28.

Brendan Hall: Because Lowell can score in bunches, and because it's the MVC, take the over. Central Catholic, 38-31.

NO. 13 ANDOVER (7-0) AT CHELMSFORD (4-3)
The Skinny: After a hot start, Chelmsford is trying to snap a three-game losing streak and risk falling behind in the competitive Merrimack Valley Conference's large division. They'll have their hands full against one of the state's most prolific offenses, averaging nearly 400 yards and 39 points per game, between quarterback C.J. Scarpa and receivers Andrew Deloury, Will Heikkinen and Cam Farnham.

Barboza: I think the Lions will try to play ball control for a while, but that can only last so long against the high-octane Andover offense. Andover, 42-31.

Hall: Do you see a recurring theme with our MVC picks? Offense, offense, offense. Andover, 40-35.

LINCOLN-SUDBURY (6-1) AT WESTFORD (6-1)
The Skinny: Like several other key league matchups this weekend, this matchup can potentially put one team in the driver's seat for the Dual County Large title. It's no secret what L-S brings to the table, but workhorse Chris Giorgio is among the league's toughest running backs. Westford counters with jack-of-all-trades athlete Justin Mount, who fills multiple roles on both sides of the ball.

Barboza: Picked the Warriors to win the DCL Large in the preseason and I'm not about to step back now. But the Warriors get it done by a chin. L-S, 14-13.

Hall: Flip a coin in this one. I landed on the Ghosts. Westford, 24-17.

NO. 9 BROCKTON (4-3) AT NO. 14 LEOMINSTER (5-2)
The Skinny: Each of these teams received a boost in different ways last week. The Boxers saw the return of their starting quarterback and emotional leader Auggie Roberts in a drubbing of Big Three rival Durfee. Meanwhile, a Blue Devils offense that has had its troubles in recent weeks, shook off the rust to muster a gut-check, two-minute drive to pull out a last-second victory at Central Mass. rival St. John's of Shrewsbury, led by quarterback Garrett DelleChiaie. Now, both teams meet in a non-league, late-season measuring stick game to see just how far these offenses have come. Not to mention, both teams can really lay the lumber on defense.

Barboza: Blue Devils ride the wave of momentum. Leominster, 28-20.

Hall: It won't be a shutout, but it won't be as shocking an upset when the Blue Devils take two straight for the first time in...help, anyone? Leominster, 21-14.

HINGHAM (6-1) AT NO. 6 DUXBURY (7-0)
The Skinny: An eagerly awaited battle for the inside edge at the Patriot League Keenan division title, the competition should be as fierce at the tailgate as it will be on the field when the Dragons put their Eastern Mass. best 33-game winning streak on the line. A stout Duxbury defense, led by Mr. Football Award challenger Marshall McCarthy will have its hands full with the Harbormen's wing-T and backfield led by Ricky Sullivan.

Barboza: The Dragons run their streak to 34 games, but it won't be without difficulty. Duxbury, 13-7.

Hall: As usual, the Dragons will pull something together in the second half and do just enough to win. Duxbury, 20-17.

NEEDHAM (5-2) AT NO. 10 NATICK (7-0)
The Skinny: After a solid start to the season, Needham is now looking to avoid a two-game losing skid and dropping three of its last five. What better an opponent to try to snap the skid than against one of the state's prolific offenses, led by quarterback Troy Flutie (1,477 passing yards, 19 TD, 4 INT; 555 rushing yards, 7 TD) and receiver Brian Dunlap (41 catches, 784 yards, 11 TD). Needham is also coming off a 31-0 shutout loss to a Walpole squad that was missing its top running back to injury.

Barboza: No chance the Red Hawks aren't undefeated setting up a winner-take-all against Walpole. Can't wait. Natick, 31-17.

Hall: Every time we predict a high-scoring affair involving a Bay State team, it never goes as planned. So I'm going with something fairly pedestrian. Natick, 21-12.

NO. 19 MANSFIELD (5-2) AT NORTH ATTLEBOROUGH (4-3)
The Skinny: The Red Rocketeers will need a win to keep pace with Mansfield (2-0) in the Kelley-Rex division race. The X-factor will be the availability of senior running back and defensive back Alex Jette. While it's expected Jette will play, the extent to which he'll be able to contribute is very much up in the air. Still, North is readily able to move the ball on the ground thanks to a physical offensive line anchored by left tackle Eric Beckwith. Mansfield got off to a great start in last week's blowout of King Philip and the Red Rocketeers' secondary will have its hands full with playmakers Brendan Hill and Mike Hershman. The Hornets have seen junior linebacker Alexander Ruddy (team-leading 55 tackles, 8 TFL) embrace a larger role this year.

Barboza: In each of the team's last four meetings, the AWAY team has collected the victory. Not about to buck the recent trend. Mansfield, 26-21.

Hall: Per tradition, the away team wins this one with an epic possession in the final five minutes. Mansfield, 20-13.

NO. 22 KING PHILIP (6-1) AT ATTLEBORO (4-3)
The Skinny: King Philip was soundly delivered a rude awakening a week ago at Mansfield, in a 46-33 loss, and now looks to avoid falling behind in the Hockomock's Kelly-Rex division by extending Attleboro's losing streak. The skid currently stands at three games for the Bombardiers after a 4-0 start, and can't seem to get over the hump -- take, for instance, Malique Clark's nearly 300-yard rushing performance in a 44-41 loss to Franklin last week. An Attleboro win would surely create even more confusion at the top of the division.

Barboza: Warriors defense gets back on track, but it won't be easy against Clark. KP, 21-14.

Hall: I'm all for chaos when it comes to Hockomock bracketology. Get out your TI-83's, folks. Attleboro, 30-20.

WAKEFIELD (6-1) AT STONEHAM (7-0)
The Skinny: It's been a long time since Stoneham has had this good of a start, but the Spartans still face questions about a perceived weak schedule. This is their chance to prove doubters wrong, with defensively-sound Wakefield coming off a 33-0 shutout loss to Burlington.

Barboza: In a word, "SPARRRTAAAHHHHHH!" Stoneham, 20-16.

Hall: Because what the heck, I love rolling the dice, and I want to keep my boss and resident Stoneham-ite Dave Lefort happy. Stoneham, 17-13.

MILTON ACADEMY (3-2) AT BELMONT HILL (3-2)
The Skinny: The Mustangs and Hillies are looking to break free from a logjam of 3-2 teams in the middle of the ISL standings. Milton Academy is led by junior Drew Jacobs, who already has four multi-touchdown games this season. The Mustangs also have one of the biggest offensive weapons in the ISL on the foot of place kicker Justin Yoon.

Barboza: Yoon's foot provides the difference. Milton Academy, 13-10.

Hall: Let me preface this by saying Justin Yoon can kick for anyone any day of the week. Belmont Hill, 14-10.

ROXBURY LATIN (4-1) AT BB&N (3-2)
The Skinny: Its hopes of an undefeated season no more, Roxbury Latin looks to get back on the saddle and stay in contention for the ISL championship and a NEPSAC Bowl berth. A win here over the Knights, with its solid line and elite target in Wake Forest-bound tight end Brendan O'Neil, would bolster those odds. And the Foxes have the horses to do it, led by Boston College-bound quarterback MacKay Lowrie.

Barboza: Knights can take advantage of the matchup along the line of scrimmage. They'll win the point of attack battle. BB&N, 28-27.

Hall: I'll never count out a John Papas-coached team as long as the guy is in the business, but Latin can win track meets. Roxbury Latin, 35-30.
October, 21, 2012
10/21/12
1:01
AM ET


SHREWSBURY, Mass. -- With the game on the line and seven seconds remaining on the clock, Leominster football head coach Dave Palazzi threw out the playbook and did the unconventional. He asked his quarterback Garrett DelleChiaie and wide receiver Neil O'Connor what they wanted to do.

Like a sandlot game, drawing up patterns with a stick in the dirt, it was O'Connor who dialed up the perfect connection.

"O'Connor looked at me and said, 'I think I can get him on a hitch,'" Palazzi said.

With Palazzi's blessing, the No. 18 Blue Devils broke the huddle and executed the play to perfection. When O'Connor fell into the end zone with four seconds remaining Saturday at No. 20 St. John's of Shrewsbury, Leominster came away with the winning score, capping a frenetic fourth quarter and a 37-34 comeback win.

The brain trust behind the game-winning play deflected praise for its execution, however.

"That was all Garrett," O'Connor said after his two-touchdown performance. "He threw a great ball, he put it right on my chest, I turned and then I just fell in the end zone."

O'Connor's hitch route worked. It also marked the third lead change of the game in its final five minutes. After Shane O'Donnell's 1-yard touchdown run with 4:49 to play, the Pioneers (4-3) went back into their blitzkrieg offense and reclaimed the lead, 34-29, with 1:59 remaining.

From there, DelleChiaie marched the Blue Devils (5-2) on a 9-play, 75-yard drive.

"Our defense has been carrying us for a year and a half, and they played a great game," Palazzi said. "St. John's offense is tough as we all know. It was time for our offense, for once, to get it done when it counted. We're down, in a two-minute drives, it's just about guys blocking and making plays."

BREAK DOWN
So about that game-winning touchdown catch.

The play itself and the trusting nature of Palazzi to put the game – literally – into the hands of his offensive playmakers was something to admire.

The 6-yard pass from DelleChiaie (17 of 29, 212 yards) to O'Connor came on a second-and goal play. The Blue Devils tried a similar play on their first-down try, but saw DelleChiaie throw the ball out the back of the end zone.

"[Palazzi] said to be smart and take care of the ball really," DelleChiaie said of his coach's advice embarking on the two-minute drill, "if nobody's there, throw it away."

With O'Connor bracketed on the play, DelleChiaie made the right decision, giving himself another crack at it. The second time around, it fired on all cylinders. The pass blocking was there, DelleChiaie made the throw, O'Connor ran the route.

Just as they drew it up.

"We lined up Neil by himself and ran him a quick 90-hitch route," DelleChiaie said. "We knew [the cornerback] was off and Neil was going to make the play."

STRIVING FOR IMPROVEMENT
After surrendering more than 100 points in their last two outings, the Pioneers defense had an opportunity to acquit themselves by making a making a fourth-quarter stand. While St. John's was improved on the bulk, it went down as another missed opportunity to make a statement.

Pioneers head coach John Andreoli preached to his group this week about getting off the field quickly, limiting opponents' ability to get chunks of yardage on first and second down.

For the most part, St. John's was effective on the early downs, but instead struggled to get off the field consistently on third down. The Blue Devils converted 7 of 13 third-down situations, including two touchdown plays.

"We want to make it second-and-nine and we can then dictate the call," Andreoli said. "We did that a couple times today, but then we'd let them out and give them a big play when they had their backs against the wall. We can't do that. That's an opportunity for us to win a football game when you're able to make a defensive stop in a certain situation.

"We're not doing that. We're not making the plays we have to at the times when you need to make them."

Again, the Pioneers offense was on-point. Quarterback Andrew Smiley completed 16 of 22 pass attempts for 167 yards and one touchdown. Senior running back Shadrach Abrokwah ran for 103 yards on 21 carries and three touchdowns.

"We just need to get back to having that defensive personality of getting off the field after third down."

That would mean a world of improvement for the Pioneers.
August, 30, 2012
8/30/12
1:31
PM ET
By
Brendan Hall
| ESPNBoston.com
LEOMINSTER, Mass. -– Dave Palazzi has been a quarterback all his life, so by now he's used to this kind of pressure.

In Leominster, the football coach doubles as a de facto ambassador of the city, to a level matched by only a few other communities in the Bay State. Palazzi knows this all too well from his days quarterbacking the Blue Devils, where he was part of their 1982 Super Bowl winning squad, and now he's under the microscope again as head coach of the Blue Devils, two years removed now from replacing the legendary John Dubzinski.

Pressure is something he's used to overcoming. He recalls his days quarterbacking UMass in the late 80's, getting booed after throwing pairs of interceptions, but ended his career as the program's all-time leader in total offense (since surpassed). He went 2-20 in his first two years as head coach at Millbury, only to endure Super Bowl-winning success throughout the 2000's decade.

Last season, the Blue Devils started off 0-3 –- losing in succession to Everett, Hudson and then Milford –- before rolling off 10 straight wins en route to the program's first Super Bowl title in a decade, beating rival St. John's of Shrewsbury in the Division 1 Central title at Gillette Stadium.

The Leominster fan base was massive that afternoon in Foxborough, with some fans having to find seats in the 200 level, and is considered one of the largest crowds ever for a high school game at Gillette since the stadium began hosting Super Bowls in 2007. The 2011 season has re-ignited football fever in Leominster, and Palazzi is hoping the momentum carries over.

"Any time Leominster wins at anything, people get excited," Palazzi said. "Last year was the first year, everyone wanted to wait and see what happened. The way we crescendo'd towards the end of the season got people fired up, got them talking about Leominster football. People that didn't come to games could come this year, hopefully that excitement builds over to this year."

Junior co-captain Neil O'Connor, a lifelong Leominster resident, says he's noticed a change around town.

"I think a lot of people are excited, coming off of last year," he said. "We've done a lot of things to get the community involved, and give them something to cheer for."

Now comes the follow-up act. On offense, the Blue Devils must replace 80 receptions in Josh Caouette, Kyle Sanders and Kevin O'Connor, and 192 carries (with no fumbles) from Geraldo Rivera. A host of fresh faces will be looking to take over at tailback, among them Mayson Williams, James Gurley, and sophomore Ed Rivera. Shane O'Donnell and Kinzaqui Winters should be serviceable as fullbacks.

Making it all click is senior Garrett DelleChiaie, an undersized but scrappy quarterback who has thrived in Palazzi's offensive system. Once he got his reads down last season, the Blue Devils never lost again, and he enters his senior season a preseason ESPN Boston All-State selection.

The difference between year one and year two has been maturity, Palazzi said, but also a more intuitive approach. The position has becoming more intrinsic for the 5-foot-11, 170-pounder, and he has looked more comfortable in the preseason. He'll be counted on even more in a leadership spot this season, with the new talent at the skill spots and an offensive line that has gotten lighter.

"Last year, it was every play, 'Garrett you've got this, Garrett the safety's going to be there, Garrett remember your steps'," Palazzi said. "I still say that to him, but it's a quicker process. He doesn't have to remember how to say the play, he doesn't have to remember where the guys are going to be, so it's all more natural now.

"Now he has more of an opportunity to read the defense. I've played the position, so now we're at that level more where I can tell him where the defenders are coming, where the blitzes are coming, and how to take advantage of some of that stuff. We haven't played a game yet, but that's what I've seen out of him in practice so far, being able to recognize those things whereas last year he was just learning all of that."

At the wide receiver spot, Neil O'Connor will be one to watch. In the Blue Devils' scrimmage yesterday afternoon with Natick, DelleChiaie connected with the speedy junior for two scores, one a 58-yard middle screen and the other a 45-yard post down the deep left seam.

Look for O'Connor to lead a green defense too, roaming at free safety and making some heady plays. It's a raw defense, replacing nine starters and led by linebackers Jason Valera and Matt Banchs at the linebacker spots.

"We have some talent, yeah, but they haven't played on Friday nights," Palazzi said. "We've got to replace nine guys on defense, and they showed some good signs out there, but we had some breakdowns in the secondary when we shuffled guys in. Everett's got that speed, we've got to lock that down. They've got to step it up."

LEOMINSTER AT A GLANCE
2011: 10-3, won Division 1 Central Super Bowl
Coach: Dave Palazzi (2nd year at Leominster, 79-46 overall)
Key Returnees: Garrett DelleChiaie, Sr. QB, 5-11, 170 lbs.; Neil O'Connor, Jr. WR/S, 5-11, 170 lbs.; Jason Valera, Jr. LB, 6-0, 190 lbs.; Mayson Williams, Jr. RB/DB, 5-10, 165 lbs.; Jarell Addo, Jr. WR/DB, 6-1, 170 lbs.; Shane O'Donnell, Sr. RB/LB, 5-9, 185 lbs.; Lucas de Horsey, Sr. OT/DL, 5-10, 225 lbs.; Shane Fallon, Jr. OG/DL, 5-10, 185 lbs.; David Knight, Sr. C/DL, 5-10, 185 lbs.; Matt Banchs, Jr. LB, 5-10, 175 lbs.
Strengths: Quarterback, team speed, strong junior class.
Weaknesses: Inexperience on defense, offensive line.
Outlook: After winning its first Super Bowl in a decade, before one of the largest crowds ever assembled for a high school Super Bowl at Gillette Stadium, football culture is back to a fevered pitch in the Pioneer Plastic City. Now comes the tall task of spinning that momentum forward, and the Blue Devils will turn to a green but talented returning core to get it done. Once DelleChiaie figured out Palazzi's demanding system, the Blue Devils rolled off 10 straight victories, and this preseason he has a more intuitive grip of the offense. That should help them break in a new core of receivers and running backs, led by the versatile O'Connor and Williams. Valera, O'Connor and Banchs highlight a 2014 class that has been getting hype the last two seasons, and all three will be expected to lead a defense that is replacing nine starters. Overall, this is a group that may have to overachieve this season to replicate 2011's success, but all the pieces are in place to remain a dangerous bunch for the next two years.
August, 29, 2012
8/29/12
7:32
PM ET
By
Brendan Hall
| ESPNBoston.com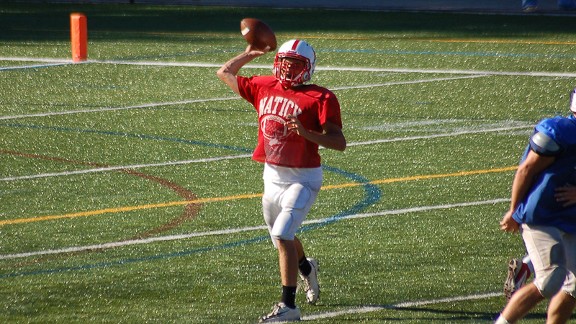 Brendan Hall/ESPNBoston.comNatick's Troy Flutie connected with top target Brian Dunlap for two scores against Leominster.
LEOMINSTER, Mass. -- Thoughts and observations from this afternoon's scrimmage at Doyle Field between host No. 7 Leominster and No. 13 Natick:
Air Raid
: In three series of varsity on varsity, each offense reached the end zone three times, all of them coming through the air, giving the scrimmage an almost Arena League feel at times. Five of the scores were of 45 yards or more; the other score, a 25-yard strike from Natick's Troy Flutie to Brian Dunlap, was preceded by a 45-yard bomb to Miguel Rodriguez, in which the receiver was wide open through broken coverage but had to stop and get beneath the underthrown ball.
Where to start? There are a few things to take out of this aerial assault.
First, it should be noted that five regular Natick starters were out to injury, including junior wideout Alex Hilger, and the Red Hawks showed some rust early as a result. They'll be going to a no-huddle, four-receiver look once again, using trips and double-slot formations designed to get their top playmakers in space and open up the zone read game with Flutie and returning 1,000-yard rusher Nick Lee. Making it all flow evenly is Dunlap, only a sophomore but already considered one of the state's best route-runners.
Dunlap scored twice for the Red Hawks, once on the aforementioned 25-yard strike to the near left pylon, and again on a 70-yard bubble screen. Although Flutie gave Dunlap a good lead on his throw, Natick's perimeter blocking wasn't crisp in setting up the screen -- but Dunlap blew by everyone anyways.
As a freshman last season, the 6-foot Dunlap caught 69 balls for 1,172 yards and 14 touchdowns, all best in the Bay State Conference. With plays like that, he could be in for another big season.
"He's just so precise on his routes," Natick head coach Mark Mortarelli said. "He seems to always make the right cuts. His work ethic is unbelievable. He steadily improves just because of how hard he works. He can't help but get better really."
At the other end, the connection between Leominster quarterback Garrett DelleChiaie and junior receiver Neil O'Connor will be worth paying attention to, as the pair clicked for two scores. The first came on a middle screen, in which O'Connor followed the screen up the right hashmark then cut back to the middle for a 58-yard scamper. On the second touchdown, O'Connor ran a post down the left seam, and took advantage after a cornerback crashed on a wheel route the other way for a 45-yard strike.
The Blue Devils present a more traditional offensive look, alternating between the I Formation and shotgun formations with three or four-receiver sets, but O'Connor will be a centerpiece of this look.
"We're working him at some receiver," Leominster head coach Dave Palazzi said. "They [Natick] had some breakdowns [in coverage], so he was wide open, but he had good run after the catch, and that's what we want out of him."
Growing Pains:
Leominster graduated nine starters on defense, returning just O'Connor and junior linebacker Jason Valera from last year's Division 1 Super Bowl Champion squad. The pass coverage is still working out the kinks -- they gave up gains of 50, 65 and 70, two of them for scores -- but there were also some positives. On Natick's third play from scrimmage, junior James Gurley broke for the left sideline and jumped a downfield route for a diving interception. In Natick's next offensive series, O'Connor closed on a wide-open receiver and used his fingertips to break up a would-be touchdown strike over the deep middle.
On the offensive line, Leominster figures to average about 210 pounds across, lighter in comparison to some of the state's other top squads, and they were beaten at times in pass protection.
"We haven't gone over a lot of our pass schemes, as far as passes are concerned," Palazzi said. "So that stuff we'll go over more and more tomorrow and Friday. But you've got to block people. It was 'run for your life' last year for Garrett against Everett [in Week 1], it really was, and we can't have that. We've got to fix that."
Applying pressure
: On the other side of that, Mortarelli was pleased with how his front seven set the edge defensively. Mike Dunlap and Justin Montgomery brought pressure from the outside linebacker spots, while defensive end Ross Braymon gave the Leominster's line a good run in the third series, beating the left tackle for a sack and a hurry in consecutive plays.
"We tackled better than we have, so I'm excited about that," Mortarelli said. "But still, the big plays, that's what sticks with me, is how we gave up those three big plays."
December, 3, 2011
12/03/11
3:06
PM ET
By
Matt Stout
| ESPNBoston.com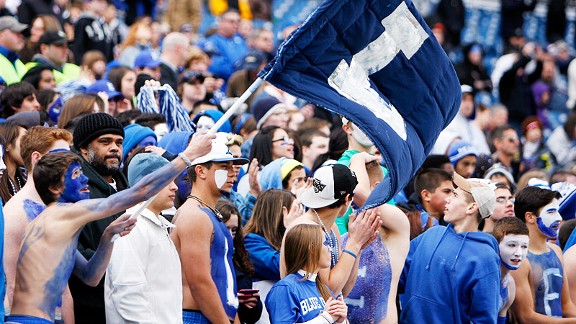 Jon Mahoney for ESPNBoston.com Both the rabid supporters and elite athletes have come to embrace the culture first-year head coach Dave Palazzi has instilled at Leominster.
FOXBOROUGH, Mass. -- When Leominster's Neil O'Connor took the backward toss from quarterback Garrett DelleChiaie, pumped and fired a 44-yard touchdown pass to brother Kevin on Saturday at Gillette Stadium, two things became clear: St. John's of Shrewsbury didn't know what hit them; and this was a Leominster team unlike any before it.
Carried to the Central Mass Division I Super Bowl by an unstoppable winning streak and a newfound sense of brotherhood, Leominster reached into places few, if any, Blue Devil teams have explored in capturing their state-record tying 11th Super Bowl title, 21-6, over St. John's of Shrewsbury.
They turned to the air. They turned to the ground. More than anything, the Blue Devils (10-3) turned to each other in holding off a hard-charging Pioneers team (8-5) that Leominster coach Dave Palazzi admitted had figured out his defense well enough for 261 total yards but only a single score.
In his first year after replacing the legendary John Dubzinski — he of 215 career wins and 25 years on Leominster's sidelines — Palazzi instituted a culture change in every sense of the phrase. New defensive schemes filled the playbook. What was a run-reliant offense transformed into a pass-heavy attack sprinkled with trick plays. Practices, especially early in the season, bordered on agonizing.
"Them hammering us at practice," senior captain Jeffrey Cheng said with a laugh. "I felt like I was about to die the first week. They brought it to us, and we accepted the challenge."
It helped create what players and coaches — however cliché it sounds — repeatedly called a family. Never had the team been as close in past years as they were this year, DelleChiaie said. It was a major reason why it was able to weather an 0-3 start to win 10 straight games, a first for the program since the 1980s.
"I've always played on teams where you're brothers," Palazzi said. "You're family, you care about each other, you pick each other up when you're down. … Getting these guys to understand that you gotta love one another to play this game (was key)."
As a result, last year's 4-7 record quickly became a memory, replaced by the program's third win over Brockton in the last 27 years and pairs of victories over both Fitchburg and St. John's. Palazzi said he'd be hard-pressed to find a Leominster that's ever done that in one year.
"These kids, they've created their own history big time," he said.
The title — the program's first since 2002 — follows three straight winless appearances from 2005 to 2007. It not only made the Blue Devils the latest in a long line of Leominster champions, they've also firmly entrenched themselves in a new era of football at the school, adorned with its own coach, accomplishments and style.
That never was more clear than with 1:38 to play in the first when DelleChiaie faked a hand-off, spun and tossed it behind the line of scrimmage to Neil O'Connor. After setting for a moment, he spotted his brother Kevin, a senior, all alone inside the 10-yard line, where he dropped in the ball and likely every heart on the St. John's sideline.
Neil O'Connor, a sophomore, said the team had never ran that play before in a game. Whether any Leominster ever has is a good question.
"Our play calls are more creative," he said of this year's team.
That can be attributed directly to Palazzi, a star quarterback at Leominster and UMass, who once threw for two scores in the Blue Devils' Super Bowl loss in 1983. This year's team's spread style has proven tough to cover throughout the season — once the players finally wrapped their heads around it in late September.
"I've said it before: When you don't know what you're doing, you don't get there as quick," Palazzi said. "… That's really where we were at our first three games."
But more than X's and O's changed. In fact, almost everything did, including the rules governing the players' performance in the classroom, DelleChiaie said.
"Coach Palazzi changed my attitude," said senior running back Geraldo Rivera, who also changed his number (No. 23) for the Super Bowl. "He changed everything."
Now, in many ways, their lives will change. No longer will Leominster will be trying to climb back to the top. They'll now try to stay there. And no longer will they wonder what it feels like to be champions. Many on their roster will wonder what it feels like to be one again.
"In 30 years, when we can go back in the gym, maybe when our kids are playing basketball, we'll see a Leominster High School football banner from our class winning the Super Bowl," Neil O'Connor said. "If we keep going here, it (the state record for Super Bowl titles) can be a broken. So we definitely have a place in Leominster High School football now.
"We're going to remember this the rest of our lives."
December, 3, 2011
12/03/11
2:42
PM ET
By
Dan Hickling
| ESPNBoston.com


FOXBOROUGH, Mass. –- Leominster did more than simply win a Super Bowl championship, Saturday, at Gillette Stadium.

The Blue Devils forged a place in history, too.

They did all of that in one fell swoop with their 21-6 triumph over St. John's Shrewsbury, to claim the Central Massachusetts Division 1 crown.

It is Leominster's 11th Super Bowl title, tying it with Brockton for the most football championships in state history.
No small achievement, considering that the Pioneers dropped their first three games of this season.

"It means everything," said running back Geraldo Rivera, who rushed for 81 yards and a third quarter touchdown on 17 carries. "We went from 0-3 to 10-3. That basically sums up everything."

Said junior quarterback, Garrett DelleChiaie, who was unaware of the historical significance, "Really? That feels great. Now we've got something to defend next year."

The Blue Devils took to the air -– if somewhat unconventionally –- to build up a 14-0 halftime advantage.

The first strike came with 1:38 left in the first quarter on a halfback option pass from sophomore Neil O'Connor to his brother Kevin, a senior.

Neil O'Connor took a left side lateral from quarterback Garrett DellChiaie, then hit Kevin in full stride as he streaked down the left sideline behind the Pioneer secondary.

St. John's sought to respond on its next possession, and drove to the Leominster 27.

However that drive was halted when Kevin O'Connor, playing safety on defense, picked off St. John's quarterback Connor Kurtz at the 5.

The Blue Devils proceeded to grind out a 19-play, 95 yard drive that culminated with a 4 yard strike from DelleChiaie to tight end Daniel Curley, with 6 seconds to play in the half.

The Pioneers were primed to pull themselves back into the game, early in the third quarter, when they drove to the Leominster 2.
But on fourth and goal, the snap from center sailed over Kurtz's head, ending that threat.

Soon after, the Blue Devils put the game away, using Rivera's 14 yard burst to make it 21-0.

St. John's lone score came on the opening play of the first quarter, a 17 yard strike from Kurtz to Efrain Montalvo.

"This is amazing," said Kevin O'Connor. "I've never felt anything better in my life."

Giving thanks for the big play: It was perhaps the biggest play of the day for Leominster, of many that made up its 21-6 Super Bowl win over St. John's.

Indeed there's no question that the 44 touchdown pass from halfback Neil O'Connor to his brother Kevin that in the first quarter gave the Blue Devils both the lead and a huge boost to the psyche.

"That was the greatest feeling," said DelleChiaie.

As plays go, this was one you couldn't draw up in the dirt.

In fact, with all of its moving parts, the option -- dubbed "Thanksgiving Day" by Blue Devils coach Dave Palazzi -- was as complicated as it gets.

It started with a fake handoff by DelleChiaie to Rivera, followed by the well-placed lateral to Neil O'Connor, then followed by the perfect strike to Kevin.

"It was kind of a crazy play," said Neil. "But it was a good one. It worked."

Said Kevin, "It's designed to look like a screen, so I just jog. Then make a sharp cut once (Neil has) the ball.

"We've worked on it a lot in practice. And to tell you the truth, that's the best of all the times we've run it."

It might not have been run at all if the play had been unveiled when it was supposed to be, during the Thanksgiving rivalry game (hence the name) with Fitchburg.

However, circumstances intervened, which allowed the Blue Devils to dust it off for the Super Bowl.

The timing couldn't have been better.

And for that, Leominster can give "thanks".

Mistaken Identity? It's said that you can't the players without a program. However instead of wearing jersey No. 1 as he is listed, Rivera pulled on No. 23.

It wasn't a matter of trying to confuse the Shrewsbury defense.

Instead, the explanation was a little more practical.

"It ripped completely," said Rivera, "and I never got anyone to sew it."

Leominster 21, St. John's (Shrewsbury) 6
L (10-3) 6 8 7 0 – 21
S (8-5) 0 0 0 6 – 6

First quarter
L – Kevin O'Connor 44-yard reception from Neil O'Connor (kick blocked), 1:38

Second quarter
L – Daniel Curley 4-yard reception from Garrett DelleChiaie (DelleChiaie run), :06

Third quarter
L – Geraldo Rivera 14-yardrun (Ryan Moran kick), 1:52

Fourth quarter
S – Efrain Montalvo 17-yard reception from Connor Kurts (kick no good), 9:53
October, 31, 2011
10/31/11
10:45
PM ET
BLUE DEVIL FOOTBALL IS BACK
From Johnny Appleseed to a centuries-deep plastics industry, there's always plenty to be proud of in Leominster. But the one constant that remains is October 29, 1988, when the Blue Devils football team scored one of the biggest upsets in state history, knocking off a Brockton squad that was ranked the No. 1 team in the nation by USA Today.

Folks in the Twin Cities have yet to stop talking about it since, and the talk only intensifies during Brockton week.

"You gotta understand, it's talked about all the time," said first-year head coach Dave Palazzi, himself a former Blue Devil. "They had 13 Division 1 players signed from that Brockton team. It's all everybody hears around here. It's such a big game from our perspective, to play such a large school and all that."

But, he added, "I told the kids, 'Let's make our own history, so they talk about you 20 years from now. They're not No. 1 in the state, but we've only beaten them three times in 26 years."

Given the Boxers' turbulent season, and the depth of quality underclassmen in Leominster's program, a win shouldn't be a total shock. But the magnitude by which they did it -- a 33-0 shutout, their second win over the Boxers since that famed '88 game, and by many accounts an all-around dominant showing -- raised some eyebrows.

Some have even wondered whether the Blue Devils –- who some have mused were a year away, what with one of the school's strongest sophomore classes in ages –- are ahead of schedule, after some lean recent years. After all, making the switch to Palazzi's patented spread scheme, after three-plus decades of ground-and-pound under legendary coach John Dubzinski, isn't something that transitions cleanly –- nor overnight.

After an 0-3 start, the Blue Devils have reeled off five straight, capped with wins the past two weeks over previous Top 20 St. John's of Shrewsbury and the aforementioned Boxers. And for their reward, they make their debut in ESPN Boston's statewide MIAA Top 25 poll for the first time in the history of the poll.

Palazzi found continued success the last decade at Millbury, running an uptempo, spread-oriented scheme out of a slew of different formations, with timed routes aimed at getting athletes in space. In players like Kyle Sanders, Cortez Ludden and Geraldo Rivera, he has skill guys with big-play capability. Perhaps most tantamount to the hot streak has been the development of junior quarterback Garrett DelleChiaie, a "cerebral player" who has shown strides in his mental progression.

In DelleChiaie, Palazzi sees shades of former Millbury great Nick Hebert, who tied a then-state single-season record with 39 touchdown passes in the Woolies' 2003 Super Bowl championship run.

"We run a lot of timing routes, you don't need a gun to get the ball there," said Palazzi, who left UMass in 1988 as the school's all-time leader in offensive yards (a record since broken). "It's about timing, reading the defensive backs, footwork, things like that, throwing the ball before they break.

"Garrett's similar [to Hebert] in that respect. He definitely has the mindset, wants to learn, he's in there working. He hasn't seen everything enough, hasn't run things enough yet, he's getting there, but he definitely has the potential to be successful at the position. He's done that so far in some of the bigger games we've had."

CARDIAC KIDS STRIKE AGAIN
It's been an on-going theme for No. 12 Mansfield this year, a habit of making fourth quarters very interesting.

"Well, you always get your money's worth with this team," Dave Redding, father of Hornets head coach Dave Redding and de facto team photographer, said after Mansfield's 34-33 overtime win over Barnstable Friday. "They always keep you on the edge of your seat."

The Hornets were waltzing to their seventh win of the season when the Red Raiders put up 17 straight points in the fourth quarter to push the game to overtime. Granted, the non-league matchup didn't matter to either team's longterm postseason prospects, so Redding managed his players in the fourth quarter as such.

But it served as yet another reminder of the way the Hornets ended their season at Gillette Stadium last December, the Hornets took an improbable last-minute win over Reading for the Division 2 Super Bowl.

Rest assured if the Hornets get back to Gillette, they won't let it happen again.

"We have some things to work on," the younger Redding said postgame. "We need to learn how to finish games. We can't let teams back into games."

A MORAL VICTORY?
Although the game's importance pales in comparison to this Friday's Old Colony League battle against No. 3 Bridgewater-Raynham on the Cape, the Red Raiders couldn't hide their excitement in their fourth-quarter comeback against the Hornets. And, while Barnstable fell short of the win after failing to convert a 2-point conversion pass, the Red Raiders can take plenty of momentum into this weekend's paramount game.

"We battled," Red Raiders first-year head coach Chris Whidden said postgame. "You can certainly take something from the resiliency the team showed."

PUNCHING AN EARLY DANCE CARD
The first Eastern Mass football team to earn a playoff berth might have come as a surprise to some. After watching a senior-laden team go down in defeat in the D-2 Super Bowl to the aforementioned Mansfield squad, Reading has bounced back to once again earn the right to represent the Middlesex Large.

John Fiore's team wasn't long in the tooth, and it showed in the Rockets' 1-3 start to the season. Some disciplinary issues also threatened to derail the campaign, but Reading has bounced back with four straight wins and a 4-0 record in league play including Friday night's 16-7 triumph over Woburn.

Not only have the Rockets continued their championship form, they should remain a force for the foreseeable future with imposing sophomore Drew Belcher (11 for 16, 218 yards, 2 TDs vs. Woburn) under center.

"I am real happy for our seniors," Fiore told correspondent Ryan Kilian on Friday. "A lot of people said this was a weak class. We are down to about 48 kids. The seniors are the ones. They are a tight class."

RECORDS FALLING
Jonathan DiBiaso wasn't the only local gridder making history on Friday night as Holliston running back Jake Frechette (154 yards, 2 TDs) broke Matt Bellomo's school record during the Panthers' 35-13 win over Millis/Hopedale.

"I am so proud of him," Holliston head coach Todd Kiley told correspondent Adam Kurkjian Friday night. "I remember the first day he stepped on the field as a varsity player, a little freshman and probably, in most cases, shouldn't be playing because of his size. And freshmen as a whole shouldn't be playing. He just fought the battle that year and he's continued year after year."

CATHOLIC CONFERENCE MERRY-GO-ROUND
After eight weeks, we know this much about the clear-cut favorite in the Catholic Conference: there is no clear-cut favorite.

In the preseason, Catholic Memorial head coach Alex Campea made no efforts to hide the fact that he was going to use Penn State commit Armani Reeves, the state's top-ranked overall player, "in every conceivable fashion". And simply put, the multi-talented athlete makes plays all over the field, capped last Friday by bringing a dull crowd to life with a 72-yard punt return as the No. 9 Knights beat St. John's Prep, 26-7.

"Listen, he's a gamebreaker," Campea told ESPN Boston following the win, the Knights' first over Prep since 2008. "He makes plays, whether you're throwing the ball or punting the ball to him, he's a heck of a player. He's just a difference maker."

Xaverian head coach Charlie Stevenson continues to flex his creative side, this time using defensive tackle Maurice Hurst Jr. at fullback to positive results in the No. 8 Hawks' 27-9 win over St. John's of Shrewsbury. The All-State contender carried nine times for 126 yards and two scores, including a 75-yard scamper in the second half.

"For a kid who's that big, to make that kind of athletic move, and to run as quickly as he did, was OK," Stevenson said of the touchdown run, adding with a laugh, "The thing that worried me wasn't that none of the guys in white caught him, it's that none of the guys in blue (the Hawks) caught him."

And while No. 5 BC High simply isn't going to go out and replace Preston Cooper, an All-State candidate who's down for the season with a broken ankle, they certainly looked OK with replacement Deontae Ramey-Doe. The senior ran for 120 yards and a score on 19 carries in the Eagles' 44-7 thumping of Malden Catholic.

How will it all sort out? Your guess is as good as mine. It starts Friday night, when the Hawks visit BC High. CM takes on Brockton this weekend, looking to avenge last season's last-second Hail Mary, before taking on the Hawks next week and potentially setting up a Thanksgiving showdown with BC High for the league's playoff berth.

Now, when was the last time that happened?
September, 10, 2011
9/10/11
1:54
AM ET
By
Brendan Hall
| ESPNBoston.com



EVERETT, Mass. -- Only in Everett can you beat a regional rival 47-12 and come away from the post-game handshake moping towards the edge of the field.

Yet that is the attitude for the Crimson Tide tonight, after avoiding a Leominster scare early to put this one away by the end of the third quarter. Jonathan DiBiaso finished the night 16 of 30 passing for 256 yards, four touchdowns and one ill-advised interception into double-coverage at the goal line; but like several other key cogs on the Crimson Tide, he fell victim to cramps at some point in this game, just one of several focal points for improvement.

"That's on us. Kenny Calaj's legs were cramping up. Jakarrie [Washington], his thighs were cramping up," he said. "And me, my lower body was cramping up every single drive. So to say winning 47-12 tonight, breaking in all these new wide receivers, we take good out of it, but we have a lot of work to do."

Just 27 seconds after Vondell Langston (68 total yards, 2 TD) took a shovel pass from a yard out for the game's initial score with 7:25 left in the opening quarter, the Blue Devils (0-1) punched right back, with junior quarterback Garrett DelleChiaie setting up a play fake and finding Kyle Sanders wide open in single-coverage down the right sideline, connecting with the speedy senior for a 77-yard fade. DelleChiaie found Kevin O'Connor in the back right corner one play later on a rollout, cutting the lead to 7-6.

It took all of two plays for the Tide (1-0) to respond, with DiBiaso finding Jaylen McRae deep over the middle for a 64-yard touchdown pass, and 13-6 lead with 6:26 still to go in the first.

But the Tide are far from satisfied, and still looked rusty in some areas of their game -- yes, rusty. For one, they committed three turnovers tonight (one pick, two fumbles); for another, the no-huddle tempo negated the conditioning of not just the Devils, but Everett's own players as well.

"There's a lot of things we have to improve upon," the elder John DiBiaso, Everett's head coach said. "The fact that we got outta here with a win, scored 47 points and we didn't play good, I'm still...I gotta look on the bright side, the glass is half-full rather than half-empty.

"I think we'll improve on a lot of things. We'll get the cramp situation worked on. But a lot of that was caused by our tempo, so that's a good sign. We were pushing that tempo, fast breaking the whole night, and we kinda wore them down to a point where...you know, you saw the second half."

Some other observations from tonight:

Breaking Them In: Following up the electric tandem of Matt Costello and Manny Asprilla is going to be a tall task for just about any program in the state, and by my count the new wide receivers being broken in tonight had about half a dozen drops. (Again, only in Everett do you leave points off the board in a game like tonight). Certainly the speed is there, which is why Jonathan had no problems tossing up deep balls to Washington and McRae -- two guys expected to fill Costello's deep-route role -- even though a few sure-fire touchdown passes slipped out of the fingertips.

Aside from the touchdown strike to McRae, Jonathan did his most damage on short routes over the middle and to the flats, with Langston and Kenny Calaj (82 total yards, TD) the primary beneficiaries. Both are well-built and tough players to take down in the open field, and they proved as much tonight, plowing through a handful of arm tackles.

"Before you go short, you've gotta go deep," John DiBiaso said. "They're coming up on you, you've gotta prove you can go by them. I thought we got by them, we finished a few of them, we had some near-misses. That's just timing. I'm not disappointed with the receivers, I'm not disappointed with the offense. I think the potential's still there. We just gotta get a little more experience for the kids that haven't played before."

Packing Punch: The Tide's offensive line is a bit on the green side, and suffered some breakdowns up the middle, but that might come to be expected when you have just one senior in the trenches in Nick Stanfield. But one of the positives I took away tonight was the footwork of left tackle John Montelus. At 6-foot-4 and a somewhat lean 290 pounds, the junior has yet to turn 16 and already holds four scholarship offers from BCS schools. He showed why tonight, demonstrating the balanced posture requisite of a left tackle to get that maximum punch on the first step.

"They did a good job protecting him," John DiBiaso said. "And like I said, last year when Jonathan would spin around, Matty or Manny would make these catches...these guys aren't there yet. They're gonna be good though."

Said Leominster head coach Dave Palazzi, "He's a great left tackle, and we did what we could."

Silver (and Blue) Lining: So here's the good news for Leominster. Next week they've got to deal with Hudson and Bryant-bound super back Karl Sery, an ESPNBoston Preseason All-State athlete. But tonight's run, chasing down Langston and Calaj, should have them more acclimated for stopping one of the most versatile threats outside the I-495 loop. While Hudson isn't going to air it out 40 times a game, the Hawks are tough in between the tackles and can give you fits with their read option out of a variety of formations.

"Yeah, I mean, hey, we were chasing them [Everett]," Palazzi said. "We're chasing receivers all night, quarterbacks, rushing the quarterback, so this is the era we're in -- throwing the ball, running and chasing the guys. We were ready for it, they didn't do anything we didn't think they were going to do, but when it comes to matchups and DiBiaso being a senior -- he made some nice plays, with some speedy wideouts -- I mean, you can't shut down a team like that totally.

"But we did shut them down a couple times, and force some turnovers which I was happy with. But unless you're driving on offense the whole game, it's hard to stop those guys on offense."

EVERETT 47, LEOMINSTER 12

LHS --- 6 6 0 0 - 12
EHS --- 13 15 13 6 - 47

First Quarter
E - Vondell Langston 1 pass from Jonathan DiBiaso (Gilly De Souza kick) 7:25
L - Kevin O'Connor 6 pass from Garrett DelleChiaie (rush failed) 6:58
E - Jaylen McRae 64 pass from DiBiaso (kick failed) 6:26

Second Quarter
E - Ralph Jonathas 17 pass from DiBiaso (Kenny Calaj run) 7:11
L - Josh Caouette 10 pass from DelleChiaie (rush failed) 3:08
E - McRae 7 pass from DiBiaso (De Souza kick) :43.9

Third Quarter
E - Langston 6 run (De Souza kick) 6:47
E - Calaj 1 run (kick failed) :52.6

Fourth Quarter
E - Joey White 6 run (rush failed) 5:58