Boston High School:

Garrison Banas
June, 29, 2011
6/29/11
9:19
AM ET
THE STARTING ROTATION

Adam Ravenelle, Sr. RHP, Lincoln-Sudbury
The 6-foot-4, 185-pound fireballer was an integral part of the Warriors' run to the Division 1 state championship this season, going 8-0 with 93 strikeouts in 56 innings -- including a career-high 18 in a win over Arlington. He also batted .481 with 44 RBIs. Earlier this month, the Vanderbilt-bound Ravenelle was drafted in the 44th round by the New York Yankees.

Pat Connaughton, Sr. RHP, St. John's Prep
The 6-foot-4 Connaughton, who was also a starter on ESPNBoston's inaugural All-State basketball squad, strung together some dominant performances this season, including a no-hitter against his hometown Arlington High. On the mound, he went 2-2 with one save, with 86 strikeouts in 50 innings for an ERA of 1.83. At the plate, he also hit .400 with four home runs, a .547 on-base percentage and .750 slugging percentage. Earlier this month, Connaughton was drafted in the 38th round by the San Diego Padres

John Gorman, Sr. RHP, Catholic Memorial
The Boston College-bound Gorman was named the state's Gatorade Player of the Year last month, and was also named the Catholic Conference MVP, after a stellar senior season with the Knights. As the No. 1 ace, Gorman went 6-2 with 80 strikeouts and an ERA of 0.24. At the plate, he also hit .354 with 11 RBI, 14 runs scored an a home run. Earlier this month, the Norwood resident was drafted in the 50th round by the Boston Red Sox.

Steve Moyers, Jr. LHP, East Longmeadow
One of the state's most elusive lefties, Moyers turned in another strong campaign on the mound as the Spartans advanced to the Division 1 West Final. He went 8-1 this season, with 88 strikeouts in 64 innings with an ERA of 0.44. For his career, Moyers is 23-2 and has averaged better than a strikeout per inning. He is receiving various interest from Division 1 schools in the Atlantic-10, Patriot League and Big East conferences.

Garrison Banas, Sr. LHP, Hopkins Academy
Stats-wise, there isn't another pitcher in the state who can lay claim to the numbers Banas put up this season. He went 9-2 this season for the Golden Hawks, with 173 strikeouts in 87.2 innings for an ERA of 0.48, before bowing out in the Division 3 West final. For his career, Banas was 26-6 with five no-hitters and a perfect game, and is in the state's ever-exclusive 400-strikeout club with 415 career K's. He will pursue a post-graduate season next year at Salisbury School, in Connecticut.
STARTING NINE
Matt Walsh, Sr. C, Plymouth North
The Franklin Pierce-bound Walsh was one of the more intimidating hitters in the region this season, as he led the Eagles to their second Division 2 state title in four years by hitting over .530 with 36 RBIs. But the most outstanding stat on Walsh has to be the respect he commands behind the plate. Counting the playoffs, only five runners attempted to steal on Walsh, and four were thrown out.
Chris McCarthy, Jr. C, Everett
Equipped with a live arm, the junior backstop was as efficient at the plate as he was at throwing out runners, batting over .585 with 28 RBIs and an on-base percentage close to .700. McCarthy is receiving varied degrees of interest from Division 1 schools in the Big East, Atlantic Coast and Atlantic 10 conferences.
Mike Barry, Sr. C/OF, Lincoln-Sudbury
The 6-foot-2 Barry was one of the most prolific hitters on arguably the state's most dangerous lineup, as the Warriors captured their third state title in seven seasons. For the season, he hit .437 with 38 RBIs and seven home runs,
Matt O'Neil, Jr. SS, East Longmeadow
As one of the premier position players in Western Mass, O'Neil turned in a solid junior season for the Spartans, batting .447 with six home runs and stealing 15 bases. He was also efficient on the mound, going 6-1 and striking out 69 batters in 43 innings. O'Neil is verbally committed to UConn.
Chris Shaw, Jr. 1B, Lexington
As the Middlesex League co-MVP alongside teammate Will Marcal, Shaw put on a clinic at the plate, with the numbers to show. He batted over .490 with eight home runs, and plated 41 runs. Shaw is verbally committed to Boston College.
Ryan Summers, Jr. C, Westfield
The junior got off to an explosive start to the season for the Bombers, with 21 RBIs and six home runs through the first three weeks of the season. He finished the year with 27 RBIs and six home runs.
Jarrod Casey, Jr. OF/LHP, Milford
The latest in a line of Caseys to succeed on the diamond at Milford, the 5-foot-11 junior was one of the premier hitters in Central Mass, hitting .530 while also going 8-1 on the mound. Casey was also the Mid-Wach A Most Valuable Player.
Lorenzo Papa, Sr. 1B, Arlington Catholic
The Stoneham resident led the state in home runs last season with 10, and followed up with another solid campaign in 2011, finishing with eight homers for the Cougars. Papa will continue his career at the University of Rhode Island next year.
Sean Amaru, Sr. 1B, Westwood
Also a star on the gridiron, Amaru was a standout in the Tri-Valley League in 2011, turning in a monster season. He batted .515 with 34 RBIs, and also led the state in home runs with 10.
BULLPEN
Will Archibald, Sr. RHP, Milton
Freddy Andujar, Sr. LHP, Holyoke
Dan Dymecki, Sr. RHP, Wellesley
Evan Mackintosh, Sr. LHP, Northbridge
Will Marcal, Sr. LHP, Lexington
Ryan McDonald, Jr. LHP, Acton-Boxborough
Victor Mendez, Sr. RHP, Lawrence
Donny Murray, Sr. RHP, BC High
Matt Tulley, Jr. RHP, Lowell
Brandon Walsh, Jr. RHP, North Andover
UTILITY
Charlie Butler, Jr. IF/RHP, Nashoba
Dan Cellucci, Jr. SS, Lincoln-Sudbury
Aaron Fossas, Sr. SS, Holy Name
Matt Goreham, Sr. 1B, Catholic Memorial
Keith Kelley, Sr. SS, St. John's (Shrewsbury)
Dan Light, Sr. 1B, St. John's (Shrewsbury)
Bob Melley, Jr. C, BC High
Rory O'Connor, Jr. OF, Lowell
Tyler Sterner, Sr. SS, Doherty
Ramses Vittini, Sr. OF, Peabody
Alex Witkus, Sr. OF, North Attleborough
Paul Yanakopulos, Sr. SS, Malden Catholic
May, 21, 2011
5/21/11
7:57
PM ET
By
John McGuirk
| ESPNBoston.com
ATHOL, Mass. -- With each delivery, the expression on Garrison Banas' face told the story.
Banas, the senior wunderkind of the Hadley-based Hopkins Academy baseball team, was hit by a pitch a day earlier against Mohawk Regional just below the right knee.
[+] Enlarge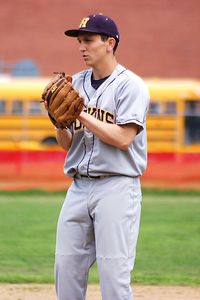 Brendan Hall for ESPN.comHopkins Academy's Garrison Banas pitched through pain during Saturday's 6-4 win over Athol. But the left-hander has risen above it all, allowing just 19 hits over 60 1/3 innings while posting 132 strikeouts.
The prognosis during the bus ride home from Buckland was not good. Banas could barely put weight on the leg let alone be expected to take the mound for his next scheduled start (Saturday) against Athol.
But a phone conversation between Banas and Hopkins coach Pat Lemieux early yesterday morning told a different story. Banas said he wanted to give it go.
Despite being in constant pain Banas managed to gut out a seven-inning performance, allowing four hits while striking out 15 as the Golden Hawks rallied late to pull out a 6-4 victory. The performance was just another example of the competitive fire that burns inside him.
There is little doubt that Banas has emerged as one of the top pitchers in all of Massachusetts. His numbers are staggering. He has recorded 373 career strikeouts. Last season he tossed three no-hitters, including a perfect game. Earlier this season he combined with teammate Aiden Barrett on a no-no and just this past Monday Banas hurled another no-hitter of his own while striking out 17 against Pioneer Valley Regional. In 60 1/3 innings pitched thus far this season, he has allowed just 19 hits and has tabbed 132 strikeouts to go along with his eight victories. Banas, a lefty who is clocked in the high 80s and throws four different pitches, says he approaches every game with the same mind-set.
"I just try to get better each time out," said the 5-11 Banas, who has maintained a 3.30 GPA and will prep at the Salisbury School next season. "[Saturday] I couldn't use the excuse that my knee was hurting because the rest of my teammates look up to me and I didn't want to let them down. I'm basically going out there not looking to pitch a perfect game but to just give my best effort. I don't pre-determine that I'm going to go out there and throw another no-hitter. Sometimes it just happens that way."
Banas, along with Barrett (10 hits allowed in 31.2 innings, 40 Ks), have become Hopkins' one-two punch on the mound and both are key reasons as to why the Golden Hawks have staked themselves out to a 14-2 record and sit atop the Hampshire League standings.
"I try to learn from how [Garrison] pitches," said Barrett, a junior, who drove in the winning run against Athol with a two-out double in his club's final at bat. "Like him, I'm always working and trying to get better. When I'm on the mound I try to be as good as Garrison but everything is about team here. There's no animosity between us at all. We all need to work together as a team in order to get better."
It's no secret that whenever Banas or Barrett toe the rubber the Golden Hawks like their chances. The goals here are the same as most high school programs -- earn enough victories to qualify for the postseason, win the league title and take your best shot at a state championship.
Last year, Hopkins didn't win its league but did qualify for the postseason, reaching the Division 3 Western Mass. semifinals before falling to Ware.
Lemieux is smart enough not to look too far into the future in terms of state titles just yet. Instead he adheres to the old adage of taking things one game at time. But it's hard not to think this team finds itself in a viable position to do something special this year knowing they can give the ball to either Banas or Barrett and not have to worry.
In regards to Banas, Lemieux has had the luxury of coaching him for four seasons and admits his amazement every time he watches him pitch.
"I don't know where he breaks down into all-time greatness but he's the best pitcher I've every seen," said Lemieux. "He's special for us and he's special for our school. For me personally he's a great kid. I love him like my own son. Every year he's just gotten better and better. He does a great job mixing his pitches and hitting his spots. At times he can be overpowering and at times he can be a wizard and just screws you into the ground with his junk. He's tough and he's a natural leader on this team and everyone looks up to him."
Lemieux, who also serves as Hopkins' athletic director, was quick to point out that during the offseason Banas spends much of his time working on improving his game whether it be in the weight room, throwing in the gym, working with private pitching coaches or reading books on pitching fundamentals.
All of that extra work has paid huge dividends not only for the Golden Hawks but for Banas himself, who hopes to play for a Division 1 college program following his stint at the Salisbury School.
It would be easy for Banas, when you consider all of the attention and fanfare he has received, to let it go to his head. But not so. He is a kid without an ego and views himself as just one of the guys on this team. Through a solid upbringing, Banas has made sure to keep both feet planted on the ground. He also isn't fazed by the fact that some people may cast a bias eye toward him due to the fact that he pitches at the Division 3 level where the talent pool may not be quite as strong as compared to Division 1 baseball in the state.
"To me it doesn't matter what division you play in," he said. "If you're doing very well and throwing your best stuff people are going to come and look at you. It doesn't matter where you play they'll come find you."
It's a pretty safe bet that some collegiate program will find Garrison Banas soon enough as well.