Boston High School:

George Kallas
May, 5, 2011
5/05/11
10:32
AM ET
The North-South game of the 33rd Annual Shriners Football Classic kicks off this June 17 at 7 p.m., and for the second year in a row the contest will be held at Gillette Stadium. Below are the rosters for both squads participating in the game:
NORTH
Ryan Adams, Northeast, DE
James Aloisio, Masconoment, OT
Eric Apgar, Acton-Boxborough, RB
Anthony Arcari, Tewksbury, RB
Manny Asprilla, Everett, WR
Derek Bent, Shawsheen, TE
Brian Bourque, Reading, DB
James Brao, Hamilton-Wenham, LB
Cal Carroll, Methuen, QB
Brendan Casey, Boston Latin, DT
Thomas Chub, Masconomet, OL
Mitchell Colley, Arlington, LB
Sean Connolly, Tewksbury, FS
Tyler Coppola, St. John's Prep, RB
Matt Costello, Everett, WR
Anthony Courtouis, Lowell, WR
Jeff Covitz, Reading, OL
Nate Cyr, St. John's Prep, OL
Ned Deane, Andover, LB
Ryan Delisle, St. John's Prep, TE
Jake Giovanucci, Dexter, DE
Mike Grassa, BB&N, DB
Will Guinee, Malden Catholic, OL
Mike Harper, Methuen, LB
Zach Hayes, Chelmsford, S
Justin Hood, Billerica, DE
Brian Hurley, Wilmington
Zach Ingalls, Westford, DB
George Kallas, Beverly, OT
Ben Koopman, Marblehead, C
Chris Malonis, Dracut, WR
Tyllor MacDonald, Lynn English, DB
Tom Meade, Malden Catholic, LB
Trae Musumarra, Central Catholic, LB
Zach Nardone, Bishop Fenwick, DT
Paul Nwokeji, Thayer Academy, OL
John O'Connell, Northeast, DL
Daniel Omorgie, Lynn Classical, DE
Xavier Peralta, Central Catholic, DB
Ony Ramos, Lawrence, DB
Peter Savarese, BB&N, RB
Jordan Shairs, Gloucester, RB
Matt Silva, Dracut, QB
Bradley Skeffington, Salem, DB
Zach Smerlas, Lincoln-Sudbury, DL
Brian Strachan, St. Sebastian's, WR
Dave Summiel, Shawsheen, DT
Chris Unis, Gloucester, DE
Trae Weathers, Revere, RB
Sean Whittaker, Methuen, OL
Peter Yasi, Swampscott, DE

SOUTH
Matt Allen, Pembroke, SE
Ryan Barrett, Holliston, TE
Rob Barrus, Weymouth, LB
Adam Boari, King Philip, OL
Blaise Branch, Cardinal Spellman, RB
Lance Burlingame, New Bedford, OL
Jack Carrier, Cohasset, SE
Dylan Colarusso, Weymouth, RB
Joe Colton, Xaverian, DB
Tom Condon, Whitman-Hanson, OL
David Conroy, Walpole, SE
Nate Crary, Dennis-Yarmouth, DL
Seth DeMello, Somerset, RB
Mike Devin, Bridgewater-Raynham, OL
Mike Driscoll, Rockland, FB
Connor Fraser, Abington, DL
Jake Golden, Hingham, OL
Mitchell Graziano, Silver Lake, DB
William Greene, Oliver Ames, DE
Ernest Guy, Foxborough, OL
Joseph Hak, East Bridgewater, OL
Matt Hallisey, Duxbury, SE
Brian Harrington, Rockland, DE
Jordan Henderson, Barnstable, WR
D.J. Jamieson, West Bridgewater, RB
Randall Jette, Martha's Vineyard, DB
Dan Johnson, North Attleboro, SE
Andrew Kestenbaum, Dartmouth, OL
Matt Lockwood, Seekonk, RB
Albert Louis-Jean, Brockton, SE
Denis Maguire, Duxbury, LB
Jamel Marshall, Mansfield, RB
Zach Martin, Mashpee, RB
Alec May, King Philip, TE
Sean Mayo, Holliston, QB
Paul McCarthy, North Attleboro, DB
Kyle McGuire, Mansfield, OL
Dave McSweeney, Medway, OL
Obum Obukwelu, BC High, OL
Trevon Offley, Brockton, RB
Jon Page, Bourne, RB
Tyler Park, Scituate, QB
Liam Porter, Natick, OL
Ethan Rayner, Holliston, OL
Nate Robitaille, Attleboro, DB
Andrew Siden, Natick, TE
Kevin Stanton, Cardinal Spellman, LB
Jeff Synan, Plymouth North, OL
Chris Tamasi, Xaverian, LB
Ryan Vaughn, Norwell, OL
December, 21, 2010
12/21/10
3:08
PM ET
The Massachusetts High School Football Coaches Association announced its All-State team on Tuesday.
Eastern Mass Division 1 Super Bowl champion
Everett
led the way with three selections, with quarterback Jonathan DiBiaso, wide receiver Matt Costello and defensive back Manny Asprilla taking honors.
Here's the list of honorees:
OFFENSE
Quarterback
Jonathan DiBiaso
, Jr., Everett
Nick LaSpada
, Jr., Billerica
Tom Murphy, Sr., Northbridge
Running back
Isaiah Jones
, Sr., Mahar
Jamel Marshall
, Sr., Mansfield
Jordan Shairs
, Sr., Gloucester
Receiver
Matt Costello
, Sr., Everett
Richard Rodgers
, Sr., St. John's (Shrewsbury)
Offensive line
Lance Burlingame
, Sr., New Bedford
Jeff Covitz
, Sr., Reading
George Kallas
, Sr., Beverly
Obum Obukwelu
, Sr., BC High
Liam Porter
, Sr., Natick
DEFENSE
Defensive line
Brian Miller
, Sr., Andover
Zach Smerlas
, Sr., Lincoln-Sudbury
Chris Unis
, Sr., Gloucester
Linebacker
Seth DeMello
, Sr., Somerset
Dan Giovacchini
, Sr., Lawrence Academy
Matthew LeBlanc
, Sr., Wachusett
Mike Mercadante
, Sr., Minnechaug
Conor Wyand, Sr., Nashoba
Defensive back
Manny Asprilla
, Sr., Everett
Dan Johnson
, Sr., North Attleborough
Joe Colton
, Sr., Xaverian
Albert Louis-Jean
, Sr., Brockton
Brian Strachan
, Sr., St. Sebastian's
December, 9, 2010
12/09/10
10:48
AM ET
Beverly High football head coach Dan Bauer was named this week's New England Patriots High School Coach of the Week in recognition of his team's 28-20 come-from-behind victory over previously unbeaten Somerset in the Eastern Mass Division 3 Super Bowl.

The New England Patriots Charitable Foundation will donate $1,000 to Beverly High School's football program in Bauer's name in recognition of his Coach of the Week selection. Bauer and captains, quarterback Joe Wioncek and offensive and defensive lineman George Kallas, were guests at Gillette Stadium on Wednesday to receive the award and will be featured on the team's weekly television magazine show, Patriots All Access, which will air at 7 p.m. on Friday, Dec. 10 on WBZ-TV in Boston.

The Panthers recovered from an 0-5 start to the season to finish the year with a 6-6 record.

"It's an unbelievable feeling," Bauer said in the release. "I'm so proud of our kids. They showed great perseverance. For us to come back and do what we did says something very special about our kids and their character."
December, 4, 2010
12/04/10
3:55
PM ET
By
Corey J. Allen
| ESPNBoston.com
FOXBOROUGH, Mass. -- When sophomore Beverly backup quarterback Dave Rollins got the call to go into the game at the end of the first half to execute a reverse pass, he didn't realize that his name was being called.
"With all the noise I couldn't hear them," Rollins said." 'Warm up' they told me. I threw about three passes then they said, 'Alright, get in there.' We've practiced the play all year, but we ran it once before. First time, we ran it in the first game, but unfortunately we dropped it, but it was there. It's a good play."
Although the play had only been run once before during a game, it is in regular rotation during practice.
"Coach Dan [Bauer] has a term that he says every single play," said Blake Sullivan who caught the pass from Rollins, "which is 'black'. That means start over. I'd say 50-55 times every practice we hear 'black'.
[+] Enlarge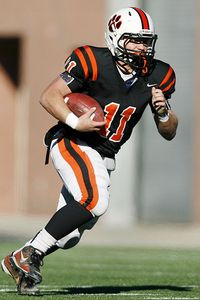 John Mahoney Beverly QB Joe Wioncek scrambles during the Panthers' 28-20 win over Somerset for the Division 3 Super Bowl. However, it was Beverly's backup quarterback Dave Rollins that provided an unexpected lift for the Panthers.
"To get that reverse pass, the Panther pass, was important," Bauer said. "That gave us a breath of fresh air and it softened them up so we could throw a little bit more. We had the play in our back pocket, we weren't sure how much we'd need to use it, but fortunately it worked when we needed it to."
Flaherty scored four plays later on a 15-yard fade pass, jumping over two defenders to put Beverly within six with 59 seconds left in the first half.
Beverly stopped Somerset on the following drive to the end first half, the first play of the second drive and for the remainder of the game.
"Sticking to our keys and following our heart, that's how we found the intensity to come back," said George Kallas.
Coach Bauer credited Kallas with keeping the team in concert after their turbulent start, as well as leading them on the day.
"When we were 0-5, our seniors stepped up and stood true to each other. George [Kallas] was instrumental in keeping the team together and keeping us focused."
Today, Kallas lined up across from Ian Levesque, who has an inch and five pounds on top of him, having to find something other than physicality to win the battle.
"He stayed high a little early, but once he got the feel of it, he took it as a personal challenge," Bauer added. "Levesque is one of the premier linemen in the state, but so is George. "
"It's the best feeling in the world," added sophomore running back Brendan Flaherty. "We wouldn't be here without that 0-5 start. It made us hungry for the rest of these wins. Facing the adversity in the beginning of the season helped us today; we didn't get on each other so we could come back."
"That's the story of our season," added junior Mark Giles of the day's comeback win. "We've been doing this all year. No one believed in us when we were 0-5, people were probably down us when we were down in the first half. We don't give up. This team doesn't give up.
"We don't give up."
December, 3, 2010
12/03/10
5:51
PM ET


Yesterday, coaches and captains from each of the teams participating in the six Eastern Mass Super Bowls played at Gillette Stadium toured the field in anticipation of Saturday's games. We caught up with Bridgewater-Raynham quarterback Billy Zolga and Everett wide receiver and defensive back Matt Costello yesterday.

Both players were at Gillette last year when their respective teams lost their Super Bowl bids. Now, the seniors are looking to leave a lasting imprint in their final high school football games.

This is for all the marbles, so let's get straight into the action:

DIVISION 1
Everett (11-0) vs. St. John's Prep (8-4), 6 p.m., Gillette Stadium
Everett players to watch: ATH Manny Asprilla, WR Matt Costello, QB Jonathan DiBiaso, RB/LB Vondell Langston, LB Buck McCarthy, WR/DB Kenny Calaj, OL/DL Nick Chiarello, DL Shaquille Taylor.
St. John's Prep players to watch: RB Tyler Coppola, OL/DL Nathan Cyr, TE Ryan Delisle, TE/ROV Lucas Bavaro, OL/DL Dan Culkeen.
The skinny: In his third year under center, DiBiaso has exploded to lead one of the state's most prolific offenses (37.5 points per game), and re-write the record book (he threw his state-record 40th touchdown pass of the season in Tuesday's 21-0 win over Andover). But you best believe he is thanking his lucky stars for the exploits of Costello (20 touchdowns) and Asprilla. The Boston College-bound Asprilla, who lines up at both tailback and wide receiver, is one of the state's most dangerous threats in the short passing game, and known to rip off huge gains out of underneath routes. Prep, meanwhile, has rode a powerful ground game (what's new?) to victory, led by Coppola, who has nearly 450 yards on the ground in the last two games. The Eagles are anchored by a powerful line led by Cyr and Culkeen, while Bavaro has emerged as an intimidating presence over the middle on defense.
X-factor: The matchup of the Trinity-boud Cyr, one of the state's best o-linemen, versus Taylor, one of the state's best d-linemen, will be one of the most intriguing battles of the day. Both are built low to the ground, with an explosive first step, and you've got to wonder if one key block will spring either team to victory.

Barboza: A Prep win would be the fitting culmination to an emotional ride, but this has been the Crimson Tide's year. Everett, 27-21

Hall: This has been a remarkable run for the Prep, after all the program has been through these last two seasons, and they're winners in my book either way. I'm going with one of the unsung guys, Gilly DeSouza, to win it late with his feet for the Crimson Tide. Everett, 24-21.

DIVISION 1A
Bridgewater-Raynham (10-2) vs. Gloucester (12-0), 8 p.m. at Gillette Stadium
B-R players to watch: QB/QB Billy Zolga, RB/LB Nick Schlatz, OL/DL Mike Devin, RB/LB Mike Chicoine, RB Brandon Morin.
Gloucester players to watch: TE/DE Chris Unis; RB/LB Gilbert Brown; FB/LB Jordan Shairs; OT/DE Andrew Mizzoni; C/NT Anthony Latassa.
The skinny: Do you like running the football? This game is for you. The Trojans and Fishermen do it better than just about anybody and certainly have the book on each other after facing off in last year's Super Bowl. You'd be hard pressed to find a more consistent pair of backs than Gilbert Brown and Jordan Shairs of Gloucester. The Trojans ran behind Brandon Morin to a win over Weymouth in the semifinals after starting in place of injured tailback Nick Schlatz. It would give B-R a lift if Schlatz can recover from a shoulder injury sustained in a Thanksgiving Day win over Brockton
X-factor: Really it just comes down to which team blocks its assignments better. It's simple as that.

Barboza: This might be the most difficult game to forecast, but I'm giving the edge to Gloucester's experience. Gloucester, 16-14.

Hall: This might be the best matchup of the day. Power versus power, strength versus strength. Gloucester has more playmakers on the defensive side of the ball, but I like the way this B-R team has been running the ball this last month. Against Dan Buron's wishes, of course, I'm picking the Trojans to avenge 2009 and put an end to the Fish's 25-game win streak. B-R, 17-14.

DIVISION 2
Mansfield (11-1) vs. Reading (12-0), 3:30 p.m., Gillette Stadium
Mansfield players to watch: RB Jamel Marshall, QB George Busharis, WR Blayne Taylor, OL/DL Sean Otto, OL/DL Kyle McGuire, OL/DL Anthony Todesco, WR Jeff Hill.
Reading players to watch: QB/DB Brian Bourque, OL/DL Jeff Covitz, OL/DL Anthony Fodera, RB Larry Gilligan, RB Zack Bates, WR Sean Gildea, WR Connor Sheehan.
The skinny: The defending Division 2 Super Bowl champ Rockets come into Saturday on a 25-game win streak, albeit by a thread after some late heroics from Bourque and Covitz allowed them to escape their home turf with a 15-14 thriller over Dracut. With Bourque spearheading a shotgun-oriented rushing attack, the Rockets have amassed 42 rushing touchdowns going into Saturday. The Hornets, meanwhile, are back at Gillette for the second time in three years thanks to a stalwart defense led by McGuire at defensive tackle, and the workhorse carrying load of Marshall. This Mansfield squad, known for its Wing-T, isn't afraid to pass the ball more than in years past, with the arm of Busharis. Taylor and Hill, the latter of whom caught three touchdowns in Tuesday's 28-0 shutout of Walpole, have emerged as downfield threats the last few weeks.
X-factor: Covitz, with his above-average leg strength and low center of gravity, has been the most irreplaceable guy on the offensive line, and is generally been a nuisance for opposing offensive linemen coming off the edge. With that in mind, picking up the blitz will be crucial for the Hornets.

Barboza: When it's on the line, Marshall is just too explosive. Mansfield, 17-14.

Hall: Stan Andre, the one who kicked off this whole win streak, was in the house Tuesday night to take in the Reading game. I'm sure he said something to them in the ecstatic locker room after the game, and I'm sure it's going to count late in the fourth quarter. Reading, 28-27.

DIVISION IIA
Duxbury (12-0) vs. Concord-Carlisle (10-2), 1:30 p.m. at Gillette Stadium
Duxbury players to watch: QB Matt O'Keefe, DB/QB Kane Haffey, OL/DL Brett Harasimowicz, TE/DE Don Webber, RB/DB Reilly Naton.
Concord-Carlisle players to watch: RB George Craan; QB Peter George; RB/LB Jabrail Coy; LB Evan Boynton.
The skinny: These are two very stingy defenses with the Green Dragons allowing just 10.8 points per game and the Patriots have surrendered a shade under 13 points per game. Make no mistake, these teams can also move the ball. Duxbury thrives with its complement of Kane Haffey and Matt O'Keefe at quarterback. Concord-Carlisle can always depend on George Craan and his 1,600-plus yards out of the backfield.
X-factor: The Patriots and their fans know what to expect out of Craan, but if sophomore Tim Badgley can repeat his five-carry, 109-yard performance from their semifinal against North Andover, C-C's chances for victory would greatly improve.

Barboza: One last time, I'll pull this one out. The "Double Dragons" of O'Keefe and Haffey will lead them to victory. Duxbury, 21-20

Hall: Yes, that's right, I called Duxbury's defense "Duxbury Swag District" yesterday on our podcast. I am tragically lame, and slightly out of control. Duxbury, 24-10

DIVISION 3
Beverly (6-6) vs. Somerset (12-0), 11 a.m. at Gillette Stadium
Somerset players to watch: RB/LB Seth DeMello; RB/DB Jaron Spear; OT/DT Ian Levesque; RB/LB Alex Estrella; QB Adam Ledoux.
Beverly players to watch: RB/DB Brendan Flaherty, QB/DB Joe Wioncek, OL/DL George Kallas, RB/DB Nick Theriault, LB Mark Giles, OL/DL Andrew Cannata.
The skinny: Somerset's 28-0 win over Dighton-Rehoboth in the semifinals was a prototypical Blue Raiders game. Both Seth DeMello and Jaron Spear finished with over 100 yards rushing as Somerset bled the clock dry in the second half. Meanwhile, Beverly – the official Cinderella squad of the 2010 playoffs — showed that they truly belonged with a 41-14 thrashing of Scituate. Will the Blue Raiders prevail and finish a perfect season? Or can the Panthers keep the magic alive? It's the quintessential favorite vs. underdog.
X-factor: The teams' lines. For Division 3 schools, both of these squads have good sized linemen. Six-foot-five, 315-pound lineman Ian Levesque is a mountain on the Blue Raider line, but is agile as well. George Kallas is an immovable object on the Panther line.

Barboza: Not only is the double wing difficult for any team to run, but the Blue Raiders have all the right elements to run it to its best. Somerset, 28-14

Hall: Clock strikes midnight on Beverly, as two wings are better than one. Somerset, 21-10

DIVISION 3A
Holliston (11-1) vs. Cardinal Spellman (12-0), 9 a.m., Gillette Stadium
Holliston players to watch: RB/LB Kevin Curry, QB Sean Mayo, TE/DE Ryan Barrett, RB/DB Jake Frechette, WR/DB Christian Baker, OL/LB Ethan Rayner, OL/DL Kevin Lamarcque.
Spellman players to watch: RB/DB Blaise Branch, FB/LB Jared Lordi, RB/DB Jordan Williams, QB Zac Cooney.
The skinny: The 11-1 Panthers come into Saturday averaging just a hair under 40 points a game, with Mayo as the triggerman. Even in limited playing time -- the Panthers often pulled their starters in the third or fourth quarter -- the dual-threat quarterback put up 1,723 yards through the air, with 21 touchdown passes to only five interceptions, and also added 456 yards and nine scores on the ground. Spellman, in its third year under Ron St. George, had a remarkable turnaround, going from 2-9 to undefeated and in its first Super Bowl since 1992. At the forefront of St. George's vaunted Wing-T scheme is the senior Branch, who leads Eastern Mass with 36 rushing touchdowns. But over the last few games, defenses have had to worry more and more about Lordi and Williams.
X-factor: The Bryant-bound Barrett, at 6-foot-5 and 233 pounds, was a matchup problem all year long in the Tri-Valley League. And while he's not putting up the most gaudy numbers at tight end and was used more as a blocking back, his combination of size, speed and athleticism demands airtight coverage from the linebackers and helps open up the Panthers' offense.

Barboza: Panthers' rallying cry: 'We Don't Get Fooled Again". Holliston, 31-24

Hall: The Panthers came to Gillette last December and got manhandled. Guarantee you that's been fresh on their minds this week, and for that I think they avoid the same early mistakes that doomed them in 2009. Holliston, 25-20

DIVISION 4
Shawsheen (10-1) vs. Blue Hills (10-1), 10 a.m., Curry College
Shawsheen players to watch: OL/DL David Summiel, QB Ryan Woolaver, RB Andrew Dascoli, WR Rob Greenwood.
Blue Hills players to watch: RB Vincent Burton, RB Isaiah Teixeira, OL/DL Jamarr Goff, QB John Curran
The skinny: Shawsheen, on the heels of a 21-0 shutout of Madison Park in Tuesday night's playoffs, is on a roll defensively. The Rams haven't allowed a point in 19 quarters, dating back to a 41-6 win over Lynn Tech on October 15. Dascoli is the Rams' workhorse back, while Greeenwood is their top threat at receiver. The Warriors, rested from a bye on Tuesday night, are led by Vincent Burton and his Division 4-best 30 touchdowns.
X-factor: The 6-foot-5, 310-pound Summiel might be the biggest catalyst for this incredible Shawsheen run. Playing right offensive tackle and left defensive end, Summiel paved the way for 118 rushing yards from leading rusher Dascoli, and also preserved a fourth straight shutout.

Barboza: The week off will certainly benefit Blue Hills, but the Rams defense is stout. Shawsheen, 14-7

Hall: Logic says to go with Blue Hills, as they'll be well-rested thanks to their bye. But this Shawsheen defense is an absolute wagon by Division 4 standards, and for that I'm giving them another shutout to finish off what's been a remarkable run over the last six weeks. Shawsheen, 21-0

DIVISION 4-A
Brighton (9-2) vs. Northeast (10-2), 1 p.m. at Curry College
Brighton players to watch: RB/LB Andrew Maestre, RB Dwight Kennedy, QB Jonathan Marrero, OL/DL Patrick Jean, WR Olumide Olukoga.
Northeast players to watch: RB/DB Bobby Novello; RB/DB Mike Cross; OL/DE Ryan Adams; FB/DE Ian Bagby; TE/LB A.J. Ortiz.
The skinny: You'd be hard pressed to find a hotter defense in the state than the Golden Knights, who have now pitched six shutouts after a 42-0 blanking of Pope John Tuesday. Their next challenge lies in the Bengals. A Division 4-A Super Bowl participant last year, Brighton's offense is led by running back Andrew Maestre and quarterback Jonathan Marrerro, each of whom ran for two touchdowns in their 36-13 win over West Bridgewater on Tuesday.
X-factor: Brighton wide receiver Olumide Olukoga is the favorite target of Marrerro, but he's also dangerous in the return game. Olukoga had a 41-yard kickoff return to set up Maestre's first touchdown of the game. At this stage, with two talented teams, special teams play always comes to bear.

Barboza: Can't pick against the Northeast defense, but the Bengals will put some points on the board. Northeast, 23-17

Hall: I used to live in Brighton Centre, and my neighbors were awesome. Go grab a bite at Smoken' Joe's when you get a chance, and make sure you get the Kansas City Sticky. Brighton, 21-17.
December, 1, 2010
12/01/10
1:40
AM ET
By
Corey J. Allen
| ESPNBoston.com
LYNN, Mass. -- Brendan Flaherty took 11 carries for 80 yards and added one 33-yard reception for a touchdown, leading the Beverly Panthers to a 41-14 win over Scituate in a Division 3 playoff semifinal.

"We were well prepared on defense," said senior captain George Kallas of keeping Scituate scoreless until the third quarter when Beverly was up 34-0. "We knew what they were going to try to do to us and we came out on fire."

Beverly opened up the scoring on a 25-yard run by Kenny Pierce less than five minutes in the game. After three plays brought the Panthers down to the Scituate 25, Flaherty took a handoff from quarterback Joe Wioncek and ran right, but stuffed the ball in Pierce's gut who took the ball outside left and scampered to the end zone.

Scituate got the ball and completed a first down on fourth and two, taking advantage of a bad kick by Beverly's George Kallas.

The next play, Beverly's George Kastrinakis (three tackles) ripped the ball from Scituate's Matt King as he was running and Beverly's Tony MacDonald (three tackles, sack) fell on the ball at the Scituate 46. Flaherty took the first play to the left for 13 yards. On the next play, quarterback Wioncek (106 passing yards, 2 TDs) dropped back into the pocket and launched a pass to Flaherty which he pulled in for Beverly's second score with 4:11 to go in the first.

Scituate took over from their 30, and faced with third and 13 from the 50, quarterback Tyler Park tried to complete the team's first pass on the day, but Blake Sullivan (three tackles) had different plans, intercepting the pass at the Scituate 40 with nine seconds left in the first quarter.

Beverly put some more space between themselves and the Sailors on an 8 play, 4:25 drive, capped by a 10-yard toss from Wioncek to Mark Giles in the back of the end zone.

Looking for a shutout, and to show their offensive might, Beverly scored one more touchdown in the first half, a Flaherty 25 pitch outside the left end, and another on their first possession of the second half, a 2-yard left jab with 5:44.

Flaherty finished his day of scoring with a 25-yard pitch left with 51 seconds left in the first half. Wioncek's kick made it 28-0.

Scituate went on to score twice in the second half, much to the chagrin of Beverly's defense.

"We need more intensity," added Kallas, looking to Saturday's matchup against Somerset. "We went up, but they scored because they kept their intensity. We need to do that."

B 13 15 6 7 -- 41
S 0 0 7 7 -- 14

1st quarter
B - Kenny Pierce 25 run (Joe Wioncek kick)
B - Brendan Flaherty 33 pass from Wioncek (kick failed)

2nd quarter
B - Mark Giles 10 pass from Wioncek (Giles pass from Wioncek)
B - Flaherty 25 run (Wioncek kick)

3rd quarter
B - Blake Sullivan 2 run (kick failed)
S - Wes Hawkins 11 run (Caleb Duvoisin kick)

4th quarter
B - Nick Theriault 1 run (Wioncek kick)
S - Matt King 3 run (Duvoisin kick)