Boston High School:

Georgia Tech Yellow Jackets
February, 12, 2013
2/12/13
1:21
AM ET
By
Brendan Hall
| ESPNBoston.com
ESPNU reported earlier tonight that New Hampton (N.H.) senior guard Travis Jorgensen has verbally committed to Georgia Tech for the 2013-14 season.
Jorgensen, a Columbia, Mo. native, transferred to the New Hampton, N.H. campus this season after three years at Rock Bridge (Mo.) High. He initially committed to Missouri in September 2011 but re-opened his commitment last October. In addition to Tech, Jorgensen also took official visits to Boston College and Creighton this season.
ESPN's Northeast recruiting analyst Adam Finkelstein has more on Jorgensen's commitment, which you can find
HERE (Insider-only) .
Below is a partial excerpt:
Jorgenson also helps Georgia Tech address two of its top needs for next season. First, he's a "pace point guard" -- meaning he creates tempo by pushing the ball with both the pass and the dribble -- and that will help Gregory and his staff get back to playing the up-tempo style that brought them so much success during their time at Dayton.

Secondly, Jorgenson has a good understanding of how to play the pick and roll, which has been another consistent staple of Gregory's offensive style in years past. Jorgenson is not only adept at turning the corner and finding the roll man, but he is also able to spot open teammates replacing up from the baseline or spacing out on the opposite side of the floor.
November, 19, 2012
11/19/12
11:32
PM ET
By
Brendan Hall
| ESPNBoston.com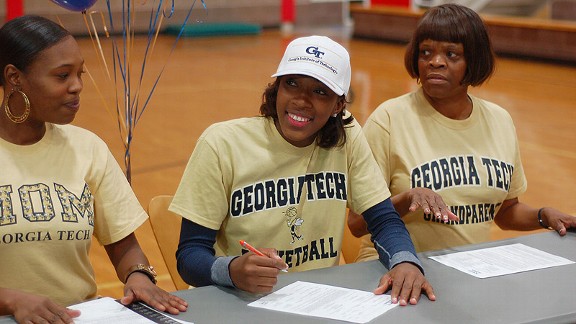 Brendan Hall/ESPNBoston.comCambridge's Donnaizha Fountain held back tears of joy as she signed with Georgia Tech before friends and family on Monday night.
CAMBRIDGE, Mass. -- It was an emotional moment for Cambridge guard Donnaizha Fountain as she sat at the middle of the basketball court at the Frisoli Youth Center, surrounded by family and friends, ready to sign a National Letter of Intent with Georgia Tech.
After a few smiles for the cameras, Fountain signed the dotted line and then broke out into tears as she embraced her mother, Donniece Watson, squeezing tightly -- and for a minute, we weren't sure if either party was going to let go.
It's been a whirlwind offseason for the 5-foot-10 Fountain, who averaged 17.2 points, 11 rebounds, six steals and three assists for the Falcons. This past Aug. 9, her 17th birthday, she gave a verbal commitment to the Yellow Jackets over a slew of high-major Division 1 offers, among them Kentucky, Southern Cal, St. John's, Pitt and Temple.
Fountain spoke to ESPNBoston.com following her signing, and was visibly ecstatic about the whole thing.
On signing
: "Signing was just overwhelming, it was tears of joy. Everyone I loved standing before me, smiling with tears in their eyes to watch me on a special day. It was just emotional. Just knowing that this is the day I've been waiting for, the day I've been dreaming about, and it's finally here.
"It felt like a sigh of relief. I've been waiting on this since I was 13. You don't just dream about something like this, and then have it come true. But my dream happened right there [points to center court] before my own eyes. Just, it was amazing. It was the most wonderful feeling I've ever had in my life."
On Georgia Tech
: "I chose Georgia Tech because of the connection with the coach [assistant coach Sam Purcell]. Any time I would talk to a coach, I just didn't feel the connection, you know? I was bored on the phone, or I wasn't feeling it. Georgia Tech, it just kind of came. [Purcell] just took me away when we were on the phone."
Where the attention began
: "It started when I played with the Boston Showstoppers [AAU program], and it started when I was 11 years old. It was basically a community friend, and he built the team around me and his two nieces, and from there I just blew up. I had to switch teams, because I kinda outgrew the program, so I went to a New York team [the Albany City Rocks]. It basically all started from the Boston Showstoppers."
What about her appealed to the college coaches
: "When I went on my official visit, I asked the head coach, MaChelle Joseph, what made her choose me. She told me it was basically one game [in AAU] against the star player, Diamond DeShields [North Carolina commit from Norcross, Ga.]. She was the No. 2 player in the country, and I shut her down. She was averaging 40 points a game, and she only had 10 against me. It was my last game of AAU, down in New Orleans. Also, how much heart I have. It's my energy on the court, my defense, and I'm not afraid of anything."
On the origin of her nickname, 'Ra Ra'
: "It actually came from a 2Pac song ["Me Against the World"]. I guess before I was born, my cousin Jamal thought of it, at the end of the song he says 'For the youngest thug of all, my little gangsta Ra Ra'. He loved the name. And plus, my middle name is Rashae."
September, 23, 2011
9/23/11
11:03
AM ET
ESPN.com has confirmed that New Hampton (N.H.) power forward
Zach Auguste
has given Notre Dame a verbal commitment for the 2012-13 season.
Late last month, the 6-foot-9 Marlborough native gave ESPN's Adam Finkelstein a final four of Florida, Georgia Tech, Marquette and West Virginia, but added, "I'm leaving the fifth spot open just in case I get any new options". He was scheduled to take an official visit to West Virginia next weekend, and Georgia Tech the weekend of October 6.
Auguste will join freshman Pat Connaughton, an ESPNBoston All-Stater and ESPNU 100 guard last season for St. John's Prep, among the Massachusetts residents when he arrives in South Bend next fall.
August, 10, 2011
8/10/11
9:57
AM ET
ESPN's Paul Biancardi
tweeted this morning
that New Hampton (N.H.) forward
Zach Auguste
has cut his list of schools down to eight: Florida, Marquette, Georgia Tech, Clemson, Notre Dame, West Virginia, Providence, and Auburn.
Yesterday, the Marlborough native told ESPN's Adam Finkelstein he is
"hoping to pick a top five or seven by the end of the month."
"I'm looking for somewhere that I can have an impact as a freshman," he told Finkelstein, "have a good relationship with the coaches, and play for a good program that can win."
July, 11, 2011
7/11/11
12:49
PM ET
ESPN's Roger Brown
checks in today on his recruiting blog
with Cheshire Academy athlete
Malik Golden
, who has cut his list of schools he's considering to four.
He's trimmed the list to Boston College, UConn, Iowa and Penn State, and could make a decision by the end of the July. However, Georgia Tech could be added to the list.
Brown writes:
"I'm getting a lot of interest from Georgia Tech right now," Golden said. "There's no definite offer, but there's a chance of an offer if I go to camp and do well. I'm trying to focus on the offers I have, but if Georgia Tech offered I'd probably make it a top five."

Golden has double-digit verbal offers from a mix of FBS and FCS schools. Central Michigan, Tulane and Villanova are among his other offers.

"I'm definitely going 1-A," he said.

Golden is being recruited to play both defensive back and wide receiver. He said Boston College originally recruited him to play defensive back, but now would like him to play receiver. Connecticut and Iowa also would like him to play receiver. Penn State is recruiting him to be a defensive back. "I don't have a preference about playing [offense or defense]," he said. "The only preference I have is if I play defense it's corner. That's where I feel comfortable at."

Golden said his goal is to make a decision in the next 3-4 weeks.

"The last thing I want to do is talk to the players at each school, then I should have a feel for where I'm headed," he said. "I'd like to have a decision by the first week of August or the last week of July, but if it takes longer that's no problem."
For more recruiting updates on New England's top high school football talent, be sure to check out
Brown's ESPN blog
.