Boston High School:

Gerald Kahari
October, 13, 2012
10/13/12
8:58
PM ET
By
Brendan Hall
| ESPNBoston.com
DANVERS, Mass. -– Through the first five weeks of the 2012 season, this much was known about St. John's Prep and its vaunted rushing attack: the Eagles can play powerful.
And after this afternoon's 49-8 shellacking of St. John's of Shrewsbury, before a Homecoming crowd at Cronin Memorial Stadium, we now know this too: the Eagles (5-1) can play fast.
[+] Enlarge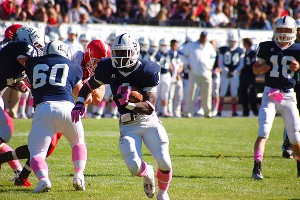 Brendan Hall/ESPNBoston.comSt. John's Prep running back Jonathan Thomas (19 carries, 238 yards, 3 TDs) went over 200 yards for the second time in three weeks as the Eagles rolled, 49-8.
Prep had a field day against the Pioneers' front seven, piling up over 330 yards in the first 22 minutes with the help of a hurry-up tempo, en route to a 35-0 halftime lead. On the ground, they ran for a total of 355 yards, with almost all of it coming from the two-headed monster of junior Jonathan Thomas (19 carries, 238 yards, 3 TD) and senior Alex Moore (8 carries, 82 yards, 2 TD). Moore also had a 54-yard touchdown catch to put him over the century mark in all-purpose yards yet again.
If you've ever watched the Eagles under head coach Jim O'Leary, you know their affinity for the power and the counter trap. But it was the way they did it today that was uniquely appealing, matching the Pioneers' Oregon-like "Blur" tempo by going equally as fast with no huddle.
"We match up against spread teams. We built our team against spread teams, because we see so many of them now," O'Leary said. "And the last couple of games, we've been going against power teams – and not that we matched up badly, we just didn't have a whole lot of points. But we're built this way. We have good athletes."
The game started off a bit wild, with a Prep three-and-out punt on the game-opening drive getting blocked by the Pioneers' Kyle Roy. Two plays later, however, Moore came up with a pick, jumping a route in the left flat and leaping at a pass from Pioneers quarterback Andrew Smiley (32-of-47, 280 yards, TD, 3 INT) for running back Shadrach Abrokwah (11 carries, 129 yards).
On the ensuing drive, Gerald Kahari set up the first of three Moore scores with a 57-yard scamper off a short screen to the left flat. Kahari accelerated then cut twice – first northeast, then at a right angle with a short step-back –- to completely reverse direction before getting hauled down out of bounds just short of the right pylon, at the Pioneers two. Moore punched it in on a dive the next play, for a 7-0 score less than four minutes into the game.
From there, seemingly the heavens opened up on the Pioneers' front seven. Moore made it 14-0 with a 54-yard touchdown reception off a simple pop pass from the left slot, and that was followed by three more scores for the 35-0 score. Thomas reeled off touchdown runs of five and 68, then Moore capped off the explosive first half with a 44-yard counter trey, shrugging off a would-be tackler amidst a scrum to break free down the left sideline.
[+] Enlarge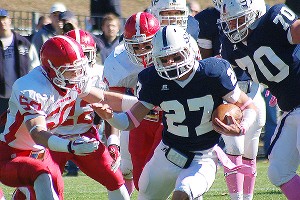 Brendan Hall/ESPN.com"It was intense" trying to replicate St. John's of Shrewsbury's speed in practice this week, said Prep's Alex Moore (8 carries, 82 yards, 2 TDs).
"I followed my pulling tackle up the hole," Moore explained. "He made a great block and I made a cut, and someone hit me, but I was able to shed it and get to the outside and get a touchdown."
(The play, we kid you not, is called "Brockton Left". Why? Moore didn't have an answer, saying simply "I don't know why, but it's a great play.")
On the first play of the second half, Lucas Bavaro picked off Smiley for a 33-yard interception return. Thomas finished off the Prep scoring on the next drive with a 75-yard scamper, followed by a six-yard dive into the end zone.
"The offensive line did a great job," said Thomas, who went over 200 yards rushing for the second time in three weeks. "That's all I can say. They opened up the holes, and I just went right through them. Alex [Moore] and I had a great day, and we give all the credit to the offensive line."
Tempo recognize tempo:
Shrewsbury is operating at a frenetic pace this season, running a "Blur" offense that is similar to the style Chip Kelly deploys at the University of Oregon, looking to snap the ball within 15 to 20 seconds after the previous play is whistled dead.
With that pace, a sharp inside zone read game with Smiley and Abrokwah, and a number of perimeter receivers sitting in zone holes, it's not uncommon to see the Pioneers score in bunches – coming into this game, they had surpassed 40 points twice and were averaging 39 points per game.
The Eagles deployed a unique method of preparation this week to get used to the frantic pace of the game, lining up two scout offenses on opposite 40-yard lines during the team defense portion of practice, and having the defensive players sprint back and forth from one scout team to the other each play.
"I really didn't expect it [the Pioneers' tempo] that much, we were pretty gassed at some times," admitted Prep defensive end Anthony Bongiorno, who registered two sacks and a few tackles for loss. "I mean, that was a fast-paced team. We kinda kept it together long enough to make some big plays."
Said Moore, "It was pretty intense...St. John's Shrewsbury gets their offense off fast, 15 seconds, it's like a blur and you don't really have time to mistakes. You gotta be ready for everything."
ST. JOHN'S PREP 49, ST. JOHN'S (SHREWSBURY) 8

SJS (4-2) 0 0 0 8 --- 8
SJP (5-1) 14 21 14 0 --- 49
First Quarter
SJP - Alex Moore 2 run (Stephen Camaro kick) 7:07
SJP - Moore 54 pass from Jack Sharrio (Camaro kick) 4:23
Second Quarter
SJP - Jonathan Thomas 5 run (Camaro kick) 10:56
SJP - Thomas 68 run (Camaro kick) 7:05
SJP - Moore 44 run (Camaro kick) 1:57
Third Quarter
SJP - Lucas Bavaro 33 interception return (Camaro kick) 10:45
SJP - Thomas 6 run (Camaro kick) 6:25
Fourth Quarter
SJS - John Giacoppe 19 pass from Andrew Smiley (Shadrach Abrokwah run) 6:25
September, 15, 2012
9/15/12
10:16
PM ET
By
Ryan Kilian
| ESPNBoston.com
DANVERS, Mass. -- The St. John's Prep defense continued their strong play to open the season as they held Central Catholic to just one first down in the first half en route to a 31-7 nonleague victory on Saturday afternoon.

Both teams started slow out of the gate as they tried to establish the run between the tackles. After St. John's Prep's (2-0) second possession stalled and Central took over safety Alex Moore would force a fumble and also recover it to set Prep up with the ball at the Central Catholic 18-yard line.

"We wanted to make some plays on defense to get the momentum on our side," Moore said. "We want to try to get the ball to our offense in a good position and go to work."

St. John's Prep quarterback Jack Sharrio would finish off the drive as he found senior wide receiver Gerald Kahari on a 6-yard middle screen to give Prep a 6-0 lead after a failed conversion kick.

Sharrio would strike again later in the half as he found senior tight end Anthony Bongiorno on an 11-yard pass to conclude a 59-yard drive. Sharrio added the two-point conversion pass to running back Jonathan Thomas out of the backfield to give Prep a 14-0 lead.

In the NFL they say that third-down is the "Money Down". On Saturday afternoon the St. John's Prep defense struck it rich in the opening half as they held Central Catholic (1-1) to just one first down at the 1:55 mark in the second quarter. Prep was stingy on third and fourth downs all afternoon as they continued to control the line of scrimmage.

"The defense played a great game," St. John's Prep head coach Jim O'Leary said after the game. "We have to be a great defensive team and that is what we are basing it around this year,"

Thomas, Prep's junior running back, was the workhorse all afternoon for the Eagles as he ran 25 times for 156 yards, highlighted by a beautiful 46-yard third quarter touchdown run as he broke multiple tackles and showed off his breakaway speed on the way to the end zone.

Central's lone score occurred on a 59-yard bomb from quarterback Michael Milano to wide receiver Ryan Barry with four seconds remaining in the third quarter. Barry made a nice individual effort to out-leap the Prep defensive backfield and take it the rest of the way for the score.

Senior Lucas Bavaro led the Prep defense with seven tackles including a bone crushing hit mid-way through second quarter. Bavaro also added two receptions for 33 yards on offense from his tight end position.

Sharrio's Efficiency: St. John's Prep has pounded the ball between the tackles to start the season but they have also shown glimpses of an efficient passing game due to the steady and solid play of Sharrio.

"He was more of an option quarterback last year and he worked hard in the off-season to get his throwing down."

Sharrio completed 8 of 12 passes for 135 yards and two touchdown strikes. He now has four passing touchdowns in the first two games and is always a threat to break a run when flushed out of the pocket.

"We have to make teams defend the field," O'Leary said. "He is making good decisions out there and we have good receivers who are possession guys."

Everett up next: The next team on St. John's Prep's schedule is No. 1 ranked Everett (2-0). The Crimson Tide were in attendance on Saturday to get scout on their upcoming opponent. Kickoff is scheduled for 2:30 p.m. on Saturday in Everett.

"Clearly they are the best team in the state," O'Leary said.

Everett routed St. John's Prep 35-0 last season and they come into Saturday's match-up on the heels of two straight victories over Leominster and Springfield Central.

"We know what is coming up," Moore said. "It is going to be a tough week against a tough team. We are really looking forward to getting back to work and getting our game plan in to get ready for next week."

ST. JOHN'S PREP 31, CENTRAL CATHOLIC 7
SJP (2-0) 6 8 7 10 --- 31
CEN (1-1) 0 0 7 0 --- 7

First Quarter
S – Gerald Kahari 6 pass from Jack Sharrio (kick failed)

Second Quarter
S – Anthony Bongiorno 11 pass from Sharrio (Thomas pass from Sharrio)

Third Quarter
S – Jonathan Thomas 46 run (Stephen Camarro kick)
C – Michael Barry 59 pass from Michael Milano (Thomas Jenoski kick)

Fourth Quarter
S – Sean Smerczynski 1 run (Camarro kick)
S – Cammo 26 field goal
August, 31, 2012
8/31/12
11:18
AM ET
By
Adam Kurkjian
| ESPNBoston.com
As a freshman at St. John's Prep, Jonathan Thomas watched running back Tyler Coppola rack up huge numbers for a team that made it to the Division 1 Super Bowl.
Asked what he learned by watching Coppola lead the Eagles to Gillette Stadium, the junior responded, "Just to keep moving. He played with a lot of pain, so I just learned from him to suck it up and keep moving."
He could have just taken those same cues from his own life experience.
[+] Enlarge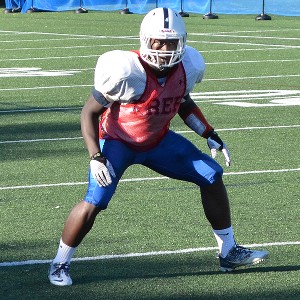 Scott Barboza/ESPNBoston.comSt. John's Prep junior Jonathan Thomas is among the best running backs in the state.
When Thomas was seven years old, the Peabody native was skateboarding with his friends, rolling out of his garage when a car coming downhill struck him on his dead end street. The injuries were so serious that he had to be taken into Boston by helicopter.
"I was unconscious when it happened. I don't remember the helicopter ride or anything," he said. "They thought I was going to have brain damage and everything. The whole right side of my face, my head, was gone, so they had to stitch it back up. There's still scars today but it's not as noticeable."
The scars may have been more noticeable back then, but they didn't slow him down. Against his mother's best wishes, by that summer, Thomas began his football career.
"My mother didn't want me to play, but it was my brother's first year, too. My brother went down to play and my dad said, 'You can help coach.' But I got in all the drills and stuff and said, 'I can do this.' I was the fastest one out there despite my injury."
By that time, Thomas felt his brush with death had no impact on his ability to play the game.
"I don't think it had any effect. It's just a miracle that I'm still alive."
When Thomas got to the Prep, he had never played cornerback in his life, but was forced to start there as a freshman because of career-ending injuries to Coppola's brothers, Jared and Brandon.
It was a trial-by-fire initiation to the varsity game if there ever was one. That season, Thomas had to cover the likes of Everett's Matt Costello (Princeton), Brockton's Albert Louis-Jean (Brockton) and St. John's of Shrewsbury's Richard Rodgers (Cal).
"It was quite an experience coming straight out of Pop Warner to playing the top players in the state. It was a learning experience but it was fun."
By the time last year rolled around, however, Thomas earned his way into the starting lineup as a running back. With sterling performances against the likes of Brockton, St. John's of Shrewsbury, Catholic Memorial and Xaverian, he showed the type of potential that already garnered the attention of a number of Division I coaches.
Always blessed with a tree-trunk lower body, Thomas worked with Prep assistant coach Jameson Pelkey over the offseason to improve his speed, which has gone down from around 4.7 in the 40-yard dash to the high-4.5 area.
"I worked on my speed, pulling sleds, hitting the weight room daily," Thomas said. "I'm working on just every part of my body to get me ready for Division I players coming at me, trying to tackle me. I'm trying to break their tackles: keep my feet moving; keep my legs going."
"He's always had that good initial burst," said Prep coach Jim O'Leary. "Now he has the other burst to go with it."
Now a junior and three-year starter, Thomas is one of the leaders for a squad that returns 18 starters and wants to go from a 4-6 team to a Super Bowl champion.
"Well, we've realized what a great opportunity we have," he said. "We have nine returning starters on offense and defense. We have pretty much the whole team coming back. It's another great mindset: we're ready to get a ring. Everybody's putting in work."
And if the Eagles encounter any adversity along the way, expect Thomas to help his teammates suck it up and keep moving.
ST. JOHN'S PREP AT A GLANCE
2011: 4-6 (1-3 Catholic Conference)
Coach: Jim O'Leary (29th season, 189-105-2)
Key Returnees: Lucas Bavaro, Sr. WR/OLB, 6-1, 198 lbs.; Alex Moore, Sr. RB/S, 6-1, 195 lbs.; Jon Thomas, Jr. RB, 5-11, 195 lbs.; Jack Sharrio, Sr. QB, 5-9, 174 lbs.; Gerald Kahari, Sr. CB/WR, 5-7, 162 lbs.; Corey Jean-Jacques, Sr. DT, 5-11, 286 lbs.; Anthony Bongiorno, Sr. TE/DE, 6-4, 233 lbs.; Michael Fawehinimi, Jr. CB/WR, 5-8, 160 lbs.; Tucker Mathers, Sr. DE/TE, 5-11, 195 lbs.; Sean Smerczynski, Jr. ILB, 5-11, 216 lbs.
Strengths: Experience, defense, kicking game, offensive backfield.
Weaknesses: Tough schedule.
Outlook: While the Prep stumbled to a 4-6 record last season, many expect the Eagles to bounce back in a big way this fall despite once again facing a brutal non-conference slate on top of the always-grueling Catholic Conference gauntlet (joked O'Leary, "We're ranked the fourth-best team in the state and the third-ranked team in our conference"). Most of the optimism centers around a starting lineup that is littered with two and three-year starters. The same defense that held BC High to just seven points last year returns nearly everyone and should be among the best in the state. Last year's offense was inconsistent but promises to explode with Thomas, Moore and Sharrio in the backfield and Bavaro and Kahari on the perimeter. The offensive line is where the team figures to make its biggest improvement. "We're so much better than we were a year ago," O'Leary said of that group, which still only projects to start one senior. Despite all the returning talent, O'Leary is aware that his team needs to find greater consistency to live up to expectations and put last year's disappointing season in the rear-view mirror. "It's nice to have players back, but we need to go out and win games now."
October, 29, 2011
10/29/11
1:51
AM ET
By
Brendan Hall
| ESPNBoston.com



WEST ROXBURY, Mass. -- "Read the papers!" shouted Brent Williams as he descended the ladder from the roof of the press box at the soon-to-be named O'Connor Stadium, the Catholic Memorial defensive coordinator wearing his emotions emphatically as he exited the box with 26 seconds left in the first half.

Forgive the former New England Patriot if he seemed a little jumpy. His godson, Penn State commit and returning All-Stater Armani Reeves, had just ripped off a 72-yard punt return for a touchdown that swung momentum in what was a tie ball game with Catholic Conference foe St. John's Prep.

That made it 14-7, and after a shutout second half, the Knights (5-1) walked away with their first Catholic Conference victory of the season, a 26-7 decision over the Eagles.

"I knew I had to get past the first guy, and then pretty much from there, I knew I could just outrun everybody to the sideline," said Reeves, who clocks in the 4.4's on his 40-yard dash. "I almost ran out of bounds at the sideline there, but luckily my feet were there. I stayed in, and gave it everything I got in me into the end zone."

Said head coach Alex Campea of Reeves, "Listen, he's a gamebreaker. He makes plays, whether you're throwing the ball or punting the ball to him, he's a heck of a player. He's just a difference maker."

Meanwhile, a defense led by Penn State-bound linebacker Cam Williams and junior defensive end Peter Ngobidi (16 tackles) forced three turnovers, and allowed just 51 yards of offense from the run-heavy Eagles (3-4) over the final two quarters.

"Prep's really known for running the ball all the time," Williams said. "The key is just to stop the run. We have great defensive backs and we always stop the pass, but we're known to let up 200 yards a game rushing every year. We've been doing that [stopping the run] all year, and then this year [with the Eagles] the defensive coordinator, my dad, was talking about getting turnovers, and we got that this week too...we try to be versatile against the run and pass, and we did well on all cylinders."

Armani Exchange: Plain and simple, ESPN Boston Mr. Football candidates repeatedly make plays that change the direction of the game, and Reeves showed why he's on the short list tonight.

His first two carries, toss sweeps to the left then right, went for 33 and 35 yards respectively -- the second one opening up the scoring on the evening. He then brought a sleepy game on Baker Street to life with his electric punt return, shedding a few arm-tackles at midfield and burning by the personal protector at the 30-yard mark on the left sideline.

After going for 68 yards on his first two carries, the Eagles' defense adjusted their responsibilities on the outside holes, blitzing both outside linebackers and forcing a quicker reaction from the player who's arguably the state's most dangerous coming around the end.

"That forced me to cut it up sooner," Reeves said. "It wasn't really much of an adjustment, but just something I had to pay attention to."

But Reeves merely came around and made them pay in multiple ways. First, there was the punt return. Then, early in the third quarter, he went up for jump ball at the left sideline and ripped the ball out of defensive back Gerald Kahari's hands (think Miles Austin vs. Antonio Cromartie). It was done so furtively that half the players on the field had already begun walking back to the huddle as if it were an interception -- instead, it was a 34-yard gain that set up first and 10 at the Prep 19.

In all, Reeves finished with 238 all-purpose yards, including 98 rushing on eight carries.

Thomas a stud in the making: In our midseason report last week, we named Prep sophomore tailback Jonathan Thomas one of the second-half breakouts to watch. He proved it again tonight, with 131 yards on 20 carries and the Eagles' lone score of the night, a 71-yard counter trey up the middle in which he followed a trap block up through to the second level and outran the secondary to paydirt.

"He's going to be a good player," Williams said. "Once he gets some weight on him...he's a pretty quick back. He slips underneath his big old offensive linemen, so he's going to be a good player. I told him 'Keep working' when I shook his hand [after the game]."

Prime Time Peter: Against the run-heavy Prep offense, which toys with looks out of both the traditional I-formation and various Georgia Tech-style triple option looks, angle pursuit is key. Head coach Jim O'Leary isn't afraid to repeat the same sequence of plays should it work, and tonight the Eagles were looking to run up the outside holes with their stable of speedy backers in Thomas, Kahari and Alex Moore.

Enter Peter Ngobidi, a junior from Hyde Park who should continue to climb on the college recruiting radar with performances like tonight. The 6-foot-2, 205-pounder might be a more natural fit out of a two-point stance, but with his hand planted in the turf he's proven just as efficient. With a quick first step and long, lean frame, Ngobidi made himself compact while also keeping his shoulders square, totaling 16 tackles on the night.

His biggest stop of the night came with nine minutes and change left, and the Knights holding on to a 20-7 lead. Ngobidi jarred the ball loose from the Eagles running back at the line of scrimmage, and Jon Schneider fell on it for a first and 10 for CM at the Prep 20. The next play, quarterback A.J. Doyle (9 of 19, 159 yards, 2 total TD) hit Brandon Hamel coming across the shallow middle end zone on a post route for a 26-7 score.

"I think I started off rough," Ngobidi said. "I got dropped a couple of times and I messed up on that counter trey (Thomas' touchdown). After that, my teammates picked me back up. I kinda fixed my own head, and kept pushing forward."

CATHOLIC MEMORIAL 26, ST. JOHN'S PREP 7

SJP (3-4) 0 7 0 0 --- 7
CM (5-1) 7 7 6 6 --- 26

First Quarter
C - Armani Reeves 35 run (Michael Keane kick) 4:50

Second Quarter
S - Jonathan Thomas 71 run (Connor Shaw kick) 9:18
C - Reeves 72 punt return (Keane kick) 0:23

Third Quarter
C - A.J. Doyle 1 run (kick failed) 4:20

Fourth Quarter
C - Brandon Hamel 20 pass from Doyle (8:40)
September, 10, 2011
9/10/11
5:42
PM ET
By
Adam Kurkjian
| ESPNBoston.com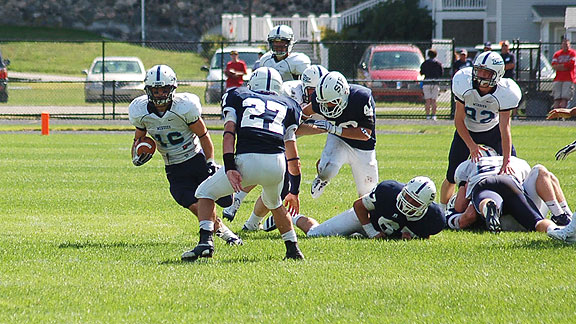 Brendan Hall/ESPNBoston.comDracut junior Zach Bassett came up with the game's first score and was in on a slew of tackles on Saturday.
DANVERS, Mass. -- St. John's Prep is usually the team with the big, experienced offensive line and overpowering ground attack.
Saturday at Cronin Memorial Stadium, however, it was visiting Dracut which fit that bill, and the result was a 13-7 win.
"We've got a lot of things to work on," Dracut coach Jason Houston said. "It wasn't pretty."
Indeed, it was a sloppy game on both ends. But if you think a senior group of linemen pushing its way forward on both sides of the ball is attractive, yesterday's performance by the Middies (1-0) was a thing of beauty. Dracut, looking to reach its fourth consecutive postseason appearance and third straight out of the Merrimack Valley Conference's Small Division, received the requisite might from seniors Anthony Metzler (5-10, 280), Mike Schiavi (6-4, 285), Conor McAnespie (5-10, 185), Jack Whelton (6-3, 200), Shawn Butt (5-11, 260) and Jacob MacShane (5-11, 200) to make up for the loss of reigning MVC Lineman of the Year Peter Salem, who was out nursing a minor injury.
Quarterback Jimmy Ryan, a junior making his first start, rushed for 103 yards and a touchdown on 19 carries and completed 10-of-15 passes for 113 yards. The Middies scored on a 2-yard Zach Bassett rush and a 16-yard zone-read keeper by Ryan in the second quarter to take a 13-0 lead into halftime.
Alex Moore (26 yards rushing, 74 receiving) dove over from a yard out for the Prep's only score with 2:58 to go, but the Middies picked up three first downs and forced the Eagles to burn their remaining four timeouts.
Game over.
"I look at it as a win is a win," said Bassett, who rushed for 47 yards and also made a key fourth-down stop on Prep quarterback Tommy Gaudet to start the third quarter. "Every win is huge, especially one like St. John's Prep. But we're going to look back, enjoy it tonight and go after it on Monday."
Some other observations...
Middies swarming:
Dracut's defense was billed as a strength coming into the season and it lived up to that reputation Saturday. In addition to the play from the linemen, the linebackers out of Dracut's 3-5-3 alignment were all over the field. Tony Ngeth, Bassett, Matt Ferrazzani, junior Pat Noonan and Ryan Schwartz were suffocating. St. John's Prep inexperienced offensive line opened very few holes and those that did appear closed fast.
"I wouldn't want to play this defense," Ryan said with a smile. "They're phenomenal. They're fast. They're strong. They just know where to be at all times."
Filling big shoes:
Ryan stepped in for his first varsity start and wasn't fazed one bit by an excellent group of defenders on the other side of the ball. He executed the zone read properly and made accurate throws in the short-range passing game. He did exactly what the offense asked him to do and more, and it looks like Dracut is going to be set at the quarterback position for another two years. He has a good group of skill players to work with in junior Bryant Tuff, Dante Torres, Ferrazzani, Bassett and Leo Lakmany. All four showed good hands and nice toughness after the catch.
Green in the trenches:
The Prep replaced every offensive lineman and it showed. The youth up front resulted in a lot of false starts and missed assignments. That will work itself out in time, though, as the Eagles were cleaner in that regard in the second half. The Prep was also missing senior Brennan Giles (6-2, 286), maybe the team's most experienced player in the trenches. Either way, Dracut had the advantage up front.
Promising Prep D:
The Eagles are going to be excellent on defense. Even with the offense sputtering like it did for most of the game, the Prep defense managed to shut out a good Dracut offense in the second half. Junior nose guard Corey Jean-Jacques (5-11, 291), a wrestling standout who just came out for football this year, is a nice anchor with ends Owen Lynch and junior Anthony Bongiorno providing speed off the edge. Junior Lucas Bavaro, sophomore Sean Smerczynski, junior R.J. Pizzano and sophomore Jonathan Thomas are a nice corps of young linebackers, while juniors Moore, Gerald Kahari and Jack Sharrio are hard hitters in the secondary. Once this offense starts clicking, look out, because the Prep's defense is good and will be even better in 2012.
DRACUT 13, ST. JOHN'S PREP 7
DHS (1-0) --- 0 13 0 0 - 13
SJP (0-1) --- 0 0 0 7 - 7
Second Quarter
D - Zach Bassett 2 run (Jacob MacShane kick)
D - Jimmy Ryan 16 run (kick failed)
Fourth Quarter
SJP - Alex Moore 1 run (Connor Shaw kick)