Boston High School:

Gerry Kahari
November, 27, 2012
11/27/12
3:08
AM ET
We're hours away from kickoff to Tuesday's MIAA football semi-final playoff games across the state, so we're previewing the action with five things to keep an eye on during tonight's action.
High Schools editors Scott Barboza and Brendan Hall break it down here:
BRENDAN HALL:
THE HEAT IS ON
The race is on Tuesday night for the state's lead in rushing touchdowns. Currently, Holy Name's Quron Wright trails Plymouth South's Dylan Oxsen, 34-33, though Wright has more overall touchdowns than the breakout junior tailback. Barring something crazy, nobody figures to catch Wright for the state's lead in rushing yardage – he's over 2,000 headed into the Naps' Division 2 Central playoff game with Nashoba.
Watching the two, it's a bit of a contrast in styles, and not just because of the offenses they run (Holy Name with the vaunted double-wing; South with a modified pistol). The generously-listed 5-foot-7 Wright is as Lilliputian as they come, but he accelerates into his cuts, builds up to top speed quickly, and evades direct hits with his low center of gravity (watch highlights
HERE
). Oxsen isn't as fleet-footed as Wright, but his combination of above-average leg strength and low pad level – coupled with a very downhill-oriented running scheme – make him a bowling ball (watch highlights
HERE
).
Both teams figure to be underdogs in their matchups. Nashoba rolled to an easy victory over the Naps in their late-September meeting, while South's EMass Div. 2A opponent, Natick, averages over 420 yards of offense and features one of the state's most dynamic passing attacks.
AIR RAID
All season long, we've jokingly called the Merrimack Valley Conference "Death by 1,000 Shallow Crosses". Based on some of the scores the league produced this year, we think it's somewhat justified.
Looking at MVC Large champ Andover, you probably figure these guys could run underneath routes in their sleep. But that is to take away from the deceivingly-quality arm strength of quarterback C.J. Scarpa (watch highlights
HERE
). Seemingly everybody's favorite sub-6-foot gunslinger at 5-foot-8, he has a quick release and can gun it downfield with the best of them.
As much attention as Andover's receivers draw in the short passing game – particularly, speedy waterbug Cam Farnham – the Golden Warriors are known to ably execute "pick plays" aimed at releasing Will Heikkinen or Andrew Deloury into open space, or simply take the top off of the defense.
But that is all to say, the Warriors haven't seen a defense quite like the one they're facing Tuesday night in Catholic Conference champion St. John's Prep. The Eagles have playmakers all over the field, and feature one of the state's best back sevens in linebacker Sean Smerczysnki, cornerback Gerald Kahari, rover Lucas Bavaro and safety Alex Moore.
On the other side of the ball, Moore and junior Jonathan Thomas make up one of the state's most feared backfield, if not the best. Last week, both Moore and Thomas were named two of the five finalists for our Mr. Football Award.
The Warriors are in for their biggest prize fight of the season here against a Prep defense. We're all interested to see how this passing attack fares against a ball-hawking defense with a plus-10 turnover differential.
THROWING DARTS
No Division has been quite as unpredictable as Central Mass. Division 1. Shrewsbury upended cross-town rival St. John's 51-46, then a month later delivered a last-second 33-32 upset of Leominster, en route to finishing 9-2 and with the top overall seed in the power rankings.
Wachusett, meanwhile, took a 46-14 beating in Week 4 at the hands of St. John's, only to upset Leominster and Shrewsbury in the following weeks. On Oct. 26, however, they took a surprise 21-20 loss to a Westborough squad that finished 1-10.
We know St. John's can score points with anyone – Andrew Smiley's record-setting campaign in his first year starting at quarterback is testament. But how do you explain surrendering 51 points to Shrewsbury, 40 to Holy Name and 39 to Milford?
Leominster appears to be just as enigmatic. This is a team that gave Everett and Brockton everything they could handle, and delivered a thrilling last-second victory over St. John's. But this is also a team that needed a second-half rally to overcome 2-9 Algonquin, and seemingly let many underdog teams hang around.
Quite frankly, I won't be surprised by anything that transpires in this division.
* * * * *
SCOTT BARBOZA:
MANIFEST DESTINY?
The are a couple of interesting storylines to watch in the Division 1A semifinals where Everett meets Masconomet and Barnstable tries to pay back Lincoln-Sudbury.
First, while the Crimson Tide will be heavily favored over the Chieftains, one element worth watching will be Everett's start. The Crimson Tide will be well-rested after not playing a Thanksgiving Day game this year. While the time off certainly will help heal injuries, Everett now hasn't seen live action in more than two weeks. And, after closing out their regular season schedule with three straight Greater Boston League games, you can argue the Crimson Tide haven't played a full game since their Oct. 20 win at BC High.
Of course, if the Crimson Tide advance, they could face the lone team to hand them a loss in more than two years – Barnstable. Meanwhile, the Red Raiders will be looking to exorcise a demon of their own in Lincoln-Sudbury, who dealt Barnstable a 14-13 upset loss in last year's semifinal.
While you would expect neither the Crimson Tide nor Red Raiders to come out flat on Tuesday, but if either is eying a potential rematch on Saturday, the game we've been dying to see might not happen at all.
DUXBURY PUTS IT ON THE LINE AGAIN
After Mt. Greylock lost a few weeks back, Duxbury has laid claim to the longest active winning streak in MIAA football. They'll put a 37-game unbeaten streak on the line when they face Hockomock League Kelley-Rex winner Mansfield at Bridgewater-Raynham. The Dragons would have a 39-game streak and a string of three-straight Super Bowl championships if they complete this year's run. But while we're exploring what could be, let's go back to what almost was.
In last year's Division 2 semifinal against King Philip, the Dragons potent spread attack was ground to a halt by the Warriors' swarming defense. Duxbury escaped with a 7-0 win over KP in their run to a second-straight Super Bowl, but in the days following their win over the Warriors, Duxbury head coach Dave Maimaron remarked that it had been the toughest battle his teams had faced during the entirety of the streak.
While Mansfield might not have the pedigree of last year's KP group the Hornets present their own problems – primarily on offense. The Dragons will not have seen a playmaking duo quite like Mansfield wide outs Brendan Hill and Mike Hershman, and running back Robbie Rapoza is hard to tackle when breaking into the second tier of the defense. The Hornets will certainly have their work cut out for them if they are to upset the Dragons' third straight Super Bowl bid, but it's not impossible.
September, 8, 2012
9/08/12
12:49
AM ET
By
Ryan Kilian
| ESPNBoston.com
DRACUT, Mass. -- The two-back attack of senior Alex Moore and junior Jonathan Thomas proved to be too much for Dracut on Friday night as St. John's Prep avenged last season's 13-7 home-opening loss as they defeated the Middies, 49-6.
Moore and Thomas did their damage early and often as the pair both scored two touchdowns with Moore's pair coming in the first half on a first quarter 12-yard run and one more in the second quarter from 15 yards out to give the Eagles a 21-0 lead deep into the second quarter.
"We have the two backs who can break it at any time," St. John's Prep coach Jim O'Leary said. "Our offensive line played well, and Jack [Sharrio] made some good choices out there."
[+] Enlarge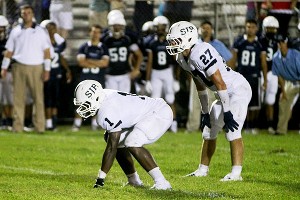 Ryan Kilian for ESPNBoston.comSt. John's Prep running backs Jonathan Thomas (1) and Alex Moore (27) combined for 200-plus yards rushing in a 49-6 win over Dracut.
Sharrio managed the game well and also connected on a pair of first half scoring strikes to Gerry Kahari (16-yards) in the opening quarter and a nice 7-yard touch pass to Anthony Bongiorno with time running out in the second quarter.
St. John' Prep led 28-0 at the half as a result of executing in the red zone, dictating offensive possessions, converting defense to offense and capitalizing on Dracut's (0-1) special teams mistakes.
In the second half Prep came out and continued to dominate on both sides of the ball as Thomas scored twice in the third quarter before the teams exchanged scores late in the fourth to give St. John's Prep (1-0) the 49-6 opening night victory.
Moore and Thomas:
Moore finished the game with 138 yards rushing on 10 carries, all coming in the first half. Thomas finished with 92 yards on the ground on just seven carries. Both players also made game-changing plays on the defensive side the ball as Moore had an interception and a jaw dropping hit from his safety position to open the second half.
"We have a lot of players returning on defense," Moore said. "We really want to use our defense to get ahead in games, get interceptions and get turnovers. We just like to hit. We are fast and we use all our abilities to our advantage."
Thomas was also impressive defensively as the heralded junior back had two interceptions from his cornerback spot, with the second beginning the second half when he picked off Dracut quarterback Tyler Duff and took it 45 yards to the house for a score.
"I can play anywhere on the field," Thomas said. "If it means stepping up on defense then it means stepping it up on defense."
Both players lauded their underrated offensive line for the holes that they used throughout the game on the offensive side of the ball.
"They open up holes and we just run through them," Thomas said. "They do not get enough credit but we let them know we appreciate them. They are the hardest workers on the team."
Bassett leads youth
: Dracut graduated a large senior class from last year's squad and only returned three players on each side of the ball. The growing pains and transition will be there for head coach Jason Houston and the Middies but there is reason to be hopeful.
"We are only going to get better by paying the likes of St. John's Prep, Mansfield in Week 3. Our kids want to play the best teams and with the always tough MVC schedule it will only make us better in the long run.
Senior running back and co-captain Zach Basset is a workhorse and two-way rock for Houston and the Middies. The veteran carried the ball 18 times for 87 yards.
"Zach is the kind of football player that any coach would want," Houston said. "He has played anywhere from freshman year at quarterback to running back to slot receiver. He plays anywhere that you need him to play and it is 100 percent all the time. He is our team leader and he has been our team captain for two years now."
A program first
: The win by St. John's Prep was the first win over Dracut in the five game history of the rivalry.
"As a program St. John's Prep has never beaten Dracut," Thomas said. "The coaches reminded us of that and we had to focus on this being the year and we came out and let them know."
Dracut took the opener last season 13-7 in Danvers as both teams struggled to get anything going offensively in that match-up.
"It is a nice start for us," O'Leary said. "It is going to get harder for us, much harder, but I got to play everyone tonight and we played well. This is the first time we have ever beat them and the fifth time we have played."
ST. JOHN"S PREP 49, DRACUT 6
SJP (1-0) 7 21 14 7 --- 49
DRA (0-1) 0 0 0 6 --- 6
First Quarter
S – Alex Moore 12 run (Stephen Camarro kick)
Second Quarter
S - Gerald Kahari 16 pass from Jack Sharrio (Camarro kick)
S - Moore 15 run (Camarro kick)
S - Anthony Bongiorno 7 pass from Sharrio (Camarro kick
Third Quarter
S – Jonathan Thomas 45 Interception return (Camarro kick)
S – Thomas 38 run (Camarro kick)
Fourth Quarter
S – Ian Kessel 30 run (Camarro kick)
D – Gabe Morales 2 run
September, 6, 2012
9/06/12
11:06
PM ET
FRIDAY
NO. 1 EVERETT AT NO. 7 LEOMINSTER
The Skinny: Leominster has never beaten the Crimson Tide since this series began in 2002, but the Blue Devils have usually been a tough out. In 2009, the teams played to a 14-6 Tide win. The last two meetings, the Blue Devils got under the Tide's skin early before Everett's talent took over. But Leominster is brimming with excitement, its proud football culture awakened again following their first Super Bowl championship in a decade last fall. Everett, meanwhile, seems to be settled at every position but quarterback – and with a line averaging over 315 pounds, that will suffice. If Leominster is to pull off the upset, they'll have to a find a way to contain electric wideouts Jakarrie Washington and Jalen Felix.

Scott Barboza: Leominster turns it into a game, but still too many horses in the stable for Everett despite the questions. Everett, 27-20.

Brendan Hall: It's going to be a majestic crowd at Doyle, and some readers will undoubtedly conclude I'm biased towards Leominster because their defensive coordinator coached me 10 years ago at Oakmont. But I'm not. Even I'm not foolish enough to pick against the Tide in this one. Everett, 24-13.

NO. 2 BC HIGH AT NO. 22 BROCKTON
The Skinny: Injuries were an overarching theme of the preseason and both of these teams were affected. Bad news for BC High is Luke Catarius is out with a hairline ankle fracture, but Brockton should have Micah Morel in the lineup for their Week 1 challenge. We'll get a look at the reigning Div. 1 Super Bowl champions new-look offense with Brendan Craven under center and Brandon Owens in the backfield while the Boxers will be sporting a Georgia Tech-inspired scheme with Auggie Roberts back at quarterback.

Barboza: A Jackson Bockhurst field goal will be the difference. BC High, 17-14.

Hall: Things unraveled for Brockton pretty quickly in last year's meeting in Dorchester. The Boxers are fighting an uphill battle again this year, but at least it will be respectable. BC High, 28-14.

NO. 23 SPRINGFIELD PUTNAM AT NO. 14 SPRINGFIELD CENTRAL
The Skinny: With the schools sitting less than a mile from each other along Roosevelt Ave., the season-opening battle between these rival schools has become must-see as of late. Putnam won this contest last season, kick-starting an historic 2011 season that ended with their fifth Super Bowl title in eight seasons. Central will be looking for revenge, but it's not easy replacing 2,000-yard rusher in Sacoy Malone. Putnam, meanwhile, turns to a plethora of new faces to replace record-setting running back Melquawn Pinkney, including quarterback Kayjuan Bynum and running back Wayne Lowery.

Barboza: I came away very impressed from talking to Central QB Cody Williams last year at Gillette. He blossoms into the real deal this year. Central, 21-16.

Hall: I like the direction Central is headed in over the long run, but Putnam is still Roosevelt Ave (See what I did there?). Putnam, 7-6.

LA SALLE ACADEMY (R.I.) AT NO. 16 NORTH ATTLEBOROUGH
The Skinny: Big Red will have its hands full opening night with their challenger from just across the state line. The Rams feature a high-octane attack led by reigning Gatorade Player of the Year running back Josh Morris and senior quarterback Anthony Francis. The key to this one will be in the trenches where North's offensive line led by Eric Beckwith and Sean Peters could have the advantage.

Barboza: This Rams team is very talented, but North holds on – just barely. North, 28-26.

Hall: Josh Morris and Co. have been dying for that elusive win over a Massachusetts squad, and I think they finally get it here. La Salle, 17-13.

NO. 12 KING PHILIP AT DOVER (N.H.)
The Skinny: Self-admittedly, we don't know as much about Dover as we do KP, but we can be some what certain what the Warriors will be showing them on defense. And, of course, that's a variety of different looks and blitz and coverage schemes. Dover, which sits just outside of ESPN Boston correspondent Marc Thaler's Granite State Top 10 poll, will also have to contend with KP quarterback John Dillon, who will enjoy a greater role directing the offense in his second year as starter.

Barboza: KP's "Psycho" package gives Hockomock League teams fits, nevermind an offense that hasn't seen it. KP, 28-8.

Hall: Knowing little about Dover outside of what our loyal New Hampshire correspondents tell us, I'm going to trust their convictions on this one and say it will be close. But I'm still going with the team closer to Boston. KP, 20-10.

NO. 4 ST. JOHN'S PREP AT DRACUT
The Skinny: The Middies have been a bit of a bugaboo for St. John's Prep in recent years and some around Danvers feel Dracut has simply posed a matchup problem for the Eagles with its spread attack. Good news for Prep is that their secondary, with Lucas Bavaro, Gerry Kahari, Alex Moore and Johnny Thomas, has matured into a strength of the team. Dracut senior linebacker Zach Bassett could be the key to the game, trying to slow down Prep's running attack.

Barboza: Looking for a defensive struggle here. Prep, 14-7.

Hall: Classic trap game for The Prep, against a classic trap opponent that's had their number in recent years. Dracut, 10-6.

NORTH ANDOVER AT ANDOVER
The Skinny: North Andover's season starts with a Walsh at quarterback, but of another name. Brendan Walsh's younger brother Casey takes the helm of the Scarlet Knights' offense. It also marks North Andover's first Merrimack Valley Conference game. The Golden Warriors will counter with a high-flying attack that impressed during this summer's Northeast 7v7 passing tournament. Quarterback C.J. Scarpa has plenty of targets including Cam Farnham and Will Heikkinen.

Hall: I know it's a familiar rival that's been on the schedule for years, but North Andover is still in for a whole new ball game. And since it's now officially an MVC game, there will be no less than 172 points scored and 1,000 yards of offense. Andover, 35-30.

Barboza: Ditto. Andover, 31-20.

MARSHFIELD AT CATHOLIC MEMORIAL
The Skinny: Last year at this time, Catholic Memorial entered Marshfield's stadium with plenty of hype, behind three Division 1 FBS commits and a No. 4 preseason ranking in ESPNBoston.com's poll. They promptly got shut out by the Rams, 24-0, fueling their ensuing seven-game win streak. The Knights will no doubt be looking to exact revenge, and they'll look to Preseason All-State defensive end Peter Ngobidi to stifle the Rams' vaunted run game.

Barboza: Ngobidi is a dominant force and asserts his will here. CM, 7-0.

Hall: The Knights got embarrassed last year in Marsh Vegas, and I expect them to exact revenge here. CM, 16-13.

SATURDAY
NO. 24 HOLY NAME AT NO. 17 ST. JOHN'S (SHREWSBURY)
The Skinny: For all of Holy Name's success under Mike Pucko, the Naps have never beaten St. John's during his tenure. Could that change on Saturday? Holy Name turns to one of the state's most elusive scatbacks in Quron Wright, and will hope for a big day. St. John's has already hit the injury bug, with incumbent QB Connor Kurtz (knee) out for the season, but RB Shadrach Abrokwah is a nice fit for their hurry-up scheme, and is poised for a breakout senior season.

Hall: If the Naps are ever to beat St. John's, this has to be the year. Holy Name, 9-8.

Barboza: Hate to do this to the Naps, sorry. St. John's, 22-21.

NO. 9 DUXBURY AT NO. 8 BRIDGEWATER-RAYNHAM
The Skinny: B-R is itching to get over the hump after dropping its season-opener to the Dragons the past two seasons. The Trojans have some terrific talent between the tackles, led by Joey MacInnis, to pave for a big afternoon for junior tailback Arcel Armstead. Duxbury graduated one of its most talented classes ever from the 2011 Super Bowl champion squad, but still has plenty of talent left over to keep the state's longest active win streak (26) going. Look for guard Rob Kosharek, linebacker Marshall McCarthy and running back Jon Hurvitz to have big days.

Barboza: Now that Dan Buron's nephew Andrew (former Duxbury standout) has graduated, expect the Trojans to get back to their winning ways. B-R, 14-10.

Hall: After graduating one of the program's most talented classes ever, Marshall the Missile gets the full spotlight. And he usually gives the fans their money's worth. Duxbury, 14-10.

CONCORD-CARLISLE AT BEVERLY
The Skinny: C-C heads into its non-league tilt with the heavy NEC/CAL Tier 2 favorite already limping, losing its star running back Tim Badgley (ACL tear) for the season. If the Patriots are to repeat last year's Super Bowl championship success, sophomore quarterback Will Blumenberg will have to grow up quickly. Meanwhile, Beverly features one of the North Shore's most feared rushing attacks with the three-pronged approach of Kenny Pierce, Brendan Flaherty and Dom Abate.

Barboza: ETA on when the Kenny Pierce hashtag gets rolling again? We're looking at you James Coffey. Beverly, 27-14.

Hall: I'm excited to see what Will Blumenberg can do for the Patriots, but the Panthers just have too much in the tank to be stopped in this one. Beverly, 28-7.
August, 30, 2012
8/30/12
5:43
PM ET
DANVERS, Mass. – A master and his disciple squared off Wednesday at St. John's Prep as the Eagles and Haverhill got together for an afternoon scrimmage.

Here are a couple of parting thoughts from the day's action:

SHOWING SOME TOOTH
The Hillies, led by former Prep standout Tim O'Connor who played under Prep head coach Jim O'Leary, although unranked in the preseason, will be a team to watch in the Merrimack Valley Small this year. They presented some matchup problems for Prep on defense, working out of a pistol spread formation.

Once a program on the verge of oblivion, O'Connor's helped turn it around in a hurry, with good numbers and a crop of athletes. The Hillies are led by Tommy Morgan, a long and lanky quarterback who showcased a good throwing motion while set in the pocket Wednesday, along with fine footwork. Running back Chance Brady is a downhill runner who provides an unexpected punch out of the spread look.

One worth watching closely this season will be sophomore wide receiver Jordan Javier. The Lynn English transfer will provide matchup problems to many this season with a 6-foot-2 frame and speed to boot. Javier made several high degree of difficulty catches over Prep defenders and will be a force throughout the season.

MATCHUP GAME
O'Leary admitted Haverhill was a good tune-up for the Eagles' impending game with Dracut, a similar squad out of the Merrimack Valley Small. While Prep was game for the challenge, there was still room for improvement in O'Leary's mind.

"We're ahead of where we were last year. We were coming off a Super Bowl season, with an experienced, veteran team, and then we had to rebuild a little bit. We certainly had the pieces with three-year starters like Lucas [Bavaro], Alex [Moore] and Johnny [Thomas] and Gerry [Kahari], those guys have been here through that, but we took our lumps along the way."

The Eagles got several big plays in the scrimmage from some of their veterans.

Bavaro started strong, picking off a Hillies pass on the first set. The physical safety read the quarterback's eye, undercutting an out route and rumbling the other way for a pick-six. The Eagles also got a consistent pass rush from Tucker Mather, who disrupted several plays from his defensive end position.

PULLING AS ONE
Another thing to watch at Prep for the upcoming season will be the work of the offensive line. While young, the line is big and has accrued some playing time during last year. Working in front of talented backs like Moore and Thomas, the Eagles' O-line will be the fulcrum to a successful season in the Catholic Conference.

"James Fagan is the only senior we have on the line," O'Leary said. "Now, a lot of those guys played last year as sophomores or even freshmen last year, but they're coming along. They have good size, they have good athleticism, they run well."
August, 31, 2011
8/31/11
12:22
AM ET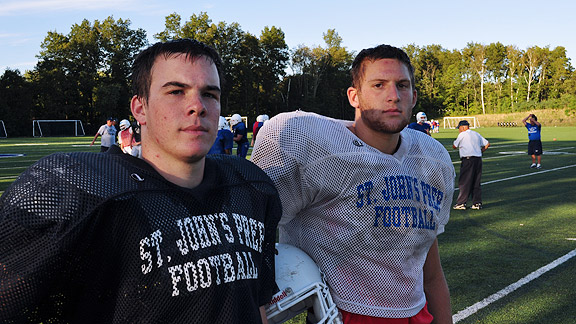 Scott Barboza/ESPN.comSeniors Tommy Gaudet and Owen Lynch captain a relatively young St. John's Prep team that will need to reassemble its offensive line in order to repeat at Catholic Conference champions.
DANVERS, Mass. -- On a splendid late summer day in the late afternoon, the St. John's Prep coaching staff is holding an open audition for which place kicker will handle kickoff duties. The No. 12 Eagles have four lively legs in camp, including seniors David Pope and Connor Shaw who shared responsibilities last year.
One by one the kickers lofted the ball into the air, drawing "oohs" and "aahs" from the coaching staff. The hangtime of each kick was shouted out by assistant Jameson Pelkey.
"Look at us, all standing out here, a half hour after practice watching kids kick off," head coach Jim O'Leary said with a half smile. "What do we do with our time?"
The place kicking duties will be just one of a few pressing questions following the defending Catholic Conference champions through the preseason. The most glaring of those questions will be who's on the offensive line? The five road-graders who led the way for Tyler Coppola's Conference MVP performance and 2,000-yard season in 2010 have all graduated and O'Leary's left with a group of 10 or so unproven junior and sophomore linemen.
"We're very green there," O'Leary said of the returning linemen.
It's a theme throughout Prep's ranks; the Eagles return just 15 senior gridders out of the 100-plus players who've been in Prep camp in August.
Still, the returning group has placed big goals in front of the team, which walked off the Gillette Stadium field dejected after a rough bout with Everett in the Division 1 Super Bowl.
"We all know that wasn't our best game," senior captain and quarterback Tommy Gaudet said.
"I think our goal is to get to the Super Bowl and do what we weren't able to do last season," co-captain Owen Lynch added.
Gaudet, for one, would like to forget the painful memories of watching the Crimson Tide roll all over the Eagles, 31-7. Following a shoulder injury sustained during the Prep's win over Catholic Memorial in Danvers, Gaudet played the remainder of the season while wearing a shoulder brace. He could barely throw the ball by the time the Eagles faced off against Xaverian for the conference title on Thanksgiving Day and into December.
Gaudet had surgery to repair the damage to his shoulder in the offseason and he's back to feeling 100 percent.
"The spot that I'm in, as the starting quarterback for St. John's Prep, I'd never give that up," Gaudet said of playing through the pain in last year's postseason, "not just because of some injury."
That attitude is what O'Leary hopes will carry his team against the stiff competition of the Catholic Conference. With BC High and Catholic Memorial returning teams laden with Division 1 recruits and the Hawks constantly circling, the road will not be easy.
"We've had a pretty intense camp and Coach O'Leary has kept telling us that nothing's going to be easy," Lynch said, "and nothing's going to be given to us this year."
ST. JOHN'S PREP AT A GLANCE
2010 record:
8-5 (Lost Division 1 Super Bowl to Everett)
Coach:
Jim O'Leary (28th year, 186-89-2)
Players to watch:
Lucas Bavaro, Jr. WR/S, 5-11, 165; Tommy Gaudet, Sr., QB, 5-11, 190 lbs.; Owen Lynch, Sr. TE/DL, 5-11, 200; Alex Moore, Jr. RB/DB, 5-11, 175; Gerry Kahari, Jr. RB/DB, 5-7, 140; Johnathan Thomas, Soph. RB/DB, 5-7, 140;
Strengths:
Defensive experience, kicking game.
Weakness:
Lack of experience on offensive line.
Outlook:
Many will ask how the Eagles can ever hope to replace Tyler Coppola, but the concern over the backfield pales in comparison to the lack of experience on the offensive line. "We have to replace 2,000 yards with Tyler, but we're looking to do that with two or three people instead of one," O'Leary said. Part of the backfield solution will be Alex Moore, who stood out in Prep's playoff victory over New Bedford last year with both an offensive (rushing) and defensive (interception return) touchdown. Don't expect O'Leary to deviate from his playbook of counter-trap sweep and options, but look for the newly healed Gaudet to air things out a bit more in play action. For as inexperienced as most of the offensive unit will be, a majority of the Prep defense either started or saw significant action last season. And it all starts with safety/linebacker/rover/human missile Lucas Bavaro. The kid can flat out hit and bring a Rodney Harrison-like blend of intelligence and physicality to his game. Look for Lynch to pick up the pass rush slack left by graduated defensive end Ryan Delisle.