Boston High School:

Graham Stewart
September, 14, 2011
9/14/11
2:30
PM ET
By
Roger Brown
| ESPNBoston.com
Xavier High School proved to be the wrecking ball in Connecticut high school football last season, when the Falcons went 13-0 en route to the Class LL championship.

Xavier may have an even better team this season.
The Connecticut Sportswriters Alliance picked the Falcons as the state's No. 1 team in its preseason poll. Xavier edged Masuk by one point.
"You have to worry about complacency," Xavier coach Sean Marinan said. "We haven't played a game yet. Pretty much everything they say at this point in the season is based on last year."
It's based on returning talent as well, and the Falcons have plenty of it. On offense Xavier has two Division I quarterbacks in junior Tim Boyle and senior Pat D'Amato. Boyle has scholarship offers from Boston College and Syracuse, and D'Amato recently committed to Stony Brook.
The QBs split time last season. D'Amato will play wide receiver when Boyle is the team's quarterback.
"Tim's got a very strong arm and he's 6-4," Marinan said. "He chose not to do too much this summer. If he had I'm sure he'd have more offers. He's what everybody's looking for in a quarterback.
"Pat's a faster kid, and a little more elusive. Basically we have two No. 1 quarterbacks."
The offense also returns senior running back Mike Mastroianni, who rushed for 1,889 yards last season. In addition, wide receiver Ryan Murphy is drawing interest from several FBS schools.
The defense must replace linebacker Graham Stewart, who was the state's Gatorade Player of the Year and is now playing for the University of Florida, but returns seven starters. Linebacker Jovan Santos is among the returnees. Santos has committed to the University of Massachusetts.
The Falcons also have three linemen – Ryan Jacobucci, Austin Wezenski and Sean Marinan Jr. (coach's son) – who are being recruited by FBS programs.
"I think our defense will be strong again," Marinan said. "I don't know if it will be as strong as it was the year before. Replacing Graham Stewart is virtually impossible. We do have some holes to fill and he's obviously one of them."
Xavier, which beat Trumbull to win last year's LL title, will open its season Friday against Notre Dame-West Haven.
August, 21, 2010
8/21/10
10:18
PM ET
ESPN's Bill Hodge is reporting that Xavier (Middletown, Conn.) linebacker
Graham Stewart
has made a Class of 2011 commitment to Boston College.
The 6-foot-2, 218-pound Stewart, a three-star prospect and the top-ranked prospect in Connecticut by ESPNU, chose the Eagles over offers from Syracuse, UConn, Temple and Iowa. Florida had also shown interest.
Last season, he recorded 100 tackles, three sacks, one interception, two fumble recoveries and one forced fumble.
The Eagles now have 11 pledges.
August, 21, 2010
8/21/10
12:17
PM ET
Xavier (Conn.) linebacker
Graham Stewart
, ESPNU's top-rated prospect in Connecticut, told correspondent Roger Brown this week that he would like to make a decision on college before the first game of the season (September 17, versus Notre Dame of West Haven).
Brown reports in his
recruiting blog
that it's likely a three-team race between Boston College, UConn and Syracuse, but Florida has also shown interest in the 6-foot-2, 218 pound Stewart's services (the Gators are also the alma mater of Bristol native and Patriots tight end Aaron Hernandez).
"I've been to Gainesville a bunch of times and I was told they would offer," Stewart told Brown. "I really like BC, Syracuse and UConn a lot. I've been to all three and right now they're all bunched together. Even if Florida offers I wouldn't say they're the favorite. I'm sure my family would respect any decision I make, but I'd like to stay close to home."
Stewart is no doubt a household name in the Nutmeg State. But for the unfamiliar, here's what our friends at Scouts Inc. had to say about him:
Stewart is capable of applying pressure with good results in all situations. Has the size and athleticism for the outside linebacker position at the major level of competition. His strong tackling skills should allow him to be a productive special team's player. Shows good flexibility, balance and agility; does a good job with K&D recognition skills; demonstrates the quickness to fill gaps with downhill acceleration; has the playing strength to take on and defeat blockers at the point of attack; can avoid blockers with quickness when moving through traffic in pursuit of the football. This prospect has very good range along with the ability to play in space; this shows up in pass coverage; is capable of putting pressure on the QB as an inside rusher or coming of coverage to apply pressure off the edge. We see a good closing burst to the quarterback, resulting in sacks and pressures; flashes the ability to crossover for depth along with good route recognition. This guy displays a good understanding of where he is on the field and reacts accordingly; His toughness and excellent motor put him in position to make big plays and create havoc in the backfield. Stewart may not be an immediate starter when he steps on campus however with his playing speed and athleticism it could be difficult keeping him off the field; early playing time as a situational defensive player and on teams is a distinct possibility.
August, 18, 2010
8/18/10
6:14
AM ET
By
Matthew Stout
| ESPNBoston.com
Kevin Callahan is entering his 11th year as head football coach at Ridgefield High School this fall. Since 2001, his Tigers have never endured a losing season. They've won nine games four times, and six or more every year but one.

And yet, they've been to the CIAC playoffs twice, playing for -- and winning -- their only state championship in 2002.
Callahan thought something was wrong with that.
"It's nice when kids understand how to win," he said, "but you have to reward winning."
Others thought so, too.
In a change met with sweeping applause from the Connecticut high school football community, the CIAC is implementing a new playoff system this fall that features fewer divisions, more teams and a venue that many feel finally fits the bill.
In recent years, the football playoffs featured four teams earning postseason berths in six divisions. This season, there are only four divisions (LL, L, M, S) but with eight teams qualifying in each, the number of playoff competitors jumps from 24 to 32. The hope is to reward the larger schools who play in more difficult divisions. Last season, three 9-1 teams (two in Class LL, one in L) didn't make the playoffs, and the seasons of four 8-2 teams ended on or around Thanksgiving. In 2008, 14 teams with eight or more wins didn't qualify.
"All other CIAC sports, you win 40 percent of your games, you're in the playoffs," said Berlin coach John Capodice, a member of the CIAC football committee. "I felt the football kids were shortchanged."
[+] Enlarge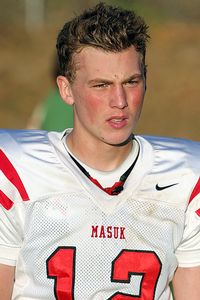 Courtesy of Dave ChoateMasuk-Monroe (Conn.) quarterback Casey Cochran is looking for a repeat performance of last year's state-best 2,968 passing yards in 2010.
It's difficult to find any detractors of the decision, aside from those who would have welcomed further expansion to include as many as 48 teams. Some, such as St. Joseph coach Joe Della Vecchia, believe the system will still keep some deserving schools out only because they're playing tougher schedules.