Boston High School:

Greg Burke
November, 23, 2013
11/23/13
1:18
AM ET
By
John Botelho
| ESPNBoston.com


BROCKTON, Mass. -- A season ago, the Plymouth South High School football team surged to the program's first ever playoff appearance, but fell in the first round of the playoffs, one win shy of a Super Bowl appearance at Gillette Stadium.

Fast forward one year, and star running Dylan Oxsen made sure the Panthers would finally get to find out what the turf in Foxborough felt like as he powered Plymouth South past Stoughton, 14-12, in the Div. 3 South final to punch a ticket to the state title game.

"The feeling is so good to be the senior group to finally make it to Gillette," Oxsen said. "Before last year, South had never even made the playoffs. Last year, we made it to this game and we lost. There is no better feeling than this right now."

Added South coach Scott Fry: "It's not a very old program; we've only been around for 20 years. Relatively speaking, when you're talking Stoughton years, that's not very long. We've always kind of been the step sister of Plymouth so it says so much about our kids and the student body."

Oxsen, who got off to a slow start against rival Plymouth North last week, hit the ground running Friday night under the lights of Marciano Stadium at Brockton High. He ripped off both of his touchdown runs and ran for 150 of his whopping 214 yards before halftime against the Knights.

After the team's traded three-and-outs on the first two drives of the game, Oxsen took advantage of the good field position South was given after Stoughton punted from deep in their territory.

He took the first carry eight yards up the middle before gashing Stoughton on the second touch of the drive for the final 29 that stood between him and the end zone to put the Panthers up 7-0.

Early in the second quarter, South forced another punt, this time taking over at their own 25.

Their leading man went to work once again, this time taking eight of the Panthers' nine carries on the drive, racking up an impressive 72 yards, finally capping the drive with a 6-yard plunge to extend the lead to 14-0 with 4:07 remaining in the first half.

Plymouth South appeared on the verge of putting the game out of reach as Stoughton's ensuing drive seemed to stall when a long pass on third down tipped off the hands of a would-be receiver.

Facing a fourth-and-8 at the South 15, Stoughton head coach Greg Burke opted to bypass a field goal attempt, instead putting the ball back into the hands of sophomore quarterback Jake Gibb.

Gibb, who took over as the starter midway through the season, responded like a true veteran as he delivered a perfectly lofted pass into the outstretched hands of Lennox Green. For the second straight week, South blocked what would prove to be a big extra point.

With just over a minute remaining in the half, a muffed kickoff looked more the part of an onside kick attempt, but the Black Knights fell on the ball just over 10 yards down field. A long pass looked to have the Knights in business, but South quickly forced and recovered a fumble.

Just three plays later, with the Panthers trying to run out the clock, a pitch ended up on the turf, and Stoughton returned the favor by recovering a fumble.

With just 25 seconds to go in the second quarter after the fumble recovery, Stoughton once again turned to the budding sophomore slinger.

After an incomplete pass on first down, Gibb connected with Joe Girolamo on a bubble screen over the middle. Girolamo followed his pulling offensive line 37 yards into the end zone for another score. A two-point rushing try was stuffed by the Panthers, sending the team's into the break with Plymouth South leading 14-12.

Both sides came out in the second half playing their best defense of the night, and the offenses combined on one third quarter first down.

"Our defense doesn't get a lot of credit because we have Dylan Oxsen on our team so it's kind of the Dylan Oxsen show when everybody comes to see us play," said Fry, "but our defense has played awesome all year minus the [Dennis-Yarmouth] game where we didn't have everybody. Outside of that game, we're probably averaging less than seven points against this year."

Late in the contest, South's defense forced a turnover on downs, leaving the Panthers looking to Oxsen for one more trip down the field.

The senior running back obliged, taking every carry during an 11-play drive that left Stoughton at their own 30 with just 2:04 remaining.

A couple of big pass completions by Gibb and a defensive pass interference moved Stoughton all the way to the South 24, but the defense came up big once again as Anthony Schena intercepted a pass near the end zone to seal the victory.

"He's a kid who is a two-sport captain, and doesn't always get all the credit he deserves," said Fry. "Kids who are leaders seem to just step up and make big plays and that's what he did there."

Added Schena: "Our team is mentally tough and we make sure its not over 'til the clock says zero. We just keep playing 'til the end, that's how football is played. That's why we're able to make big plays."


November, 16, 2013
11/16/13
12:20
AM ET
By
Ryan Lanigan
| ESPNBoston.com
NORTH EASTON, Mass. -- Sophomore Jake Gibb wasn't the starting quarterback at the beginning of the season for Stoughton, but you'd never know that with the confidence he played with on the Black Knights' final drive Friday.

Gibb led Stoughton from their own 26-yard line to the Oliver Ames 8 in 16 plays before kicking the game-winning field goal himself with just over a minute left as No. 2 seed Stoughton downed previously unbeaten No. 1 Oliver Ames, 16-14, in the Division 3 Southwest final.

"We had a tough time," Stoughton head coach Greg Burke said. "They are a good team, an excellent team. I'm happy they had a great season and I'm glad we aren't playing them again. They gave us a good licking in the first one and we played a little better today and we played harder and it showed, I think, that we got a little better then maybe they did.

Oliver Ames opened the fourth quarter with two straight incompletions before punting it to the Black Knights with 10:30 left in the fourth quarter. Stoughton used up 9:22 on their 16-play drive before Gibb put it through the uprights on a 25-yard field goal with 1:08 left.

But Oliver Ames nearly stole it back.

After the field goal, Oliver Ames returned it to their own 28 and quarterback Nick Cidado drove his team down to the Stoughton 11-yard line in 51 seconds. But with just three seconds left, the Tiger's 28-yard field goal was wide right.

"We probably should have knocked off a few more seconds down here," Burke said of their long drive. "We tried to knock off as much as we could for the field goal but you don't want your own guys thinking about a field goal, you just want to go out and do it. It's a touch call for a sophomore."

Gibb actually missed a 32-yard field goal in the first half, but credited his teammates for keeping him calm on his second attempt.

"It started low and I was really nervous about that," Gibb said of his confidence level. "The team settled me down and made sure I was calm kicking it."

Gibb finished with a staggering stat line of sorts (2 of 4 passing for 30 yards, in addition to 8 yards rushing), but the timing of his numbers couldn't have been any better.

On its last drive, Stoughton ran into a third-and-7 on its own 29 before Gibb had his first completion — a 21-yard gain to junior Brian Crimmins. Just three plays later, the Black Knights faced third and 4 at the OA 44, and this time Gibb scrambled for just enough to move the chains.

Maybe the biggest run for Gibb came when Stoughton faced a fourth-and-2 from the OA 29-yard line, Gibb's QB sneak gained four yards and a first down for Stoughton. Gibb had his second completion of the night, hitting Crimmins on a third-down that gave Stoughton the ball inside the OA red zone.

"The coaches have definitely helped me out the most," Gibb said. "They always tell me 'you're the one next if something happens' and that's what happened when Stanley [Sajous] went down. I had to step up. Coach tells me what to read and I have the run option and if I see it, I'll take it.

Crimmins was without a reception before his two catches as Gibb had yet to complete a pass, only having attempted just one in the first half — a Hail Mary-esque try right before the half — and one in the second. Despite not having connected, there was no wavering in Gibb's confidence.

"It's very high," Gibb said. "[Brian] told me he was going to be there for me no matter what, I threw it there and I trusted him with everything that I have and it turned out great."

Lennox Green and Jovani Pires did most of the legwork in the backfield for Stoughton, who ran on 14 of its last 16 plays. Pires finished with 107 yards on 16 carries, while Green had 96 yards on 13 carries and both of Stoughton's touchdowns.

Green opened the scoring on the first play of the second quarter, punching it in from one-yard out after Oliver Ames turned the ball over on their first two possessions. The Tigers got on the board after Colin Lozzi came up with a huge tackle in Stoughton's end zone to force a safety. The Tigers then took the lead with just 12 seconds left in the first half as Cidado found sophomore Franklin Holgate for a one-yard score, just one play after the two connected on a 29-yard play.

OA forced a three-and-out on Stoughton's opening drive of the second half, and a low snap gave the Tigers the ball at the Stoughton 26-yard line. Five plays later, Cidado hit sophomore Andrew Callachan over the middle for a 7-yard touchdown. The extra point fake attempt was snuffed out by Stoughton.

The Black Knights made it a 1-point game when Green took a handoff to the left, but cut back across the middle and outran OA defenders for a 45-yard touchdown with 48 seconds left in the third quarter. Stoughton's extra point fake also failed, making it 14-13.

Stoughton will now face Plymouth South, the winner of the D3 Southeast Bracket, in the D3 State Semifinals.

The game will be Nov. 22 (7 p.m.), at Brockton High School.
November, 23, 2012
11/23/12
6:12
PM ET
By
Brendan Hall
| ESPNBoston.com
1.
The biggest thing that stood out to me from yesterday's Natick-Framingham game was how efficient the Redhawks' passing game remained despite limited touches by Brian Dunlap. The sophomore has an unheard-of 30 receiving touchdowns since his first varsity start last season, but for the first time in his career did not register a touchdown catch.
I posed this question to the Framingham defense in my pick Wednesday, and I'll pose it again to Plymouth South -– how do you cover Brian Dunlap? But now, I'm wondering if bracketing or shading a safety to his side is even the best gameplan. The Natick coaching staff was pretty high on Alex Hilger before he missed most of the season with a broken collarbone, and yesterday we saw why. Athletically, he's a terrific target who can stretch the field. Between Dunlap, Hilger and the recently-blooming Justin Robinson, it might be a case of "pick your poison".
Still, I think the key on Tuesday will be running back Nick Lee, who injured his ankle last month but looked solid yesterday. He told me yesterday his right ankle was "100 percent", and anyone who watch Natick's No. 9 win over Walpole knows that wasn't the case.
***
2.
You could make a pretty solid list of elite players sitting at home after Thanksgiving -– Xaverian's Maurice Hurst Jr., Catholic Memorial's Peter Ngobidi, Needham's Mike Panepinto and Nantucket's Terrel Correia come to mind. But the one I was really looking forward seeing was Amherst running back Kieran Presley, who ended his career yesterday with 175 rushing yards and two scores on just 10 carries in a 35-15 win over Northampton.
We profiled Presley
after his ridiculous 359-yard performance in a Nov. 2 win over Chicopee
, and you can argue he is playing his best ball right now. He finished with 1,009 yards on the season, but 684 of those yards have come in the last three weeks – including four scores of 56 yards or longer. Head coach David Thompson also says there is varying degrees of interest from a scattering of Division 1 FBS and FCS programs, including UConn, Albany, Rhode Island, New Hampshire and James Madison.
It looks like the Hurricanes finally got their zone-blocking scheme down midway through the season, but unfortunately they'll be on the outside looking in. Just a hunch, Thompson has a good thing going forward with this program.
***
3.
I said this on FOX 25 last night, and it bears mentioning again. For the most part, there isn't an overwhelming favorite among any of the divisions in Eastern Mass. Out in Central Mass., Division 1 is wide open, and on paper Nashoba feels like the overwhelming favorite but this is a team that Doherty nearly upset earlier this season.
However, in Division 3 Central, it's Auburn, Auburn, or Auburn. The Rockets are No. 9 in our statewide poll, and No. 1 in the Telegram & Gazette's poll, for good reason. As a team, they've run for 2,863 yards and 44 touchdowns, with an average of 10 yards per carry, led by senior Tyler Desjardins (120 carries, 1,560 yards, 23 TD).
Much like USC's student body right or Nebraska's I-bone formation, there's not a lot of trickeration to the domination – everybody knows what's coming. The Rockets run primarily power sets with jumbo personnel, and have been blowing people off the ball all season. I've previously mused that in the past the Rockets have gotten by just on outweighing people at the point of attack (they average about 280 pounds across, after all), but this is a unit that seems to get more mobile every time out. All-State candidate Aaron Dyke is at the forefront of this, able to pull down and lead block on sweeps fluidly.
The rest of the field in Division 3 consists of Hudson, Tantasqua and Groton-Dunstable. To those three teams, I say good luck.
***
4.
Sharon's Dave Morse, Stoughton's Greg Burke and Plymouth South's Scott Fry are on many short lists for Coach of the Year, and deservedly so. But I think we should also consider Upper Cape's Mike Hernon for any such nod. In just his second year at the helm, he has the Rams in the playoffs as Mayflower Small champs, with a 10-1 record. The Rams are one of the highest-scoring teams in Division 4A (28.1 points per game), and they have junior running back Jon Dumont to thank for that. He had an impressive start to the season (89 carries, 889 yards, 11 TD in his first five games), and is a hard north-south runner with 40 speed allegedly in the 4.5 range.
***
5.
If Barnstable and Everett win out on Tuesday, then the Division 1A Super Bowl is by far the marquee game of the Gillette Stadium slate. Some of us -– myself included -– are probably wondering why that got the 3:30 p.m. slot instead of 6 p.m., which has been designated for Western Mass. Division 2. Especially considering the crowd for last year's Western Mass. Super Bowl, an early-afternoon contest between Springfield Central and Longmeadow, was thoroughly a ghost town.
All of that considered, I might end up eating my words if Wahconah makes it. I had a conversation with noted
Berkshire Eagle
columnist Howard Herman the other day, and he assured me that if the Warriors make it to the Super Bowl, the town of Dalton "will shut down". Hope he's right.
October, 13, 2012
10/13/12
12:24
AM ET
By
John Botelho
| ESPNBoston.com
NORTH ATTLEBOROUGH, Mass. -- In a game where defense ruled, it was the Stoughton football team's offense that ensured the Black Knights came out on top against North Attleborough, winning, 12-7, on the road at Community Field on Friday night.

A 17-play Red Rocketeers drive that spanned 10 minutes – the last six of the third quarter and the first four of the fourth – resulted in a touchdown with 6:53 left in the game put them up 7-6, and seemed like it shifted momentum completely in their favor.

Until the kickoff, when Malachi Baugh picked up a rolling kick at the 13-yard line and returned it 42 yards to the North 45.

"Through that whole drive, I was just trying to keep strength and focus," Baugh said. "On the kickoff, I just saw some holes and took advantage and ran up the field."

Baugh followed up with a 12-yard carry and an 18-yard carry to move the ball down to the 15-yard line.

"That was huge," Stoughton coach Greg Burke said. "I don't know what else to tell you. The fourth-down conversion before they scored shouldn't have happened, but that's high school football. It was a big play, though. Baugh is real tough."

Frankie Morris finished the job two carries carries later, scoring on a 14-yard sweep left to put Stoughton back on top.

The flurry of late scoring played out completely different than the rest of the game, in which North Attleborough (3-3) totaled 180 yards of offense and Stoughton had just 163.

The teams each possessed the ball just once in the first quarter, and North's 14-play opening drive stalled out after a chop block penalty erased a 1st-and-goal opportunity from the 4-yard line.

After a couple of penalties and plays that resulted in a loss of yards, Stoughton took over on downs at the 25.

The Black Knights (6-0) piled up a 16-play drive, but eventually came up short at the 4-yard line. Stoughton's defense turned in an impressive three-and-out, forcing a punt from the 10. The punt wobbled out of bounds at the 24, setting the Knights up for an easy score.

Five plays later, Morris took off on a sweep left – the same play he scored the game-winner on – and plunged into the end zone from six yards out with 2:14 left in the first half.

From there, the teams traded defensive stands until the Red Rocketeers took over with 5:09 left in the third, when they set out on the 17-play drive.

Quarterback Ryan Perron, who finished with 13 carries for 45 yards and was 9-for-13 passing for 65 yards, was the driving force behind the extended scoring series.

On fourth and 2 from the 19, he delivered a 16-yard pass to a wide open Tyler Sellner, who had three catches for 32 yards.

On the ensuing first-and-goal play, Perron plunged three yards into the endzone. A made point after try gave them a brief lead.

INJURIES AFOOT
The Red Rocketeers went into the game knowing two of their best players would be watching from the sidelines.

Alex Jette, the team's starting running back and their most dynamic playmaker, was in a walking boot with a stress fracture in his foot.

Fellow senior captain Sean Peters missed the game after his shoulder flared up earlier this week in practice. Peters, a two-way lineman who is catching some Div. 1 interest, tore his labrum playing basketball last year.

"We didn't lose this game because of who we didn't have," North Attleborough coach Don Johnson said. "We lost this game because, like the last few weeks, we didn't make plays we needed to make. If we had those guys, would we have won this game? I think so, but we didn't have them and we didn't get it done."

Late in the game, Stoughton lost Adam Leonard to a leg injury that required splinting before he was carried off the field.

"I hope Leonard is OK," Burke said. "He's one of the best players in the state, and not having him is going to be a big blow to us. I don't know what the injury was, I'm not a doctor, but we'll find out soon."
October, 6, 2012
10/06/12
5:39
AM ET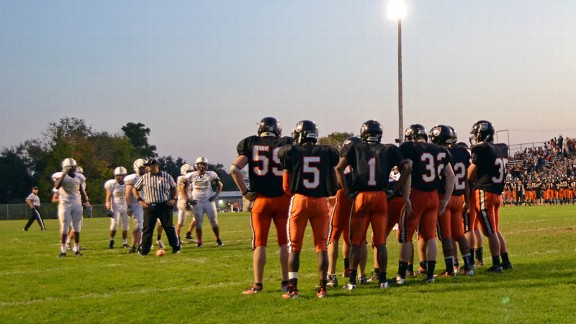 Scott Barboza/ESPNBoston.comStoughton High football returned to play for the first time since the death of teammate David Wade. After attending Wade's funeral Friday morning, the Black Knights turned in a complete effort in a 20-0 win over Hockomock League rival Foxborough.
STOUGHTON, Mass. -- The enduring image at Anthony L. Sarno Field Friday night came after Stoughton's 20-0 win. The Black Knights players, coaches, parents, student fans – almost all clad in black and orange – milled about the field.
None of them seemed to know how to leave. None of them seemed interested either. The gridiron, that comfortable cocoon, a patch of green earth and a little slice of heaven insolated from the inevitable coldness of the outside world, was consoling. It was apparent that as soon as the crowd thinned reality would come crashing back. Maybe in the walk back to the car, maybe on the drive home, maybe before shutting the lights off for the night, maybe Saturday morning.
On Friday morning, Stoughton football player David Wade, 17, was buried. Friday night, his football teammates played a game worthy of tribute.
But it's the thereafter that's unnerving.
What happens when we're all alone?
Wade's presence was all over Sarno. The Black Knights kept Wade's uniform, replete with helmet and gloves, on their bench. A decal with Wade's No. 56 was affixed to back the back of each player's helmet. T-shirts with the "56" were printed. The number was also spray painted onto the grass in a giant shield near one of the field's entrances. The crest with a 15-foot high 'S' in the middle and Wade's number was outlined with yard lights.
A moment of silence was observed before the National Anthem. The game ended with Stoughton head coach Greg Burke walking over to gather Wade's belongings from the bench. Even as Burke was swarmed by media postgame and fought through tears during local television interviews, he clenched the helmet and jersey in his left hand.
Burke talked about his team "sweating and crying" through the week in practice. The 100-plus members of Stoughton High's football ranks, along with the cheer squad which Wade was a part of during basketball season, were in attendance at St. James Church hours before kickoff. They refocused in time for kickoff. Senior Imani Pina, who scored the Black Knights' second touchdown on a fumble recovery, described it as a business mentality. After paying their respects in person, the next agenda item was honoring Wade with a victory.
But what happens next?
After watching the community rally in the past week, Burke reflected on the experience. With soft eyes and a thick mop of silver gray hair on his head, it felt as though truth had just sunk upon him. The healing has yet to begin.
"They're struggling right now," Burke said of Wade's family. "You can't even begin to imagine what they're going through mentally."
Burke intends to visit Wade's family, which was in attendance for Friday's game, on Sunday with a group of his players. He'll present them with the game ball.
Friday was also homecoming for Stoughton. The pomp and circumstance droned on through halftime, another small respite of normalcy. That too faded. And by the time the clock hit triple zeroes the unease returned.
Last Friday, the Black Knights claimed a win over Hockomock League target Mansfield for a second straight year. Less than 24 hours after contributing to that win, Wade was gone.
One week later, the sting of loss remains. At least for a night, it was shared.
"Dave," Pina said, "he was with us everywhere tonight."
There is strength in numbers -- five and six.
October, 5, 2012
10/05/12
10:59
PM ET
By
Ryan Lanigan
| ESPNBoston.com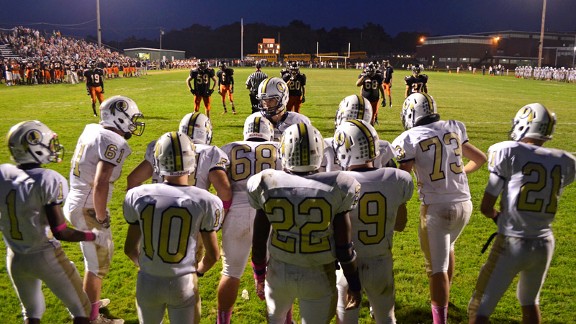 Scott Barboza/ESPNBoston.comStoughton endured a trying week and the death of teammate David Wade to earn a critical 20-0 victory over Foxborough Friday night at Anthony L. Sarno field.
STOUGHTON, Mass. -– Stoughton head coach Greg Burke has been saying it for a long time, and this year, his team is following through.
Play better than last week.
The Black Knights (5-0) remained unbeaten and again dominated on defense to knock down Foxborough, 20-0, in their first game since losing teammate David Wade less than a week ago.
Only one of the two teams on Anthony L. Sarno Field had a repeat performance from last week. Stoughton, who beat up on Mansfield in the rain last Friday 25-6, put on an encore performance with a relentless running attack and a bend-but-don't-break defense.
Fresh off a shocking 21-0 upset of North Attleborough, Foxborough (3-2) failed to put any points on the board, despite the majority of its drives entering Stoughton territory.
[+] Enlarge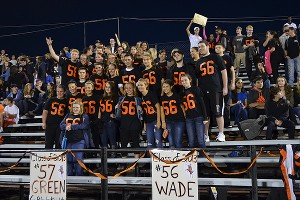 Scott Barboza/ESPNBoston.comBlack-and-orange T-shirts with Wade's No. 56 were made up for Friday night's game.
Minutes after a moment of silence to honor Wade, who wore No. 56, the Black Knights took their opening drive 53 yards on just four plays, as senior Marcus Middleton took a sweep to the left for a 40-yard score.
"We don't look like much," Burke said. "We don't have a lot of size, but we have some tough kids. They're unbelievable."
The Black Knight defense, which now only averages 5.2 points against a game with two shutouts, set the tone early with a big third down stop on Foxborough star running back Kiivone Howard.
As both teams traded possessions through the first half, it looked as though the Warriors caught a big break with less than two minutes to go.
On a first and goal from seven yards out, Stoughton's Aaron Mack carried to the right before being hit hard, forcing a fumble at the one-yard line, which Foxborough recovered.
As the Warriors tried to run the ball out of the end zone, they kept hitting a wall and were faced with 3rd down from their own 1. As quarterback Mike Slaby rolled out to the left, Stoughton senior Imani Pina punched the ball out. The ball fumbled around the goal line and then finally someone came jumping out of the pile with possession.
Pina, touchdown.
The senior scored with just 13 ticks left in the first half and gave Stoughton another boost before halftime.
"Pretty much all week we worked on [that play]," Pina said. "I saw the [quarterback] pull the ball so I stepped out of the box and just made a play. I tried to punch it out and it came out. I saw it on the ground and I picked it up."
In the second half, the Warriors were able to reach the Stoughton 10-yard line on two occasions, only for their offense to be thwarted on both occasions.
On their first try, a trick play gone wrong cost them 15 yards and their fourth down play went incomplete.
Two Stoughton drives and one play later, Stoughton quarterback Dan Eckler caught the Foxboro defense napping and found a wide open Middleton for a 67-yard touchdown pass. The extra point was no-good, but Stoughton went up 20-0 in the final frame.
On Foxborough's second attempt from Stoughton's 10, a drive that had gone 52 yards on eight plays, back up quarterback Nolan Rogers' (in for the injured Slaby) pass was picked off by Pina and Stoughton sealed the game.
STOPPING HOWARD
Foxborough's running back came into the game with a league-leading 12 rushing touchdowns, having scored 3 in each game thus far.
Stoughton consistently loaded the box with 8 or 9 guys and dared Foxborough to throw. Howard still found success, carrying the ball 24 times for 109 yards. He had could have had more, but the tough Stoughton defense was able to exploit some plays for big losses.
"It's [frustrating]," Foxborough head coach Jack Martinelli said. "We were on the field defensively too long. You have to answer, and we didn't. Simple as that."
September, 27, 2011
9/27/11
3:53
PM ET
FOXBOROUGH, Mass. -– Stoughton High School's Greg Burke has been named this week's New England Patriots High School Coach of the Week in recognition of his team's 8-0 victory over Mansfield High School on Friday, Sept. 24. The victory marked Stoughton's first win over Mansfield since 2000, and snapped Mansfield's 14-game winning streak. Stoughton's stifling defense, two field goals and a safety powered the Black Knights through a rain-soaked game.
[+] Enlarge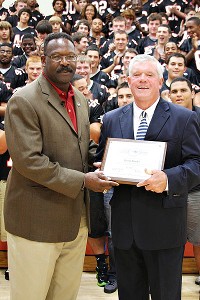 New England PatriotsStoughton's Greg Burke was named New England Patriots High School Coach of the Week after the Black Knights shut out Mansfield.
The New England Patriots Charitable Foundation will donate $1,000 to Stoughton High School's football program in Burke's name, in recognition of his Coach of the Week selection.
Patriots and Pro Football Hall of Fame linebacker Andre Tippett, the team's executive director of community affairs, visited Coach Burke and his team on Tuesday, Sept. 27 at Stoughton High School. The visit and check presentation will be featured on the team's weekly television magazine show, Patriots All Access, which airs at 7 p.m. on Friday, Sept. 30 on WBZ-TV in Boston and later on Patriots.com.
This season marks the 16th year in which the Patriots have joined the National Football League in conducting the High School Coach of the Week program, which recognizes outstanding high school coaches and promotes youth football throughout New England. Tippett oversees the program as part of the New England Patriots Charitable Foundation's commitment to youth football initiatives.
"We're happy to present this week's Coach of the Week Award to Coach Burke," Tippett said. "Facing Mansfield in the pouring rain last Friday, Coach Burke's team showed impressive focus and the ability to persevere and ultimately emerge with a win. It was a true test for the defense, which obviously played a major role in Stoughton's 8-0 win over Mansfield."
At the conclusion of the season, one high school coach will be named the New England Patriots High School Coach of the Year and will receive an additional $2,000 contribution toward the school's football program.
In previous years, Tippett has invited the Coach of the Week and senior captains for a visit to Gillette Stadium, but decided to take the award on the road in 2011 so he could visit the schools that benefit from the program. This year is also the first year the Patriots will accept nominations for High School Coach of the Week. Anyone who knows a high school football coach in New England who has a great week or reaches a personal career milestone is encouraged to submit a nomination at nominatecoach@patriots.com.