Boston High School:

Greg Connery
May, 23, 2013
5/23/13
12:52
AM ET
By
Ryan Kilian
| ESPNBoston.com
READING, Mass. – No. 8 Concord-Carlisle lacrosse stormed out to a 5-0 lead after one quarter and never looked back as they defeated No. 16 Reading, 9-7, behind an intelligent and disciplined defensive effort.
Despite a furious second-half comeback, Reading (16-2) cou;d not overcome a six-goal second half deficit on Wednesday in both team's final tune-up before post-season play begins next week.
[+] Enlarge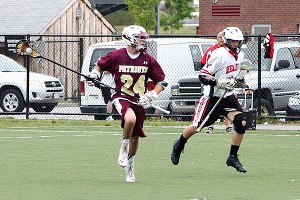 Ryan Kilian for ESPNConcord-Carlisle long-stick midfielder Nick Brozowski collected eight ground balls in the Patriots' 9-7 win over Reading.
The Patriots would maintain their 5-0 lead through the second quarter and in to the half as their senior defensive unit of Evan Boynton, Sam Barrett and Javier Flores did an excellent job of containing the explosive Reading attack unit.
"This is the best we have played defensively," Concord-Carlisle head coach Tom Dalicandro said after the game. "I was really worried about the match-up because the have three really good attackmen. Sam Barrett had his best game of the year for us today and Evan [Boynton] and Javy [Flores] also played well. They are three all-league kids on defense and I think they rose to the occasion today."
Don't look now but the defending Division 2 state champion Patriots (12-5) have won four games in a row and seven of their last eight, including wins over Lincoln-Sudbury and now Reading, as they head into tournament play with plenty of momentum.
"We feel really good about ourselves," Dalicandro said. "I think we can compete with anyone but we need to do the three key things we talk about. We need to value and share the ball, play great team defense and get saves from our goalie."
Concord-Carlisle completely dominated the start of the game and led 6-0 until 2:58 on the clock in the third quarter when Greg Connery would score the Rockets' first goal of the game.
Reading goalie Matt Comerford (10 saves) would then come up with a big save as the clock ticked down in the third quarter and Conor Frazier would take a deep outlet and find Charlie Colvin (2 Goals) for a goal with point-one seconds remaining on the clock.
Trailing 6-2 heading into the final quarter of play, Reading would come to life and begin to get out in the open field as they would cut the Concord-Carlisle lead to 8-4 with 6:36 to play.
"We want to play our style of lacrosse," Reading head coach Charlie Hardy said. "We are a little more run and gun and we want to get out in transition."
After Reading (16-2) started to seize momentum, Concord-Carlisle attack Tim Badgley (2G, 1A) would score and important ninth goal with 5:40 on the clock to give Concord-Carlisle a 9-4 lead.
Reading would not let down, however, as Charlie Colvin, Mark Dente and Eric O'Brien all netted goals to cut the C-C lead to 9-7 with one minute remaining in the game.
"I think the kids put a lot of spirit into the comeback," Hardy said. "The team you saw at the end is the team that we have."
C-C middie Will Blumenberg would help the Patriots secure a key late possession in the final minute of play to seal the win.
Blumenberg led C-C with three goals on the day while middie Peter Anastos (1G, 1A) also played well offensively for C-C.
"You can't spot a team like that goals," Hardy said. "They are too sophisticated and they are too well coached."
Concord-Carlisle and Reading will now both await the seeding selection for Division 2 on Friday to see whom they will face next week.
"We love playing them as it is a character game," Hardy said of the annual end-of-year game with C-C. "We want to play them at the end of the regular season so now we get to see what we need to work on."
Concord-Carlisle also received a strong game from long stick middie Nick Brozowski, who had his usual strong game on groundballs, scooping up eight, and using his quick stick to force multiple turnovers.
Andrew Kielar also played well in net for C-C as the sophomore came up with five of his nine saves in the first half.
May, 15, 2013
5/15/13
1:39
AM ET
By
Shawn Myrick
| ESPNBoston.com


READING, Mass. -- At 6-foot-4 and 280-pounds, Matt Comerford is obviously physically intimidating in net, but the Rockets' senior keeper is equally impressively in his ability to be a powerful vocal leader all over the field.

Instructing his fellow Rockets on and off the ball, Comerford made 16 saves to help push the defending Middlesex (Liberty) champions (14-1, 9-0) to an easy 8-2 home win over division rival Winchester (10-5, 5-5) yesterday afternoon.

"We like to make sure we are talking all the time on the field," Comerford said. "Today we were all talking and forcing a lot of low percentage shots. I do a lot of a goalie drills in practice to work on that, but when you get in the game it is just more reaction."

Mark Dente and Greg Connery fronted the Rockets with two goals, while teammate Conor Frazier also netted one goal and assisted three. Dente assisted an additional effort.

"We go through our reads in practice," Frazier said. "Progressing through the reads and looking for who is open. You have to look where the first slide is coming from."

ROCKETS FLYING
Reading cruised away from an early second-quarter 1-1 tie prompted off an assist from Dente to teammate Andrew Bourque.

Dente eyed the offense from behind the crease and reacted quickly to a group of Rockets' cutters hitting the net to set up the 2-1 score at 10:38 in the second quarter. Dente lobbed the ball in front of Winchester goalie Henry Gjesteby, where Borque leapt into the air and swatted in the score.

Frazier drew the defense to the side of the net and worked a pass across the front of the goalie to set up a 6-1 tally by teammate Charles Colvin with 35.5 seconds left in the third-quarter. Seconds later, Colvin grabbed the next face off and worked the ball to Dente for a streak-finishing goal and a 7-1 lead.

"We have played some really tough teams and we are maturing," Reading head coach Charlie Hardy said. "[Learning from] those college games over the weekend, we moved the ball well and pass pass dodged."

LIMITED SACHEMS' ATTACK
The Sachems struggled to score consistently and were unable to assist a single effort.

Winchester's Gerald Nvule won the first draw of the second half and broke through two defenders to score the 1-1 equalizer at 11:38. The junior placed a heavy bounce shot underneath Comerford where it slowly rolled off him and into the back of the net.

The Sachems took 30:58 to score again, while finally tallying off an unassisted effort by Mike McGee. The sophomore ran an isolated chance from behind the net, where he reached his stick out just far enough around Comerford to finished a 7-2 tally despite being pushed down from behind.

Reading has now beaten last years' Middlesex (Liberty) co-champs three straight times, including a 9-7 road victory in April.

"Finally to be back on top with a full league win is a good feeling," said Comerford. "I still have nightmares of the losses sophomore year and we kind of blew it last year."
August, 22, 2012
8/22/12
5:06
PM ET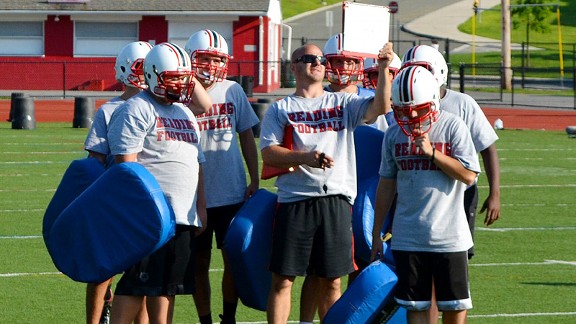 Scott Barboza/ESPN.comNo. 21 Reading is looking to shed the memory of last year's playoff loss to Tewksbury by qualifying for the postseason for the fifth straight year in 2012.
READING, Mass. -- Who ever said offensive linemen aren't athletes?
Reading tackle Matt Comerford isn't your typical 6-foot-4, 280-pound lineman. A multi-disciplined athlete, who played baseball, lacrosse and hockey, his body simply grew into the position.
The senior's athleticism is on display every spring, when he's between the pipes for the Rockets lacrosse team. An imposing figure who takes up plenty of the cage, Comerford isn't
that
type of goaltender though -- one who would be lampooned in a Disney movie and simply relies on his size to make stops. Quick reflexes and nifty footwork are strengths. He even has some skill with the stick.
But football came late to the potential Division 1 college recruit. He didn't play until freshman year.
That too, was a function of his size.
"I couldn't play Pop Warner," Comerford said after a recent practice, "I was always too big."
Comerford has heard from a smattering of FBS and FCS schools, but is putting off his college intentions until the football season is through.
This season, Comerford will anchor a line that features varying degrees of game experience. He along with Peter Fodera are the elder statesmen with Andrew Bourque (6-2, 330), Brian Callahan (6-2, 250) and John Donnellan (6-1, 210) expected to fill greater roles.
"We want to develop strength between the tackles on both side of the ball," Rockets head coach John Fiore said. "I'm pleased with the way the entire team has worked in the offseason. They've really worked hard. But, like the rest of our team, our goal is to improve every day."
Comerford said the lingering memory of last year's playoff defeat to Tewksbury has set the tone for the team's offseason preparations. And there are lofty goals surrounding the Rockets, who look to represent the Middlesex League in a playoff game for the fifth straight year.
But there's yet another objective put ahead of Comerford this season.
There's the potential he see snaps on the defensive side of the ball as well.
"I think he could relish that," Fiore said. "He's a physical kid."
But as someone who's contributed in so many ways in so many different sports, Comerford was very vanilla about it all.
"I go out there and do what I'm told," he said. "That's the expectation here."
READING AT A GLANCE
2011:
8-4 (Lost to Tewksbury in Div. 2 playoff game)
Coach:
John Fiore (8th season, 63-28)
Key Returnees:
Greg Connery, Sr. RB/FS, 6-1, 175 lbs.; Matt Comerford, Sr. OT/DT, 6-4, 270 lbs.; Alex Valente, Sr. WR/CB, 5-6, 170; Ryan Maney, Sr., E/DB, 6-2, 210; Drew Belcher, Jr. QB, 6-3, 215 lbs.; Peter Fodera, Sr., OL/DL, 5-10, 230; Jared Barros, Sr. E/DB, 5-9, 190; Andrew Bourque, Jr. OL/DL, 6-2, 330.
Strengths:
Quarterback play and receiving corps; play along the lines.
Weaknesses:
Inexperience in the running game.
Outlook:
For a program that's set bar so high for itself in recent memory, Fiore took the ending to last season in stride, saying "I'm sure there are a couple hundred teams out there that would've loved to switch places with us, being able to play past Thanksgiving Day." The talent is there for the Rockets once again to play into December, and much of that is tied to Belcher's development as a quarterback, entering his second season as starter. If last year's stretch run proved anything it's that the junior signal-caller has a top-flight target in senior wide out Ryan Maney, making a host of high-difficulty-grade catches in the final weeks of the season. If Belcher maintains consistency, the Rockets' aerial attack has the chance to be among the most prolific in Massachusetts. "I think he's worked very hard," Fiore said of Belcher. "Time will tell when the games are for real and he's getting hit, but I'm pleased with how the whole team is working, and he's a big part of that."
June, 1, 2012
6/01/12
11:47
PM ET
By
Ryan Kilian
| ESPNBoston.com


READING, Mass. – No. 10 seed Foxborough (16-3) continued their dominating brand of defensive lacrosse as they defeated No. 7 seed Reading 3-1 in a Friday evening Division 2 first-round matchup.

In a game that featured two All-American goalies and two disciplined team defenses, it was not a surprise that it would be a low scoring affair. Foxborough senior goalie Greg Stamatov and Reading junior netminder Matt Comerford were both on point all game saving eight and 12 shots, respectively.

Reading would strike first in the opening quarter as junior Greg Connery beat his man on a left side dodge and beat Stamatov and give the Rockets a 1-0 lead.

The one-goal Reading lead would hold up through the second quarter as both teams pitched shutouts in the scoreless second. The inability of both offenses to get quality shots on net was more a credit to the defensive game plans of both coaches and the discipline rotations of the players.

Foxboro's aggressive on-ball defense stood out all evening, highlighted by the play of sophomore close defender Luc Valenza, who possesses some of the fastest hands in Massachusetts lacrosse.

Foxborough senior midfielder Jake Soccorso would tie the game in the third quarter with 1:49 remaining after both teams fought off the first penalties of the contest.

With the game tied at 1-1 in the fourth quarter Foxborough patiently controlled the majority of the possessions. Both defenses remained flawless until Foxborough junior midfielder Tyler Ames beat his man from X and snuck a shot past Comerford to give Foxboro a 2-1 lead with 3:52 remaining in the game.

Ames would add the third and final goal, with under a minute to play, to seal the win for Foxborough. The goal was a result of Comerford leaving the net in an attempt to gain a final possession for the Rockets.

"I am proud of these guys," Foxborough head coach Matt Noone said. "Greg Stamatov is a great goalie but we have a great 10 people in front of him as well."

Reading, playing without key members of their attack and defense, competed all game but could never muster enough quality opportunities to gain momentum.

"Both teams played outstanding and both teams have incredible goalies that played very well," Reading head coach Charlie Hardy said. "Foxborough was great tonight and all of the credit goes to them."

Lockdown D: The Foxborough defense has allowed only two goals in their last four games, including two wins over Bishop Feehan and Mansfield to conclude the regular season. They shut out Silver Lake 9-0 in the preliminary round of the D2 tournament and maintained their consistency on Friday.

"We are just a little town in Foxborough in the south that is finally here," Noone said. "I think we proved it by beating Reading and I think we proved it last year."

Stamatov has been the rock in net for Foxborough all season but the Villanova bound senior deferred all credit to his teammates.

"Everyone was all over the place and ready to help," Stamatov said. "They forced shots that were down the alley and not good angles and I can make those saves a little bit easier."

Next up: Foxborough will travel to Concord on Tuesday to take on No. 2 seed Concord-Carlisle (18-0) in the D2 EMass quarterfinals. C-C boasts one of the state's best defenses with All-American goalie Doug Gouchoe (Air Force) and All-American close defender Henry Bumpus (Brown, football) leading the way. C-C defeated Wakefield 15-6 on Friday to advance to the quarters. Faceoff is scheduled for 4 p.m.

"I do not know too much about them but I see that they are beating everyone so that is going to be a tough game," Stamatov said. "If we just play our system we can beat anyone."


August, 26, 2011
8/26/11
4:09
PM ET
By
Brendan Hall
| ESPNBoston.com
READING, Mass. -- Two years ago, it was Stan Andre, a 230-pound running back who happened to throw the ball, pounding his way between the hash marks en route to the 2009 Division 2 Super Bowl title. Last year, it was Brian Bourque, a converted wideout and lacrosse star, able to throw a deep ball but unafraid to take off and zip down the sidelines at the sign of a breakdown.

In the last three seasons, Reading has gone 36-2 with three Middlesex League titles and a Super Bowl championship, thanks in no small part to the fearless, aggressive tempo dictated its quarterbacks. But with so much senior graduation leading to large turnover these past two years, the Rockets will turn to a gang of fresh faces and late bloomers in their quest for a fourth straight league championship.

"Part of reloading every year is that our coaching staff gets us unbelievably prepared," senior linebacker and co-captain Kyle McCarthy said. "Last year, the two's got plenty of reps, in games and practice. It gets everyone ready for the next season."

On that note, let's start with the signal-calling. Traditionally a position held by an upperclassman, all signs in training camp so far point to the Rockets turning to a sophomore, Drew Belcher, to lead the charges. Mostly called in for mop-up duty with the varsity last season as a freshman, it shouldn't be forgotten that he did win a game. In the second quarter of a tight contest with Lexington, Bourque went down with a knee to the head; Belcher stepped in and calmly led the Rockets on several scoring drives, and only a late Minutemen score dashed what was a 32-0 shutout.

At 6-foot-3 and close to 200 pounds ("And he might be 6-4 by the end of practice," head coach John Fiore cracked), Belcher garnered some attention during 7-on-7 tournaments this summer with arm strength, accuracy and footwork. And while nobody's ready to put the kid in the school's Hall of Fame yet, players and coaches praised his maturity.

"He's only a sophomore but he knows that as a quarterback he also has to be a leader," McCarthy said. "He's really stepped up into the role well."

Said senior tight end and co-captain Billy Carnes of the summer, "I was impressed."

The defense that allowed less than nine points per game and had four shutouts, the Rockets will put out an aggressive four-man front again, anchored by McCarthy and Carnes at linebacker, and supported by free safety Greg Connery -- the junior had six interceptions in seven games last season.

Further cementing things is a line that should be beefed up once again. Gone is All-State lineman Jeff Covitz, but in his place is a group that will come out of camp averaging anywhere from 230 to 250 pounds across, led by senior Tom Beuchler.

"Those guys came ready to work, and play equally as hard as the group before," Fiore said of his new blood.

As for the old...

Last year's Division 2 Super Bowl loss to Mansfield, in which they coughed up a 19-point halftime lead, is still fresh on some players' minds, and was a huge motivator in the weight room. The Rockets aren't afraid to take shots, but on third down deep in their own territory, they saw their aggression backfire when a deep ball was thrown over the middle into double-coverage, picked off, and ran back to the Rockets 2-yard line to set up the winning score with less than a minute left in the game.

"The theme of this year is relentless, because we don't want to let up," Carnes said. "We want to finish every rep, finish every game, every play, just to make sure we always come out on top."

"The past two years, all we've talked about is finishing, finishing everything," McCarthy said. "The biggest thing we learned after that game was, it comes down to the little things. You've got to finish everything to the best of your ability, because it's that easy to come up short."

For Fiore, it's time to move on, and the slate is clean.

"Decisions were made, responsibility's been taken. We play to win," he said. "There's various ways to approach that, and different situations. That time, we approached it probably a little too aggressively given the situation. But we've approached it that way before. We're aggressive, in every situation we're trying to win. That's the way it was then, it's the way it is now.

"It's over, and it's up to us to get ready for Lawrence. I don't know what else to say about it other than that. It is what it is."

READING AT A GLANCE

Coach: John Fiore (seventh season, 55-24)
Last year: 12-1, lost in Division 2 Super Bowl
Key Returnees: Kyle McCarthy, Sr. OLB, 5-9, 190 lbs; Tom Beuchler, Sr. NG, 5-9, 215 lbs; Andrew Ferraro, Sr. C, 6-2, 244 lbs; Anthony DeSimone, Sr. TB, 6-1, 180 lbs; Billy Carnes, LB/TE, 6-0, 185 lbs; Zach Whelan, Sr. TE/DE, 6-1, 210 lbs; Mark Sheehan, Sr. TE, 5-9, 175 lbs; Greg Connery, Jr. FS, 6-1, 175 lbs; Matt Comerford, Jr. OT, 6-4, 270 lbs; Alex Valente, Jr. WR/CB.
Strengths: Size, skill positions.
Weaknesses: Varsity inexperience.
Outlook: For the second straight season, the Rockets have a slew of turnover in talent, with just eight returning starters combined on both sides of the ball. And for the second straight season, the talent coming up figures to be good enough to pencil them in as a favorite to win their fourth straight Middlesex League title. Start in the trenches, where they graduate All-State lineman Jeff Covitz, but by the end of training camp will boast a starting line that should average anywhere between 230 and 250 pounds across. Defensively, the Rockets remain an aggressive four-man front, but the player to watch might be Greg Connery at free safety. The junior had six interceptions in seven games, in a season shortened by mononucleosis. It's a week in, but sophomore Drew Belcher has already made himself the frontrunner to take over as starting quarterback. The 6-foot-3, 200-pounder came in and won a game against Lexington last season after quarterback Brian Bourque went down with a knee injury in the second quarter; Belcher has also shown plenty of poise this summer in 7-on-7 tournaments.
April, 29, 2011
4/29/11
10:31
PM ET


READING, Mass. -– Reading boys' lacrosse head coach Charlie Hardy nearly fainted, but then he could've floated above the ground as his Rockets held on to escape with an 8-7 win over Middlesex League rival Lexington on Friday.

No. 12 Reading sweated out a tense final minute with the Minutemen holding possession in their end to hand No. 18 Lexington its third one-goal loss in four games.

"They're a heck of a program and beat some pretty good teams this year," Hardy said. "This is exactly what I thought would happen. I think we grew up a lot today. We have a lot of young kids still. We've had some kids that were hurt and haven't played and this was a good test for them, but we need to smooth ourselves out.

"We should gain some confidence from this though. We've played some good teams, but no team as good as this one."

Reading (8-1) took a 6-4 lead into halftime and the Minutemen (7-3) showed they were not going to go away in the second half, twice pulling themselves within a goal.

However, Lexington was never able to find the equalizer as Rockets goaltender Matt Comerford (11 saves) and the Reading defense led by Larry Gilligan stood their ground.

Conor Henrie tallied his second goal of the game for Lexington with 7:21 remaining to pull the Minutemen within one once again.

"Our defense did a good job overall, keeping them to seven goals," Hardy said. "You should win games like that. I thought Matt Comerford, our goaltender, was great as well."

Nick Guenard led the offensive attack for Reading, notching a hat trick and two assists. Ross Anderson, Brian Bourque, Greg Connery, Matt Dente and Connor Sheehan all added goals. Dente finished with a three-point game while adding two assists.

However, perhaps the Reading offense's great contribution came in killing off the clock during the waning moments of the victory.

The Rockets possessed the ball with poise, picked up loose balls and did whatever it took to ensure the win.

"We work on that a lot in practice," Guenard said. "We just try to keep the ball moving. If someone gets doubled, we try to get open. Everyone's moving, everyone's running, we're trying the best we can to move the ball."