Boston High School:

Greg Donahue
November, 11, 2011
11/11/11
1:29
AM ET
ST. JOHN'S PREP (4-4) at No. 3 BC HIGH (6-3)
The Skinny: The young Eagles bounced back from an 0-3 start to win four or their last five games behind electrifying sophomore Jonathan Thomas. Lucas Bavaro and the defense will have their hands full with Eagles running back Deontae Ramey-Doe who's coming off a 200-yard game behind a talented, big offensive line led by senior Mike Prendeville and Adam Richard.

Scott Barboza: Coming off a stellar effort against Xaverian, the Eagles roll into their Turkey Day showdown with CM. BC High, 28-14.
Brendan Hall: Going with the big ol' goose egg on this one. BC High, 24-0.

OLIVER AMES (4-4) at STOUGHTON (5-4)
The Skinny: The Knights proved they're for real with a statement win over Hockomock Kelley-Rex power Mansfield early this season. But now it's the Davenport division title on the line and Stoughton controls their own destiny. With wins over OA and Canton, the Knights can clinch outright.

Barboza: The Knights secondary can shut down an offense, but I like Tigers running back Sam Langston to have a big game. OA, 26-24.
Hall: You think these Stoughton DB's something to watch in the deep field? Wait 'til basketball season. Stoughton, 17-10.

NORTH ATTLEBOROUGH (7-1) at No. 10 MANSFIELD (8-1)
The Skinny: The Hornets control their own destiny when it comes to the Hockomock Kelley-Rex title. A loss and Mansfield would be hard pressed to prevail in the league's tie-breaker system. The matchup also features some of the area's best running backs with the Red Rockets' Alex Jette and the Hornets' Greg Donahue and Blayne Taylor.

Barboza: In the typical fashion of this season, the Hornets go down to the wire, but win. Mansfield, 21-20.
Hall: Don Johnson was trying to explain to me the tiebreaker scenario this afternoon, and I'm still confused. So naturally, I want to see it enacted. North Attleborough, 14-10.

SOMERSET-BERKLEY (4-5) at BISHOP FEEHAN (5-4)
The Skinny: The Shamrocks defense has rolled through Eastern Athletic Conference play thus far, not allowing a single point. The league race was decided by these two teams last year with the Blue Raiders hanging 49 points on Feehan in Somerset to clinch a playoff berth, so the Shamrocks will be looking to return the favor.

Barboza: The EAC title was decided by this very game last season, as it will this year. Only difference is the result. Feehan, 21-14.
Hall: TD Garden is the Garden, the Comcast Center is the Great Woods, and whatever they're calling this school now, it'll always be just Somerset to me. Anyways, I still owe a steak dinner to somebody down there, and Nick Freitas is a terrific coach. Somerset, 21-7.

BROCKTON (4-5) at NEW BEDFORD (4-4)
The Skinny: These teams have had their shares of ups and downs throughout the season, but the fate of the Big Three title hinges largely on this matchup. The Boxers seemed to right ship with a 3-game wining streak in the middle of the season, but are coming off two straight losses. The Whalers are still smarting over two rough losses to Dartmouth and Dennis-Yarmouth (106 points surrendered in those games) in their last three.

Barboza: The question of the year has been when will the Boxers get on track? Is this the week? Maybe, but Whalers win. New Bedford, 28-20.
Hall: One of the most feast-or-famine teams south of Boston is going to have a three-course meal Saturday. New Bedford, 17-0.

BELMONT HILL (7-0) at GOVERNOR'S ACADEMY (7-0)
The Skinny: The last two remaining ISL football squads meet in what should prove to be an emotional game as it is Hillies head coach Kevin Fleming's final regular season game. Belmont Hill's offense finally caught fire last week with a 42-point performance against Lawrence Academy, but the Hillies' defense has been stifling throughout, allowing less than a touchdown per game. Gov's is averaging 36 points per game on offense and weren't held under 30 points until last week's win over Milton Academy.

Barboza: Gov's QB Tate Jozokos might be the best player in the state nobody is talking about. Maybe it's because his lacrosse star overshadows his football ability? Gov's, 17-14.
Hall: I know what I said on the podcast earlier. But thinking about this one again, it just wouldn't be fair for both of us to pick against Kevin Fleming in his final ISL game. Belmont Hill, 13-6.

NO. 19 EAST BRIDGEWATER (9-0) AT MASHPEE (9-0)
The Skinny: The matchup everyone's been waiting for in the South Shore League gauntlet, the No. 19 Vikings come into the game with a bit more hype, what with UNH-bound running back Casey DeAndrade (18 touchdowns) putting in another fine season and the Vikings averaging over 37 points per game. But the Falcons are no slouch, either, averaging 30.7 points per game and getting leadership out of their underrated tailback Jordan Keli'inui.

Barboza: I've said this is the Vikings' year from the very beginning. EB, 20-14.
Hall: Text from our good friend Joe Burke: "I'm not just rooting for Mashpee because they're a Cape team, but because head coach Matt Triveri is a 'Barnstable guy'." Mashpee, 21-17.

NO. 6 CONCORD-CARLISLE (9-0) AT NO. 12 LINCOLN-SUDBURY (9-0)
The Skinny: This game means nothing for playoff implications, but is one of the weekend's most anticipated matchups. We know all about C-C's three-pronged rushing attack of George Craan, Tyquan Culbreath and Tim Badgley; but overlooked is one of the area's more stout defenses, led in the trenches by Andrew VanderWilden and Henry Bumpus, a unit allowing 10 points a game. Then again, the No. 12 Warriors have been even stingier, allowing just 8.1 points per game while getting plenty of production offensively from players like Chris Giorgio and Matt Cahill.

Barboza: This might be the first time this season C-C's starters are required to play a full four quarters. C-C, 31-28.
Hall: Three heads, one monster. C-C, 30-20.

NO. 21 NATICK (8-1) AT NO. 23 WALPOLE (8-1)
The Skinny: Since losing to Needham on Oct. 21, the No. 23 Rebels haven't allowed a point. Overall, the Walpole defense is the stingiest by a wide margin, allowing just 8.1 points per game. They'll be saddled with the task of stopping a Natick offense that, one week after that Walpole contest, hung 49 on that same Needham team in a blowout win. Sophomore Troy Flutie (2,465 offensive yards, 28 total TD) has a shot at surpassing both 2,000 yards passing and 1,000 rushing by season's end; meanwhile, freshman wideout Brian Dunlap (52 catches, 896 yards, 12 TD) is one of the state's leaders in touchdown receptions. Oh, and did we mention the Bay State Herget title is on the line again?

Barboza: If the Rebels get some early stops and a turnover or two to slow down the Red & Blue attack, they can pull it out. Walpole, 14-13.
Hall: The Red and Blue would have you believe their youth may very well show through on this one. Sorry fellas, not fooling me. Natick, 24-14.

LYNN ENGLISH (7-2) AT NO. 25 NORTH ANDOVER (8-1)
The Skinny: The CAL/NEC Division 1 title is on the line in this one. Both teams come into this contest riding a hot streak, with the unranked Bulldogs have won five straight since dropping two in a row to Beverly and Swampscott in September. The No. 25 Knights, meanwhile, haven't lost since the opening-weekend contest to rival Andover; but an injury to senior quarterback Brandon Walsh in last week's win over Masconomet has some concerned.

Barboza: Walsh's status might be questionable after last week's injury, but I'm sure he'll be ready for this one. North Andover, 34-28.
Hall: I don't see the elder Walsh missing this one, and I think the Knights overall are a bit more disciplined. North Andover, 38-35.

CARDINAL SPELLMAN (9-0) AT ARLINGTON CATHOLIC (8-0)
The Skinny: The Catholic Central Large title is up for grabs here. Given the way both teams are playing on defense right now, this may be one of the weekend's more underrated matchups. AC comes into this contest having pitched shutouts in two of its last three contests. Down the road in Brockton, Spellman is allowing just 4.6 points per game, second in the state to Blue Hills (4.4), with four shutouts. A garbage-time touchdown by Austin Prep in last weekend's rout marked the first time all season an opponent got out of single digits.

Barboza: The Cardinals' experience of going to the Super Bowl last year is the difference. Spellman, 20-14.
Hall: AC is the team absolutely no one's talking about, but Ron St. George's coaching mettle in games like this will shine through. Spellman, 20-18.

NO. 5 CATHOLIC MEMORIAL (6-1) AT NO. 13 XAVERIAN (5-4)
The Skinny: It's a simple command for CM -- win this one, and set up a Thanksgiving showdown with archrival BC High for the Catholic Conference title. The execution may be more complex, given the diversity head coach Charlie Stevenson has shown with his offense the last few weeks. One week, it was a "Wildcat" look deploying both quarterbacks Austin DeCarr and Chris Calvanese. The next, it's a "500-pound backfield" of Hunter Taute and 270-pound defensive tackle Maurice Hurst Jr. combining for over 200 yards on the ground. But the Knights wield the ultimate X-factor: Armani Reeves, the state's most electric player out of the backfield.

Barboza: Because we're all looking forward to a potential Thanksgiving Day battle for the Catholic Conference title. CM, 16-10.
Hall: As always, the Knights will find a way to make this one interesting. CM, 28-24.
November, 10, 2011
11/10/11
9:48
PM ET
MANSFIELD, Mass. -- In last year's edition of Mansfield-North Attleborough, the Hornets put down the Red Rocketeers at Community Field.

In this year's matchup, to be played Friday (6:30) at Mansfield High, North will be looking to repay the favor against the No. 10 Hornets. No matter what the year, no matter what their records, the matchup is one of the highlights to the Massachusetts high school football season and typically has postseason implications within the Hockomock League. This year is no different.

We caught up with Mansfield's six senior captains on Thursday to take at both sides of the ball in our game of the week:

"The Offense" - Blayne Kelley, George Busharis and Greg Donahue



"The Defense" - Zach Schafer, Dan Gilmore and Nick Leonard


October, 29, 2011
10/29/11
2:14
AM ET


MANSFIELD, Mass. – For a time, Mansfield's second-stringers lined up against Barnstable's first-teamers in the fourth quarter of Friday night's game.

Then, what Hornets head coach Mike Redding aptly called "a playoff game with no implications" turned into exactly that after the Red Raiders put up 17 unanswered fourth-quarter points to tie the game 27-27.

In the end, No. 11 Mansfield survived with a 34-33 victory in overtime, running their record to 7-1. It was more of the usual from perhaps the state's most entertaining team.

"Well, we hadn't done overtime yet this season," Redding commented on the Hornets' rash of close shaves this year. "It's always something."

The Hornets held a three-score lead as late as the three minute mark of the fourth quarter.

But Barnstable junior quarterback Nick Peabody engineered two quick touchdown drives, both culminating in passing scores to Tedaro France. After Terrence Mudie's recovery of an on-side kick, the Red Raiders (4-4) moved the ball down the field once more, setting up Tom Mullen's 26-yard field goal, tying the game with 31 seconds remaining.

Peabody kept the momentum rolling into overtime, punching in a 10-yard touchdown on the first play of the extra session. Playing for the win, Peabody rolled right on a bootleg on the ensuing 2-point try, but Mansfield defensive back Matt Barsomian batted down the pass.

"In our minds, they had missed the two PATs early, so we thought they were going for two anyway," Barnstable head coach Chris Whidden said of the decision to go for two. "We thought our best chance to win was to go for two, but they made a play."

Greg Donahue scored on a 5-yard run to tie the score once again and Matt Bukuras chipped in the point-after try for the win.

"The good thing is that we found a way to hang in there and win in the end," Redding said. "The bad is all those little things that let them hang around and come back and haunt you."

TWO TEAMS LOOKING AHEAD
No doubt both sides played their hardest, but both sides realized there's more to the season than the non-league matchup. So Friday's battle could serve well for both teams chances as they face critical league challenges in the coming weeks.

Barnstable, for one, has a penultimate Old Colony League contest with No. 3 Bridgewater-Raynham next week. And Mansfield hopes to close out a Hockomock large division title with two more victories.

"We wanted to get our kids out and gear up for Franklin and North [Attleborough]," Redding said, "but that backfired."

Nonetheless, Barnstable can take with it the confidence of hanging with one of the state's premiere programs year after year while building confidence in Peabody, who's filled in admirably in D.J. Crook's absence. After a slow start in the first half, when Barnstable had just 18 offensive snaps, Peabody was able to move the chains when it counted most.

"He's proved that he's a high quality quarterback," Whidden said of Peabody. "That's one position that we knew, coming into the year, that we had a lot of depth. But we just weren't aware how good he could be and we didn't realize we were going to have to use him."

VIVE LA FRANCE
Whether its Theo France in the running game or Tedaro France streaking down field to snatch a pass, the Red Raider brothers pose matchup problems for opposing defenses.

On Friday night, it was the younger France stealing the show.

"Tedaro's a playmaker and he wants the ball in his hands," Whidden said. "He's proven that he's a kid that we have to find a way to get the ball into his hands. Nick [Peabody] was a receiver before he became our quarterback, so he developed the rapport before he played that position and know it's paid off."

GUTTING IT OUT
Although they had problems containing the Hornets rushing duo of Donahue and Blayne Taylor at times, the Red Raider defense made some significant plays down the stretch that shouldn't be ignored.

Defensive lineman Jason Freih (2 sacks) was a disruptive force throughout and recovered a fumble that set up Barnstable's second touchdown of the fourth quarter.

Barnstable (4-4) 0 3 7 17 6 -- 33
Mansfield (7-1) 6 6 8 7 7 -- 34

1st quarter
M - Greg Donahue 2-yard run (kick failed)

2nd quarter
B - Tom Mullen 25-yard field goal
M - Mike Blackman 11-yard pass from George Busharis (kick failed)

3rd quarter
M - Zach Schafer 22-yard pass from Busharis (Dan Gilmore pass from George Busharis)
B - Hayden Murphy 23-yard run (Mullen kick)

4th quarter
M - Mike Farrell 6-yard run (Matt Bukuras kick)
B - Tedaro France 49-yard pass from Nick Peabody (Mullen kick)
B - Tedaro France 28-yard pass from Peabody (Mullen kick)
B - Mullen 26-yard field goal

OT
B - Peabody 10-yard run (pass failed)
M - Donahue 5-yard run (Matt Bukuras kick)
October, 16, 2011
10/16/11
1:15
AM ET
By
Corey J. Allen
| ESPNBoston.com
MANSFIELD, Mass. -– Greg Donahue rushed for three touchdowns and Craig Mallett finished the scoring with a 102-yard interception return to bolster the Mansfield Hornets over Attleboro, 28-7. The ground attack from the hornets was vicious, eating up the clock and keeping Attleboro's offense cool for most of the night.

"We had to have had 250 yards on the ground. We've got a bunch of backs with [Blayne] Taylor, Donahue, [Dylan] Finnerty and [Mike] Farrell. That's our M.O., we're just going to pound the ball and try to play good d[efense]," said Mansfield coach Mike Redding.

Although the Attleboro offense was able to get with scoring distance by forcing defensive stops and producing in offensive spurts, they just could not get the edge on Mansfield. This tactic of resilience is something that is taught to the players by staff and their teammates.

"Never surrender is one of our biggest mottos on this team," added senior defensive end Zach Schafer. "We've got a lot of soul and hope on our defense out here and we took it to them.

Attleboro coach Kevin Deschenes agreed. With an offense that has found a way to make it work, the level of play by the Mansfield defense left his team with little room to breathe.

"They were able to play swarm defense, they were able to get penetration on Chris [Walsh] and he had no time to throw the ball," said Deschenes. "They stepped it up and were able to get the job done up front."

One More Chance: With 3:54 left in the game, Blue Bombadiers got a chance to score and make it a one score game. Quarterback Chris Walsh threw three passes, two to Zach Schweiger for 20 yards and one to Malique Clark for 38, the Hornet defense brought pressure up front and shut down Attleboro's air show. After two sacks, 4th and 23 didn't allow Attleboro many options, but they got the ball back on a Shawn Reardon fumble recovery. Unable to convert that, the game three touchdowns away was out of their bombing range.

The Donahue Show: Greg Donahue put on a running drill clinic tonight. Following blocks and filling open gaps quickly, he burst through lineman attempting to arm tackle and running through the secondary and linebacker core trying to grab onto his jersey.

"I knew they were big, much bigger than me, so I had to get my center of gravity low so when they hit me I still had a lot of power to stay and I said 'stay up, get that extra yard," he said.

During the week at practice is where Donahue hones his running skills. Going up against the toughest competition during the week seems to be paying off for Donahue.

"Danny Gimore nails me and I just stay up. If it wasn't for him, I'd get tackled easy," he said.

MANSFIELD 28, ATTLEBORO 7
ATL (4-2) 0 7 0 0 --- 7
MAN (5-1) 0 7 6 15 --- 28

Second Quarter
A – JJ Jolaoso 65 fumble recovery (Chris Walsh kick)
M – Greg Donahue 22 run (Mike Hershman kick)

Third Quarter
M – Donahue 5 run (failed kick)

Fourth Quarter
M – Donahue 3 run (Donahue rush)
M – Craig Mallett 102 interception return (Hershman kick)
October, 1, 2011
10/01/11
1:34
AM ET
WRENTHAM, Mass. -- A late September game took on the feel of a late November must-win for No. 15 Mansfield football.
Facing perennial Hockomock League power No. 12 King Philip on Friday following an upsetting 8-0 blanking at the hands of Stoughton last week, the Hornets carried a playoff mentality into this week's game. And it showed. Mansfield held on for dear life in the waning seconds of the 27-26 win over the Warriors, denying a KP attempt at a potential game-winning two-point conversion.
[+] Enlarge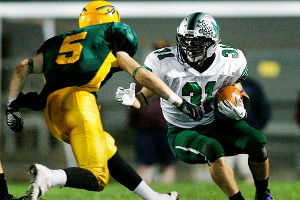 Jon Mahoney for ESPNBoston.comMansfield running back Greg Donahue had 15 carries for 120 yards and two touchdowns in No. 15 Mansfield's win Friday night at No. 12 King Philip.
"This was pretty much a playoff game for us," said senior captain Greg Donahue, who rushed for 120 yards and two touchdowns. "If we didn't get it, we would have a hard time making the playoffs."
Both sides emerged energized for the rivalry game, with the teams trading off three touchdowns in the span of 33 seconds in the first quarter.
Donahue had Mansfield (3-1) to a 7-0 lead eight minutes in with a 33-yard touchdown run. On the next play from scrimmage, KP's Charles Ruffin (21 carries, 158 yards) sped 61 yards down the field untouched to tie the score 15 seconds later. After the ensuing kickoff, Mansfield had the ball at their 43 before Blayne Taylor went 57 yards the other way for another rushing score.
After the point after was blocked, the Hornets held a 13-7 lead. That's how the score would remain after much less crisply played second quarter when neither team could gain any offensive momentum.
In the second half, Mansfield got another big play via the passing game with quarterback George Busharis finding Zach Schafer down the sideline for an 81-yard touchdown.
KP (3-1) responded in the fourth with John Dillon hitting Mike Viola on an 11-yard touchdown pass. But when Donahue punched in his second rushing score of the game with 5:08 remaining, it looked as though the Hornets had put it out of reach.
"I give our quarterback credit," Warriors head coach Brian Lee said of Dillon, a sophomore. "He hadn't really dealt with any adversity yet this season, like we saw tonight, and to come onto that kind of stage and play like did was impressive."
Dillon, who completed 13 of 29 pass attempts for 188 yards, spread the ball around to get KP back within a score with a 9-yard pass to Ruffin with 2:29 to play. The 10-play drive was extended by a key fourth-down conversion on an 18-yard connection from Dillon to Matt Aucoin.
KP recovered the on-side kick that followed with Mike Winbourne pouncing on the ball.
Dillon again led the Warriors downfield, despite a persistent Mansfield rush from the weak side, and he again turned a clutch fourth-down conversion into a scoring drive. Dillon linked up with Joe Cochrane on a 33-yard play on fourth and 19, before Ruffin scored his third touchdown of the game with a 1-yard run.
It was 27-26 with 44 seconds remaining.
It was also a familiar, sinking feeling for Redding whose team has been involved in four straight one-possession games to start the season.
"We've had four of these [close games]," he added. "I can't take it anymore."
After a timeout, Lee went for the kill, sending his offense onto the field for the 2-point conversion. Dillon again dropped back to throw and looked to Ruffin, streaking on a crossing route. It looked as though he might have time to sneak the ball into tight coverage with a crisp throw, however, Hornets junior defensive back Kevin Makie made perhaps a season-saving lunge at the ball, knocking the pass down before it could reach Ruffin's outstretched hands.
"We had one guy underneath and one guy over the top," Makie described the defense on the play. "We did a nice job jamming it and I just read [Ruffin] going across the middle. We knew they were going to do that, so we played it like that."
And, like that, the defending Division 2 Super Bowl champions kept their "postseason hopes" alive.
WHAT TO DO ON D?
Seemingly no matter what the Hornets threw at Dillon in the fourth quarter, the Warriors' young QB was able to handle. When Mansfield came at Dillon with a weak side stunt, the sophomore would coolly roll out and relieve the pressure. As the Hornets played more zone defense to neutralize the KP attack, Dillon had a knack for finding a receiver on the seam.
"They got into a groove," Redding said. "When we blitzed, they got people open. When we backed off, we gave them too much time."
Even two fourth-and-long situations didn't confound him.
"I'm not looking forward to playing defense against him for two more years," Redding exclaimed.
HEADING NORTH
With its Wing-T and quick screen passing game, Mansfield made adjustments at the half to try to slow down the Warriors' aggressive, athletic defense by running the ball more up the gut. The change was apparent on the Hornets' fourth-quarter scoring drive finished off by Donahue's 11-yard score. Redding has two talented runners in Taylor and Donahue, who complement each other well. But when push came to shove, it was time to simply run the ball up the gut.
"Taylor and Donahue ran hard," Redding said. "We ran a lot of double tight [ends] to try to go north and south with them. We're normally a Wing-T, perimeter team, but they have such great team speed that we wanted to go more north, south and attack them."
THE DUDE ABIDES
After yet another 100-yard rushing performance to go along with three touchdowns, Ruffin showed why he's one of the top backfield talents in the state. The KP senior made it a priority to bulk up in the offseason, adding more muscle to an already impressive frame. However, when Ruffin fell to the turf awkwardly after rolling his ankle on a third-quarter carry, it was as though the air had been let out of a balloon.
Ruffin missed the next offensive series, only to return and play an integral part of the Warriors' final drive at victory. When the penultimate 2-point play was broken up, Ruffin again rolled up on the grass in pain.
It was yet another gutsy performance from the Warriors captain.
"Charles is our
dude
," Lee said of Ruffin's performance.
Somewhere Jeff Bridges is surely smiling.
Mansfield (3-1) 13 0 8 6 -- 27
King Philip (3-1) 7 0 0 19 -- 26
First quarter
M - Greg Donahue 33-yard run (Mike Hershman kick)
KP - Charles Ruffin 61-yard run (Ryan Dunn kick)
M - Blayne Kelley-Taylor 57-yard run (kick blocked)
Third quarter
M - Zach Schafer 81-yard pass from George Busharis (Donahue run)
Fourth quarter
KP - Mike Viola 11-yard pass from John Dillon (Dunn kick)
M - Donahue 11-yard run (kick blocked)
KP - Ruffin 10-yard pass from Dillon (kick failed)
KP - Ruffin 1-yard run (pass failed)
September, 17, 2011
9/17/11
12:45
AM ET
By
Matt Noonan
| ESPNBoston.com


NEEDHAM, Mass. -- Quarterback Drew Burnett and his Needham Rockets offense came up 25-yards short of a game-tying touchdown with four seconds remaining in the fourth quarter, which allowed the No. 4 Mansfield to escape with an exciting 36-30 victory Friday night.

"[This was] two very good offensive football teams and both quarterbacks can throw," Mansfield head coach Mike Redding said. "This was a great non-league game for both teams. I think it'll help both of us in our league play, I hope they win the Bay State [Conference] and this was a great night of football."

"I thought we did great," said Needham head coach Dave Duffy. "We came out on the wrong end of the scoreboard, but I thought the way we played showed a lot about us against a very good team and they proved that at the end, but they played great and I couldn't be more proud of them."

Despite scoring the first touchdown of the contest, Mansfield (2-0) fell behind after Burnett hooked up with senior co-captain Mark Riley for two quick touchdown strikes before halftime. Riley led Needham's receivers with six catches for 102 yards, while the Hornets defense crushed the Rockets' running game, which tallied 60-yards on 20 carries.

Although, the biggest plays of the game came in the second half, as Mansfield rushed for three touchdowns, and held Needham's offense to just 10 points.

"They have so many good running backs, it's tough [saying, one's] better than the other and they kept running them out every three, four plays," said Duffy. "They have a bunch of good backs, so we were just trying to play our game and do the best we can. I thought we played well on defense, made a few mistakes, but we made a lot less mistakes than we did last week, so I think we're improving."

The Hornets' rushing attack was led by seniors Dylan Finerty, Greg Donahue and Blayne Taylor, who each registered one score in the final two quarters, as well as combined for 196 yards on the ground.

"I know [that my line] must have been dying, working every play," Mansfield senior quarterback George Busharis said. "They did a fantastic job, [and] gave Greg, Blayne, Dylan, [Mike] Farrell, [Kevin] Makie, Robbie [Rapoza] all big lanes to run in. We broke those two big ones and those small ones that counted in the last few minutes to run down the clock, so they were a huge factor."

All in all, it was a rather impressive win by Mansfield, but also, an extraordinary performance by Needham (1-1), which gained a great deal of confidence that they too can hang with the "big boys."

Some more thoughts:

-- Needham's offense relied heavily on Burnett in the first half, who completed 9-of-17 passes for three touchdowns and 153 yards. Their offensive line struggled to open gaps and holes for Needham's senior running backs Mike Vespa or Ian Riley. Burnett finished the game completing 16-of-32 passes for 326 yards and four touchdowns, but if the Rockets are going to be successful for the rest of the season, they're going to need to spread out their offense, as well as have their line create holes and gaps for their running backs and fullbacks. Duffy seemed rather pleased by the play of Burnett and his offensive unit, but again, they shouldn't put all the pressure on their quarterback's shoulders.

-- Give Mansfield's offensive line credit, as they opened a variety of running lanes and gaps for the Hornets' halfbacks, who tore apart the Rockets' defensive linemen and linebackers. Finerty commented about his line's production this evening by stating, "[Our] lineman held some good blocks and we just got some good yardage. The line did an incredibly job. [They were] lifting all summer. They were watching film every other day, they did a great job."

-- After watching just one Mansfield game, it's possible to state, they're a second-half team. Redding commented after the game that despite trailing Needham at halftime, he told his team that they needed to score on every possession in order to secure a victory. "We were down 12 [points] and we had to score every possession basically and the O-line picked up blitzes and is good as they are on offense, they were very good on defense too. " So far this season, Mansfield is 2-0 when trailing at halftime.

MANSFIELD 6 - 8 -7 - 15 -- 36
NEEDHAM - 7 - 13-7 - 3 - 30

1st Quarter
M - Mike Farrell 39-yard run (Mike Hershman kick no good)
N - Mark Riley 42-yard reception (Andrew Murochick kick)

2nd Quarter
M- Christian Debeauport 28-yard reception (Blayne Tayor run)
N - Riley 7-yard reception (Murochick kick)
N- Dan Pierce 27-yard reception(Murochick kick)

3rd Quarter
N - Nico Panepinto 76-yard reception (Murochick kick)
M- Dylan Finerty 51-yard run (Hershman kick)

4th Quarter
M- Taylor 4-yard run (Hershman kick)
N - Murochick 30-yard field goal
M - Greg Donahue 7-yard run (Taylor run)
September, 2, 2011
9/02/11
1:46
AM ET
This isn't going to be last year's Mansfield squad. There's no standout in the backfield like Jamel Marshall. Heck, there's not going a big target like tight end Jeff Hill for George Busharis to throw to. Defensive stalwarts Anthony Tedesco and Kyle McGuire have graduated as well.

Still, the sixth-ranked Hornets, the defending Division 2 Eastern Mass Super Bowl champions, don't so much rebuild as they reload. And, while they might not have the breakout star power, head coach Mike Redding feels his team has strength in numbers.

"We might not have someone like Jamel [Marshall] this year," Redding said, "but we return six of our seven running backs from last year. So we have skill at that position and experience."

As much as the Hornets' complexion may have changed, they return a standout at the most important position on the field. Busharis, the 6-foot-3 signal-caller, made great strides last season as a relatively raw junior.

"We knew we were going to be able to run the ball with Jamel and we'd be a more ball-control type of team," Redding said. "George struggled some at JV, but right from the start last year, he had poise and confidence. You couldn't rattle him and once he got a hold of the offense, he really blossomed into good quarterback."

Redding will look for the same kind of transformation this year with running backs Blayne Kelley-Taylor (an Easter Connecticut lacrosse commit) and fellow senior captain Greg Donahue. While neither is the every-down back like Marshall, but have plenty of speed to burn and the impetus for the offense will be getting the ball to the backs in space.

"We're not expecting them to run between the tackles and pound the ball like Jamel did," Redding said. "But what they can do with their speed gives us some options, whether it's giving them the ball on pitches, screen passes or off the wing"

Similarly, the Hornets will not overwhelm opponents with their size on defense, but Redding will take his group over others any day.

"Size is a little overrated," he said. "Speed and strength and coming on the filed with a bunch of 6-2 linemen is one thing. Our kids are more the 5-9 sort, but they're strong and they put in their work in the weight room."

It all plays into Mansfield's mentality. It's like the gigantic Incredible Hulk mural that is painted on the wall of Mansfield High's gym. Although they are the Hornets by nickname, the defending Hockomock League champions have embodied a playing style akin to Dr. Bruce Banner's alter ego.

MANSFIELD AT A GLANCE
2010: 12-1 (Won Division 2 Eastern Mass Super Bowl)
Coach: Mike Redding (23rd season, 187-59-4)
Players to watch: George Busharis, Sr. QB/DB, 6-3, 185; Blayne Kelley-Taylor, Sr. RB/DB, 5-8, 160; Zach Schafer, Sr. LB, 6-1, 195; Nick Chiocco, Sr. TE/DE, 6-2, 230; Dylan Finerty, Sr. FB/LB, 6-0, 195; Nick Leonard, Sr. OL/LB, 5-11, 205; Greg Donahue, Sr. RB/DB, 5-8, 165.
Strengths: Depth at running back, experience at quarterback.
Weakness: Lack of experience in secondary.
August, 30, 2011
8/30/11
10:41
PM ET
By
Adam Kurkjian
| ESPNBoston.com
MANSFIELD, Mass. -- Last year, Mansfield rag-dolled BC High in a scrimmage in Dorchester, as Jamel Marshall, George Busharis and Jeff Hill put on an offensive clinic against the Eagles at Viola Stadium.

On Tuesday, the Eagles returned the favor, but it was not as one-sided. Still, BC High looked pretty impressive, as starting running back Preston Cooper and both starting junior tackles -- returning starter Jack McDonald and Pat Connolly -- were in attendance but not suited up, nursing minor injuries.

It was fairly obvious, though, that BC High didn't have any depth issues.

"They are big, strong, physical," said Mansfield coach Mike Redding of the Eagles. "I think the difference is this year, they're big and physical and they just seem better at all the skill positions. Their quarterback's a little better; Cooper's a little better; their wideouts are taller, a little faster..."

He was then interrupted and told that the player who housed a 55-yard toss to the left sideline was actually backup Deontae Ramey-Doe.

"Oh, (Cooper) didn't play?" he said. "I thought it was him. OK. They just got nice skill kids everywhere. The height that we kind of wish we had -- they all seem like they're 6-1, 6-2, they can run and they've got the big horses up front. They'll be tough to defend the way pound you and then play-action. The quarterback's very poised. They're getting a lot of hype, and rightfully so. They've got a nice package.

"But I think we held our own against a good football team. We're making strides. It's just building that depth a little bit. Unfortunately we can't make the kids bigger when we go to practices. We just make them tougher, make them smarter and do the best we can with what we got."

Cooper was a de facto coach on the field for the Eagles, and spoke about the importance of developing the depth that BC High is going to need for the schedule it plays.

"I mean, everyone gave it their all," Cooper said. "Of course we have backups come in and do the job. So even if I'm hurt or I'm out or whatever like that, no one should worry. Everyone should play 100 percent and everyone did that."

Some other thoughts...

-- Usually, BC High looks big up front, but not athletic. That is not the case this year. The linemen are leaner and quicker. It looks as if the Eagles spent as much time running in the off-season as they did lifting - which is not always how it's been at that program.

"Offseason conditioning was a huge thing for us -- weight room, speed development, particularly for our linemen," said BC High coach Jon Bartlett. "We need quicker, faster, stronger linemen. Hopefully that will continue as the season goes along."

One player in particular who has slimmed down and increased his speed is senior tight end and Temple commit Jameson McShea. Although the coaches have slid him down to defensive tackle, he's lighter on his feet and more nimble. The defensive line as a whole is still a strength despite the graduation of ESPNBoston All-State Obum Obukwelu (Harvard).

-- Speaking of the former Eagle defensive tackle, don't be surprised to see senior Oderah Obukwelu sneak into the lineup at some point in the season. A basketball player who didn't come out for football until this year, the 6-foot-3, 215-pounder made a number of plays in the backfield at defensive end. The BC High staff wishes it could have had him sooner. But there's another one in the pipeline. Eighth-grader "Mookie" Obukwelu is built more in the mold of Nnamdi, also at Harvard and the oldest of the brothers, who led the 2008 team to a Division 1 Super Bowl.

-- Redding wasn't kidding about the speed and size at the skill positions for BC High. Seniors Gordon McLeod, Tom Lomenzo, junior Lincoln Collins are all tall, fast players with good hands that make nice plays after the catch. The Eagles are three-deep at quarterback with returning starter Bartley Regan, junior Brendan Craven and running threat Richard Roach.

-- As for Mansfield, the Hornets are trying to build some depth as well. They just don't have as much of it as BC High.

"We've got three or four guys going both ways and what we're trying to do is get answers for getting everybody going one way," Redding said. "We'd like to get to the (Carrier) Dome (in the opener against Syracuse's Christian Brothers Academy) with 22 starters because it's 12-minute quarters up there. And they're going to do some no-huddle, we're going to do some no-huddle. The more one-way we go, the better. So we're trying to build some depth here in the preseason."

-- Still, Mansfield has some nice pieces to work with offensively. Quarterback George Busharis has another year of experience under his belt and tossed a nice middle screen over the trees to senior Blayne Taylor, who motored downfield for a long touchdown on the first series.

"I think the idea with Greg (Donahue) and Blayne is to get the ball in the open field," Redding said. "We're not going to line up and run iso and pound people but I think our fullbacks can keep people honest inside. And I think with Blayne, it's whether it's toss or screen or passes, he's going to make something happen like Greg. We just want to get the ball to those guys in space."

-- Mansfield didn't give up too much in between the tackles. Defensive ends Nick Chiocco and Brent Doherty and junior defensive tackles James Comer and Ryan Galanti combined with linebackers Dylan Finerty, Derrion Walker, Nick Leonard and Zack Schafer to form a stout group in the 4-4 scheme.
December, 1, 2010
12/01/10
2:24
AM ET
By
Matt Noonan
| ESPNBoston.com
WEYMOUTH, Mass. -- After twenty minutes of football, Mansfield entered their locker room with the momentum, but also the game seemingly in its hands.

The Hornets tallied 21 points in the first half and allowed Walpole only one offensive opportunity in the second half to secure their Division II playoff win, 28-0 and a chance to erase a two year old Super Bowl memory, a loss to these same Rebels back in 2008.

"(Walpole's) a great team, we just played better than them today. If we play a couple other days the outcome might have been different," Mansfield wide receiver Jeff Hill said.

Mansfield (11-1) struggled maintaining momentum early in the first quarter, as did Walpole (10-2), but during their second drive of the game, the Rebels marched 61 yards to the Hornets' goal line and could not get around a physical Hornets defense after four rushing attempts between both quarterback Troy Salvatore and running back Kenny Woods.

"I think that's the turning point, I think it's a whole different game if they score there, Its 7-7, maybe 14-7 at the half, but its not 21-0," head coach Mike Redding said.

With the score still 0-0 in the second quarter, Mansfield forced the Rebels to punt on their first offensive series of the second quarter, which set up an 18-yard pass from quarterback George Busharis to Hill.

"George was throwing the ball good, (the) line was blocking, everything was clicking," Hill said.

Busharis would target Hill two more times throughout the game, but also share the ball with his running back, Jamel Marshall, who finished the game with 89 yards and a touchdown.

"Well we've got one of the best offensive lines in the state and Jamel (Marshall) is one of the better (running backs) around and those two together just equals yards," said Jeff Hill.

Said Redding, "The third quarter, we established the ground game when we had to and Jamel (Marshal) runs hard and (Greg) Donahue and (Blayne) Taylor give us a good change up as well and our fullbacks are also pretty solid."

After Mansfield's nine-minute drive in the third quarter that resulted in their fourth and final touchdown, Walpole used their only offensive opportunity in the second half to put points on the board, but was held in check by the Hornets defense once again.

Throughout the game, Redding admitted that they wanted to pressure Salvatore and they were successful at it.

"Our biggest concern was Troy Salvatore running the football. We were worried about covering well and him just running. He's just quick, he's hard to find behind their big lineman and our linebackers just did a great job of keeping him in the pocket and tackling him in the open field," said Redding.

After the win, Hill smiled and displayed his confidence when he was asked if his team could win on Saturday by stating a simple, "Yep."

MANSFIELD 28, WALPOLE 0

WAL 0 0 0 0 --- 0
MAN 0 21 7 0 --- 28

Second Quarter
Jeff Hill 18 pass from George Busharis (Dave Eberhart kick)
Hill 32 pass from Busharis (Eberhart kick)
Jamel Marshall 2 run (Eberhart kick)

Third Quarter
Hill 11 pass from Busharis (Eberhart kick)
October, 30, 2010
10/30/10
3:18
AM ET


NORTH ATTLEBOROUGH, Mass. – At the time, Joe Oram's tackle looked like a game-saver.

When No. 5 Mansfield added a final-minute touchdown, giving the Hornets their final margin of victory at 24-15, it only distorted the importance of Oram's stop while providing further clarity to what could have been a photo finish.

"I'm glad I didn't have to deal with that scenario," Mansfield head coach Mike Redding said. "If they score and tie up with two minutes to go, then I'm thinking, do we go for it or do you play it safe. I'm glad it didn't have to come down to that."

North Attleborough was two points down with 2:07 to play, after Dan Johnson broke left into the flat and hit Ryan Flannery with a 7-yard touchdown pass on a halfback option. Leading up to the ensuing two-point try, both Redding and Red Rocketeers head coach Don Johnson played each other's bluff in aligning their squads. When No. 10 North Attleborough broke the huddle, the play call was for a run, a keeper for quarterback Paul McCarthy. His lane up the middle collapsed, so he bounced to the outside in an effort to find space.

There he was met by Oram, who drove McCarthy back short of the goal line and, in effect, put the Hornets in control to win the Hockomock League title this season.

"He was running inside on the dive, but Kyle McGuire came down and plugged the hole," Oram said. "When he bounced it outside, I just met him at the line and drove him back."

The linebacker continued, "This win is just huge. It means a lot to us."

Mansfield (7-1, 6-0) still had to finish the win by recovering an on-side kick attempt following the missed two-point play. It looked as though the Red Rocketeers (7-1, 5-1) might force a punt and get the ball back again, holding the Hornets to a third-and-seven. But George Busharis hit Jamel Marshall for a crushing 17-yard pickup on a throw to the flat.

Two plays later, Greg Donahue added a point of emphasis with a 28-yard touchdown run.

"I think the difference was, and it happened in both halves, they won on third down," the elder Johnson said. "We played great defense on first and 10 and, then beyond that, we struggled."

Mansfield broke the defensive maelstrom in the second quarter, when Jeff Hill used every inch of his 6-foot-4 frame to come down with an 18-yard score from Busharis. Dave Eberhart added a 23-yard field goal later in the second stanza for a 10-0 Hornet lead.

North Attleborough got back three points just before the half on Zach Horton' 22-yard field goal as time expired.

Big Red found greater offensive consistency in the second half, when McCarthy tested Mansfield with his arm (11 of 22, 131 yards) and his feet (8 carries, 63 yards).

"I thought we were able to mix it up," Johnson said of the Red Rocketeers offense in the second half. "We kept finding ourselves in long-yardage situations early. We kind of got stuck where we had to throw a little too much. We were able to run the ball a little inside and then that opened up the outside, then we could pass on other downs."

McCarthy hit Brady Shorey on a perfectly executed screen pass for a 51-yard touchdown with 44 seconds remaining in the third quarter.

The Hornets answered with a plodding 12-play, 6:40 drive that culminated in a 5-yard touchdown by Marshall, who carried the ball on seven of those plays while finishing the game with 25 carries for 159 yards.

North Attleborough bounced back with a score of its own, on the halfback option play from Dan Johnson. Redding was prepared for trick play, but didn't quite have the particulars down.

"We'd talked about Donny's [Johnson] son throwing, [but] we though he was right-handed," Redding said. "He's actually left-handed, so going left and throwing, we covered him pretty well, but it was a great catch by Flannery."

Then, it was left to Oram's anticipation.

Mansfield was determined not to let McCarthy beat them and wanted to neutralize his top target, Flannery.

"I think when they saw us in that defense, they went to the run," Redding said, "and fortunately, that weak-side blitz caused some penetration. That made the difference."

No. 5 Mansfield 0 10 0 14 -- 24
No. 10 North Attleborough 0 3 6 6 -- 15

Second quarter
Mansfield Jeff Hill 18-yard pass from George Busharis (Dave Eberhart kick)
Mansfield Dave Eberhart 23-yard field goal
North Attleborough Zach Horton 22-yard field goal

Third quarter
North Attleborough Brady Shorey 51-yard pass from Paul McCarthy (kick blocked)

Fourth quarter
Mansfield Jamel Marshall 5-yard run (Eberhart kick)
North Attleborough Ryan Flannery 7-yard pass from Dan Johnson (rush failed)
Mansfield Greg Donahue 28-yard run (Eberhart kick)