Boston High School:

Haley Currie
June, 16, 2013
6/16/13
2:00
AM ET
By
John McGuirk
| ESPNBoston.com


WORCESTER, Mass. -- If you are Grafton softball head coach John Gemme, you always like your chances when you hand the ball to pitcher Kendal Roy.

The junior right-hander is one of the upstart premier pitchers in the state and, once again, she put those talents on display Saturday and, in the process, made believers out of Burlington.

Playing an instrumental role in helping the Indians win their first Division 2 state championship a year ago, Roy was back at Rockwood Field looking to raise another banner. After working her way out of some early trouble, Roy got into a groove which spelled doom for the Red Devils as she pitched the Indians to their second consecutive state crown with a 2-1 victory.

Roy grew more-dominate as the game progressed. She finished her day by allowing just four hits while striking out 11. Burlington senior pitcher Kelly McCarthy, also solid in defeat, surrendered eight hits, fanning five.

"You get the first one and you say that's unbelievable because a lot of things have to go right," Gemme said. "To get a second one is a lot harder. There is a lot more work involved. Today we needed to be aggressive at the plate. McCarthy was trying to get ahead of our hitters so we felt lets just jump on that first pitch if its a strike. If she throws a first pitch strike lets not wait and just get after it right away. I thought we did a good job of that today."

Grafton (24-2) entered this contest having played its state semifinal game the night before at Turners Falls High School, where it defeated Wahconah Regional. The bus ride from Grafton to Montague is approximately 90 minutes. But a lack of sleep didn't seem to bother the Indians too much.

"We knew there wasn't a game after this one so we just wanted to go out and leave everything on the field," Roy said. "We came in pumped up on adrenaline from Friday night's win and we took it into this one today so I wasn't feeling any pain. I think we have proven that we are a good team and Grafton softball has a very good organization."

Grafton got on the board in the second inning. After McCarthy had set down the first two batters with ease, she issued a walk Makayla Ritzie. The sophomore then stole second before coming home on senior Marissa Ruggiero's solid single up the middle.

One inning later, Grafton was back at it. Amanda Voellings, a sophomore, singled and advanced to second on Ali Page's SAC bunt. Tara Faford (5-for-6 in her last two games) reached on an infield single to put runners on the corners. Roy then smacked an RBI single to center giving the Indians a 2-0 advantage.

Burlington (22-4) will look back on this game knowing it had some early chances to score on Roy. Three times during the first four innings they stranded runners in scoring position -- twice at third. But Roy, showing tremendous poise, managed to tight rope out of danger and keep the Red Devils off the scoreboard.

In the sixth, Burlington was able to manufacture a run. April Adams opened by reaching on a Voellings error at second base. After stealing second, Adams took third on catcher Ali Page's throwing error. With one out, Haley Currie hit a SAC fly to right allowing Adams to tag up and score.

Suddenly the Red Devils had come to life having closed to within a run. But in the seventh, Roy reached back for a little something extra and retired Burlington in order and claim another state championship.

"I don't think we've had anyone strike us out 11 times before today," said Red Devils head coach Kristen Mahoney, whose club fell to Wahconah in the 2011 title tilt. "We weren't able to adjust to [Roy] quick enough. We had some extra base hits early but that timely hit just wasn't there for us today."


April, 9, 2013
4/09/13
11:19
PM ET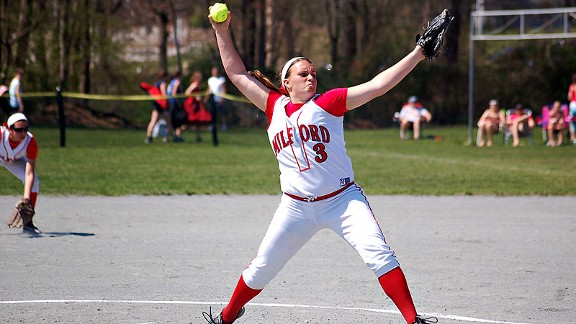 Brendan Hall/ESPNBoston.comReigning ESPN Boston Miss Softball Award winner Shannon Smith hopes to lead Milford to back-to-back Division 1 state titles.
STARTING ROTATION
Megan Colleran, Jr., North Attleborough
Anna O'Neill, Sr., King Philip
Lauren Ramirez, Sr., Dracut
Kendal Roy, Jr., Grafton
Shannon Smith, Sr., Milford
STARTING NINE
Tori Constantin, Sr. 2B, King Philip
Stephanie Cornish, Sr. 3B, Abington
Alexis DeBrosse, Sr. SS, New Bedford
Caroline Fairbanks, Sr. 3B, Milford
Nicole Lundstrom, Sr. C, Dighton-Rehoboth
Bella Picard, Sr. SS, Blackstone Valley Tech
Madi Shaw, Jr. SS, Bridgewater-Raynham
Dakota Smith-Porter, Sr., P/SS, Turners Falls
Reilly Weiners, Sr. C, Agawam
WATCH LIST
Olivia Antczak, Soph. P, Central Catholic
Allie Colleran, Jr. SS/OF, Concord-Carlisle
Megan Cook, Jr. P, Bellingham
Haley Currie, Sr. 3B, Burlington
Sara Dawson, Soph. P, Bridgewater-Raynham
Kaleigh Finigan, Sr. 3B, St. Mary's (Lynn)
Bridget Furlong, Sr. 2B, Malden
Courtney Girouard, Jr. P, Fairhaven
Galen Kerr, Sr. P, Concord-Carlisle
Taylor LeBrun, Soph. C, Milford
Rachel Levine, Sr. CF, Milford
Michaela Mazure, Soph. INF, Burlington
Shannon McLaughlin, Jr. P, Tewksbury
Paige Mulry, Jr. C, Boston Latin
MacKenzie Navarro, Jr. 1B, Taunton
Alicia Reid, Sr. CF, Abington
Kelsey Saucier, Jr. P, Holy Name
Rachael Smith, Jr. P, Winchester
Lauren Tuiskula, Sr. P, Leicester
Jurnee Ware, Sr. P, Hudson
June, 14, 2011
6/14/11
12:20
AM ET
By
Ryan Kilian
| ESPNBoston.com
LOWELL, Mass. -- The first two regular season meetings between Middlesex League powers Burlington and Reading ended with each team winning on their home turf.

It was only fitting that the rubber match between the two teams take place in the Division 2 North sectional final on a neutral Martin Field Monday night.

This time, Burlington, behind a complete game effort from senior Courtney Lanfranchi, defeated Reading 3-2 in another close battle between the two schools.

"I knew it was going to be a tough game," Lanfranchi said. "It was our third time playing them this year and they are real good team. I knew we had to get that clutch hit or clutch run."

The Red Devils (22-2) struck first in the bottom of the first inning as junior shortstop Christina Raso smashed a lead-off double over the head of Reading right fielder Victoria Marino. After a sacrifice bunt by senior captain Stacey Hezreh, Burlington third baseman Haley Currie would drive in Raso with a deep infield single in the hole.

The Rockets would tie the game at 1-1 in the top of the third as junior Morgan Fallon would reach on a fielder's choice, steal second and score on a throwing error.

The Red Devils would answer right back in the bottom of the third as Raso led off the inning again with a single and later score on an error, giving the Red Devils a 2-1 lead after three innings.

Reading would tie the back-and-forth affair in the fourth inning as second baseman Meg Kelly ripped a double in the left-center field gap and would score on a single by catcher Nicole Nelson.

With the score tied at 2-2 in the bottom of the sixth inning and runners on second and third, freshman Kayla Sheldon hit a sacrifice fly to plate the eventual winning run.

The Red Devils played superb defense behind Lanfranchi, led by catcher Jillian Mazure, who gunned down a would-be base-stealer in the third inning and picked off another base runner with a rifle throw down to first in the sixth.

"Believe it or not she [Mazure] had never played catcher before this year," Red Devils head coach Kristen Mahoney said. "This year we needed a catcher and she said, coach I will do it. She has been phenomenal and one of the best catchers we have seen so far."

"She played every position for us and I could not be more proud of her," echoed Lanfranchi. "I think we have had the best defense in the North this year. I know I am not a strikeout pitcher so I have to rely on my defense and they helped me out."

The Division 2 North title is the first for the Red Devil program.

"The girls worked so hard for this," said Mahoney. "They are the best group of girls and they deserve this."

Burlington, who has not lost since April 27, will face Division 2 South sectional champion Hopkinton (22-2) Wednesday night at Martin field in Lowell. First pitch is scheduled for 7 p.m.