Boston High School:

Hamden (Conn.)
February, 20, 2015
Feb 20
1:33
AM ET
By
John McGuirk
| ESPNBoston.com
WEST SPRINGFIELD, Mass. -- Several long minutes had passed before Brian Foley appeared from the team dressing room.

In the aftermath of witnessing his Springfield Cathedral hockey team play a game of survival against Malden Catholic, resulting in a 2-1 victory in the finals of the Cathedral Hockey Classic played Thursday evening at the Olympia Ice Center, Foley seemed less than enthused after defeating the No. 1 program in the state.

Foley, and his team, know full well they had just pulled off a Houdini act against a club that had taken complete control of things over the final two-and-a-half periods. No. 2 Cathedral had set the tone early in the first period by scoring a pair of goals within the span of a minute. But the momentum of those two scores failed to garnish much strength as things started to go south thereafter.

Cathedral's early outburst acted more like a wake up call for the slumbering Lancers, as they took over the reins moments later and never let go. MC went into lock down mode on the Panthers, limiting their pursuits up ice and pinching them along the boards the rest of the way.

Had it not been for the steady play of Cathedral goaltender Keith Petruzzelli, who turned out to be the Panthers saving grace, Cathedral most likely would have come up on the short end.

Petruzzelli, a sophomore, stopped 27 shots – many of the high quality variety, including several during the final minute.

"I thought we did a good job keeping their shots on the outside," said Petruzzelli, a Quinnipiac University commit. "They didn't get a lot of chances point blank. Our defense and our off wings did a really good job keeping them out of the front. We executed well by getting in front of shots. Because of the great system that we have here, we have guys constantly selling out by blocking shots and keeping stuff out of the front of the net."

With the victory, the Panthers close out their regular season 20-0-2 and now wait for their invitation to the Super 8 tournament.

Malden Catholic, the four time defending Super 8 champs, suffers its first loss of the season as they fall to 14-1-2. If the stars align correctly, these two super powers could face one another again in the Super 8 finals next month.

"It almost felt like scoring those two early goals was a bad thing," Foley said. "I thought there was a lot of energy early and were able to establish some territory. Then when we got those first two goals it looked like it was going to be a good night for us and appeared as though we were going to out-shoot them, out-work them and out-play them. But then it just went completely the other way on us. I thought Keith played exceptionally well for us so we'll take these two points without our best effort."

In the early going, and with a jammed pack crowd in place, the Panthers came out stoked. Just 3:51 in, after MC's Austin Goldstein was whistled for roughing, Cathedral pounced on its man advantage opportunity. Senior D.J. Petruzzelli, standing in front of MC goalie Kyle Casey, redirected a Johnny Leonard blast from inside the blue line for a 1-0 lead.

Just 24 seconds later, the Panthers were back on the march. Freshman center Devon Tongue, standing just outside the Lancer goal crease, pushed back a rebound to make it a two-goal affair.

"They got on us early and we weren't ready mentally," Lancers head coach John McLean said. "It was a big crowd here and I felt our kids just weren't mentally ready to go at the start. That team has a lot of talented kids but I'm very proud of our guys for the way we battled for the rest of the game. You can't win every game and our guys could have easily quit after those first six minutes. But they didn't and went to war for the remainder of the game. It was a very good game by both teams."

Despite being down by a pair, MC shook off the cobwebs. Over the last minutes of the first and during the final two frames, MC took over. The Lancers started getting more physical at both ends of the ice, knocking the Panthers off of their anticipated lanes with a mix of forechecking and backchecking. They were also beating Cathedral to numerous loose pucks as well as limiting the Panthers' attempt to create separation once they moved inside the attacking zone.

However, in spite, their on-ice changeover, MC was still down a pair. Even when the Lancers went on the power play (five times total), they came up empty thanks to some quality special teams play put forth by the Panthers.

"You hate to see that much special teams in these types of games but we were forced to kill some penalties, make some blocks and we know Keith is the best penalty killer we have," said Foley. "We don't feel great about the win right now but I think it is a sign of a good team that doesn't play well yet can still pick up two points against a great team like Malden Catholic."

Midway through the second period, MC found a glimmer of hope when Jack Adams, off a turnover, punched one past Petruzzelli from the right circle, drawing the Lancers to within a goal.

Cathedral, who attempted just 12 shots on net for the game, spent the rest of the night diving on the ice in an attempt to push puck away from its own zone or drop down to block shots from the perimeter. When MC was able to gain space and set up shots, Petruzzelli was his team's last line of defense and held the fort.

"Keith played out of his mind for us tonight," said senior wing Peter Crinella. "He's the best goalie in the state. It was a great atmosphere here and we fed off of that early and then we kind of rode Keith the rest of the way. Malden is a great team. You know whenever you play them, they're always going to be a great team and they are well-coached."

Moments following Adams' marker, the Panthers went on a short 5 on 3 opportunity but were held in check by the Lancer defense. Cathedral ended up finishing 1-for-6 on its extra man chances.

Having managed to dodge several bullets in the middle frame, the Panthers knew these last 15 minutes would be a war of attrition. Starting to show signs of fatigue, Cathedral conjured up every last ounce of energy it had to fend off the relentless MC onslaught. Even after the final horn sounded to render them victors, the Panthers hardly had enough left in the tank to celebrate.

St. Mary's rebounds: After getting leveled by Cathedral in Wednesday night's opening round of this event, St. Mary's showed tremendous poise in bouncing back to post a 6-1 triumph over Hamden (Conn.) in Thursday's consolation game.

The 17th ranked Spartans (12-7-3) looked more like the club head coach Mark Lee has been expecting. St. Mary's broke a 1-1 tie with a two goal second period and went on to add three more in the third to put this one out of reach.

"It was a little bit of a slow start for us but I was really happy with our third period in how we came out and played some inspired hockey,'' Lee said.

Just 8 seconds into this tilt, the Green Dragons (8-8-1) took the lead. Off the opening face off, sophomore Jeremy Routh skated in alone on Spartans goalie Ryan Borders, beating the senior for a 1-0 lead. For the remainder of this contest, Borders played exceptionally well, finishing with 26 saves. Midway through the first, Jon Powers, taking a nice angle pass from Marc Zampanti, one-timed a shot past Collin Burke to tie matters.

St. Mary's took things over from there. Sophomore forward Eric Pedro struck for a pair of goals one minute apart in the second period to send the Spartans into the final intermission ahead 3-1.

St. Mary's continued its dominance over the final period with Dante Maribito, another sophomore, leading the assault. The forward netted back-to-back goals early in the frame before Mike Desmond close things out with a blast from the right circle in the final minute.

The Spartans will not earn a Super 8 berth this year, but it would not be surprising to see them make some serious noise once the Division 1 North tournament begins.

"I thought we played good (against Cathedral) Wednesday despite it being a 7-0 loss," said Lee. "We are happy with the way things are going right now but we also know we are not a team that can make mistakes. Fortunately we have learned a lot from the mistakes we have made this season. We are starting to peak at the right time. Overall, we are a young team but I think these kids are starting to get it. So now we'll have to see what happens in the playoffs."
January, 20, 2013
1/20/13
12:29
AM ET
James Walsh of Hingham Community Access and Media checks in tonight with highlights from Hamden (Conn.) High's 5-4 win at Hingham on Saturday:


February, 24, 2012
2/24/12
7:16
PM ET
On the final day of the regular season, and with less than 24 hours remaining before Saturday's Super 8 committee selection meeting, we've cobbled together our final field projection for the state's premier hockey tournament.
The top six seeds have remained pretty consistent down the stretch, but we see two new squads slipping in the back door to nab the final play-in game positions.
Also, we thought it was fitting to take a cue from friend, colleague and longtime Super 8 supporter
Chris Forsberg
, by way of John Buccigross, with a little musical tribute to each team, chronicling some of our favorite (or not so much, or otherwise noteworthy, whatever fits, right?) songs of the last year or so.
1. Malden Catholic (15-1-4)
Current ESPN Boston Top 25 ranking:
1
Where they ranked in last projection:
1
Why they're in this spot:
Lancers' only loss of the season came against an out-of-state opponent (New Jersey powerhouse Delbarton), in addition to one of their ties (Hamden, Conn.). MC's also been at No. 1 in our poll from "box to wire" to steal one of Chris Serino's expressions. Plus, the Lancers will be a motivated squad headed into the tournament, playing for their ailing former coach.
Song that fits:
Coldplay, "Us Against the World." I'm a much bigger fan of the Brit-band's early catalogue and was in attendance for one of their first U.S. shows. Not a huge fan of Mylo Xylato (or the last two albums for that matter) but this song fits, not to mention we know a couple Lancers will appreciate the nod. The message is clear, they're doing it for Serino this year.
Lyric that fits:
"Through chaos as it swirls/ It's us against the world."
2. St. Mary's of Lynn (18-1-3)
Current ESPN Boston Top 25 ranking:
2
Where they ranked in last projection:
2
Why they're in this spot:
The Spartans lone loss of the season came to the aforementioned Lancers in the first game of the high school hockey season; they even improved upon their first result, tying MC at the Kasabuski tourney. Perhaps the most steady team of the season, playing in front of sophomore goaltender Bailey MacBurnie (1.30 GAA in 21 games), who's been a revelation.
Song that fits:
My Morning Jacket, "The Day is Coming." Last year's "Circuital" wasn't one of my favorite band's best efforts (you see a pattern beginning to emerge here?), but this one's a gem from one of the most imaginative bands working today.
Lyric that fits:
"If opportunity, rears its head/ Will you answer, or stay home in bed?"
3. Hingham (16-4-2)
Current ESPN Boston Top 25 ranking:
3
Where they ranked in last projection:
3
Why they're in this spot:
The wildcard of the season. Obviously, the Hingham brand of hockey is synonymous with the Super 8, but not even head coach Tony Messina knew exactly what he had coming into this season. The inexperienced, but talented Harbormen haven't missed a stride this season. There's no single sensation that's carried the load, but Hingham is deep, evidenced by their five forwards (Sam D'Antuono, James Gordon, Matt Hughes, Ryan Linehan and Patrick Mannion) with 18 or more points on the season.
Song that fits:
Real Estate: "It's Real." My favorite break-out band of the year. Their sophomore effort "Days" was one of the best albums of last calendar year. A must-listen for anybody who enjoys The Smiths, or songs about the Jersey coastline.
Lyric that fits:
"I skated on the frozen Sea/ It's real as far as I can see."
4. St. John's Prep (13-5-2)
Current ESPN Boston Top 25 ranking:
5
Where they ranked in last projection:
4
Why they're in this spot:
This spot could be a toss-up between the Eagles and the Eagles of BC High. In this instance, we're going to slot Prep ahead of their Catholic Conference rivals on the tail end of their schedule. Although Prep and BC High tied their season series, both claimed two-goal victories, the committee might look at BC High's recent ties at the Cape Cod Classic (wins for tournament purposes) as reason to slide them to No. 5. Looking beyond the play-in games, Prep's top line of Tyler Bird, Brian Pinho and Sam Kurker is one of the few lines in the state that create problems for MC's vaunted top line.
Song that fits:
Avicii "Levels." A staple of Prep's warmup mix this season, and as ubiquitous a dance song in society this side of anything off of Daft Punk's "Discovery." Fully expect to hear this song about 1,000 times during the Super 8 at Lawler. Get ready.
Lyric that fits:
"Oh, sometimes/ I get a good feeling." (Well, come to think of it, that's about all there is for lyrics.)
5. BC High (10-5-5)
Current ESPN Boston Top 25 ranking:
4
Where they ranked in last projection:
5
Why they're in this spot:
As we explained, there's little separating the Eagles of Morrissey Blvd. and the aforementioned Eagles. It's just that the Eagles' two shootout wins and one-goal win over Archbishop Williams in the Cape Cod Classic this week might cost them a higher seed than this spot. In either case, they're a shoo-in and a dangerous squad at that as goaltender Peter Cronin (.915 save percentage) has only matured since his eye-opening performance in last year's tournament. Let's not forget either, the Eagles a relatively young squad as well, with only four seniors (Adam Conway, Brian Furey, Bartley Regan and Matt Sullivan) on the roster.
Song that fits:
M83, "Intro." This is the lead-in to Anthony Gonzalez's masterpiece "Hurry Up, We're Dreaming" (yes, the song you skip over to get to "Midnight City"). My favorite album of last year, for those of us who still actually believe in the concept of the album.
Lyric that fits:
"The battle's fought/ The deed is done/ Our silver hum runs deep and strong."
6. Springfield Cathedral (10-6-6)
Current ESPN Boston Top 25 ranking:
6
Where they ranked in last projection:
9
Why they're in this spot:
Outwardly, the Panthers don't have the most striking record, but only three of their losses have come in-state. And all of those losses came against teams ranked before them in this projected field (BC High, MC, St. Mary's). They've shown they can skate with the best in the state, albeit, they coughed up a point in a 5-5 with Prep after holding a 4-goal lead. But Wednesday's hard-fought 1-0 win over Needham in their host tournament showed how difficult this team can be to play against. As in that game, sophomore John Liquori has been solid and senior captain Frank Crinella (13-15-28) is as tough to play against as he is talented.
Song that fits:
The National, "Conversation 16." Trying to figure out what lead singer Matt Berninger's lyrics are about is like trying to do a Rubik's cube blind-folded. But they sure are interesting, if not entirely depressing. Great band, the band that Coldplay wishes they could be but are not, what with adoration of critics everwhere (including me).
Lyric that fits:
"I was less than amazing/ Do not know what all the troubles are for."
THE FINAL FOUR (PLAY-IN TEAMS)
7. Central Catholic (12-3-5)
Current ESPN Boston Top 25 ranking
: 7
Where they ranked in last projection:
6
Why they're in this spot:
We had the Raiders avoiding a play-in game in our previous field, but given their play down the stretch (3-0 loss to Andover stings), it feels like that's exactly what they're staring down for a second straight year. Still, as in year's past, Central has made a Super 8 push with a strong second half and things seem to be falling into place with ESPN Boston preseason All-State goaltender Kyle Williams (2.00 GAA) playing his best hockey down the stretch.
Song that fits:
At the Drive-In, "Rolodex Propaganda." OK, not a new song, but the reunion of the late-90's greatest band has me excited.
Lyric that fits:
"Pinch history feel the pinch blistering/ Pinch me in my dreams cause I'm still not listening."
8. Burlington (14-1-6)
Current ESPN Boston Top 25 ranking:
10
Where they ranked in last projection:
8
Why they're in this spot:
An emphatic 7-3 win over a quality Chelmsford team Thursday night in the Cahoon Tournament championship is exactly the kind of emphatic statement that can help a team this time of year. As the winner's of the Middlesex League's small schools division, we believe the Red Devils will be the lone team representing one of the state's toughest conferences. The only thing that could work against them is a high amount of ties. They're also a little light in the marquee win category. Senior forwards Trevor Cimino and Brett Romkey were two of my favorite players to watch this season.
Song that fits:
Bon Iver, "Minnesota, Wi." Just because Justin Vernon's Grammy acceptance is still one of the most priceless moments in recorded internet history.
Lyric that fits:
"Never gonna break/ Not for a part in any gamut of the dark."
9. Needham (16-4-1)
Current ESPN Boston Top 25 ranking
: 8
Where they ranked in last projection:
Out of Top 10
Why they're in this spot:
You could make the case that Wednesday's Springfield Cathedral Tournament game against the Panthers was a battle for the right to take the sixth seed. Given that the Rockets played well, but came away with a 1-0 loss, that's why they're here. This isn't an offensive juggernaut, and hopefully the Rockets' recent goal-starved performances will not negatively affect them, but they play solid team defense. It starts from the goalmouth out with a dependable, experienced goaltender in Connor Murray. Senior captains Lucas Davis and D.J. Walsh are equally adept in the offensive zone as they are in their own end.
Song that fits:
Jack White, "Love Interruption." As soon as we lost The White Stripes, White came back with this solo effort that cuts to the bone. After a couple tough Super 8 appearances, Needham's looking for more than just another appearance.
Lyric that fits: "
Yeah, I won't let love disrupt, corrupt or interrupt me anymore."
10. Westford Academy (12-2-4)
Current ESPN Boston Top 25 ranking:
17
Where they ranked in last projection:
Out of Top 10
Why they're in this spot:
Alright, so this is our boldest prediction, given that the Grey Ghosts still have one paramount game to play (as of the time of publication) against another Super 8 Watch List team in Milton at the Irish-American Shootout championship. We're going to project that the Grey Ghosts make the DCL/MVC the only public school league with two representatives; you can make the case the DCL/MVC was the strongest public conference this season, top to bottom. In addition, I like the way the Grey Ghosts attack with speed. They also have one of the most underrated D-men in the state in senior captain Pat Houghton (1-15-16) in front of senior goaltender Zach Webert.
Song that fits:
Holy Ghost!, "Hold On." Ghosts, get it? Plus, they're a Brendan Hall favorite.
Lyric that fits:
"It seems like I've been here before."
January, 3, 2011
1/03/11
12:35
PM ET
By
Tim Driscoll
| ESPNBoston.com
Editor's note: Hingham High School senior Tim Driscoll checks in with his first Player Diary installment of the hockey season, highlighting the Harbormen's recent tussle with Needham and looking to what lies ahead for the defending Super 8 champions.

The hockey season is about a third of the way done, but it feels that it began just yesterday. So far we are 3-0-3 in the young season, which puts us right in the middle of things. As players, we would all like that to be a 6-0 record, but we are still undefeated and that is something to be proud of. Already we have played in some very exciting games.
[+] Enlarge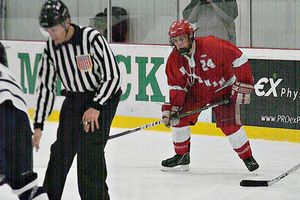 Scott Barboza Hingham High School senior Tim Driscoll.
On Friday, we played a very fun game against a very good Needham squad. Our coaches told us that this is a big game throughout the whole state because it gives a everyone somewhat of an idea of where they stand next to other teams. It was also a big game for us because year after year Hingham and Needham are among the best teams in the state and both are usually two of the top public schools. Despite coming out very slow in the first period, we managed to get an early goal and take a 1-0 lead in the first minute. After that goal though, the first period was all Needham and they took a 2-1 lead into the locker room. As a team, we started to pick up our play in the second and managed to tie the game at two midway through the second. The score remained at 2-2 because of great goaltending and very physical play all the way until two minutes left in the third period. Needham got a power play late in third, and Tom Coleman walked out from behind the net and fired a shot home just as the power play was ending with just over a minute left in the game. Being down 3-2, we took a timeout with about 45 seconds left to play to discuss how we wanted to try and get the equalizer. After we put a shot on net there was a big scrum in front and somehow the puck found our stick and we capitalized to tie the game with less than 15 seconds left.
Clearly, we would have loved to get the win in a game where we out-shot our opponents by a fair margin, but its always great when you get a tie after being down real late. I am happy we pulled out the tie and one of the reasons we were so good last year was because of our heart and determination to win games, and this game showed that we still have those qualities as a team this year.
So far this year, we have beat Hamden High (the Connecticut state champs), 4-0, Norwood, 6-1, and Weymouth, 3-2. We beat Duxbury 3-2 in an overtime thriller, but it counts as a tie according the MIAA. We also tied a very good St. John's Prep team, 4-4, where we again rallied to tie it up late.
Our team this year is still trying to find our identity because we are such an experienced team. We have many returning players, but only a couple received quality ice time last year in our title run [in the Super 8]. That does not go to show that we aren't talented because we do have quite a bit of skill. The key for us this year in order to be successful again is to find team chemistry and get everyone on the same page. I feel we are starting to develop as a team because everyone wants to have a great year and as players we are learning what it takes to be great.
We are going to need to work out all of our kinks and start playing "Hingham Hockey" because we have some very tough games coming up in Catholic Memorial next Saturday and Malden Catholic the following Saturday.