Boston High School:

Harold Sachs
June, 27, 2012
6/27/12
2:07
PM ET
By
Marc Thaler
| ESPNBoston.com
Fundraising totals between the teams competing in the inaugural New Hampshire East-West High School Football All-Star Game couldn't have been much closer.

The game itself? That's a different story.
West's all-stars – widely considered underdogs for the June 23 contest at the University of New Hampshire – proved too tough. The combination of overpowering offense and dominant defense led to a 33-point halftime lead and 44-12 final score.
Thaddeus "Junior" Brown was toughest to cover. Manchester Central High's 6-foot 3-inch, 180-pound receiver made all four of his catches for 87 yards in the first half. Three receptions went for touchdowns, including a 50-yard down-the-right-seam dagger that helped Team West build a 37-6 halftime lead.
"This means a lot. I worked hard for it," Brown, the game's first Bo Dickson MVP, said of the trophy he was handed for his efforts. "The coaches helped me out a lot. I just busted my butt for 10 days. The outcome was this MVP."
Off the field, the outcome of Brown's efforts, as well as the 73 other all-stars, was even more impressive.
Teams East and West combined to raise $51,301.21 for Children's Hospital at Dartmouth-Hitchcock (CHaD) in Lebanon.
Team East was designated the home team. It earned use of UNH football's locker room for winning the head-to-head fundraising contest. Coach Bill Raycraft's players raised $25,751.21 – a mere $201.21 more than West's standouts.
In total, $301,000 was raised for CHaD.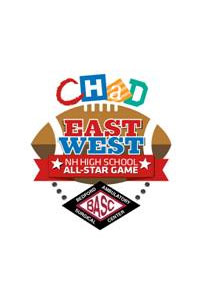 BASCTBD by editorial
"These kids came together and did a heck of a job for a great cause," said Team West coach Keith Jones, whose 6-year-old son, Harris, a CHaD patient, participated in the pre-game coin toss.
Harris was involved in a freak snowmobile accident three years ago. His father has said many times if not for CHaD, right-leg amputation would have been required.
On gameday, the soon-to-be first-grader made an appearance in Team West's locker room prior to warm-ups. It gave the players an additional boost, which carried over to kickoff.
Several playmakers fueled Team West's 37-point first half.
Brown caught a pair of 9-yard TD passes from Manchester West High's Aaron Martin, who also used his speed to sneak inside the left pylon for a 2-yard rushing score.
Merrimack High's Jackson King returned an interception 19-yards for a TD.
Nashua South's Johnny Bieren was crucial to posting a second-quarter safety. He also forced and recovered a fumble on one of his three quarterback sacks.
Central's Stephen Grzywacz – who raised a players-best $5,965 for CHaD – converted five extra points (6-for-6 overall).
East's all-stars committed five of the game's eight turnovers. The favored squad fell behind, 30-0, before Salem High's Jerickson Fedrick returned a kickoff 96 yards to paydirt.
Fedrick, and Pinkerton Academy of Derry stars Kevin Davies and Emmitt Smith, were all neutralized. Combining to rush for 4,649 yards and 57 TDs last fall, the trio managed 99 yards – 28 through two quarters.
Conor Donovan of Division VI cooperative team Inter-Lakes-Moultonborough scored East's second TD early in the third. Derek Paradis of Nashua South answered with an up-the-gut run.
"The first series, I thought we did pretty well. We stopped them (but) right away turned the ball over," Raycraft said. "That's not the way you want to start an all-star game. From there, we pressed a little bit more than we probably should have and, because of that, created more turnovers.
"But, like I told the kids, I had a blast these last (10) days," he added. "I couldn't have asked for a better group of kids. It's going to be fun watching where they go from here. The score will fade, but they set the tone for fundraising."
BASEBALL CHAMPS
Division I
: Dillon Emerson's extra-inning hit snapped two droughts, including a lengthy one for Concord High.
The senior's single down the right-field line scored Pat Cannon and gave the top-seeded Crimson Tide a 5-4 walk-off win over No. 3 seed Merrimack High in the state final June 16 at Northeast Delta Dental Stadium, home of Double-A baseball's New Hampshire Fisher Cats.
Emerson's hit snapped an 0-for-4 skid in the title game and earned Concord (18-4) its first crown since 1980. The Tide lost the state final in 2011.
"I was in the dugout upset over all the missed opportunities I had when coach [Scott Owen] came up to me and said, 'Stick with it. You'll get your at-bat and you'll come through.' He was right," Emerson told the
New Hampshire Sunday News
.
April, 13, 2012
4/13/12
12:35
PM ET
By
Marc Thaler
| ESPNBoston.com
Salem High's Nicole Gubellini notched eight strikeouts, but primarily pitched to contact.

The problem for Concord High hitters taking their cuts? Gubellini never allowed them to get the barrel of the bat on the ball.
The end result, aided greatly by strong infield defense, was a no-hitter for the senior hurler and 5-0 Division I softball win April 11. Two days earlier, she threw an abbreviated no-no in Salem's season-opening 14-0 mercy-rule win at Rochester's Spaulding High.
Concord's Lindsey Stevenson reached on an infield error to open the game. Then, Gubellini retired 21 outs in a row. Her complete-game masterpiece took 65 minutes to complete.
"I can feel it, when things are good," said Gubellini, a four-year pitcher for the Blue Devils and scholarship recruit of Quinnipiac University. "Some days, some pitches are better than others."
Gubellini claimed her changeup – among an array of pitches she throws with accuracy and confidence – wasn't consistently sharp against the Crimson Tide.
She could have fooled Concord coach Duke Sawyer. She did fool her share of hitters.
"She's tough. Salem's tough," said Sawyer, who took last year's Tide team to the state final. "She pitched against us last year a little bit. She did well last year, too."
In addition to fanning eight, Salem's ace induced 12 outs via grounders or weak infield pop-ups.
Everyone in the infield – from catcher Amanda Biron, third baseman Hannah Latham, shortstop Samantha Cloutier, second baseman Sarah Frahm and first baseman Emily O'Brien to Gubellini herself – played a part in recording at least one of those 12 outs.
Only one fly ball reached the outfield. Center fielder Stephanie Long tracked it down.
Strong pitching is nothing new at Salem, where Granite State legend Harold Sachs has led the Blue Devils to 14 state titles.
But last year's quarterfinal-round exit was a stunner. The Blue Devils, as the top tournament seed, were beaten by Nashua's Bishop Guertin High.
"We won the regular-season league last year. We believed we were the best team last year. That has not changed in our thinking," said Sachs, who won his 500th career game last May. "And we just think we're better this year. I don't know what that's going to mean down the road."
Should Gubellini give Salem a season worth of strong starts, it might mean trouble for the opposition.
MORE DIAMOND DOMINANCE
NHIAA baseball's April 9 Opening Day included a pair of mercy-rule-shortened no-hitters.
Jordan Bean tossed one for Division II St. Thomas Aquinas High of Dover. Nick Massa celebrated the other for Division II Kennett High of Conway.
STA beat Division I Dover High, 10-0, in five innings. Bean, a senior, tallied seven strikeouts and set down 14 batters to close the contest after issuing a one-out walk in the opening frame.
He also had the game-winning hit: a first-inning solo home run.
Kennett defeated Division III Berlin High, 10-0, in five innings. Massa, also a junior, fanned seven, walked one and contributed a run-scoring hit.
STILL GOING STRONG
Portsmouth High began taking aim at its fifth consecutive Division II baseball championship April 9. Coach Tim Hopley & Co. opened with an 11-1 win at Wolfeboro's Kingswood Regional.
The six-inning, 10-run mercy decision marked the 84th consecutive win for the Clippers.
Briefly the national record-holder late last spring, Portsmouth opened the 2012 campaign with an active win streak that ranked second to Martensdale-St. Mary's High (87) of Martensdale, Iowa.
Billy Hartmann ripped three hits, the biggest being an RBI double in the fifth. Hartmann's key hit snapped a 1-1 tie and sparked a seven-run outburst.
Rick Holt, the team's pitching ace this season, helped his cause with a two-run double. Dillon Crosby connected for a three-run, sixth-inning homer that capped the onslaught.
"I was pleased with the way we handled ourselves in the first week," said Hopley, whose club won its 85th straight game, a 12-1 decision at Northwood's Coe-Brown Academy, on April 13. "Our pitching was good, offensively we were okay. But we've got to do a better job on the defensive side of the ball. Our timing and judgment were off, and we'll have to pay more attention to that in the immediate future so that it doesn't become a problem."
'MID-SEASON FORM'
Since boys' lacrosse was first sanctioned by the NHIAA in 1994, only two programs in New Hampshire have celebrated a championship three-peat.
Bishop Guertin this spring aims to join Division I rival Pinkerton Academy of Derry (1994-97, 1999-2002) and Division II Bow High (2002-04, 2008-10) in accomplishing the feat.
Guertin's Cardinals, heavy preseason favorites to win a fifth overall title, started strong in their Division I opener April 10. The state's No. 1-ranked team in the New Hampshire GameDay top 10 ("X-factors: April 9-15, 2012") overpowered No. 3 Hanover High, 15-3.
"They're, like, in mid-season form. We're still in preseason, I think," quipped Hanover coach Jeff Reed, whose Marauders, Division I champs in 2007 and 2009 have teamed with the Cards to win all five titles from 2007-11.
Midfielder Paul Spinney powered BG's offense with a game-high four points (three goals, assist). His assist, on a dish to Hunter Allen late in the opening period, snapped a 1-1 deadlock.
It also set off a six-goal run to close the first half. Guertin's defense, when challenged, answered the call.
Close defenders Bob Fahey and Kyle Karaska, and long-stick midfielder Brody Smith, led the lock-down effort on Hanover's top threats. Attackman Christian Johansen and midfielder Christian Wolter didn't post a point.
"Our challenge to these guys is to come every day to practice, practice hard, get better by the time we leave the field," BG coach Chris Cameron said. "And show up for every game."
Marc Thaler is a reporter for the New Hampshire Union Leader & Sunday News. He co-hosts the "N.H. Sports Show" on Manchester's WGIR-AM 610 and the Seacoast's 96.7 FM every Saturday from 7-9 a.m. Read his "New Hampshire GameDay" blog and follow him on Twitter: @marc_thaler.
May, 28, 2011
5/28/11
1:37
AM ET
By
Marc Thaler
| ESPNBoston.com
Round-trippers that clear the fence at Campbell High are a rarity. They're so rare, in fact, that nobody associated with the Litchfield school's softball program remembers a single batter going yard.
Correction: Nobody remembers a single batter going yard before May 13.

That's when sophomore designated hitter Chelsea Caynon slugged her way to a career-defining contest. Her 3-for-4 day at the dish included three towering home runs tagged in consecutive at-bats.
"I kind of thought all of them were lucky because nobody has done it before," Caynon of her Friday the 13th fireworks, the last of which was a walk-off that clinched a 13-1 Division III mercy win over Alton's Prospect Mountain High.
Caynon said she was mobbed by teammates after circling the bases for the third time. Her last blast, in the fifth inning, capped Campbell's 13-run outburst over three frames.
Campbell's No. 3 hitter connected in the third, fourth and fifth innings and knocked in five runs. The lasers all landed in the same spot, well beyond the left-field fence stationed 250 feet from home plate.
Coach Laurie Gatherum, in her sixth year at the helm, estimated the shots sailed 260 feet.
"When Chelsea comes up to bat, I get as far away from the third-base box as I can. She's come close to killing me. She's a dead-pull hitter," Gatherum said. "I get as close to the out-of-play line as possible.
"I almost want to warn the third baseman to back up. If she gets a piece of the ball, it's going."
Caynon's powerful performance actually carried into her next game. She went 1-for-3 with a homer against Hopkinton High, giving her four taters in a span of seven at-bats.
But Caynon isn't a stereotypical all-or-nothing power hitter. She closed the regular season with one strikeout in 64 plate appearances.
She also posted a .500 average (28-for-56) with eight walks, five home runs, one triple, 10 doubles, 25 runs scored and 32 RBI. Her production helped the Cougars clinch first place with a 15-1 record.
"I would say she is the best hitter that the program has ever had, as far as consistency and power," Gatherum said.
That's saying something. Caynon is, after all, just a sophomore.
"I wasn't really trying to hit three in row," she said. "I was just waiting for my pitch."