Boston High School:

Hayley Dowd
November, 20, 2012
11/20/12
1:20
PM ET
For the first time in site history, we're pleased to announce that ESPN Boston will honor the top boys' and girls' MIAA soccer player with its first-ever Mr. and Miss Soccer Awards this year.
The winners will be announced on Monday, Dec. 3, but we've whittled down our lists to a final five candidates today.
Without further ado:
MR. SOCCER FINALISTS:
Felix DeBona, Sr. F, Somerville
- The D1 North champions were led by DeBona's 29 goals, including the lone goal against St. John's Prep that clinched the sectional title. DeBona's scoring propelled the Highlanders to 15th in the NSCAA national rankings, a Greater Boston League title, and an undefeated regular season.
Dave MacKinnon, Sr. GK, Oliver Ames
- MacKinnon was named an All-American for his commanding play in net for the Davenport division champions. He gave up only four goals during the regular season with 13 shutouts and was named the Hockomock League MVP. In the playoffs, MacKinnon's save during the shootout helped the Tigers beat league rival Franklin in the opening round.
Nate Pomeroy, Sr. F, Groton-Dunstable
- Pomeroy, who is bound for Brown University next season, notched two goals in the D2 state finals to clinch back-to-back titles for the Crusaders. Pomeroy was named to the All-New England team and named Mid-Wach B MVP this season. He had eight goals in the 2012 postseason run.
Cody Savonen, Sr. F, Nauset
- Savonen led Nauset to the D1 South sectional quarterfinals and eclipsed the 20-goal mark for the season. He had a hat trick in a 3-0 win over Plymouth South that wrapped up the third Atlantic Coast League title of his career and scored the winner in the opening playoff game against Wellesley.
[+] Enlarge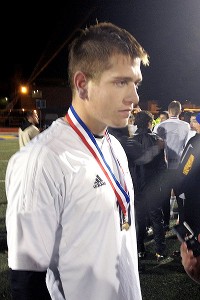 Courtesy of Josh PerryNeedham senior captain Mac Steeve led the Rockets to a Division I state title and is a finalist for our inaugural Mr. Soccer Award.
Mac Steeves, Sr. F, Needham
- The Rockets all-time leading scorer was named an All-American this season and led Needham to the Division 1 state title. Steeves also showed his ability to step up in big games. He scored both goals (and drew the penalty for the second) against Somerville in the state semifinals and scored the winning goal in the state finals against Amherst.
Honorable Mentions:
Osla DeBrito (New Bedford), Mike Lynch (Weymouth), Thayrone Miranda (Somerville), Brandon Miskin (Needham), Ryan Rose (Acton-Boxborough), Justin Rothemich (Sutton), Zach Scafati (Franklin), Stowe Simonton (Concord-Carlisle), Dave Stapleton (Oliver Ames), Brandon Vazquez (Amherst).
MISS SOCCER FINALISTS:
Lauren Berman, Sr. F, Canton
- With over 40 goals this season, Berman was the standout player for the Davenport division champions and a Hockomock League All-Star. Berman's accomplishments earned her All-American status and she will be playing in the ACC for the University of Maryland next season. She finished her career with over 130 goals.
Kristi Kirshe Sr. F, Franklin
- Kirshe eclipsed the 100-goal plateau for her career during the D1 playoffs. She scored in the state semifinal and scored both goals to lead the Panthers to the program's first-ever state title.She is an All-American as well as the state MVP. Compiling more than 30 goals this season, Kirshe helped a young Franklin team to an undefeated season.
Jen Narlee, Sr. M, Medfield
- Narlee is the leader of a very strong defensive unit for the D2 state champions. A physical presence in the center of the field, Narlee does many of the little things that do not get on the scoresheet. Many of the Warriors' opponents saw their attacks snuffed out by Narlee's positional play. That strong defense has helped Medfield win two of the past three state titles.
Andrea O'Brien, Sr. F, Concord-Carlisle
- O'Brien finished her career with over 100 goals and will take her talents to Boston College next year. An All-New England selection and submitted for All-American consideration, O'Brien helped lead the Patriots to a Dual County League title and to the second round of the tournament.
Kimberly Slade, Sr. F, Nashoba
- Slade is one of the brightest stars in the Central region. The senior forward was an All-New England selection and her playmaking ability helped lead the Chieftains to a sectional title and trip to the state championship game, where she scored the team's only goal.
Honorable Mentions:
Kendall Andrew (Oliver Ames), Mimi Borkan (Medfield), Jillian Cavanaugh (Belchertown), Taylor Cogliano (Franklin), Laura Courtney (Nashoba), Hayley Dowd (Peabody), Caitlin Harty (Beverly), Maddie Jolin (Bishop Feehan), Alexa Poulin (Central Catholic), Kayla Steeves (Needham).
November, 10, 2012
11/10/12
12:11
AM ET
By
Josh Perry
| ESPNBoston.com
TAUNTON, Mass. -- There are certain points in a game when a goal will have the biggest impact on an opponent. Early goals, goals just before halftime, or goals coming out of the break can be devastating to the mental state of the opposing team.

The Rockets used all three on Friday night.

The Needham High boys' soccer team picked the perfect moments to score each of its three goals in a 3-0 shutout of the No. 4 seed Dartmouth in Friday night's Division 1 South sectional semifinal at Taunton High School.

Senior captain Will Corkery scored just 90 seconds into the game with a laser into the top corner off an assist from fellow captain Mac Steeves. The goal stunned the Indians (15-3-2), but they came back stronger and continued to push the top seed.

At the end of an even first half, the Rockets (18-1-3) struck again.

Just four minutes before the break, Hantzly Murat -- who had been on the field for less than a minute -- was in the right place to prod home the rebound of a Steeves shot to make it 2-0 going into the half. At this stage, the next goal was going to be crucial to the outcome.

Needham didn't have to wait long for that.

The Rockets effectively killed off the game two minutes into the second half when a Steeves long throw picked out an unmarked Aram Ouligiam to nod home the third. Dartmouth continued to fight and create chances, but Needham defended well and held out for the win.

Dartmouth head coach Steve Frank acknowledged after the game that heads dropped on the Indians sideline when the third goal was scored.

"That deflated them," he said. "We didn't mark him. He had an open net to head into and you just can't do that. You can't do it against weak teams, never mind a great team like this one."

While Steeves is the headliner for the Rockets, head coach Don Brock emphasized the strength the Rockets have shown defensively this season.

"They've been underrating our crew since we stumbled a little at the beginning of the season," he said. "This is a good squad."

Following Corkery's opener, Dartmouth had a series of free kicks that were played long into the box, but Needham keeper Kevin MacMillan held strong with solid catches in traffic. In the 18th minute, the Indians had their best chance at an equalizer when Nick Paine's shot was cleared off the line by Ouligiam.

In the second half, Dartmouth also had a chance cleared off the line as Andres Pinto had a strong header blocked. Needham also had several chances to extend the lead through Nolan Brady and a Corkery free kick that curled off the crossbar.

The Indians battled an unfamiliar turf surface and the Rockets' height advantage, but continued to fight to avoid a shutout, which impressed their coach.

"This group has been tremendous, just a pleasure to be around," Frank said. "They play hard. Up to the end we were trying to plug to get a goal so we could stop the shutout, but it wasn't to be."

Needham advances to the sectional finals Sunday at 7:30 p.m. at Braintree High, against Bay State Conference rivals Weymouth.

State tournament notes:

" When the Needham and Weymouth players shook hands and walked off the Memorial Field pitch after the Rockets ended the Wildcats' very short reign as the No. 1 team in the state, both teams said, "We'll see you in the playoffs." Thanks to an overtime goal by senior Akere Tambi, Weymouth advanced past Oliver Ames on its home field. The Tigers took the lead twice but both times Weymouth responded and now the top two seeds will meet for the third time this season. Oliver Ames made another strong push this season, which may be its last in Division 1. Head coach Jon Barata expects the Tigers to be in D2 next season.

" The number one seed also advanced to the D1 South girls' sectional as the Franklin Panthers continued their unbeaten season with a 2-0 win over Marshfield. Kristi Kirshe scored her 99th career goal in the Panthers victory. It will be an all-Hockomock final after Oliver Ames knocked off the No. 2 seeded Needham Rockets. The lone goal of the game was scored by senior Kendall Andrew.

" The big game in the D1 North sectional pitted No. 1 seed Masconomet (the No. 1 ranked team in the state) against fourth-seeded St. John's Prep. The game lived up to the hype with Prep pulling the 2-1 upset and advancing to the finals on Sunday against still unbeaten Somerville. Prep has now knocked off two of the top five teams in the state to make the sectional finals (the other being Acton-Boxborough in round two). In the girls' sectional, the Beverly Panthers continued to make a historic run as they knocked off Westford Academy 1-0 and will meet Central Catholic, who won by the same score line against Lincoln-Sudbury.

" The defending state champions are still alive, but just barely. The Ludlow Lions were pushed to overtime by Chicopee in the West sectional, but scored the golden goal to continue on, 2-1 and will face Amherst in the sectional finals. Both the Belchertown boys' and girls' teams continued their unbeaten runs and will head to their respective D2 West finals.

" There are a lot of conferences that get their rightful due as being competitive top to bottom, such as the Hockomock, the Bay State, and the Dual County, but the Tri-Valley league is rarely part of that conversation. This year, the TVL sent three teams into the semifinals of the D2 South boys sectional, will send the Medfield girls into the D2 South finals, and Dover-Sherborn boys and girls into the D3 finals. The league is often overlooked because it lacks a presence in D1, but it has real depth and is guaranteed at least one team taking home a sectional title this season.

" Earlier this week, star players Andrea O'Brien (Concord-Carlisle) and Hayley Dowd (Peabody) had their illustrious high school careers come to an end. On Friday night, Canton's Lauren Berman had her season ended at the hands of Duxbury in penalties. All three crossed the 100-goal plateau in their careers and each will be headed to play in college next season (Dowd and O'Brien at Boston College, and Berman at Maryland).

November, 1, 2012
11/01/12
5:23
PM ET
By
Josh Perry
| ESPNBoston.com
The MIAA released the brackets for boys' and girls' soccer on Wednesday afternoon and there was instant reaction from fans, players, and coaches as everyone scrambled to see who stood in the way for a possible state title run.
The competition in each bracket is incredibly deep. Teams that are ranked in the ESPN Boston Top 20 polls are seeded as low as the teens because records are so close. There are teams that have been forced into play-in games that will pose serious threats to the sectional favorites.
There is little doubt that the girls' Division 1 North and the boys' D1 South brackets are the hardest and deepest sectionals in the tournament this season. Each game will be a battle and top-to-bottom there are no easy games in either sectional.
That contrasts the sectionals in the Central and West, which are also competitive, but feature far fewer teams and thus far fewer games to reach the state semifinals.
The first round of the girls' D1 North sectional could feature a rematch of No. 2 Peabody against the only team to get the better of it this season, Acton-Boxborough. Meanwhile, Central Catholic could also face a very tough Andover team, which has sat just outside the rankings for much of the year.
The boys' D1 South bracket has the potential for a number of exciting early-round matches that feature ranked teams such as New Bedford against Oliver Ames, Weymouth against BC High, and Dartmouth versus Nauset.
The D1 state semifinals and finals could be especially interesting this year with possible battles between nationally ranked girls' teams in Franklin and Peabody and a potential rematch of last year's state semifinal that ended with Ludlow and Worcester North players and fans fighting on the pitch.
Each bracket also has its fill of dark horses.
Watch out for the unranked Franklin boys, who play a solid defensive game and can surprise a higher ranked team. On the girls' side, Bishop Feehan and Concord-Carlisle, a pair of No. 5 seeds, will be worth watching to see if they can shock the top seeds in the sectional semifinals.
Of course, it is star players that draw all the headlines and, especially in the girls' brackets, there are plenty of big names.
Peabody's Hayley Dowd, Franklin's Kristi Kirshe and Canton's Lauren Berman are the key cogs for potential state championship squads. Needham's Mac Steeves set a new career scoring record for the Rockets and, of his coach's opinion, could be an All-American this year.
My (sure to be wrong) predictions are:
Franklin and Peabody will make it to face each other in a titanic girls' Division 1 state semifinal.
Ludlow falls short of a third straight state title in another contentious battle with Worcester North.
Canton girls knock off Medfield again this year and go on to win the state title.
Somewhere along the way a team no one had ranked catches fire and makes a run to the finals (like the Masconomet boys did last year).
Judging by the excitement on Twitter and the nervous energy that everyone had while waiting for the brackets, this could be one of the best tournaments in years.
Buckle up, it's going to be fun.
February, 9, 2012
2/09/12
8:00
AM ET
In its 27th year of honoring the nation's best high school athletes, The Gatorade Company, in collaboration with ESPNHS, today announced Hayley Dowd of Peabody High School as its 2011-12 Gatorade Massachusetts Girls Soccer Player of the Year. Dowd is the first Gatorade Massachusetts Girls Soccer Player of the Year to be chosen from Peabody High School.

The award, which recognizes not only outstanding athletic excellence, but also high standards of academic achievement and exemplary character demonstrated on and off the field, distinguishes Dowd as Massachusetts's best high school girls soccer player. Now a finalist for the prestigious Gatorade National Girls Soccer Player of the Year award to be announced in May, Dowd joins an elite alumni association of past state award-winners in 12 sports, including Abby Wambach (1997-98, Our Lady of Mercy, N.Y.), Derek Jeter (1991-92, Kalamazoo HS, Mich.), Candace Parker (2001-02, Naperville Central HS, Ill.), Alexi Lalas (1987-88, Cranbrook HS, Mich.), Heather O'Reilly (2001-02, East Brunswick HS, N.J.) and Mark Sanchez (2004-05, Mission Viejo HS, Calif.).

The 5-foot-5 junior forward led the Tanners to a 22-0-2 record and the Division 1 state championship this past season. Dowd scored 41 goals and passed for 19 assists, recording seven goals and three assists in six postseason matches. An All-American selection by the National Soccer Coaches Association of America, Dowd is a two-time Northeastern Conference MVP. She has 121 goals and 43 assists through three varsity seasons.

Dowd has maintained an A average in the classroom. A member of the Peabody High Captain's Council, she has volunteered locally as a youth soccer coach.

"Hayley Dowd can score working with her team, she can go 1-on-1 and if she is double-teamed she finds her teammates with passes for easy goals" said Fred Day, Salem High's head coach. "She never stops working off the ball. I would pay to watch her play."

Dowd has verbally committed to play soccer on an athletic scholarship at Boston College beginning in the fall of 2013.

Dowd joins recent Gatorade Massachusetts Girls Soccer Players of the Year Sam Mewis (2010–11, 2009-10, Whitman-Hanson), Danielle Dakin (2008–09, Minnechaug), Hayley Brock (2007-08, Acton-Boxborough), and Amy Caldwell (2006-07, Braintree) among the state's list of former award winners.

Here are the winners from the other five New England states:

CONNECTICUT: PAULA HAGOPIAN, KINGSWOOD-OXFORD

The 5-foot-4 senior forward scored 13 goals and passed for 10 assists this past season, leading the Wyverns to a 5-7-2 record. Also the 2011 Connecticut Soccer Coaches Association Player of the Year and a two-time All-American selection by the National Soccer Coaches Association of America, Hagopian led Kingswood Oxford to the 2010 New England Prep School Athletic Council Class B championship. She concluded her prep soccer career with 56 goals and 35 assists.

Hagopian has maintained a 3.73 GPA in the classroom. The first chair clarinet player in the Kingswood Oxford school band, she has volunteered locally as a peer tutor and at an area homeless shelter and food bank.

"Paula is so strong that defenders bounce off her," said Matt Micros, a club coach with Connecticut FC. "She can hold the ball up well and also spin defenders with ease. What she lacks in technique she more than make up for with power and pace."

Hagopian will attend Yale University where she will play soccer beginning this fall.

Hagopian joins recent Gatorade Connecticut Girls Soccer Players of the Year Riley Houle (2010–11, Windham), Kate McCarthy, (2009-10, Loomis Chaffee), Jessica Schloth (2008–09, St. Joseph), Alex Uscilla (2007-08, St. Joseph), and Bianca D'Agostino (2006-07, Loomis Chaffee) among the state's list of former award winners.

RHODE ISLAND: McKENZIE MEEHAN, LA SALLE

The 5-foot-5 senior forward led the Rams to a 20-0-2 record and the Division 1 state championship this past season. Meehan scored 80 goals and passed for 14 assists, including two goals and two assists in a 6-2 win over Smithfield High in the state final. The returning Gatorade Rhode Island Girls Soccer Player of the Year, Meehan is a two-time All-American selection by the National Soccer Coaches Association of America. She recorded 16 hat tricks in 22 games with six four-goal games, four five-goal games and three six-goal games, concluding her prep soccer career with 181 goals and 41 assists.

Meehan has maintained an A average in the classroom. A member of La Salle's Pegasus Gifted Student Program, she has volunteered locally as a peer Spanish tutor and a youth soccer coach.

"McKenzie Meehan should be on the national team," said Keith Caldwell, Meehan's coach with the Scorpions SC club team. "She's the best goal-scorer I've ever seen. She is strong, athletic, tough and she holds the ball well. She's not flashy. She just scores goals."

Meehan has signed a National Letter of Intent to play soccer on an athletic scholarship at Boston College beginning this fall.

Meehan joins recent Gatorade Rhode Island Girls Soccer Players of the Year Allison Kelley, (2009-10, 2008-09, La Salle), Katie Reilly (2007-08, St. Mary Academy-Bay View), and Erica Florenz (2006-2007, Scituate) among the state's list of former award winners.

NEW HAMPSHIRE: MORGAN ANDREWS, MILFORD

The 5-foot-9 junior forward scored 31 goals and passed for six assists this past season, leading the Spartans (11-6-1) to the Division II state quarterfinals. The returning Gatorade New Hampshire Girls Soccer Player of the Year, Andrews is captain of the U.S. Soccer Under-17 Women's National Team and is a member of the Under-23 National Team. The 2011 National Soccer Coaches Association of America National Girls Youth Player of the Year for club play and a two-time NSCAA All-American selection, she has 83 goals and 35 assists in three varsity campaigns.

Andrews has maintained a 3.03 GPA in the classroom. She has volunteered locally as a youth soccer coach and mentor, and she founded a local "Kicks for Cans" charity program that involves coaches and players donating their time in exchange for canned goods that are brought to area food banks.

"Morgan Andrews, the kid's a phenom," said Jason Dewhurst, the director of coaching for the Stars of Massachusetts club team. "She plays way above her years. She always shows up to play, whether it's training or games, it doesn't matter. She's a fierce competitor and wants to win. She deserves all the accolades she gets."

Andrews has verbally committed to play soccer on an athletic scholarship at Boston College beginning in the fall of 2013.

Andrews joins recent Gatorade New Hampshire Girls Soccer Players of the Year Kailey Blain (2009-10, 2008-09, Merrimack), Kristy Zurmuhlen (2007-08, Fall Mountain Regional, and Lindsey Miller (2006-07, Bishop Guertin) among the state's list of former award winners.

MAINE: CAITLIN BUCKSBAUM, FALMOUTH

The 5-foot-5 junior midfielder led the Yachtsmen to a 13-4-1 record and the Class B state championship this past season. Bucksbaum scored 10 goals and passed for 11 assists. In her first year at Falmouth High, Bucksbaum was a Maine Sunday Telegram First Team All-State selection and earned First Team All-Western Maine Conference recognition. As a sophomore in 2010, she started for Ardrey Kell High in Charlotte, N.C., which reached the Class 4A state final.

Bucksbaum has maintained an A average in the classroom. A member of Falmouth High's Environmental Action Committee, she has volunteered locally as a peer math tutor, a youth soccer coach and with the Ronald McDonald House.

"Caitlin Bucksbaum is a good player. Her appetite to get better is amazing," said Jason Dewhurst, the director of coaching for the Stars of Massachusetts club team. "She's quick, athletic, has good feet and can strike a ball from distance."

Bucksbaum joins recent Gatorade Maine Girls Soccer Players of the Year Allison Walton (2010–11, 2009-10, Brunswick, Elise Amioka (2008–09, Marshwood), Rachele Burns (2007-08, Gorham), and Kelsey Wilson (2006-07, Gorham) among the state's list of former award winners.

VERMONT: LAUREN BERNARD, COLCHESTER

The 5-foot-3 senior forward/midfielder scored 24 goals and passed for five assists this past season, leading the Lakers (7-6-2) to the Div. I state quarterfinals. The state's returning Gatorade Girls Soccer Player of the Year, Bernard is a two-time All-American selection by the National Soccer Coaches Association of America and was chosen as Burlington Free Press Player of the Year. She is a former member of the U.S. Soccer Federation Under-15 Women's National Team, and a current member of the Under-18 National Team player pool.

Bernard has maintained a 3.93 GPA in the classroom. She has volunteered locally with youth soccer programs and camps.

"She's very strong technically and her left foot is deadly," said Dwight Irish, head coach of rival Vergennes High. "If she has a little bit of room and she's anywhere near the goal, she's going to change the game."

Bernard has signed a National Letter of Intent to play soccer on scholarship at Boston College this fall.

Bernard joins recent Gatorade Vermont Girls Soccer Players of the Year Brittany Pfaff, (2009-10, Rice Memorial), Natalie LeClair (2008–09, 2007-08, Essex), and Emily Milbank (2006-07, Champlain Valley Union) among the state's list of former award winners.
November, 19, 2011
11/19/11
1:49
AM ET
By
James Walsh
| ESPNBoston.com
WORCESTER, Mass. -- After losing in the sectional quarterfinals in 2010 the Peabody Tanners used that loss as motivation for the 2011 season, which they finished as division one state champions.

"We had that early exit last year," said Tanners head coach Dennis Desroches. "I know that was a driving force for us coming into this year."

Peabody (22-0-2) was a 1-0 victor over the East Longmeadow Spartans (18-3-1), thanks to Katie Brunelle's first half strike. But the Tanners had plenty of chances to put the game away in the first half.

Peabody striker Haley Dowd forced a save from East Longmeadow's goal keeper Anne Stack just over two minutes into the match, from a free kick on the edge of the box.

In the fourth minute, Dowd sent her strike partner Victoria DiGiacomo clean through on goal with a perfectly-weighted through ball. Stack read the play well, and came sprinting off her line to make a tackle, not a save, at the top of her box and stop the danger.

With just 13 minutes to go in the first half, Dowd made a sensational run, going thirty yards past the Spartans defense only to be denied by Stack again.

It was starting to look like in wasn't going to be the Tanners night.

"East Longmeadow is an excellent defensive team, so when have all those opportunities you have to take advantage of those," Deroches said of his team's first half frustration.

But Peabody finally got its deserved breakthrough in the 37th minute, from Brunelle.

Stack hurried a clearance off of the East Longmeadow goal line after a wayward back pass almost snuck through for an own goal. But her clearance only went as far as Brunelle, who took full advantage of the opportunity and scored the game's only goal just before the half.

"With a team like ours, who scores a lot of goals, we always have a lot of opportunities," Brunelle said of Peabody's first-half scoring chances. "I knew eventually someone was going to score, I didn't know it was going to be me, but as long as we score that's all that matters."

The Tanners' defense and midfield limited East Longmeadow's scoring chances in the second half, and held on for the 1-0 victory.

"Fortunately for us, that one goal held up," Desroches said of Brunelle's strike. "Hats off to East Longmeadow, they really played us to the final whistle."
November, 15, 2011
11/15/11
11:22
PM ET
By
Tom Layman
| ESPNBoston.com



WEYMOUTH, Mass. — It was apparent how much attention Peabody's Hayley Dowd was going to get from the Oliver Ames' defense once the clock started to tick in the Div. 1 state semi-finals last night at Weymouth High.

For the majority of the game, the Tigers battered, bruised and smothered Dowd with a number of defense players and defensive looks to keep her off the scoreboard.

Sometimes great players just find ways to make their presence felt.

Dowd notched the game-tying goal and played a big part in Victoria Digiacomo's game-winning goal in the first overtime as Peabody (21-0-2) advanced to the state finals with a 2-1 victory over Oliver Ames (17-3-3).

"When I have my chances I try to take it, and I think that's what we did tonight," said Dowd. "They are a good, tough team and it was one of the better teams we played this year. They were very physical."

The Tigers took a 1-0 lead on the foot of Kristina Simonson in the 28th minute off a feed from Emily Grotz.

Dowd got her opportunity to finally break free of coverage early in the second half when she potted the game-tying goal in the 44 th minute for the Tanners.

Digiacomo and Dowd worked well up front against the Tigers back line with several scoring opportunities, but a little bit of over anxiousness saw those plays whistled for offside infractions.

In the opening minutes of the first extra session, the combo connected when Dowd sent a shot on goal and somehow it got through the Tigers defense to the waiting foot of Digiacomo to end the game 2:33 into the period.

"I've had a copule of those this year where I just see the net and I'm like 'you aren't going to score if you don't get it on net,'" said Dowd. "I figured I'd get the ball on net and see what happens. Victoria made a great run into the net to get there right before the goalie."

Added Digiacomo: "It squirted through and then it was me and the goalie. I got one step ahead of her and I poked it in. I didn't even see it go in until she was on the ground."

There was a game within the game on the pitch last night with Dowd and Tigers' defender Clarissa Romero. The Tigers' coaches had Romero stay with Dowd every step of the way, and in some instances bodies were flying all over the field in an intense, physical one-on-one matchup.

"She was outsanding," Tigers coach Britt Sellmayer said of Romero's effort. "She' playing with a fractured nose and to go toe-to-toe with the premier player in Massachusetts, she did a great job."

Dowd, who was taken to the turf on several occasions on rushes towards the net, said she was happy to play physical and she welcomed the challenge from a tough-minded Tigers' back line.

"We played physical and we were going back-and-forth," said Dowd. "I'm not mad at her and she's not mad at me. That's the way it is."



October, 25, 2011
10/25/11
3:33
PM ET
It didn't take all that long for Peabody girls' soccer forward Hayley Dowd to capture the Tanners' record as all-time leading goal scorer. The junior notched her 92nd career goal earlier this month in a 6-0 win over Salem, breaking Justine Hartigan's career record in a little more than two seasons' time.

The BC commit still has plenty of games ahead of her and the dynamic striker doesn't plan on slowing down as the No. 6 Tanners look ahead to a deep postseason run.

We caught up with Dowd after a recent match in Swampscott to talk about her record, a recent trip to England and what the deal with this "Biddy" pride is all about.

Q: Did you know that you were closing on the school record?

A: "I knew I was close, but a couple people called from the local newspapers and they told me when it happened. They called me before I got to record asking about it. It's great. It's a great record to have."

Q: Was it a goal to set the record this year?

A: "It's a different year. We lost two of our best midfielders from last year and we have a couple of forwards who have taken on a different role. As long as the win the game, I don't really think about scoring. I'm just happy that we're coming out on top in a lot of these games."

Q: How have your teammates helped you along in setting that record?

A: "They've been great. Especially in the last couple of years, I haven't had to run after the ball, they're able to win the ball and get it to me, which is great. I credit a lot of it to them because I wouldn't have those goals without them. I think it starts with the defense. A person that's stuck out in my mind has been Bianca Muscato. She stops everything that comes to her. One girl who used to play on the outside, Katie Brunelle, has stepped in great in the middle. She wins everything that comes her way and she works hard. Also, my other forward, Victoria Digiacomo, working with her has been great this year. We set up each other a lot, it's been fun."

Q: With those changes to the lineup, how do you feel the team is coming along?

A: "We had a little bit of rough start earlier in the season and we weren't playing that well. But we've come together as a team more. We're playing great as a team defensively and then the transition game to the forwards has been really good."

Q: You played in England with your club team against some of the UK's best club teams. What was that experience like?

A: "I play for Stars Mass and the league that I play in invited me and [Corey Persson] from Danvers to go and play. I've always wanted to go to a foreign country and England was a place that I really wanted to visit, so I really wanted to go there. We got to see a game over there, so that was cool. It's just great that they're men's teams have women's teams now. We went to Chelsea and they have like 30-plus fields at their facility, it was wicked nice -- unbelievable."

Q: You made your commitment to BC last year. What went into making that decision?

A: "I thought at first that I wanted to go far away, California or someplace like that, but I started thinking about it and realized I wanted to be closer to home. My family comes to a lot of my games, my mom, my dad, my grandparents, so I thought it would be nice so that they can come and watch me. That made it pretty easy. It's a half hour away from our house, so it's far enough to stay away, but it's close enough to come home. The success they've had definitely helps, too. There are three girls now from Massachusetts who play for Stars that are older than me that are there and two girls on my club team who are also going there, so it's great."

Q: What are the team goals for the rest of the season?

A: "Well, we wanted to make the tournament and we already qualified, so that's good. We want to win the league and do well in the tournament. We had a bit of rough tournament last year, so hopefully we'll get past the second round this year."

Q: What's the story behind these "Biddy" t-shirts everybody's wearing? (Dowd was wearing a "Biddy Soccer" t-shirt at the time)

A: "We're kind of crazy. That's what we call ourselves. I don't know when it started, but a couple years ago, it just kind of stuck. It comes from when people say Peabody, it's the 'Biddy' at the end. So we just kind of cut it down and it becomes 'Biddy.' I know it's crazy."

Q: That makes sense.

A: "Yeah, kinda."
August, 10, 2011
8/10/11
4:18
PM ET
ESPN RISE's Chris Ackels checks in today with three New England soccer players about to make their mark overseas.
Peabody's Hayley Dowd, Danvers' Corey Persson and Milford (N.H.) High's Morgan Andrews are part of a ECNL All-Star team representing the United States in a series of matches this week against club teams from Aston Villa, Bristol and Chelsea.
The 17-player roster is comprised of players from Elite Clubs National League organizations from across the country. Andrews, Dowd and Persson all represent the FC Stars of Massachusetts.
Check out Ackels' take
here
.
July, 13, 2011
7/13/11
2:07
PM ET
ESPN RISE's Chris Ackels previews the Elite Clubs National League championships this weekend in Aurora, Colo.,
today on RISE's soccer section
, and among some of the contenders looking to make a splash are two Massachusetts clubs, FC Stars and Scorpions SC.
The two clubs are the only Bay State teams in the 52-member league, but draw a significant amount of respect on the national level. Each of the top eight teams in the "Challenge A" division will compete in a single-elimination bracket to determine the champion, and there is praise thrown around for some of the locals.
In the U18 division, the No. 2 seed stars
face a good first-round matchup in No. 7 seed Kansas City Football Club
:
FC Stars of Mass beat fifth-seeded Bethesda SC to claim the US Youth Soccer Region I Championship two weeks ago. During the ECNL regular season FC Stars beat third-seeded Eclipse Select and Flight B leader Carmel United. The Stars this age group's most tested squad. KCFC is second in scoring, netting 24 goals in nine ECNL matches. KCFC will need major offensive production from scoring-leader Shea Groom to compete with Stars of Mass.
In the U17 division, FC Stars have drawn a No. 3 seed against California power Mustang SC,
in what some are predicting to be a high-octane battle
:
The two highest scoring teams in the ECNL go head-to-head in this first round matchup. Both squads netted 30 goals this year in ECNL play. For FC Stars of Mass, keep a close eye on Hayley Dowd –- she scored all three goals in a victory over West Coast FC at the PDA Showcase. Briana Gaines is a threat for Mustang, scoring twice in a crucial win over Ohio Elite at the showcase.
In the U16 division, the Scorpions
drew a No. 5 seed and will face Atlanta club Concorde Fire
:
This will be a fun one to watch. These teams met once before – Concorde Fire beat Scorpions, 3-2, in December. But the Scorpions have talent of their own: they're the only team to beat Eclipse, doing so at the PDA Showcase, and they won their second straight US Youth Soccer Region I title behind the scoring of Andrea O'Brien. Watch for a close match among two possible title contenders.
May, 5, 2011
5/05/11
12:20
PM ET
Top Drawer Soccer has released its rankings of its
top individual prospects
, broken down nationally and regionally. Below are the Massachusetts natives cracking the Top 20 Northeast lists, with their national rankings in parentheses where applicable.
2012 BOYS
1. Felix DeBona, Everett (31)
2. Devin Devoy, Bishop Feehan (45)
4. Jack Hilger, Hopkinton (87)
5. Chandler Burnham, Rockport
7. Forest Sisk, Lincoln-Sudbury
10. Andrew Burnham, Rockport
12. Jay Marchand, North Andover
15. Daniel Tchen, Concord-Carlisle
16. Derrick Boateng, Worcester South

2012 GIRLS
2. Mikayla Williams, Stoughton (30)
3. Kayla Shea, Shrewsbury
7. Colby Woeltz, Noble & Greenough
8. Corey Persson, Danvers
12. Becky Litwin, Westborough
13. Mai Mitsuyama, Natick
15. Emily Nasuti, Millbury
19. Hayley Katkowski, Westford

2013 BOYS
1. Diego Fagundez, New England Revolution Academy (3)
3. Dominik Machado, Attleboro (64)
5. Andrew Wheeler-Omiunu, Roxbury Latin
6. Aidan Browne, Boston Latin
7. Matt Nyeayea, Worcester South
9. Marc Greenblatt, Winchester
12. Federico Ferre, Waltham
13. Matthew Callahan, Newton North
15. David Hepp, Natick

2013 GIRLS
2. Hayley Dowd, Peabody (6)
3. Lauren Berman, Canton (10)
7. Jillian Clapp, Marshfield
11. Kim Slade, Wachusett
12. Maddie Brosler, Millis
16. Kendall Andrew, Oliver Ames
17. Samm Alves, Sharon
18. Meg James, Sharon
20. Andrea O'Brien, Concord-Carlisle
January, 31, 2011
1/31/11
12:50
PM ET
Buckingham, Browne & Nichols' Stephanie McCaffrey and Whitman-Hanson's Samantha Mewis have both been named this week to ESPN RISE's first team fall All-America squad.

Mewis, a UCLA-bound forward, earned her second straight first team All-American squad after a stellar senior season for the Panthers. She scored 30 goals, giving her 78 for her career, and also added eight assists this season. She won the state's Gatorade Player of the Year award following her junior season in 2009.

McCaffrey, a Boston College-bound forward, was named all-state and all-New England this season, after scoring an ISL record 37 goals and six assists. The Knights went undefeated this season, en route to the ISL title.

Both Mewis and McCaffrey are finalists for the Massachusetts girls soccer Gatorade Player of the Year award, to be named next week.

Two Massachusetts natives were also named to ESPN RISE's third team as forwards. Norwood senior Cory Ryan, a Maryland commit, is a two-time Bay State Conference MVP who tallied 22 goals this season for the Mustangs. She finished her career with 76 goals and 25 assists. Dowd, who committed to Boston College two days before this past Christmas, has so far tallied 80 goals and 24 assists in just 41 high school games.
November, 5, 2010
11/05/10
10:41
AM ET
By
James Walsh
| ESPNBoston.com
The seedings for the Boys and Girls 2010 MIAA Soccer Tournament were announced on Thursday afternoon, and with teams getting seeded base solely on their winning percentage, this tournament set up to be one of the most exciting in high school sports.

BOYS' BRACKETS:
D-I North
In 2009, Lexington came in as a No. 2 seed and Lincoln-Sudbury as a No. 5 seed, when they met in the North Sectional finals with Lexington winning 2-1 on penalty kicks.

In 2010, the Minutemen and the Warriors find themselves again ranked second and fifth, and both teams have the ability to win this section. Lexington finished No.1 on ESPNBoston's final boys' poll and they score as a team with six players having scored four or more goals this season. Jordan Vanderhooft leads that group with eight markers.

Lincoln-Sudbury finished the season 13-2-1(No. 10 on ESPNBoston) and they have Cole DeNormandie up top who can change a game on his own.

Boston City League Champs Madison Park (No. 15 on ESPNBoston) grabbed the top seed in this section with a 14-0-1 regular season record and could pay ninth-seeded Greater Boston League Champs Medford (No. 20 on ESPNBoston) in one of this section's quarterfinals.

D-I South
New Bedford (No. 3 on ESPNBoston) and Greater New Bedford are the top two seeds in this section, and for the record the New Bedford won the regular season local derby 3-0. The Big Three Conference flexes it's muscles with Brockton (No. 4 on ESPNBoston) getting the third seed. But the Bay State Conference put three teams in the top 10 seeding in this section with Walpole at No. 5 (No. 13 on ESPNBoston), Weymouth at No. 6 (No. 11 on ESPNBoston) and Wellesley at No. 10.

The most interesting, potential quarterfinal would be if Brockton met Weymouth. The Boxers have scored three or more goals in nine of their 18 games, while the Wildcats have kept 12 clean sheets though 20 matches. Their first choice keeper Scott Greenwood is just a sophomore. Two other sophomores' in this section to keep an eye on are Needham's Mac Steeves, who scored 15 goals to improve on the eight he scored as a freshman, and Attleboro's Dominik Machado, who is a member of the Revolution U-16 Academy.

D-I Central
The Algonquin Tomahawks (No. 7 on ESPNBoston) have been the class of Central Mass all season long and got the No. 1 seed. But No. 2 seed Leominster handed Algonquin one of their two losses on October 26, in a 1-0 game. The only way they could meet in the post season would be in the Central Final.

D-I West
Ludlow (No. 8 on ESPNBoston) has won three Western Sectional Finals in a row and come in as the top seed, but Amherst, the No. 2 seed, may have a say in who represents the West this year. Amherst finished above the Lions in the Smith Division this year even though Ludlow defeated and drew with the Hurricanes in their two regular season meetings. Chris Pereira has 25 points (15 goals, 10 assists.) through 18 games for Ludlow and is the marquee man in this section.

D-II North
The defending champs, Concord-Carlisle (No. 3 on ESPNBoston) come in as a No. 2 seed this year and appear in the tournament for the 26th season in a row. Senior tri-captain Cam McGrory is perhaps the most complete goalkeeper in the state and Ray Pavlik's team will be well-tested having dropped only three points all season in the Dual County League, which is arguably the toughest in Massachusetts.

But the No. 1 seed in the section goes to the undefeated Winchester Sachems (No.6 on ESPNBoston), who won the Middlesex and have only two draws all season, both to Lexington. Their defense is full of confidence having allowed just one goal in their last six matches. And up top Ryan Connolly and Ben Davis have 27 goals between them.

D-II South
This section features two undefeated teams, No. 1 seed Sandwich (No. 5 on ESPNBoston) and No. 2 seed Canton (No. 9 on ESPNBoston) and they both seem to have an easy road to the finals, but looks can be deceiving.

Sandwich had only two draws all year, and learned an important lesson after squandering a four-goal lead to Marshfield in mid October. The Blue Knights didn't allow a goal in five of their next seven matches. The Canton Bulldogs finished the season undefeated for the only time in the programs 28 years.

No. 4 seed Bishop Feehan has won nine of it's last 10 and could potentially play Tri-Valley Champions Medfield (No. 19 on ESPNBoston) in the quarterfinals. The Warriors have a goal difference of plus-30 entering the tournament.

D-III Overview
There could very well be a re-match of the 2009 State Semi-Finals.

In D-III North, keep an eye on Weston, who is just the 11th seed at 7-6-3, but they will be ready for to make another run to the state finals after a tough regular season in the Dual County League, where they registered a 1-0 over Lincoln-Sudbury.

In D-III South, Cardinal Spellman finished the season 18-2 and it will take a major upset to stop them from getting to the state level.

GIRLS' BRACKETS:
D-I North
This bracket is unpredictable to say the least, which make the most exciting.

Top-seeded Peabody (No. 3 on ESPNBoston) handed fifth seeded Acton-Boxborough (No. 5 on ESPNBoston) their first regular season loss since 2006 on opening day. A-B ended up losing two games in 2010 -- their only other loss coming to No. 22 seed Lincoln-Sudbury. The two teams could have a rematch if they each reach the semifinals. Colonials goaltender Jessie Wiggins only allowed four goals in 17 games, but the Tanners strike force of Hayley Dowd and Victoria Digiacomo is a tough one-two punch.

On the other side of the bracket, No. 2 seed Masconomet (No. 13 on ESPNBoston) lost just once all year -- to No. 21 seed Andover. They have a scoring trio of Gabby Russo, Hannah Nekoroski, and Amy Griffiths making it tough to focus on just one player. No. 3 seed Central Catholic hasn't been scored upon in their last seven matches, a nice run to be on heading into the tournament.

D-I South
Whitman-Hanson (No. 1 on ESPNBoston) finished the season undefeated and UCLA-bound Samantha Mewis is the most talented player in the state and also member of the USA Women's U-20 team. It will be tough for any team in D-1 South to stop the Panthers.

Bishop Feehan lost only one game all season, and it was to an out-of-state opponent. The Shamrocks will most likely play the winner of No. 7 seed Needham (No. 16 on ESPNBoston) versus No. 10 seed Brockton (No. 10 on ESPNBoston), which will be the most interesting matchup of the first round. The Rockets have the second lowest goals against average in Division I at 0.5 and only Whitman-Hanson And Acton-Boxborough are better. Goalkeeper Victoria Tarabelli and senior defender Courtney Steeves will have their work cut out for them against the Boxers forward Morgan Branco.

D-I Central & West
These regions are also wide open. Nashoba and Wachusett look destined to meet each other in one semifinal, while Algonquin and Shrewsbury look ready for the other semi. It will be interesting to see if the Tomahawks can get out of the Central and defend their state title.

In the West, it's Minnechaug's title to lose. Lauren MacLellan is a tough forward to contain.

D-II North
Look for Belmont's playermaker Katie O'Brien to set up Lauren Thurber as the top-seeded Marauders look ready to make a deep tournament run. Danvers is the No. 2 seed and had impressive regular season wins over Peabody and Central Catholic. But they also lost to No. 4 seed Bishop Fenwick, so the D-II North title is there for the taking.

D-II South
East Bridgewater is the top seed with a 16-2-0 regular season record. But don't overlook No. 5 seed Cardinal Spellman, the defending D-II champions will no doubt be out to defend their title.

D-III Overview
Shawsheen (No. 20 on ESPNBoston) earned the top seed in D-III North and Nantucket earning the top seed in the South with a perfect 18-0-0 record. Bromfield earned the top seed in the Central and Gateway earned the top seed out West. And with defending D-3 Champion Millis not qualifying for the tournament this year, there will be a new D-III state champion crowned.