Boston High School:

Henry Buonagurio
June, 25, 2012
6/25/12
11:02
PM ET
FIRST TEAM
G - Doug Gouchoe, Sr., Concord-Carlisle
The Air Force-bound goalie backstopped the Patriots to their fourth state title and an undefeated season. The Eastern Mass. All-American recorded a .682 save percentage this season.
D - Max Randall, Sr., Duxbury
A true shut-down defender, the 5-foot-10 pole always drew the matchup of the opposing team's top offensive threat. Randall, who will continue his lacrosse career at Dartmouth College next season, was named an Eastern Mass. All-American and also earned ESPN Boston All-State football consideration as a linebacker on the Dragons' repeat Super Bowl title squad.
LSM - James Burke, Sr., Duxbury
One of the most dynamic talents in the state, the Penn State-bound long-stick did a little bit of everything for the Dragons, from winning ground balls off the wing on faceoffs to providing hounding defense. An Eastern Mass. All-American, Burke was also an ESPN Boston All-State football defensive team selection on.
LSM - Ryan Cassidy, Sr., Wellesley
Leading one of the state's top defensive units, Cassidy led the Raiders to the Division 2 EMass finals at Harvard Stadium. On the season, the Amherst College-bound long-stick collected 175 ground balls.
LSM - Reilly Naton, Sr., Duxbury
Paired on the wing with Burke on Duxbury's face-off set, the Yale commit was one of the state's best players during the last couple of years. In addition to winning three state titles with the Dragons, Naton was also a starting safety on two Duxbury Super Bowl title-winning football teams.
M - Kurt Hunziker, Sr., Masconomet
One of the most physically intimidating forces in the state, the 6-foot-3 linebacker/tight end/midfielder extraordinaire was a force. Hunziker, a UMass-Amherst signee, earned back-to-back Eastern Mass. All-American nods in his junior and senior seasons.
M - Billy Polk, Sr., Dover-Sherborn
Among the top faceoff men in the state, the two-time All-American was also a scoring threat for the first-time Division 3 state champions. Also a multi-sport athlete, Polk plans to play both football and lacrosse at Colby College.
M - Kyle Soroka, Sr., Acton-Boxborough
A key element to the Colonials rise to prominence in the Dual County League this season. The Middlebury-bound middie was named an All-American after scoring 30 goals with 39 assists.
A - Kevin Blair, Sr., Hingham
A two-time Eastern Mass. All-American, Blair has been one of the most feared scorers in the state and was an ESPN Boston All-State second-teamer last season. Blair, who finished with over 100 points on the season, will attend Providence College next year.
A - Paul Hellar, Sr., Duxbury
While Duxbury's defense got most of the headlines, Hellar proved the Dragons could score in bunches as well. The All-American was the fulcrum of the Duxbury attack and has signed a Letter of Intent to play at Fairfield University.
A - Nico Panepinto, Jr., Needham
The Fairfield commit showed why he was one of the most dynamic attacks in the state during the Rockets' state final tilt with Duxbury. The All-American tallied 54 goals with 30 assists on the season.
Faceoff specialist – Henry Narlee, Jr., Duxbury
Ask any member of Duxbury's coaching staff or its players and they'll tell you their ninth state title in the last decade started at the faceoff X with Narlee. The midfielder won a high percentage of his draws and was more than capable of finishing on the rush as well.
Second Team
G - Connor Darcey, Sr., Wellesley
G - Jared Fong, Sr., Weston
G - Greg Stamatov, Sr., Foxborough
D - Matt O'Keefe, Sr., Duxbury
LSM - John Sexton, Soph., Lincoln-Sudbury
M - Henry Guild, Jr., Lincoln-Sudbury
M - Mark Riley, Sr., Needham
M - Chris Williams, Sr., Duxbury
A - Tucker Ciessau, Jr., Scituate
A - Jay Drapeau, Soph., Wesford Academy
A - Ben Melaugh, Sr., Billerica
Faceoff specialist – Clay Richard, Sr., Medfield
Best of the Rest - Honorable Mention
Henry Bumpus, Sr. D, Concord-Carlisle
Henry Buonagurio, Sr. G, Duxbury
Cody Carbone, Sr. A, North Reading
Matt Comerford, Jr. G, Reading
Jeff Desko, Sr. A, St. John's (Shrewsbury)
Jackson Finigan, Sr. M, Concord-Carlisle
Conor Healy, Sr. A, Algonquin
Stephen Iodice, Sr. D, Weston
Cam Joyce, Sr. A, Archbishop Williams
Matt McIver, Sr. A, Andover
Tyler McKelvie, Sr. A, Acton-Boxborough
Cabot Noyce, Sr. A, Norwell
Joey Pasquale, Sr. A, Weston
D.J. Smith, Jr. G, Billerica
Tom Stanton, Sr. M, Catholic Memorial
Ian Yanulis, Jr. D, BC High
Coach of the Year
Tom Dalicandro, Concord-Carlisle
June, 10, 2012
6/10/12
3:05
AM ET


DUXBURY, Mass. -- Tight-knit. It's a codeword for Duxbury lacrosse members.

It's always slipped into conversation during any of the Dragons' postgame interviews, a way of showing no team member is above another. Often a teammate will walk past another midsentence and it is uttered again.

After Duxbury advanced to its 11th straight state final with an 18-6 thumping of No. 4 seed Lincoln-Sudbury in Saturday's semifinal, the Dragons showed strength throughout their ranks. No one player stood above the others as they turned in perhaps their most complete effort of the season – a quintessentially Duxbury performance.

"It started with the faceoffs with Henry [Narlee] and our two wing guys, Reilly [Naton] and James [Burke]," Duxbury head coach Chris Sweet said, going down the roster. "Our attack did a phenomenal job controlling the ball, being patient, but at the same time, being aggressive. And our defense just clamped down, they're fun to watch. And Bongo [goaltender Henry Buonagurio] came up with some huge saves, highlight saves."

The Dragons (22-2) traded salvos with L-S (16-6) through the first quarter, but built an 8-3 lead by the half.

While the Warriors hung around in a mostly competitive first half, Duxbury turned the complexion of the match with a seven-goal outburst in the third. Spurred on by a string of eight straight face-off wins by Narlee, the Dragons continued to pour it on.

And the offense was well-distributed with Seamus Connelly, Cam Mullins and Narlee tallying hat tricks. Seven Duxbury players finished with 3-or-more points on the game. Long-stick midfielders, Burke and Naton, continued their ground ball dominance as both collected a team-high six. The defensive trio of Jay McDermott, Matt O'Keefe and Max Randall were impeccable as always, and Buonagurio made several high-difficulty saves.

In all, there wasn't a lot of fault to go around.

"The guys on the field got it done today, they made very few mistakes," Sweet said. "From day one, we talk about that we're going to come out and work hard in order to get better each day. And today was an indication of just that."

The Dragons look for their ninth state title Wednesday against Needham. Faceoff at Harvard Stadium is scheduled for 7:45 p.m.

LAST GO-ROUND
For Duxbury's seniors, Saturday was a bittersweet occasion, as they played their final home game.

"That's what I was thinking about the whole time," Mullins said. "This was going to be my last time on this turf. I had to go out with my all."

Mullins responded with two big first-half goals before notching the hat trick as part of Duxbury's third-quarter barrage.

"He's one of the hardest workers on the team, if not the hardest worker," Sweet said of Mullins. "I'm just happy for Cam that he can cap off his last game on this field with a hat trick."

Even though he'll never play again in front of the home crowd, Mullins was looking forward to yet another trip to another patch of hallowed ground.

"We call it our home away from home," Mullins said of Harvard Stadium. "It's just nice having that experience behind us. We've been playing together since we were in probably second grade, so it's a nice little group of guys we have going on."
April, 13, 2012
4/13/12
11:41
AM ET
We're back with another installment of "Roundtable", our weekly takes on the hot topics of the spring season. This week, we discuss who is the best boys' lacrosse goalie in the state; which lefthanded pitchers will make the most noise; the state's best slap hitter; and who had the best individual performance of the season's first two weeks.

Joining us this week are correspondent Bruce Lerch, New England Prep Stars founder and editor Ryan Kilian, MassLive.com producer Ben Larsen, and Brockton Enterprise staff writer John Botelho. Without further ado:

1. BETTER GOALIE –- WELLESLEY'S CONNOR DARCEY OR FOXBOROUGH'S GREG STAMATOV?

ESPN Boston High Schools Editor Scott Barboza: That's a tough one. In many regards, they're similar players in that they're both not afraid to step up into the play when its warranted. They're not going to just clear and retreat when the opportunity presents itself. Stamatov had one clearing pass to the midfield during the third quarter against Barnstable that was a thing of beauty. And, of course, we all know that Darcey is capable of scoring when he carries the ball past midfield. This all makes no mention of their ability to stop the ball either. Either way you dice it, they're among the very best in a deep field of MIAA goaltenders along with Duxbury's Henry Buonagurio, Concord-Carlisle's Doug Gouchoe and Billerica's D.J. Smith.

Ryan Kilian, New England Prep Stars: Connor Darcey is the best goalie I have seen in New England Public High School lacrosse over the past two years. Darcey is the real deal. He possesses confidence, quickness, and exceptional hand-eye coordination.

The goalie position in Massachusetts in the Class of 2012 is as strong as it has been in many years. Doug Gouchoe of Concord-Carlisle (Air Force), Greg Stamatov of Foxborogh (Villanova), Jared Fong of Weston (Gettysburg), and Miles McCarthy of Catholic Memorial (Williams) are all exceptional athletes with bright futures at the next level and all have a unique set of skills that they bring to the table.

Darcey is also a born leader and that is an essential trait that all great goalies, like the above mentioned, share.

Bruce Lerch, correspondent: Both players have excelled for their respective teams and made a big splash over the summer participating in the Warrior 40 at Harvard Stadium. Both have also drawn the attention of Division colleges, as Darcey is committed to play for Penn State while Stamatov will take his talents to Villanova. Darcey was a key factor in Wellesey's 16-0 regular season a year ago, while Stamatov helped propel Foxborough to its best season ever by reaching the Division 2 semifinals. Darcey was rated eighth in ESPN High School's national goalie rankings back in February, but even if you have the second pick in this draft, you won't come away disappointed as Stamatov was not too far behind at No. 14.

2. WHAT HAS BEEN THE BEST INDIVIDUAL PERFORMANCE SO FAR?

ESPN Boston High Schools Editor Brendan Hall: I think any time you throw a perfect game at any level, you should be highly commended as such. So here's my kudos to Lynn English's Ben Bowden, who had a clean sheet for the Bulldogs in their 5-0 win over Marblehead. Bowden struck out 14 in the full seven innings, and got some assistance from the infield behind him late to seal the deal. He is an imposing player to watch at 6-foot-4 and 200 pounds, equipped with a high-80's fastball, so it's hardly the last time we'll hear from him.

That said, I'm always impressed when a pitcher goes into the triple-digits in pitch count this early in the season – and even moreso when it's as efficient as Milford's Jarrod Casey was on April 3. In the Scarlet Hawks' season-opening 3-1 win over Westborough, the reigning Mid-Wach A MVP and returning ESPNBoston All-Stater threw 125 pitches and struck out 15 batters; he also belted an inside-the-park, two-run homer to give them all the insurance they needed.

John Botelho, Brockton Enterprise: The Bridgewater-Raynham softball team has shown plenty of early fireworks this season. Senior Audrey Dolloff twirled a four-hitter and struck on eight on opening, all while going 4-for-4 with a pair of homers and four RBI for the Trojans. Freshman Emily Kurkul has homered in all three games so far. Most recently, Dolloff tossed a no-hitter against Durfee, and her performance might not have even been the best one on the field that day for B-R. Sophomore Madison Shaw went 4-for-4 with two homers, a double and seven RBI as the Trojans cruised.

Ryan Kilian: The best individual performance that I have seen on the lacrosse field so far was Westford Academy attack Jay Drapeau scoring six goals and dishing out one assist in a 12-11 opening day win over Billerica. The sophomore scored the game winner in the fourth quarter and was exceptional dodging from X all afternoon. Drapeau also did this against a very formidable defense led by Tommy McLaughlin (UMass) and one of the state's best goalies in DJ Smith (UMass).

Ben Larsen, MassLive.com: It would be hard to top this one. Noah Parker, a terrific talent hidden at St. Mary's of Westfield was perfect in a six-inning game against Pioneer Valley Christian. He threw only 57 pitches, striking out 14. At the plate, he narrowly missed hitting for the cycle, going 3-for-3 with a home run and three RBI.

Bruce Lerch: On the lacrosse fields, several players have produced nine-goal games in the early going. Kobie Sullivan had seven, nine and eight goals in Fairhaven's first three games. On the girls side, Wayland's Amy Cunningham, Amy also struck for nine against Bedford. But my top effort goes to Masconomet's Jake Gillespie, who potted nine in the Chieftans' second game of the year against a BC High defense that includes a pair of Division 1 recruits.

3. A LEFTHANDED STARTER CAN BE INVALUABLE AT THE HIGH SCHOOL LEVEL. WHICH LEFTIES WILL YOU BE WATCHING THE MOST?

Brendan Hall: The Class of 2012 is littered with Division 1-bound lefties, between Oliver Ames' Ryan O'Shea (Central Michigan), East Longmeadow's Steve Moyers (Rhode Island), Pentucket's Alex Ministeri (Coastal Carolina), Auburn's Connor Fuller (Fordham), Xaverian's Tim Duggan (Fairfield) and Acton-Boxborough's Ryan McDonald (Bryant). One we might be adding to that list in a year's time is Wellesley senior Tim Superko.

Superko is already off to a great start in 2012, with wins in his first two starts in dominant fashion -- 23 strikeouts in 12 innings, an ERA of 0.75, a strikeout-to-walk ratio of nearly four, and a strike percentage of 67. I'm obviously working with a stat system pretty sophisticated for the high school level, but I can assure you Superko could care less. He's a competitor, unafraid to challenge hitters in the middle of the order, but also very coachable. Raiders coach Rob Kane raves about Superko's curveball, and he sets it up well with his heat. From the plate, he's not that bad either; so far he's hitting .500/.562/.786 with five RBI, two triples, seven runs and three stolen bases.

Superko is heading to Philips Andover for a post-graduate year next season. I expect him to have a Division 1 scholarship offer in his lap by this summer's end.

I'd also keep an eye on the aforementioned Ben Bowden from Lynn English. He's got an ideal power pitcher's frame, and if the reports about him topping out at 89 miles per hour in his perfect game are true, then he has a chance to rise quickly on the radar. But to be a reliable starter at this level, you need a quality changeup, and Bowden's is pretty nice.

Boston Latin sophomore Pat Naughton is certainly another one to look out for over the next two years. He fanned 17 Wayland batters in an outing last year as a freshman, and is already off to a good start this year with 14 K's in the Wolfpack's season-opening win over Latin Academy. Also keep an eye on Reading junior Scott Tully, who committed to Notre Dame last February, as well as Malden Catholic junior Joe Velozo.

John Botelho: One of the best lefties in the state hasn't even thrown a pitch yet. Oliver Ames' Ryan O'Shea, a 6-foot-3 southpaw already signed on to play at Central Michigan next year, will take to the mound for the first time next week. Hall of Fame coach Leo Duggan aired on the side of caution as O'Shea was battling shoulder soreness. He has a chance to come back and be the best pitcher on an O-A team that has still gone 3-0 without him in the lineup.

Brockton's Joe Sever has a live arm and features impressive off-speed stuff. The ace of the Boxers' staff this year, he has a chance to catch a lot of eyes with the schedules Bill Maloney's squad plays.

Bridgewater-Raynham features a pair of hard-throwing lefties who should cause problems for hitters throughout the regular season. Senior captains Pat Chalmers and Shane Holmes have more varsity experience than many of the guys they'll square off against this year - Chalmers was pitching on varsity at B-R as a sophomore and Holmes spent his freshman and sophomore years on the varsity squad at East Bridgewater before transferring to B-R as a junior. Chalmers took a no decision in his first start, but struck out nine in 5 2/3 innings. Holmes picked up the first win for the Trojans, a complete-game two-hit 12-strikeout performance against Milton.

Ben Larsen: Undoubtedly, Steve Moyers is the guy to follow. He has been unbelievable in his first three years as the ace of the East Longmeadow rotation and he's hoping to reach the 30-win plateau for his career, which is no small feat in the short Massachusetts season. That said, Michael Walkowicz of Amherst has been the Cy Young in the early going. In two starts, he has a 17-strikeout, one-hitter and 12 Ks in a loss to Northampton.

Bruce Lerch: I find myself greatly intrigued by the seemingly rubber of Franklin southpaw Tyler Buck. As a junior, Buck tossed multiple gems during the Panthers run to the Div. 1 state championship game, including a 166-pitch effort to upset BC High in last year's D1 South semifinals. After starring for Franklin's Legion team over the summer, I'm interested to see how far the Panthers ace can take them once again.

4. WHAT WILL BE THE MOST COMPETITIVE LEAGUE IN GIRLS' LACROSSE THIS YEAR?

Brendan Hall: I'm going with the Dual County League. Four members of the 10-team league currently sit in our MIAA Top 25 poll, including No. 1 Lincoln-Sudbury. And we're not even including Acton-Boxborough, which began the season as our preseason No. 10 before dropping to 0-5. Talk about a misnomer -- the Colonials' five losses are to No. 1 L-S, No. 5 Needham, No. 6 Notre Dame (Hingham), No. 17 King Philip, and No. 23 Walpole. Also throw in unranked Wayland, which has one of the state's best goalies in Quinnipiac-bound senior Rachel Massicotte.

Let's now throw in the DCL's other three currently-ranked teams -- Concord-Carlisle, Weston and Westford -- and we're talking six teams that can be troublesome. I expect L-S to rise above it all, but the rest of the way down may or may not be a crap shoot.

Bruce Lerch: While most league's across the state in girls lacrosse are fairly top-heavy, I would say that top to bottom, the Middlesex League's large division may have the largest number of competitive teams as all five made the playoffs in 2011. Winchester is annually among the state's top programs and is among the favorites to challenge for the Div. 2 crown once again. Reading went 15-5 before running into state finalist Lincoln-Sudbury. Lexington is a perennial tourney team who, aside from last season, routinely rolls up 15-plus wins a year. Belmont also won 15 games in 2011, and Woburn qualified for the postseason as well. As of the time I am writing this, the five teams hold a combined record of 8-0-1 through the first two weeks of the season.

Ben Larsen: The Valley Wheel in Western Mass. is off to a strong start with no team worse than 2-0, including Agawam on top with four wins already. Perennial power Longmeadow and last year's upstart Minnechaug are bound to contend with powerful Agawam in this loaded league but don't count out East Longmeadow and South Hadley from at least making some noise.

5. YOU CAN NEVER HAVE ENOUGH SLAP HITTERS. WHO ARE THE ONES TO PAY ATTENTION TO?

Scott Barboza: I'm looking no further than Mansfield's Bri Chiusano. The Coastal Carolina signee is the most dynamic lead-off hitter in the state and, as she showed earlier this week against King Philip, she also has some pop in the bat while taking a full swing. You have to take pause and applaud anybody who can launch a home run off of Meghan Rico after all.

Bruce Lerch: Bri Chiusano of Mansfield, who showed Tuesday that she can do a bit more than slap by cranking a three-run homer off of King Philip ace and reigning Miss Softball Meghan Rico. A four-year player for the Hornets manning centerfield and batting at the top of the lineup, Chiusano makes life miserable for opposing pitchers with her quick hands and tremendous speed and has an uncanny ability to survey how the defense is playing her and place the ball accordingly. The senior was named to ESPN Boston's preseason All-State team and will play for Coastal Carolina next year.

Ben Larsen: Typically a speedy singles hitter who uses his speed to get on and wreak havoc on the basepaths, Westfield's Billy Smith got into the power game Monday, blasting a three-run homer in the Bombers' rout of Belchertown. Smith, who also served as the Westfield football team's quarterback this past season, has started out slow but is undoubtedly a player to watch moving forward.

6. WHAT'S BEEN THE MOST SURPRISING UPSET OF THE FIRST TWO WEEKS OF THE SEASON?

Brendan Hall: My brethren on the Cape will call me Captain Hindsight with this one, but maybe Dennis-Yarmouth baseball is better than we've given them credit for after knocking off Plymouth North 8-2 on Wednesday. I think it was universally agreed that North, routinely one of the best hitting teams in Division 2, would be the favorite again in the South region even after losing key bats like Matt Walsh. But maybe D-Y should get more notice, with talented players like Matt Montalto, Matt Peterson and Miles Tuohy-Bedford. The Dolphins (2-1) got off to a hot start last season, including coach Paul Funk's 100th win, before coming back to Earth. Can they keep the hot start going this year?

Scott Barboza: If I told you I'd called Reading boys' lacrosse's overtime win over Westford Academy, I'd be lying. The Grey Ghosts entered this season with a lot of attention, particularly with the addition of Alex Eaton, in an already loaded Dual County League and the No. 6 ranking in our preseason Top 25 poll. Meanwhile, Reading was tough to read coming in because the Rockets lost some key cogs from last year's squad. What the Rockets did is prove that they should again challenge for the Middlesex League title.

Bruce Lerch: In boys lacrosse, certainly the most eye-opening result of the early season came when Melrose upset Lexington, 11-6. This is just the fourth year of the Red Raiders program, and in their first three years Melrose went a combined 9-44. Meanwhile, Lexington is an annual state championship and Middlesex League contender and reached the postseason in each of the three years since Melrose started its team. It was certainly a program defining victory for the Red Raiders.
April, 12, 2012
4/12/12
3:23
AM ET


DUXBURY, Mass. – Any time the ball was in the vicinity of Duxbury long-stick midfielder James Burke, it either settled in his stick, or if a Billerica player happened to snatch it first, they were likely to be sent flying.

The physical matchup between the No. 1 Dragons and the No. 12 Indians came as advertised, with Burke as its prime example. But Duxbury was, at times, a bit too hasty with the physical play and were hampered by nine man-down situations throughout Wednesday's battle.

Despite surrendering two goals while down a man, the Dragons showed their teeth with a relentless defensive showing in a 5-4 win over the Indians.

"Our defense kept us in the game all night long," Duxbury head coach Chris Sweet said. "We knew coming into this season that our defense is the heart and soul of the team and that they were going to keep us in a lot of games."

The Dragons (4-1) were paced by senior captain Paul Hellar's hat trick, while Burke and senior long pole Matt O'Keefe turned in superb defensive efforts.

"It all starts with Bongo in the cage," O'Keefe said of Dragons goaltender Henry Buonagurio. "He's such an awesome asset to have back there, he's so vocal."

While the Dragons were solid from the back out, they were stunted offensively at times, with so much time concentrating on killing Billerica's man-up situations.

When Duxbury was able to possess, Hellar was most effective. Perhaps none of his three strikes was finer than his last. While looking to boil down the clock with a one-goal lead late in the fourth quarter, Hellar ripped off a shot from 15 yards out off a ground ball.

"I think it's really that we've just been there so many times," Hellar said. "We're able to keep our composure at the end of the game. We all know what we have to do, we just got out there and do our jobs."

Still, Duxbury sweated out the final seconds of the contest as Billerica senior middie Peter Walters notched a hat trick of his own while drawing the Indians within a goal with 1:26 to play.

Billerica (4-2) had one final possession with 11 seconds to play, but Ben Melaugh's desperation shot from 30 yards out went just wide of the cage.

Indians goaltender D.J. Smith was solid again in cage, making nine saves.

"Our guys are tough," Indians head coach Craig Flynn said. "They're going to fight, scratch and claw the whole game. There's no giving up in these guys."

NOT QUITE THERE YET
Duxbury faces another of its biggest challenges of the season on Saturday when they face defending New York state champion Jamesville-DeWitt. And Sweet thought his team might have been guilty of looking ahead to that meeting instead of focusing on the task at hand.

"I think we have to realize that we're not as good as we thinks we are and everybody else thinks we are," Sweet said. "We have to work hard for our wins. We're starting to realize that."

It was the second straight one-goal decision Duxbury faced in its last two games, after falling by a goal to Irondequoit last weekend. It's partially a product of the face that goals have been difficult to come by for the Dragons.

"I feel like we've stepped it up a bit, but we still have to step it up a lot," Hellar said of Duxbury's attacks.

"Now, we have Jamesville-DeWitt this weekend and we're going to have to play really strong against them."


April, 7, 2012
4/07/12
8:53
PM ET
[+] Enlarge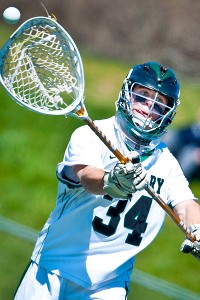 Jim Tarbox for ESPNBoston.comDuxbury goaltender Henry Buonagurio was a bright spot for the Dragons with 11 saves in a loss to New York power Irondequoit on Saturday.
DUXBURY, Mass. -- It was what you'd expect from two of the top lacrosse programs in the nation, with top-notch defense and big-time goaltending.
Then again, it wasn't (i.e. offense was something to be desired).
As MIAA lacrosse top dog Duxbury squared off against New York power Irondequoit Saturday, the two ESPNHS FAB 50 squads showed how they are built from the back end out. The result was a tightly played game with a score that resembled more of a baseball game than a lacrosse match.
Irondequoit escaped their Bay State journey with a 4-3 win over the Dragons despite being shut out in the second half.
The margin of victory largely was indicative of the fact that the Eagles (5-0) converted on more of their early chances than did the Dragons (2-1).
"We struggled to score," Duxbury head coach Chris Sweet said. "But that's a high-powered offense on the other side and they struggled to score, too. It's unusual, a 4-3 game."
For a game where both sides' defensive units outplayed their offensive group, both teams were off and running during the fourth minute of play.
Nick Doktor put the Eagles to the first lead of the game on a dodge, only to see Duxbury attack Paul Hellar tie the score 22 seconds later.
The Dragons were able to bounce back again when Gunnar Miller notched his first of two goals with 5:32 remaining in the first. Duxbury's Sam Sweet countered with the first of his two tallies less than a minute later with an assist from Andrew Buron.
Irondequoit rallied for two goals in the second quarter. Connor Enright showed off his quick hands, pulling in a pass from Doktor at the top of the crease, going across his body and beat Dragons goaltender Henry Buonagurio (11 saves). Miller then score what held up as the game-winner with 5:55 remaining in the first half.
"We finished our shots early, we were ready to go and I think everybody was on the same page and working really well together," Irondequoit head coach Craig Whipple said. "But I think you saw Duxbury keep working during the game and they got to an area where they were doing the same thing and battled back to make it a one-goal game in the end."
Duxbury cut the lead to one on Sam Sweet's second of the game in the third quarter, with Hellar picking up his second point of the game on the assist.
The Dragons had several prolonged possessions in the latter stages of the third and into the fourth. Still, Duxbury looked out of sorts at times offensively and saw a string of blocked or missed shots fail to hit their mark. Whatever else made its way through to the cage was gobbled up by Eagles netminder Eric Fischer (10 saves).
AGAINST THE DRAGONS' FIRE
Whipple and his Irondequoit squad knew what they were getting into on Saturday, having faced the Dragons in each of the last three season.
Duxbury claimed the teams' previous two meetings.
"Duxbury's known for their defense and I think our defense play up to that task," Whipple said. "They had multiple possessions of long, three- to four-minute possessions on offense, but I think our talk, our discipline and really Eric Fischer from the goal did an outstanding job making the saves he needed to make."
Even in defeat, the Dragons showed their defensive mettle with strong games from longsticks Jay McDermott, Matt O'Keefe and Max Randall, as well as some sensational play from Buonagurio in net, particularly during a five-save third quarter.
… WITH THAT BEING SAID
Duxbury's offense struggled some — particularly in the second quarter — getting clean looks at the cage. Some of that was to be attributed by a fleet-footed Eagles defense, but part of it was also of the Dragons' own doing.
"As the season goes on, shooting gets better, offensive movement gets better and our stick work gets better," Chris Sweet said. "We were pretty stagnant, but a lot of that was that Irondequoit is such a good team that they took a lot of that away.
"On any day, we need to bring out A-game to beat Irondequoit, but today, we were maybe a B-plus."
April, 2, 2012
4/02/12
10:17
PM ET
The high school lacrosse season kicks off this week for many top teams across the state.

Here is our preseason MIAA boys' lacrosse All-State team, as compiled by ESPNBoston.com staff and correspondents.

Attackmen:
Kevin Blair, Sr., Hingham
Peter Crane, Sr., Wellesley
Seamus Connelly, Sr., Duxbury
Jeff Desko, Sr., St. John's (Shrewsbury)
Jackson Finigan, Sr., Concord-Carlisle
Paul Hellar, Sr., Duxbury
Matt McIver, Sr., Andover
Cabot Noyce, Sr. , Norwell
Nico Panepinto, Jr., Needham
Joey Pasquale, Sr., Weston
Connor Roddy, Sr., Medfield
Cam Slatton, Sr., Billerica

Midfielders:
Dan Delaney, Jr., Lincoln-Sudbury
Alex Eaton, Sr., Westford Academy
Kurt Hunziker, Sr., Masconomet
Jonathan Lee, Sr., Hopkinton
Kyle Livingstone, Sr., Cohasset
Drew O'Connell, Soph., St. John's Prep
Billy Polk, Sr., Dover-Sherborn
Mark Riley, Sr., Needham
Oliver Saffery, Sr., Wellesley
Kyle Soroka, Sr., Acton-Boxborough
Tim Towler, Sr., Masconomet

FOGO:
Clay Richard, Sr., Medfield

Long Stick Middies:
James Burke, Sr., Duxbury
Reilly Naton, Sr., Duxbury

Defensemen:
Henry Bumpus, Sr., Concord-Carlisle
Ryan Cassidy, Sr., Wellesley
Pat Hannigan, Sr., Hanover
Jay McDermott, Sr., Duxbury
Nate Menninger, Sr., Newton North
Matt O'Keefe, Sr., Duxbury
Max Randall, Sr., Duxbury
Paul Tocci, Sr., Lincoln-Sudbury
Brian Uva, Jr., St. John's Prep
Ian Yanulis, Jr., BC High

Goaltenders:
Jonathan Barton, Sr., BC High
Henry Buonagurio, Sr., Duxbury
Connor Darcey, Sr., Wellesley
Jared Fong, Sr., Weston
Doug Gouchoe, Sr., Concord-Carlisle
Miles McCarthy, Sr., Catholic Memorial
D.J. Smith, Jr., Billerica
Greg Stamatov, Sr., Foxborough
November, 17, 2011
11/17/11
5:29
PM ET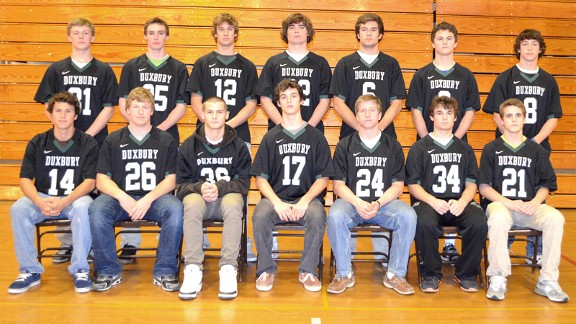 Scott Barboza/ESPNBoston.comThe 14 seniors on the Duxbury lacrosse team who will be playing in college next year gathered for a photo in the gym on Wednesday.
DUXBURY, Mass. -- In Duxbury High's gymnasium on Wednesday afternoon, the cheerleading squad assembled to go through their Thanksgiving Day routine and Dragons football and basketball standout Khai Perry shot 3-pointers with ease.
In the middle of it all was Duxbury's 14 Class of 2012 students who will go on to play college lacrosse next season; ten of them will play at the Division 1 level and four in D-2.
The photo-op, featuring all of the lacrosse team's college-bound seniors, was a chance for the teammates and their head coach to reflect on what has been a special group. Even for a town that's been so dominant in the sport of lacrosse, as a perennial state title contender, it's a bumper crop of talent that has been without parallel.
"This Class of 2012, what makes it stand out is that there's so many of them," Dragons lacrosse head coach Chris Sweet said. "Over the years, we've been used to having two or three kids per class that go on, and that's a great achievement and part of why we've been so successful. But this class, it's almost overkill with how many good players we have."
What might be the most admirable feat of the group, which reclaimed the Division 1 state championship in the spring, has been their ability to put ego aside and play within the framework of the team. While there's many players vying for touches and playing time, they've put all of that aside to ensure the Dragons continue their reign.
"There's only one ball on the field, so to get them together to play as a team, which they do, they're great team guys," Sweet said. "They support each other, they compliment each other on the field. I'm just a pretty lucky coach to have so many outstanding student-athletes."
Many in the group have played together in town lacrosse before moving on to high school. Long stick midfielder James Burke was one of seven Dragons to sign their National Letter of Intent in the past week, receiving sports scholarships from Division 1 schools. That number doesn't include the other Division 1 players who are attending Ivy League schools or, in the case of goaltender Henry Buonagurio, receiving academic scholarships.
"As a lacrosse team, we're a tight-knit group," Burke said. "I've been playing with these guys since I started playing in fifth grade It's just been real fun and I haven't regretted any minute of it."
Sweet is typically an understated presence and keeps things close to the hip in general. But he makes even less of a fuss about his own son, Sam, a Hamilton College commit, who is among those players headed to prestigious academic institutions to play lacrosse.
In a rare moment of candor, Sweet beamed about his son's accomplishments, adding that's it's not always easy to be both coach and father at the same time.
"As a dad, I'm super proud of him," the elder Sweet said. "I'm fortunate to be that close, on the sidelines, and be able to spend as much time with my teenage son. That's the best part because not a lot of people have the opportunity to do that, so I enjoy that part of it."
For one day, it was time to celebrate.
Soon enough, it'll be back to business on the field.
September, 3, 2011
9/03/11
5:33
PM ET
DUXBURY, Mass. -- The old baseball adage goes that you build a team through its core; a strong center of the field from the catcher out to center field is the ticket to success.

Similarly constructed is the defense of No. 2 Duxbury football. The Dragons return all but two defensive starters from last year's Eastern Mass. Division 2A Super Bowl championship team.

That includes a host of three-year starters who patrol the middle of the field with middle linebacker Max Randall and safeties James Burke and Reilly Naton. The trio has much in common. First off, their all tackling machines. Burke (106) and Randall (102) both broke the school's record for tackles in a season as sophomores, breaking the century mark in takedowns. Another kinship the three share -- like a great number of Duxbury football players -- is that they're all members of the Dragons state championship lacrosse team. Burke (Penn State), Randall (Dartmouth) and Naton (Yale) are all D1 college lacrosse recruits.

Plus, they do everything they do with speed.

"They can really fly to the ball," Duxbury head coach Dave Maimaron said.

Sometimes even to their own detriment.

"Sometimes [Randall] is almost too quick in his reads and he'll over-pursue," Maimaron added. "If I had one criticism of him, it's that. He's able to anticipate to that extent. But he's the leader of that group with Burkey and Reilly [Naton] behind him. That's what makes the middle of our defense is just so strong."

The speed at which they play the game is a testament to the deep lines of communication shared by a defense that is confident each of its members is precisely where they need to be. It's a comfort of having played together as long as they have and it all starts with their defensive quarterback, Randall.

"It's nice to make one call and be confident everybody's going to be in the right place," the 5-foot-10 linebacker said. "Obviously, you check it over, that's your job, but deep down you know that everyone knows what they're doing."

That's made life difficult for opponents looking to run or finding passing lanes in the middle of the field. It also bears secondary benefits for the the Dragon's pass-rushers up front.

"The coverage has been pretty solid and sometimes that allows our defensive tackles to really get upfield," Burke said.

To which Naton added, "It's not like they need much time anyways. We have trust in them that they can beat their guy and get to the quarterback."

Despite all the experience and fresh off a Super Bowl season, the group realizes there's room for improvement. A Saturday morning scrimmage against No. 4 Catholic Memorial was an eye-opener, even for a defense that's seen it all. Deep down, the group still possesses a desire to improve -- even on a Super season.

"It's our third year together and we've had some good chemistry," Naton, the strong safety, said. "We have a couple new guys in the defense, but they're picking it up pretty quickly.

"Ninety-five percent of the time, I feel like we're in the right places, but it's that five percent that kills us. We have to correct that."

And, with that, they hope those adjustments will have them vying for a repeat championship come December.

"Our goals are to win our non-league games, then win our division and get back to Gillette," Burke said. "But we go play-by-play. We pride ourselves on three-and-outs and helping our team win football games. That's what we're there to do."

DUXBURY AT A GLANCE
2010 record: 13-0 (Won Eastern Mass Div. 2A Super Bowl over Concord-Carlisle)
Coach: Dave Maimaron (7h year, 63-20)
Players to watch: Matt O'Keefe, Sr. QB, 6-4, 195 lbs.; Don Webber, Sr. WR/DE, 5-11, 190; Max Randall, Sr. LB, 5-10, 195; James Burke, Sr. WR/FS, 6-0, 175; Reilly Naton, Sr. WR/SS, 6-1, 180; Gordon Acha, Sr. OG/DT, 6-4, 255; Rob Kosharek, Jr. OT/DT, 6-6, 250; Henry Buonagurio, Sr. RB/LB, 5-8, 180;
Strengths: Experience, skill on both offense and defense.
Weakness: Inexperience at running back.
Outlook: There's hard to find many glaring areas of need throughout Duxbury's roster. From returning quarterback Matt O'Keefe, to a D1-caliber wideout in Don Webber, to hulking linemen Gordon Acha and Rob Kosharek, the offense looks like it will remain on track despite losing co-starting quarterback Kane Haffey to graduation. One of area of concern, however, has developed on the injury front, as starting running back and Drexel lacrosse commit Henry Buonagurio will miss the start of the season due to a back injury. "There's no timetable set yet," Maimaron said, adding that Buonagurio's return could take some time. The opportunity will be ripe for junior Jon Hurvitz and sophomore Khai Perry to show their skills in the backfield. Hurvitz will also start at corner. Returning starting defensive end and Duke lacrosse commit Seamus Connelly adds depth to a senior-laden defense and provides a pass-rushing presence.
September, 3, 2011
9/03/11
3:16
PM ET
By
Brendan Hall
| ESPNBoston.com
DUXBURY, Mass. -- In a battle of two teams in the top five of ESPNBoston's preseason poll, No. 4 Catholic Memorial traveled to No. 2 Duxbury this morning in a highly-anticipated game scrimmage.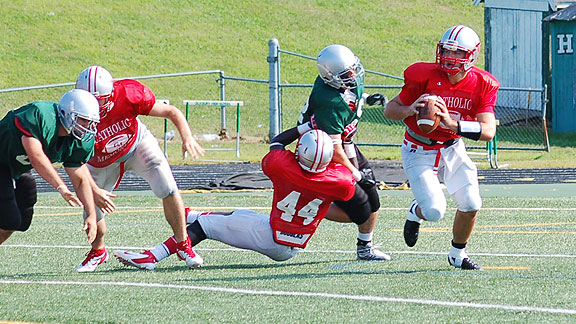 Brendan Hall/ESPNBoston.comDuxbury's pass rush forced CM quarterback A.J. Doyle to make decisions on the fly at times.
By virtue of two quick scores, CM took the first quarter. First, Penn State-bound middle linebacker Camren Williams intercepted a bullet over the middle, taking it 60 yards to the house. The ensuing kickoff was misplayed by Duxbury, giving the Knights the ball again at the Duxbury 30. CM marched down the field, aided by a late hit call on Penn State-bound athlete Armani Reeves; 6-foot-2, 215-pound junior Peter Ngobidi punched it in on a dive from two yards out.
Early on, perhaps in part to communication errors, Duxbury's offense was working out kinks. But as the game progressed, things loosened up. The Green Dragons notched their only score in the third quarter, when Andrew Buron took an eight-yard hitch route, shook his man in single coverage and scampered 40 yards down the left sideline.
Overall, it was an evenly-played matchup, with neither team able to get much of a drive going over the final three quarters.
"We're only replacing two starters on defense," Duxbury head coach Dave Maimaron said. "[But] you can tell that our offense isn't nearly where it needs to be in getting ready for B-R next Friday. So we have a lot of work to do on the offensive side of the ball. We're just not executing. We made some mental errors. That's a little frustrating right now."
Said CM head coach Alex Campea, "Overall, we did OK, I guess that's what I'm going to say. We did some good things at good times, other times we didn't. Consistency is a thing you look for through the entire season, and right now we don't have that."
Some other thoughts from the scrimmage:
-- The amount of talent in Duxbury's lacrosse program, and how many of those Division 1 recruits are an impact in football, is one of the reasons we've been so high on the Dragons this preseason. The Dragons return nine starters on defense, including Reilly Naton (Yale) and James Burke (Penn State) at the two safety spots, and linebackers Henry Buonagurio (Drexel) Seamus Connelly (Duke) and Max Randall (Dartmouth).
From that, the Dragons boast speed all over the field, and from that run an aggressive scheme out of a 3-4 base that isn't afraid to throw an array of blitzes.
But perhaps the athletic talent is most evident in Duxbury's pass coverage. In the Division 2A Super Bowl championship season a year ago, this unit combined for 16 interceptions, led by Naton with five. That lockdown coverage was on display again this morning, forcing CM's NC State bound quarterback A.J. Doyle into some second-guessing.
Said Reeves of the Dragons defense: "It was a really good test. You know, they brought a lot blitzes, mixed a lot of [Cover] 2's and 3's in there, Cover 6's, so it was a really good test of A.J., getting a lot of looks out there. It was really good for the wide receivers, to see where the holes open up in the zones."
-- In turn, the pass coverage bought some time for the speedy edge rushers, who forced Doyle to sometimes make decisions with his feet. Between Connelly Brody Zisko and Henry Narlee (two sacks), the Dragons got consistent pressure from the outside.
"We have a bunch of athletes on our defense who can get to the quarterback," Maimaron said. "We try to put on as much pressure as we can from various spots. The defense kept us in that scrimmage today."
-- On a defense full of speed, Williams is hardly the fastest. But he took charge of the defense and showed why Reeves calls him "the backbone", making all the right calls, and demonstrated a great nose for the ball, taking good angles in pursuit and coming up with two interceptions. His first, as discussed above, was a laser over the middle that he snagged away from a receiver running a shallow drag route, jumping in front. His second came on a tipped pass deep down the left side of the field.
"[He's been] terrific. He's making plays all over the field," Campea said. "I mean, he's a terrific player, he's a terrific leader, he sees the whole field and makes plays happen."
Said Maimaron, "Their linebackers are phenomenal. That Williams kid is an amazing player, he's tough to block. We just have to get better and be able to execute."
-- CM's Boston College-bound running back/defensive back Donovan Henry was not at this morning's scrimmage, as he was attending to the wedding of a family wedding.
-- By now, Catholic Memorial's "Big Four" of Doyle, Williams, Reeves and Henry are household names in the Northeast, as are the Dragons' many athletes, including quarterback Matt O'Keefe (a Johns Hopkins lacrosse commit) and wideout Don Webber (an Ivy League recruit). But keep an eye out for 5-foot-7 sophomore speedster Khai Perry, a fire hydrant who will get reps at running back and returner. The left side of the offensive line will be in focus, too, with bulky junior left tackle Rob Kosharek (6-foot-6, 250 lbs) and senior guard Gordon Acha (6-foot-4, 255 lbs).
Some of CM's lesser-known athletes look to be in for big things this fall, including wideout/cornerback Josh Charles, running back Eddie Murray, and linebackers Kevin Bletzer and Garrett Ewanouski. On the line, 6-foot-4 tackle Tyler Loring is getting a good share of Division 1 looks, while John Schneider and Mike Lyons will also turn some heads. Ngobidi is a Division 1 prospect at defensive end, and will split time on defense in both two-point and three-point stances.
June, 12, 2011
6/12/11
1:17
AM ET


BILLERICA, Mass. -- In a word, it was impressive.

The eyes of lacrosse fans across Massachusetts were firmly fixed on the Division 1 semifinal between Billerica and Duxbury on Saturday. Although the Indians and Dragons had the No. 2 and 3 seeds in the tournament, respectively, the teams were widely regarded as the top two teams in the state.

During the regular season, Billerica came closer than any other Massachusetts based team to knocking off Duxbury (the Dragons' three losses all came to out-of-state foes). Still, the Dragons emerged with a 12-9 victory in the teams' early April meeting.

But this one was different.

Duxbury had been on a roll, out-scoring Natick and Lexington — its first playoff victims — by a 29-4 margin. Those performances weren't nearly as impressive as the Dragons' 19-9 victory over the Indians.

"We've had that feeling in the last couple weeks in the way our team's been practicing and playing," Duxbury head coach Chris Sweet said. "As a coach, I can't ask for anything more."

Aside from Billerica's quick strike to start the game, scoring off the opening faceoff for an instant 1-0 lead five seconds in, the game was the Dragons' wire-to-wire.

From Henry Narlee's work in the faceoff X, to Henry Buonagurio's play in goal, to the defensive corps' work behind Max Randall, to the offensive firepower displayed by Will Siefert and Paul Hellar, it couldn't have been a more complete performance.

It was their day.

"They played great," Billerica head coach Craig Flynn said of the Dragons. "They didn't make many mistakes out there offensively or defensively."

Siefert, who contributed four goals and two assists to the attack, said Duxbury made some adjustments following their first battle with Billerica (20-3). Primarily, they sought to change their transition offense, taking advantage of ground balls and moving the ball quickly up-field to create scoring opportunities.

For Siefert, it meant more than that. After recovering from a preseason knee injury, the April meeting was his return to the field. In the second go-round with the Indians, he left an indelible mark.

It was all done with one common purpose in mind. That was the Dragons' stated goal to return to Harvard Stadium and gain redemption after last year's heartbreaking overtime loss to St. John's Prep.

Later in the day Saturday, Prep overtook Needham for the right to meet Duxbury in the D1 final yet again.

It was a new lease on life.

"We're getting another shot at it," Siefert said.

That doesn't mean the Dragons will be treading lightly when they get their next crack at Prep on Tuesday.

"We've got one more to go," Sweet said following the game. "We're not going to sit back and relax at this point. Whoever we face next is going to be a tough one."
August, 26, 2010
8/26/10
10:27
PM ET
DUXBURY, Mass. – To end Thursday's football practice, Duxbury head coach Dave Maimaron led a coverage drill. It consisted of teams of six players, circling around Maimaron in the center of the field. Then, on the coach's signal, the players would streak down field toward tackling dummies, which were set up on a three-sided perimeter.

As the players circled around Maimaron, they sang songs. One of them was Johnny Cash's "Ring of Fire".

The Green Dragons could have fallen into their own pit of despair in 2009. With seven sophomores seeing starts on both sides of the ball, Duxbury fielded a young team. Still, they posted a 9-3 record and earned their 10th league title.

Now, the Dragons are no longer green.

"When you have kids that played that well that early in their careers, you have to be excited," Maimaron said. "Not only that, in practice, they're the ones answering questions, not asking them. They get it now."

That experience will pay dividends up the middle of the Duxbury defense.

As sophomores, free safety James Burke (106) and middle linebacker Max Randall (102) both broke the school record for tackles in a season, while Reilly Naton was a steady contributor at strong safety. Cornerback Adam Martin, who led the team with two interceptions as a junior, also returns.

Even though Duxbury lost perhaps its two best players on offense from 2009 — guard Aaron Kramer (BC) and running back Bobby Murphy (Cornell) — the Dragons have senior guard Colman Duggan and junior back Henry Buonagurio to fill those shoes. Duggan, a 6-2 road-grader, has gotten looks from Cornell and Holy Cross. Maimaron expects him to be a "dominant player on both sides of the ball this year." Buonagurio averaged 5.3 yard per carry last year, while nearly splitting the load with Murphy.

Duxbury will also have its "Double Dragons" back under center next year with senior Kane Haffey and junior Matt O'Keefe in the mix at quarterback.

"They both can run well, they're both super intelligent," Maimaron said of his signal-callers. "Matt's arm might be a little bit stronger and Kane's might be a little bit more accurate, but they're pretty close. They're very similar. Most importantly, they both make good decisions.

"It's a good problem to have."

Duxbury's real secret weapon comes in the kicking game, however. Senior punter/kicker Ben Startzell is about as good as it gets in Massachusetts. His father was a professional soccer player, so naturally Startzell grew up playing soccer. But, when he entered high school, he approached Maimaron with the proposition of kicking for the freshman football team.

It didn't take long for Startzell to catch on.

"He went out there and started knocking them in from 30, 35," Maimaron said. "I told him he'd be kicking on the varsity team soon."

He added, "I've never seen a high school kids with a leg as strong as his. He was out there kicking them in from 60 over the summer."

DUXBURY AT A GLANCE
2009 record: 9-3 (5-0 Patriot Keenan)
Coach: Dave Maimaron (sixth year, 50-20), lost to Marshfield in Division IIA playoffs
Players to watch: Ben Startzell, Sr., P/K, 6-2, 185 lbs.; Colman Duggan, Sr., G/LB, 6-2, 230 lbs.; Kane Haffey, Sr., QB/DB, 5-9, 170 lbs.; Matt O'Keefe, Jr., QB, 6-2, 185 lbs.; Max Randall, Jr., LB, 5-10, 180 lbs.; James Burke, Jr., WR/FS, 5-10, 165 lbs.
Strengths: Experience in secondary and linebacker, special teams and kicking game.
Weaknesses: Inexperience on defensive line.
Outlook: It will be interesting to see if the Dragons air it out more in 2010. Leading receiver Matt Hallisey (21 catches, 4 touchdowns) returns, but one name to look out for is junior Don Webber, who has legitimate 4.4 speed and bears watching this year. Another youngster to keep in mind is sophomore John Hurvitz who will be integral to the Dragons' rushing attack. On defense, Duxbury's base 4-3 could be mixed in with some three-man line looks to play to their strengths at linebacker and the secondary. But the Dragons will need to need to find players to step up alongside seniors Brett Harasimowicz and Nick Mann in the trenches.