Boston High School:

Hollis/Brookline
June, 27, 2012
6/27/12
2:07
PM ET
By
Marc Thaler
| ESPNBoston.com
Fundraising totals between the teams competing in the inaugural New Hampshire East-West High School Football All-Star Game couldn't have been much closer.

The game itself? That's a different story.
West's all-stars – widely considered underdogs for the June 23 contest at the University of New Hampshire – proved too tough. The combination of overpowering offense and dominant defense led to a 33-point halftime lead and 44-12 final score.
Thaddeus "Junior" Brown was toughest to cover. Manchester Central High's 6-foot 3-inch, 180-pound receiver made all four of his catches for 87 yards in the first half. Three receptions went for touchdowns, including a 50-yard down-the-right-seam dagger that helped Team West build a 37-6 halftime lead.
"This means a lot. I worked hard for it," Brown, the game's first Bo Dickson MVP, said of the trophy he was handed for his efforts. "The coaches helped me out a lot. I just busted my butt for 10 days. The outcome was this MVP."
Off the field, the outcome of Brown's efforts, as well as the 73 other all-stars, was even more impressive.
Teams East and West combined to raise $51,301.21 for Children's Hospital at Dartmouth-Hitchcock (CHaD) in Lebanon.
Team East was designated the home team. It earned use of UNH football's locker room for winning the head-to-head fundraising contest. Coach Bill Raycraft's players raised $25,751.21 – a mere $201.21 more than West's standouts.
In total, $301,000 was raised for CHaD.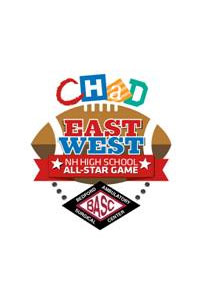 BASCTBD by editorial
"These kids came together and did a heck of a job for a great cause," said Team West coach Keith Jones, whose 6-year-old son, Harris, a CHaD patient, participated in the pre-game coin toss.
Harris was involved in a freak snowmobile accident three years ago. His father has said many times if not for CHaD, right-leg amputation would have been required.
On gameday, the soon-to-be first-grader made an appearance in Team West's locker room prior to warm-ups. It gave the players an additional boost, which carried over to kickoff.
Several playmakers fueled Team West's 37-point first half.
Brown caught a pair of 9-yard TD passes from Manchester West High's Aaron Martin, who also used his speed to sneak inside the left pylon for a 2-yard rushing score.
Merrimack High's Jackson King returned an interception 19-yards for a TD.
Nashua South's Johnny Bieren was crucial to posting a second-quarter safety. He also forced and recovered a fumble on one of his three quarterback sacks.
Central's Stephen Grzywacz – who raised a players-best $5,965 for CHaD – converted five extra points (6-for-6 overall).
East's all-stars committed five of the game's eight turnovers. The favored squad fell behind, 30-0, before Salem High's Jerickson Fedrick returned a kickoff 96 yards to paydirt.
Fedrick, and Pinkerton Academy of Derry stars Kevin Davies and Emmitt Smith, were all neutralized. Combining to rush for 4,649 yards and 57 TDs last fall, the trio managed 99 yards – 28 through two quarters.
Conor Donovan of Division VI cooperative team Inter-Lakes-Moultonborough scored East's second TD early in the third. Derek Paradis of Nashua South answered with an up-the-gut run.
"The first series, I thought we did pretty well. We stopped them (but) right away turned the ball over," Raycraft said. "That's not the way you want to start an all-star game. From there, we pressed a little bit more than we probably should have and, because of that, created more turnovers.
"But, like I told the kids, I had a blast these last (10) days," he added. "I couldn't have asked for a better group of kids. It's going to be fun watching where they go from here. The score will fade, but they set the tone for fundraising."
BASEBALL CHAMPS
Division I
: Dillon Emerson's extra-inning hit snapped two droughts, including a lengthy one for Concord High.
The senior's single down the right-field line scored Pat Cannon and gave the top-seeded Crimson Tide a 5-4 walk-off win over No. 3 seed Merrimack High in the state final June 16 at Northeast Delta Dental Stadium, home of Double-A baseball's New Hampshire Fisher Cats.
Emerson's hit snapped an 0-for-4 skid in the title game and earned Concord (18-4) its first crown since 1980. The Tide lost the state final in 2011.
"I was in the dugout upset over all the missed opportunities I had when coach [Scott Owen] came up to me and said, 'Stick with it. You'll get your at-bat and you'll come through.' He was right," Emerson told the
New Hampshire Sunday News
.
June, 8, 2012
6/08/12
1:46
PM ET
By
Marc Thaler
| ESPNBoston.com
Bishop Guertin High's wealth of talent, particularly on defense, is best illustrated by this fact related to the 2012 NHIAA Division I final:

Minus one of their best close defenders the Nashua powerhouse in boys' lacrosse still clinched a championship three-peat.
Kyle Karaska, a University of Massachusetts recruit, broke his hand in the state semifinals. But given the depth at the position, BG still broke the spirits of Hanover High's Marauders with a 10-5 title-clinching win June 6.
The final score doesn't do BG justice, either. This contest, played at Bedford High, was never in question.
"I thought we outplayed them better than 4-0. But that's been the story of our season," said BG coach Chris Cameron, referencing the halftime score and his club's ability to dominate play despite what the scoreboard suggested. "We were just so good defensively."
UMass commit Bob Fahey, the coaches' association pick as defensive player of the year, spearheaded yet another dominant defensive performance. The state's No. 1-ranked club finished 14-1 in-state, and 18-3 overall.
The out-of-state setbacks were by a combined two goals. Guertin lost to La Salle Academy (R.I.), 7-6, and nationally ranked Duxbury (Mass.) High, 6-5.
The Cards also avenged their only in-state loss. After thumping Hanover, 15-3, in the season-opener, Cameron's boys were stunned 10 days later by the same team, 14-9.
"After our (April 20) performance up in Hanover, I thought, 'Maybe they're just better than us,'" Cameron said. "But I could tell right away (in the final) that our kids were ready to play."
Fahey said he and his teammates "loved our matchups" for the title game. New Hampshire's top close defender took away attackman Christian Johansen.
Long-stick midfielder Brody Smith stayed glued to the other half of Hanover's top scoring tandem, midfielder and Michigan recruit Christian Wolter.
Johansen and Wolter, the sparks to Hanover's up-tempo game, did not score in the season-opening loss. They struck for seven goals and an assist in the win.
"We wanted to slow them in transition," said Fahey, well aware Hanover's snipers combined for one goal in the rubber match.
R.I.T.-bound Jay Krzyston and Karaska's replacement, Endicott commit Sean Fenn, completed BG's dominant defensive unit. They helped take away the middle and force shooters to fire from the perimeter.
Goaltender and Harvard recruit Colin Delea (eight saves) took a shutout deep into the third quarter, which ended with BG boasting a 10-2 lead.
That's because Blake Boudreau owned the faceoff X after halftime.
BG's junior midfielder won 8 of 9 third-quarter faceoffs. It translated to lengthy possessions and a back-breaking 6-2 frame.
The fourth quarter? It was merely a formality.
Appearing in its eighth straight Division I final, BG became the first program since Pinkerton Academy of Derry (1999-2002) to celebrate a three-peat.
The Cards clinched their fifth crown since emerging on the scene as a surprise winner in 2005.
"They like to push in transition. But, 6-on-6, that's not their game," Cameron said of the Marauders. "That took them out of their game – and (forced them) to play from behind."
May, 13, 2012
5/13/12
11:39
PM ET
By
Marc Thaler
| ESPNBoston.com
Every win streak, no matter its length, has an expiration date.

Learning the life span of record runs for Portsmouth High baseball (89 games) and Londonderry High girls' lacrosse (59 games) ended in the same week, however, was certainly unexpected.
The Clippers run of consecutive NHIAA wins on the diamond, currently a national record, was snapped April 30 by Seacoast rival St. Thomas Aquinas High. The Dover club celebrated a comeback 5-4 home win.
"This year's group, 2012, is the most different of all the five teams (that contributed to the streak)," Portsmouth head coach Tim Hopley said. "Ten of the 18 guys had never been in a varsity game before the season started, and they weren't necessarily invested in what had happened in the past.
"Yet our best players, our leaders, pointed us in the right direction and they went out and were able to get the record back," added Hopley, referring to Martensdale-St. Mary's (Iowa) High, which briefly broke the Clippers' record last season. "Whether it be for a few weeks or longer is irrelevant. It really is."
The Lancers' state-record streak of NHIAA wins was stopped by visiting Concord High. The date was May 5. The score was 14-12.
"I told the girls, 'Now it's done. You've set the bar for the state. You've done something that's going to be awfully hard to do again. Now you can focus on the next game. As long as we don't lose the last one, that's what matters,'" said Londonderry coach Bob Slater, whose program owned one of the nation's longest overall win streaks, a 51-gamer, until last season's 12-9 loss at Andover (Mass.) High.
Portsmouth, the four-time defending Division II champion, last lost an NHIAA contest in the 2007 quarterfinals. Hollis/Brookline High eliminated the Clippers, 4-3.
Londonderry, the three-time defending Division I champ, hadn't lost to an in-state foe since the 2008 title game. Amherst's Souhegan High scored a 15-7 win.
Both streaks were snapped by teams that nearly won a state title last spring. STA and Concord closed their 2011 campaigns in heartbreaking fashion.
The Saints were four outs from hoisting hardware. Pitching ace and star slugger Jordan Bean -– less than a calendar year before scoring the streak-snapping run -– was tagged for a two-out, two-strike bases-clearing double in the home sixth. It was the critical blow in a four-run inning for the Clippers, 9-6 winners.
The Crimson Tide erased a five-goal halftime deficit and had the chance to tie the championship at 10-apiece with 21 seconds to play. But goaltender Sarah Ford clinched the 10-9 win for the Lancers by stopping Jenna Tewksbury's free-position shot.
Here's how the win streaks came to a halt:
STA rallied for four runs in its last at-bat. Chris White ripped the game-winning single back through the box. White's winner scored Bean, who belted a two-run, game-tying double in addition to scattering eight hits and allowing two earned runs over six frames.
"We have a tremendous amount of respect for the entire Portsmouth program and all that they have accomplished over the past five years. I think this year's victory went a long way to dispel the myth in the minds of our players that we simply cannot beat them," said STA coach Marc Schoff, whose program entered the showdown 49-15 since 2009, with eight of those losses to the Clippers.
"One of our players said after the St. Thomas game that most people never have the opportunity to set a significant national record once in their lifetime," Hopley said. "But we were fortunate enough to be able to accomplish it twice."
Concord quickly surrendered four goals, but rebounded to take a 7-5 halftime lead. Late in regulation, Jane Symmes ensured the game's seventh tie didn't materialize. Winning the draw with her team protecting a 12-11 lead, she scored Concord's critical 13th goal.
"They got down, 4-0, at the beginning and that was a wake-up call. After that, they got back into the game and took charge," Concord coach Terry Anderson told the
New Hampshire Sunday News
. "This was an intense and competitive game, and the difference was ball control, just getting the draw and making good decisions."
MORE WITH HOPLEY
What else did Portsmouth's baseball coach say about the national record-setting streak?
On the post-game message after losing: "First, standing in short right field 3 minutes after the game, we told them that it was bound to happen at some point, and that we really did do everything that day to win.
"The next day was the second step, more reflectionary. We told them how proud we were of them for what they had accomplished and for how they handled themselves through everything. It had to be said, and it will be said to every player who's been a part of this crazy ride. But we also reminded them that the seventh game of the season wasn't going to, couldn't, and shouldn't define who we were as a group."
On winning while in the national spotlight: "The fact that the last two groups had to deal with the circus of media attention was probably fun at the time. But in hindsight, for 15-, 16-, 17-year-old high school kids who have to worry about a Calc test, their girlfriends, and cleaning up their room so mom and dad stop yelling, dealing with something like that is pretty heady stuff.
"And I'm sure we'd all do it again in a minute if we had the chance."
NOTEWORTHY
– Holly Kathios, a freshman pitcher for the softball team at Nashua's Bishop Guertin High, threw a complete-game no-hitter on May 10. She notched nine strikeouts, worked around three walks, and contributed a fourth-inning RBI single. The Cardinals beat Hampton's Winnacunnet High, 2-0.
– Jake Kennedy, a soon-to-be senior at Amherst's Souhegan High, was nominated for the U.S. Army All-American Bowl on Jan. 5, 2013. Offered a scholarship by the University of Massachusetts, the offensive and defensive lineman is one of 400 football players nationwide, and the only one from New Hampshire, to receive a nomination. Ninety players will be selected later this year for the East vs. West matchup televised on NBC.
Marc Thaler is a reporter for the New Hampshire Union Leader & Sunday News. He co-hosts the "N.H. Sports Show" on Manchester's WGIR-AM 610 and the Seacoast's 96.7 FM every Saturday morning. Read his "New Hampshire GameDay" blog and follow him on Twitter: @marc_thaler.
December, 14, 2011
12/14/11
8:01
AM ET
In its 27th year of honoring the nation's best high school athletes, Gatorade in collaboration with ESPNHS, today announced Cassidy Stankowski of Frontier Regional as its 2011-12 Gatorade Massachusetts Volleyball Player of the Year. Stankowski is the first Gatorade Massachusetts Volleyball Player of the Year to be chosen from Frontier Regional.
The award, which recognizes not only outstanding athletic excellence, but also high standards of academic achievement and exemplary character demonstrated on and off the court, distinguishes Stankowski as Massachusetts' best high school volleyball player. Now a finalist for the prestigious Gatorade National Volleyball Player of the Year award announced in December.
The 5-foot-8 junior outside hitter led the Red Hawks to a 23-1 record and the Division 3 state title this season. Stankowski recorded 276 kills, 143 digs, 76 service aces and 20 blocks while posting a hitting percentage of .547. A three-time Division 3 first team All-State selection and a four-time Northern League All-Star, she recorded 87 kills, 50 digs and 29 service aces in five postseason matches this fall, including 24 kills and 16 digs in a 3-0 win over Case for the state title.
[+] Enlarge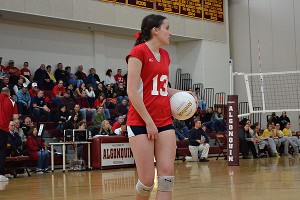 Scott Barboza/ESPNBoston.comFrontier Regional's Cassidy Stankowski led the Red Hawks to another Division 3 state title this season.
Stankowski has maintained a 3.68 GPA in the classroom. She has volunteered locally at the Baystate Medical Center, on behalf of a literacy-outreach program and as part of multiple community service initiatives in association with her church.
"Cassidy Stankowski is as dominant a player that I have ever seen at this level," Melrose High head coach Scott Celli said. "She single-handedly beat Case for the state title."
Stankowski joins recent Gatorade Massachusetts Volleyball Players of the Year Maura Manley (2010-11, New Bedford High School), Morgan Thatcher (2009-10, Brockton) and Caitlin Barrett (2008-09, Medfield) among the state's list of former award winners.
Here's a look at the other New England winners:
CONNECTICUT - KYLEY REED, ROCKY HILL
The 6-foot-1 senior outside hitter and opposite led the Terriers to an 18-4 record and the Class M state title this past season. Reed recorded 578 kills, 460 digs, 133 service aces and 31 blocks while posting a hitting percentage of .598. A 2011 American Volleyball Coaches Association Under Armour First Team All-American selection, Reed was the Class M State Tournament MVP and a three-time Class M First Team All-State selection. She concluded her prep volleyball career with 1,517 kills, 1,097 digs and 362 service aces.
Reed has maintained a 3.37 GPA in the classroom. She has volunteered locally as part of a fundraising campaign to benefit breast cancer research and on behalf of a park beautification project
"Kyley Reed is a kid that raises the level of play of those around her," said Darien Head Coach Laurie LaRusso. "She is very talented yet doesn't act better than anyone else. She's a hard worker, a team player and is coachable with tremendous skill."
Reed has verbally committed to play volleyball on an athletic scholarship at Rice University beginning in the fall of 2012.
MAINE - BRITTANY BONA, SCARBOROUGH
The 6-foot-2 senior outside hitter recorded 224 kills, 119 digs and 69 service aces this past season while leading the Red Storm (14-3) to the Class A state final. Bona is a two-time First Team All-State selection and was named The Forecaster Fall Athlete of the Year.
Bona has maintained an A average in the classroom. She has volunteered locally delivering food to the needy and assisting special education students at her school.
"She hits the ball well and she serves with power and accuracy," said Ruth Shaw, head coach of rival Biddeford High. "She also blocks consistently well, and what is most amazing is that she can play the back row like a libero."
Bona remains undecided upon a collegiate destination.
NEW HAMPSHIRE - KELSEY BERRY, HOLLIS/BROOKLINE
The 5-foot-8 senior outside hitter led the Cavaliers to a 20-2 record and the Division I state title this past season. Berry recorded 224 kills, 220 digs, 73 service aces, 21 assists and four blocks while posting a kill percentage of .382. Berry was nearly flawless in the postseason, committing just 13 total errors in the final three matches for a 95.2 percent success rate. A Division I First Team All-State selection, she recorded 17 kills and 15 digs in Hollis Brookline's 3-1 win over Merrimack in the state title match.
Berry has maintained a 3.91 GPA in the classroom. The president of the Hollis-Brookline High student body, she has volunteered locally as a peer tutor, a youth volleyball and basketball coach, and as part of a fundraising campaign to benefit breast cancer research.
"Kelsey Berry's a good player," said Dan Young, head coach of Salem High. "She was their libero last year, their outside this year. She's solid—a very good passer and a very strong hitter. She's very consistent, very solid and very tough."
Berry remains undecided upon a collegiate destination.
RHODE ISLAND - KELSEY LACE, MOUNT ST. CHARLES
The 6-foot senior outside hitter recorded 281 kills, 116 digs, 80 service aces and 39 blocks this past season while posting a hitting percentage of .537 and leading the Mounties (17-1) to the Division I state semifinals. The 2011 Rhode Island Volleyball Coaches Association Player of the Year, Lace recorded double-digit kills in 16 of 18 matches, including 21 kills in a 3-1 loss to Ponaganset in the state semifinals.
Lace has maintained a 3.91 GPA in the classroom. She has volunteered locally as an elementary school aide, a peer Spanish tutor and as part of fundraising campaigns to benefit ovarian cancer and autism research.
"Kelsey Lace has a good whip, a big block and can do pretty much everything—even take tickets at the match," said Scott Reslow, head coach of Toll Gate High. "Kelsey always seemed to be the best player in the gym night in and night out."
Lace has verbally committed to play volleyball on an athletic scholarship at New York's University of Saint Rose beginning in the fall of 2012.
November, 10, 2011
11/10/11
6:13
PM ET
By
Marc Thaler
| ESPNBoston.com
In his 41st year at the helm of Plymouth Regional's storied football program – a span that's produced a state-record 334 wins and 18 championships – Chuck Lenahan has surely experienced it all.

Yet it was the manner in which the Bobcats won their most recent matchup that had the gruff-voiced grid coach admitting, "I'm kind of numb."
It's understandable. Lenahan approved the call for a fourth-quarter fake punt that produced the game-winning touchdown. Plymouth celebrated a 21-14 Division IV semifinal win Nov. 5 against longtime rival Laconia High.
The scenario: Plymouth was forced to punt from its 32-yard line in a 14-all game. The game clock showed less than nine minutes remained in regulation.
Special teams coach Chris Sanborn persuaded Lenahan to fake the punt. The Bobcats desperately needed a spark. Their rushing attack, which generated two lengthy first-half scoring drives capped by Cole Brooker touchdown runs, was stifled after halftime.
Standout senior Taylor Newberry (37 carries for 205 yards) was asked to fake the punt for the first time in his career. It worked out better than even Lenahan could have expected.
Newberry gained the three yards necessary to extend the drive. He also picked up 65 more yards, cutting left-to-right across the field, dodging would-be tacklers, and ultimately celebrating a 68-yard TD run.
"We actually just set that up (in the week leading up to the semifinal). We were 50-50 on it," Newberry said. "I guess it worked."
Plymouth – a year removed from missing the playoffs on a three-team tiebreaker – actually plays the role of underdog in the Nov. 12 final.
The second-seeded Bobcats (9-1) travel to Manchester's Gill Stadium for a showdown with No. 1 seed Trinity High (10-0). The Bobcats were stunned at home in Week 4 by the Pioneers, allowing a pair of late-game touchdown passes in a 12-7 loss.
It snapped Plymouth's 40-game home win streak.
"Another week," Lenahan said. "The kids wanted it bad. What the heck. We might as well take a trip to Manchester."
October, 28, 2011
10/28/11
4:21
PM ET
By
Marc Thaler
| ESPNBoston.com
Show of hands: Who's surprised by Spaulding High's success this season on the gridiron?

Ask that question in Rochester and, truthfully, throughout New Hampshire. You'll find the team's head football coach is among many with an arm stretched high to the sky.
"Kind of. I didn't think we'd win three in a row," head coach Dennis Fontaine said shortly before his Red Raiders added a fourth straight win to their resume Oct. 21. "For the kids to grasp the new systems on offense and defense, they picked it up quick. They're executing what we showed them."
Those new systems on both sides of scrimmage are the result of Fontaine's appointment to the head coaching post this fall. Spaulding's once-proud program is under new leadership for the second time in as many seasons.
Fontaine is the fifth head coach since 1998, the first season after legendary Hugo Bolin retired with a 198-127-3 career record and five state titles.
The post-Bolin era hasn't been pretty.
Spaulding went 28-107 from 1998-2010, a span that included time in Divisions I and II. The program celebrated just one playoff season in those 13 campaigns. Jim Keays, known for his championship success at Somersworth High years ago, led the '06 Red Raiders to the Division II semifinals.
Considering the coaching turnover and run of football futility, there was nothing in the preseason that indicated Spaulding (4-4 overall, 3-3 Div. II) would compete for the playoffs.
There weren't any signs in September, either.
The Red Raiders went 0-4, including three consecutive setbacks to perennial contenders in league play. They suffered three shutout losses. They were outscored, 125-8.
Then came the turning point. Rather than fight the formula for winning -- from yet another head coach -- the players bought into it.
"They're realizing it's not just a bunch of hot air. They're taking it and applying it on the field," said Fontaine, previously a longtime assistant for recently retired Rod Wotton, who owns New England's record for career wins (342), and led Maine's Marshwood High and Dover's St. Thomas Aquinas High to a combined 21 state titles.
Spaulding rattled off four straight wins from Sept. 30 to Oct. 21.
The Red Raiders stunned Keene High, 25-17. They whacked Manchester West High, 47-14. They slammed Merrimack High, 39-0, for the program's first shutout win since the '06 season.
Handling Hudson's Alvirne High with ease, 39-13, Spaulding celebrated its first four-game win streak since 1999, when Dave Keller was at the helm.
Fontaine said the turnaround has been a team effort.
There are, however, standouts in the group. The Scott brothers, Tyrone and Trey, are running the football with purpose. Linemen Dillon Couture and Ben Lafond are providing push up front.
Safety Nate Zriny "is playing fantastic defense," Fontaine said. "He'll play anything for us. He'll play nose tackle if we ask him to."
Fontaine's gridders have two regular-season games remaining, though they close their league slate Oct. 28 at Hugo Bolin Field against Plaistow's Timberlane Regional.
A win for the Red Raiders earns them the No. 3 playoff seed.
Surely, Fontaine is excited by his squad's stunning second half to the season. Right?
"Yes and no. I've been there before from prior coaching. You can't get too excited in front of the kids," he said. "We just do our normal practice, work on what we need to do on offense and defense."
Spoken like one very focused head football coach.
August, 2, 2011
8/02/11
1:54
PM ET
By
Marc Thaler
| ESPNBoston.com
Among golfers his age, who's better than Keene's Chelso Barrett?

Nobody in New Hampshire, that's for sure.
Nearing the start of his junior year at Keene High, Barrett finished runner-up at the 64th U.S. Junior Amateur Championship from July 18-23. The 16-year-old's sensational run in Bremerton, Wash., ended with a 6-and-5 setback in the tournament's 36-hole final at Gold Mountain Golf Club.
Barrett's dream finish on the 7,111-yard, par-72 Olympic Course was denied by Dallas 17-year-old Jordan Spieth, also the 2009 champion.
"It was disappointing coming in second. But at the same time, it was really big because I got (three) exemptions for USGA events in the future," Barrett said from Fort Wayne, Ind., on the eve of the Junior PGA Championship Aug. 2-5. "I lost the tournament, but it wasn't really a loss."
Spieth last year eliminated Barrett in the Round of 64. This summer, the Texas teenager became just the second golfer in the championship's history to win multiple titles. He joined Tiger Woods, a three-peat junior amateur champ from 1991-93.
Securing a spot in the final required Barrett bump considerable competition from the bracket. Taking lessons last February from Craig Shankland at LPGA International in Daytona Beach, Fla., paid off.
In just his second Junior Amateur, Barrett started strong. He carded a 36-hole, 1-under-par 143 (69-74) during stroke play. It lifted him to the Round of 64, where the tourney's format turned to match play.
Andrew Bonner of Ripon, Calif., was the first foe Barrett sent packing. The final score was 1-up.
The next win really fueled the teen's momentum.
Barrett defeated defending champion Jim Liu, 2-up. The Smithtown, N.Y., native was attempting to join Woods as the only other repeat king.
"After he beat the defending champion, I was shocked," said Chelso's father, Hugh, New Hampshire's 1980 state amateur champ. "It's done so much for him. He was basically unknown (in major college golf) before that."
But the upset was an attention-grabber. Barrett, whose surname is well known at Keene's Bretwood Golf Course, ousted Liu with birdies on the 17th and 18th holes.
The first of those back-to-back birdies applied the pressure. Barrett sank a 6-foot putt after striking a wonderful approach from 165 yards.
The second birdie cemented Barrett's victory. Liu needed a final-hole win to extend the bout. His tee shot proved troublesome, however, forcing him to concede No. 18.
"Basically, my bad shots weren't that bad," Barrett said of the key to his near-No. 1 finish. "I didn't hit it great in the finals, but up until that point, I hit it solid. I kept the ball in play."
He beat William Zalatoris of Plano, Texas, 2-and-1, in the Round of 16. Thus, he met his goal to reach the Round of 8.
Then, he exceeded personal expectation. He beat William Starke of Chapin, S.C., 1-up, in the quarterfinals.
He also beat Colombia's Nicholas Echavarria in 19 holes to survive the semifinals.
In the final, Barrett built a 2-up lead through two holes. But a double-bogey on No. 3 combined with Spieth's birdie on No. 6 squared the match.
Spieth took his second lead by winning the 13th hole. He didn't trail again.
Losing to Spieth, competing in his last junior event, wasn't a complete downer for Barrett. Advancing to the final match earned him exemptions to the 111th U.S. Amateur Championship Aug. 22-28 in Erin, Wisc., and next year's U.S. Amateur Public Links Championship July 9-14 in Midway, Utah.
But he's most excited about the third exemption – earned by achieving his goal to make the quarterfinals cut.
He's assured a spot in next year's Junior Amateur, which takes place July 16-21 at the Golf Club of New England.
July, 5, 2011
7/05/11
12:03
PM ET
By
Roger Brown
| ESPNBoston.com
Vermont fans couldn't even look at the glass as half full following last weekend's Twin State lacrosse games.

The Vermont girls dropped an 18-11 decision to New Hampshire, and then the Vermont's boys staged a late rally but fell to New Hampshire, 13-10.
Each game was played at Hanover (N.H.) High School and featured players who graduated from high school earlier this year.
A Vermont victory was within reach in the girls game, but New Hampshire outscored Vermont 9-2 in the final 12 minutes.
Mount Mansfield's Kim Liberty and Burr and Burton's Sawyer DeVries each collected two goals and two assists to lead the Vermont offense. Vermont also received two goals from Chelsea's Michelle Upham, Mount Anthony's Alyssa Amos, and Burr and Burton's Piper Ferrone. Burlington's Anne Barker scored Vermont's other goal.
Vermont's Sara Till of Rice (12 saves) and Chelsea's Morgan Tullar (11) each played a half in goal.
Burr and Burton's Dave Miceli served as Vermont's head coach. He also coached the 2000 team.
Hollis Brookline's Hanna Mazzola, Merrimack Valley's Erin MacLean and Winnacunnet's Julia MacVane netted three goals apiece for New Hampshire. Mazzola also had three assists.
The Vermont boys played from behind most of the afternoon. New Hampshire built a 12-5 lead at one point.
Spaulding's Tory Chouinard led Vermont with three goals and three assists. Champlain Valley's Lawrence Dee added three goals and two assists.
Ben Adams (Essex), Dakota Engberg (BFA-St. Albans), Nick Schmell (Woodstock) and Abel Warden (Lamoille) each scored a goal. Adams also collected three assists.
Dave Trevithlick, who led Champlain Valley to the Division I title this season, served as Vermont's head coach.
Erik Kelly (three goals) and Tom Auger (two) led the New Hampshire offense. Vermont's Eric Palmer (CVU) and Sam Polis (Hartford) made seven saves apiece.
New Hampshire, which led 5-3 at halftime, has won 17 of the 19 games played in the series.
June, 22, 2011
6/22/11
8:43
PM ET
By
Marc Thaler
| ESPNBoston.com
Considering the contest's national significance and how the seven-inning bout played out, there's just one way to sum up the Division II baseball final.
It was sensational.

Portsmouth High prevailed in a thriller – a game played in 2 hours, 8 minutes but over the course of two days – to stun Seacoast rival St. Thomas Aquinas High of Dover. The Clippers clinched a 9-6 win at the home of Double-A baseball's New Hampshire Fisher Cats.
The last title game of the NHIAA's "Super Saturday," a June 18 quadruple-header at Northeast Delta Dental Stadium in Manchester, ended with No. 1 seed Portsmouth (20-0) celebrating a fourth consecutive crown and national record-extending 83rd straight win.
"What the program has accomplished and what we've gone through, and the attention (the win streak) has earned, to get to this point and not finish it with a win, that wasn't something I was prepared to deal with," Portsmouth coach Tim Hopley said. "It was a real important game for us."
Three storylines from the much-anticipated matchup:
Strange time to start. The game was scheduled to start at 8:15 p.m. Portsmouth ace and Northeastern-bound Keegan Taylor didn't fire the first pitch until 10:23.
The last out wasn't recorded until 12:45 Sunday morning.
STA-Portsmouth followed the Division IV final, delayed 50 minutes by thunder. Weather was just one factor contributing to the lengthy game that pushed back the main event's scheduled start time.
"We gave both teams the option of coming back (to play Sunday). It was late. But everybody preferred to get it in," NHIAA executive director Pat Corbin said. "We had a tremendous crowd. For the kids, they'll always be able to say, 'We're the ones that played the latest game in the history of New Hampshire.'"
Dueling aces. Five summers ago, they were the Nos. 1 and 2 pitchers for Portsmouth's Little League World Series team that reached the U.S. semifinals. As the clock approached 1 a.m. Sunday, STA ace Jordan Bean and Taylor squared off in the game's key sequence.
May, 28, 2011
5/28/11
1:37
AM ET
By
Marc Thaler
| ESPNBoston.com
Round-trippers that clear the fence at Campbell High are a rarity. They're so rare, in fact, that nobody associated with the Litchfield school's softball program remembers a single batter going yard.
Correction: Nobody remembers a single batter going yard before May 13.

That's when sophomore designated hitter Chelsea Caynon slugged her way to a career-defining contest. Her 3-for-4 day at the dish included three towering home runs tagged in consecutive at-bats.
"I kind of thought all of them were lucky because nobody has done it before," Caynon of her Friday the 13th fireworks, the last of which was a walk-off that clinched a 13-1 Division III mercy win over Alton's Prospect Mountain High.
Caynon said she was mobbed by teammates after circling the bases for the third time. Her last blast, in the fifth inning, capped Campbell's 13-run outburst over three frames.
Campbell's No. 3 hitter connected in the third, fourth and fifth innings and knocked in five runs. The lasers all landed in the same spot, well beyond the left-field fence stationed 250 feet from home plate.
Coach Laurie Gatherum, in her sixth year at the helm, estimated the shots sailed 260 feet.
"When Chelsea comes up to bat, I get as far away from the third-base box as I can. She's come close to killing me. She's a dead-pull hitter," Gatherum said. "I get as close to the out-of-play line as possible.
"I almost want to warn the third baseman to back up. If she gets a piece of the ball, it's going."
Caynon's powerful performance actually carried into her next game. She went 1-for-3 with a homer against Hopkinton High, giving her four taters in a span of seven at-bats.
But Caynon isn't a stereotypical all-or-nothing power hitter. She closed the regular season with one strikeout in 64 plate appearances.
She also posted a .500 average (28-for-56) with eight walks, five home runs, one triple, 10 doubles, 25 runs scored and 32 RBI. Her production helped the Cougars clinch first place with a 15-1 record.
"I would say she is the best hitter that the program has ever had, as far as consistency and power," Gatherum said.
That's saying something. Caynon is, after all, just a sophomore.
"I wasn't really trying to hit three in row," she said. "I was just waiting for my pitch."
April, 13, 2011
4/13/11
2:48
PM ET
By
Marc Thaler
| ESPNBoston.com
There was a time when, before the season's first face-off, predicting the champion in Granite State boys' lacrosse was a pointless exercise.

Even in the preseason, Pinkerton Academy always had the crown locked up.
The Derry program's rich lacrosse history dates back decades, well before the NHIAA sanctioned the sport in 1994.
Coach Brian O'Reilly – who began his 30th season April 12 with a 400-122 career record – led his Astros to the first four NHIAA titles from 1994-97. O'Reilly & Co. won eight of the first nine championships through the 2002 campaign.
But in the eight seasons since that time, the Astros have won just one title (2006). They last played for the Division I championship in 2008.
"We need to get back to where we were. That's been taken from us the last several years in lacrosse," O'Reilly said. "We're not the defending champions. We haven't been the defending champions in a while."
Yet the Astros are this spring's preseason favorite. They narrowly edge Nashua's Bishop Guertin High, the defending champ that's appeared in six consecutive league finals and won three titles since 2005.
It's unknown whether the Cardinals consider their preseason position a slight. But this much is clear: Depth in Division I is lacking this spring. Pinkerton and BG are the runaway favorites to clash for the championship in June.
"I doubt anybody is talking about us as a top team right now, which is fine by us. It gives us a little more incentive to work hard and be there at the end of the year," said Exeter High coach Gerry Holly, whose reigning runner-up Blue Hawks rank behind Hanover High, the third-best club exiting the preseason.
Several teams, starting with Exeter, were senior-laden a year ago. Pinkerton was an exception. They boast experience, roster depth, speed, toughness and, perhaps most important, balance.
January, 1, 2011
1/01/11
2:27
PM ET
By
Marc Thaler
| ESPNBoston.com
You can't ring in the New Year without a countdown.

In the spirit of the time-honored Dec. 31 tradition – counting down the final 10 ticks of the calendar year – here are the top items this reporter contributed to ESPNBoston.com High Schools since its launch in August 2010:
10. The 6-0-3 sets record. New Hampshire extended its win streak in the annual Shrine Maple Sugar Bowl to a series-record 10 games.
The Granite State's recent high school graduates topped Vermont in the 57th all-star football game, played at Windsor (Vt.) High's MacLeay-Royce Field, in early August, 34-20. The previous record for longest win streak was a nine-gamer set by New Hampshire from 1989-97.
New Hampshire's 14-point win makes it sound like the game was somewhat competitive. Guess again.
Despite committing seven turnovers, including four in the first quarter, and amassing 165 yards on 18 penalties, New Hampshire never trailed. The 2010 team did, however, twice lead by 20 points and ultimately improved the state's all-time record in the series to 42-13-2.
September, 1, 2010
9/01/10
1:51
PM ET
By
Marc Thaler
| ESPNBoston.com
Support for 15-year-old Cooper Doucette extends well beyond state lines.

"A lot of teams and organizations are stepping forward to keep Coop's spirits up," said Nashua High School North head football coach Jason Robie.
Doucette, a North sophomore, underwent surgery at Children's Hospital Boston on Aug. 17 to stabilize his neck and C5 vertebra, which, three days earlier, he broke during a tackling drill. He experienced paralysis from the mid-torso down as a result of the break.
Long-term implications are unknown. But this much is certain: Stars with New Hampshire ties stepped forward to ensure the injured Titan remains upbeat.
University of Oregon head football coach Chip Kelly, a Manchester native and former UNH offensive coordinator, sent a signed card.
Nashua native Ted Phillips, the president and chief executive officer of the Chicago Bears, sent a Super Bowl XLI football. Walpole's Ryan Durand, a guard for the Tennessee Titans, also sent a football.
Even Red Sox second baseman Dustin Pedroia, who doesn't have formal ties to New Hampshire, sent a game-used bat signed to Doucette.
Closer to home, the New Hampshire Fisher Cats are hosting a fundraiser. The Double-A affiliate of the Toronto Blue Jays will donate $3 for every club ticket purchased and $4 per premium ticket sold for tomorrow's game at Merchantsauto.com Stadium against the Harrisburg Senators.