Boston High School:

Hopkinton (N.H.)
October, 31, 2012
10/31/12
7:04
PM ET
By
Marc Thaler
| ESPNBoston.com
In the rich history of New England high school football, there isn't a head coach with more career wins than Plymouth (N.H.) Regional's Chuck Lenahan.

"How do I put this? It's a great honor, especially for the school and the program. That's the important thing," said Lenahan, 69, who clinched career win No. 343 with a 35-21 Division IV decision over John Stark Regional on Oct. 27.
The 14-point win pushed Lenahan's career mark to 343-69-1. He moved past Rod Wotton (342-81-3), who retired in 2010. Wotton enjoyed successful stints at Maine schools South Berwick and Marshwood, and New Hampshire's St. Thomas Aquinas in Dover (111 NHIAA wins).
Lenahan, of course, has never left Plymouth. As if his .831 winning percentage over 41-plus campaigns doesn't cut it, consider these football feats:
-- 29 state championship appearancesar
-- 18 state championships
-- 12 undefeated seasons
-- NHIAA's longest win streaks (57 games from 2005-10; 46 games from 2000-04)
On the strength of those win streaks – the 57-gamer a nation-best early in '10 -- Plymouth went 106-2 (nine titles) from 2000-09.
"Unparalleled success. A level of consistency that is so uncommon it's incredible," said Bill Ball, the athletics director and 20-year head football coach at Division I Exeter. "To year-in and year-out put out the quality that he does on the football field, yet maintain a high level of sportsmanship, (the record is) an incredible accomplishment by Chuck, his coaches, his players and the Plymouth community."
The gap between Lenahan and his peers, in terms of career NHIAA wins, is considerable. Brian O'Reilly of Division I Pinkerton Academy is second (249-102). Recently retired Jack Gati, who split time at then-Division I Trinity, Concord and Salem, is third (221-138).
To think, Lenahan didn't crack the win column as a 27-year-old rookie head coach in 1971. After settling for a season-opening 14-14 tie with Hanover, the Bobcats lost their final six games.
"We lost a lot of close games, I'll tell you that. We had injuries all over the place," Lenahan said. "But I don't believe I had much of a clue what was going on anyway."
If Lenahan was ever truly clueless, he quickly corrected the coaching flaw. The Bobcats celebrated their first undefeated championship season in '72, the first year the NHIAA adopted a playoff format.
Lenahan's first win was an 18-12 triple-overtime triumph against Newport on Sept. 9, 1972. The OT format, like postseason play, was new to the state's football landscape.
More milestone moments from Lenahan's legendary career:
-- Win No. 100 – Plymouth 22, Littleton 0 (Nov. 3, 1984)
-- Win No. 200 – Plymouth 34, Monadnock 12 (Oct. 10, 1998)
-- Win No. 217, NHIAA record – Plymouth 14, Kennett 0 (Sept. 16, 2000)
-- Win No. 300 – Plymouth 41, Kingswood 7 (Sept. 13, 2008)
Plymouth is again in a familiar position. Lenahan & Co. are the top playoff seed and two wins from a perfect season.
"A big part of our program has been consistency. I'm pretty proud of that," Lenahan said. "Our kids come to play no matter what we have for talent."
XC CHAMPS CROWNED
Northwood's Coe-Brown Academy collected considerable hardware at the NHIAA Cross Country Championship on Oct. 27.
Hannah Parker paced the girls' team to its third consecutive Division II title at Derryfield Park in Manchester. The sophomore finished the 3.1-mile run in 18 minutes, 58 seconds to lead the field. Junior Jeremy Brassard earned an individual title with his time of 16:08.
Parker and Brown became Coe-Brown's first individual winners.
Parker and her teammates were particularly dominant. The underclassman-laden squad was responsible for the first-, third-, fifth-, seventh- and ninth-place finishers. The team tallied a championship-low 25 points.
In Division I, Bedford's boys (57 points) and Londonderry's girls (89) finished No. 1. Concord's B.J. Smith (16:06) and Manchester Central's Elizabeth Conway (18:45) were the individual champs.
Souhegan's boys (44 points) won the Division II title.
In Division III, Hopkinton's boys (65 points) and girls (41) celebrated a No. 1 finish.
Fall Mountain's Levi Frye (16:12) paced the boys. Laconia's Sami Hicks (19:38) was first to finish for the girls.
DEJA VU
Manchester Memorial's Jared Ombati gained more than 300 yards on the ground for the second time this season on Oct. 26. The senior running back totaled 354 yards (three touchdowns) on 31 carries in his team's 29-14 win over Division II Manchester West.
Ombati shredded Division I foe Londonderry on Sept. 21. He ran for 330 yards (five TDs) in a 33-25 win.
"All week, we said the only one that would beat us was 20," said West head coach Jim Lauzon, referncing Ombati's uniform number. "We had guys (in practice) pretend to be him. One of our coaches dressed and was him. We thought we were really ready to stop him."
West's defense did stop Ombati – through two carries. He was stuffed for no gain on his first rush. He moved the ball 1 yard on his second touch.
Ombati finished the quarter with four carries for 139 yards, including 55- and 83-yard TD runs that capped one-play drives. His final TD, a 42-yard burst, also finished a one-play possession.
"He's one of the fastest kids in the school," Memorial head coach Peter Colcord said. "I've been waiting for this for four years. He's really turned it on this year."
Marc Thaler can be reached at
marc.thaler@gmail.com
. Follow him on Twitter: @marc_thaler
.
June, 27, 2012
6/27/12
2:07
PM ET
By
Marc Thaler
| ESPNBoston.com
Fundraising totals between the teams competing in the inaugural New Hampshire East-West High School Football All-Star Game couldn't have been much closer.

The game itself? That's a different story.
West's all-stars – widely considered underdogs for the June 23 contest at the University of New Hampshire – proved too tough. The combination of overpowering offense and dominant defense led to a 33-point halftime lead and 44-12 final score.
Thaddeus "Junior" Brown was toughest to cover. Manchester Central High's 6-foot 3-inch, 180-pound receiver made all four of his catches for 87 yards in the first half. Three receptions went for touchdowns, including a 50-yard down-the-right-seam dagger that helped Team West build a 37-6 halftime lead.
"This means a lot. I worked hard for it," Brown, the game's first Bo Dickson MVP, said of the trophy he was handed for his efforts. "The coaches helped me out a lot. I just busted my butt for 10 days. The outcome was this MVP."
Off the field, the outcome of Brown's efforts, as well as the 73 other all-stars, was even more impressive.
Teams East and West combined to raise $51,301.21 for Children's Hospital at Dartmouth-Hitchcock (CHaD) in Lebanon.
Team East was designated the home team. It earned use of UNH football's locker room for winning the head-to-head fundraising contest. Coach Bill Raycraft's players raised $25,751.21 – a mere $201.21 more than West's standouts.
In total, $301,000 was raised for CHaD.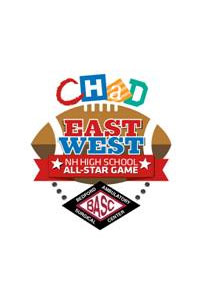 BASCTBD by editorial
"These kids came together and did a heck of a job for a great cause," said Team West coach Keith Jones, whose 6-year-old son, Harris, a CHaD patient, participated in the pre-game coin toss.
Harris was involved in a freak snowmobile accident three years ago. His father has said many times if not for CHaD, right-leg amputation would have been required.
On gameday, the soon-to-be first-grader made an appearance in Team West's locker room prior to warm-ups. It gave the players an additional boost, which carried over to kickoff.
Several playmakers fueled Team West's 37-point first half.
Brown caught a pair of 9-yard TD passes from Manchester West High's Aaron Martin, who also used his speed to sneak inside the left pylon for a 2-yard rushing score.
Merrimack High's Jackson King returned an interception 19-yards for a TD.
Nashua South's Johnny Bieren was crucial to posting a second-quarter safety. He also forced and recovered a fumble on one of his three quarterback sacks.
Central's Stephen Grzywacz – who raised a players-best $5,965 for CHaD – converted five extra points (6-for-6 overall).
East's all-stars committed five of the game's eight turnovers. The favored squad fell behind, 30-0, before Salem High's Jerickson Fedrick returned a kickoff 96 yards to paydirt.
Fedrick, and Pinkerton Academy of Derry stars Kevin Davies and Emmitt Smith, were all neutralized. Combining to rush for 4,649 yards and 57 TDs last fall, the trio managed 99 yards – 28 through two quarters.
Conor Donovan of Division VI cooperative team Inter-Lakes-Moultonborough scored East's second TD early in the third. Derek Paradis of Nashua South answered with an up-the-gut run.
"The first series, I thought we did pretty well. We stopped them (but) right away turned the ball over," Raycraft said. "That's not the way you want to start an all-star game. From there, we pressed a little bit more than we probably should have and, because of that, created more turnovers.
"But, like I told the kids, I had a blast these last (10) days," he added. "I couldn't have asked for a better group of kids. It's going to be fun watching where they go from here. The score will fade, but they set the tone for fundraising."
BASEBALL CHAMPS
Division I
: Dillon Emerson's extra-inning hit snapped two droughts, including a lengthy one for Concord High.
The senior's single down the right-field line scored Pat Cannon and gave the top-seeded Crimson Tide a 5-4 walk-off win over No. 3 seed Merrimack High in the state final June 16 at Northeast Delta Dental Stadium, home of Double-A baseball's New Hampshire Fisher Cats.
Emerson's hit snapped an 0-for-4 skid in the title game and earned Concord (18-4) its first crown since 1980. The Tide lost the state final in 2011.
"I was in the dugout upset over all the missed opportunities I had when coach [Scott Owen] came up to me and said, 'Stick with it. You'll get your at-bat and you'll come through.' He was right," Emerson told the
New Hampshire Sunday News
.
June, 13, 2011
6/13/11
2:10
PM ET
By
Marc Thaler
| ESPNBoston.com
The resume: Seven consecutive appearances in the Division I boys' lacrosse final.
The crown count: Four.
The program celebrating those staggering statistics: Nashua's Bishop Guertin High.

Guertin tightened its grip on the sport June 8 with a first-time feat for the program. Coach Chris Cameron and his Cardinals clinched their second straight title with an 11-8 win.
"This one feels good," said Cameron, whose team finished 14-1 in league play. "This one feels good."
Success was indeed sweet, considering second-seeded BG beat its fiercest rival. Top-seeded Pinkerton Academy of Derry entered the tournament final undefeated (20-0 overall) and perfect in NHIAA finals since 1997 when boasting an unblemished record (3-0).
Roughly 1,500 fans filed in to Stellos Stadium for the much-anticipated matchup played in extreme humidity. The final marked the fourth time BG and Pinkerton fought to finish No. 1 since 2005.
BG now owns a 3-1 record in those colossal clashes.
What prepared BG's young and inexperienced squad for this giant win? Try six grueling out-of-state games that left the team linked to an uncharacteristic 0-6 record.
Cameron annually schedules the most unforgiving non-league schedule of any team playing NHIAA lacrosse. After his team topped No. 3 seed Hanover High in the semifinals, 15-6, the eighth-year coach said this spring's out-of-state slate was the toughest to date.
The Cards lost to Massachusetts squads Lexington (6-4), Needham (14-11), Cohasset (7-4) and Duxbury (15-3). New Jersey's St. Joseph Metuchen (11-3) and Rhode Island's La Salle Academy (6-5) also beat BG.
There was also an 8-7 loss to the Astros, which snapped BG's 48-game regular-season win streak against in-state foes. Guertin had as many losses this spring (seven) as the 2008, 2009 and 2010 seasons combined.
Shut-down junior defenseman Bob Fahey said team confidence took a hit. But the losses served a purpose.
"It got us ready for this exact game, right here," said Fahey, who has already committed to UMass. "Coach Cameron gives us that great out-of-state schedule to get ready for these games."
Cameron's club took control of the final after halftime. The teams took the field for the third quarter knotted at 6-apiece.
BG's midfield- and close-defense – operating without defensive slides – caused all kinds of problems for Pinkerton. Fahey, Kyle Karaska and Jay Krzyston forced the Astros to shoot from the perimeter. Long-stick midfielder Brody Smith locked off lanes to the cage. Colin Delea (14 saves) made the necessary stops between the pipes.
"You've got to give credit to them," said Pinkerton coach Brian O'Reilly, noting his offensive-minded club was contained to four goals in 6-on-6 play. "It's not like we were missing the cage. It's just the shots didn't seem to be there."
May, 28, 2011
5/28/11
1:37
AM ET
By
Marc Thaler
| ESPNBoston.com
Round-trippers that clear the fence at Campbell High are a rarity. They're so rare, in fact, that nobody associated with the Litchfield school's softball program remembers a single batter going yard.
Correction: Nobody remembers a single batter going yard before May 13.

That's when sophomore designated hitter Chelsea Caynon slugged her way to a career-defining contest. Her 3-for-4 day at the dish included three towering home runs tagged in consecutive at-bats.
"I kind of thought all of them were lucky because nobody has done it before," Caynon of her Friday the 13th fireworks, the last of which was a walk-off that clinched a 13-1 Division III mercy win over Alton's Prospect Mountain High.
Caynon said she was mobbed by teammates after circling the bases for the third time. Her last blast, in the fifth inning, capped Campbell's 13-run outburst over three frames.
Campbell's No. 3 hitter connected in the third, fourth and fifth innings and knocked in five runs. The lasers all landed in the same spot, well beyond the left-field fence stationed 250 feet from home plate.
Coach Laurie Gatherum, in her sixth year at the helm, estimated the shots sailed 260 feet.
"When Chelsea comes up to bat, I get as far away from the third-base box as I can. She's come close to killing me. She's a dead-pull hitter," Gatherum said. "I get as close to the out-of-play line as possible.
"I almost want to warn the third baseman to back up. If she gets a piece of the ball, it's going."
Caynon's powerful performance actually carried into her next game. She went 1-for-3 with a homer against Hopkinton High, giving her four taters in a span of seven at-bats.
But Caynon isn't a stereotypical all-or-nothing power hitter. She closed the regular season with one strikeout in 64 plate appearances.
She also posted a .500 average (28-for-56) with eight walks, five home runs, one triple, 10 doubles, 25 runs scored and 32 RBI. Her production helped the Cougars clinch first place with a 15-1 record.
"I would say she is the best hitter that the program has ever had, as far as consistency and power," Gatherum said.
That's saying something. Caynon is, after all, just a sophomore.
"I wasn't really trying to hit three in row," she said. "I was just waiting for my pitch."
September, 29, 2010
9/29/10
2:25
PM ET
By
Marc Thaler
| ESPNBoston.com
When Smith Center, Kan., lost last year's Class 2-1A title game, the nation's longest active win streak in high school football instantly became property of New Hampshire's Plymouth Regional.

Smith Center was tackled in overtime, ending the program's 79-game run. And Plymouth – two weeks earlier crowned a champion for the 18th time – inherited pressure previously placed upon the Redmen.
But, after five consecutive 11-0 championship campaigns and two more wins to open this season, Plymouth's state-record run ended at 57 games. Kennett High of Conway, a decided underdog at home, snapped the streak with a shocking 20-9 Week 3 win on Sept. 17.
"We didn't play very well. That's not a trademark (of Plymouth football)," said Plymouth head coach Chuck Lenahan, whose program's previous state-record 46-game win streak was also snapped by Kennett, a 6-0 winner in the 2004 season's third week.
"We felt we had the kids that matched up well with those guys," first-year Kennett head coach Mike Holderman, an assistant on last year's team that was Plymouth's state-record-breaking 47th straight victim, told the
New Hampshire Sunday News
. "We believed we were stronger."
Lengthy win streaks aside, Lenahan's Bobcats are best known for playing disciplined, mistake-free football.
Four turnovers and nearly 100 yards in penalties, however, prevented a 58th straight victory.
"Everything that could go wrong did. Nothing came together for us. Kennett had a lot to do with it. They certainly deserved to beat us that day. It would've been nice to play them better," said Lenahan, whose team lost at Trinity High of Manchester, 39-6, in Week 4, marking the first losing streak for the small-school powerhouse since 1991.
Plymouth's 57-game run spanned three seasons in Division III (2005-07) and two-plus years in Division IV (2008-present). Two wins, in particular, stand out.
Lenahan & Co. beat Laconia, 14-7, in the 2008 Division IV title game. Clinching the crown required the host Bobcats to erase a seven-point fourth-quarter deficit in the final eight minutes at muddy Zoulias Field.
But Plymouth's "free kick" win at Souhegan High of Amherst in 2007 may top the list.
Trailing by a point with 10 seconds to play, the Bobcats called for a fair catch on Souhegan's punt. An obscure rule allowed the Bobcats to attempt a game-winning 47-yard field goal using a kick-off tee.
Souhegan's defense, forced 10 yards off the line of scrimmage, couldn't pressure the kick.
Kyle Underwood split the uprights, lifting Plymouth to the 11-9 win.
"We had some great games," said Lenahan, who, in his 40th season at Plymouth, owns a career record of 322-65-1 and the most New Hampshire high school football wins in state history. "You have to be a little lucky. But it's a lot of hard work."
For all the drama packed into those wins, Plymouth mostly pummeled foes during the streak. The average margin of victory in the 57 games was 26.2 points.
Such dominance wasn't universally celebrated across the state. When Plymouth moved down a division for the 2008-10 classification cycle, the program and streak became hotly debated topics.
Plymouth competes in the appropriate league based on the school's student enrollment, which Lenahan, also the athletics director, said was 714 as of Sept. 20. For some time, though, Plymouth has fielded teams considered vastly superior, in talent and coaching, to opponents of comparable school size.
The proof: From 2000-09, the Bobcats went 106-3 with nine undefeated championship seasons split between Divisions III and IV.
Why not seek a tougher challenge?
"We're right where we should be (based on enrollment)," said Lenahan. "We're pretty happy with what we are.
"I know a lot of people use words like 'Pride and Tradition,'" he added, referring to Plymouth's signature phrase. "But that takes a lot of time and hard work to build. A lot of intangibles go into it."
RUNNING AWAY WITH IT
Granite State cross country runners dominated the varsity races at the 35th annual Manchester Invitational, which draws many of the Northeast's top talents, on Sept. 25. Five of the six 5K (3.1-mile) races at Derryfield Park were won by local athletes.
Jeff LaCoste, a senior at Nashua's Bishop Guertin High, won the elite boys' race. He was the only runner to record a sub-16 minute time (15-minutes, 53 seconds). Chloe Maleski, a senior at Keene High, placed first in the elite girls' race (18:30).
Merrimack High junior John Conlin topped the field in the boys' large school run (16:17). Exeter High senior Kelsey Smith earned the win in the girls' large school event (18:42).
Marina Slavin, a senior at Durham's Oyster River High, posted a winning time of 18:30 in the girls' small school race. Hopkinton High won the girls' small school team title with 74 points, well ahead of second-place Hanover High (112 points) and 20 other schools.
TOURNEY TIME
Golf will soon crown champions in Divisions I, II and III. Postseason tournaments for each tier tee off Sept. 30 at courses throughout the state.
Bretwood Golf Course of Keene hosts the Division I competition. Paced by sophomore Chelso Barrett, top-seeded Keene High (27-0) has the luxury of playing on its home turf.
Bedford High (22-0) is the team to beat in Division II. Standout senior Jake Nutter and the Bulldogs seek to top the leaderboard at Concord's Beaver Meadow Golf Course.
In Division III, Moultonborough Academy (23-0), Gilford (22-0) and Mascenic Regional of New Ipswich (21-0) take perfect records to Owl's Nest Resort and Golf Club in Campton.
(BLUE) HAWK TALK
Defending Division I champion Exeter High improved to 9-0 in girls' soccer with its 7-2 win on Sept. 28. The team used a different starting lineup in every match.
"What's leading to our success is the depth of our team," said 10th-year Exeter coach Megan Curran, who guided the Blue Hawks to Class L crowns in 2006, 2007 and 2009. "We go about 15 (players) that can start on any given night. Whoever performs gets that starting role."
In the nine contests, the Blue Hawks outscored the opposition, 28-6. The champs allowed more than two markers just once.
First-year goalkeeper Micaela Janowski, a senior, is making the routine and difficult saves. Classmates and defenders Alison Wilson, Anna Grant and Connie Boutilier help limit quality scoring chances for the competition.
Center-midfielder and four-year varsity contributor Ally George is the catalyst on offense. Sophomores Aby Short (team-high eight goals) and Aly Day (six goals) consistently finish on the attack.
The best part of Exeter's start? Five of the team's first nine wins were by one goal.
"That's always good, to see the type of character a team has. Pressure situations make you grow a little faster," said Curran. "You don't learn much from killing a team. I do think it'll help us out in the long run."
Marc Thaler is a staff writer for the New Hampshire Union Leader & Sunday News and UnionLeader.com. He has been the high schools reporter for football and lacrosse since joining the statewide newspaper in 2006. A graduate of Syracuse University (2000), he wrote about the state's football history for an exhibit at The Hall at Patriot Place. The Bedford, N.H., native has covered the Little League World Series, NCAA men's lacrosse championships, UNH athletics and New Hampshire Fisher Cats baseball. He can be reached at marc.thaler@gmail.com.
September, 1, 2010
9/01/10
1:51
PM ET
By
Marc Thaler
| ESPNBoston.com
Support for 15-year-old Cooper Doucette extends well beyond state lines.

"A lot of teams and organizations are stepping forward to keep Coop's spirits up," said Nashua High School North head football coach Jason Robie.
Doucette, a North sophomore, underwent surgery at Children's Hospital Boston on Aug. 17 to stabilize his neck and C5 vertebra, which, three days earlier, he broke during a tackling drill. He experienced paralysis from the mid-torso down as a result of the break.
Long-term implications are unknown. But this much is certain: Stars with New Hampshire ties stepped forward to ensure the injured Titan remains upbeat.
University of Oregon head football coach Chip Kelly, a Manchester native and former UNH offensive coordinator, sent a signed card.
Nashua native Ted Phillips, the president and chief executive officer of the Chicago Bears, sent a Super Bowl XLI football. Walpole's Ryan Durand, a guard for the Tennessee Titans, also sent a football.
Even Red Sox second baseman Dustin Pedroia, who doesn't have formal ties to New Hampshire, sent a game-used bat signed to Doucette.
Closer to home, the New Hampshire Fisher Cats are hosting a fundraiser. The Double-A affiliate of the Toronto Blue Jays will donate $3 for every club ticket purchased and $4 per premium ticket sold for tomorrow's game at Merchantsauto.com Stadium against the Harrisburg Senators.
August, 18, 2010
8/18/10
6:13
AM ET
By
Marc Thaler
| ESPNBoston.com
Let's start, simply, with a three-syllable salute to the state whose high school sports provide the content for this notebook.

Six-oh-three!
The area code for New Hampshire — 603 — once again made for the most memorable post-game chant at the Shrine Maple Sugar Bowl on Aug. 7. The Granite State's recent high school graduates, on Windsor (Vt.) High's MacLeay-Royce Field, topped Vermont in the 57th annual all-star football game, 34-20.
New Hampshire clinched a Shrine-record 10th consecutive win in the series, eclipsing its nine-game streak from 1989-97.
As it relates to this year's game, here's how to best explain the superiority of New Hampshire's 35-player squad: It nearly doubled Vermont in turnovers, 7-4, including four first-quarter giveaways, and committed an astounding 18 penalties for 165 yards.
[+] Enlarge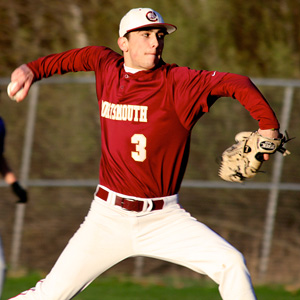 Courtesy of Julie BlackPortsmouth High's Keegan Taylor recently committed to Northeastern University. The right-hander figures to be the Clippers' ace in 2011 and will lead a team that enters the season with state-best 63-game winning streak.
And New Hampshire still won by two touchdowns.
"One-hundred-sixty-five yards in penalties?" Shrine assistant and retired Londonderry High coaching legend Tom Sawyer said in disbelief. "That's almost two football fields."
Fact is, New Hampshire never trailed. Instead, it twice built a lead of 20 points.