Boston High School:

Houlton
December, 17, 2012
12/17/12
8:08
PM ET
By
Matt DiFilippo
| ESPNBoston.com
For most teams, the Maine high school basketball season began Dec. 7. Here's a look at how the classes shape up

Class A Boys:
The West looks like a three-team race between Portland, Deering, and Bonny Eagle, with South Portland ready should there be an opening. Junior Justin Zukowski is Portland's top all-around player, and he has help in Nick Volger and Jayvon Pitts-Young. Deering tries to beat you inside, with six-six Labson Abwoch, and six-four Thiwat Thiwat, both of whom are from the Sudan and moved to the United States at an early age.
Hampden was upset by Deering in the state final, and even though the Broncos return only two starters, they were still the pick for first place in Eastern A's preseason coaches poll. Edward Little, Lawrence, and Bangor, all programs with strong traditions, could each challenge Hampden. Lawrence relies on forward Spencer Carey and guard Xavier Lewis, a transfer from Bangor.
Class A Girls:
Western A has at least four strong teams in McAuley, Scarborough, Cheverus, and Deering. Oddly enough, none of them play each other until January. Point guard Allie Clement leads two-time defending state champion McAuley. Add in three six-footers and a talented guard in sophomore Olivia Dalphonse (a transfer from Bonny Eagle), and this team should go far in the tournament again.
In the East, Edward Little, Mt. Ararat, and Mt. Blue should fight it out for the top spot. Edward Little's top scorer is guard Ashlee Arnold, and the Red Eddies have some motivation after blowing an 11-point halftime lead and losing to Cony in last winter's regional final. Mt. Blue has balanced scoring, and guard Gabby Foy is a player who can run up a lot of points in a short time. Brewer was the big surprise in the early going, beating Mt. Blue on a three-pointer at the buzzer, then knocking off Lewiston the same way three nights later. Bangor has the height and athleticism to play with anyone, while Oxford Hills, Skowhegan, and Lawrence could be sleepers in a deep league.
Class B boys:
Falmouth and York are two of the tallest and best teams in the West. York has five players six-four or taller; Falmouth has three at least six-five. Falmouth didn't return any starters this season, but began the year with three lopsided wins. To go with York's height, the Wildcats have senior guard Adam Bailey, who hit 11 three-pointers in York's first four games this season.
Expectations are very high at Oceanside, which finished 12-8 last season but returns four starters and is loaded with height. The
Portland Press Herald
even said that, "Anything short of winning Eastern Class B would be a disappointment." Winslow is expected to be a playoff team, but Oceanside beat the Black Raiders, 80-53, on opening night. Medomak Valley, Camden Hills, and possibly Caribou and Presque Isle will also look to get hot at the right time.
Class B girls:
Defending regional champ Lake Region is probably the favorite again. Tiana-Jo Carter averaged 15 points and 17 rebounds per game last winter, and the
Portland Press Herald
reports she has already received full scholarship offers to Division I schools. The Lakers are so deep at guard that freshman CeCe Hancock stepped in and had 11 points and nine assists in an early-season win over Waynflete. York, Gorham, Spruce Mountain, and Wells could all make a run at Lake Region. Leavitt might not have all the pieces to go all the way, but the Hornets have one of the most entertaining players in the state in senior Kristen Anderson, who will play at the University of New Hampshire next season. Anderson can shoot from 30-35 feet out, and often does.
In Eastern B, Presque Isle is the decided favorite. The Wildcats finally got past Nokomis last winter and squeaked past Lake Region to win the state title. Presque Isle's first three games this season were wins by scores of 39, 63, and 38 points, and that's a good indication of how their regular season will go. The Wildcats are never very tall, but they throw lots of quick guards at you and can shoot from long range. Nokomis, which won't face Presque Isle during the regular season, may have the best chance to defeat the Wildcats in the playoffs. The Warriors have three fine guards in Lindsay Whitney and twins Kylie and Kelsie Richards, and a good low-post option in Anna MacKenzie.
Class C boys:
Dirigo has won four consecutive Western C titles, and until someone gets past the Cougars, they have to be considered the favorites again. Even after graduating seven seniors from last winter's state champions, Dirigo was still picked first in the Mountain Valley Conference coaches poll. Boothbay is probably Dirigo's toughest competition in the MVC, and Waynflete, which competes in the Western Maine Conference, could be a dark horse.
Houlton went 8-10 last winter, but may just be the No. 1 team in Eastern C. Kyle Bouchard, who can play pretty much any position, leads the Shiretowners. Among Houlton's early wins this season was a seven-point victory on the road against a good Class B Presque Isle team. Penquis Valley and Lee Academy — which is currently on probation from the Maine Principals' Association for recruiting violations — are also threats for the regional crown.
Class C girls:
The Mountain Valley Conference is deeper, but the Western Maine Conference has the best player (Margaret Veroneau) and maybe the best team (Waynflete). The Flyers have a top-notch coach in Brandon Salway, and bring back all five starters. They're good enough that they almost beat Class B Lake Region, losing by five on the road. Madison, Lisbon, and Monmouth are also contenders. Mt. Abram should have been in that mix, but the Roadrunners had some players decide not to return, and apparently don't have everything they need to play with the top teams.
Calais, led by guard Madison McVicar and center Paige Gillespie, is the favorite in the East. Orono, Dexter, and Narraguagas are also in the hunt.
Class D boys:
Forest Hills is known for a lot of things, like being closer to the Canadian border than any other high school in Maine, and having kindergarten through 12 all in one building. The Tigers also have a great basketball team. Senior Evan Worster already has over 1,000 points, and everyone returns from a team that went to the Class D state championship game this winter. The Tigers will get tested this season, as Valley, Greenville, and possibly Hyde all have the potential to cut down the nets after the Western D final in late February.
When Jonesport-Beals won the state title last season, it did so with a total high school enrollment of 58 students. It helped immeasurably that one of those was six-foot-five Garet Beal, the state's Gatorade Player of the year. Beal will play at the University of Maine next season, and already has back-to-back 40-point games this season. The second of those was in overtime against Deer Isle-Stonington, a team that could challenge the Royals again this winter. Woodland could also give Jonesport-Beals a scare.
Class D girls:
It looks like Rangeley and Richmond will battle once again for the Western D title. Rangeley, a school with about 80 students, has three six-footers in sophomore Taylor Esty, freshman Blayke Morin, and transfer student Emma Gunic. Richmond has its own six-footer in Jamie Plummer, the daughter of Colby College baseball coach Dale Plummer. Rangeley won the first meeting this season, 56-54 in overtime.
In the East, Washburn won the state title last winter with no seniors and three juniors. The Beavers did lose their coach when Mike Carlos was not rehired after winning two consecutive state titles. There were widespread rumors of parents being unhappy with Carlos, who is now coaching at East Grand. When Carlos was not rehired, superintendent Ed Buckley released a statement to the
Bangor Daily News
which included the line, "we do not measure the success of our athletic teams by the number of contests they win but whether it is a positive experience for all our students." Diana Belskis Trams is now coaching the Washburn girls. Van Buren could give Washburn a run in the East. The Crusaders' star is junior guard Parise Rossignol, who verbally committed to the University of Maine as a sophomore.
March, 2, 2012
3/02/12
3:20
PM ET
By
Gary Hawkins
| ESPNBoston.com
State championship matchups are set for this weekend for boys' and girls' basketball teams in four classes.
Here's a rundown of the games:
Class A Boys
HAMPDEN (20-1) vs. DEERING (16-3)

Regional finals: Both teams were tested in regional finals and won on last second shots. Hampden's Brian Fickett scored on an inbounds play with two seconds left to give the Broncos a 56-54 win against Mt. Blue. Christian led Hampden with 14 points. Deering beat Bonny Eagle 45-42 in the Western final on Pat Green's 3-pointer at the buzzer. Green paced the Rams with 17 points.
Matchup: Both teams have good overall size and experience. In addition to McCue, the Broncos are led by 6-foot-7 center Fred Knight, 6-6 forward Logan Poirier and Pat Gilpin. Besides Green, the Rams are led by 6-6 Labson Abwoch, 6-4 Thiwat Thiwat and guard Jon Amabile.
History: Deering last won a state title in 2006 when it beat Hampden, Hampden won in 2005 by beating Deering in the state final.
Class B Boys
GARDINER (19-2) vs. YARMOUTH (17-4)
Regional finals: Both teams upset unbeaten top seeds in the finals. Gardiner beat Mt, Desert Island 70-58 behind 23 points from Jake Palmer and 16 from Aaron Toman. Yarmouth knocked off Falmouth 56-50 behind 26 points from Chris Knaub and 12 from Josh Britten.
Matchup: The teams are similar in size and style of play. Gardiner relies on team defense and rebouding. Toman is the tallest player at 6-4 while Palmer has taken off in the playoffs, scoring 33 and 23 in his last two games. The Tigers have good rebounders in Alonzo Connor and Matt Hall. Yarmouth looks to Britten, its 1,000 point scorer, to carry the offense, but showed others, like Knaub, can contribute. Sam Torres is also a key team member.
History: This is Gardiner's first-ever trip to the state championship while Yarmouth last played for a state tile (Class C) in 1973 and last won in 1968.
Class C Boys
DIRIGO (20-1) vs. Lee (19-2)
Regional finals: Dirigo cruised to a 69-38 win against third-seeded Boothbay. during the three-game tournament, the Cougars outscored their opponents by a average scored of 76-35. Lee got 25 points from Boubacar Diallo to knock off upset-minded Houlton 58-47.
Matchup: This is a rematch of last year's state final, won by Lee, 65-55. Because it's a private school, many of Lee's players from last year moved on but they do have some valuable additions including Boubacar and D.J. Johnson. The Cougars, led by Cody St. Germain, Ben Holmes and Josh Turbide, return most of their team with a new coach Travis Magnusson in charge. They run and pressure the ball which should make for an entertaining game.
History: Last year's state final win was the first-ever by Lee. Dirigo has appeared in each of the last three state games without a win. They last won a state championship in 1983.
Class D Boys
FOREST HILLS (18-3) vs. JONESPORT-BEALS (18-2)
Regional finals: Forest Hills pulled off one of the most dramatic comebacks in the history of the Western Maine tournament when it rallied from 19 points down late in the third quarter to defeat top-seeded Hyde 61-60. Junior Evan Worster led the Tigers with 33 points and set a tournament scoring record with 106 points in three games. Jonesport-Beals shot 62 percent from the field in stopping Deer Isle-Stonington 75-62. Garet Beal led the Royals with 20 points while Cole Beal scored 14.
Matchup: Jonesport-Beals has the history and experience on its side, not to mention size with a couple of 6-5 forwards in Garet Beal and Justin Alley. The Tigers have only eight players on their team — the school enrollment is 54 — and start three freshmen.
History: This is Forest Hills' first-ever appearance in a state final while Jonesport-Beals is gunning for championship No. 10.
Class A Girls
CONY (21-0) vs. MCAULEY (21-0)

Regional finals: Cony got past No. 2 seeded Edward Little 46-41 behind 17 points from Mia Diplock who scored two key baskets down the stretch. McAuley coasted to a 61-43 win against second-seeded Scarborough. Allie Clement led the Lions with 19 points and seven assists while Olivia Smith added 15 and tournament MVP Alexa Coulombe scored eight points, grabbed seven rebounds and had seven steals.
Matchup: The Lions are the defending state champs and enjoy a decided height advantage with Coulombe and Smith, both 6-2, in the lineup. Cony relies on the guard play of Diplock and junior Josie Lee and a host of three-point shooters. Both teams like an uptempo game.
History: Cony is making its sixth appearance in a state final since 2002 while McAuley is making its fifth. The Rams defeated McAuley for the title in 2007.
Class B Girls
PRESQUE ISLE (21-0) vs. LAKE REGION

Regional finals: After losing in the final the past two years to Nokomis, Presque Isle finally broke through and downed the Warriors 52-40 behind 13 points from Chandler Guerette and 11 from Hannah Graham. Lake Region defeated Greely 46-30 behind 22 points from Sydney Hancock and 14 rebounds from Tianna-Jo Cater.
Matchup: Presque Isle averaged 70 points a game during the regular season and would like to push the pace while a slower pace would favor Lake Region.
History: The teams last played for a state championship in 2006 when Presque Isle defeated lake Region 48-36. Lake Region last won a title in 1975.
Class C Girls
HALL-DALE (18-3) vs., CENTRAL (18-3)

Regional finals: Top-seeded Hall-Dale knocked off No. 7 Waynflete behind 16 points and some big plays down the stretch from Carylanne Wolfington. Central beat Stearns 42-41 in overtime behind 21 points from freshman Brianna Skolfield and nine from Sam Brownell.
Matchup: Hall-Dale is the defending state champion but a different team with the graduation of center Taylor Massey. Wolfington is a Miss Basketball finalist and a versatile player who can score inside and out. Central relies on defense and will likely assign Max McHugh to guard Wolfington.
History: Hall-Dale won its first state title since 1986 last season while Central last won in 1982.
Class D Girls
RICHMOND (20-1) vs. WASHBURN (20-1)
Regional finals: Richmond junior Jamie Plummer scored 21 points and grabbed 13 rebounds to led the Bobcats past Rangeley 46-33. Freshman Mackenzie Worcester scored 20 points and Carsyn Koch added 19 as the beavers flew past Hodgdon 68-44.
Matchup: The game is a rematch of last year's state final won by Washburn 43-40. The Beavers will press, run and try to quicken the pace of the game while the Bobcats would like to slow things down and get the ball inside to Plummer and six-footer Alyssa Pearson.
History: This will be Richmond's seventh appearance in a state final but the Bobcats have yet to win one. Washburn won its fourth championship last year.
TOURNAMENT RECORDS

Waynflete junior Martha Veroneau and Forest Hills junior Evan Worster each set tournament records last week at the Augusta Civic Center. Veroneau, a 5-7 guard, scored 47 points against Boothbay to break the single-game Class C tournament record of 45 set by Boothbay's Katie Sibley. Veroneau also connected on nine 3-pointers to break her own tournament record of seven in a single game.
Worster scored 51 points in a quarterfinal win against A.R. Gould to set a single game Class D record of 45 set by A.R. Gould's Ian Nono. Worster, a 6-3 forward also set a new tournament scoring record of 106 points, breaking Buckfield's Paul Bessey's mark of 96.
November, 10, 2011
11/10/11
5:40
PM ET
By
Gary Hawkins
| ESPNBoston.com
Madison Memorial High School senior Matt McClintock recently won his third Class C cross country title while posting the fastest time in the state in any class. McClintock also won the mid-season Festival of Champions which featured over 600 runners from 60 schools in and out of state. Last spring, he won the 1,600 and 3,200 meter runs at the state track and field meet. He's competing this weekend in the New England meet in North Scituate, R.I. He recently answered questions about his season and running career.
Q: How did you get started running?

A: "I started running in 5th grade on the Madison Junior High XC team. I went to Athens Elementary so what would happen is Athens would practice on it's own and then we would just join the Madison team at meets. Fifth grade was the first year that I could compete in any "real" school sports, and I don't really know what drew me to it, but I decided to try it, and I guess my first race went well. I finished 13th. All my coaches were really happy with it and I guess I've been running ever since."
Q: Who have been your greatest influences?
A: "First and foremost would definitely be my coaches. Mrs. Moulton and Mr. Harper in junior high and Bob and Brandon Hagopian in high school. The person that really inspired me and drove me to get better was definitely coach Bob Hagopian. He's been with me since freshman year, through my wins and losses, and has always found a way to make me better."
Q: At what point did you feel you made a breakthrough in your high school career?
[+] Enlarge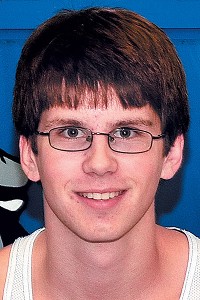 Gary Matt McClintock
A: "Without a doubt it was after I lost the conference championship last year. I got to cocky and that race showed me that I wasn't invincible, that I wasn't going to win just because my name was Matt McClintock, but because I wanted it more than the guy in front, beside, or behind me. That race made me
love
running, because I then had something to prove and something to work for. It re-instilled that love for competition in me. I will remember that race for the rest of my life, and I'm definitely a better runner because of it."
Q: What do you consider your greatest achievements in track and cross country?
A: "Wow, I guess in cross country it would be my three state championships. Since fifth grade my dream was to win a state championship in high school. To have three cross country titles and two titles on the track is just unbelievable to me. In track, my greatest achievement was definitely breaking the Madison High School records for 1,600 and 3,200 meters, probably more so the 3,200 because I was the first Madison kid in history to go under 10 minutes in that event."
Q: Which sport do you prefer?
A: "It really depends on the season. During cross country my favorite sport is cross country. During track it's track. I just love to run and race whether it's on the road, a track, or a trail."
Q: What goals did you set this season and did you reach them?
A: "My first goal for the season was to go undefeated in Maine and three-peat the Class C State Championship. I'm proud to say I met this goal. My next goal was to go under 15 minutes for the 5k I haven't met this goal yet as we've never really had a good day for a championship race, but Saturday at the New England Championships looks to be a good day, and it's a very fast course so we'll see what I can do there.
Q: What is your goal for this week's New England meet?
A: "My goal here is to win the title, and to go under 15 minutes for the 5K. As I said, before, it's a fast course, and there will be some incredibly strong competition to push me there."
Q: You won several races handily this season. Is it tough competing when you're not pushed?
A: "I guess that would depend on your definition of competing. A lot of people look at competing as winning. I prefer to look at it in the manner of Steve Prefontaine. If I'm going to win, I want to know that I've done my best. So yes, it's difficult to push myself to fast times, but I always just try to stay focused and not worry about the pain or where my competition is and just get to the finish line as fast as possible."
Q: What do you enjoy most about running?
A: "I love the people that we meet. The type of people you meet at cross country or track events is totally different then you will see in any other sport. At the state meet, I was getting encouraged to reach my sub 16 goal by the coaches and family and teammates of people that I was directly competing against. I'm confident to say that you will not find nicer and more supportive fans at any other high school sports competition."
Q: Do you have any running role models?
A: "I have several running idols, the most prominent would be Steve Prefontaine. I try to live up to the guts and determination that he always showed as a runner. His quote "To give anything less than your best is to sacrifice the gift" are the words I live by. Another two are Haile Gebrselassie, and Kenenisa Bekele. Both are Ethiopian runners. Gebrselassie is a two-time gold medalist and world record holder. Bekele is the two-time defending Olympic 10,000 meter champion and holds World Records now."
Q: Where will you attend college and why did you choose that particular school?
A: "I will be running for Lock Haven University of Pennsylvania next year. I felt very comfortable around the campus and really connected well with Coach Aaron Russell and the entire team at Lock Haven."
Q: What other sports or activities do you enjoy
?
A: "I enjoy all sports, but running is my one and only true passion."
Q: What is your training regimen in and out of the season?
A: "Sorry, but I don't like to discuss what my training is, at least not until after the outdoor track season."
Q: Where do you need to improve?
A: "I definitely need to improve on my kicking speed. In order to really be competitive in college I need to be able to win a race in the last 200 Meters if necessary. I feel that as my speed continues to develop in conjunction with my continued endurance training all of my events will improve drastically."
December, 30, 2010
12/30/10
5:51
PM ET
By
Gary Hawkins
| ESPNBoston.com
Little has changed among the top five boys' basketball teams in the state, with the exception of a one-point loss by Hampden to Lawrence. Here's a look at the Top 10 teams in Vacationland.

Cheverus (4-0): The top-ranked Stags continued to roll with a 49-28 win against Portland. In a previous game, Kennebunk tried to slow things down against Cheverus and nearly pulled an upset before losing 31-25. The Stags are averaging 57 points a game while giving up a paltry 29.
Edward Little (4-0): The Red Eddies rolled to a pair of victories against Oxford Hills (67-45) and Brewer (65-47), getting 28 points from Bo Leary in the latter game. Next up for EL is Messalonskee with a Jan. 4 date looming at Hampden.
Camden Hills (6-0): The Windjammers cruised past Oak Hill 92-41 to run their record to 6-0, but they've shown some vulnerability this season, one in which point guard Keegan Pieri has yet to play due to suspension. They squeaked past Medomak Valley 84-82 and held off Gardiner 62-54.
Thornton (4-0): The Golden Trojans remained unbeaten with wins against Gorham and Bonny Eagle. Next up are road games at Sanford and Deering before a home showdown Jan 11 against Cheverus.
Hampden (4-1): The Broncos were upset 50-49 at Lawrence when Spencer Carey hit a 3-point shot with three seconds left to play. They remain one of the state's top teams, however, and will try to confirm that against Edward Little at home on Jan. 4.
Bangor
Mountain Valley
Ellsworth
Scarborough
Greely
COULOMBE IS CENTER OF ATTENTION
Alexa Coulombe is a 6-foot-2 junior center playing for Catherine McAuley High School in Portland who has already verbally committed to play basketball for Boston College. As a sophomore she averaged 10 points, 13 rebounds and six blocked shots a game with a high of 16 in one contest. She took time for an interview at a recent holiday tournament:
Q: Why do you attend McAuley?
A: "My parents wanted me to get out of the public school system and go private."
Q: Why did you choose Boston College?
A: "I've wanted to go there since I can remember. It's close enough to my home, it's not really far away. A girl on my AAU team went there before I did and I really like the coaches. Everything clicked really well."
Q: Why such and early decision?
A: "I did a lot of work this summer and I thought about it a lot and what school would work for me. I figured out, why wait? It was kind of a no-brainer for me."
Q: Did you consider the University of Maine?
A: "I was basically looking more south. I knew I wanted to get out."
Q: When did you start playing basketball?
A: "In third grade. Because I was always tall (my parents) said why don't you go try it. I did, and I liked it."
Q: Do you feel more comfortable on the perimeter or in the post?
A: "Originally I was a post player, but I had to work a lot (on my perimeter game) on my AAU team. I was in the 3 spot. I had to transition completely out of post play. I had to have a guard mentality. (My AAU coach Kara Leary) really helped me with that."
Q: Where do you need to improve?
A: "I need to become stronger. I need to be a better guard, a better shooter. I work out all the time but I'm not a really big person."
Q: What are your other interests?
A: "I don't play any other sports. I'm into basketball all the time. I'm in a lot of clubs and I'm an ambassador for the kids coming into (McAuley)."
Q: What are you long-term plans?
A: "I don't really know. I think I'm just going to take it as it comes."
GIRLS' TOP 10
McAuley (4-0): Catherine McAuley High of Portland remained the state's top girls basketball team following a 45-42 win over Cheverus. Despite having two Division I bound players in Becca Knight (Maine) and Alexa Coulombe (Boston College), the Lions have yet to completely jell. They lost by four to Deering at the Capital City Hoop Classic in Augusta, but don't play the Rams in regular-season games until the end of the season.
Deering (5-0): The Rams stayed unbeaten with a 51-45 win against south Portland in which University of Vermont bound senior Kayla Burchill scored 32 points, including seven 3-pointers. The Rams don't play against McAuley until Feb. 3 but did knock them off in a Christmas tournament 53-48 this week.
Morse (6-0): The Shipbuilders are cruising with recent wins against Cony and Lawrence. Nikoline Ostergaard, the team's point guard and an exchange student from Denmark, is drawing interest from U.S. colleges.
York (5-0): The defending class B state champions look like the team to beat again this season. The Wildcats knocked off previously unbeaten Greely 54-28 last week and there don't appear to be many challenges on the horizon.
Cheverus (4-1): The Stags led McAuley last week for most of the game before falling by three points and remain one of the teams to beat in Western Maine Class A. They host a solid Windham team next week.
Hampden
Leavitt
Skowhegan
Medomak
Gorham
BOYS' HOCKEY TOP 10
No. 1 Lewiston remained unbeaten with a 5-2 overtime win last week against rival St. Dominic. Between the neighboring schools have more than 40 New England high school hockey championships. The Blue Devils showed a little early season vulnerability, though, when they were tied, 2-2, by Biddeford.
Lewiston
St. Dom's
Biddeford
Falmouth
Brewer
Thornton
Greely
Bangor
Houlton/Hodgdon
Edward Little
September, 22, 2010
9/22/10
9:37
PM ET
By
Gary Hawkins
| ESPNBoston.com
Performances by a number of running backs highlighted Week 3 of the Maine high school football season.

The fledging co-operative program between Calais and Woodland high schools took its lumps last season in the Class C Little Ten Conference, but is off to a 3-0 start this season, thanks in large part to running back Spencer McCormick who rushed for 292 yards on 20 carries and scored five touchdowns in a 54-7 win against Orono.
Gardiner's Alonzo Connor also turned in a five-touchdown performance as the Tigers downed Class B Pine Tree Conference rival Waterville 32-20. Connor, a junior, rushed for 172 yards on 26 carries.
Jack Powers of Camden Hills scored three touchdowns while rushing for 291 yards on 23 carries as the Windjammers nipped Morse 34-28 in a PTC Class B game. In another PTC Class B contest, Hampden Academy's Nick Stevens rushed for 227 yards and four touchdowns to lead the Broncos to a 35-28 victory against Winslow.
Portland's quarterback experiment with Imahdi Zagon is apparently over. Coach Mike Bailey put his talented running back in a number of different sets against Westbrook but not under center. Junior Matt McInnis is now the full-time quarterback with Zagon in the backfield. He responded by rushing for 258 yards on 37 carries to lead the Bulldogs to their first win of the season, a 27-15 over the Blue Blazes.
In other standout performances, Biddeford remained unbeaten in Class A Western Maine with a 47-21 win over Kennebunk behind Nick Gagne who rushed for four touchdowns and 145 yards.
Oak Hill's Josh Allen put the Raiders in the win column against Jay by rushing for 227 yards and four scores.
August, 25, 2010
8/25/10
8:46
AM ET
By
Gary Hawkins
| ESPNBoston.com
On Aug. 13, three days before fall practices got under way for Maine high school sports, the Maine Principals Association moved forward with its plan to divide football teams in the state into four divisions.

The MPA, which oversees high school sports in the state, reviewed feedback from football playing schools, and according to assistant executive director Mike Burnham, 72 percent of the schools were in favor of reclassification.
Under the current plan, teams are divided into three classes. The new plan, which is expected to go into effect in 2011, would create four classes — AA, A, B and C. This would help eliminate some of the disparities in enrollment, particularly among Class A schools where the current threshold is 800 or more students.
Since the current three class program was instituted in 1987, schools that would qualify for the new AA class have won 21 of 23 state championships. There are currently 78 football playing schools within the state with two or three more expected to adopt the sport soon which would give each class approximately 20 schools under the new alignment.