November, 23, 2011
11/23/11
6:07
PM ET
By
Bruce Lerch
| ESPNBoston.com
At halftime of the 50th annual Turkey Bowl between Catholic Memorial and BC High, the Knights will honor longtime football coach and athletic director Jim O'Connor by dedicating the newly resurfaced turf field in his name.
O'Connor was the first football coach in CM history, building the program from the ground up in 1961. Coaching under the mantra of 'Poise and Class,' O'Connor remained at the helm for 19 years, guiding the Knights to three state championships, two of which were Super Bowl titles, before stepping down in 1979 with a career record of 146-44-6.
[+] Enlarge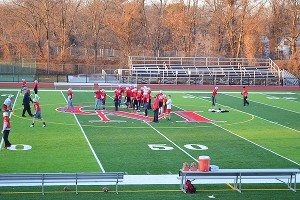 Scott Barboza for ESPN.comThe new turf field at Catholic Memorial will be dedicated to original Knights football coach Jim O'Connor during a halftime ceremony Thursday.
O'Connor also assumed the position of athletic director at Catholic Memorial from 1972 through 1992, served another ten years in the same capacity at Framingham High School before retiring, then joined the Massachusetts Interscholastic Athletic Association (MIAA) as the Tournament Director for football and the Division 1A 'Super 8' hockey postseason where he still works today.
Catholic Memorial will forever be his home, however, as he and his wife Mary live within minutes of the Baker Street campus.
"He and Mary have always been the face of Catholic Memorial," said Knights longtime hockey coach Bill Hanson, who was hired by O'Connor in 1974. "I don't care how many years they weren't here, they are the face of Catholic Memorial. I've never felt differently about that. They have gone to more hockey games than any other two people I know. When he was at Framingham, I felt like he still was affiliated with CM and I looked at him in that regard the whole time."
It's hard to imagine a world in which O'Connor is not linked to CM, but if it weren't for a risk he took shortly after college, things could have turned out much different.
A LIFE DECISION IN THE MAKING
In 1961, Jim O'Connor was a fresh-faced graduate of Curry College working as a teacher and assistant football coach at Hull High School when a persistent old friend named Packy Hughes started contacting him about a potential job opening at a private school in West Roxbury.
"I had no interest at all," O'Connor recalled with a laugh. "I was in my second year at Hull and the head coach [Jimmy Wheeler] was leaving to take over at Weymouth High. People had told me I was going to move right into his spot so I really had no interest. I said to Packy two or three times that I had a good thing at Hull and if it works out I'd probably stay there for a while and try to do teaching and coaching thing in public schools."
Hughes persisted and ultimately talked O'Connor into meeting with Brother Joseph McKenna, who was desperate to start a football program at CM. While he was somewhat reluctant to leave the relative security of his job at Hull, Brother McKenna ultimately sold O'Connor when he looked him in the eye and said, 'I want a man that won't apologize for excellence in academics and athletics. I want good students but I want to have good teams.'
That told O'Connor that he would have support from within the administration, and he finally felt comfortable about making the leap. It helped that his wife Mary was also excited excited to move closer to the city, as both grew up in Boston's Mission Hill and were graduates of Mission High School.
"I got right back to him after a day or two and took the job," O'Connor said. "They gave me a used dryer. Upstairs they had a laundry room with a washer and dryer that the Brothers used and they were getting a bigger dryer. They said they could give me a teaching salary but a coaching salary wasn't in the budget. But they had a used dryer they could give me."
"We bought a house about half a mile from (Catholic Memorial) and Brother O'Callahan helped me lug it into the house," O'Connor continued, laughing at the memory. "From that point on, every time Mary did the wash, the diapers came out damp because the dryer only went to a certain heating point."
BUILDING A PROGRAM
The Knights went 4-5-1 in O'Connor's first year, but entered the very first Thanksgiving Day game against BC High with a perfect 8-0 record on the line in year two. The games were held at Boston College in those days and drew tremendous crowds from both sides. CM won that day and went on to win its very first state championship the following week.
O'Connor would guide the Knights to three Super Bowls, including the very first one in 1972, which they lost. The Knights rebounded the following season to win the 1973 Super Bowl, then won it again in 1978, the last year in which the squad reached the postseason.
In his 19 years as head coach, the CM football team won seven league championships. O'Connor was named Division 2 Coach of the Year in 1978, and would be enshrined in the Massachusetts High School Football Coaches Hall of Fame in 1983.
Some of O'Connor's fondest memories involve coaching against the late Jim Cotter, who took over at BC High in 1964 and whose grandson, Bartley Regan, will be starting at quarterback for the Eagles on Thursday.
"In 1964, Jimmy Cotter took over as head coach after being an assistant to [former BC High coach] Ted [Gilligan]. Jimmy and I were great rivals and great friends and I think both of us were insistent on the fact that there would never be a problem between the schools, both on or off the field, and there never was."
A MENTOR TO A PAIR OF KNIGHTS COACHING LEGENDS
Since being hired by O'Connor to coach the Knights hockey team in 1974, Bill Hanson has presided over a dynasty that has won 20 Catholic Conference championships, 17 state titles and 13 Super 8 crowns and six national championships.
However, aside from several photographs of players and teams he's coached, the only affectation from all of Hanson's successes that he keeps close by in his office in the guidance wing at CM is a plaque given him after his Knights won back-to-back titles in 1994-95. The inscription reads as follows:
"Having the courage and class to remain on top is the severest test of a true champions character" - Jim O'Connor
Hanson spent two years as an assistant under former coach Paul O'Brien before O'Brien had to step down in lieu of a successful business he was running at the time. Hanson no previous coaching experience, yet O'Connor had no hesitation in tabbing him as O'Brien's replacement. in turn, Hanson admits to having learned a great deal from O'Connor, who became a friend and mentor over the years and remains so to this day.
"His personal skills and how he deals with people and makes everybody feel important," Hanson said of what he took from O'Connor. "You can really screw up and there was never hell to pay for it. He said things in a way that really made you understand what you did and whatever you did, you didn't make the same mistake twice after talking to Coach."
Hanson went on, "He had that type of almost a mystical influence on people, especially me. I'm a pretty high strung guy and he knew all the right nerves to touch on me. He let me do what I knew best but he could pull the reins on me and say hey, this is the way you might want to do things. He never told you, he never said how you have to do it. He just taught you to think about things and look for a better way, and when you eventually got there, you knew it was Coach's way."
Current head football coach and athletic director Alex Campea first arrived at Catholic Memorial to work for O'Connor as the junior varsity coach in 1977 at the recommendation of then-assistant coach Steve Fratalia.
"What impressed me when I interviewed for the JV job about Coach O'Connor was that he was so friendly, so open, so interested in me as a person and that I was so interested in coaching in his program," Campea recalled. "I could see that he was one of those guys who wanted people on his coaching staff that had a passion about football."
After several years, Campea left to become the head coach at Christopher Columbus High School and eventually moved on to coach at Bridgewater State before returning to CM in 1990, coaching the Knights baseball team to a pair of South sectional finals and three league titles.
In 2004, Campea returned to the gridiron and has been the Knights coach ever since while also holding the position of A.D. Like Hanson, Campea also proudly calls O'Connor a friend and mentor and never lets a day go by without utilizing some of the knowledge gleaned from his working alongside him.
"From Jim O'Connor, the thing that always stood out was the manner in which he was always prepared, day in and day out," Campea said. "He's as organized a person as I've ever seen. The way he would talk to his team, the way he would prepare his team, the way he prepare practice schedules and making sure everyone knew what they were doing at a certain time."
He continued, "Organizational skills was one of the things that Coach O'Connor was always adamant about and I really feel as that's something I've made part of my makeup as far as being a football coach is concerned."
EXCITED TO HAVE THE KNIGHTS BACK IN THE TITLE HUNT
There is a buzz around campus as Catholic Memorial prepares to face BC High in the 50th Annual Turkey Bowl. The Knights and the Eagles are both 3-0 in Catholic Conference play and the winner of Thursday's tilt will go on to the Division playoffs and face Chelmsford.
The excitement of the season has brought many great memories back for the last man to coach CM to the postseason, and O'Connor likens this year's group his 1973 Super Bowl championship squad. That team was built around speed and a dynamic running back in David Singleton, someone whom O'Connor likened to current Knights star Armani Reeves.
But most of all, O'Connor is excited to see Catholic Memorial fighting for a chance to win a championship once again.
"It's a great experience for kids and I'm so thrilled that its happened this way," O'Connor praised. "The years have gone by and the kids in the school here, they don't know what the playoffs and the Super Bowl is all about. It's great to see the excitement amongst the kids in the school and amongst the team.
"Campy's doing a great of taking one game at a time," O'Connor continued. "We used to call it 'play with poise and class.' I see a lot of it this year in the kids. They seem to be a team that makes the big plays. Teams have to have playmakers and they have four kids that certainly are playmakers. That's something special to, to have that."
JAMES R. O'CONNOR STADIUM
Adding to the excitement of the game will be the halftime ceremony in which the field will be officially renamed for O'Connor.
"It really hasn't set in yet," he admits. "I've had kind of a very charmed career. Luckily I was scuccessful here and then at Framingham as an administrator for ten years. I look back on it and CM was just a great place for me. When I made that decision to leave Hull and to come here, it was risky. And yet I never had a bad day at CM."
As far as Hanson is concerned, its an honor that has been a long time in coming and is something he hopes will reinvigorate pride amongst students and alumni in the football program.
"I think its fabulous that he's back and he's going to visible here now," Hanson stated. "There's a lot of guys that don't know Coach. The younger generation, kids who are in their 20s and early 30s that are going to look back and say 'Wow, this is the guy who built the program.' I just hope a lot of his former players, and I'm sure they will, will be here. Thats really going to open up some eyes on Thursday."
And for the man currently charged with upholding his mentor's legacy both on the football field and as the A.D., Campea simply couldn't be prouder to be a part of it.
"I'm honored and privileged to have the opportunity to say that I'm part of the Catholic Memorial community that Jim O'Connor helped establish," says Campea proudly. "It was not just our athletic program. He was a teacher, he was a guidance counselor. Yes, football was where he put us on the map but he did so much to make this school successful both on and off the field. I find myself now sitting in the chair that he once occupied, which I feel very privileged to do."
October, 28, 2011
10/28/11
2:06
PM ET
Boston Cathedral head coach Duane Sigsbury passes along a note that the Panthers' Catholic Central Small tilt with Pope John XXIII has been moved to Saturday at 1 p.m., at Reading High.

Also of note, Saturday's contest between St. John's of Shrewsbury and Xaverian has been moved up to noon, at Xaverian's Hawk Bowl. Hull's game at Abington tomorrow has also been moved up from 7 p.m. to 4 p.m.

Any other notifications can be sent to Brendan Hall at bhall@espnboston.com or Scott Barboza at sbarboza@espnboston.com
June, 1, 2011
6/01/11
2:22
PM ET
The Eastern Mass boys' lacrosse All-Americans along with Academic All-American honors were announced today.

The honorees, as selected by Massachusetts coaches through U.S. Lacrosse, the national governing body of the sport, are list below:

EASTERN MASS ALL-AMERICANS
Mike Curley, Billerica, D, Sr. (Plymouth State)
Grant Whiteway, Billerica, A, Sr. (UMass)
Thomas Flibotte, Cohasset, M, Sr. (Deerfield)
Michael Anastos, Concord-Carlisle, D, Sr. (Dennison)
Billy Polk, Dover-Sherborn, M, Jr.
Jeff Williams, Dover-Sherborn, G, Sr. (St. Lawrence)
Bryan Barry, Duxbury, M, Sr. (Fairfield)
Kane Haffey, Duxbury, A, Sr. (Exexter Academy)
Pete Willauer, Duxbury, D, Sr. (Colby)
Kevin Blair, Hingham, A, Jr.
Eric Marcantonio, Lexington, D, Sr. (Laselle
Conor Hall, Lincoln-Sudbury, A, Sr. (Union)
John Powers, Marshfield, A, Sr. (Assumption)
Kurt Hunziker, Masconomet, M, Jr. (UMass)
Tim Towler, Masconomet, M, Jr.
Mark Riley, Needham, M, Jr.
Will Stenberg, Needham, A, Sr. (Albany)
Jimmy O'Connell, St. John's Prep, M, Sr. (Trinity)
Kyle Guilbert, Walpole, A, Sr. (Merrimack)
Conor Darcey, Wellesley, G, Jr. (Penn State)
Sam Lawrence, Wellesley, M, Sr.

ACADEMIC ALL-AMERICANS
Calvin Williams, Wayland
Peter Trombly, Acton-Boxborough
Sean Carroll, Hull
John Carrier, Cohasset
Colin Clark, Marshfield
Daniel Cashman, Pentucket
Kevin Dunn, Pentucket
Benjamin Cook, Andover
Evan Katz, Hopkinton
Peter England, Milton
Conor Nugent, Framingham
Jay Rosenberg, Milton
Edan Lewis, Gloucester
March, 14, 2011
3/14/11
11:01
PM ET
ESPNBoston high school editor Brendan Hall and correspondent Matt Noonan break down all of the action from today's Division 4 state championship, and the three other Eastern Mass finals, at TD Garden:



March, 14, 2011
3/14/11
6:28
PM ET
By
Andy Smith
| ESPNBoston.com



BOSTON -- The Hull High School girls' basketball team was no stranger to challenges, even before they faced a pesky New Mission team Friday in the Division 4 State Final at the TD Garden.

It came into the state tournament as No. 16 seed in the South and had to win five games, including one against No. 1 seeded Old Colony, to get a shot at the championship. It won two of those games by four points, which proved it had the grit to survive a fourth quarter run by New Mission to come out on top, 59-55.

Hull (16-10) lead a majority of the game and held a 40-31 lead after three quarters. Up until that point, it had been using its size and inside game to draw fouls and get to the free throw line.

"We play against teams in our league that are tall and very physical down low, so to play against a team that had amazing three-point shooters and is not very strong down low is opposite from what we're used to," said Nicole Heavern, who had 27 points and 11 rebounds. "We took advantage of our height and kept going down low and it worked out for us."

New Mission (18-6) would not be held down however, and brought the deficit down to two points. Even though it was not as tall as Hull, it was much quicker, so it closed the gap on the scoreboard with transition baskets and by creating turnovers. In the last minute, Jazuela Larguente hit two clutch three-pointers, keeping her team within two whenever it appeared Hull might be putting the game away.

She finished with 23 points for New Mission, including a 14-point fourth quarter that just wasn't enough to get the score even to Hull's.

"(Hull) pretty much knew exactly what to do, but we fought hard though," said New Mission coach Greg Berry. "We tried to make it a fast-paced game and sometimes when you late rally, the glass slipper comes off and Cinderella goes back to her normal self. That's how I take this game today."

When it seemed like Hull had its back agains the ropes, it was its mental toughness than kept them from giving up the lead. With the seconds waning and New Mission forced to foul, Amy MacDonald and Lauren Geary made the necessary free throws to keep the game in their team's favor.

"I just told them to stay mentally tough, don't break down, don't panic, don't turn the ball over," said Hull coach Elizabeth Londergan. "We were up, so there was no need for us to panic. I told them to just stay under control."

MacDonald's were particularly crucial, with her final two coming with 19 seconds left. She was 4-of-4 from the line in the fourth. She finished the game with 8 points, all of which came in the final frame.

Geary was 5-of-6 from the line in the fourth, and 8-of-10 for the game. She finished with 12 points and 11 rebounds.

As a team, Hull was 27-of-39 from the line, as opposed to New Mission, who was only 4-of-9 from the line. The discrepancy came from Hull's continued inside game. Heavern went to the line 17 times in the game, converting 11. She got to the line 10 times in the first quarter as New Mission tried to find an answer to her team's size advantage.

"Free throws were key," said Geary. "We work on them every day at practice and we knew this game was going to come down to a few points and we made them when it counted.

Hull survived what would be a debilitating problem for many athletic programs: a lack of financial support from the school's budget. Rather than use it as an excuse, it became a rallying point.

"This is our second year in a row with no money," said Londergan. "We have no money in the athletic budget."

"When I was coaching two years ago they said we might not have sports and I'm thinking, 'Are you kidding me?' How can you not have sports? I just didn't get it. Now with the tough times they said everyone needed to fundraise and everyone had to do it or we might not have been able to play."

"The boosters, the mothers and fathers, all the student athletes, they all stepped up."

Now they have a state championship.



March, 12, 2011
3/12/11
4:39
PM ET
By
David Carty
| ESPNBoston.com
BOSTON -- Cohasset boys' basketball coach Bo Ruggiero didn't mince words at halftime, with his team down 28-24 to Boston Cathedral.

"I said, 'We're not playing well. We're shooting the ball poorly. Sam Richardson and Robert Jones, our two mainstays for three years, are playing terrible.'" relayed Ruggiero.

Those two players responded as Cohasset matched the thunder provided from the Skippers fans to storm back on the court, overcoming a six-point fourth quarter deficit to take a close contest, 65-64 to win the MIAA Division 4 Boys' South Sectional Championship.

"This is a gutsy group of kids," said Ruggiero. "My guys, who are supposed to be the players, became the players. We got a great effort from our five."

It took some hot hands to spark the comeback, with guard Sam Richardson scoring 12 points on 6-of-7 shooting in the third quarter, keeping Cohasset (22-2) close.

Richardson gave way to the point guard Jones, who hit a perfect 5-for-5 field goals, including four 3-pointers as the trump card in the comeback Cohasset win. Those shooting performances were looked at a responsibility for Jones and Richardson.

"I didn't really have an option with what I had to do," said the senior co-captain Richardson. "I played lousy in the first half. I wanted to win."

"We had some discussions at halftime and came out in the second half and ran a more disciplined offense, which ended up getting us more quality shots," said Ruggiero. "When you take bad shots and throw the ball away like we were in the first half, they (score) quickly."

Cathedral (20-4) demonstrated its athleticism from the start, punctuated by Kyle Lawyer's dunk just a few minutes into the contest, part of his 17-point effort. Forward Joe Green led all scorers with 23 while 5-foot-3 point guard Carlos Bermudez (perhaps a generous height listing), pushed the tempo with 17 of his own, accenting six steals as a thorn in the Skippers' side.

"You can't press little shorty (Bermudez). He's just way too good of a player," said Ruggiero, who switched defenses from a trap, to man-to-man and back to his base 1-2-2. "Our mixing and matching of the defenses kept the game in reach."

Adding to the early adversity was Kyrel Jaundoo's four first half fouls. He brought down ten first half rebounds and was a defensive standout for Cohasset. Rather than curtail his high-energy game, Jaundoo kept the pace high as Ruggiero rolled the dice by starting him in the second half.

"We're not in that game without Kyrel Jaundoo," said Ruggiero. "There was no way we were going to win that game without his presence. He's a tremendous athlete. He's come a long way. He is a major reason why we were even around early in that game."
Jaundoo never did foul out, as he and junior Robbie Mahoney muscled their way to double-double performances.

The exclamation point came as Jones nailed a three-pointer while falling down, boosting the Cohasset lead to 63-59 with 15 seconds to go, a shot he didn't realize found the twine.

"I thought I bricked it," he said. "I fell down and tried to sell the foul. Sometimes they fall I guess. (That was) all luck."

Bermudez spotted-up for a three at the top of the arch to close the gap to 63-62. Richardson was intentionally fouled, hitting both shots to increase the lead back to three points. With fouls to give, Cohasset took the clock down to 4.3 seconds. Bermudez heaved a three in pressure, which failed to catch iron. Green put the chance home, but Cathedral came up one point short.

Now, Cohasset will try its hand at a state title at the T.D. Garden, a place Ruggiero hasn't coached in since the 1974-75 season, as a member of the Medfield coaching staff.

"Everything that's in the past is in the past," said the coach. "The present is right now, enjoying this game. The future is Tuesday."
Asked what the present felt like for Richardson as he clutched the trophy after the game, he went through the spectrum of emotion.

"I'm jittery. I'm everything. I'm pumped," he said. "No one ever thought we be here. Proving (we could get here) is one thing and actually (winning it) is another. It's awesome."

HULL 50, GREATER NEW BEDFORD 38

Jumping out to a 13-2 to run, Hull's early start foreshadowed the team's later jumps for joy, winning the MIAA Division 4 Girls' Basketball South Sectional Championship over Greater New Bedford, 50-38.

The Pirates (15-10) received balanced scoring and rebounding, dominating in the paint throughout. Nicole Heavern and Amy McDonald each netted 13 points, with Lauren Geary's 12 not far behind.

Hull's early run opened up a 13-2 advantage, but the Lady Bears (15-7) chipped away, thorough transition offense and Vanessa Conceicao's drives to the hoop, leading all scorers with 16 points. But the Greater New Bedford offensive never got too comfortable, as the Pirates opened in a full court press and never allowed much room to breathe.

"We're an in your face defense," said Hull coach Elizabeth Londergan. "We're going to be in your face all game. So, get ready for it. Defense wins championships. Now we're the champs."

The Pirates led 27-16 at the half, but received more good news when Lady Bears' forward Stephanie Antoine fouled out in the third quarter. Without one of its best defenders and toughest interior players, Hull swept the offensive boards clean, out-rebounding the Lady Bears, 48-29, led by Katie Manning's 12 rebounds.

Entering the fourth quarter down 40-27, Hull needed just two field goals (part of 10 points in the quarter) to keep Greater New Bedford at bay.

The win was a triumph in more ways than one for Hull, which opened the school year with no budget for the team, getting the necessary $240,000 by holding yard sales, bake sales, anything to raise the money.

"It's really good for the town of Hull because the last two years we've had no budget," said Londergan. "We're thanking the boosters, the AD and all the parents who continue to work hard so these girls can have a chance. Without them, we wouldn't even be here. We'd be not playing."

Now, they'll continue playing in hopes of a state championship. The game plan will be the same for that game as it has been for every other contest throughout the season. In the Pirates' locker room, a "Little Things" poster is on display, with items written on it from members of the team. The poster includes little things like diving on the floor and making free throws. Londergan said if the team followed the poster, they'd be playing in the T.D. Garden.

"I don't think they believed me," she said with a smile.