Boston High School:

Imani Pina
October, 6, 2012
10/06/12
5:39
AM ET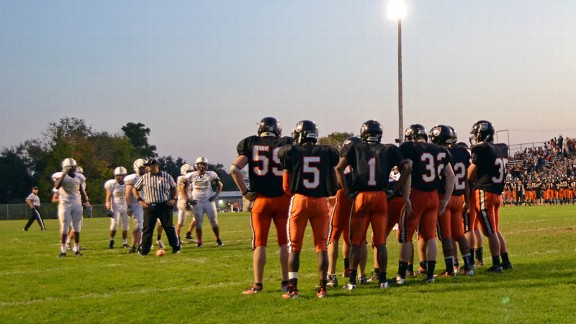 Scott Barboza/ESPNBoston.comStoughton High football returned to play for the first time since the death of teammate David Wade. After attending Wade's funeral Friday morning, the Black Knights turned in a complete effort in a 20-0 win over Hockomock League rival Foxborough.
STOUGHTON, Mass. -- The enduring image at Anthony L. Sarno Field Friday night came after Stoughton's 20-0 win. The Black Knights players, coaches, parents, student fans – almost all clad in black and orange – milled about the field.
None of them seemed to know how to leave. None of them seemed interested either. The gridiron, that comfortable cocoon, a patch of green earth and a little slice of heaven insolated from the inevitable coldness of the outside world, was consoling. It was apparent that as soon as the crowd thinned reality would come crashing back. Maybe in the walk back to the car, maybe on the drive home, maybe before shutting the lights off for the night, maybe Saturday morning.
On Friday morning, Stoughton football player David Wade, 17, was buried. Friday night, his football teammates played a game worthy of tribute.
But it's the thereafter that's unnerving.
What happens when we're all alone?
Wade's presence was all over Sarno. The Black Knights kept Wade's uniform, replete with helmet and gloves, on their bench. A decal with Wade's No. 56 was affixed to back the back of each player's helmet. T-shirts with the "56" were printed. The number was also spray painted onto the grass in a giant shield near one of the field's entrances. The crest with a 15-foot high 'S' in the middle and Wade's number was outlined with yard lights.
A moment of silence was observed before the National Anthem. The game ended with Stoughton head coach Greg Burke walking over to gather Wade's belongings from the bench. Even as Burke was swarmed by media postgame and fought through tears during local television interviews, he clenched the helmet and jersey in his left hand.
Burke talked about his team "sweating and crying" through the week in practice. The 100-plus members of Stoughton High's football ranks, along with the cheer squad which Wade was a part of during basketball season, were in attendance at St. James Church hours before kickoff. They refocused in time for kickoff. Senior Imani Pina, who scored the Black Knights' second touchdown on a fumble recovery, described it as a business mentality. After paying their respects in person, the next agenda item was honoring Wade with a victory.
But what happens next?
After watching the community rally in the past week, Burke reflected on the experience. With soft eyes and a thick mop of silver gray hair on his head, it felt as though truth had just sunk upon him. The healing has yet to begin.
"They're struggling right now," Burke said of Wade's family. "You can't even begin to imagine what they're going through mentally."
Burke intends to visit Wade's family, which was in attendance for Friday's game, on Sunday with a group of his players. He'll present them with the game ball.
Friday was also homecoming for Stoughton. The pomp and circumstance droned on through halftime, another small respite of normalcy. That too faded. And by the time the clock hit triple zeroes the unease returned.
Last Friday, the Black Knights claimed a win over Hockomock League target Mansfield for a second straight year. Less than 24 hours after contributing to that win, Wade was gone.
One week later, the sting of loss remains. At least for a night, it was shared.
"Dave," Pina said, "he was with us everywhere tonight."
There is strength in numbers -- five and six.
October, 5, 2012
10/05/12
10:59
PM ET
By
Ryan Lanigan
| ESPNBoston.com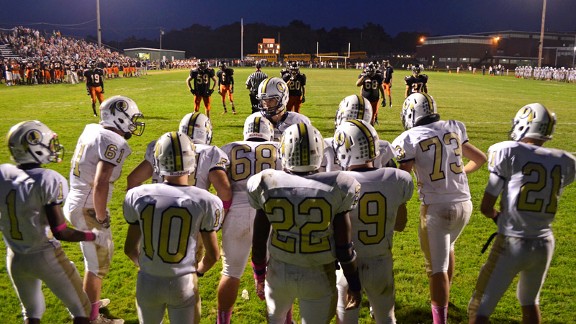 Scott Barboza/ESPNBoston.comStoughton endured a trying week and the death of teammate David Wade to earn a critical 20-0 victory over Foxborough Friday night at Anthony L. Sarno field.
STOUGHTON, Mass. -– Stoughton head coach Greg Burke has been saying it for a long time, and this year, his team is following through.
Play better than last week.
The Black Knights (5-0) remained unbeaten and again dominated on defense to knock down Foxborough, 20-0, in their first game since losing teammate David Wade less than a week ago.
Only one of the two teams on Anthony L. Sarno Field had a repeat performance from last week. Stoughton, who beat up on Mansfield in the rain last Friday 25-6, put on an encore performance with a relentless running attack and a bend-but-don't-break defense.
Fresh off a shocking 21-0 upset of North Attleborough, Foxborough (3-2) failed to put any points on the board, despite the majority of its drives entering Stoughton territory.
[+] Enlarge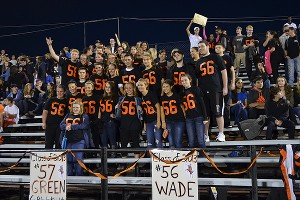 Scott Barboza/ESPNBoston.comBlack-and-orange T-shirts with Wade's No. 56 were made up for Friday night's game.
Minutes after a moment of silence to honor Wade, who wore No. 56, the Black Knights took their opening drive 53 yards on just four plays, as senior Marcus Middleton took a sweep to the left for a 40-yard score.
"We don't look like much," Burke said. "We don't have a lot of size, but we have some tough kids. They're unbelievable."
The Black Knight defense, which now only averages 5.2 points against a game with two shutouts, set the tone early with a big third down stop on Foxborough star running back Kiivone Howard.
As both teams traded possessions through the first half, it looked as though the Warriors caught a big break with less than two minutes to go.
On a first and goal from seven yards out, Stoughton's Aaron Mack carried to the right before being hit hard, forcing a fumble at the one-yard line, which Foxborough recovered.
As the Warriors tried to run the ball out of the end zone, they kept hitting a wall and were faced with 3rd down from their own 1. As quarterback Mike Slaby rolled out to the left, Stoughton senior Imani Pina punched the ball out. The ball fumbled around the goal line and then finally someone came jumping out of the pile with possession.
Pina, touchdown.
The senior scored with just 13 ticks left in the first half and gave Stoughton another boost before halftime.
"Pretty much all week we worked on [that play]," Pina said. "I saw the [quarterback] pull the ball so I stepped out of the box and just made a play. I tried to punch it out and it came out. I saw it on the ground and I picked it up."
In the second half, the Warriors were able to reach the Stoughton 10-yard line on two occasions, only for their offense to be thwarted on both occasions.
On their first try, a trick play gone wrong cost them 15 yards and their fourth down play went incomplete.
Two Stoughton drives and one play later, Stoughton quarterback Dan Eckler caught the Foxboro defense napping and found a wide open Middleton for a 67-yard touchdown pass. The extra point was no-good, but Stoughton went up 20-0 in the final frame.
On Foxborough's second attempt from Stoughton's 10, a drive that had gone 52 yards on eight plays, back up quarterback Nolan Rogers' (in for the injured Slaby) pass was picked off by Pina and Stoughton sealed the game.
STOPPING HOWARD
Foxborough's running back came into the game with a league-leading 12 rushing touchdowns, having scored 3 in each game thus far.
Stoughton consistently loaded the box with 8 or 9 guys and dared Foxborough to throw. Howard still found success, carrying the ball 24 times for 109 yards. He had could have had more, but the tough Stoughton defense was able to exploit some plays for big losses.
"It's [frustrating]," Foxborough head coach Jack Martinelli said. "We were on the field defensively too long. You have to answer, and we didn't. Simple as that."