Boston High School:

Inter-Lakes-Moultonborough
August, 14, 2013
8/14/13
5:46
PM ET
By
Roger Brown
| ESPNBoston.com
New Hampshire's high school football season will kick-off Wednesday, when teams are allowed to hold their first practice in preparation for the 2013 season.

Football in the Granite State has a drastic new look this year. The New Hampshire Interscholastic Athletic Association scrapped the six-division format it had used since 2008 in favor of three larger divisions that have four conferences in each division. The divisions are still based on enrollment and here's how the teams were divided:
Division I
East: Exeter, Winnacunnet, Dover, Spaulding and Timberlane.
West: Keene, Nashua North, Nashua South, Bishop Guertin and Alvirne.
North: Concord, Manchester West, Manchester Central, Manchester Memorial and Bedford.
South: Pinkerton, Salem, Londonderry, Goffstown and Merrimack.
Division II
North: Kennett, Hanover, Plymouth, Laconia and Lebanon.
South: Milford, John Stark, Windham, Souhegan and Trinity.
West: Monadnock, Con-Val, Hollis-Brookline, Sanborn and Kearsarge.
Central: Portsmouth, Pembroke, Merrimack Valley, Kingswood and St. Thomas.
Division III
South: Pelham, Campbell, Bow and Somersworth.
Lakes: Inter-Lakes/Moultonborough, Gilford, Winnisquam, Franklin and Newfound.
West; Raymond, Epping-Newmarket, Bishop Brady and Farmington/Nute.
East: Mascoma, Newport, Fall Mountain and Stevens.
"From the conversations I've had, more coaches like the new alignment than don't like it," Manchester Memorial coach Peter Colcord said. "I''m just not happy that we've gone down from tenB (regular season) games to nine. That's a lot of work, and you want to play as many games as possible.
"I also understand that you can't please everybody."
New Hampshire teams will no longer have room for a non-league game, so the Pinkerton-Brockton rivalry is among the casualties of the new alignment.
Eight teams will make the playoffs in each division (two from each conference), so the number of playoff teams (24) is the same as it was last year, when four teams qualified from each of the six divisions. The top two teams from each conference will meet in the quarterfinals. Teams will be reseeded for the semifinals using a point-rating system that will factor in each team's record and strength of its victories. A victory over a strong team is worth more that a victory over a lesser opponent.
"I like it," Nashua South coach Scott Knight said. "I'm not one of those guys who's afraid of change.
"The only thing I don't like is the two teams in one conference playing in the (quarterfinals). I don't see why you have to play a team twice in a 20-team division. I'd like to play different teams in the playoffs.
"After this year I'm sure they'll tweak it, but we're definitely headed in the right direction."
TEAMS TO WATCH
Here are 10 teams that should be in the hunt for a championship this season:
PINKERTON ACADEMY -- The Astros have the state's premier running back in senior Manny Latimore, who rushed for 1,477 yards last season.
NASHUA SOUTH -- South quarterback Trevor Knight, a three-year starter, has committed to the University of New Hampshire.
EXETER -- The Blue Hawks are seeking their third straight Division I title.
WINNACUNNET -- The Warriors won last year's Division II championship. They make the move to Division I this year.
CONCORD -- If there's a surprise team in Division I this season it will likely be the Crimson Tide.
PORTSMOUTH -- Clippers are also stepping up in class (to Division II) after winning the last two Division III championships.
TRINITY -- Quarterback Carmen Giampetruzzi is headed to Boston College … to play baseball.
PLYMOUTH -- Plymouth coach Chuck Lenahan has guided the Bobcats to 19 state titles.
BISHOP GUERTIN -- There's plenty of talent left over from a team that reach the Division II semifinals last fall.
BEDFORD -- The Bulldogs competed in Division III two years ago, moved to Division II last year and are in Division I this season.
MEET THE NEW BOSS
First-year head coaches this season: Mark Phillips (Alvirne), Dante Laurendi (Merrimack), Rob Pike (Salem), Jeff Hunt (Spaulding), Rich Bergskaug (Hollis-Brookline), Brian Pafford (Portsmouth), Mike Lochman (Souhegan), Greg Gush (Campbell), Vance Sullivan (Manchester West), Jeff Kaplan (Franklin) and Chris Marden (Gilford).
NIGHT VISION
Pinkerton Academy in Derry has added lights around its football field and, with one exception, will play its home games on Friday nights this season. Pinkerton's game against Londonderry will be played in Derry on a Saturday night, Sept. 28.
Last year, Pinkerton was the only Division I school without lights.
Roger Brown is a staff writer for the New Hampshire Union Leader and publishes the New Hampshire Football Report. Follow him on Twitter: @603SportsMedia.
September, 2, 2012
9/02/12
9:04
PM ET
By
Marc Thaler
| ESPNBoston.com
Talk of an obscure rule in the NHIAA football policies and procedures manual -- and, more specifically, one prominent head coach's violation of it -- dominated the 2012 preseason.

Mike Beliveau made statewide news Aug. 21 when the story of his infraction broke in the
New Hampshire Union Leader
. The longtime leader at Division III power Souhegan said he unknowingly violated the manual's 15th point of emphasis, which prohibits filming or scouting opponents before their final scrimmage or jamboree of the preseason.
Beliveau attended the Aug. 17 scrimmage between Division I Nashua South and host Winnacunnet, a Division II program doubling as Souhegan's season-opening opponent.
"I did not know the policy. As a 20-year veteran coach, I should have," Beliveau told the Union Leader. "Because I did not know the policy, I violated the policy when I went scouting. I've recommended to my school, my team, the NHIAA, that I be unavailable to coach the first two regular-season games."
School officials, not the NHIAA, handle disciplinary issues involving coaches. But the state's governing body for interscholastic athletics must approve of the school's recommended sanction.
All parties agreed a one-game penalty was sufficient, meaning Beliveau will serve a Week 1 suspension on Aug. 31 while his Sabers face the team he scouted.
"For the nature of the infraction, in football, two weeks is a good chunk of the season," NHIAA executive director Patrick Corbin told the statewide newspaper. "The AD and myself agreed that one game was adequate for this situation."
Beyond the initial statement provided, Beliveau has declined to comment.
Many of his coaching colleagues, however, spoke openly about the matter. They did so during, of all events, the 23rd annual Queen City Jamboree on Aug. 24 at Gill Stadium. The QCJ has long been considered football's final dress rehearsal before the regular season kicks off.
The overwhelming majority of football coaches at the jamboree said they did not know the rule existed – until Beliveau's misstep brought it to light.
Brian O'Reilly, entering his 35th year at Pinkerton Academy in Derry, is among them.
"I'm not surprised he didn't know and, I think, most coaches didn't know," O'Reilly said. "And to be honest with you, I never really looked at (the manual) either."
The fact the rule was enforced opened eyes. Several coaches said, for years, representatives of opposing teams attended their scrimmages.
Justin Hufft, the second-year grid boss at Goffstown, said opposing coaches routinely caught peeks of Souhegan's scrimmages. Hufft spent 11 seasons as an assistant to Beliveau.
"When I was around him, I always saw him be nothing but gracious to other coaches … So, I'm disappointed when I see people treating him in a different manner," he said.
Of course, the fact that the violation occurred at Winnacunnet didn't help Beliveau's cause. The Hampton school's athletics director, Carol Dozibrin, is also the NHIAA football committee chair.
Beliveau was spotted in plain sight, supporting his assertion that he didn't know the rule existed. If he intended to knowingly ignore the policy, why not make himself less visible?
Regardless, this much seems clear:
"In the future," Bishop Guertin head coach Travis Cote said, "I don't think many guys will make those mistakes after what's happened to Mike this year."
PRESEASON NO. 1
Unlike August 2011, the Exeter Blue Hawks won't enter this Division I football regular season with modest expectations.
The spotlight shines brightest on them.
Exeter wears the bull's-eye as defending champion, status earned after last year's 23-13 championship upset of Pinkerton. The stunner capped a storybook worst-to-first turnaround, as the Blue Hawks went winless in their 2010 Division I debut.
Which explains this: Exeter earned New Hampshire's preseason No. 1 ranking in the fifth-year Power Poll, the weekly statewide high school football top 10 as voted by media members from the Union Leader, WGIR-Radio and WMUR-TV.
"Any time your school's name is being tossed around with any of those programs, it's great," Exeter head coach Bill Ball said about being joined in the top three by No. 2 Pinkerton and No. 3 Manchester Central. "It says a lot about the quality of football in New Hampshire."
Ethan Joyce is among Exeter's senior leaders. He'll take the snaps in the program's signature straight-T offense. Halfbacks Tyler Grant and Colby Swane provide the blend of power and quickness.
Defensive tackle Zach Bosen and linebacker Jamie Vogt anchor Exeter's hard-hitting defense. Placekicker Logan Laurent, offered a scholarship by the University of New Hampshire, returns to give Exeter a decisive advantage on special teams.
"We have some experience back, guys that have been in the fray," Ball said. "It's incumbent upon them to let the new guys know what's expected."
DECISIONS, DECISIONS
Offensive linemen are often overlooked. But Souhegan's 6-foot 4-inch, 290-pound left tackle Jake Kennedy will be tough to miss this season.
Kennedy already has seven verbal scholarship offers to play college football at either the Football Bowl Subdivision or Football Championship Subdivision levels.
The list of schools includes Massachusetts (FBS), and Colgate, Fordham, Holy Cross, Maine, New Hampshire and Rhode Island.
"I'm not focused on (the scholarship offers) right now. I'm focused on this team," Kennedy said. "I want to help these guys win a championship."
NEW FACES
All six of NHIAA football's divisions feature at least one new head coach. Here's the rundown:
Brad Archer (Gilford) and Art Jacobs (Farmington-Nute) walk through the door in Division VI. Ryan Clark (Pelham), John Francis (Inter-Lakes-Moultonborough), Ross Salovitch (Epping-Newmarket) and John Welch (Sanborn) join Division V.
Steve Burns leads defending Division IV champion Trinity. He takes over after five years as an assistant on Gary Leonard's coaching staff.
"Is it any different for me? A little bit. Anything that goes wrong for me is my fault. I don't get to blame Gary anymore," Burns deadpanned.
Ryan McCartney – whose uncle is former University of Colorado head coach Bill McCartney – guides Division III ConVal. Claude Gagnon calls the shots at Division II Spaulding.
Former Westford (Mass.) Academy assistant Adam Gagne secured the job at Division I Salem.
Gagne replaces New Hampshire coaching legend Jack Gati, who amassed a 221-138 career record (four state titles) in 34 years at Trinity, Concord and Salem. The new coach scrapped the Salem staple straight-T for the spread.
"I have the utmost respect for Jack and what he's done. If anything, it's made (the coaching transition) easier for me because (the players) know football," Gagne said. "That's a true testament to Jack."
Marc Thaler is a reporter for the New Hampshire Union Leader. He co-hosts the "N.H. High School Football Show" on WGIR-AM 610. Follow him on Twitter: @marc_thaler.
August, 5, 2012
8/05/12
12:17
AM ET
By
Roger Brown
| ESPNBoston.com
HANOVER, N.H. -– If you were rooting for Vermont, the Dartmouth College scoreboard wasn't a pretty sight following Saturday's 59th annual Shrine Maple Sugar Bowl.

New Hampshire scored eight touchdowns -– five on offense, two on defense and one on special teams –- and kicked two field goals en route to a 62-24 victory.

New Hampshire set a Shrine Maple Sugar Bowl record for points scored in a game. The 2000 Vermont team held the previous record (47).

"People will look at the score, but this was a football game for three quarters," New Hampshire coach Mike Beliveau (Souhegan) said. "We played everybody a lot, and maybe that wore them down."

New Hampshire's Chris Chininis (Souhegan) got New Hampshire on the scoreboard when he returned a punt 61 yards for a touchdown one minute into the game. Mike Leonard (Trinity) helped double New Hampshire's lead when he returned a fumble 28 yards for a TD on Vermont's next possession.

"They fought back and made it game toward the end, but we had 14 points before the offense even stepped on the field and I think that was a huge part of the game," Chininis said. "It wasn't just the offense. We won all three phases of the game."

New Hampshire led 17-7 after one quarter, 34-21 at halftime and 41-24 entering the fourth.

"We were in a hole 14-0," Vermont coach Mike Norman said. "The kids could have definitely rolled over and given up. They didn't. We made some plays and had some of the emotion. They had two or three kids who made some big-time plays."

The victory stretched New Hampshire winning streak to 12 games. Vermont has been outscored 433-145 during that streak.
New Hampshire leads the series 44-13-2.

"Everybody will look a the score and say, 'They defense must have lousy on defense,'" Norman said. "No. The defense was on the field too much."

NUMBERS GAME
Salem running back Jerickson Fedrick led the New Hampshire offense by rushing for a game-high 140 yards on 18 carries. Fedrick, who moved from Chelsea, Mass., to Salem when he was in middle school, also ran for three touchdowns.

Fedrick ran for 1,801 yards and 27 touchdowns last season, and rushed for 4,568 yards during his high school career.

New Hampshire also received two TD catches from Manchester Central's Junior Brown.

Timberlane's Evan Bidgood was the most effective of New Hampshire's three quarterbacks. He completed 16 of 21 pass attempts for 186 yards and a TD.

Vermont quarterback Robert Coloutti (Fair Haven) completed 18 of 41 passes for 289 yards and three TDs. Levi Ellis (Fair Haven), Marshall Hastings (Middlebury) and Kyle Kelly (Rutland) each caught a TD pass.

Kelly led Vermont in receptions (seven) and Ellis led Vermont in receiving yardage (126).

LIGHTNING STRIKES
When halftime arrived, a lightning storm came with it. As a precaution, the stands were cleared of spectators. The third quarter began after a 90-minute delay.

The delay didn't seem to bother Vermont, which forced turnovers on two of New Hampshire's first three second-half possessions. It was a 10-point game (34-24) after Jakob Oliver (Burr and Burton) kicked a 22-yard field goal with 11:06 left in the third quarter.

New Hampshire scored the game's final four TDs, one of which came when Codey Dalton (Manchester Memorial) returned an interceptions 37 yards.

"We were down 10 points, we needed to convert on a third down and we didn't," Vermont coach Mike Norman said. "We punted, they scored and then we had to start throwing it around. They beat us, but we didn't help ourselves."

KICKING THINGS AROUND
New Hampshire received two field goals (38 and 22 yards) from Conor Donovan (Inter-Lakes/Moultonborough). Donovan also averaged 45.5 yards on four punts.

New Hampshire's Dan Gorman made each of his eight point-after kicks.

LET'S MAKE A DEAL
David Orr, the Shrine Maple Sugar Bowl media director, said this was the first year of a three-year contract with Dartmouth, which means the 2013 and 2014 games will also be played in Hanover, N.H.

NEW HAMPSHIRE 62, VERMONT 24
New Hampshire 17 17 7 21 — 62
Vermont 7 14 3 0 — 24

First Quarter
NH—Chris Chininis 61-yard punt return (Dan Gorman kick), 14:00.
NH—Mike Leonard 28-yard fumble return (Gorman kick), 12:14.
NH—FG Conor Donovan 38, 5:31.
VT—Levi Ellis 79 pass from Robert Coloutti (Jakob Oliver kick), 4:58.

Second Quarter
NH—Jerickson Fedrick 1 run (Gorman kick), 12:15.
NH—Junior Brown 3 pass from Evan Bidgood (Gorman kick), 4:25.
VT—Marshall Hastings 32 pass from Coloutti (Oliver kick), 2:18.
VT—Coloutti 3 pass to Kyle Kelly (Oliver kick), :36.
NH—FG Donovan 22, 0:00.

Third Quarter
VT—FG Oliver 22, 11:06.
NH—Fedrick 37 run (Gorman kick), 4:47.

Fourth Quarter
NH—Brown 10-yard pass from Codey Dalton (Gorman kick), 14:10.
NH—Dalton 37 interception return (Gorman kick), 13:22.
NH—Fedrick 8 run (Gorman kick), 3:12.
June, 27, 2012
6/27/12
2:07
PM ET
By
Marc Thaler
| ESPNBoston.com
Fundraising totals between the teams competing in the inaugural New Hampshire East-West High School Football All-Star Game couldn't have been much closer.

The game itself? That's a different story.
West's all-stars – widely considered underdogs for the June 23 contest at the University of New Hampshire – proved too tough. The combination of overpowering offense and dominant defense led to a 33-point halftime lead and 44-12 final score.
Thaddeus "Junior" Brown was toughest to cover. Manchester Central High's 6-foot 3-inch, 180-pound receiver made all four of his catches for 87 yards in the first half. Three receptions went for touchdowns, including a 50-yard down-the-right-seam dagger that helped Team West build a 37-6 halftime lead.
"This means a lot. I worked hard for it," Brown, the game's first Bo Dickson MVP, said of the trophy he was handed for his efforts. "The coaches helped me out a lot. I just busted my butt for 10 days. The outcome was this MVP."
Off the field, the outcome of Brown's efforts, as well as the 73 other all-stars, was even more impressive.
Teams East and West combined to raise $51,301.21 for Children's Hospital at Dartmouth-Hitchcock (CHaD) in Lebanon.
Team East was designated the home team. It earned use of UNH football's locker room for winning the head-to-head fundraising contest. Coach Bill Raycraft's players raised $25,751.21 – a mere $201.21 more than West's standouts.
In total, $301,000 was raised for CHaD.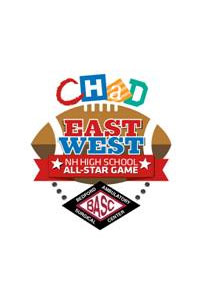 BASCTBD by editorial
"These kids came together and did a heck of a job for a great cause," said Team West coach Keith Jones, whose 6-year-old son, Harris, a CHaD patient, participated in the pre-game coin toss.
Harris was involved in a freak snowmobile accident three years ago. His father has said many times if not for CHaD, right-leg amputation would have been required.
On gameday, the soon-to-be first-grader made an appearance in Team West's locker room prior to warm-ups. It gave the players an additional boost, which carried over to kickoff.
Several playmakers fueled Team West's 37-point first half.
Brown caught a pair of 9-yard TD passes from Manchester West High's Aaron Martin, who also used his speed to sneak inside the left pylon for a 2-yard rushing score.
Merrimack High's Jackson King returned an interception 19-yards for a TD.
Nashua South's Johnny Bieren was crucial to posting a second-quarter safety. He also forced and recovered a fumble on one of his three quarterback sacks.
Central's Stephen Grzywacz – who raised a players-best $5,965 for CHaD – converted five extra points (6-for-6 overall).
East's all-stars committed five of the game's eight turnovers. The favored squad fell behind, 30-0, before Salem High's Jerickson Fedrick returned a kickoff 96 yards to paydirt.
Fedrick, and Pinkerton Academy of Derry stars Kevin Davies and Emmitt Smith, were all neutralized. Combining to rush for 4,649 yards and 57 TDs last fall, the trio managed 99 yards – 28 through two quarters.
Conor Donovan of Division VI cooperative team Inter-Lakes-Moultonborough scored East's second TD early in the third. Derek Paradis of Nashua South answered with an up-the-gut run.
"The first series, I thought we did pretty well. We stopped them (but) right away turned the ball over," Raycraft said. "That's not the way you want to start an all-star game. From there, we pressed a little bit more than we probably should have and, because of that, created more turnovers.
"But, like I told the kids, I had a blast these last (10) days," he added. "I couldn't have asked for a better group of kids. It's going to be fun watching where they go from here. The score will fade, but they set the tone for fundraising."
BASEBALL CHAMPS
Division I
: Dillon Emerson's extra-inning hit snapped two droughts, including a lengthy one for Concord High.
The senior's single down the right-field line scored Pat Cannon and gave the top-seeded Crimson Tide a 5-4 walk-off win over No. 3 seed Merrimack High in the state final June 16 at Northeast Delta Dental Stadium, home of Double-A baseball's New Hampshire Fisher Cats.
Emerson's hit snapped an 0-for-4 skid in the title game and earned Concord (18-4) its first crown since 1980. The Tide lost the state final in 2011.
"I was in the dugout upset over all the missed opportunities I had when coach [Scott Owen] came up to me and said, 'Stick with it. You'll get your at-bat and you'll come through.' He was right," Emerson told the
New Hampshire Sunday News
.
November, 27, 2011
11/27/11
9:35
PM ET
By
Marc Thaler
| ESPNBoston.com
Bill Ball and his Exeter High Blue Hawks, in their second season competing against the state's largest schools, took the express elevator from cellar to penthouse.
It's one way to explain Exeter's voyage.

As is this: "It's just the ultimate roller-coaster. That's what it is," massive lineman Brad Tiernan said after his team stunned heavy favorite and statewide No. 1 Pinkerton Academy, 23-13, for the Division I championship at Memorial Field in Derry.
The Division I final on Nov. 19 was supposed to be a formality. The Astros, after all, topped the statewide poll since the preseason, securing every first-place vote in the process. They were one win from completing the first wire-to-wire run at No. 1 in the four-year era of rankings.
They were facing a former Division 2 power, but a program that went 0-8 in its Division I debut (1-9 overall) last season.
The Blue Hawks (11-1 overall, 9-1 Div. I) didn't forget those season-long frustrations. But they didn't dwell on them, either.
This team was confident. This team was composed. This team was clutch.
How else to explain the title-game comeback? Exeter erased a 13-3 second-quarter deficit.
Conor Carrier scored the fourth-quarter touchdown that placed Pinkerton in panic mode. The senior's big run off-tackle went for 37 yards and six points. The score snapped a 13-all tie with 7 minutes, 10 seconds left in the season.
Touchback-machine Logan Laurent added the extra point. He also iced the contest with his 23-yard field goal -- a kick preceded by 35- and 40-yard boots -- in the final minutes.
Tyler Grant touched the rock 31 times. He totaled 120 yards in Exeter's old-school straight-T offense.
Jamie Tymann tossed a second-quarter touchdown to Lucas Gajewski. The 15-yard strike sparked the 20-point run to the title.
The toss was the second of Tymann's five attempts. Exeter's senior signal-caller entered the final with just 29 pass attempts on the season.
But defense was the biggest difference-maker. Grant, Carrier, Ethan Joyce and Brian Henry led Exeter's disciplined perimeter defense. It surrendered 77- and 78-yard touchdown runs to Emmitt Smith in the second frame, but little else.
Exeter celebrated its sixth championship under Ball, who capped his 19th season at the helm. The coach previously won five Division II championships in 1997, 1998, 2002, 2003 and 2007.
"To get this done is just amazing," Ball said. "It's amazing."
November, 10, 2011
11/10/11
6:13
PM ET
By
Marc Thaler
| ESPNBoston.com
In his 41st year at the helm of Plymouth Regional's storied football program – a span that's produced a state-record 334 wins and 18 championships – Chuck Lenahan has surely experienced it all.

Yet it was the manner in which the Bobcats won their most recent matchup that had the gruff-voiced grid coach admitting, "I'm kind of numb."
It's understandable. Lenahan approved the call for a fourth-quarter fake punt that produced the game-winning touchdown. Plymouth celebrated a 21-14 Division IV semifinal win Nov. 5 against longtime rival Laconia High.
The scenario: Plymouth was forced to punt from its 32-yard line in a 14-all game. The game clock showed less than nine minutes remained in regulation.
Special teams coach Chris Sanborn persuaded Lenahan to fake the punt. The Bobcats desperately needed a spark. Their rushing attack, which generated two lengthy first-half scoring drives capped by Cole Brooker touchdown runs, was stifled after halftime.
Standout senior Taylor Newberry (37 carries for 205 yards) was asked to fake the punt for the first time in his career. It worked out better than even Lenahan could have expected.
Newberry gained the three yards necessary to extend the drive. He also picked up 65 more yards, cutting left-to-right across the field, dodging would-be tacklers, and ultimately celebrating a 68-yard TD run.
"We actually just set that up (in the week leading up to the semifinal). We were 50-50 on it," Newberry said. "I guess it worked."
Plymouth – a year removed from missing the playoffs on a three-team tiebreaker – actually plays the role of underdog in the Nov. 12 final.
The second-seeded Bobcats (9-1) travel to Manchester's Gill Stadium for a showdown with No. 1 seed Trinity High (10-0). The Bobcats were stunned at home in Week 4 by the Pioneers, allowing a pair of late-game touchdown passes in a 12-7 loss.
It snapped Plymouth's 40-game home win streak.
"Another week," Lenahan said. "The kids wanted it bad. What the heck. We might as well take a trip to Manchester."