Boston High School:

Irondequoit
May, 23, 2012
5/23/12
11:34
PM ET
By
Bruce Lerch
| ESPNBoston.com


WELLESLEY, Mass. -- Over the past six years, Duxbury has found itself a great opponent for the final game of the regular season in perennial New Hampshire power Bishop Guertin.

All but one of the six meetings have been highly competitive, and Tuesday afternoon saw the two squads put together a defensive masterpiece. All six starting long poles and three long-stick midfielder's on each side are committed to play at the Division 1 college level next spring, and they were the key factors for the majority of this interstate showdown.

Ultimately, a three-goal spurt midway through the fourth quarter decided it as top-ranked Duxbury rallied from a 5-3 deficit to take a 6-5 triumph over the Cardinals at Babson College's MacDowell Field.

"It felt like we were playing Garden City's defense there," Sweet laughed when asked about the high level of defense. "[Bishop Guertin] were tough to beat one on one, they played great team defense, they packed it in and they got key goaltending. That's a good formula for keeping the score down. It was a great high school lacrosse game and it could have gone either way. I'm glad that we had that little run and were able to get some key defensive stops at the end."

The Cardinals (15-3) tried to break open what was a 3-3 game when Tommy Vailas made a beautiful alley-dodge to free himself up for a goal late in the third, then opened the fourth with a nice rip down near the baseline by Luke Roever.

The way Guertin was playing defensively, it was going to prove difficult for the Dragons to make one of their patented runs, but sure enough, they did exactly that. In an extra-man situation, Will Siefert fed Seamus Connelly down low and the big attackman used a great stick fake to pull Cardinals goalie Colin Dulea out of position for a score.

Henry Narlee won the next faceoff and James Burke swooped in on the ground ball, as he has done all season, and fed Siefert for an easy look in transition to tie the game. Just over a minute later, Sam Sweet produced a tremendous individual effort to get free and set up Jack Sullivan for a goal that not only put Duxbury in the lead for the first time, but also held up as the game-winner.

"We were just moving around on the crease and my guy slid early and went to Sam and he just made a great look in the crease," described Sullivan. "It was kind of nerve wracking on the crease with the ball. We worked hard, we're a fourth quarter team and we gave it our all at the end. Narlee did great on the faceoffs, won those three in a row to get us those three goals."

BIG MAN GOES OFF ON THE BIG STAGE
It seemed the like the impressive size of the Guertin poles fed right into the best aspects of Seamus Connelly's game. The 6-foot-2, 200-plus pound Duke commit was able to body up against the Cardinals poles and use his exceptionally talented hands to rifle shots home to the tune of a four-goal game.

He even showed a little of his flashy side, using a nice stick fake where it looked as though he would shoot behind his head, then whipped the ball around from the front on the first score of the Dragons' game-deciding run.

"Shay [Connelly] played great today," praised Sweet. "He played with some energy, he played smart and he hit his shots. Lacrosse is funny. You can have great players out there and its really a game of matchups. They were a little bit slow to slide to him on those goals and they paid a price for it and Seamus stuck his shots. It was awesome. He played a great game."

Added Connelly, "One of our things is to keep believing. We knew we could pull it out. We've been down a lot in games and we've always come back. It's just a matter of our seniors looking each other in the eye and knowing we could do it. Our offense was really helping me get the space I needed to shoot. It was the kind of day where it was my turn to shoot. Any other day it could have been Sief or Sammy or anybody else."

DEFENSE STEALS THE SHOW
Connelly popped in the second of his four goals with 24 seconds remaining in the second quarter and the game ended up tied, 2-2, at the half. Fans who weren't at the game might look at that score and say, "Good thing I didn't go. Must have been a boring game."

Not even close. You missed brilliance on display.

The fans who did make the trek to Babson College saw two defenses playing at the highest of levels a pair of New England high school teams are capable of. We've come to expect this from the Dragons, who have been all year long by close defenders Max Randall (Dartmouth commit), Matt O'Keefe (Johns Hopkins) and Jay McDermott (Syracuse), as well as lethal LSMs Reilly Naton (Yale) and James Burke (Penn State).

For perhaps the first time all season, aside from Garden City and Irondequoit, the Dragons met their match in the defensive zone. The Cardinals are led by long poles Bob Fahey and Kyle Karaska, both of whom are UMass-commits, and LSM Jay Krzyston (R.I.T.).

That unit was able to force turnovers, bad shots, and keep Duxbury's transition opportunities to a minimum for all but that two-minute stretch in the fourth.

"I have so much confidence in those kids," praised Guertin coach Chris Cameron. "They've been with me for four years and I know what they can do. They play against top-notch caliber all summer. We try to get them as many competitive games as possible so I knew that at this level of play they could handle their attack."


April, 11, 2012
4/11/12
11:33
PM ET
The rankings crew at ESPNHS had updated the national
boys' lacrosse FAB 50 poll
this week.
It was a tough week for the Massachusetts contingent as Duxbury, previously ranked fourth overall, was dropped to No. 21 following the Dragons' 4-3 loss to Irondequoit.
The MIAA's other former FAB 50 denizens Needham and Wellesley were dropped from the poll after opening week losses. The Rockets and Raiders, along with ESPN Boston No. 2 Lincoln-Sudbury, did receive votes in the poll, however.
Meanwhile, Duxbury will have a couple of cracks to move up in the FAB 50 during vacation week with the Dragons' Empire State sojourn to play 18th-ranked and defending New York champion Jamesville-DeWitt next Saturday.
April, 7, 2012
4/07/12
8:53
PM ET
[+] Enlarge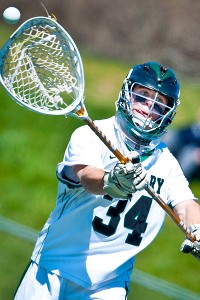 Jim Tarbox for ESPNBoston.comDuxbury goaltender Henry Buonagurio was a bright spot for the Dragons with 11 saves in a loss to New York power Irondequoit on Saturday.
DUXBURY, Mass. -- It was what you'd expect from two of the top lacrosse programs in the nation, with top-notch defense and big-time goaltending.
Then again, it wasn't (i.e. offense was something to be desired).
As MIAA lacrosse top dog Duxbury squared off against New York power Irondequoit Saturday, the two ESPNHS FAB 50 squads showed how they are built from the back end out. The result was a tightly played game with a score that resembled more of a baseball game than a lacrosse match.
Irondequoit escaped their Bay State journey with a 4-3 win over the Dragons despite being shut out in the second half.
The margin of victory largely was indicative of the fact that the Eagles (5-0) converted on more of their early chances than did the Dragons (2-1).
"We struggled to score," Duxbury head coach Chris Sweet said. "But that's a high-powered offense on the other side and they struggled to score, too. It's unusual, a 4-3 game."
For a game where both sides' defensive units outplayed their offensive group, both teams were off and running during the fourth minute of play.
Nick Doktor put the Eagles to the first lead of the game on a dodge, only to see Duxbury attack Paul Hellar tie the score 22 seconds later.
The Dragons were able to bounce back again when Gunnar Miller notched his first of two goals with 5:32 remaining in the first. Duxbury's Sam Sweet countered with the first of his two tallies less than a minute later with an assist from Andrew Buron.
Irondequoit rallied for two goals in the second quarter. Connor Enright showed off his quick hands, pulling in a pass from Doktor at the top of the crease, going across his body and beat Dragons goaltender Henry Buonagurio (11 saves). Miller then score what held up as the game-winner with 5:55 remaining in the first half.
"We finished our shots early, we were ready to go and I think everybody was on the same page and working really well together," Irondequoit head coach Craig Whipple said. "But I think you saw Duxbury keep working during the game and they got to an area where they were doing the same thing and battled back to make it a one-goal game in the end."
Duxbury cut the lead to one on Sam Sweet's second of the game in the third quarter, with Hellar picking up his second point of the game on the assist.
The Dragons had several prolonged possessions in the latter stages of the third and into the fourth. Still, Duxbury looked out of sorts at times offensively and saw a string of blocked or missed shots fail to hit their mark. Whatever else made its way through to the cage was gobbled up by Eagles netminder Eric Fischer (10 saves).
AGAINST THE DRAGONS' FIRE
Whipple and his Irondequoit squad knew what they were getting into on Saturday, having faced the Dragons in each of the last three season.
Duxbury claimed the teams' previous two meetings.
"Duxbury's known for their defense and I think our defense play up to that task," Whipple said. "They had multiple possessions of long, three- to four-minute possessions on offense, but I think our talk, our discipline and really Eric Fischer from the goal did an outstanding job making the saves he needed to make."
Even in defeat, the Dragons showed their defensive mettle with strong games from longsticks Jay McDermott, Matt O'Keefe and Max Randall, as well as some sensational play from Buonagurio in net, particularly during a five-save third quarter.
… WITH THAT BEING SAID
Duxbury's offense struggled some — particularly in the second quarter — getting clean looks at the cage. Some of that was to be attributed by a fleet-footed Eagles defense, but part of it was also of the Dragons' own doing.
"As the season goes on, shooting gets better, offensive movement gets better and our stick work gets better," Chris Sweet said. "We were pretty stagnant, but a lot of that was that Irondequoit is such a good team that they took a lot of that away.
"On any day, we need to bring out A-game to beat Irondequoit, but today, we were maybe a B-plus."
April, 4, 2012
4/04/12
12:15
PM ET
All three MIAA boys' lacrosse teams included on the ESPNHS national FAB 50 poll held serve this week.

ESPN Boston Top 25 No. 1 squad Duxbury remains at No. 4, after taking an opening-day win over Quincy and await a visit from New York power, No. 18 Irondequoit, on Saturday.

Wellesley moved up a tick to No. 36 as the Raiders open up their season against Billerica on Thursday while Needham moved into the Top 40 at No. 39. The Rockets open their season against Hingham on Saturday.