Boston High School:

Isaiah Bowman
February, 16, 2014
Feb 16
9:50
PM ET
By
Andy Smith
| ESPNBoston.com
LAWRENCE, Mass. -- The entire momentum and complexion of the game changed in an instant.
For 3-1/2 quarters, No. 9 Central Catholic was trying to keep up with No. 14 BC High. It could never get a lead of more than one point before BC High tied the game or took the lead back. That is, until Nick Cambio completed an and-one play to put his team up by three. Two possessions later, he was stationed on the low block anticipating a pass. After getting the feed from Tyler Nelson, he elevated and threw down a tomahawk dunk in traffic that brought Central Catholic's entire gymnasium to life.
[+] Enlarge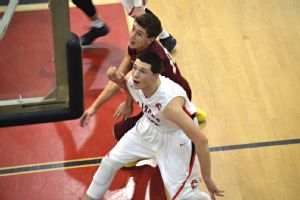 Brendan Hall/ESPNBoston.comA fourth-quarter dunk from Nick Cambio (15 points, 9 rebounds) changed the entire complexion of the game for Central Catholic.
From there, Central went on to win 59-54 in the opening round of the President's Day Roundball Classic.
"I saw a guard getting into the paint, and I knew the bottom guy in the defense was going to hedge up, so I was just waiting for the pass," said Cambio (15 points, 9 rebounds). "I was setting myself up for the dunk. That was probably one of the hardest dunks I've thrown down in a game. It felt good."
Central (16-4) struggled early on to establish any offensive consistency against the BC High (12-6) defense. The Eagles switched between a box-and-one, 2-3, and 1-3-1 zones all to make sure it could at least contest any Central shot while also making sure it was in a quality position for defensive rebounds.
It held Tyler Nelson, Central's sharpshooting senior guard, to 10 points in the first half. Central was able to solve the zones in the second half and he finished the game with 27 points and 3 rebounds.
"They're an outstanding defensive team and they take you out of what you want to do," said Central Catholic coach Rick Nault. "I thought we made some adjustments after the half and got Nick (Cambio) involved a lot more. He was a lot more aggressive, and Tyler got going a little bit."
With about three minutes to go, Nelson hit one of his three three-pointers from the left corner to put his team up by six points. For the next two minutes, BC High battled to try and close the lead, but Central kept it a multi-possession game.
With 23 seconds left, BC High's Isaiah Bowman (14 points) drained a three-pointer from the left wing to cut the lead to three. Coming out of a BC High timeout, Central inbounded the ball to Tyler Nelson, who drained both free throws. Ten seconds later, Jack Loughnane (7 points, 4 rebounds, 3 steals) put back a rebound and hit the ensuing foul shot to make it 53-51. Again, Central was able to inbound the ball to Nelson, who put the game out of reach with more free throws.
Well-rounded scoresheet:
It was a game where everyone had to contribute for Central Catholic, not just the usual suspects. With BC High playing a box-and-one to take away Tyler Nelson, he was quiet for a majority of the first half. This put the onus on the other starting guard, Alex Parent, to make something happen with the ball in his hands. He turned the ball over six times Sunday.
The team turned to freshman Kevin Fernandez for stretches, and the freshman responded with seven rebounds and two steals off the bench while adding energy to an offense that needed it in the second half.
"He had great energy," said Nault. "He came up with a few steals and we got transition points out of it. I thought he defended very well. He's a kid that, as a freshman, can challenge bigger players. They went with three bigs tonight against us and they tried to attack with that. With Kevin in there, it's hard to post him up because he's such an aggressive kid. I thought he was a difference for us defensively."
Fernandez started the season in Central's starting lineup but has transitioned into a roll off the bench. It allows him to play with the natural energy and quickness he has without putting the stress on him to have to be the team's main ball handler as a freshman.
"He's huge for us," said Nelson. "He's a young kid, he just turned 15. For him to play like that, he steps up a lot. When we have another guard like that playing at that level, it makes us a lot better, so we need that going forward.
Also contributing big minutes off the bench was junior Pat Sullivan. With Cambio on the bench early in the first half with two fouls, the team's only experienced bigs were Sullivan and Aaron Hall. Hall picked up his fourth foul with 6:34 left in the fourth quarter, which brought in Sullivan. He had to play large portions of the game because Hall picked up fouls at inopportune times.
Hall contributed seven points and nine rebounds in the game.
Championship Final set:
Central will play No. 7 Cambridge Rindge & Latin Monday in the championship game of the Roundball Classic at 7:30 p.m. The Falcons defeated New Bedford, 74-46, in the first game of the tournament. Central Catholic's team and coaching staff were in the gym watching the first half of the game, so they got an up close and personal view of what challenges Cambridge will bring Monday.
"Phenomenal," said Nault. "They're long, talented, athletic. They play hard. Everyone is good off the bounce. It's going to be a great challenge for us. I can't tell you many games where we've played in our home gym and we're underdogs. I told my guys I think we're going in as underdogs tomorrow."
They are a team that likes to push the pace, just like Central, which could make for an up-and-down kind of game. It could also mean each team will look to slow down the other, which would create a type of game almost no one expects from those teams.
"I think we'll match up a little better than we did today against BC High's three bigs," said Nelson. "I think they play three, maybe four guards, and one big guy, which is better for us. But it's not really about matchups at the end of the day, it's how you play as a team."
December, 23, 2013
12/23/13
10:52
PM ET
By
Ryan Lanigan
| ESPNBoston.com


MANSFIELD, Mass. -- Anytime that No. 14 BC High was able to come up with some offense, No. 2 Mansfield had an answer.

The Hornets never trailed and pulled away in the fourth quarter to clip the Eagles 63-49 on Monday night.

Mansfield had an 11-point lead in the first quarter, and then a 10-point lead early in the second. But the Eagles continued to close the gap, heading into halftime down just 31-26. The Hornets used a 14-3 run in the third quarter, but a couple of baskets late made it just a 45-38 game after three.

In the fourth quarter, Ryan Boulter opened the scoring with a bucket and then senior Kyle Wisnieski hit back-to-back three-pointers to turn a nine-point game into a 15-point game at 53-38 and Mansfield never looked back.

"Especially in the first, I thought we got some really good looks and the ball didn't go in," BC High coach Bill Loughnane said, after his team shot just 24 percent from the field in the first quarter. "When [Mansfield] got the open looks, it went in."

The Eagles went to a man-to-man defensive strategy early on, while the Hornets switched into a 2-3 zone after starting with man-to-man. The zone allowed for more looks from distance for BC High (4-of-7 from three in the second quarter) but really frustrated their offense and limited their offensive rebounds.

"We had to mix up a little 2-3 [zone], with guys logging a lot of minutes, to see if they could still be playing a high level at the end," Mansfield head coach Mike Vaughan said. "I thought it changed up their flow a little bit. [BC High] is a pretty aggressive team so I thought by changing up the zone it kind of made them a passive team. They did get a lot of three's out of it so we kind of had to manage it so they didn't make three after three."

The Eagles went from five offensive rebounds in the first quarter to zero in the second, and just three in the second half.

"When you have a team you're playing playing five or six guys a lot of minutes, you start looking at foul trouble and match ups," Vaughan said about the zone. "I thought we rebounded better once we went zone. I thought [Michael] Boen did a fantastic job rebounding the ball on both ends of the floor."

Not only did Boen own the boards -- a game-high 14 rebounds (7 defensive, 7 offensive) -- he led the game in scoring with 19 points, including eight points and six rebounds in the fourth quarter.

"That's a quiet 19," Vaughan said. "He's gotten better since game one. He was kind of passive and didn't do a whole lot offensively. Last game, he did real well and tonight obviously too. He's steady -- he's going inside-out, he's getting in transition and hitting his foul shots so I'm very happy about that."

Beyond Boen's 19, Mansfield had three other scorers reach double figures: Rocky DeAndrade and Boulter each had 12 ,and Wisnieski added 11, which all turned out to be momentum points at the time.

"He's that type of kid," Vaughan said about Wisnieski. "He said it in the locker room when we met before the game, 'This is a good statement game.' He knows what this is all about, he knows how big this game is. He plays the best in those situations."

As for the balanced scoring, this is something that's going to be needed with Brendan Hill on the shelf for a while and Kevin Conner still working back to full health.

"Different guys will have different match ups and we'll get different guys stepping up but you're going to for the most part see those four are going to be the consistent scorers and then you hope the other guys can step in," Vaughan said.

Isaiah Bowman led BC High in scoring at 16 points, Jack Loughnane added 11 points, Tom Galanek had 9 points and Phil Leotsakos added 6 blocks.

"Offensively [Mansfield] has a lot of weapons and they do a nice job spreading the ball out," Loughnane said. "They have our number right now."