Boston High School:

Isaiah Jones
February, 2, 2011
2/02/11
2:15
PM ET
The first day of the football National Letter of Intent signing period has arrived, and we've got you covered all day (though we'll probably be buried under snow ourselves). Here is a list of Massachusetts athletes committed to Division 1 programs headed into today's big day.
Any commitments can be sent to Scott Barboza at sbarboza@espnboston.com or Brendan Hall at bhall@espnboston.com.

(NOTE: The Ivy League does not recognize National Letters of Intent)
DIVISION 1 FBS
Taariq Allen
, Rivers – Nebraska
Manny Asprilla
, Everett – Boston College
Dalton Gifford
, Bridgton Academy (Maine)/Barnstable – UConn
Marcus Grant
, Lawrence Academy – Iowa
Harry Keselman, Oliver Ames - Temple
Anthony Knight
, Lawrence Academy – Nevada
Albert Louis-Jean
, Brockton – Boston College (enrolled in January)
Brian Miller, Andover
– Boston College
Paul Nwokeji
, Thayer Academy – UConn
Rodman Noel
, Milford Academy (N.Y.)/Everett – NC State
Mike Orloff
, Lawrence Academy – UCLA
Liam Porter
, Natick – Boston College
Max Ricci
, Lawrence Academy – Boston College
Richard Rodgers
, St. John's (Shrewsbury) – Cal
Andrew Siden
, Natick – Tulane
DIVISION 1 FCS
Jeff Anderson, Longmeadow - Brown
Ryan Barrett
, Holliston – Bryant
Connor Candito, Bridgton Academy (Maine)/St. John's (Shrewsbury) - Sacred Heart
Jamie Casselbury, Philips Andover - UMass
Connor Caveney, Cushing Academy - Sacred Heart
Matt Costello
, Everett – Princeton
Jeff Covitz
, Reading - Bryant
Ryan Delisle
, St. John's Prep – Harvard
Anthony Fabiano
, Wakefield – Harvard
Ryan Flannery, North Attleborough - Columbia
Justin Flores, Tilton School/Woburn - Maine
Dan Giovacchini
, Lawrence Academy – Brown
Will Guinee, Malden Catholic - Dartmouth
Greg Hilliard
, Suffield Academy (Conn.)/Brockton – UMass
Clay Horne
, Lawrence Academy – Villanova
Brandon Howard, Worcester Academy/King Philip - UMass
Randall Jette
, Martha's Vineyard – UMass
Isaiah Jones
, Mahar - Maine
Andrew Kestenbaum
, Dartmouth – Rhode Island
Ben Koopman, Marblehead – Holy Cross
John Lavin
, Falmouth – Bryant
Dan Light
, St. John's (Shrewsbury) – Fordham
Harrison Lyons, Avon Old Farms (Conn.)/Norwell - Bryant
Alec May, King Philip - Georgetown
Brian McDonald, Hebron Academy (Maine)/Westwood - Sacred Heart
Andrew Mizzoni
, Gloucester – Holy Cross
Obum Obukwelu
, BC High – Harvard
Ben Patrick
, Rivers – UMass (preferred walk-on)
Jason Richard, Milford Academy (N.Y.)/Weston - Sacred Heart
Peter Savarese, BB&N - Dartmouth
Zach Smerlas
, Lincoln-Sudbury – Brown
Keshaudas Spence, Taft (Conn.)/Catholic Memorial - Sacred Heart
Charlie Storey
, Milton Academy - Dartmouth
Brian Strachan
, St. Sebastian's – Brown
Cam Sullivan, Westfield - Bryant
Jeff Synan, Plymouth North - Bryant
Ben Ticknor
, Milton Academy - Dartmouth
John Wallace
, Somerville – UMass
Ryan Welch
, Lawrence Academy – UNH
Conor Wyand, Nashoba - Brown
DIVISION 2 RECRUITMENTS REPORTED
Nick Broughton, Marblehead - Merrimack
Matt Delaney, Barnstable - Assumption
Chris Mooney, Stoneham - Assumption
Mike Muir, Xaverian - Bentley
Bobby Richman, North Attleborough - Bentley
Chris Unis
, Gloucester - Merrimack
DIVISION 3 RECRUITMENTS REPORTED
Eric Bertino, BB&N - Middlebury
Ned Deane
, Andover - Amherst
Mike Devin, Bridgewater-Raynham, Bowdoin
James DiBlaisi, BB&N - Trinity
Josh Friedland, Marblehead - Bates
Jake Giovanucci, Dexter - Bowdoin
Mike Gustafson, Belmont Hill - Washington & Lee
Brett Harasimowicz, Duxbury - Middlebury
Mike Hogan, St. John's (Shrewsbury) - Wesleyan
Matt Perlow
, Marblehead - Bowdoin
Mike Tomaino, Gloucester - Bates
December, 21, 2010
12/21/10
3:08
PM ET
The Massachusetts High School Football Coaches Association announced its All-State team on Tuesday.
Eastern Mass Division 1 Super Bowl champion
Everett
led the way with three selections, with quarterback Jonathan DiBiaso, wide receiver Matt Costello and defensive back Manny Asprilla taking honors.
Here's the list of honorees:
OFFENSE
Quarterback
Jonathan DiBiaso
, Jr., Everett
Nick LaSpada
, Jr., Billerica
Tom Murphy, Sr., Northbridge
Running back
Isaiah Jones
, Sr., Mahar
Jamel Marshall
, Sr., Mansfield
Jordan Shairs
, Sr., Gloucester
Receiver
Matt Costello
, Sr., Everett
Richard Rodgers
, Sr., St. John's (Shrewsbury)
Offensive line
Lance Burlingame
, Sr., New Bedford
Jeff Covitz
, Sr., Reading
George Kallas
, Sr., Beverly
Obum Obukwelu
, Sr., BC High
Liam Porter
, Sr., Natick
DEFENSE
Defensive line
Brian Miller
, Sr., Andover
Zach Smerlas
, Sr., Lincoln-Sudbury
Chris Unis
, Sr., Gloucester
Linebacker
Seth DeMello
, Sr., Somerset
Dan Giovacchini
, Sr., Lawrence Academy
Matthew LeBlanc
, Sr., Wachusett
Mike Mercadante
, Sr., Minnechaug
Conor Wyand, Sr., Nashoba
Defensive back
Manny Asprilla
, Sr., Everett
Dan Johnson
, Sr., North Attleborough
Joe Colton
, Sr., Xaverian
Albert Louis-Jean
, Sr., Brockton
Brian Strachan
, Sr., St. Sebastian's
December, 7, 2010
12/07/10
6:47
PM ET
OFFENSE

QB -- Dan Light, Sr., St. John's (Shrewsbury)
In his first year under center after playing tight end last year for the Pioneers, the 6-foot-4, 235-pounder spearheaded one of the state's most prolific offenses with precision, as the Pioneers rolled to their second straight Division 1 Central Mass Super Bowl title. He threw for 2,171 yards and 32 touchdowns to just seven interceptions, and on the ground he added 1,131 yards and 16 more scores. Light is considering several Division 1 schools.

QB -- Jonathan DiBiaso, Jr., Everett
In his record-setting junior campaign, DiBiaso helped deliver the Crimson Tide their eighth Division 1 Super Bowl title in 12 years. He threw for 2,885 yards and a state single-season record 43 touchdowns, to just four interceptions, and capped with a 31-7 win over St. John's Prep at Gillette Stadium for the Super Bowl title. He has 59 touchdown passes for his career.

QB -- Nick LaSpada, Jr., Billerica
The junior, who won the state's Gatorade Player of the Year as a sophomore in 2009, lived up to the hype in spite of a marginal season for the 5-6 Indians. He threw for 2,738 yards and 25 touchdowns, and added 1,064 yards and 15 touchdowns on the ground, averaging over eight yards per carry. For his career, he has thrown for over 5,800 yards and ran for over 3,500 in his three years as starting quarterback. LaSpada is being recruited by a number of Division 1 FBS schools, including Boston College, Notre Dame, Oregon, Alabama, Penn State, Missouri, Arkansas, Michigan, USC, Florida State and Stanford.

RB -- Trevon Offley, Sr., Brockton
In taking over full-time rushing duties from his cousin, Khalil James-Offley, the 5-foot-6, 190-pound Trevon proved to be one of the state's toughest runners in between the tackles. Offley carried 155 times for 1,364 yards and 15 touchdowns, averaging 8.8 yards per carry for the 8-3 Boxers.

RB -- Jamel Marshall, Sr., Mansfield
After backing up Shawn Doherty in 2009 and watching him set a school record, the 5-foot-11, 185-pound Marshall went ahead and smashed it. His 1,339 yards on the ground (including 7.1 yards per carry) broke Doherty's mark of 1,239, and his 21 touchdowns came within striking distance of breaking a two-decade record held by Omari Walker. Marshall is considering several Division 1-AA and Division 2 schools.

RB -- Tyler Coppola, Sr., St. John's Prep
As the focal point of the 8-5 Eagles' offense, the 5-foot-7, 185-pound Coppola did not disappoint. He carried the ball a yeoman 243 times for 2,172 yards and 20 touchdowns, including an unheard-of 348 yards and six scores against St. Joseph's (Md.) in October, as the Eagles captured a share of the Catholic Conference title and reached the Division 1 Eastern Mass Super Bowl for the first time since 2002.

RB -- Andrew Coke, Jr., Andover
After an outstanding sophomore season at Brooks School alongside current BYU freshman Jordan Johnson, Coke transferred back to his hometown high school and helped lead the Golden Warriors to their first Merrimack Valley Conference title in 35 years. The 6-foot-1, 218-pound junior carried 304 times for 1,841 yards and 29 touchdowns (most in Division 1), and as a wildcat quarterback completed 24 of 34 passes for 267 yards and two more scores.

WR -- Matt Costello, Sr., Everett
After a tremendous senior season, the 6-foot-1, 170-pound Costello racked up numerous awards, including this year's state Gatorade Player of the Year and ESPNBoston's inaugural Mr. Football award. Costello played an instrumental role in DiBiaso's state-record junior campaign, as he caught 76 balls for 1,301 yards and 23 touchdowns – including 11 catches for 145 yards and three scores in the Tide's 31-7 victory over St. John's Prep in the Division 1 Super Bowl. Costello is considering Princeton, Penn and Harvard.

WR -- Richard Rodgers, Sr., St. John's (Shrewsbury)
The talented Rodgers tore up the competition once again in his senior campaign with the Division 1 Super Bowl champion Pioneers. The 6-foot-5, 230-pounder caught 65 balls for 1,064 yards and 17 touchdowns, for an average of 16.4 yards per catch. He was also a force at defensive end, recording eight sacks, four forced fumbles and an interception. Rodgers is following in his father's footsteps, as he will play tight end next fall at Cal.

WR -- Jordan Henderson, Sr., Barnstable
The speedy Henderson made a name for himself as one of the state's most dangerous threats in the short passing game, leading the 7-4 Red Raiders in every receiving category. The 6-foot, 180-pounder caught 61 balls for 1,069 yards and 12 touchdowns, averaging 17.5 yards per catch.

TE -- Anthony Fabiano, Sr., Wakefield
One of several outstanding tight ends to be used in more of a blocking role, the 6-foot-5, 258-pound Fabiano excelled on both sides of the ball for the 6-4 Warriors, who captured their second straight Middlesex League Small title. Fabiano caught 23 passes for 267 yards, and as a defensive end recorded 57 tackles, a team-high nine sacks and three forced fumbles.

TE -- Ryan Barrett, Sr., Holliston
Like Fabiano, Barrett was used primarily in a blocking role for the 12-1 Panthers, who captured their first Super Bowl title since 1985 with a 21-7 win over Cardinal Spellman. With Barrett's guidance, the Panthers ran for more than 2,500 yards on the ground and scored more than 500 points through the ground and air. Barrett is committed to Bryant University, where his brother Andrew is currently a sophomore offensive lineman.

OL -- Nathan Cyr, Sr., St. John's Prep
The 6-foot-1, 246-pound Cyr was one of the state's best run-blockers this season, paving the way to a monster season from Coppola and over 3,000 yards on the ground total as the Eagles captured a share of the Catholic Conference title and went to the Super Bowl for the first time since 2002. Cyr is committed to Trinity College.

OL -- John Wallace, Sr., Somerville
The 6-foot-4, 265-pound Wallace was a three-year starter for the Highlanders, and is a two-time Greater Boston League All-Star. This season for 4-6 Somerville, he recorded 68 tackles and five sacks while also providing plenty of run support as both a guard and tackle. He is considering several Division 1 FCS schools, including UMass and New Hampshire.

OL -- Jeff Covitz, Sr., Reading
The 6-foot-2, 250-pound Covitz, a three-year starter for the 12-1 Rockets, was a force at right tackle for the Rockets, paving the way for one of the state's most potent rushing attacks (45 rushing touchdowns). At defensive end, he was a dominant run-plugger for a defense that allowed a Division 2-best 8.7 points per game.

OL -- Ian Levesque, Sr., Somerset
The 6-foot-4, 290-pound tackle paved the way for two 1,000-yard rushers in Seth DeMello and Jaron Spear for the 12-1 Blue Raiders, who advanced to their first Super Bowl since 1981. In addition to helping the Raiders rack up nearly 300 rushing yards per game and over 50 rushing touchdowns, he also was an anchor along the line of a defense that allowed just 11 points per game. He is considering several Division 1 FCS schools, including Colgate and Wagner.
OL -- Lance Burlingame, Sr., New Bedford
The 6-foot-4, 255-pounder is a two-time Big 3 Conference All-Star at offensive tackle and defensive end. In 10 games, he demonstrated outstanding feet as both run and pass blocker, and proved just as dominant defensively with 84 tackles, seven sacks, four forced fumbles and five fumble recoveries. He is considering several Division 1 FCS schools, including UMass, New Hampshire and Maine.

ATH -- Armani Reeves, Jr., Catholic Memorial
The 5-foot-10, 178-pound Reeves emerged as one of the state's most electric playmakers this season for the 5-5 Knights, lining up all over the field to great results. He amassed 1,279 all-purpose yards and scored 16 touchdowns in four different ways – receiving, rushing, punt and kick returns. He currently holds 10 scholarship offers from Division 1 schools, including Boston College, North Carolina, Wake Forest, Virginia, UConn and Penn State.

ATH -- Isaiah Jones, Sr., Mahar
The 5-foot-10, 165-pound Jones emerged as one of the state's most elusive weapons in the open field, with 40 speed in the 4.5's. In a season hampered by injury, he carried 151 times for 1,726 yards and 23 touchdowns, added 150 receiving yards, and also had three returns for touchdowns (two punt, one kickoff). For his career, he amassed over 4,400 yards rushing. Jones is considering several Division 1 schools, including Boston College, UMass and New Hampshire.

K -- Connor McDavitt, Sr., Wachusett
While his powerful right leg wasn't called into action as much, the 5-foot-7 McDavitt demonstrated great range when called upon, hitting from a long of 42 yards this year for the Division 1A Central Mass Super Bowl Champion Mountaineers. He recorded 14 touchbacks, and also had a net punting average of 42.5 yards.
DEFENSE

DL - Chris Unis, Sr., Gloucester
After recovering from an elbow injury, Unis returned to lead the Fishermen to their second straight Super Bowl title and third in the last four years. The 6-foot-2, 225-pound speed rusher proved a handful for offensive linemen and was also vital to Gloucester's running game, playing tight end. Unis also collected his third straight Northeastern Conference All-Star nod.

DL - Obum Obukwelu, Sr., BC High
The 6-foot-1, 255-pounder was an imposing figure on the Eagles' defensive line and tallied 8.5 sacks on 68 tackles with 18 tackles for a loss. Obukwelu is committed to play football at Harvard next year.

DL - Zach Smerlas, Sr., Lincoln-Sudbury
The three-year defensive starter often faced double and triple teams against him this season, but the senior captain still managed to make 40 tackles (18 solo) while clogging up the interior for the Dual County League Large champion Warriors.

DL - Shaquille Taylor, Sr., Everett
Taylor was the affable heart of the defense for the Eastern Mass Division I Super Bowl champions. The 5-foot-11, 275-pounder was an immovable object on the line, stuffing the run and showing speed to pressure the quarterback.

LB - Chris Tamasi, Sr., Xaverian
The senior captain was the fulcrum of the Hawks' defense and a steady contributor out of the backfield on offense. The 5-foot-11, 200-pounder has verbally committed to play football at Amherst College next year.
LB - Matt Walsh, Sr., Plymouth North
Walsh provided bite to the Eagles' offense and defense as both a hard-nosed fullback and middle linebacker. While leading Plymouth North's defense, which surrendered just 10 points per game, Walsh also tallied 12 touchdowns. A talented catcher, he has committed to Franklin Pierce where he will play baseball.

LB - Jordan Shairs, Sr., Gloucester
For everything that Chris Unis or Andrew Mizzoni weren't able to get to up front, Shairs was there to clean up. The 6-foot, 210-pounder helped the Gloucester defense average just 10 points per game against and saw a bulk of Gloucester's carries following Gilbert Brown's injury, tallying 31 total touchdowns (30 rushing) on the season. Shairs was named Northeastern Conference Offensive Player of the Year and league All-Star for his 1,400-yard rushing performance.

LB - Tim Joy, Jr., Chelmsford
Already a two-time all-conference teamer, Joy had 131 tackles, including 13 for a loss, two sacks and three interceptions for his junior season. He has been recruited by several FBS schools, including Boston College.

LB - Ned Deane, Sr., Andover
Deane provided the bite to the defense that helped the Golden Warriors to a Merrimack Valley Conference Large title. The 6-foot-2, 205-pounder led Andover with 112 tackles in addition to three sacks and an interception. He is considering Amherst, Dartmouth, Harvard and Princeton among his college choices.

LB -- Kevin Curry, Sr., Holliston
The Tri-Valley League Defensive Player of the Year was a force on both sides of the ball for the 12-1 Panthers, who captured the Division 3A Super Bowl crown. In addition to manning the middle on a defense that allowed just 11.5 points per game, Curry carried the ball 139 times for 1,144 yards and 14 touchdowns, for an average of 8.2 yards per carry.

DB - Albert Louis-Jean, Sr., Brockton
The shutdown corner was also a double-threat for the Boxers, hauling in 28 catches for 572 yards and five touchdowns on offense. The 6-foot-1, 175-pound speedster came away with four interceptions. Louis-Jean recently de-committed from Miami, so there's likely to be a lot on interest surrounding him in the coming months.

DB - Joe Colton, Sr., Xaverian
Colton consistently drew the matchup of the opposing team's top receiver and went toe-to-toe with some of the state's best. The 5-foot-11, 190-pounder was also a steady contributor to the Hawks offense with 15 touchdowns on the season.

DB - Manny Asprilla, Sr., Everett
Asprilla was as much of a lockdown defender as he was a threat on the offensive side of the ball. And that's saying something about someone who had 2,787 career all-purpose yards for the Division I Eastern Mass Super Bowl champions. Asprilla is committed to play football at Boston College next year.

DB - Randall Jette, Sr., Martha's Vineyard
Jette only pocketed one pick in 2010, but that's simply because teams didn't bother throwing his way. The senior captain also made 50 tackles (24 solo) in coverage. Also, as the Vineyarders quarterback, Jette tallied 953 rushing yards on 121 carries with 19 touchdowns to go along with four passing scores and two special teams return touchdowns. He's being recruited by BC, Bryant, Rutgers, Stonehill, UMass and UNH.
HONORABLE MENTIONS

Luke Bakanowsky, Sr. QB, Oakmont
Blaise Branch, Sr. RB, Cardinal Spellman
Gilbert Brown, Sr. RB/LB, Gloucester
Cal Carroll, Sr. QB, Methuen
Trevor Choruzek, Sr. RB, Leicester
Dylan Colarusso, Sr. RB/LB, Weymouth
George Craan, Jr. RB, Concord-Carlisle
Brendan Flaherty, Soph. RB/LB, Beverly
Jeff Hill, Sr. WR, Mansfield
Ray Holloway, Sr. RB, East Longmeadow
Ryan Lipka, Sr. WR, Bishop Fenwick
Sean Mayo, Sr. QB, Holliston
Kyle McSweeney, Sr. OL/DL, Medway
Mike Mercadante, Sr. RB, Minnechaug
Brian Miller, Sr. TE, Andover
Andrew Mizzoni, Sr. OT/DE, Gloucester
Matt Montalto, Jr. QB, Dennis-Yarmouth
Paul Mroz, Sr. QB, Brockton
Thomas Murphy, Sr. QB, Northbridge
Reilly Naton, Jr. SS, Duxbury
Liam Porter, Sr. OL/DL, Natick
Quinton Porter, Jr. ATH, Fitchburg
Cody Savoy, Sr. RB, Narragansett
Matt Silva, Sr. QB, Dracut
Jesse Wilkins, Sr. RB, North Shore
November, 8, 2010
11/08/10
1:54
PM ET
WARRIORS CAME OUT TO PLAY
Lincoln-Sudbury's success might have come a year earlier than expected.
Pitted against Dual Country League (Large) rival Acton-Boxborough and the Colonials' stout defense, a young Warrior team claimed their own destiny with a 10-7 win on Senior Night in Sudbury.
L-S has only two seniors starting on either side of the ball (Benjamin Forman, Zach Smerlas, Lawrence Stevenson and Ryan Swoyer) and relies heavily on its strong junior class. The Warriors also received key contributions from a couple of sophomores in the victory over A-B. Running back Christopher Georgio punched in the Warriors' lone touchdown of the game. In addition, fellow second-year player Brian Carroll pocketed a key fourth-quarter interception along with a strong contribution in the running game with nine carries for 72 yards.
Clearly, L-S has come a long way in a short period of time.
"I never thought we'd be at this point," Warriors head coach Tom Lopez told Scott Barboza after the game, "especially after that loss to Tewksbury at home."
From that point on, L-S strung together three straight wins before hitting a couple bumps in the road with losses coming at Concord-Carlisle and at home to Reading. The Warriors righted their ship with league wins over Waltham and Westford to put themselves in position for the big matchup with A-B.
L-S still needs to win one game over Boston Latin or on Thanksgiving against Newton South to sew up the DCL crown.
"We just need to keep things rolling," senior running back Marc Pace said. "All we need to do is win."
THANKSGIVING CORNUCOPIA
It's not that far away (heck, you can ever hear Christmas music round some parts) to start thinking about Thanksgiving. And, if all holds true to form, here's a smattering of holiday traditions around Eastern Mass. that could have a greater significance this year:
Walpole at Weymouth: It has no bearing on either team's postseason destiny, but both sides would like nothing better than to disrupt the other side's potential run at a perfect regular-season slate.
St. John's Prep at Xaverian: Provided neither team is upset this weekend, Turkey Day is shaping up to be a winner-takes-all contest for the Catholic Conference.
Dracut at Methuen: This one should be entertaining nonetheless and expect there to be plenty of points on the board when all is said and done. In addition, it could decide which team moves on from the Merricmack Valley Small.
Lowell Catholic at Pope John: The winner of the Catholic Central Small clash could be headed to the Division IV-A playoffs.
Abington at Whitman-Hanson: Worth noting that it is the 100th anniversary of the rivalry.
FOR ALL THE MARBLES … ONCE AGAIN
OK, so we thought the battle of Somerset and Martha's Vineyard was the Eastern Athletic Championship game, but who saw Bishop Feehan getting into the fray this late into the season? Although the Shamrocks are 4-5 overall, they are 3-0 in the EAC, thus staging the league's second in-season Super Bowl Friday in Somerset.
HOLLISTON CAN'T WAIT FOR ITS REMATCH WITH MEDWAY; DITTO MEDWAY, VICE-VERSA
The Medway Mustangs couldn't help but feel overjoyed when the final seconds ticked off on their 28-18 victory over Norton, to send them to Saturday night's Tri-Valley League championship game. So, too, was Holliston, no doubt licking its chops since the Mustangs shocked the region with a 28-16 upset back in early October.
"This is the matchup they've been waiting for since October 1," Holliston coach Todd Kiley told ESPNBoston's Brendan Hall. "We haven't overlooked anybody by any stretch, but you know it's in the back of their minds, they're kids of course. So we're fired up for that. I think they were secretly rooting for Medway today."
BRIDGEWATER-RAYNHAM IS STILL THE CLASS OF THE OLD COLONY
The Trojans' gameplan last Friday night against Barnstable was classic Dan Buron. The B-R coach is known for always having great run blocking out of power formations, and in this particular matchup he used it to set up play action waggles that kept the young Red Raiders defenders on their feet. Quarterback Billy Zolga completed his first seven passes, as the Trojans burst out to a 35-6 halftime lead.
"I thought it was very important (to keep them honest with the pass), because they were creeping up on us," Buron said. "I thought there were two passes in particular -- one to Delullis and one to (Branden) Morin where they had it covered and those kids slid, and Billy was poised and threw a nice ball...I thought Billy showed alot of poise tonight."
Zolga, also starting in the secondary that night to combat the Raiders' talented receiving corps, essentially sealed it in the fourth quarter with a pick-six of a D.J. Crook pass over the middle, essentially wrapping up the Old Colony League title for the second straight year. Even if the Trojans were to lose this week to Taunton, they're in based on head-to-head with Barnstable.
In other words, the road to Gillette still goes through Bridgewater.
HEAD OF THE CLASS
VALVOLINE PEAK PERFORMER OF THE WEEK: ANDREW COKE, ANDOVER
The junior running back was at it once again for the Golden Warriors, carrying the ball 30 times for a season-high 290 yards and all five touchdowns in a 36-20 win over Billerica to improve to 6-3. That gives Coke four 200-yard games on the season, and 1,447 yards in nine games this year, averaging 6.5 yards a carry. In all but two games this season, Coke has run for at least 130 yards.
THE CLASSMATES
Ray Holloway, Sr. RB, East Longmeadow - He was a dominant force for the Spartans in their 27-3 win over Springfield Putnam, rushing for 225 yards and three scores to keep EL undefeated.
Isaiah Jones, Sr. RB, Mahar: Needed only six carries to rack up 200 yards and four touchdowns against Turners Falls.
Mike Mercadante, Sr. RB, Minnechaug - Western Mass.'s leading rusher went off for 232 yards and two scores as the Falcons toppled Agawam, 41-20.
T.J. Norris, Jr. RB, Longmeadow: Led the Lancers to a 39-24 win over Westfield with 16 carries for 235 yards and three touchdowns.
Jaron Spear, Sr. TB, Somerset: Not be outdone by Jones, Spear's line from Friday night: Four touches, 172 yards, four touchdowns.
Mitch Temple, Sr. QB, Weymouth - Threw for 260 yards and three touchdowns in the Wildcats' 42-0 shutout of Wellesley, which clinched them a berth in the Division 1A playoffs.
September, 27, 2010
9/27/10
12:06
PM ET
Now that the dust has settled on Week 3 of the Massachusetts football schedule, here's what we learned from this weekend's action:
OK, so we were slightly wrong about Xaverian...
Turns out our friends at the Boston newspapers had it right and we had this No. 1-2 thing
in the wrong order
. Xaverian, on the heels of a 23-20 double overtime
instant classic
over Brockton, is our new No. 1.
But differences aside, we've all agreed that, man oh man, last Saturday's showdown at the Hawk Bowl was one of the best in the history of the series. And these two teams almost always seem to fight to a seven-point win or four-point defensive stalemate.
The Boxers have plenty of hype this season, and rightly so with the likes of Miami-bound Albert Louis-Jean joined by fellow seniors Ralph Cherry, Paul Mroz, William Carruthers, Trevon Offley and Jacques Janvier. But the Hawks showed plenty of toughness in the win. Junior quarterback Chris Calvanese fought through cramps to orchestrate the comeback win, delivering the game-tying pass to Mike Muir -- who, a few plays prior, separated his shoulder and popped it back in.
Hey, who said Xaverian kids aren't tough?
...But when healthy, Brockton's Trevon Offley is a bull to take down
Mahar's Isaiah Jones put it ever so simply last week in our
Q&A
: "My coach always says squatting is going to do everything for you."
It's clear after last weekend that the 5-foot-6 Offley abides by a similar mantra. And, as All-Pro running back Maurice Jones-Drew demonstrates every Sunday, leg power with a low center of gravity is a vicious combination.
From the second quarter on, Offley was just a chore to take down. Just when the Hawks had him for a 5-yard loss, he'd rip through an arm tackle, sidestep and shimmy his way back out to the line of scrimmage and then some. Other times, he'd keep his legs churning and drag the pile for an extra two or three yards. Offley, who carried the rock 19 times for 117 yards and all three of Brockton's scores in the loss, had been out with a shoulder injury since the first half of the Boxers' 16-6 season-opening win over Boston College High. But when he's healthy, he's as reliable as they come.
Methuen's offensive line kicks out and kicks off?
Methuen quarterback Cal Carroll emerged as one of the region's toughest playmakers with the Rangers'
36-26 stunner of No. 9 Billerica
, but just as impressive was his offensive line. Since losing to Plymouth North, 13-7, in Week One, the guys in the trenches have been blowing teams off the ball. A week and a half ago, they took it to Malden's massive defensive line in the second half en route to a 42-12 win. Last Friday, the guys paved the way to over 200 yards on the ground against the Indians.
Led by seniors Steve DiZazzo and Dan Cormier on the left side, the Rangers' line might not always be the biggest, but they proved that when on the same page, they can bang heads with anybody on a given night.
"Our o-line, they're tough, man," senior wide receiver Raudy Minaya said. "They hit hard, they hit every single play, and we get extra yards. That last (Carroll carry), we got the first down with ease and Cal got the touchdown, that's because of our o-line. We never give up. Up seven, doesn't matter, we need to get up the field and get the first down, and we ended up getting a touchdown with it."
Said head coach Pat Graham, "Offensive line-wise, it was essential to control the clock and to be able to run the ball, and I think our kids did a good job with that."
The 6-foot-4, 300-pound Cormier, by the way, has an impressive right leg. After Eric LaCroix kicks the extra point, the Rangers line up in a standard five-and-five kickoff formation, and some may be surprised to see Cormier raising his hand to the officials. But Cormier's got quite the boot, as he routinely blasted it to around the Billerica 5-yard line Friday night, with plenty of hang time.
Gloucester is really that good...so far, at least
Andover, coming off a 38-13 drubbing by the Fishermen, hung 39 points on MVC Small dark horse Tewksbury last Friday, which makes one wonder: just how good is Gloucester?
The Fish's defense, led by linebacker Chris Unis, was touted as a wagon before the team even started up their famous annual summer beach training regimen. The first unit hasn't allowed more than a score from opponents. Meanwhile, the Gilbert Brown-led offense has been explosive, averaging 38.3 points per game.
The rest of the Northeastern Conference, however, hasn't been sitting idly. Revere, led by bulldozing tailback
Trae Weathers
, is 3-0 for the first time in a while. Cross-town rivals Lynn Classical and Lynn English have also proven adequate to start the season, too.
We'll find out next month how capable the rest of the NEC Large contenders are of unseating the defending Division 1A Super Bowl champs, but for now we'll enjoy the ride.
Key EAC matchups could have bearing on December
Yeah, it's a little premature, but we can't help but wonder how a couple of this weekend's Eastern Athletic Conference games might impact the long-term playoff picture in Division III.
There was a battle of unbeatens on Slocum Road in Dartmouth with Somerset traveling to meet Bishop Stang. The Blue Raiders rolled to
a convincing 43-13 win over Stang
, riding running backs Jaron Spear and Seth DeMello, who combined for five rushing touchdowns.
Meanwhile, heading north along Rte. 140, Martha's Vineyard took care of business against Coyle-Cassidy. The Vineyarders escaped with a 41-32 win over the Warriors thanks to quarterback Randall Jette's 192 yards and five touchdowns on the ground.
While it appears that Somerset and the Vineyard control their own destinies in the EAC, we'll see if Bishop Feehan has anything to say in the situation. It's hard to figure what the Shamrocks have after losses to Attleboro, No. 18 North Attleborough and Abington — three quality teams. Feehan has two more games out conference, including next week's out-of-state matchup with Barrington (R.I.), before hosting C-C.
"This is a tough division," Somerset head coach Nick Freitas said Saturday after his team's win.
He continued, "Hopefully, we just remain healthy. I think that will be the key."
Blue Raiders quarterback Alex Ledoux left the game to an injury during the second quarter of Saturday's game. At the time, Freitas didn't have information on the severity of Ledoux's injury.
What was clear was the Blue Raiders' statement made on the field.
Playing with heavy hearts
Friday night's Hockomock game between Attleboro and Franklin almost was for not.
Attleboro's school community woke Friday morning to the news that senior Myles Brastow had died in a motorcycle accident. Hours before the game administrators and coached from the representative schools huddled to discuss whether it was appropriate to hold the game in light of Brastow's death.
"We talked to the administrators and the coaches to see what they wanted to do with the game," Franklin athletic director and head football coach Brad Sidwell said in a telephone interview on Sunday. "We certainly understood if they wanted to reschedule the game. But they felt that they wanted to try have a sense of normalcy and have the game like any other Friday night."
The Blue Bombardiers paid homage to their fallen classmate with a dramatic 20-13 win over the Panthers. Attleboro was led by quarterback Nate Robitaille, who was cleared for the game after suffering a concussion during the previous game against King Philip, and running back J.J. Jolaoso. Robitaille march the Blue Bombardiers down the field on the game-winning drive inside the two-minute warning and Jolaoso punched in the winning score on a 7-yard touchdown run.
"It's a tribute to the kids," Attleboro head coach Kevin Deschenes told Mark Farinella of The Sun Chronicle after the game. "They had a rough day today, and for these young adults to bounce back after a very traumatic day, losing a friend, I thought they responded very well."
The Franklin football community was also dealing with the loss of one of its own. Longtime Panthers head coach Gerry Leone Sr. passed away last week
"He was a legendary part of Franklin football," Sidwell said. "I know there are even some parents of current players who played for him and I know the lessons taught to them by coach Leone in high school are things that have stayed with them throughout their lives. That's the kind of man he was."
HEAD OF THE CLASS
VALVOLINE PEAK PERFORMER OF THE WEEK: ANTHONY KNIGHT, SR. RB, LAWRENCE ACADEMY
The North Carolina State-bound Knight kicked off the much-hyped Spartans' ISL title defense in grand fashion, carrying the ball 14 times for 308 yards and two scores in a 36-14 defeat of Milton Academy. We've seen 300-yard games before from schoolboy athletes, but on just 14 carries? That averages out to 22 yards a carry, or essentially a first down every time he touched the ball, so in that regard we've got to add a shout-out to his offensive line.
THE CLASSMATES
Blaise Branch, Sr. RB, Cardinal Spellman
– The 6-foot, 200-pound Branch had three scores on the ground and totaled 201 rushing yards on the day, ironically to give his head coach Ron St. George his 201st win, as the Cardinals rolled to a 35-8 win over Carver.
Andrew Coke, Jr. RB, Andover
– Coke accounted for all six of the Warriors' touchdowns in a 39-32 win over Tewksbury to open MVC play. He rushed 30 times for 214 yards and a school record five touchdowns; was 2 of 2 passing for 28 yards, including a 12-yard scoring strike to Brian Miller; and added 65 return yards for 311 all-purpose yards.
Dylan Colarusso, Sr. RB, Weymouth
– He carved quite a name for himself following his performance in Friday's 41-14 win over Milton, carrying 25 times for 262 yards and three scores.
Dave Dubin, Jr. DE, Holliston
– For all of the talk of the Panthers' offensive weapons, it was Dubin's work on defense that stood out in the 48-24 win over Millis/Hopedale. He had 11 tackles, including five sacks, and contributed to holding the Mohawks to minus-27 yards of offense in the first half.
Randall Jette, Sr. QB, Martha's Vineyard
- Jette captained the Vineyarders' Navy-style option offense with 17 carries for 192 yards and five touchdowns in their 41-32 win over Coyle-Cassidy.
Ben Patrick, Sr. RB, Rivers
– The Roxbury resident, who ran for over 900 yards in six games last season, continued his good ways with an impressive ISL debut. He carried 20 times for 269 yards and two scores, and also came up with two interceptions, as the Red Wings downed St. Paul's, 40-18.
Ben Shelton, Sr. QB, Wayland
– The Warriors turned a lot of heads with its stunning 36-7 win over highly-ranked Westford, and Shelton was the catalyst. He was 12 of 17 passing for 209 yards and two touchdowns, and carried the ball 11 times for 97 yards.
Jaron Spear, Sr. RB, Somerset
- The Blue Raiders asserted their will on the ground in a 43-13 victory over Bishop Stang and Spear headed the charge with 21 carries for 215 yards and four touchdowns.
September, 22, 2010
9/22/10
8:37
PM ET
By
Brendan Hall
| ESPNBoston.com
How good was Mahar Regional in 2009? Then-junior Isaiah Jones ran for 1,716 yards -- and wasn't even the team's leading rusher. Yes, the Senators threw the ball a grand total of 37 times last year en route to a flawless 12-0 season and the Western Mass Division 3 Super Bowl crown.
[+] Enlarge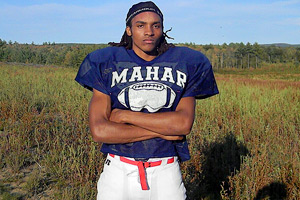 Brendan HallIsaiah Jones is impressing schools such as Boston College with his speed and agility.
Now in his senior season, the 5-foot-10, 165-pound Jones is the feature back, and based on the early returns it's a role he's flourished in. In just one half of play last week against Dean Tech, Jones had just five touches for five touchdowns -- two rushes, two punt returns, and an interception return -- for 311 all-purpose yards in a 46-12 win. He also wowed scouts this past summer at Boston College, running a 4.5-second 40-yard dash and clearing 40 inches on his vertical leap (he's also been timed below 4.5 in the 40 by hand). According to Senators head coach Jim Woodward, Jones is in BC's top four for defensive back recruits.
Despite of all the hype -- barring injury, he should surpass the 1,000-yard rushing mark for the third consecutive year, break the school's career rushing record, and may even get to 2,000 yards -- Jones is about as down to earth and level-headed as they come. He's humble, polite, and he says he barely uses his computer -- which, in this social media age of society, we certainly commend him for.
Jones, an Orange resident who made
our preseason all-state team
, sat down with ESPNBoston earlier this week following a practice to discuss his phenomenal speed, his new added role on the defense, and just what the heck there is to do out in the beautiful Western New England countryside.
Q: When you scored that fifth touchdown last week, what was your immediate reaction?
A:
"I was happy with what I did. I didn't want to come out of the game though, obviously. We just had to do what we had to do."
Q: After a season like last season, the expectations have been elevated. What kind of goals did you set for yourself this offseason?
A:
"Obviously, I want to win every game, that's my biggest goal. This hasn't been much of a goal until recently, but 2,000 yards."
Q: Is 2,000 a realistic goal?
A:
"I think it's pretty realistic, yeah. I don't have to split the ball as much, think I'll be carrying the load a little bit more. More touches for me than last year."
Q: This part of the state doesn't get talked about much. Is the talent here underrated?
A:
"This part? Yeah, I think so, little bit. I went to Boston College camp, and people there didn't even know of us. Never even heard of us."
Q: But apparently, you impressed them.
A:
"Yeah. First couple days at camp, no one really noticed me. But once we started playing games, and I started running my routes, coaches started noticing me and watching me throughout the rest of the whole camp."
Q: What were others' reactions?
A:
"They'd say, 'What did you run?' and usually they'd be like '4.6, 4.7', but 4.5? I was surprised, too. Like, wow."
Q: So what do people do out here in Orange?
A:
"Nothing (laughs). Sports? That's all I do, so..."
Q: When you see a guy coming at you, what move are you inclined to pull?
A:
"Stop and go, that's probably what I do the most. But I don't think I have one move in particular."
Q: How would you describe yourself as a player?
A:
"I think I'm pretty...I don't know (laughs). I'm playing defense again, I didn't play much on that side last year. I can run the ball, i can catch."
Q: How has that transition to safety been?
A:
"I'm catching on again. I think...I'm getting it. But I need a little bit more work."
Q: How pumped were you after seeing what you did in front of the scouts?
A:
"Yeah, I was pretty pumped. I had run a 4.7 the year before, so I was really surprised with how well I did."
Q: How do you make a jump from 4.7 to 4.5?
A:
"I have no clue (laughs)...my coach always says squatting is going to do everything for you. I'm up to 315 now."

Q: You play small forward on the basketball team. How many times have you dunked, and do you remember the dunks?
A:
"I need to work on my shooting (laughs). Greenfield, I got a breakaway dunk. Mohawk, my sophomore year, got a tip slam. Both were one-handed."

Q: What are you doing before the game?
A:
"Trying to get everybody's head in the game, get everybody ready, make sure they're not nervous. Then I focus myself on what I have to do...I don't listen to any music. Usually I just, before I talk to everyone else I just sit by myself and figure out what I have to do....I just stay to myself."
Q: Sometimes players will talk about those first-hit jitters. Does that happen to you?
A:
"I don't think so. When I step on the field, I'm ready to go."
Q: So when you deliver that first hit...?
A:
"I'm so pumped. I've got so much adrenaline going through me."
Q: What's on your iPod right now?
A:
"Rap...let's see, I've got some Chiddy Bang, T-Pain, Lil Wayne, Drake, Nicki Minaj, stuff like that."

Q: What would you most like to improve upon this season?
A:
"I want to get bigger. I want to gain some weight, but stay fast, try not to make any mistakes. I want to be mistake-free throughout the season."
September, 20, 2010
9/20/10
11:27
AM ET
Now that the dust has settled on Week 2 of the MIAA football schedule, here's what we learned from this weekend's action:
The Atlantic Coast League race is going to be a lot closer than we thought
No. 15 Falmouth and defending Super Bowl champ Marshfield were the figurative favorites in the ACL headed into the 2010 season, but the picture just got a whole lot more crowded.
After a surprise upset of Methuen in Week One, Plymouth North almost pulled off another shocker last Friday against No. 24 Duxbury. Matt Walsh – he of the heroic 77-yard winning touchdown in week one – hauled in a 5-yard pass from Cody Merritt with no time left on the clock, to make it 14-12 Duxbury. The ensuing two-point conversion pass was intercepted and returned 100 yards for the 16-12 final, but a point has been firmly made in year one of the Dwayne Follette era.
Meanwhile, Dennis-Yarmouth – fresh off a 41-38 upset of Barnstable – is averaging 42 points per game, led by junior dual-threat quarterback Matt Montalto. The Dolphins run the spread and like to throw the ball, but a closer look at their program shows they're not some pass-happy outfit. Led by the hulking 6-foot-5, 319-pound Nate Crary at left tackle, the Dolphins are physical at the point of attack, and maintain a nice balance on their zone read behind running backs like Joe Furness and Damion Johnson.
"If you ever needed a big play in any sport, he's the one who's going to do it," D-Y head coach Paul Funk said of Montalto, who also plays hockey and baseball at the school. "That's him, that's his makeup. I'd take that kid anywhere."
As for toughness?
"(I'd rate him) at the top," Funk said. "That's what makes him so great. When your quarterback's as tough as everybody else, everybody else tows the line."
Burlington can score in a hurry
Down 28-14 to Arlington in the fourth quarter, the Red Devils bounced back in a hurry, scoring a whopping 29 points over the final few minutes of the contest to take a 43-28 win going away. Freshman Marcus Odiah hauled in a 25-yard Greg Sheridan pass, then recovered a fumble moments later and scored from three yards out. He then ran in the two-point conversion for a 29-28 lead with 1:15 left.
Seconds later, Kyle Shields intercepted a pass, and Odiah ran it in from 40 yards out to make it 36-28. Anthony Cruz then put the clamps on the win with a 52-yard pick-six on an Arlington Hail Mary heave.
One thing is for certain as Middlesex League play begins next week: The Red Devils are a wild card.
Dan Light is a tough guy to wrap up
Last season, we saw glimpses of Dan Light's ability as a running quarterback for St. John's (Shrewsbury), when he took direct snaps lined up next to quarterback Griffin Murphy as the Pioneers' ball-carrier in Wildcat formations. And now that Light, a senior, has made the full transition from tight end to signal-caller, we're seeing that in full force.
With the No. 4 Pioneers' 37-8 defeat of Longmeadow yesterday, the 6-foot-4, 235-pound lefty has accumulated over 600 yards of offense and 10 touchdowns through two games. On the ground, he is averaging 11.1 yards a carry, and has hooked up with Cal-bound receiver Richard Rodgers for four touchdowns.
At times, Light has shown Tebow-esque abilities carrying the ball. But it's the vision he's developed over the last few weeks that has made him that much more difficult to stop.
"If I looked at him over the last three weeks, he has become a very smart quarterback," St. John's head coach John Andreoli said of Light. "Our offense is really designed around looking at the defense and taking advantage of what the defense gives you, and I see Danny taking more ownership of those calls.
"He's been able to deliver the ball on the long balls, but on the short balls, you know, you see his feet moving around in the pocket and he's very comfortable. And all of that, when you pull people out of the box and give him the ability to run the ball, he's a very dangerous player. That's really the point where we want to get."
Tewksbury's visit to Methuen on Oct. 29 will go a long way to deciding the MVC Small crown
With Lawrence's surprise upset of Lynn English and Tewksbury's surgical handling of Lincoln-Sudbury on opening weekend, the two teams' meeting in Tewksbury last Saturday had the potential for greatness. The Redmen, however, wanted none of that, going up 28-6 on Lawrence at the half en route to an easy 35-6 win.
Sean Connolly led the way for Tewskbury with 101 yards on the ground and 105 through the air, totaling two scores, but watch out for tailback Anthony Arcari. He may be one of the more underrated speedsters in the league.
"The whole team likes to play as a family," Arcari told ESPNBoston's Neil Carroll. "We talked about that all year and on that one drive the offensive line did their job, the quarterback did his job, we ran the ball well and it demonstrated all that Tewksbury can do."
Meanwhile over in Methuen, the two-man game of Cal Carroll and Raudy Minaya that works so well during basketball season has finally broken out again on the gridiron. Carroll (11 of 15, 146 yards) easily dispatched much-hyped Malden on Friday night with a strong second half, finishing with five scores through the air – including three to his good buddy – and another on the ground.
This was the Methuen that so many coaches had raved about during preseason.
"We have some of the toughest lineman around," Carroll told ESPNBoston correspondent Phil Perry. "Steve DiZazzo, Sean Whittaker, they do all the dirty work inside. They watch so much film and work so hard, my success is because of what they can do."
This week is a brutal one for the MVC Small's front runners, with Methuen traveling to Billerica, Dracut hosting Central Catholic and Tewksbury visiting Andover. But based on the early returns, we suggest circling October 29 on your calendars.
Not the Raiders of old
Central Catholic proved more than just the point that they could hang with St. John's Prep in this weekend's game. The Raiders offensive identity has been altered from years past to incorporate the passing game more.
Although head coach Chuck Adamopoulos said in the preseason he hadn't seen a definitive No. 1 quaterback emerge, it looks as though Central Catholic has some able bodies at the position. Transfer student Ben Onett was impressive and accurate in his Massachusetts debut against Marlborough a week ago.
But it was junior Matt McDermott who seemed to take hold of the Raiders' offense this week at St. John's Prep. Adamopoulos again split time between his quarterbacks on Saturday, but McDermott looked as though he might have a hand up on the competition. He was on the field for each of the Raiders' scoring drives and seems to have developed a good rapport with his top target, receiver Xavier Peralta.
It was also telling that McDermott was on the field for the Central Catholic's final drive in the fourth quarter with the game on the line. The Raiders' chance for a comeback was thwarted by an interception in the game's waning moments, but it bears watching how the quarterback situation in Lawrence develops in the coming weeks.
No. 1 Brockton and No. 2 Xaverian have been flawless so far, setting up Saturday's showdown to be one for … well, really, do we need to explain?
Saturday. 1 p.m. Clapboardtree Street, Westwood.
No. 1 versus No. 2.
Public vs. Private.
Need we say more?
HEAD OF THE CLASS, WEEK 2
Taking a look at the weekend's top performers:
Isaiah Jones, Mahar: Tallied 311 yards of total offense and five touchdowns during just the first half in a 46-14 win over Dean Tech. Jones had two rushing scores, two punt returns for a touchdown and an interception return. Mahar ran just 4 plays in first half and was up 46-8 at half.
Ryan Vultaggio, Groton-Dunstable: Vultaggio picked up 279 yards on the ground on just 12 carries to go along with four touchdowns in a 52-34 over West Boylston.
Nick LaSpada, Billerica: The junior quarterback was stellar once again, completing 15 of 23 pass attempts for 318 yards and one touchdown against Woburn. LaSpada also ran for three touchdowns.
Cal Carroll, Methuen: See Phil Perry's story.
Charlie Blackett, Lexington: The senior defensive tackle set up camp in Concord-Carlisle's backfield to the tune of five sacks and was in on a countless number of other plays.
Dan Light, St. John's (S): The quarterback was superb with 296 yards of offense and five touchdowns in a 37-8 win over Western Mass. power Longmeadow.
John Pieterse, Worcester Academy: In his third career start, Pieterse was 16 of 18 for 322 yards and five touchdowns in a 41-14 victory over Blair Academy.