Boston High School:

Isaiah Wright
July, 21, 2013
7/21/13
10:50
PM ET
By
John McGuirk
| ESPNBoston.com
SPRINGFIELD, Mass. -- When Jaleel Kyles showed up for Putnam Vocational Tech's first football practice three years ago as an unassuming freshman, the Beaver coaches didn't pay much attention to him, that is, except for making a few mental notes regarding his dimensions. Kyles stood 5-foot-2 and barely reached 90 pounds.

"At that size at the time we didn't know how much he was going to help us," said Putnam head coach Bill Watson, who served as assistant under head coach Lou Malvezzi when Kyles arrived on the scene.

Prior to Kyles' junior season, he had a growth spurt which bumped him up to 5-foot-6, 140-pounds. To the coaches that was progress but questions still lingered.

"Funny thing is when we as coaches continued to doubt if he would be able to play for us, Jaleel always believed and just kept working," Watson said. "He ran track to get faster and continously worked out during the off-season with weight lifting and doing agility work and then he had another growth spurt."

Fast forward to the present, and with the start of pre-season camp just a few short weeks away, Watson's reflections of Kyles have changed dramatically. No longer the scrawny little kid whom many felt might get injured if he played, Kyles, thanks to yet another growth spurt this past year which now puts him at 5-foot-10, 160-pounds along with a vigilant off-season conditioning program, has emerged in becoming the featured player on the Putnam squad.

Taking part, along with 40 other area players, in Saturday's Super 7 Showcase at Central High's Fred Berte Field, Kyles showed off the abilities which should make him one of the top two-way players not only in Western Mass. but most-likely beyond.

Because of his pure athleticism, Watson says Kyles will play all over the field this season and will rarely come off. As of now, his primary position is slot receiver but he will also see time at running back and quarterback as well with the various offensive packages Watson wants to use. On the other side of the ball Kyles is a shutdown defensive back.

"It doesn't matter where I play," Kyles said. "I just want to put this team on my back and let them know I'm ready to lead them."

With the addition of Sci-Tech High players merging with Putnam this year, automatically the Beavers' numbers regarding depth will increase. Putnam will need those extra bodies after being moved up to Western Mass. Division 2 this season, joining the likes of powers Longmeadow, Central, East Longmeadow and Westfield.

"We're going to have more numbers which is huge because last year we would only practice using half of field because we didn't have a lot of numbers," said Kyles.

Early in his life Kyles, like so many other kids, experienced his share of hardship. Just nine months old at the time, his father left him and his mother Shakira. In time his mother met another man (Kwame Kyles) and they were married. The younger Kyles regards his stepfather, whom he refers to as dad, as a pure blessing and in fact, recently had his last name which use to be Brown changed to Kyles.

"He's not my true father but he helped raise me," Kyles said. "He's always been there for me as is my mom. He took me under his wing and I've always been his. He's like my real father. My mother works very hard and always does her best to get me and my siblings everything we need. She comes to my football games and track meets and supports me in everything I do."

Kyles says without Kwame being a major presence in his life, he doesn't know if he would have ever become the football star he is today. As a youngster, Kyles was extremely hyper and Kwame searched different high and low to try and put that energy to good use. Early on, Kwame got him involved in karate and boxing. Then one day Kwame saw an advertisement on a billboard about Springfield youth football. Kwame immediately signed Kyles up and the rest is history.

"Playing football at a young age, my dad taught me everything about football and a strong hard-work ethic," said Kyles. "We would do drills and he would set up cones in our back yard to help me run precise routes, etc."

Going into last season, Watson had Kyles listed as his third receiver but suddenly all of that changed.

"Going into camp we had two kids in front of him who were college scholarship type of receivers," said Watson, who has coached at Putnam for 17 years. "In the scrimmages Jaleel played well and we had him play running back sparingly and he still ended up being our leading rusher last year (544 yards on 102 carries, 9 TDs). In my mind I believe he needs to touch the football at least 20 times a game. If he doesn't then we're not doing our job. He's tough, physical, fast, quick and just a great kid to coach."

Kyles' hard-work and dedication to make himself better has already begun to pay dividends. He recently received an offer from AIC. Watson, who played at AIC, said UMass and UConn have also shown some interest.

"I want to play college football and get an education," Kyles said. "My dad has always steered me in the right direction. So whatever offers I get on the table we will deal with. If it's not something of my interest then I may go to a private school for a year."

With a full high school season ahead of him, it is highly-likely a few more offers will come his way. No matter, Kyles has become a role model for others, who also may be a bit undersized, to follow and fulfill their dream.

Notable performances: During Saturday's Super 7 Showcase, under the direction of Watson, other players besides Kyles, had very productive days. Ansonia (Conn.) running back Arkeel Newsome, who recently committed to UConn, stood out along with Holy Cross (Conn.) receiver Isaiah Wright, who will attend Kingswood-Oxford School in East Hartford next fall. Others who grabbed attention included quarterback Cody Williams and lineman Khaleel Walker of Central, Putnam tight end David Spears, East Longmeadow receiver Sam Blake -- who will PG at Williston-Northampton School -- and Windsor (Conn.) receiver/defensive back Terrell Huff, who will suit up for East Coast Prep in Great Barrington come September.
September, 12, 2012
9/12/12
3:27
PM ET
By
Roger Brown
| ESPNBoston.com
The high school football season starts later in Connecticut than it does in the five other New England states, but the wait is almost over.

Things kick off this week, and here are 10 teams to keep an eye on as the 2012 season unfolds (2011 record in parenthesis):
XAVIER (13-0 ):
Quarterback Pat D'Amato is among the 19 seniors who graduated from last year's team, which won its second consecutive Class LL championship The Falcons, who own a 26-game winning streak, will build around Boston College-bound quarterback Tim Boyle and are considered by many to be the best team in the state.
Opener:
at Notre Dame-West Haven on Friday.
STAPLES (11-1):
There's plenty of star power here. The defending FCIAC champion returns quarterback Jack Massie (1,617 yards passing and 14 TDs last season), running back Joey Zelkowitz (1,019 yards rushing) and linebacker Kevin Kearney, who averaged a team-high 13.1 tackles per game last season.
Opener:
St. Joseph-Trumbull on Friday.
HAND (13-0):
The Tigers, last year's Class L champion, lost some key pieces, but should be stingy on defense with linebacker Matt Walsh and defensive end Peter Gerson. Walsh will play fullback at Connecticut, and Gerson is headed to Yale.
Opener:
Amity-Woodbridge on Friday.
ANSONIA (14-0):
The Chargers, who won the Class M championship last season, are competing in Class S this year. Junior Arkeel Newsome set the state's single-season rushing record (3,763 yards) in 2011, when he scored 58 touchdowns.
Opener:
at Torrington on Friday.
WINDSOR (11-1):
May be the team to beat in the Central Connecticut Conference. Quarterback Quinn Fleeting passed for 2,802 yards and 30 TDs last season, and added 522 yards and four TDs on the ground. He'll have a good target in Ryheime Moore, who had 911 receiving yards and nine touchdowns in 2011.
Opener:
at Wethersfield on Friday.
GREENWICH (8-2):
The Cardinals, who lost to Staples in the FCIAC final last year, have 37 seniors on their roster and will be attempting to make the Class LL playoffs for the first time since 2007. Liam O'Neil is among the top quarterbacks in the FCIAC.
Opener:
at Ridgefield on Friday.
HILLHOUSE (7-3):
The Academics are loaded at the skill positions. Junior running back Harold Cooper averaged 13.6 yards per carry last season, when he gained 1,835 yards on 134 attempts. He's complemented by quarterback Je'Vaughn Moore, who is expected to continue his career at the college level.
Opener:
at Foran-Milford Thursday.
LEDYARD (11-2):
Size on the defensive line is a concern, but the Colonels appear to be fine everywhere else. Thirteen starters return, including quarterback John Rainey.
Opener:
Waterford on Thursday.
HOLY CROSS (12-1):
Won the Class S title last year, and figures to battle Ansonia for the top spot in the NVL this season. Adrian Brown, who ran for 1,013 yards in 2011, and Isaiah Wright, last year's top receiver, are back.
Opener:
Watertown on Friday.
BERLIN (10-2):
The Redcoats lost to Ansonia in the Class M semifinals last season, and the majority of that team is back. The offensive line, which features guard Chris Meucci (6-0, 240 pounds) and tackle Mitch Blanchette (6-3, 285), looks like the team's strength. O
pener:
at East Catholic-Manchester on Saturday.
Roger Brown is a staff writer for the New Hampshire Union Leader and has been covering high school sports throughout New England since 1992.
July, 21, 2012
7/21/12
10:29
PM ET
By
Ben Larsen
| ESPNBoston.com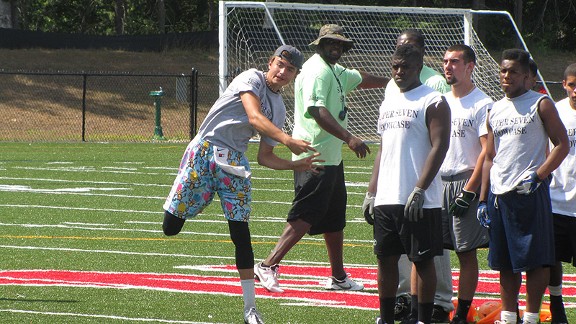 Ben Larsen for ESPNBoston.comSpringfield Central junior quarterback Cody Williams was named the top offensive player at the Super 7 Showcase in Wilbraham.
WILBRAHAM -- The knock on Western Massachusetts football is that, despite the number of athletes in and around Springfield, they typically don't get to experience the in-season matchups that warrant serious looks from NCAA Division I football programs.
That may change following the region's terrific showing at the Super 7 Showcase Saturday, held by Elite Athlete Development at Wilbraham & Monson Academy.
Featuring many top-level recruits from Connecticut and New York, the top players from the Springfield area had the opportunity to compete against competition that's on another level compared to what they'll see during the high school football season. A quick glimpse at the post-camp awards will prove that they certainly didn't waste the opportunity.
In fact, some of the names likely to make headlines this fall, dominated the camp and showed they can play with other top northeast recruits.
Springfiel Central's Aaron Owens took home the camp's Most Valuable Player Award. The incoming senior, who was used in various capacities for the Golden Eagles last season, showed an ability to stay with the camp's receiving corps, which included Manchester (Conn.) tight end Andrew Isaacs and Tottenville (NY) wide receiver Malique Belfort --- who combine to boast 12 Division I offers.
Owens was also in perfect timing with Central quarterback Cody Williams, who took home hardware as the showcase's Top Offensive Player.
All told in addition to Owens' and Williams' honors, Springfield players garnered four top positional awards. Central's Shawn Lockett won top offensive lineman while Sha'ki Holines of Commerce took home the top defensive lineman award. Commerce's Hasan Graham was the No. 1 linebacker and Rishawn Harris of Putnam won the event's top defensive back award.
HOLINES UNVEILS LATEST OFFER
Holines made news earlier this summer with a verbal commitment to UMass. Given his showings at camps similar to the Super 7 Showcase, he's bound to get even more interest and offers leading up to signing day.
UConn is the latest school to offer the 6-foot-3, 265-pound defensive lineman/linebacker.
He received the camp's top defensive lineman award for his ability to dominate the 1-on-1 positional drills.
Holines has also received attention from the University of Maine.
Holines was instrumental in the Red Raiders' turnaround and run to the Division II Western Mass. Super Bowl last season. He recorded 132 tackles with six sacks and four fumbles recovered.
CONNECTICUT YOUTH SHINES
Two of the more talked-about players from the Super 7 Showcase were from the Nutmeg State.
Arkeel Newsome, an incoming junior at Ansonia, took home the top running back award. Given his 2011 accomplishments, it's easy to see why.
The shifty back ran for an eye-popping 3,763 yards and scored 62 touchdowns as Ansonia went 14-0 en route to the Class M state title.
Newsome already has offers from UConn and UMass and that list is likely to grow.
Isaiah Wright, who'll be just a sophomore this fall at Holy Cross in Waterbury, made a number of great plays at the wide receiver position.
NEW YORK STATE OF MIND
Two players from Staten Island were as impressive as any duo at the Super 7 Showcase.
Belfort, the 6-foot-4, 170-pounder from Tottenville, took home the camp's top wide receiver honor. He was equally effective on deep balls as he was going across the middle. His unique combination of height and speed made it hard for defenders all day long.
Belfort is mulling offers from numerous BCS schools, including Arizona State, Boston College, UConn, Illinois, Ole Miss, Tennessee and Virginia.
Naby Sylla hails from nearby Port Richmond High School and was equally impressive on the defensive side of the ball. The 5-foot-8 cornerback earned the camp's top defensive player award and showed great speed and instincts in one-on-one drills and the 7-on-7 portion of the event.
Sylla has interest from UConn, West Virginia, Albany and Syracuse.
AWARD WINNERS
The camp awarded numerous honors following the camp. The complete list is as follows:
Camp MVP:
Aaron Owens RB/DB, Central (MA)
Top Offensive Player:
Cody Williams QB, Cental (MA)
Top Defensive Player:
Naby Sylla CB, Port Richmond (NY)
Offensive Line
2nd Place: Ismael Figueroa, Springfield Central (MA)
1st Place: Shawn Lockett, Springfield Central (MA)
Defensive Line
2nd Place: George Blake, East Longmeadow (MA)
1st Place: Sha'ki Holines, Commerce (MA)
Tight End
2nd Place: Raishawn Finney, Ansonia (CT)
1st Place: Andrew Isaacs, Manchester (CT)
Quarterback
3rd Place: Blake Rise, Stafford (CT)
2nd Place: Kayjuan Bynum, Putnam (MA)
1st Place: JaQuan McKnight, Ansonia (CT)
Wide Receiver
5th Place: Mecca Gonzalez, Putnam (MA)
4th Place: Isaiah Wright, Holy Cross (CT)
3rd Place: Tavis Frasier, Putnam (MA)
2nd Place: Sam Blake, East Longmeadow (CT)
1st Place: Malique Belfort, Tottenhill (NY)
Running back
2nd Place: Wayne Lowery, Putnam (MA)
1st Place: Arkeel Newsome, Ansonia (CT)
Linebacker
2nd Place: Kyle Soja, Chicopee Comp (MA)
1st Place: Hasan Graham, Commerce (MA)
Defensive Back
3rd Place: Devontae Sewell, Commerce (MA)
2nd Place: Terrell Huff, Windsor (CT)
1st Place: Rishawn Harris, Putnam (MA)