Boston High School:

Isan Diaz
June, 25, 2014
6/25/14
8:56
PM ET
Baseball America unveiled its High School All-America Team this afternoon, and among the names on the list are Springfield Central shortstop Isan Diaz and Xaverian/Salisbury (Conn.) righthander Austin DeCarr.
Diaz, a second round draft pick of the Arizona Diamondbacks, made the Second Team after hitting .492/.625/.898 this spring with four home runs and 14 RBI. He was also named ESPN Boston's "Mr. Baseball" last week as the state's top overall player, and is a two-time ESPN Boston All-State selection.
After getting drafted by the Diamondbacks in Compensatory Round B (70th overall), Diaz spurned his verbal commitment to Vanderbilt University and signed a contract reportedly worth $750,000.
DeCarr, a Foxborough resident, made the Third Team after an explosive post-graduate season this spring at Salisbury (Conn.) after finishing up at Westwood's Xaverian High. He struck out 19 batters in his second to last start, and reportedly topped out at 97 mph on his fastball.
After being selected in the third round (91st overall) by the New York Yankees, DeCarr spurned his commitment to Clemson University and signed a contract reportedly worth $1 million -- nearly double the designated salary slot for that pick.
To view Baseball America's complete First, Second and Third Team All-America selections,
CLICK HERE
.
June, 18, 2014
6/18/14
12:25
PM ET
ESPNBoston.com and its high school section today announce that Isan Diaz, senior shortstop of the Springfield Central High School Golden Eagles, is the recipient of its fourth annual "Mr. Baseball" award, presented to the top overall player in the state of Massachusetts.

The Mr. Baseball Award was chosen by a panel of ESPNBoston.com staff and correspondents. Diaz will be presented with the Mr. Baseball Award at a date to be determined later. He joins Lawrence Academy's Tyler Beede (2011), Lowell's Matt Tulley (2012) and St. John's Prep's Brandon Bingel (2013) among recipients in the award's four-year history.

"We are proud and honored to present Isan Diaz with this year's Mr. Baseball Award," said ESPNBoston.com High Schools Editor Brendan C. Hall, who coordinates the site's baseball coverage. "Isan was one of several players across the Massachusetts high school baseball landscape who came into the spring with a mound of hype to live up to, and he more than delivered. Anchoring one of the state's best middle infields, he always put on a show."

The 6-foot, 170-pound Diaz was named to ESPN Boston's All-State Team a year ago as a junior, and came into this spring hyped as one of New England's top high school prospects. He delivered again this spring with some impressive defensive plays and strong batting. At the plate, hitting primarily at the top of the Golden Eagles' order, Diaz registered .492/.625/.898 totals, with four home runs and 14 RBI.

After a tough start to the season, the Eagles got hot in the second half of the regular season, earning the No. 3 overall seed in Division 1 West. Central bowed out in the quarterfinals of the tournament.

"In my time covering high school baseball at ESPN Boston, Isan is the most naturally-gifted defensive player I've seen," Hall said. "It was a joy watching him make some of the most difficult plays in the field look so effortless. And considering that, for all of his defensive prowess, his bat is generally considered his most valuable tool, that should tell you a lot about what a special player he is."

Earlier this month, Diaz was selected 70th overall, a Competitive Balance Round B pick, by the Arizona Diamondbacks. He was the first of seven high school players in Massachusetts to be taken in the draft, the most in a single draft since 2003, and was the highest selection for a Massachusetts high school player since Beede went 21st overall to the Toronto Blue Jays in 2011.

After initially committing to Vanderbilt University last fall, Diaz instead has spurned his pledge to the Commodores, and signed a professional contract with the Diamondbacks reportedly worth $750,000. He is the first Mr. Baseball winner to sign out of high school.
April, 2, 2014
4/02/14
10:10
PM ET
By
John McGuirk
| ESPNBoston.com
SPRINGFIELD, Mass. -- Mike Donato is right. The sound is different.
During a recent batting practice inside spacious Springfield Central gymnasium, the sound of Isan Diaz's bat making contact with the baseball echoed loudly across the walls. The sound, so definitive, told you immediately who was at bat.
Even at an early age, Diaz could always hit a baseball. Now, as the senior standout shortstop of this talented Golden Eagles team, he is hitting the ball with tremendous authority and power.
All of his swings connect flush on the bat's sweet spot. No matter the pitch, Diaz can hit it.
"When he's in the batting cage, the sound of the ball coming off his bat sounds so much different than anyone else's," said Donato, now in his third season as Central's head coach. "Just solid contact every time through."
Special, special talent
Diaz has already established himself as the top all-around high school player in Massachusetts. Baseball America ranks him the 55th best prospect in the nation. Most expect Diaz to be drafted in the early rounds of June's MLB Draft. He has already accepted a scholarship to play at Vanderbilt University next season. Depending upon where he is selected in the draft will determine which road he will pursue.
"I really haven't gotten all that deep into the draft," said Diaz. "I don't care where I go. But if I did have a choice, I would like to go to a team like the Houston Astros or Miami Marlins because I think I would have a quicker transition up through the ranks. Teams like the Red Sox, Yankees and Rangers always seem to have plenty of prospects and good talent in their farm systems.
[+] Enlarge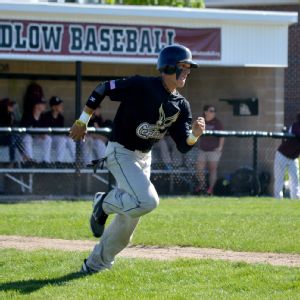 Brendan Hall/ESPNSpringfield Central shortstop Isan Diaz says he will likely honor his commitment to Vanderbilt if he's not taken in the first five rounds of June's MLB Draft.
"You want to go somewhere and play for a team where you can move up through the levels at a reasonable pace. I know I can play. I've seen a lot of good pitching over the last couple of years wherever I have gone. I have been able to recognize pitches coming out of the pitcher's hand right away. I feel that is the only way you are going to know how to hit successfully."
Asked what it would take for him to hold onto his scholarship and play at Vanderbilt, Diaz says he would most likely go that route if he is not selected in the first five rounds.
The recognition of Diaz's talent took center stage last year after partaking in several off-season tournaments. That included the well-established Area Code Games in Long Beach, Calif., and Perfect Game World Showcase in Ft. Myers, Fla., where he earned Second Team All-American honors. At Central, he is considered the most feared by opposing teams who often times have second thoughts whether or not to pitch to him or walk him intentionally.
Yet with fear also comes respect, in regards to how Diaz plays the game.
"Isan is an extremely talented player, whom we have a lot of respect for," said Springfield Cathedral head coach Pat Moriarty. "He does not give any at bats away and is a very good defensive player also. He truly respects the game of baseball."
Last season the 6-foot, 180-pound Diaz earned ESPN Boston All-State honors after batting .435, driving in 23 runs and belting three home runs in helping the Golden Eagles win the Valley Wheel League title. However, Central's postseason tournament run ended all to abruptly after falling to Northampton (a team it defeated twice during the regular season) in the opening round.
This year, Diaz and company have made a solemn vow to get back to the postseason and stay a little longer this time out. It all begins on Friday when the Golden Eagles travel to Amherst.
"Most of us now know what we did wrong last year both mentally and physically," Diaz said. "This year I feel there is more of an awareness of how to fix those mistakes during a game. We should see a big change in regards to all of us playing more like a unit instead of playing for ourselves."
Last season, the Golden Eagles started out the season at 1-4 before turning it on midway through, winning 9 of their next 11 games. Besides Diaz there is enough talent on this club for them to make a serious run, not only for a Division 1 Western Mass. title, but perhaps beyond.
Even though Diaz appears to have a bright future ahead of him, he says his first order of business remains with his high school team. Among Central's other standouts include second baseman Ju'an Williams, outfielder Eddie Acevedo and pitchers Sam and Seth Allen.
"I think we can win a title here," said Williams, who plans to attend Dean College next year and play football. "We just need to put the time in and continue to work hard. We have the talent."
The strength of Diaz and Williams covering the middle of the diamond is certainly a huge asset. Few, if any balls, get past them which, in turn, bodes great confidence in the pitching staff as to not being afraid to throw pitches down the middle of the plate.
"I feel our two guys up the middle can compete with anybody and I feel positive in saying that," assistant coach Peter Hall said. "Both are simply phenomenal. With Isan, the hype is there but he still continues to go out and work hard everyday. Every time he does something spectacular I just look over at Mike and say 'Oh my God.' You just get blown away by what he can do."
Everyone knew Diaz could hit, but early in his Central career his defensive skills were lacking. Both Donato and Hall worked exclusively on improving his footwork, balance, throwing skills and other intangibles in an effort to eliminate bad habits. Because of that, Diaz has emerged into a first-rate defensive specialist.
"As a sophomore I knew right away that he was going to be special," said Donato. "But in the field he had a lot of things to work on and that sort of worked to our advantage as coaches because we told him yes he could hit with anybody but at the same time if he wanted to play shortstop at the next level he couldn't be making 20 errors over the course of a season. We saw a huge change in his defensive skills last year."
Leading by example
Born in Puerto Rico, Diaz moved to Springfield with his family at the age of four. Prior to attending Central as a sophomore, Diaz attended Renaissance School in Springfield before deciding to transfer and play for a program that would give him more notoriety.
In his three years with the Golden Eagles, Diaz has attained the utmost admiration from his teammates in regards to how he handles himself both on the field and in the classroom. He is the first to hand out positive advice and support to a fellow teammate.
"I've learned a lot of things from him over the years," Williams said. "Not only is Isan an awesome player, but he is a pretty good coach too. Wherever he has gone to play, he always brings some information back with him that he has learned and then passes it along to the rest of the team so that it helps all of us."
Says Hall, "The one thing I tried to do was to get him to slow the game down. On defense, he was always trying to do a lot of things on the run and tried to make the pretty play all the time. We worked a lot on it and I think by having him slowing the game down and developing confidence in his footwork is what has really helped him improve greatly as a shortstop."
Having watched Diaz play in several AAU-sponsored events as a member of the New England Ruffnecks and seeing his talents shine bright during the Perfect Game World Showcase and Area Code Games, it was enough for Vanderbilt head coach Tim Corbin to offer him a scholarship last November.
If Diaz opts to head down to Nashville next fall, he will join up with some other Massachusetts-based players currently there including Tyler Beede (Auburn/Lawrence Academy), Rhett Wiseman (BB&N), Adam Ravenelle (Lincoln-Sudbury) and Ben Bowden (Lynn English).
Donato, who played his college baseball at UMass-Amherst and was an All-Atlantic 10 First Team selection and team captain, understands the nuisances of playing collegiately at the Division 1 level, and has mentored Diaz as to what to expect.
"The difference between schools like Vanderbilt and UMass is their lineup is much deeper, their best player is better than our best player and their pitchers are better," he said. "But that doesn't mean a guy who stands out here can't do the same at Vanderbilt. There have been a few players from the northeast who have gone down south to play and have gotten drafted and have been successful so I think Isan can certainly do it as well."
But he only thing on Diaz's mind at this point is the here and now. Like any senior, he wants to finish his high school career with a bang. Yes, the Golden Eagles have the potential to wreak some havoc in their quest to win a state title but the road will not be easy facing the likes of area powers Cathedral, Amherst, Westfield, East Longmeadow and defending WMass champ Agawam.
"I feel like every team that we play out here is pretty-much equal," said Seth Smith, a junior lefty. "You need to go into every game with the same mentality and take no one lightly."
Adds Donato, "Expectations from our stand point is we want to be the best but you need to beat the best. Last year we did a lot of beating ourselves especially early in the year before we started to get hot. This year our expectations as a team are very high. I know we can do it and our kids know they can do it. But we also know nothing is going to be handed to us. We need to go out and earn it."
November, 7, 2013
11/07/13
11:54
AM ET
By
Brendan Hall
| ESPNBoston.com
Springfield Central senior shortstop Isan Diaz has verbally committed to Vanderbilt University for the 2014-15 school year.
Russ Held of MassLive.com was the first to report the news.
Considered one of the best defensive middle infielders in New England, Diaz was named to ESPN Boston's annual All-State Team last spring after batting .435 with 23 RBI and three home runs in 15 games. At least one scouting service,
Nine Baseball
, has Diaz listed as one of the 100 best high school prospects for the 2014 MLB Draft.
Diaz joins Barnstable's Will Toffey among Massachusetts prospects currently committed to the Commodores. Diaz is expected to sign during next week's National Letter of Intent early signing period.
June, 28, 2013
6/28/13
12:01
PM ET
STARTING ROTATION

RHP – Tommy McDonald, Sr., BC High
The ace and the workhorse of BC's rotation, which saw the Eagles make their first D1 South Final appearance since 2009, McDonald often went late into games to pick up a win. He was 7-0 on the season, with a 1.90 ERA, five complete games and just 10 walks. The Quincy resident will continue his career next year at UMass.

LHP – Ben Bowden, Sr., Lynn English
The state's Gatorade Player of the Year, Bowden is a repeat selection, having also made the starting rotation of the All-State Team in 2012. On the season he was 4-2 with 84 strikeouts in 52 innings, with just 10 walks for an ERA of 0.67. He also recorded a .459 on-base percentage at the plate, with 13 RBI. Bowden will play at Vanderbilt next year.

LHP – Scott Tully, Sr., Reading
Another repeat All-State selection, Tully dominated the Middlesex League en route to winning the Liberty division's MVP. For the season he went 7-1 with 96 strikeouts and an ERA of 0.54. For his career, he has 29 wins and over 400 strikeouts. Tully is headed to Notre Dame next year.

RHP – Evan Flanagan, Sr., Hingham
The Patriot League's Co-MVP saved his best stuff for the playoffs, as the Harbormen won their first Division 2 state title in school history. On the season he was 6-2 with 79 strikeouts in 56 innings, with five complete games, a 1.75 ERA and a WHIP of 0.93. Flanagan will continue his career next year at the University of Rhode Island.

LHP – Mike Gaughan, Sr., Walpole
One of the state's most elusive lefties, Gaughan helped lead the Rebels to the No. 1 overall seed in D1 South. He was 10-2 on the season with 117 strikeouts and a 1.88 ERA, and held opponents to a .180 batting average. Gaughan is headed to Division 2 Rollins College (Fla.) next year.

STARTING NINE

C – Joe Freiday, Jr., Bridgewater-Raynham
One of the state's leaders in runs plated, Freiday finished the year batting .425, with a .573 on-base percentage, 31 RBI and five home runs. He also drew 21 walks and struck out just 10 times. Freiday is fielding interest from an assortment of Division 1 programs.

INF – Nick Bragole, Sr., St. John's Prep
Part of one of the state's most prolific hitting lineups, Bragole put up .403/.532/.758 totals with 21 RBI and six home runs, along with 10 stolen bases, as the Eagles captured the No. 1 seed in D1 North, won 22 straight games and made an appearance in the D1 North final. Bragole is headed to Division 2 St. Anselm College (N.H.) in the fall.

INF – Kenny Michael, Sr., Norwood
Michael catalyzed the Mustangs late in the season when they snatched the Bay State Conference's Herget Division title in the last week of the regular season. He was named the Herget MVP as he hit .429 with 27 RBI and a home run. Michael will continue his career at Division 2 Southern New Hampshire University.

INF – Alex Toomey, Sr., Beverly
Toomey beat out a number of high-profile players to take the MVP in the Northeastern Conference's Large division, and deservedly so. For the season he his .431 with eight doubles, 31 RBI and five home runs, only striking out five times. On the mound, he went 6-2 with a 1.33 ERA and 61 strikeouts in 42.1 innings. Toomey is headed to Salem State University next year.

INF – Brandon Bingel, Sr., St. John's Prep
This year's recipient of the prestigious ESPN Boston Mr. Baseball Award, Bingel was a force in all three phases of the game to take Catholic Conference MVP for the second straight year. He batted .302 with 20 RBI and two home runs, and went 9-0 on the mound with 76 strikeouts in 58.2 innings, walking just 10 batters, for a 0.97 ERA. Bingel will continue his career at Bryant University.

OF – David MacKinnon, Sr., Oliver Ames
MacKinnon took Hockomock League MVP honors after hitting .500 with 16 RBI. One of the best pure athletes of the bunch, MacKinnon is also an All-American soccer player, and will play both sports at the University of Hartford.

OF – Ian Strom, Sr., Hopedale
Strom was a monster on both the mound and at the plate as the Blue Raiders reached the Division 3 State Final. He hit .514 on the year with 21 RBI and 15 stolen bases, and didn't strike out all season. On the mound, he was 9-2 with 107 strikeouts in 67.2 innings, for a 1.45 ERA. Strom will continue his career next season at UMass-Lowell.

OF – Mike Bruemmel, Sr., Bridgewater-Raynham
The Co-MVP of the Old Colony League saved his best stroke for last, carrying a no-hitter into the eighth inning to lead the Trojans to their first Division 1 state title in school history. On the season he batted .341 with a .505 on-base percentage, with 21 RBI and 11 stolen bases. On the mound, he was 6-1 with 69 strikeouts in 41.1 innings, with a 1.82 ERA. Bruemmel is headed to Wheaton College next year.

DH – Malcolm Nachmanoff, Sr., Boston Latin
The Dual County League's MVP of the Large division, Nachmanoff carried a heavy bat, hitting .507 with 26 RBI and five home runs. He also recorded a 1.45 ERA in 53 innings pitched. Nachmanoff is headed to Loomis Chafee (Conn.) next year for a post-graduate season.


BEST OF THE REST

OF – Dan Avery, Sr., Blackstone Valley Tech
Avery excelled both ways for the Beavers, recording .492/.579/.689 totals at the plate with three triples, 26 RBI, 28 runs scored and 18 stolen bases. On the mound, he was 7-2 with a 1.02 ERA and 81 strikeouts in 62 innings, with just eight walks. He will play both football and baseball at Massachusetts Maritime Academy next year.

3B – Ryan Baldwin, Sr., Fairhaven
One of the state's leaders in home runs, Baldwin hit eight and batted in 34 runs, to finish the season with a .500 average and take South Coast Conference MVP honors. Baldwin will continue his career next year at Barry University (Fla.).

2B – Tommy Buonopane, Sr., St. John's Prep
Another key cog to the Eagles' impressive hitting order, Buonopane registered .354/.457/.585 totals with 21 RBI and three home runs, as the Eagles won the Catholic Conference outright. Buonopane is headed to the University of Rhode Island next year.
.354/.457/.585, 21 RBI, 3 HR

2B – Dan Connors, Sr., Danvers
A three-time Northeastern Conference All-Star, Connors captured the Small division's MVP award after hitting .390, as the Falcons were the top seed in Division 2 North and reached the district final. Connors, a career .365 hitter, will enroll at UMass-Amherst in the fall.

LHP – Mac Curran, Sr., Coyle-Cassidy
A repeat selection, Curran was once again a force on the mound, going 5-2 with a 0.98 ERA as the Warriors captured the Eastern Athletic Conference outright. He also batted .402 with a home run. Curran is headed to Niagara University next season to continue his career.

C – Kyle Devin, Sr., Lynn Classical
One of the state's best arms behind the plate, Devin threw out eight of 12 steal attempts and also had 11 pickoffs. He also hit .410 with 16 RBI, five doubles, two triples, a home run and six stolen bases for the Rams. Devin is headed to Stony Brook next season to continue his baseball career.

SS – Isan Diaz, Jr., Springfield Central
One of the top defensive talents outside of Eastern Mass., Diaz showed off quite a bit with his bat as well, plating 19 runs and registering three home runs as the Golden Eagles once again reached the Division 1 West tournament.

RHP – Drew Foster, Sr., Nashoba
One of the steadiest starters in Central Mass., with a 4-1 record and 0.97 ERA, Foster led the Chieftains through a loaded Division 1 Central field to capture their first district title in program history. Foster is headed to Ohio University next year, where he intends to play club hockey.

RHP – Dustin Hunt, Sr., St. John's Prep
Arguably the state's top closer, Hunt embraced the role as the Eagles reeled off 22 straight wins before falling in the D1 North Final. On the season he struck out 31 batters in 27.1 innings, with a 1.54 ERA and a 1.10 WHIP. Hunt, an Andover resident, is headed to Northeastern University next season.

RHP – Thomas Jankins, Sr., Quaboag
Jankins was dangerous on the mound and in the batter's box this season for the Cougars. He hit .473 with 19 RBI and two home runs, and was 5-3 with a 0.53 ERA and 100 strikeouts in 52.1 innings. Jankins will continue his career next season at Quinnipiac University.

OF – Tom Landry, Sr., BC High
Landry registered .348/.378/.493 totals at the plate and added 16 RBI and two home runs for the Eagles, who reached their first D1 South Final since 2009. He also struck out just 11 times and drew four walks. Landry will play for Wheaton College next year.

SS – Steven Lee, Sr., Braintree
Lee manned the middle of the Wamps' order for the last three years, and put up impressive numbers in his senior season. He batted .376 with 26 RBI, one home run, 27 runs scored and 10 stolen bases as Braintree captured its fourth straight Bay State Carey title. He also committed just five errors in the field. Lee is headed to Stonehill College next year.

RHP – David Longstreeth, Soph., Smith Academy
Longstreeth is already over the 300 career strikeout mark, with 21 wins, in his still-blossoming career for Smith. On the season, he went 11-2 with 132 strikeouts in 80.1 innings, as the Falcons reached the Division 3 West Final.

RHP – Mike Lundin, Sr., Silver Lake
Lundin helped lead the Lakers to a Patriot League Fisher division title with his proficiency on the mound, going 7-2 with 86 strikeouts in 65.1 innings with a 0.67 ERA. Lundin will continue his career at Massasoit Community College next season.

OF – Tyler Lyne, Sr., Agawam
Lyne was a catalyst for the Brownies, who won the Valley League and reached the Division 1 West Final. For the season, he registered 16 RBI and two home runs. Lyne will continue his career at Merrimack College next year.

RHP – Donny May, Sr., Coyle-Cassidy
The other overpowering ace for the Warriors' staff, May went unbeaten as they captured the Eastern Athletic Conference outright. He was 11-0 on the year, with a 0.44 ERA and 89 strikeouts, along with a .438 batting average at the plate. May is headed to Fordham University next year.

SS – David Murphy, Sr., Plymouth North
The Atlantic Coast League's MVP helped the Blue Eagles to another league title, hitting .429 with 29 RBI and three home runs. He only struck out twice all year. Murphy will take his talents to Massasoit Community College next year.

SS – Noah Parker, Sr., St. Mary (Westfield)
One of the more underappreciated talents across the state, Parker was the catalyst for the Saints, who reached the Division 3 West quarterfinals. Parker registered 28 hits, 20 RBI and two home runs on the season. He will head to Seton Hall University next season as a preferred walk-on.

OF – Anthony Perriello, Sr., Norwood
A powerful hitter manning the middle of the Mustangs' order, Perriello led the Bay State Conference in batting average (.507) and added 15 RBI and a home run.

RHP – Alex Person, Sr., Xaverian
The Foxborough resident manned the top of the rotation, as the Hawks tried to defend their D1 state title. On the season he struck out 52 batters in 51 innings, going 5-1 with a 2.06 ERA. Person will continue his career at Southern New Hampshire University next year.

C – Matt Phelan, Sr., Northbridge
Phelan was a force at the plate for the Rams, who reached their fourth straight Division 2 Central Final. On the season he hit .484 with 28 RBI and four home runs, and on the mound was 4-1 with a 1.91 ERA. Phelan is headed to St. Anslem in the fall, where he will play football.

RHP – Brendan Ryan, Sr., Newton North
Ryan earned MVP honors in the Bay State Conference's Carey division, after going 7-1 with a 1.64 ERA and six complete games. Ryan also batted .347 with 17 RBI. He will enroll at the University of South Carolina in the fall.

RHP – Endy Sanchez, Jr., Holyoke
Another member of the 100-K club, Sanchez had one of the best strikeout-to-ratios in Western Mass., fanning exactly 100 batters in 62 innings pitched for the Purple Knights.

RHP – Kevin Superko, Sr., Wellesley
Following in the footsteps of his brother Tim, Superko carried on the name holding down the front of the Raiders' rotation. On the season he recorded 67 strikeouts in 49 innings, with a 1.02 WHIP and holding batters to a .184 average. He will do a post-graduate season at Philips Andover next year.

RHP – Ryley Warnock, Sr., North Reading
Warnock was dynamic both on the mound and on the basepath for the Hornets, who captured the top overall seed in D3 North. On the mound he was 10-1 with a 0.44 ERA and 72 strikeouts, and at the plate he was .360 with 17 stolen bases. Warnock will continue his career next year at the University of Rhode Island.

LHP – Cody Younger, Sr., Middleborough
Younger came on in the second half of the season and led the Sachems through a gauntlet en route to the Division 3 state title, their first since 1997. On the mound, he was 4-2 with 53 strikeouts and a 1.90 ERA, and delivered wins over the top two seeds in D3 South. At the plate, he had .415/.482/.507 totals with 27 RBI. Younger will do a post-graduate season at Bridgton Academy (Maine) next year.

RHP – Zach Zona, Sr., St. Peter-Marian
Zona led the top of the Guardians' rotation as they came on late in the regular season to make the Division 1 Central tournament. On the season he was 5-2 with 64 strikeouts in 46.2 innings, with a 1.05 ERA and two no-hitters. Zona will continue his career next season at UMass-Lowell.