Boston High School:

Jack Cash
March, 10, 2014
Mar 10
11:29
PM ET
By
Mike Abelson
| ESPNBoston.com
LOWELL, Mass. – After accepting the Division 2 North champions trophy, Beverly's Connor Irving, still in his full gear, sprinted to the Panther locker room with an ear-to-ear grin.
"We're going to the Garden," Irving screamed as he beat all of his teammates to the locker room.
It was that kind of night as Irving netted four goals, and added an assist, to drive Beverly to a 9-1 thrashing of Tewksbury at Tsongas Center.
Tewksbury scored first on a goal by Jack Cash, but the Panthers tied the game 58 seconds later and it was all orange and black from there. Irving's first goal came with three seconds left in the period. Linemate Jesse Maclaughlin launched the puck into the air before it was batted down by Ryan Santo right onto Irving's stick.
Irving split the Tewksbury defense and finessed the puck home to put Beverly ahead 3-1 after one.
"Connor senses when these guys are going to throw it out," Beverly head coach Bob Gilligan said. "He's got good instincts. His transition game is so quick; you can see how well he skates. His edges are as good as anybody's."
Irving's goal ignited Beverly. The Panthers erupted in the second period for five goals, including Irving's fourth, a short-handed goal, with 21 seconds left.
"These kids were working hard and fore-checking hard," Gilligan said. "You could see in the second period, that first two shifts set the tone. They got tired; they got real tired. We kept pressuring them like that. The kids played smart; we didn't get caught down low. We got some skilled players,[and] when they get some open ice you see what they can do."
Beverly's offense is well-established, but it was the Panther defense that locked the game down. Beverly held Tewksbury to 13 total shots and none in the second period. Tewksbury was held under three goals for the first time since Jan. 15.
[+] Enlarge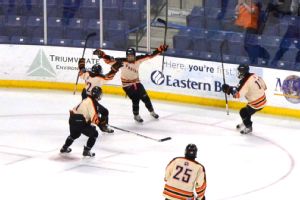 Scott Barboza/ESPNBoston.comConnor Irving scored five goals as Beverly cruised past Tewksbury, 9-1, in the Division 2 North final Tuesday at Tsongas Center.
Nick Albano had a goal and an assist from the blue line, but all three pairs stuffed Tewksbury from the opening draw.
"Jack [Morency] and Sean [Munzing] have been playing together for four years now," Irving said. "Nick's unbelievable back on D. He's been playing some unreal games. Matt Hamor is a stalwart back there. I think it's just the chemistry. We've kept the same pairs for a long time and they work good together. They shut it down."
Santo chipped in numerous times. The senior assisted on four goals, including the primary assist on three of Irving's goals. Santo said he didn't expect his point output to be so high.
"I know if I get the puck to Connor he's going to do something good with it," Santo said. "Moving the puck, cycling, working hard on the forecheck, I didn't expect it either. I'm just trying to play my best."
GETTING OVER THE HUMP:
After two years of early exits from the tournament, last night's win propelled Beverly to the state final and a date with Medfield on Sunday.
Last year, the Panthers were bounced out by rival Danvers in the opening round on a goal with 11 seconds left. Gilligan said that game still tastes sour in his mouth.
"Danvers was a test; that was a thorn in our side," Gilligan said. "These kids sat on that; they still didn't digest that. I didn't. I told them we've got to keep going. The Northeastern Conference is our main goal, and after that we've got to chip away at each game."
The Panthers beat Danvers, 2-1, in a shootout in the North quarterfinal and have outscored their last two foes, Tewksbury and Lincoln-Sudbury, by a combined 14-2. Unlike Danvers, Beverly hadn't played L-S, Tewksbury, and now Medfield before the state tournament.
"I wasn't hoping for Medfield, but if you know a team and you think you can beat them, we thought we could beat Danvers," Irving said. "I like having a team that we haven't played yet. I think we come out a lot harder when we don't know what we're going to get and we only hear what we're going to get."
Irving starred on the last two Beverly teams alongside his cousin Andrew, and he said to make to Causeway Street was like a dream.
"We were so far but so close the past two years, lost in overtime as a sophomore, lost to Danvers with 11 seconds left [last year]," Irving said. "It seemed like anything we did just wasn't good enough. This year we're getting the bounces so far
"Any way we can score to win; that's all we really want right now. I've had 58 points in a season and lose in the first round. Just to be here is the best feeling."
March, 4, 2014
Mar 4
2:10
AM ET
By
Jeff Cox
| ESPNBoston.com
BILLERICA, Mass. – The Tewksbury Redmen have just four seniors on their team, but Derek Doherty's team played like an experienced group on Monday night at Chelmsford Forum.

The top line of Ryan Petti, Colin Quinn and Jack Cash each scored once as the Redmen advanced to next Monday's Division 2 North Final with a 3-2 victory over upset-minded Marblehead.

"We played well," said Doherty, Tewksbury's head coach for the past 13 seasons.

Top line shines: The Redmen jumped on top, 1-0, at the 13:10 mark of the first period when leading scorer Ryan Petti made a nice move towards the net before backhanding the puck on net. Marblehead goaltender Harrison Young made the initial save, but Jack Cash was there to bang home the rebound.

With the score knotted at one midway through the second, the top line struck again. Defenseman Sean Brady fed a nifty pass to Quinn, who snapped a quick shot on net that was denied by a beauty of a kick save by Young. The puck caromed in back of the net where Petti retrieved it and banked one in off the surprised goalie.

The trio gave their team what would turn out to be some much needed breathing room 5:19 into the final frame. Petti's outlet pass sprung Quinn and Cash on a 2-on-1. Cash delivered a nice feed at the perfect time to Quinn who wasted no time depositing the puck into the back of the net.

"Quinn has great hands. He's smart, he sees the ice well and he finishes. [Cash and Quinn] looked up and knew they had a little bit of time. They didn't rush the play," said Doherty of the game-winning goal.

"They played well tonight. They've been playing well, especially the last few games of the tournament," said Doherty.

Paquette, defense hold down the fort: The Redmen have shut out their opponents seven times this season, and although they allowed two goals on Monday night, it was apparent that the team takes pride in protecting its own end.

Junior goaltender Kyle Paquette was terrific, especially in the second period.

"Kyle's been great for us," Doherty said. "He's been focused and is just staying the course. It was a big game and Kyle came to play tonight."

Tewksbury played well throughout the third period, keeping Marblehead along the perimeter for much of the final 15 minutes. After allowing the Headers to get within one, the defense clamped down and prevented any serious scoring chances by Marblehead to tie the game.

"Our defense played well in the third period to secure that win. That goal that they scored coming out of the corner shouldn't have happened. We talked about it after the game. We've got to play a little harder," explained Doherty.

Coachable, composed team: Many young teams would have become flustered with a late goal against to end a period, but not the Redmen. With just 1.6 seconds to play in the first period, Marblehead's Tom Kolinowski banged home a rebound off a nice rush by Erik Powers.

"They scored that goal with one second left in the first, and I kind of had to settle my team down a little bit," said Doherty. [My team] has been good. They're very coachable. If we play our systems we'll be fine."

"We are young, but we work hard," added Doherty.

Tough ending for Marblehead: A sophomore, Kalinowski, and a freshman, Braden Haley, scored the two goals for Marblehead, but it was his seniors who head coach Bob Jackson felt for after the game.

"I feel bad for the seniors in that room right now," Jackson said. "The seniors gave it their all. You hate to see any senior end their hockey career like this. I loved the four years I got to spend with all of them. I'm tickled pink that I got to know all those young men."

It was a senior class that won the Division 3 State Championship as freshmen and got to see the program elevated to Division 2 for this season.

"For us to jump up, it was a good challenge," Jackson said. "We believed in ourselves. We actually thought we had a chance to be here. We would have loved to be playing here next Monday."

Looking ahead: Tewksbury will have its work cut out facing No. 1 Beverly (20-1-1) in the Division 2 North Final, Monday night (6 p.m.) at Tsongas, but the Redmen are as cut out as any team to take on the Panthers.

We'll play our game and not worry about [Beverly's] game," said Doherty.

"Unbelievable," said Paquette when reminded that his team would be playing for the sectional final next time out.
January, 30, 2014
Jan 30
12:48
AM ET
By
John McGuirk
| ESPNBoston.com
MARLBOROUGH, Mass. -- At the start, it appeared Lincoln-Sudbury was poised to make it a long evening for Merrimack Valley/Dual County rival Tewksbury.

The Warriors scored twice in the opening minute and 12 seconds, making it look easy both times.

But someone forgot to remind L-S there was still 43:48 left to be played. During that time, the Warriors leveled out offensively and the Redmen turned up their play – enough so, to earn a 3-3 tie Wednesday night at New England Sports Center.

"Obviously we had a great start," L-S head coach Tom Pare said. "It goes to show you that if you don't play an entire 45 minutes it's not going to happen. Credit Tewksbury because they out-worked most of the second period and most of the third period. It's not a bad tie because Tewksbury is a good program that is well-coached. It's a team that we respect and we always seem to be battling them for the league title.

"We knew they were gunning for us because we beat them up at their place."

The Redmen (10-2-2, 5-2-1), who lost to L-S, 3-1, on Jan. 15, returned to their form late in the opening period and maintained the rest of the way.

But it didn't start out that way. Eric Holden, off the opening face off, raced into Tewksbury's zone all alone and beat goaltender Kyle Paquette just 15 seconds in.

Perhaps a bit in shock over the early tally, the Redmen seemed a bit off-kilter. Less than a minute later, L-S stormed up ice on a odd-man rush. Myles Cohen drew the defense over to him and promptly delivered a cross-ice pass to Drew Baker. The sophomore forward, standing alone in front of Paquette, sent a shot just under the crossbar to give the Warriors a 2-0 advantage.

From there, however, Tewksbury started to work its patented in-your-face defensive style as they held the Warriors to just one more shot for the remainder of the period. At 6:44, after a few earlier attempts by the Redmen had just missed their mark, junior forward Colin Quinn, standing inside the blue line, rang a shot off the post and into the net, putting Tewksbury on the board.

"The first eight minutes for us were completely uncharacteristic," said Redmen head coach Derek Doherty. "In a big game like this it didn't seem like we were prepared. We were but we just didn't execute properly in those opening eight minutes. Early on we told our guys that they needed to play better defensively. Everyone is going forward and it left our goalie wide open. Kyle has done a great job for us in net all year long and plays very focused. But we cannot leave him out on an island by himself the way we did early on."

Following Quinn's marker, it appeared as though the Redmen had weathered the early onslaught and were now back to playing the style they are known for. Only 1:38 into the middle period, Tewksbury knotted things at 2-2. Jack Cash, a senior, broke free down along the right side and beat Derek Ashe (20 saves) with a hard wrist shot. But the Warriors (9-1-4, 7-1-1), whose offense was left vacant for nearly 14 minutes, found itself again. At 3:37 of the frame, Matt Jacobs gave L-S the lead back after grabbing a fat rebound in front and pushing it past Paquette (12 saves).

From that point moving forward, the Warriors were doing everything possible to shore up their defensive play and keep the Redmen from getting any quality looks at Ashe. For a while the strategy was working. Tewksbury had to scratch and claw to gain space inside the offensive zone. With less than five minutes to go in the period, the Warriors got careless with the puck inside their own zone. Tewksbury intercepted the puck which set up Quinn's second goal of the night, as he knocked home a rebound off of Ashe's chest following an initial shot by Ryan Petti.

"It would've been better had we won the game," said Quinn of his two goals and now has seven for the season. "I think we had a lot of chances on their goalie but just couldn't get the bounces. We hit a lot of posts and crossbars. We normally don't start well as a team and have to fight coming from behind. When we got behind tonight it was nothing really different for us. We just had to fight back like we normally do."

Tewksbury controlled much of the third period, by keeping the action inside the L-S end. The Warriors offense was struggling, helt do just one shot over the first 13 minutes in the frame. But they managed to initiate late flurry, putting three consecutive shots on Paquette within a span of 5 seconds. However, the junior netminder, who entered having posted three consecutive shutouts, was able to fend off the sudden offensive explosion and secure the tie.

"Our kids played well but we've got to learn to go for the jugular when it is there," Pare said. "It was one of those things where our kids got complacent after those first two goals. Needless to say we got woken up pretty quickly by them."