Boston High School:

Jack Connolly
July, 23, 2013
Jul 23
8:30
PM ET
Bridgewater-Raynham Class of 2014 catcher Joe Freiday verbally committed to Virginia Tech tonight, becoming the second Trojan in as many months to commit to an Atlantic Coast Conference baseball program.
Verbally committed to play baseball at Virginia tech! #Hokieball

— JoeyBats24 (@Joe_Freiday) July 23, 2013
The 6-foot-3, 210-pound Freiday was one of the state's leaders in runs plated, batting .425, with a .573 on-base percentage, 31 RBI and five home runs as the Trojans captured the MIAA Division 1 State Championship for the first time in school history. He also drew 21 walks and struck out just 10 times. Behind the plate, Freiday demonstrates above-average arm strength, recording a pop time as fast as 1.82 seconds.
At the time of his commitment, Freiday was also considering Coastal Carolina and Virginia, as well as a full ride from the University of Maine. He is the second B-R player in as many months to commit to an ACC program, joining his cousin, 2015 righthander Jack Connolly,
who committed to Notre Dame in late June
.
Freiday is the second Bay Stater from the Class of 2014 to pledge to the Hokies, joining Boston Latin lefthander Pat Naughton, who committed last fall. When Freiday arrives in Blacksburg in the fall of 2014, he'll join BC High's Ryan Tufts (a fellow Bridgewater resident), Lowell's Matt Tulley, and Noble & Greenough's Phil Sciretta among the Massachusetts natives on the roster. B-R product Eddie Campbell, a lefty for Tech the last three seasons, was drafted in the 15th round by the Seattle Mariners last month.
"Its unreal, it's better than winning a state championship," Freiday said tonight from Richmond, Va., where he is playing in a tournament with his summer club, Team Nokona.
Really? Better than winning a state title?
"I dunno," he laughed. "But it feels great. I don't know how to put my feelings into words right now."
Freiday visited Blacksburg yesterday, and says he was immediately enamored with the campus.
"Obviously what attracted me there [initially] is they have an elite baseball team -- they're absolutely unreal at baseball, number one," Freiday said. "And then, once I got there, the campus was absolutely beautiful. I couldn't believe what I was seeing. It's everything I wanted in a school -- athletically, the campus, and great academics -- there's so much to offer."
Since the Hokies first began evaluating Freiday, they've had a change in head coaches, with Peter Hughes leaving for the University of Oklahoma and Tech internally promoting pitching coach Patrick Mason. Mason, a Franklin native and former Northeastern University standout, watched Freiday in the Trojans' MIAA Division 1 South Final against BC High (of which Hughes is a graduate). He watched Freiday again a week later at Area Code Games tryouts on the campus of Bentley University.
"He's a real nice guy," Freiday said of Mason. "I know Hughes showed interest at first, and I know he texted [B-R coach John] Kearney. He [Mason] impressed me. He knew his stuff about baseball. He was also a catcher at Northeastern back in the day, so he probably saw me from a different perspective."
June, 29, 2013
Jun 29
12:35
PM ET
Bridgewater-Raynham Class of 2015 righthanded pitcher Jack Connolly has verbally committed to Notre Dame University, he confirmed in a tweet this morning.
"Verbally committed to Notre Dame!" Connolly
wrote in a tweet
.
Connolly turned in a terrific sophomore campaign for the Trojans, who captured the MIAA Division 1 State Championship two weeks ago, their first state title in program history. Often taking the ball in big games, he went 5-2 with a save, striking out 68 batters in 49 innings with a 2.43 ERA, holding batters to a .219 average.
Connolly is also the latest product in a terrific family lineage. His brother Mike, a former University of Maine star, was drafted by the San Francisco Giants earlier this month. Their father, Mike Sr., was drafted by the Cleveland Indians in 1982 out of East Bridgewater High School.
This past Wednesday, Connolly took an unofficial visit to South Bend, where Fighting Irish head coach Mik Aoki offered him a scholarship worth 50 percent for four years. After a few days, Connolly gave his pledge this morning while down at a tournament in North Carolina with his cousin, catcher Joe Freiday. Maine was the only other Division 1 school offering him at this time; Connolly was also scheduled to take a visit to Boston College this upcoming week, which he has since cancelled.
"I went to Notre Dame and absolutely fell in love with it," Connolly told ESPNBoston.com. "It's amazing. Their baseball team ranked 15th in the nation at one point. The coach, I trust him, and he offered me a pretty good deal. It's a no-brainer, really."
Aoki, a Milton native, initially reached out to B-R head coach John Kearney about several of his prospects. He saw Connolly pitch in the Trojans' D1 South first round matchup with Attleboro, then watched him again at Area Code Games tryouts on June 8 at Bentley University.
"He liked my command," Connolly recalled. "He liked that I was already 84-87 [fastball velocity] as a sophomore, and he loves my curveball. He said, 'That curveball is unreal'.
"Honestly, [to hear that] is one of the greatest feelings ever. It's almost indescribable. I never thought I'd go to a school like Notre Name, then I went there and fell in love with it. It's just a no-brainer."
June, 16, 2013
Jun 16
12:47
AM ET
By
Chris Bradley
| ESPNBoston.com
LOWELL, Mass. –- It has been quite a tournament for Bridgewater-Raynham ace Mike Bruemmel. The senior southpaw, fresh off a Sunday start where he helped lead the Trojans to a win over B.C. High, put on his best pitching performance of the year.
[+] Enlarge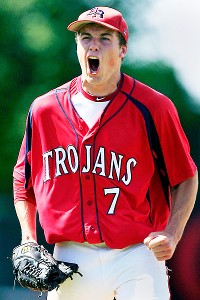 Jon Mahoney for ESPNBoston.comMike Bruemmel carried a no-hitter into the eighth inning as Bridgewater-Raynham captured its first state title in school history.
Bruemmel pitched a complete game two-hitter on Saturday afternoon, striking out 12 Nashoba batters to help bring Bridgewater-Raynham its' first baseball state title in school history. Dominant from start to finish, B-R (20-3) knocked off the Central Mass. champ Nashoba (21-4), 4-0.
The lefthander, who is headed to Division 3 power Wheaton College in the fall, was at the top of his game after being forced to shut it down in the middle of the year for what B-R coach John Kearney called a minor arm injury.
When he returned from injury and back into the Trojans' starting rotation, "He came right back and picked up right where he left off," Kearney said.
Bruemmel had a no hitter going into the eighth inning before Nashoba senior captain Jack Sarnoski broke it up with a base hit to center field.
Kearney praised his pitcher for his command after the game.
"He mixes up his pitches. He's got three or four different pitches, he throws them all with real good control and command," Kearney said. "He just mixes it up and he's got a little bit of velocity, so you're got to be aware of that as a hitter—he can throw it by ya. He was just on the whole game, the whole game!"
Joe Freiday, who went 2-for-4 and, per usual, was Bruemmel's battery partner behind the plate, had one simple way to answer when asked what Bruemmel had going on the mound.
"Everything. He wasn't missing spots. His curve ball was on, his change up was on, everything was down and out, and that's what we need...Mikey was on today when we needed him most," Freiday said.
Bruemmel helped get the Trojans' offense started in the third inning, too, getting a base hit to drive in Corey Dinunno (2-for-4) to plate the game's first run.
Tyler Carey, on a hit ball to shortstop that resulted in an error, brought Brian McSherry in to score in the fourth inning to extend the lead. Two batters later, sophomore Andrew Noviello drove Carey in on a double to left center. The aggressive plate approach against Nashoba ace Drew Foster, who coming into the game boasted a 0.97 ERA, was all part of B-R's plan.
"Our offense, again, putting the pressure on them the whole game," Kearney said. "I know only putting four runs up may not seem like it, but we had pressure on them offensively...I thought the offense really stepped up against quality pitching. All three ingredients, great pitching, real good defense, and I thought the hitting was outstanding today."
They'll be back:
With 11 players returning to next year's team, including Freiday, Carey, Dinunno, Noviello, and Eastern Mass. final hero Jack Connolly, the Trojans will have quite the core coming back for next year—most of whom have gained some serious big-game experience over the course of B-R's title run where they won games over Attleboro, Braintree, Walpole, B.C. High, Billerica, and Nashoba.
For the time being though, Freiday -- who said after the game he has a scholarship offer from Maine, and will be visiting Virginia, Virginia Tech, and Coastal Carolina over the summer -- says they're going to enjoy the moment, stressing the amount of excitement that has built up at Bridgewater-Raynham as the community rallied around the baseball team.
"They're gonna love it, we had a huge crowd the last few games. They all wanna come, they all wanna see the team, and it hasn't been like that for the last couple years. We picked it back up and we brought B-R baseball back…we're forming a dynasty, I can feel it."
June, 13, 2013
Jun 13
1:30
AM ET
LYNN, Mass. -– Bridgewater-Raynham's two sophomores, Jack Connolly and Andrew Noviello, were the ones who got it done on the mound to help the Trojans advance to the state championship game. Some in attendance may have been surprised, but coach John Kearney is used to it by now.
Connolly picked up the win on the mound for B-R, while Noviello picked up the save by pitching a scoreless final two innings to give the Trojans (19-3) the 5-2 victory over Billerica (18-7) in the Eastern Mass. Division 1 championship game
[+] Enlarge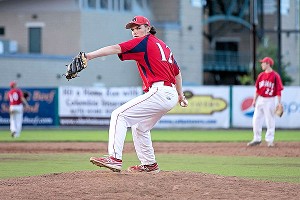 Tim Hart for ESPNBoston.com Sophomore Jack Connolly picked up the win for Bridgewater-Raynham, which is making its first ever Division 1 State Final appearance on Saturday.
"[Connolly] had been scuffling, that's how he pitched during the regular season,: Kearney said. "He gave us more than we expected. Our pitching has been pretty good all year, it really has been a real solid plus for us all year. We were hoping to get as much as we could out of Jack, and I knew if we could get it to Novi, cause he was rested, that he'd pitch just like he did tonight."
B-R got some timely hits from Tyler Glavin and Brian McSherry, Glavin drove in Tyler Carey to draw first blood in the first inning. Glavin also had an RBI on a single on a base hit in the fifth.
Kearney praised Glavin after he made the move from outfield to shortstop earlier in the year look seemingly effortless.
"Tyler moved in from where he was in the outfield all year," Kearney said. "He made all the plays at short, and the made them with some pretty fast guys at the plate. He's been getting a couple hits almost every game. Glavin had an outstanding game."
Following two straight walks after Glavin's single, McSherry ripped line drive to left field that scored Joe Freiday and David Miller.
"That bases-loaded gapper was huge huge," Kearney exclaimed, discussing McSherry's hit. "The first two swings he didn't look so good...he fouled off the third one, just barely, and then he just hit a shot. That and Sullivan's big play at second with men on were two huge plays."
B-R, while making three errors of their own, was able to capitalize on five errors by Billerica, including three in the first inning. In addition, Billerica was forced to pull starting pitcher Max Frawley early in the game. The senior walked off the field in excruciating pain, holding his right shoulder.
Billerica managed to add their second run on an error in the seventh inning, but Noviello slammed the door shut from there. Despite having a team with very little playoff experience before this year, B-R will advance to the state championship game on Saturday against Central Mass. champion Nashoba. This is the first time the Trojans have made it to the state final since moving up to Division 1.
Kearney said the calmness and confidence on the bench was due to his seniors, who combine vocal leadership with leadership by example.
"The senior leadership on this team is outstanding...those kids have been great," he said. "In the ballgame all the time, keeping the kids up, the senior leadership has been a big key for our resurgence here. They've kept the team focused from preseason. It's tremendous...this is a great feeling—that's a good Billerica team, that's a real good Billerica team."
May, 1, 2013
May 1
12:00
AM ET
By
Bob McGovern
| ESPNBoston.com
BRIDGEWATER, Mass. -- Voters flocked to the old Bridgewater-Raynham High School building to fill out their ballots. Meanwhile, across the street, B-R's Jack Connolly was campaigning to be the best sophomore pitcher on the South Shore.

Connolly pitched eight shutout innings against Old Colony League rival Barnstable High School (5-2) en route to an 8-0 victory. The young righty, who threw 119 pitches against the Red Raiders, had a battle plan heading into the game: Set things things up with the off-speed stuff, and then let the fastball fly.

"I try to keep them off-balance with the curveball, and with the fastball I just reared back and threw it as hard as I could," he said. "There was probably a good two- to three-mile-per-hour difference between my regular fastball and when I reared back. I felt really good."

Bridgewater-Raynham (7-2) manager John Kearney knew his ace would rebound after a forgetful outing against Marshfield on April 25, when Connolly only lasted two innings in a 10-3 loss.

"He was in the game today, he really was. He was really pumped up and in the game," he said. "I had a great feeling about Jack today. I just knew that, after that last start against Marshfield, he wanted to come out and just try to dominate the game."

The Trojan offense quickly got to Barnstable's Riley Ashe, who was coming off a no-hit performance against Falmouth on April 11. B-R put up four runs in three innings against Ashe, capped off by a Tyler Carey RBI double to deep center in the third.

Ashe had some control problems, walking three batters, while hitting two others with pitches that got away.

"He looked a little nervous, and I think our kids were really good about waiting him out and making him throw a lot of pitches," Kearney said.

Barnstable's Dan Holzman came in for long relief duty in the fourth inning and gave up four runs on five hits and four walks in four innings of work.

A Family Affair: While Connolly was pitching his best game of the season, it was his cousin, catcher Joe Freiday, calling the game from behind the plate. Freiday, a junior, said he considers Connolly the team's "virtual ace" at this point in the season.

"I've been catching for him my whole life, and we basically have it down to an art," he said. "His off-speed was really keeping them off big time, and he would just come back with that fastball. I've never seen him throw harder. He pitched a great game."

Connolly added that he feels a little more comfortable when he and Freiday are on the diamond together.

"Me and Joey have been playing together all of our lives, and we just have a lot of chemistry going on," he said. "He knows exactly what pitch I want, and I never have to shake him off. Whatever you see me shake off he tells me to shake off."

Connolly also has an older brother, Mike, who is currently playing college baseball for the University of Maine as a utility player. Mike Connolly was a team captain at B-R and played both shortstop and pitcher.

Their father, Mike Connolly Sr., was drafted by the Cleveland Indians in 1982 out of East Bridgewater High as a right-handed pitcher.

"There's some good bloodlines there," Kearney said, with a laugh.

Transformation Complete: Connolly spent most of his freshman year in the bullpen, and Kearney has used the beginning portion of this season to transition him into a starting role. Aside from the setback against Marshfield, Kearney is pleased with Connolly's development.

"Last year as a freshman he pitched in a lot of big games like this, but many of them in relief coming in with people on. He was so good. I needed him. Our staff wasn't really quite as deep last year," he said. "He is loose now. He's ready to get in there and start for us the rest of the way. I knew he would be primed for this one."

On the Rebound: While the loss to Bridgewater-Raynham was a setback for Barnstable, manager Joe DeMartino said he expects his team to bounce back for their next game against Nauset on Wednesday.

"I think more often than not, coming off a tough loss like this, guys show up mentally prepared. But I'm going to wait and see what they look like tomorrow before I confirm that suspicion," he said.

The Trojans were the first team to shut-out Barnstable this season, but DeMartino felt his squad was swinging the bat well. The Red Raiders had seven hits and drew five walks but were never able to string enough together to get into an offensive rhythm.

"For the most part, I think our approach at the plate was not bad. We swung the bats and a few times took pitches we shouldn't have," DeMartino said. "When a guy is on like that, and he's throwing his good stuff, it's hard to compete with."
May, 3, 2012
5/03/12
12:02
AM ET
By
Ryan Kilian
| ESPNBoston.com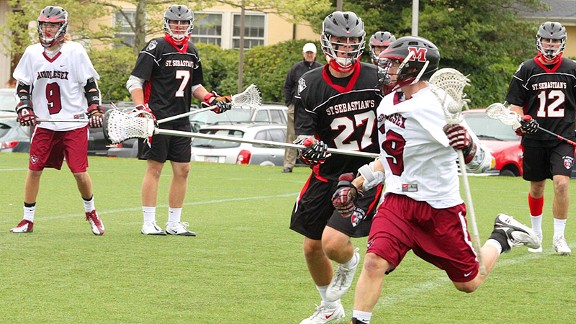 Ryan Kilian for ESPNBoston.comSt. Sebastian's cruised to an 8-2 win over Middlesex School in a duel of ISL powers, thanks to some lock-down D from Pat Healy (No. 27) & Co.
NEEDHAM, Mass -- St. Sebastian's led from start to finish and executed in all facets of the game as they defeated Middlesex 8-2 in an Independent School League match-up on Wednesday afternoon.
"Middlesex is a good team and they came in here undefeated," St. Sebastian's head coach Shaun Stanton said. "We had possession early and that was key for us. We also got some big goals from our midfielders early."
St. Seb's (9-1) got on the board first as senior midfielder Jack Connolly found the back of the net on a nice individual effort to score the game's first goal two minutes into the contest.
The St. Seb's midfield unit of Connolly (3 goals, 1 assist), Aidan Balboni (2 G) and Notre Dame commit Dalton MacAfee (2 A) would account for five of the team's eight goals, highlighted by Connolly's second tally of the game. The Dartmouth commit scored with 11.3 seconds remaining in the first quarter as he beat his man to the left and found the back of the net to give the Arrows a 3-0 lead after one quarter of play.
St. Seb's remained in control throughout the first half as they dominated the ball and used timely offense and lockdown defense to take a 6-0 lead to the half.
Middlesex defenseman and face-off specialist Sam Tweed did a good job all day for Middlesex in the face-off circle but the St. Seb's defense and midfield play eliminated any lengthy possessions for the Zebras on the day.
St. Seb's got two goals from attack Gordon Donnelly, who played well on the crease for the Arrows, and a lone score from attack Sam Washburne.
Middlesex received their offense from midfielders Toby Porter (1 G, 1 A) and Sam Muse who both found the back of the net in the third quarter.
GOALTENDING AND DEFENSE RULE THE DAY
St. Seb's senior goalie and Bentley commit Jarrod Dillon had a strong game in the cage for the Arrows as he made numerous big saves that led to St. Sebastian's break outs and long possessions.
"Jarrod played great today," Stanton said. "That is probably the best game that he has ever played for us. Hopefully it is not the best game he will ever play, as we have the rest of the season to go, but he did a great job for us today."
The St. Seb's long poles also shined on the afternoon as they dictated the tempo of the game and created problems for the patient Middlesex offense. Along with long-stick midfielder Stephen Brown, the underclassmen close defensive unit of Notre Dame commit Pat Healy, Brian O'Malley and Connor Strachan shut the Middlesex attack out on the afternoon.
"Whether we are playing 3-3 zone or man-to-man we just naturally extend out and force offenses to go north to south," Stanton explained. "This keeps them from getting to the cage so it makes it a lot easier for us. They also did a great job of forcing turnovers today."
THE ROAD AHEAD
St. Sebastian's has now won nine games in a row after a season-opening 5-4 loss to Phillips Exeter. The schedule does not get any easier for the Arrows as they take on Rivers, Milton Academy, and undefeated Governor's Academy (10-0) in their next three contests.
Stanton highlighted the Gov's game as "the big one."
Middlesex fell to 7-1 on the season and hosts Groton on Saturday. Groton is led by junior midfielder and Princeton commit Adam Hardej.
Groton is 6-4 on the season and boasts a wins over Roxbury Latin and Thayer on their resume.
April, 26, 2012
4/26/12
11:34
PM ET
By
Tom Layman
| ESPNBoston.com
BRIDGEWATER, Mass. — In John Kearney's mind, Bridgewater-Raynham was playing with house money.

The Trojans had battled back from a four-run deficit to tie things up in the bottom of the ninth, and that was before Mike Bruemmel came to the plate with two outs in the inning.

With Jack Connolly on second base, Bruemel stung a liner into left field in front of strong-armed Dylan Morris. As Connolly was rounding third base, Morris bobbled the ball and wasn't able to catch the speedy freshmen to finish off a 5-4 comeback home victory for the Trojans over Barnstable.

Having extra-innings already in his back pocket made the decision to send Connolly, with or without the bobble, an easy one for the Trojans.

"It's tied already, so you take the chance," Kearney said of the last play of the game. "All of their outfielders have excellent arms. The leftfielder has a very good arm and that little bobble is all it took. We had a little bit of speed on second with Connolly. But being tied, we take that chance. If he gets thrown out on a great throw we go extra innings. Down a run, I don't know if we go. I don't know. We might not if we are down one."

The Trojans are now 4-5 overall and grabbed a huge win in the Old Colony League to push their record to 2-0. The Red Raiders drop to 7-2 and 1-1 in a conference that has been neck-and-neck between these two teams for the past couple of seasons.

Bruemmel's Game-Winner: Kearney has noticed his junior centerfielder scuffling at the plate after a nice start to the season, and this game might have been a microcosm of Bruemmel's season.

Bruemmel was 0-for-4 in his first four plate appearances, while going 0-for-2 with a runner in scoring position, but jumped on the first pitch he saw from reliever Dan Holeman to get the game-winner.

"First few games of the year that's what he was doing for us. Then he had a couple of games when he was trying to find himself," said Kearney. "The past couple of games he's been right back. This is his third year with us. I brought him up as a freshman. That's the kind of kid he is, a clutch kid. A really clutch kid."

Bruemmel didn't feel like waiting around in his last at-bat.

"It was a straight fastball, chest high," Bruemmel said after his first career walkoff. "I just went for it and took it to left."

Bullpen Shows Rust: The Barnstable starters have been so good for the Red Raiders this season that Joe DeMartino's bullpen has been used minimally.

It looked like his bullpen would have to wait another day with the way Keegan Dellacona was dealing. Dellacona held the Trojans scoreless through 8-1/3 innings, but after two singles by the bottom and 133 pitches, DeMartino gave him the hook.

Dellacona scattered seven hits and gave up two earned runs with six strikeouts and two walks in 8.1 innings of work.

"I had told myself that if (Dellacona) gets into trouble in the ninth then I was going to pull him," said DeMartino. "The bullpen needs work, and they haven't been able to get into games."

The Trojans made the bullpen pay as they put five of the next six guys on to secure the comeback victory.



December, 29, 2011
12/29/11
1:38
PM ET
The Massachusetts High School Football Coaches' Association unveiled its annual "Super 26" All-State Team today. Those honored will be presented this spring at Lantana's Restaurant, in Randolph.

Below are the selections. Italicized names indicate they were also a selection to ESPN Boston's MIAA All-State Team.

OFFENSE

Quarterback
Jonathan DiBiaso, Everett
Cam McLevedge, Weymouth
Matt Montalto, Dennis-Yarmouth

Receivers
Armani Reeves, Catholic Memorial
Don Webber, Duxbury

Offensive Line
Brendan Melanson, St. John's (Shrewsbury)
Dan McCourt, Pembroke
Jameson McShea, BC High
Andrew VanderWilden, Concord-Carlisle
Chad Woodfine, Chicopee

Running Back
Sacoy Malone, Springfield Central
Quinton Perkins, Fitchburg
Melquawn Pickney, Springfield Putnam

DEFENSE

Defensive Line/Linebacker
Henry Bumpus, Concord-Carlisle
Nick DiChiara, BB&N
Tim Joy, Chelmsford
Vondell Langston, Everett
Max Randall, Duxbury
Zack Schafer, Mansfield
Nick Schlatz, Bridgewater-Raynham
Will Twyman, Lincoln-Sudbury
Camren Williams, Catholic Memorial

Secondary
Todd Collier, St. Mary's (Lynn)
Jack Connolly, St. Sebastian's
Joe Epps, Bourne
Charles Ruffin, King Philip
December, 12, 2011
12/12/11
6:26
PM ET
Last week we unveiled our second annual
MIAA All-State Team
. Today, we're unveiled our second annual Prep All-State Team, limited to schools competing under the NEPSAC umbrella.
OFFENSE
QB - Tate Jozokos, Jr., Governor's Academy
RB - Chris Coady, Sr., BB&N
RB - Abner Logan Jr., Sr., Dexter
OL - Eric Olson, Sr., BB&N
OL - Robert Perdoni, Sr., Belmont Hill
OL - Shane Donovan, Sr., Thayer Academy
OL - Costa Toubekis, Jr., Dexter
OL - Billy Oldach, Sr., Rivers
TE - Brendan O'Neil, Jr., BB&N
WR - Bryan Viera, Jr., Thayer Academy
WR - Bryson Gilbert-Bono, Sr., Middlesex
DEFENSE
DL - Dan Connaughton, Sr., BB&N
DL - Tucker Oniskey, Sr., Governor's Academy
DL - Sam Caldwell, Jr., Groton
LB - Kirk Ryder, Sr., Governor's Academy
LB - Jack Connolly, Sr., St Sebastian's
LB - Nick DiChiara, Sr., BB&N
LB - Nick Antonucci, Jr., Pingree
DB - Kenny Abragye-Adinka, Sr., Pingree
DB - Sam Davis, Sr., Governor's Academy
DB - Kendall Dardy-Jones, Jr., St Sebastian's
DB - Richard Bradley, Jr., St Paul's