Boston High School:

Jack Dillon
September, 25, 2013
9/25/13
6:36
PM ET
By
Mike Scandura
| ESPNBoston.com
By no stretch of the imagination is Pilgrim High considered a contender for a Division II playoff berth. But after enduring a drought of near-epic proportions, the Patriots already have shown that they have improved over the teams the school fielded each of the past two seasons.

After all, when you've lost 15 consecutive games -- as the saying goes -- there's no place to go but up.
Pilgrim took one step in that direction on Sept. 13, when it belted Smithfield, 36-6, in a non-league game.
Ironically, the Patriots' last victory was over Smithfield – 26-12 on Oct. 28, 2011.
Granted, Pilgrim dropped its first Division II-B game, 28-0, to Shea on Sept. 20, but coach Tom O'Connor at least has something to build on and that "something" includes junior quarterback Rob Quaine.
As an inexperienced sophomore, Quaine was under center last season when Pilgrim went 0-12. But in that non-league victory over Smithfield, he completed 6 of 8 passes for 178 yards and scored a touchdown on a one-yard run.
The loss to Shea notwithstanding, Quaine has shown improvement in his passing which can be attributed to his play last summer in the Rhode Island High School Passing League.
For example:
* In nine passing league games, Quaine only threw one interception.
* In two passing league tournament games, Quaine had exactly zero turnovers (i.e. no fumbles or interceptions).
[+] Enlarge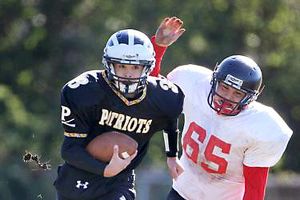 Courtesy of Pilgrim Athletics Pilgrim (R.I.) junior QB Rob Quaine lifted the Patriots to their first victory in nearly two calendar years earlier this month.
"At first, it was slow to catch my attention," O'Connor said. "I failed to realize he wasn't throwing the interceptions that he threw last season.
"I watched Rob and saw that he would eat the ball. After four seconds elapsed, he ate it rather than force a pass. That was a big issue when he was a sophomore. To me, it was a sign that he's taken his maturity up a level which I was hoping for going into this season. Quite frankly, he did so earlier than I expected."
O'Connor then gave an example of what he meant and it didn't have anything to do with something his quarterback did on the field.
In a Rhode Island Injury Fund game (i.e. these games only consist of two quarters) against three-time Division I champion Hendricken (the Hawks prevailed, 28-8), Pilgrim fumbled away the opening kickoff.
Yet instead of stomping up and down the sidelines or yelling at the teammate who fumbled, Quaine was the first Patriot to offer encouragement to the kick return team when it came off the field.
Quaine also gave indications of what was to come against Smithfield.
On Pilgrim's first possession, he guided a drive that stalled inside Hendricken's 10-yard-line due in large part to a pair of long passes he completed.
Later in the game, Quaine audibled twice en route to a scoring drive and then threw a two-point conversion pass.
"I feel more confident this season because I trust all of my teammates," Quaine said. "We came together as a family during double sessions.
"Obviously, when you play Hendricken, you can't be intimidated. That being said, I didn't feel we backed down from the beginning to the end."
Yet Quaine was quick to admit that butterflies were churning in his stomach.
"It was a little nerve-wracking," he said. "But it's not a shock (being the starting quarterback) like it was last season."
That was evident to O'Connor during Pilgrim's victory over Smithfield.
"Rob did a lot of 'hot reads' on his own," said the coach. "He threw the ball more than we wanted to throw it. But they blitzed a lot and he picked up the wide-open receiver.
"Despite the loss [to Shea], he's progressed a lot from last season. Playing in the passing league and against Hendricken showed me he can lead our team. He's a completely different young man – one who's very confident and let's things go that would bother him last year."