Boston High School:

Jack Harris
May, 25, 2012
5/25/12
11:26
PM ET
By
Tom Layman
| ESPNBoston.com



NATICK, Mass. — Tyler Buck called it a hitting pact between he and Brendan Skidmore. Whatever they want to call it, so far that promise to pick each other up as the three and four hitters for Franklin has worked pretty well so far.

The latest example came on Friday night.

Skidmore belted a clutch home run in the bottom of the seventh to extend the game and Buck put the finishing touches on a 4-3 victory over Lincoln-Sudbury (16-4) in the ninth inning with a walkoff double — which scored Skidmore — to take the first game of the Rich Pedroli Memorial Daily News Classic at John Carroll Complex at Mahan Field.

The two bring the power to the beginning of four straight Hockomock League All-Stars for the Panthers, a list that includes Bobby Chaiton and Reed Turgeon, and that oomph in the middle of the lineup was provided yet again.

"I love hitting behind (Skidmore) and I know he's going to get on base most of the time," said Buck, who went 1-for-5 with an RBI. "We have that thing where if he gets a hit then I have more confidence up at the plate. It's just one of those things where we made a hit-pact together, so if he gets a hit then I got to get a hit too."

The two connected on back-to-back shots in its pounding of Catholic Memorial earlier in the year and the combination combined for the only two extra-base hits on this afternoon.

"(We) have been feeding off of each other's success," said Skidmore. "When one is doing good then the other is doing good and he's always picking me up in the four spot. It's a great combination for us."

In the bottom of the ninth, Skidmore reached with a single to left to put the go-ahead run on the board. Buck, who recorded four outs in hit previous four at-bats, jumped all over a 2-1 offering and sent what looked like a routine fly ball to left. The ball kept carrying and carrying and it glanced off the glove of the left fielder. Skidmore motored all the way around from first without a throw to score the game-winning run.

"I thought that was just a routine fly ball, but it just kept carrying and carrying," said Panthers' head coach Dave Niro. "It got over his head and we scored, thank God. We were running out of pitchers.

Skidmore was off on contact and didn't hesitate as he rounded third.

"I just put my head down and go, especially with two outs going on contact," said Skidmore. "That was huge."

Skidmore Clutch: The Warriors held a 3-2 lead in the bottom of the seventh and were two outs away from putting the finishing touches on a win. Skidmore, as he has done in several instances in his career, came away with one swing to continue things on a perfect night for baseball.

Skidmore worked the count to 3-2, and he smashed an offering over the left-center field wall to tie things at 3.

"I was getting a lot of offspeed pitches today," said Skidmore. "I worked the count to a full count and I was thinking fastball but ready for a curveball because they were dropping them on me all day. But he threw me a fastball and it just seemed to carry on that one."

Skidmore was recently named the Hockomock League MVP and his coach has enjoyed the fruits of the recent clutch ness from his power-hitting shortstop.

"What can I say about Skidmore? He did it last year. He did it against CM. He did it again today," said Niro. "That's why he is the MVP of the Hockomock League."

Up and Down Day in the Field: The Warriors have made a living off of other team's miscues in the field, at the plate and on the base paths. This game saw those mistakes fall on the feet of Kirk Fredericks group.

The Warriors made two errors that led to a run in the first inning for the Panthers. They ran into an out at third base, and Buck picked off David McCullough on first base. The left-fielder was able to get the glove on a tough play going away from him on the game-winner, but usually those are things that defending Div. 1 champions gobble up without a blink.

"They play hard. They work at it, it's just today we gulped a little bit," Fredericks said of his team. "Hopefully we can take it as a learning experience and help us for the next time."

Although the miscues might be the underlying story of the loss for the Warriors, there were a few highlight plays, most notably the one by Jack Harris in right. With the bases loaded and nobody out in the fourth, Bryan Abbott hit a shot down the right field line and Harris was playing him not to pull. The speedy right-fielder hustled after the ball, went into a dive and scooped the ball just before it hit the ground to hold the Panthers to a sacrifice fly on the play.

If the ball got by Harris, the Warriors were looking at a 2-1 game turning into a much larger deficit.
April, 12, 2012
4/12/12
10:48
PM ET
By
Tom Layman
| ESPNBoston.com
SUDBURY, Mass. — Pitching depth can mean the difference between a good team and a team that could potentially make a run at a state title when the weather gets a little bit, make that a lot warmer, in June.

Xaverian has two horses at the top of the rotation in Tim Duggan and Austin DeCarr, and now they can add Alex Person to that depth that coaches love to have at their disposal.

Person struck out seven and only allowed three runs (two earned) in a complete game, four-hitter as he controlled the Lincoln-Sudbury lineup in the Hawks 4-3 victory on Thursday at frigid Feeley Field.

"To have depth not only allows you as a coach to manage things in terms of quantity of pitches, but it also allows your team to be confident with many different guys out there," said Xaverian head coach Gerry Lambert. "That's big. Your team's confidence comes from feeling like they are ready to make a play, and that starts with the pitcher."

Duggan and DeCarr probably get most of the limelight when Xaverian is talked about, however Person showed that he was able to handle an afternoon that was clearly not ideal for baseball against a team that will be in the hunt in Div. 1. He showed off good command of both his fastball and his breaking pitch as he only gave up two hits in the first five innings of the game on 59 pitches.

"I got into a rhythm and I just hit my spots," said Person. "I wasn't overpowering anybody. I was just hitting the outside corner."

Person's defense started to let him down a little bit in the final two innings and the Warriors did get the tying run to second base after Matt Cahill stole second base with Jack Harris at the plate. Person got Harris to fly out to right to end the game and move the Hawks record over. 500 to 3-2.

Let Him Go: There is a balance, according to Lambert, in the early season when it comes to protecting his starters from overworking themselves. In the first week he likes to keep his pitchers in the 60's in terms of pitches throw and build up through there.

Person was working his way around miscues from his fielders in the sixth that Lambert trusted him to get the final outs of the game on a very cold afternoon. Lambert discussed his philosophy with keeping Person in the game, which ultimately turned out to be the right call.

"They squared it up a lot more frequently and he lost two to three m.p.h off his fastball, but I also thought he was commanding the ball still," said Lambert. "It's a tough balance. I am not a guy who is looking to really overextend people early in the season and wind up having a problem in May and especially June."

Searching For A Few Good Arms: It seems like Kirk Fredericks has always had a stud pitcher to turn to in big games over the past couple of seasons. This year, the Warriors head coach is looking for that next No. 1.

Fredericks and the Warriors nearly pieced together a victory with five different pitchers in the loss. No pitcher tossed more than two innings, but that was more to the fact that the pitchers were young and inexeperienced rather than inability to string together a handful of outs.

"It's just a matter of that's what we have," said Fredericks. "We have a bunch of young guys who don't have any experience. They aren't very strong and we are trying to find out who is going to throw strikes and who can throw pitches like what (Xaverian) has."

Alex Weiland looked like a promising sophomore pitcher for the Warriors. He struck out four in his two innings and only allowed two runners to reach base on a single by Chris Hoyt (3-for-3) and a walk. Both times Weiland got out of the inning without surrendering a run.

Brendan Kelly, another sophomore pitcher, pitched out of trouble in the seventh after letting the first two guys reach without letting a Hawk cross home plate to keep the game within reach.

"If those two can do that, then we will be competitive," said Fredericks. "That would be a huge plus."



February, 23, 2012
2/23/12
12:08
PM ET
By
Brendan Hall
| ESPNBoston.com
Lincoln-Sudbury wide receiver Jack Harris has verbally committed to Merrimack College tonight, his father told ESPNBoston.com last night.

The 6-foot, 200-pound senior was an integral force for the Warriors, who won their second straight Dual County Large title and advanced all the way to the Division 1A Super Bowl before losing to powerhouse Everett.

He finished his career at L-S with a school record 93 receptions and 14 touchdowns, but he'll most be remember for his two touchdown catches in the Warriors' 14-13 upset of Barnstable in the Division 1A Playoffs. His fourth-quarter touchdown catch against Everett also cut the Crimson Tide's lead to eight before Everett rolled away to victory.

Harris is also a three-year starter for the Warriors' defending Division 1 state champion baseball squad.
December, 6, 2011
12/06/11
7:40
PM ET
OFFENSE

QB – Jonathan DiBiaso, Sr., Everett
Statistically the state's best all-time quarterback, the ESPN Boston Mr. Football recipient finishes his storied career in Everett as the state's all-time leader in touchdown passes (103) and passing yards (7,052). This season he broke his own state single-season record for TD passes (44), and threw for over 2,800 yards. In the last two seasons alone, both perfect Super Bowl-winning campaigns, he threw for 87 touchdown passes to better the previous state all-time mark of 85. DiBiaso is undecided on college plans.

QB – Matt O'Keefe, Sr., Duxbury
In his first season as the full-time starter under center, the Johns Hopkins lacrosse commit was a finalist for ESPN Boston's Mr. Football award. The 6-foot-3, 185-pounder totaled nearly 3,000 yards from scrimmage, throwing for 2,321 yards, rushing for another 670, and totaling 39 scores. O'Keefe, a defender for the defending Division 1 state champion Dragons, is currently ranked as the No. 32 overall lacrosse player in the Class of 2012 by ESPNU.

QB – Matt Montalto, Sr., Dennis-Yarmouth
The 5-foot-10, 170-pounder led the Dolphins to their best season in school history, finishing a perfect 13-0 campaign by winning the Division 2A Super Bowl title – their first championship of any kind in the Super Bowl era. For the season he completed 61 percent of his passes for 2,065 yards and 25 touchdowns to just seven interceptions. He also carried 134 times for 1,219 yards and 16 more scores. Montalto is fielding various college interest, including, New Hampshire, Albany, Colgate, Brown, Sacred Heart and Bentley.

QB – Michael Walsh, Sr., Swampscott
The 6-foot-2, 205-pounder was a force on both sides of the ball for the 9-2 Big Blue, completing nearly 60 percent of his passes for 2,129 yards and 25 touchdowns to go along with 930 rushing yards and 13 more scores. Defensively, he totaled 47 tackles from the free safety position, forcing three fumbles and making two interceptions. Walsh will continue his career next fall at Brown as a safety.

RB – Melquawn Pinkney, Sr., Springfield Putnam
The 5-foot-9, 170-pound Mr. Football finalist ended his career with the Beavers in record-breaking fashion. With 341 rushing yards and two touchdowns in 48-6 win over Commerce for the Division 2 Super Bowl title, Pinkney broek Cedric Washington's 15-year-old state all-time record for single-season yardage (2,889), and set the new state single-season mark for rushing touchdowns (43). Earlier in the season, Pinkney set a Western Mass single-game record with 421 rushing yards in a win over Agawam. For the season, he averaged 8.4 yards a carry. Pinkney is currently undecided on college plans.

RB – Sacoy Malone, Sr., Springfield Central
Both Malone and his cross-town foil Pinkney eclipsed the 2,000-yard mark on the season, as the Eagles returned to the Western Mass. Division 1 Super Bowl for the second straight year. On the season, Malone had 257 carries for 2,001 yards and 22 touchdowns; since the start of the 2010 season, he's accumulated over 3,200 yards and 35 touchdowns. The 5-foot-8, 175-pound Malone is currently fielding interest from several Division 1 FCS schools.

RB – George Craan, Sr., Concord-Carlisle
Craan, the reigning Dual County League MVP, was the catalyst for the Patriots' historic Super Bowl-winning season. He followed up a 1,900-yard junior season with just as explosive numbers in 2011, carrying 220 times for 1,761 yards and 24 touchdowns, as the Patriots went 13-0. The 5-foot-10, 205-pound Craan is currently undecided on college plans.

RB – Charles Ruffin, Sr., King Philip
The 5-foot-10, 180-pounder is the second Warrior in four seasons to capture Hockomock League Offensive Player of the Year honors. On the season he amassed over 1,300 rushing yards and 20 touchdowns, and led the Warriors to their first postseason berth of the Super Bowl era. Ruffin, who also stars in lacrosse and track and field, is currently fielding interest from several Division 1 schools.

TE – Mark Riley, Sr., Needham
One of several All-Staters previously known most for their lacrosse exploits, the 6-foot-1, 200-pounder was a force to be reckoned with for the 9-4 Rockets. Utilized as both a receiver and tight end, Riley caught 72 balls for 1,266 yards and a school record 15 touchdowns. He is currently undecided on college plans, but fielding Division 1 interest in lacrosse.

TE – Jameson McShea, Sr., BC High
The 6-foot-4, 245-pound Temple commit didn't put up eye-opening numbers in the passing game, but his support in the running game was without peer as he helped paved the way for both Preston Cooper and Deontae Ramey-Doe. As a defensive end, he recorded 68 tackles (12 for loss) and was named the Catholic Conference's Lineman of the Year.

WR – Khary Bailey-Smith, Sr., Weymouth
One of the state's best deep-ball threats, the 6-foot-3, 185-pounder tallied 936 receiving yards and 13 touchdowns for the 9-2 Wildcats this fall. Since the start of his junior season, Bailey-Smith has caught over 2,000 yards and 27 touchdowns. He is also a state champion in track and field, having cleared 6-foot-10 in the high jump. Bailey-Smith is fielding interest from Division 1 schools.

WR – Gordon McLeod, Sr., BC High
One of the most versatile threats on the Eagles' Division 1 Super Bowl champion squad, McLeod was one of the leading receivers in Eastern Mass., with 755 yards receiving and 11 touchdowns as they captured their second title in four seasons.

WR – Don Webber, Sr., Duxbury
Considered one of the state's best route-runners, the 5-foot-11, 180-pounder was the 13-0 Dragons' most dangerous weapon in space. Webber led the team with 52 receptions for 776 yards and 11 touchdowns, as the Dragons won a second consecutive Super Bowl at Gillette Stadium and extended the state's longest winning streak to 26 games. Webber is leaning towards the Ivy League for college plans.

WR – Malcolm Brown, Sr., Pope John XXIII
Statistically, the 6-foot-1 Brown graduates from the Everett campus as one of the state's most decorated receivers of all-time. This fall he caught 71 passes to set school records of 1,306 yards and 20 touchdowns, both tops in the state. He also racked up 918 return yards and three touchdowns, ran for 328 yards, and threw for another 267. Defensively, he recorded 65 tackles (10 for loss) and three interceptions, including a pick-six. For his career, he has 192 receptions for 3,447 yards and 44 touchdowns, and 56 total scores. Brown currently has interest from schools in the Northeast-10 and MEAC conferences.

OL – Andrew VanderWilden, Sr., Concord-Carlisle
At 6-foot and 245 pounds, VanderWilden was arguably one of the most efficient pound-for-pound centers in the state. He led a Patriots rushing attack that racked up 53 touchdowns and nearly 3,000 yards the ground, part of one of the state's highest scoring averages (35.4). VanderWilden, a two-time Dual County League Lineman of the Year, will continue his career at Brown next fall.

OL – Keith Sullivan, Sr., Oliver Ames
The 6-foot-9, 300-pounder was arguably the most crucial two-way player for the Tigers' historic run, winning their first Hockomock title since 1964 and qualifying for their first championship game of the Super Bowl era. Sullivan is currently undecided on college plans, but fielding Division 1 interest.

OL – John Montelus, Jr., Everett
DiBiaso's blind side is quickly rising as one of New England's top Class of 2013 prospects. The last two seasons the 6-foot-4, 290-pounder has allowed DiBiaso to throw 87 touchdown passes and keep his jersey clean. Montelus received four offers before his 16th birthday this fall, and counts UConn, Syracuse, NC State, Virginia and Boston College.

OL – Gordon Acha, Sr., Duxbury
Acha, the Dragons' left tackle, was named ESPN Boston's inaugural Lineman of the Year this week after helping pave the way to a second straight 13-0 season. The Dragons averaged 302 yards of offense and had 36 touchdown passes. The 6-foot-4, 255-pound Acha is currently fielding interest from Division 1 schools, including Boston College and Maryland.

OL – Rob Kosharek, Jr., Duxbury
Together with Acha, the 6-foot-6, 250-pound Kosharek created one of the state's best tandems on the left side of the 13-0 Dragons' line. Behind Kosharek at left guard, the Dragons won their second straight Division 2 Super Bowl title and rang their winning streak up to a state-best 26 games.

ATH – Geeavontie Griffith, Sr., Boston Cathedral
The 12-1 Panthers experienced one of the state's most dramatic turnarounds under first-year head coach Duane Sigsbury, and leading the charges was Griffith. The 5-foot-7, 175-pound Randolph native carried 152 times for 2,244 yards and 29 touchdowns, as the Panthers advanced to the Division 4A Super Bowl. He is currently undecided on college plans.

ATH – Armani Reeves, Sr., Catholic Memorial
Don't let the Mr. Football finalist's limited touches fool you. Reeves, a Penn State commit and the state's No. 1 overall prospect, was electric practically every time he touched the ball. He ran for 1,001 yards on just 46 touches, caught another 205, and returned a punt for a touchdown to total 15 scores for the 7-2 Knights. That averages out to almost a touchdown every three touches.

K – Jules Murphy, Sr., Xaverian
Murphy has been known to regularly hit from 40 yards and further, and while he didn't have many opportunities this season, he was a near-perfect 27-of-28 on extra points. Murphy is undecided on college plans.
DEFENSE


DL – Ralph Jonathas, Sr., Everett
The 6-foot-2, 215-pounder was a mainstay of the Crimson Tide's back-to-back Super Bowl championship teams and a defense that allowed just over 12 points per game this season. Jonathas has received interest from multiple Division 1 programs, but is undecided on college plans.

DL – Brendan Battles, Sr., Nauset
At 6-foot-3, 240 pounds, the UConn commit was one of the most feared defensive presences in the state. But the bruising lineman also did double time, serving as the play-caller in Nauset's single wing offense, paving the way as the lead blocker out of the backfield. Battles also won the Division 1 and All-State wrestling crowns in the 215-pound divsion, advancing to the New England finals.

DL – Maurice Hurst Jr., Jr., Xaverian
The 6-foot-2, 275-pound defensive tackle was a physical presence in the middle of the Hawks defense. Hurst finished the season with 61 tackles, including 13.5 tackles for loss and seven sacks. Hurst also showed off his athleticism in one of the more improbable performances of the season, rushing for over 200 yards in the Hawks' win over St. John's of Shrewsbury, including an awe-inspiring 75-yard touchdown run.

DL – Henry Bumpus, Sr., Concord-Carlisle
The 6-foot-6, 218-pound defensive end was one of the more imposing physical presences in the state, as well as an important part of C-C's rushing attack at tight end. The senior captain helped to guide the Patriots to a Division 3 Super Bowl championship. A feared rusher off the edge, Bumpus finished with 9.5 sacks and 66 tackles. He also nabbed four interceptions on the season. Bumpus will attend Brown University next year.

LB – Tim Joy, Sr., Chelmsford
The Boston College-bound 'backer was the heart and soul of the Lions defense, leading the team with 155 tackles, including eight for a loss and three sacks. The 6-foot-2, 215-pounder also had an interception in addition to three passes defensed. Joy was also a steady contributor to Chelmsford's offense, as a punishing lead blocker at full back in front of running back Eddie Sheridan.

LB – Luke Catarius, Jr., BC High
The 6-foot-1, 215-pounder lead the Eagles in tackles, despite playing 10 regular season games with 129 tackles, including 24 tackles for loss. Catarius was also a mainstay of BC High's offense, providing lead blocks at fullback in front of Preston Cooper and Deontae Ramey-Doe for the Division 1 Super Bowl champions.

LB – Vondell Langston, Sr., Everett
The Crimson Tide senior captain was an integral part of Everett's offensive and defensive units in each of their back-to-back Super Bowl championship seasons. As a linebacker, Langston was tough against the ran and a threat to drop back in coverage, coming away with three interceptions on the season. Langston tallied 15 touchdowns on the season at running back. He is undecided on his college choice.

LB – Cam Williams, Sr., Catholic Memorial
The 6-foot-2, 215-pound linebacker was named one of 50 national finalists for the high school Butkus Award, honoring the nation's top linebacker. The Penn State commit totaled 119 tackles (81 solo), including 18 tackles for loss. Wiliams was also effective in pass defense with an interception and seven passes defensed.

LB – Nick Schlatz, Sr., Bridgewater-Raynham
The Trojans' senior captain was part of a dynamic 1-2 punch at running back along with Brandon Morin, totaling nine touchdowns. Schlatz was the fulcrum of Bridgewater-Raynham's defense, which allowed just under 14 points per game this season.

LB – Dan Flink, Sr., Auburn
Flink was the heart of the Rockets' defense, which surrendered just over 10 points per game this season. He totaled 141 tackles, including 27 tackles for loss, along with seven forced fumbles, three fumble recoveries and eight sacks. Flink played running back with the same mentality he brought to his play at linebacker with 1,393 yards and 27 touchdowns in his senior season. The three-year starter was part of four Super Bowl championship teams at Auburn and is looking to study at Mass Maritime Academy next year.

DB – James Burke, Sr., Duxbury
The senior captain was a stalwart in the Dragons' defense in their back-to-back Super Bowl titles. The 6-foot, 165-pounder formed a vicious safety duo along with Reilly Naton and led the secondary with 76 total tackles (50 solo) and had three interceptions with nine passes defensed. Also a standout on Duxbury's state-title winning lacrosse team, Burke has signed a letter of intent to play lacrosse at Penn State.

DB – Quinton Perkins, Sr., Fitchburg
The 6-foot, 170-pound wideout and safety was one of the most dynamic talents in the state, nevermind Central Mass. Perkins, who holds offers from UConn and UMass-Amherst, tallied 35 tackles and two interceptions on defense. He racked up 20 total touchdowns with 10 rushing, nine passing and a kickoff return. Perkins also racked up over 1,300 all-purpose offensive yards. He also racked up 200 all-purpose offensive yards and three touchdowns in the Red Raiders' playoff loss to Leominster.

DB – Casey DeAndrade, Sr., East Bridgewater
The University of New Hampshire commit was one of the most electrifying offensive talents in the state this year, but also played lock-down corner for the Vikings. DeAndrade tallied one interception in his senior season to push his career total to 11, a testament to opponents' weariness in throwing in his direction. The multi-talented athlete tallied 22 touchdowns with nearly 1,400 all-purpose offensive yards.

DB – Obi Melifonwu, Sr., Grafton
The UConn commit was a big-play threat on both sides of the football for Grafton, leading the Indians with three interceptions. The 6-foot-4, 195-pounder also ran for nearly 1,400 yards in a shortened season along with 17 touchdowns.

RET – Chucky Ortiz, Sr. Woburn
Ortiz was a jack of all trades while taking MVP honors of the Middlesex League Large division. In racking up 24 touchdowns, Ortiz tallied two pick-sixes, and a pair punt returns and kick returns for scores. Ortiz had six interceptions on defense while finishing a shade under 1,200 rushing yards. He also handled place kicking duties for the Tanners, connecting on 15 PATs and one field goal.
Best of the Rest
A.J. Baker, Sr. WR, Swampscott
Dan Barone, Sr. QB, Holliston
Vincent Burton, Sr. RB, Blue Hills
Kenny Calaj, Jr. WR, Everett
Andrew Coke, Sr. RB, Andover
Preston Cooper, Sr. RB, BC High
A.J. Doyle, Sr. QB, Catholic Memorial
Brian Dunlap, Fr. WR, Natick
Aaron Dyke, Jr. OL, Auburn
Andrew Ellis, Jr. LB, Barnstable
Joe Epps, Sr. RB, Bourne
Theo France, Sr. RB, Barnstable
Brett Harrington, Sr. DL, Chelmsford
Jack Harris, Sr. TE, Lincoln-Sudbury
Greg Heineman, Sr. QB, Minnechaug
Damion Johnson, Sr. WR, Dennis-Yarmouth
Jordan Keli'inui, Sr. RB, Mashpee
Thomas Kleyn, Sr. LB, Concord-Carlisle
Zack Hume, Jr. LB, Nashoba
Nick LaSpada, Sr. QB, Billerica
Cam McLevedge, Sr. QB, Weymouth
Reilly Naton, Sr. S, Duxbury
T.J. Norris, Sr. RB, Longmeadow
Mike Prendeville, Sr. OG, BC High
Will Quigley, Sr. RB, Marblehead
Deontae Ramey-Doe, Sr. RB, BC High
Max Randall, Sr. LB, Duxbury
Zack Schafer, Sr. LB, Mansfield
Eddie Sheridan, Sr. RB, Chelmsford
Jarod Taylor, Jr. RB, Mashpee
Shawn Whouley, Sr. WR, Weymouth
December, 4, 2011
12/04/11
1:25
AM ET
By
Corey J. Allen
| ESPNBoston.com
WALTHAM, Mass. -- Early in the fourth quarter, Everett's Jakarrie Washington took a sweep right down the sidelines and made a hesitation move that caused a Lincoln-Sudbury defender to fall, despite being between Washington and the end zone. The momentum that the Warriors had gained with their only offensive touchdown of the game less than two minutes earlier had been quickly put to rest, as the No. 1 Tide won easily, 36-13.
[+] Enlarge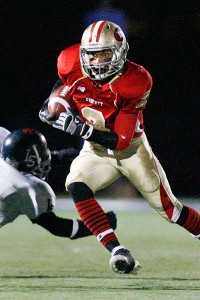 Jon Mahoney for ESPNBoston.com Jakarrie Washington's 63-yard touchdown run in the fourth quarter sealed a second straight Super Bowl title for Everett.
"On third down, we knew they were going to drop," said Everett coach John DiBiaso. "They were really dropping off on us, so when Jakarrie took that jet sweep I saw he got the corner. Once he got the corner, I knew he at least had the first down. When I saw his shoulders squared and he was going upfield I said he's got a shot to go all the way and he did."
That score made the game 27-13, and the extra point rush by Joey White made the score 29-13. On the ensuing Lincoln-Sudbury drive, junior Angel Duarte and senior Vondell Langston sacked quarterback Matt Cahill on first down and after two complete passes punted the ball away.
Despite a block in the back penalty on the return that negated the run back but also took away punitive yards, the Crimson Tide walked straight down the field, led off by Kenny Calaj with a 37-yard run. By the time Vondell Langston broke the plane with 3:30 left, it became nearly impossible for Lincoln-Sudbury to come back now down 36-13, but Washington's interception one minute later put the final touch on the game for the Crimson Tide.
"We've been practicing for them all week," said Washington of Everett's defensive training. "Going through the plays, learning play recognition, so we adapted to what they were doing and we did what we had to do."
Heat of the Battle:
DiBiaso and the Crimson Tide are used to winning games by large margins, and even though tonight the 23-point victory is sizeable, that was not solidified until late in the fourth quarter. The victory, although not at Gillette, felt good to coach DiBiaso because of the effort needed for his players to pull of the win.
"To win a tough game is always more gratifying than to win a blow out," said DiBiaso. "So if this game were say 42-0, we wouldn't appreciate it as much as we appreciate it now. This was a battle, we had to battle for it, we had to fight for it, we had to claw, scratch, bite for it, and when we get it, it means that much more. That's why I'm very emotional and I feel so good. It was a war out there tonight and our kids responded like champions."
[+] Enlarge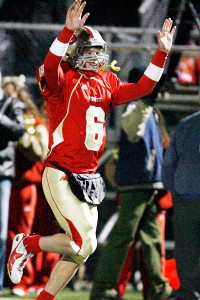 Jon Mahoney for ESPNBoston.comEverett's Jonathan DiBiaso was emotional in reflecting on what has been statistically the best career by a Massachusetts quarterback.
Run Game:
Before the game, Everett quarterback Jonathan DiBiaso was not feeling well and went to the bathroom to throw up before the game. Although he started the match, he was sliding early on during his runs, avoiding serious contact with the L-S defenders. As the game progressed, he began to take on hits and get the extra yardage that he usually does. Between not feeling 100% and the deep coverage that Lincoln-Sudbury was playing, the Crimson Tide scored all of their touchdowns on the ground today, something unusal for the high-powered offense.
First Quarter
E – Jonathan DiBiaso 1 run (Gilly DeSouza kick)
Second Quarter
E – Vondell Langston 2 run (DeSouza kick)
L – Connor Young 62 yard interception return (kick blocked)
E – Jalen Felix 1 run (DeSouza kick)
Third Quarter
L – Jack Harris 14 pass from Matt Cahill (Will Twyman kick)
Fourth Quarter
E – Jakarrie Washington 63 run (Joey White rush)
E – Jonathan DiBiaso 4 run (DeSouza kick)
November, 29, 2011
11/29/11
11:19
PM ET
By
Mike Scandura
| ESPNBoston.com
TAUNTON, Mass. -- Any resemblance between the Lincoln-Sudbury team in the second half of Tuesday's Eastern Mass. Division IA semifinal game versus Barnstable and the Lincoln-Sudbury team in the first half was pure coincidence.
The Warriors were dead in the water in the first half as the Red Raiders built a 13-0 lead. But Lincoln-Sudbury rallied behind quarterback Matt Cahill and edged Barnstable, 14-13 – with all of the Warriors' points coming in the fourth quarter.
[+] Enlarge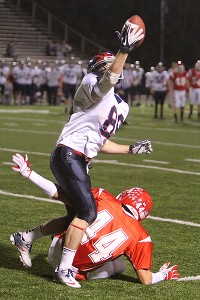 Eric Adler for ESPN.comJack Harris sparked the L-S comeback with several big grabs, including this one-hander.
Barnstable (7-5) was clinging to a 13-7 lead late in the fourth when it went for a first down on fourth-and-two from the Warriors' 6. But the Warriors slammed Hayden Murphy for a three-yard loss.
What transpired next was the stuff of legends as Cahill guided a 71-yard drive which culminated when he threw a 13-yard touchdown pass to Jack Harris with 2:19 remaining.
Will Twyman then kicked the second of his two PATs for what proved to be the winning point.
"Matt Cahill rebounded from a never-mind-the-first half and played a great second half," Warriors coach Tom Lopez said. "He's a great leader."
All Cahill did in the second half was complete 9-of-11 passes for 114 yards and two touchdowns.
Barnstable bolted to a 13-0 lead at halftime thanks to a 28-yard run by quarterback D.J. Crook late in the first quarter and a 30-yard touchdown pass by Crook to James Burke on the first play of the second.
"We thought we were making mistakes and that's why they were successful," Lopez said. "We thought we'd cut down on our mistakes. Having said that, we didn't play very well in the first half."
Lopez felt what was a momentum-shifter occurred in the third quarter.
"I think the key was when they stuffed us on fourth-and-two," Lopez said. "They went three-and-out and that gave us some confidence. All of a sudden the momentum changed."
Good point.
After Barnstable punted, the Warriors (11-1) reeled off a 93-yard drive that ended with Cahill's 11-yard touchdown pass to Harris.
What made the Warriors victory even more impressive was the fact the played all but a few minutes without one of their top players, Brian Carroll.
"We lost Brian Carroll on the second series (with a shoulder injury)," Lopez said. "He's basically been our whole offense. He had eight interceptions on defense and 800 yards rushing on offense.
"He's not in and Dan Cellucci, Greg Roder and Henry Guild all did a great job filling in. I couldn't be more proud of our kids."
LINCOLN-SUDBURY 14, BARNSTABLE 13
L-S (11-1) 0-0-0-14 - 14
Barnstable (7-5) 6-7-0-0 – 13
First quarter
B – D.J. Crook 28 run (kick failed)
Second quarter
B – James Burke 30 pass from Crook (Tom Mullen kick)
Fourth quarter
LS – Jack Harris 11 pass from Matt Cahill (Will Twyman kick)
LS - Harris 13 pass from Cahill (Twyman kick)
November, 5, 2011
11/05/11
1:34
AM ET
By
Corey J. Allen
| ESPNBoston.com



ACTON, Mass. -– Chris Giorgio led Lincoln-Sudbury to a close 21-14 win over league rival Acton-Boxborough last night with 10 carries for 40 yards and two touchdowns. The win keeps the Warriors on the undefeated (thus far) wall and pole position in the Dual County Small race.

"O-line played great today," said Giorgio after the game.

Giorgio scored his first touchdown with a leaping dive late in the first quarter over the bodies of offensive and defensive lineman on the grass as snow still piled up on the sidelines. The second, early in the second quarter, came after a three and out for A-B on the ensuing drive. Although Giorgio put the most points on the board, he still gave props to his teammates for producing their complimentary offense that allowed him to get space for his scores.

"Brian Carroll, Dan Cellucci ran the ball amazing, Henry Guild ran the ball, Jack Harris [caught] the ball well, Matt Cahill threw the ball well. I just ran it in easy," added Giorgio.

Cold as Ice: After last week's storm, the cold stayed in the area and as the game went along, so did the hard hits slow down. For the second week in a row, senior captain Kyle Ashley proved an alarming opponent with seven tackles, protecting the L-S end zone with as much fervor as he and the brethren could muster in near freezing temperatures.

"We knew that this was the game that… had the possibility to take us to the Super Bowl and we got it done and we're going to the playoffs," said Ashley.

Border Line Antagonist: Not only do the regional high schools of Acton-Boxborough and Lincoln-Sudbury exist within the same league but the towns of Acton and Boxborough sit above the towns of Lincoln and Sudbury geographically, so the need to show whose on top is there. According to Colonials coach Bill Maver, and exhibited by players in a close game picking each other up off the ground, the healthy rivalry is fierce during play, but dissipates once the whistle blows the ball dead.

"Tom [Lopez] is a great friend of mine. I want to beat him bad and I am sure he wants to beat me bad too," said Maver laughing. "After the game, we shake hands and we're friends. I think that's what's great about the rivalry."

Thin Edge: Late in the fourth quarter, Acton-Boxboro put together a sustained drive led by Kyle Sweeney with 46 yards on the series (112 on the day), but once they got down to the 20, on third and one, Chris Giorgio and William Twyman stuffed him for a two yard loss, and an incomplete pass to open space on fourth down killed the chance for the Colonials to take a game and slay the dragon. While it will go down in the history books as a win, it was not decisive in the eyes of L-S quarterback Matt Cahill; it was a game down to the last whistle.

"Acton came out and played and unbelievable game, they're an unbelievable team, a real class act," said senior quarterback Matt Cahill. "But at the end of the day, we were the ones on the right side of the score board, and that's a great feeling."

LINCOLN-SUDBURY 21, ACTON-BOXBOROUGH 14
LS (9-0, 3-0) 7 - 7 - 7 - 0 --– 21
AB (5-4, 1-1) 0 - 7 - 7 - 0 –-- 14

First Quarter
L – Chris Giorgio 6 run (William Twyman kick)

Second Quarter
L – Giorgio 3 run (Twyman kick)
A – Kyle Sweeney 6 pass from Ethan Dukes (Jack Perry kick)

Third Quarter
L – Dan Cellucci 33 pass from Matt Cahill (Twyman kick)
A – Billy Jackman 14 run (Perry kick)