Boston High School:

Jack Loughnane
January, 31, 2015
Jan 31
7:20
PM ET
By
Nate Weitzer
| ESPNBoston.com
CHARLESTOWN, Mass. -- It's often said that basketball is a game of runs.

Of course, as Charlestown (12-4) proved in a narrow 65-59 over Boston College High (6-6), the most important run is always the last one.

Trailing 50-43 after three quarters, the Townies rattled off a 16-3 run to take control of the game in the fourth. They were led by the efforts of senior guard Warfa Abdillahi, who scored 11 of his 18 points in the final frame.

"We never give up. We always have faith in each other, and we always have the hope that we can win. Even if we're down big, we know we can come back," said Abdillahi.

Despite a slow start in which they missed their first seven attempts from three-point range, and turned the ball over seven times in the first 13 minutes, the Townies kept the game tied after two quarters by crashing the glass and earning second chance scoring opportunities.

Junior forward Keywan Platt was huge on both ends of the floor, as he finished the game with an eye-popping line of 16 points, 9 rebounds (5 offensive), 6 steals, and 5 blocks.

"Keywan's a monster," said Charlestown head coach Edson Cardoso. "He's averaging 13 rebounds a game, and seven of those are on the offensive end, so we look for him to crash the boards and get second chance opportunities whenever he can."

For the Eagles, a fourth-quarter collapse led to a disappointing non-conference result for a team that's fighting to stay above .500 in the brutal Catholic Conference.

"Their size gave them extra possessions, and they were able to take advantage," said Eagles head coach Bill Loughnane. "Our guys did a great job of competing on the boards, and while we don't play well all the time, we always compete. We just weren't good enough to beat a great team today."

Turning Up The Pressure: BC High built a lead after three quarters by executing in half court sets, so Charlestown made an effort to keep them from getting into their offense during the fourth quarter.

"That last unit is my best defensive unit, and even though we ended up losing to St. John's Prep [last Sunday], they showed me a lot during that game," said Cardoso.

He continued, "So in the final quarter, we were a little more aggressive. We went to a box-and-one to try and keep the ball away from [Jack] Loughnane, and it paid off."

Abdillahi didn't just come through on offense. Along with Tyrone Jackson, Lionel James, and Platt, his activity on the defensive end led to several turnovers, and created transition opportunities for the Townies.

"Warfa isn't our best defender, but when he plays well on defense we usually win. He was absolutely a huge part of that comeback," Cardoso said.

Wearing Down The Opponent: Charlestown couldn't always push the ball down the stretch, but the Townies managed to figure out the Eagles 2-3 zone by the fourth quarter, and forced BC High to adjust their defense in the final minutes of the game.

With senior point guard Charles Washington running the show, Abdillahi, Platt, and James were able to get a number of easy looks.

"I wouldn't rather have any other point guard than Washington," said Abdillahi. "He moves the ball perfectly, and always puts us in good positions."

These teams traded blows throughout the afternoon. First, the Townies opened up with a 10-2 run, but the Eagles came right back to tie it at 14 after one quarter. Then Charlestown finished the second quarter with an 11-2 run that was capped off by a Platt dunk in transition.

In the second half, the runs came in shorter spurts.

The Townies scored six of the first eight points to start the half, but the Eagles came back with two separate 8-2 runs that led to their 50-43 lead after three quarters.

However, when the visitors had to counter Charlestown's impressive fourth quarter performance, they couldn't seem to muster the energy.

"I hate to use the excuse, but I think they got us tired. They pressured us the whole game, wore us down, and I think we made a few mental mistakes that cost us," admitted Loughnane

After losing junior forward Henry Ennen (knee) for the season, the Eagles were even thinner than usual, and will have to work on their endurance if they want to make the final run that usually decides close games.



Charlestown 65, BC High 59

CT 14 18 11 22 --- 65
BC 14 18 18 9 --- 59


Top Performers:
Charlestown – Keywan Platt (16 points, 9 rebounds, 6 steals, 5 blocks)
Charlestown – Warfa Abdillahi (18 points, 2 steals, 2 blocks)
Charlestown – Charles Washington (5 points, 5 rebounds, 6 assists)
BC High – Jack Loughnane (10 points, 7 assists, 2 steals)
BC High – Nick Gill (11 points, 11 rebounds)
BC High – Carl Pierre (12 points, 4 rebounds, 2 blocks)

January, 24, 2015
Jan 24
12:29
AM ET
By
Andy Smith
| ESPNBoston.com
DANVERS, Mass. -- Inconsistent effort and urgency has plagued No. 6 St. John's Prep for most of the season.

In its 81-74 victory over No. 16 BC High, it was no different.

Prep (8-3) fell behind in the opening minutes of the game, but came back to even the score by the end of the first quarter. In the second, it outscored BC High 16-6 to take a 11-point lead into halftime.

It appeared the home team might run away with the game. Kareem Davis (32 points, 5 rebounds, 3 steals) was having one of those nights where every time he shot the ball, it felt like it was going to go in.

"Lately, I've been on a roll," said Davis. "Whatever the defense has been giving me, I've just been taking it. Picking and choosing when to pass, when to hit shots. I've been on a roll. Hot streak."

Then in the third quarter, BC High (5-5) battled back to shrink the double-digit deficit to two. BC High's Jack Loughnane (21 points) was able to do whatever he wanted offensively. After not finding much success in the first half, he was able to drive to the basket at will and draw contact. He was 7-for-7 from the free throw line.

Down low, junior Nick Gill (19 points, 11 rebounds) was able to outmaneuver the Prep defense to make it 55-53 heading into the fourth.

"We came out flat and weren't ready to play," said St. John's Prep coach John Dullea. "That's been an ongoing theme for us. We've been able to overcome most of that, but we can't keep doing that or we're going to eventually end up losing. We've got to work on getting out to a better start, having more energy, having more enthusiasm. We usually tend to pick it up. In the second quarter, we played much better."

"We held them to six points in the second quarter and then they had 28 points in the third quarter. When we play defense like we can play, like we did in the second quarter, we're a good team. When we don't, we're not that much better than anybody else."

The two teams battled it out in the fourth. BC High took a 62-60 lead with five minutes to go, but Prep took it right back seconds later after Davis hit all three free throws after being fouled shooting beyond the arc.

The home team held on to the lead for the remaining minutes of the game, hitting crucial free throws down the stretch to seal the 7-point victory.

Harry Houdini: Kareem Davis draws a lot of attention from opposing coaches and defenders, and rightfully so. The Lowell native can create scoring opportunities in a multitude of ways and score in bunches. His 32-point, five-rebound, three-steal performance raised many eyebrows Friday, but it was Harry O'Neil that was the catalyst of the Prep offense.

The 6-foot-5 junior was able to post up on the low block against BC High's bigs and control the game. His physicality allowed him to get short and simple shots at the hoop and occasionally draw fouls. He finished with 17 points, 7 rebounds and 2 blocks.

"Kareem, Ben, Spencer, they all do a great job giving me the ball when I have position," O'Neil said. "They trust me, have that confidence in me, and that gives me the confidence in myself to really make a strong move to the rim. Conversely, if I'm scoring, it opens up the lanes for Kareem and he's going to knock that down all day."

A consistent post game is the perfect compliment to the other elements of Prep's lineup. Davis, Ben Judson (8 points), and Spencer Danforth (11 points, 6 rebounds) are three players who can each attack the basket off the dribble or shoot from the outside. Jake Burt (4 points, 7 rebounds), the Boston College football commit, is a bruiser around the basket. When O'Neil is able to own the paint offensively, it makes the entire offense that much more difficult to defend.

"It really helps us with spacing when you have guys like Spencer and Ben," said Davis. "When you have shooters like that on the floor, it's easy to feed him. Eventually, they're going to have to double him because this man is just a beast. Then he just has to kick it out and it really opens up everything."

Injuries rundown: Neither team left the game unscathed. Players on both teams suffered injuries of various extents. In the first half, O'Neil had to leave the game due to a gash above his right eye. He was hit with an inadvertent elbow from a teammate when they were both trying to come away with a rebound.

"I just caught an elbow," he said. "Jake (Burt) was coming down with the board and he just caught me. It was just one of those things that happens in the heat of the moment."

He came back in the game later and played with a large bandage above his right eyebrow and was going to get stitched up after leaving the gymnasium.

BC High's Henry Ennen (2 points, 7 rebounds) went to the ground with four minutes left in the game with an apparent right leg injury. He was in so much pain he made no attempt to get up until assisted by trainers. He spent the rest of the game on the bench with an ice pack wrapped around his knee. The severity of the injury was not known immediately after the game.
January, 23, 2015
Jan 23
1:36
PM ET
By
Nate Weitzer
| ESPNBoston.com
DORCHESTER, Mass. -- The defense naturally relaxed after the officials blew the play dead.

This was an opportunity for Malden Catholic to catch its collective breath, and wait for a simple pass from the baseline that would put the ball in play. But Jack Loughnane and his father had other plans.

The junior point guard for Boston College High (5-4) looked to his right, where one of the Eagles' deadly three-point shooters flashed towards the corner. He waited a beat, then caught a glimpse of a cutting teammate out of the corner of his eye, and hit him in stride for an easy layup that marked one of his eight assists on the night.

"As a point guard, you have to be an extension of the coach," said Jack's father and head coach, Bill Loughnane. "One of our goals is to get six to 12 points every game on out of bounds plays. It's a way of generating some easy offense, and with Jack, our best passer, taking it out, we're able to accomplish that at times."

The Eagles went on to upset then-No. 18 Malden Catholic 76-74 on Friday January 16, and took down their second ranked opponent that weekend when they defeated No. 16 New Mission 61-50 at the BABC Winter Classic on Martin Luther King Jr. Day.

Jack Loughnane did not come off the floor in either of those contests. He combined to produce 29 points, 15 assists, and 6 steals while playing 64 minutes as he led his team to consecutive victories.

"The team's morale has been up after those two big wins. We know that we can play with the best now," Jack said during a recent practice. "When you play as much as I have, you know that you have to fight through everything. Me and my teammates have learned how to battle through adversity, and our toughness has shown in those close games."


Following In Big Footsteps

Jack's father has been the head coach at BC High for the past 12 years, and spent 19 years coaching at South Boston High before that, yet some basketball fans may remember him as the former point guard of the Northeastern Huskies.

Bill Loughnane holds the school single-game record with 17 assists in a game, and finished third in career assists (500) after spending four years playing for Hall of Fame coach Jim Calhoun.

While playing on the AAU circuit, Jack said many of the referees would recognize him as"'Loughnane's kid," and regale him with stories of his father's playing days.

Jack said, "It's difficult sometimes, knowing that dad was a Division 1 point guard. The expectations are high, but it does motivate you."

He also recognized that "It's good to pick his brain because he was a great basketball player, and a great coach. He'll see things I don't, so it's good to get his perspective on things."

For Bill Loughnane, it's all about guiding his son by offering advice when appropriate.

"We've had a lot of good rides coming home from games," Bill. "A lot of times I'd wait for him to ask a question, and then I'd give him a long answer. We're very lucky he's had a lot of good coaches along the way. Nothing's been given to him, and he's earned everything."


Growing Up An Eagle

Loughnane began coaching Jack in a local church league for kindergarteners, but that wasn't when his son began playing.

"I've heard stories that at about a year old I'd have a basketball in my hands trying to dribble it. It wasn't because [dad] was pushing me, it was just part of our lifestyle," said Jack.

He continued, "In our house, it's all basketball all the time. We're out at dinner and he's drawing up plays using forks and knives at the table. It's just what we love, and what we want to talk about."

For Jack, there was no doubt about where he wanted to play high school ball. He said he's been to every practice since his father became head coach at BC High when he was in third grade, a routine that his younger brother Mike, 10, has now taken up.

By the time he was in middle school, Bill recalled how he would use Jack in drills when the varsity team needed an extra player. But on most occasions, the young teenager had to jump rope for 10 minutes before he could even touch a basketball and work on his game.

Initially, Jack played junior varsity as a freshman, but was called up to varsity before he finished his first season. During his sophomore campaign, Jack led the Eagles in points and assists, and enjoyed playing alongside his older brother Alex, as BC High made a run into the second round of the state tournament.

"The three of us had some great rides home," Bill reflected. "I'd listen to them argue, and they were always supportive of each other, but if one of them made a mistake, they weren't shy about letting the other one know about it."

Time To Fly

Now one of the most experienced players on BC High's relatively young roster, Jack seems to set a positive example through his play.

His ability to single-handedly break a press, his deadly pull-up jumper, and his uncanny court vision all combine to make Jack one of the most valuable players in Eastern Massachusetts.

While his father loses his cool from time to time, and Jack tends to fire back from the court, they still maintain a relatively normal player-coach relationship.

"He'll tell you that I'm probably harder on him than anybody else on the team," Bill. "I expect a lot from him, and I expect improvement every day from him just like every other kid in this program."

The Eagles will travel to St. John's Prep Friday night for their fourth consecutive game against a ranked opponent, so their coach wanted to make sure they were prepared.

That meant installing a new set on a baseline out of bounds play, with Jack directing traffic.

Again, as the point guard, Loughnane maintained, "You have to see what the coach sees. You have to be able to tell people where to go. I see it now as a coach, and I try to make sure he sees it too. [Jack]'s quiet by nature, but I think the last few games he's really become more vocal on the floor"

Jack Loughnane leads his team in more ways then one, and it comes as little surprise when you consider the pedigree of his teacher.
January, 20, 2015
Jan 20
10:40
PM ET
By
Nate Weitzer
| ESPNBoston.com
WEST ROXBURY, Mass. -- They come at teams with speed. They come at teams with length, deadly shooting, and the opposition never seems to know where the next blow will come from.

Brandon Twitty scored a game-high 27 points, including 18 in the first half, as the Knights ran away from a hot BC High team and held on by a score of 99-73.

Catholic Memorial (12-1) has now won eight straight, posted six consecutive double-digit victories, and done so against some of the top ranked teams in the state.

Fresh off back-to-back wins against ranked opponents (No. 18 Malden Catholic and No. 16 New Mission) BC High (5-4) is far from a weak adversary, but the Knights made them look mediocre in this contest. They turned the Eagles over nine times, scored 16 fast break points, and controlled the pace of the game throughout the first half.

"We want to bring the pressure," said Catholic Memorial head coach Denis Tobin. "We're willing to trade a couple of easy baskets to create turnovers and increase the pace, which is where we're at our best."

The Eagles scored 12 first-half points when they managed to break the Knights' full-court pressure, but paid dearly when they could not. CM forced a BC High team that usually takes care of the ball into a few uncharacteristic mistakes, as the sweltering environment at Ronald S. Perry Gym seemed to force the visitors into cramped spots on the floor.

The Knights ran off missed shots as well, and opened up a 46-30 lead by halftime. With so many weapons on the roster, it's nearly impossible to string enough stops together against Catholic Memorial, and the Eagles were unable to mount a comeback after falling behind.

Pick Your Poison: Twitty was relatively quiet in Catholic Memorial's previous conference game (an 80-68 win at St. John's Prep), but stepped up his scoring in this contest.

"That's what makes us hard to defend. Between Brandon [Twitty], Guilien [Smith], Matt [Hanna], and my own son Denis, who can also shoot, you kind of have to pick your poison with us," said Tobin.

The Knights handed out 20 assists as a team, and committed only seven turnovers, so with ball movement like that, it's not surprising that they could have a different leading scorer every game.

"Tonight happened to be my night," said Twitty, "But it could be anybody else on a given night. That's what makes this team so dangerous, and so special I feel."

Coaches are never satisfied with sloppy play, but Tobin yielded the importance of avoiding 'live ball' turnovers throughout the game.

"The less we turn it over the better, but we prefer that if we do turn it over it's out of bounds. We weren't being pressured, so we better take care of the ball under those circumstances," Tobin said.

Counter Punches: The Eagles made several pushes to get back into the game after getting down 22-12 in the first quarter.

Jack Loughnane hit a tough three to cut the lead to seven (26-19) early in the second quarter, and finished a layup, plus a foul shot to cap a 9-2 run that kept BC High within striking distance down 36-28.

However, as soon as the visiting team made a run, CM countered with one of their own. The Knights finished the first quarter on a 7-0 run, and responded to Loughnane's and-1 with a 10-2 run that put them firmly in control heading into the break.

"We practice end of quarter situations a lot," said Tobin. "It's helpful that we have a lot of great one-on-one players that can create, and they know how to score so that the other team isn't left with a lot of time."

On To New Mission: The Knights are on a very impressive run right now, and are ranked towards the top of nearly every poll in the state due to their dangerous, fast-paced attack.

"We love to just get the ball and go. You wear teams out like that, and that's the style we like to play in," said Twitty. "We played really well as a team tonight and we've got to keep this rolling."

Tobin said he was pleased with his team's performance, but isn't looking too far ahead based on recent results.

"Our first goal is to win the league, then we'll worry about the state tournament, but honestly right now, it's the Belichick way, we've got New Mission on Sunday, and that's all we're going to think about."

New Mission and the other teams in eastern Massachusetts can think about how they plan to stop Catholic Memorial all they want, but like BC High, they might not know where the next punch is coming from.



Catholic Memorial 99, BC High 73

CM 22 24 28 25 --- 99
BCH 12 18 27 16 --- 73


Top Performers:
Catholic Memorial – Guilien Smith (7 points, 4 rebounds, 6 assists)
Catholic Memorial – Kellen Grady (20 points, 2 steals, 2 blocks)
Catholic Memorial – Brandon Twitty (27 points, 3 rebounds, 3 assists)
BC High – Isaiah Bowman (22 points, 4 rebounds, 2 steals)
BC High – Jack Loughnane (17 points, 4 rebounds, 6 assists)

January, 16, 2015
Jan 16
11:21
PM ET
By
Nate Weitzer
| ESPNBoston.com
BC High with one last stop to upset No.18 Malden Catholic Final: 76-74 https://t.co/wF6aBeT4gn

— Nate Weitzer (@nweitzer7) January 17, 2015
BOSTON -- Everything is magnified in the final two minutes of a close game.
Conference rivals Boston College High (4-3) and Malden Catholic (7-2) exchanged blows in a fourth quarter with seven lead changes, but in the end, it was a simple push shot from junior guard Steve Timmins that made the difference.
With the score knotted at 74 and 30 seconds remaining, the Eagles ran what Timmins said is one of their usual sets. Junior Jack Loughane initiated the action from the top of the key, feeding senior guard Isaiah Bowman on the baseline. Bowman attacked the rim, but dumped the ball off to Timmins before Malden Catholic's shot blockers could react, and the football standout made the biggest shot of his basketball career as he put BC High up 76-74 with 20 seconds remaining.
"It's something we work on all the time in warm-ups, and the practice paid off tonight. Even though it was a big situation, muscle memory kind of carried me through," Timmins said after the game.
"We got a lot of movement off that play," recalled Eagles head coach Bill Loughnane. "We tell our guys, if you see an open spot you've got to get to it. [Timmins] must have taken that shot a thousand times in practice, so that was a great look for us."
Of course, BC High still had to stop a talented Lancers team from tying the game, or taking the lead on their final possession. Michael Boyd and Karlens Joas combined for 49 of Malden Catholic's 74 points in this contest, so it wasn't surprising that as a senior captain, Joas attacked the paint in an effort to keep his team's hopes alive.
It certainly didn't come as a surprise to Jack Loughnane, as the coaches' son read the play, got his hand on the ball, and pried it loose to seal the win.
Battling Adversity:
Malden Catholic led 23-18 after one quarter, and 41-37 at the half, but the Eagles were able to make a couple of key adjustments as they fought back to take their first lead late in the third quarter.
"They're a very good team, and they made us play bad for long stretches tonight, but our guys just kept competing and fighting when things weren't going well for us," said Bill Loughnane.
The Eagles faced more adversity when two of their best rebounders (Nick Gill and Henry Ennen) fouled out midway through the fourth quarter. Malden Catholic forwards Ryan Smith and Austin Batchelor are both listed as 6-foot-4, and combined for nine offensive rebounds in the contest, so Loughnane had to bring some size off the bench in the form of the 6-foot-2 Timmins.
"We're a small team, and those guys got their fouls because they battled. Steven [Timmins] came in and battled down low, and we had to move Isaiah [Bowman] to the four, and those guys did a great job of continuing the battle."
Sparks Off The Bench:
Only eight players saw the floor for BC High, and the first young man off the bench was 5-foot-5 freshman guard Travis Evee.
Evee promptly hit two triples that kept the Eagles within striking distance during the first half, and his third three of the game tied the contest at 56 towards the end of the third quarter.
Senior guard Keshler Charles didn't make an appearance until the second half, but he also hit his first three-point attempt of the night, and came up with two huge steals down the stretch.
"They both were able to contribute on the offensive end, but defensively they did a really nice job," Loughnane said about those two substitutes. "Their guards were getting penetration that led to easy shots, and they helped contain that action."
The coach continued, "[Malden Catholic] had a lot of easy looks in the first half, and they deserve credit for running their stuff really well. We made some adjustments to give weak side help, and in the end it worked out."
Tough Sledding:
This is Malden Catholic's second loss of the season in as many games. They fell to No. 4 Catholic Memorial on Tuesday and are playing in a Catholic Conference that is clearly one of the most competitive conferences in the state.
BC High will face New Mission next Monday in the BABC tournament at Reggie Lewis Center, before facing Catholic Memorial and No. 7 St. John's Prep on the road.
Timmins said, "We've had a couple of tough losses at the beginning of the year, but this could help us keep the momentum going, and hopefully we'll continue to get better and better as the weeks go by."
Finding a way to eek out close wins against quality opponents should give the Eagles confidence as they head into one of the tougher portions of their schedule.
BC High 76, Malden Catholic 74

BC 18 19 23 16 --- 76
MC 23 18 17 16 --- 74
Top Performers:
BC High – Jack Loughnane (16 points, 8 assists, 3 steals)
BC High – Henry Ennen (17 points, 6 rebounds)
BC High – Travis Evee (16 points, 4 of 6 from 3PT range)
Malden Catholic – Michael Boyd (25 points, 5 of 9 from 3-point range)
Malden Catholic – Karlens Joas (24 points, 8 rebounds, 2 assists)
Malden Catholic – Ryan Smith (13 points, 6 rebounds, 4 blocks)
March, 1, 2014
3/01/14
1:27
AM ET
By
Chris Bradley
| ESPNBoston.com
BOSTON -- Catholic Memorial coach Denis Tobin has been with the Knights for over 30 years, and even after all that time he still has but one way to describe a tournament game against a Catholic Conference foe.

"Nerve-wracking," Tobin said with a laugh, "The hour before the game when you see the packed house and can't do anything about it...you calm down once the game starts. [We] were probably nervous at the beginning, but then it calms down and becomes a basketball game."

One player who clearly wasn't nervous was sophomore star Kellan Grady. In the highest scoring output of his high school career, Grady led the Knights with 32 points –- including eight 3-pointers in all, and 19 points in the second half to seal the 83-73 victory for CM (21-1) over rival BC High (14-8).

Grady had another way to describe the scene leading up the game -- a scene where dozens of fans, turned away because the gym was filled to capacity, stood outside Ronald Perry Gymnasium in hopes of catching the next installment of the teams' 106-100 overtime thriller three weeks ago.

"I wouldn't say nervous, I'd say a little more anxious. Last game we didn't play well against BC High. Even though we scored 106 [points] last time, we really wanted to send a message and beat them on our home court," Grady said.

Though a close game through the first quarter, the Knights were able to build a 13 point lead by halftime to gain some momentum going into the third quarter. Grady hit three treys in the first half, but in the third quarter he managed to one-up an impressive first half performance, knocking down four three-pointers in the quarter –- including treys on back-to-back possessions while heavily guarded to build the Knights' lead up to 62-40.

"Huge breakout game, he's just a sophomore," Tobin said. "I've seen him do it in summer leagues, I've seen him do it in fall leagues, but to break out on this stage for him is terrific. He was in the zone, he was really in the zone and he has been the past couple of games. My sophomores seem to like to step up against BC High, Brandon [Twitty] had 31 in the first game here, and Kellan had 32 [tonight]."

"They have a great sophomore in Jack Loughnane themselves, so we've got two more years of terrific CM-BC High games coming. Kellan's worked hard all year and he has unlimited potential."

Loughnane, whose 17 points led the Eagles to an impressive comeback victory over Wellesley on Wednesday, was able to manage just eight points against the Knights. Aamahne Santos (13 points), Grady, and Guilien Smith (19 points, 7 rebounds) harassed Loughnane on the defensive end all night before he fouled out late in the fourth quarter.

Young fuels Eagles' comeback: When Catholic Memorial went up by 22 in the third quarter it looked as if the deficit might simply be too much for the Eagles' offense, which had been sputtering to say the least, to keep up.

Putting in a warrior's effort off the bench, Eagles' senior captain Steve Young (19 points, 7 rebounds) scored eight straight points to start off the fourth quarter -– helping BC High bring the lead down to seven points with over six minutes to go in the game.

Young, who suffered a slight tear in a ligament in his ankle back in December, looked as if he might be able to will the Eagles all the way back to tie the game up until he fell down hard on his ankle with five minutes left. He was able to return a few minutes later and the Eagles got the lead down to five in the closing minutes, but CM's lead ultimately proved to be insurmountable.

"We made a good run to start the second half to go up 20, but we knew a Bill Loughnane-coached BC High teams was never going to just roll over -– we knew that they had a run in them," Tobin said. "I kept stressing to my guys 'when the run gets made, keep your poise,' and I thought we did. They got it to seven, we took a timeout, and then I think we scored off that timeout to kind of quell their final run a bit.

"They're a very good team, we knew that coming in. We didn't want to draw them, we haven't had the luck of the draw the past few years. Our guys earned two homes games and I think playing on our home court was a big advantage."

On to UMass-Boston: With the win, the Knights will move on to the Division 1 South semifinals on Tuesday. CM will take on a familiar name: defending Division 1 South champion Mansfield. The Hornets, who like CM lost just one game during the regular, knocked off Brookline 63-49 to advance to the semis.

Grady hinted that the Knights are chomping at the bit for a chance at the defending South champs:

"We can't wait. Eastern Mass. champs last year and everybody is talking about them. We want to bring it to them and show them we're the best team in the state."
February, 27, 2014
2/27/14
12:10
AM ET
By
Chris Bradley
| ESPNBoston.com


WELLESLEY, Mass. –- Just when it looked like BC High's deficit was insurmountable, sophomore Jack Loughnane came up in the clutch to help bring the Eagles back.

Loughnane (17 points) hit three free throws at the end of the third quarter to help build some momentum going into the final period, but it was a jumper he hit late in the fourth quarter that gave the Eagles (14-7) the lead for good – their first lead since the first quarter.

The sophomore caught the ball at the top of the key with less than a minute to go in the game, faked right, went left, and pulled up from behind the free throw line for a jumper. The shot swooshed through the rim, and moments later the Eagles completed one of the best comebacks of the year, winning 66-58 over host Wellesley (15-6).

"In practice we always take that pull-up jumpshot," Loughnane said, "I'm trying to get to the point where it's an automatic shot. They trusted me with the shot, I hit it, and great defense secured the win at the other end."

When asked how many times Loughnane has practiced that shot with his Boston Amateur Basketball Club (BABC) AAU coach Leo Papile or with his father, BC High coach Bill Loughanne, Jack sure didn't exaggerate his repititons.

"Thousands. That's my favorite shot," he said with a smirk.

Bill Loughnane talked to his team on Tuesday night about Andover, a Division 1 North favorite who nearly lost to Billerica in the opening round of the tournament the other night. His message: play for 32 minutes.

"One of the things was we talk about a 32 minute game, all the time, since day one," Bill Loughnane said. "One of the things I mentioned to them the other night was Andover. Billerica, at 31 minutes probably felt good. But it's a 32-minute game and you've got to play for 32 minutes. Leave it out there and let the chips fall where they may."

From his father's perspective, Bill Loughnane says Jack's poise comes from many years of good competition, practice, and big games.

"He's played a lot of games in his life, he's been lucky enough to have coaches who let him take a lot of big shots throughout his career," Loughnane said. "They did a nice job tonight of that 'never say die' attitude and just continuing to work. They hit some tough shots, I thought we played some pretty good defense and they just hit shots in our face. We were just hoping they'd miss some shots, and we got lucky that they did."

Slowing down Noel: Wellesley junior Ryan Noel has quickly emerged as one of the best forwards in Eastern Mass. At 6-foot-7 with a feathery touch from anywhere on the floor, Noel has been able to make a name for himself because of his finishing ability.

To the surprise of none, Noel got off to a big start in the first half against BC High. That was when Loughnane made the decision to pull center Phil Leotsakos up off the block in order to keep Noel out of the paint –- where he tortured the Eagles in the first half.

"We brought [Leotsakos] up a little just so [Noel] couldn't get that free cut to the basket," Loughnane said. "He was killing us on that cut to the basket, we just made a little adjustment to take that away and keep him out on the perimeter a little bit."

Forward Steve Young -- who has been recovering from an ankle injury for the majority of the regular season and came off the bench for 10 points -- said the difference down the stretch was keeping Noel off the glass, too. BC High dominated the glass down the stretch.

"Down 11, we started to get a little momentum, we had some key rebounds -– I remember we were crashing the boards hard," Young said. "We just worked hard, we kept each other in it, we motivated each other whenever something good would happen…teamwork just kept us in it."

Aidan James led the Raiders in scoring with 17 points.

Bring on CM: Wednesday was one of the Eagles' best performances of the year. In addition to Loughnane's 17 points and Young's 10, Tom Galanek contributed 12 points and Isaiah Bowman came off the bench to nail three straight treys to help the Eagles' offense stay afloat early in the first half.

"They're starters, basically," Bill Loughnane said of Bowman and Young, "We know they both have very good offensive games, and they gave us everything they had tonight. Those first three threes Isaiah hit, we were reeling a little bit then, and he did a great job. Steve gave us some nice inside presence, which we really needed."

Young added: "It's a state game. When you go in, especially the younger guys, they're nervous. So when you go and display confidence, Jack Loughanane –- it rubs off. Isaiah hits three threes -- it gets the game rolling, and when you get comfortable you can start playing."

The Eagles move on to play a familiar foe, Catholic Conference rival Catholic Memorial, in the Division 1 South quarterfinal on Friday night. The last meeting between the two was a 106-100 instant classic that was won by the Knights.

"We've been there before. Out last game against CM was a great game, we all know that, and we played really well that game," Bill Loughnane said. "I hope we have another one in us, to play that good…and I guess just that they don't play as well this time."
February, 16, 2014
2/16/14
9:50
PM ET
By
Andy Smith
| ESPNBoston.com
LAWRENCE, Mass. -- The entire momentum and complexion of the game changed in an instant.
For 3-1/2 quarters, No. 9 Central Catholic was trying to keep up with No. 14 BC High. It could never get a lead of more than one point before BC High tied the game or took the lead back. That is, until Nick Cambio completed an and-one play to put his team up by three. Two possessions later, he was stationed on the low block anticipating a pass. After getting the feed from Tyler Nelson, he elevated and threw down a tomahawk dunk in traffic that brought Central Catholic's entire gymnasium to life.
[+] Enlarge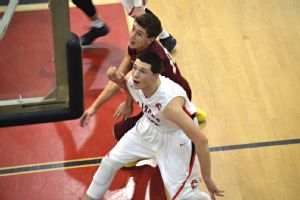 Brendan Hall/ESPNBoston.comA fourth-quarter dunk from Nick Cambio (15 points, 9 rebounds) changed the entire complexion of the game for Central Catholic.
From there, Central went on to win 59-54 in the opening round of the President's Day Roundball Classic.
"I saw a guard getting into the paint, and I knew the bottom guy in the defense was going to hedge up, so I was just waiting for the pass," said Cambio (15 points, 9 rebounds). "I was setting myself up for the dunk. That was probably one of the hardest dunks I've thrown down in a game. It felt good."
Central (16-4) struggled early on to establish any offensive consistency against the BC High (12-6) defense. The Eagles switched between a box-and-one, 2-3, and 1-3-1 zones all to make sure it could at least contest any Central shot while also making sure it was in a quality position for defensive rebounds.
It held Tyler Nelson, Central's sharpshooting senior guard, to 10 points in the first half. Central was able to solve the zones in the second half and he finished the game with 27 points and 3 rebounds.
"They're an outstanding defensive team and they take you out of what you want to do," said Central Catholic coach Rick Nault. "I thought we made some adjustments after the half and got Nick (Cambio) involved a lot more. He was a lot more aggressive, and Tyler got going a little bit."
With about three minutes to go, Nelson hit one of his three three-pointers from the left corner to put his team up by six points. For the next two minutes, BC High battled to try and close the lead, but Central kept it a multi-possession game.
With 23 seconds left, BC High's Isaiah Bowman (14 points) drained a three-pointer from the left wing to cut the lead to three. Coming out of a BC High timeout, Central inbounded the ball to Tyler Nelson, who drained both free throws. Ten seconds later, Jack Loughnane (7 points, 4 rebounds, 3 steals) put back a rebound and hit the ensuing foul shot to make it 53-51. Again, Central was able to inbound the ball to Nelson, who put the game out of reach with more free throws.
Well-rounded scoresheet:
It was a game where everyone had to contribute for Central Catholic, not just the usual suspects. With BC High playing a box-and-one to take away Tyler Nelson, he was quiet for a majority of the first half. This put the onus on the other starting guard, Alex Parent, to make something happen with the ball in his hands. He turned the ball over six times Sunday.
The team turned to freshman Kevin Fernandez for stretches, and the freshman responded with seven rebounds and two steals off the bench while adding energy to an offense that needed it in the second half.
"He had great energy," said Nault. "He came up with a few steals and we got transition points out of it. I thought he defended very well. He's a kid that, as a freshman, can challenge bigger players. They went with three bigs tonight against us and they tried to attack with that. With Kevin in there, it's hard to post him up because he's such an aggressive kid. I thought he was a difference for us defensively."
Fernandez started the season in Central's starting lineup but has transitioned into a roll off the bench. It allows him to play with the natural energy and quickness he has without putting the stress on him to have to be the team's main ball handler as a freshman.
"He's huge for us," said Nelson. "He's a young kid, he just turned 15. For him to play like that, he steps up a lot. When we have another guard like that playing at that level, it makes us a lot better, so we need that going forward.
Also contributing big minutes off the bench was junior Pat Sullivan. With Cambio on the bench early in the first half with two fouls, the team's only experienced bigs were Sullivan and Aaron Hall. Hall picked up his fourth foul with 6:34 left in the fourth quarter, which brought in Sullivan. He had to play large portions of the game because Hall picked up fouls at inopportune times.
Hall contributed seven points and nine rebounds in the game.
Championship Final set:
Central will play No. 7 Cambridge Rindge & Latin Monday in the championship game of the Roundball Classic at 7:30 p.m. The Falcons defeated New Bedford, 74-46, in the first game of the tournament. Central Catholic's team and coaching staff were in the gym watching the first half of the game, so they got an up close and personal view of what challenges Cambridge will bring Monday.
"Phenomenal," said Nault. "They're long, talented, athletic. They play hard. Everyone is good off the bounce. It's going to be a great challenge for us. I can't tell you many games where we've played in our home gym and we're underdogs. I told my guys I think we're going in as underdogs tomorrow."
They are a team that likes to push the pace, just like Central, which could make for an up-and-down kind of game. It could also mean each team will look to slow down the other, which would create a type of game almost no one expects from those teams.
"I think we'll match up a little better than we did today against BC High's three bigs," said Nelson. "I think they play three, maybe four guards, and one big guy, which is better for us. But it's not really about matchups at the end of the day, it's how you play as a team."
January, 25, 2014
1/25/14
1:01
AM ET
Brendan C. Hall
ESPN Boston High Schools Editor

FIRST TEAM

G – Tyler Nelson, Sr., Central Catholic
He's always been one of the state's premier shooters, but his game has evolved this season as he continues to fight through box-and-one's. He has grown up quite a bit in terms of toughness.

G – Dizel Wright, Sr., Putnam
One of the state's best on-ball defenders and the humble kid on an otherwise very vocal team, he sets the tone at both ends of the floor for the state's undisputed No. 1 team.

F – Tyonne Malone, Soph., Putnam
One of several prep school transfers that arrived with plenty of hype, the 6-foot-3 slasher has been an integral force on the wing for the Beavers. Long with plenty of athleticism to get to the rim at will, there's a lot of upside to be excited about.

F – David Murrell, Sr., Putnam
It's an MMA fight at times trying to battle on the boards with the Beavers, and the returning All-State forward sets the tone for one of the state's best rebounding teams.

C – Anthony Green, Sr., North Quincy
One of the best revelations of the 2013-14 season, the late-blooming 6-foot-9 center has showed marked improvement from where he was at this time a year ago. And the Red Raiders have been a large benefactor.

SECOND TEAM

G – Tommy Mobley, Jr., Newton North
Some folks would like to see him become more assertive on the glass, but there is no denying Mobley's shooting ability. He might be the most automatic three-point marksman in Massachusetts.

G – Makai Ashton-Langford, Soph., St. Peter-Marian
If you haven't seen him yet, you are missing out. He is the Guardians' most talented lead guard since Naadir Tharpe, and has backed up the mound of hype behind his high-major potential in this first half of the season.

G – Aahmane Santos, Jr., Catholic Memorial
Santos returned from prep school a much more aggressive –- and visibly faster –- player. At times it seems like he is operating at a different speed than the other nine players on the floor, and that's one of the bigger reasons why the Knights are averaging upwards of 86 points per game so far.

F – Asante Sandiford, Sr., New Mission
Franklin Pierce commit proved a lot to me with the way he battled one of the nation's top big men, Karl Towns Jr., at the Shooting Touch Shootout. The Titans have been absolute piranhas on defense this season, with Sandiford at the forefront.

F – Tyree Robinson, Jr., Durfee
It's been a few years since the Hilltoppers were this good, and I'm not sure how competitive they'd even be without landing this Notre Dame Prep transfer.

THIRD TEAM

G – Giulien Smith, Jr., Catholic Memorial
Like seemingly a half-dozen other Knights, Smith can shoot it. But it's his ability to create his own shot that makes him and Aahmane Santos one of the most dangerous backcourts.

G – Rocky DeAndrade, Sr., Mansfield
The Hornets started the season down three starters to injury, yet they haven't skipped a beat. Credit that to DeAndrade, who has become faster after a diligent offseason.

G – Elijah Rogers, Sr., Brookline
You can make the case for Rogers to be a lot higher on this list. The Warriors had a tough start to the season, but they may have hit their stride. When Rogers is on, it is a spectacle.

F – Gary Clark, Jr., Everett
Arguably the best two-way player on one of the state's most tenacious defenses.

F – Fred "Bam" Rivers, Sr., New Mission
This might be the Titans' best squad since 2010-11, and as the nickname implies, this fearless, wide-bodied 6-foot-4 post is one of the primary reasons. There isn't a player in Massachusetts he's afraid to make uncomfortable. Oh, and he can step out and shoot it, too.

Coach of the Year: Kevin Barrett, North Quincy
A few other names here could fit the bill, such as Mansfield's Mike Vaughan, Fitchburg's Jack Scott or North Andover's Paul Tanglis. But a year ago at this time, Anthony Green was a timid kid who moved gingerly and couldn't stay on the court without getting fatigued or racking up fouls. Now, he's become the Raiders' own "Nerlens Lite", and the biggest reason for their 11-0 start. And while we're at it, raise your hand if you'd heard of Eftham Butka at this time last year (Don't lie). Now, he's the Raiders' most dangerous scorer. All of this speaks to Barrett's commitment to player development, a trait that sometimes feels like a lost art in today's AAU-ficated grassroots culture. That shouldn't be overlooked.

***

Chris Bradley
ESPN Boston correspondent

FIRST TEAM

G - Dizel Wright, Sr., Putnam
The most complete player on the state's most complete team. A built, athletic point guard who can guard a variety of positions and put up double-figure rebounding totals, Wright should be considered a serious contender for Mr. Basketball, as should these next four candidates.

G - Tommy Mobley, Jr., Newton North
The state's most lethal shooter has turned into one of it's best overall scorers. Mobley has lit some of the state's best teams up this year, averaging 20 points per game as Newton North has emerged as one of the best teams in Division 1.

G - Guilien Smith, Jr., Catholic Memorial
In terms of pure scoring ability, there may be no better player in the state than Smith. Smith has deep range on his three-point shot, the quickness to get to the hoop off the dribble, and now the upper body strength to finish. He's a big reason why CM is 12-1.

F - David Murrell, Sr., Putnam
Wright may be Putnam's best player, but Murrell is the glue guy for the state's number-one ranked team. Averaging double-figure points and rebounds, he makes for a superior duo with sophomore Tyonne Malone.

F - Anthony Green, Sr., North Quincy
North Quincy has been one of the state's most pleasant surprises this year, and their do-it-all 6-foot-9 center hes led them every step of the way. Several scholarship-level college programs and prep schools have shown interest in Green in recent weeks.

SECOND TEAM

G - Makai Ashton-Langford, Soph., St. Peter-Marian
His 26 point outbreak against St. John's on Friday night is just another reminder why the 6-foot sophomore is considered to be one of New England's best talents. Ashton-Langford has been the guy who makes the Guardians go this year, averaging 17 points a game.

G - Aamahne Santos, Jr., Catholic Memorial
Santos has had several games where he he never reached double-figure scoring totals, yet he seems to have as much of an impact on a game as any point guard in the state. A super athlete who is also lightning-quick with the ball in his hands, Santos is the key behind Catholic Memorial's high-powered offense.

G - Tyler Nelson, Sr. Central Catholic
Much was expected out of Nelson this year, and for the most part, he has delivered for 11th-ranked Central Catholic. The Fairfield University commit has been the main focus of opposing defenses all year long, yet still manages to hit shots at a high clip.

F - Tyonne Malone, Soph., Putnam
Malone struggled at first to find his fit in an extremely talented Putnam rotation, but he has emerged as one of their best reliable players the past few weeks in wins over Woodstock Academy (Conn.), Springfield Cathedral, Springfield Central, and Northampton. A gifted athlete at 6-foot-3, Malone is already on the radar of several mid-major and high-major Division 1 programs.

F - Tyree Robinson, Jr., Durfee
The transfer from Notre Dame Prep has immediately helped turn things around at Durfee -- a team starving for a playoff appearance after several years of relative anonymity. A standout 6-foot-4 athlete who plays AAU for the Boston Amateur Basketball Club (BABC), Robinson's rebounding motor and elite athleticism have made him well worth the price of admission.

THIRD TEAM

G - Elijah Rogers, Sr., Brookline
Rogers has been the catalyst all year long for Brookline, a team who is 7-3 and looking to build off of last year's playoff run. An athletic point who can also make plays for others, he has proven to be one of the top pure point guards in the state.

G - Erick Rosario, Jr., Lynn English
It has been on Rosario to do a lot of the heavy lifting offensively with counterpart Stevie Collins out injured. A quick, clever combo guard, Rosario has proven to be one of the state's best pure offensive threats--whether it's knocking down outside jumpers or finishing acrobatic lay-ups around the rim.

G - Ryan Boulter, Jr., Mansfield
The lone blemish on the Hornets' 12-1 record is Thursday's three-point loss to Hockomock foe Attleboro, and Boulter has been a big reason why. With star forward Brendan Hill out for the year, Boulter has manged to pick up a lot of the slack offensively for Mike Vaughan's Hornets.

F - Gary Clark, Jr., Everett
Everett has been one of the state's best teams, now at 10-0, and Clark's inside-out offensive attack has helped bring some balance to a high-scoring offense. Playing alongside a loaded Everett backcourt, Clark has excelled playing down low: rebounding at a high-rate and finishing shots in the paint.

F - Fred "Bam" Rivers, Sr., New Mission
Rivers may not look the part of a gifted athlete, but to his credit, he has proven just the opposite so far for Cory McCarthy's Titans. At 6-foot-4, Rivers has the foot speed to guard multiple positions, he has shown that he is one of the best rebounders in the state, and he can even stretch the defense with his feathery three-point touch.

Coach of the Year: Cory McCarthy, New Mission
With a few star players in Franklin Pierce-bound forward Asante Sandiford, sharpshooter Shaquan Murray, and do-it-all forward Fred "Bam" Rivers, McCarthy has been able to build around that trio with one of the state's deepest rotations and stingiest defenses -- giving up just 47 points a game. The 11-1 Titans are as tough an out as any team in the state and they appear to be the favorite statewide in Division 2 midway through the season. Catholic Memorial's Denis Tobin, St. John's Prep's John Dullea, and Mansfield's Mike Vaughan should all be in the conversation for this one, but at this point in the year nobody has gotten more out of their team than McCarthy.

***

John Botelho
ESPN Boston correspondent

FIRST TEAM

G - Dizel Wright, Sr., Springfield Putnam
He's been the best player on the best team in the state all year, and only seems to be getting better.

G - Tommy Mobley, Jr., Newton North
The junior is the best shooter I've seen this year, or in recent memory for that matter. Everyone know the ball is going to end up in his hands and still no one seems to be able to stop him. Has a shot to reach 1,000 points this year with another deep tourney run for the Tigers.

G - Aamahne Santos, Jr., Catholic Memorial
The leader of an explosive CM offense that leads the state in points, Sanots has done a little bit of everything for the Knights. Known for his premier offense, his defense might be even better as he's caused fits for Catholic Conference point guards all year.

F - Fred "Bam" Rivers, Sr., New Mission
He's capable of scoring, rebounding, or playing solid defense on other bigs down low for No. 3 New Mission. Combining with Shaquan Murray and Asante Saniford, Rivers has helped make Mission the team to beat statewide in division two.

F - Ryan Boulter, Jr., Mansfield
Unbeaten Mansfield has looked unstoppable early on despite losing returning All-Stater Brendan Hill for the year to a knee injury, and Boulter might be the biggest reason why. The junior has led an explosive offense -- averaging more than 17.6 per game on a team with four guys in double figures

SECOND TEAM

G - Tyler Nelson, Sr., Central Catholic
Pushing him to the second team was one of the hardest calls to make, but I think it speaks more to the impressive guard play statewide this season than anything else. Nelson is one of the most dynamic players in the state, and a second half surge could push him onto the first team.

G - Rocky DeAndrade, Sr., Mansfield
Second for the No. 2 Hornets in scoring behind Boulter, DeAndrade is capable of taking over games and can score from anywhere. He's poured in over 16 per game so far as the Hornets have cruised to an 11-0 mark.

G - Elijah Rogers, Sr., Brookline
The returning All-Stater has taken his game to another level this year, guiding an offense that can run with anyone. He went off for 28 points to hand Bay State rival Newton North it's only loss, and finding a player in the state who elevates his game for big opponents would be a tough challenge.

F - David Murrell, Sr., Putnam
Returning All-Stater gives Putnam arguably the best 1-2 punch in the state with Wright, and is a major reason they've been atop the rankings all season. He was tremendous at the Hoop Hall Classic last week, netting 27 and grabbing 12 rebounds against rival Springfield Central before going off for 15 points and 15 rebounds against defending Connecticut Class L champ Woodstock.

C - Obi Obiora, Sr., Brookline
The big man averaged nearly a double-double a year ago, and looks like he's headed for one this season. A total game changer on the defensive end, he's also capable of taking some focus off of Rogers on offense.

THIRD TEAM

G - Jack Loughnane, Soph., BC High
His offensive game is an impressive one, and he's among the best 3-point shooters in Eastern Mas. He's the catalyst for the Eagles' offense, and is a major reason they're ranked No. 10 in the state.

G - Markus Neale, Sr., Dorchester
The Bears don't have much in the way of height, but Neale plays taller than his 6-foot-2 frame would suggest. He's a playmaker on both ends of the floor, can score from beyond the arc or by going to the hoop, fights for rebounds and bolsters an athletic Dorchester defense.

G - Ryan Roach, Sr., Cardinal Spellman
A Stonehill commit, Roache has been tasked with running a Cardinals offense that features several players who would be the "go-to" guy on a lot of teams. None of the Cardinals are averaging crazy point totals, but the team is unbeaten in league play. Their only losses have come against Mansfield, Franklin and No. 24 St. Bernard's.

F - Matt Nicholson, Sr., Rockland
Tyler Gibson swallowed up a ton of the publicity for Rockland a year ago, but Nicholson gave the Bulldogs a second very good scoring option. This year, with Gibson and Bryan Tavares graduated, Nicholson has been tasked with being the guy for Rockland, and he's delivered to the tune of 22 points and eight rebounds per game for the 7-3 Bulldogs.

C - Anthony Green, Sr., North Quincy
The 6-foot-9 big man for the unbeaten Red Raiders makes his biggest impact in something that isn't quantifiable through statistics, as the number of possessions he changes on the defensive end is staggering. Coach Kevin Barrett said earlier this year that he was blocking seven shots per game during the tourney last year, and altering at least as many. That means he's single-handedly effecting the outcome of more than 10 possessions per contest, and that doesn't include the way the rest of the Red Raiders defense can play in the faces of their opponents, knowing he's back there as a last line of defense.

Coach of the Year: Bo Ruggiero, Cohasset
An argument could be made for plenty of guys this year, and people like Cory McCarthy at New Mission and Mike Vaughn at Mansfield (being unbeaten despite losing Hill is pretty impressive) certainly deserve some consideration. That said, Ruggiero has put together one of his finest coaching performances, which is saying a lot when you consider he's got more than 500 career wins on the sidelines. The Skippers graduated a 1,000 point scorer a year ago in Shane Haggerty, and lack a star to lean on this season. Guys like Chris Haggerty, Rocco Laugelle, Henry Brown and Joe Buckley have just come together to play good fundamental hoops. They've gone all in on defense, and are allowing a South Shore League best 39 points per game this year. At 10-0, they have to be considered among the favorites, if not the favorite, to capture the MIAA Div. 4 crown this year.
December, 23, 2013
12/23/13
10:52
PM ET
By
Ryan Lanigan
| ESPNBoston.com


MANSFIELD, Mass. -- Anytime that No. 14 BC High was able to come up with some offense, No. 2 Mansfield had an answer.

The Hornets never trailed and pulled away in the fourth quarter to clip the Eagles 63-49 on Monday night.

Mansfield had an 11-point lead in the first quarter, and then a 10-point lead early in the second. But the Eagles continued to close the gap, heading into halftime down just 31-26. The Hornets used a 14-3 run in the third quarter, but a couple of baskets late made it just a 45-38 game after three.

In the fourth quarter, Ryan Boulter opened the scoring with a bucket and then senior Kyle Wisnieski hit back-to-back three-pointers to turn a nine-point game into a 15-point game at 53-38 and Mansfield never looked back.

"Especially in the first, I thought we got some really good looks and the ball didn't go in," BC High coach Bill Loughnane said, after his team shot just 24 percent from the field in the first quarter. "When [Mansfield] got the open looks, it went in."

The Eagles went to a man-to-man defensive strategy early on, while the Hornets switched into a 2-3 zone after starting with man-to-man. The zone allowed for more looks from distance for BC High (4-of-7 from three in the second quarter) but really frustrated their offense and limited their offensive rebounds.

"We had to mix up a little 2-3 [zone], with guys logging a lot of minutes, to see if they could still be playing a high level at the end," Mansfield head coach Mike Vaughan said. "I thought it changed up their flow a little bit. [BC High] is a pretty aggressive team so I thought by changing up the zone it kind of made them a passive team. They did get a lot of three's out of it so we kind of had to manage it so they didn't make three after three."

The Eagles went from five offensive rebounds in the first quarter to zero in the second, and just three in the second half.

"When you have a team you're playing playing five or six guys a lot of minutes, you start looking at foul trouble and match ups," Vaughan said about the zone. "I thought we rebounded better once we went zone. I thought [Michael] Boen did a fantastic job rebounding the ball on both ends of the floor."

Not only did Boen own the boards -- a game-high 14 rebounds (7 defensive, 7 offensive) -- he led the game in scoring with 19 points, including eight points and six rebounds in the fourth quarter.

"That's a quiet 19," Vaughan said. "He's gotten better since game one. He was kind of passive and didn't do a whole lot offensively. Last game, he did real well and tonight obviously too. He's steady -- he's going inside-out, he's getting in transition and hitting his foul shots so I'm very happy about that."

Beyond Boen's 19, Mansfield had three other scorers reach double figures: Rocky DeAndrade and Boulter each had 12 ,and Wisnieski added 11, which all turned out to be momentum points at the time.

"He's that type of kid," Vaughan said about Wisnieski. "He said it in the locker room when we met before the game, 'This is a good statement game.' He knows what this is all about, he knows how big this game is. He plays the best in those situations."

As for the balanced scoring, this is something that's going to be needed with Brendan Hill on the shelf for a while and Kevin Conner still working back to full health.

"Different guys will have different match ups and we'll get different guys stepping up but you're going to for the most part see those four are going to be the consistent scorers and then you hope the other guys can step in," Vaughan said.

Isaiah Bowman led BC High in scoring at 16 points, Jack Loughnane added 11 points, Tom Galanek had 9 points and Phil Leotsakos added 6 blocks.

"Offensively [Mansfield] has a lot of weapons and they do a nice job spreading the ball out," Loughnane said. "They have our number right now."
December, 11, 2013
12/11/13
1:25
AM ET
By
Brendan Hall
| ESPNBoston.com
LAWRENCE, Mass. -– With many MIAA basketball teams across the state kicking off their schedules on Friday, this week is serving as a final tune-up for many of the top teams in our boys hoop poll. Tuesday afternoon at Central Catholic's hallowed Memorial Gymnasium, the No. 3 Raiders played host to No. 17 Boston College High in a battle between two Division 1 contenders.

In four quarters of play, Central came away with a nice 71-57 victory, pulling away in the final period. A few thoughts from the day's action:

Life without Nelson
So here's the good news with Central's two-time returning All-State guard, Tyler Nelson, who is recovering from a broken left wrist suffered in fall ball. The Fairfield signee had his cast removed yesterday, and while he didn't dress for practice he was still able to take some jumpers during shootaround.

Now for the bad news. Best case scenario, Nelson is still two or three weeks away, barring another evaluation from doctors on Dec. 20. At worst, he would still be five or six weeks away from being ready.

"If everything looks good, he could be cleared to play then," Central head coach Rick Nault said. "If they're still unsure, they think he needs more time, then it could be another two or three weeks on top of that."

In the meantime, the Raiders are learning to make do without Nelson's exceptional long-range marksmanship. Junior Alex Santos has taken over point guard duties, a position he will likely hang onto even after Nelson's inevitable return. A big strong lead guard with the ability to finish at the rim, he facilitated some good "inside-out" ball movement to create some open looks behind the arc.

"If he [Nelson] were to play point, I think it would wear him down," Nault said. "Teams are going to be keying on him so much. I'm sure at times late in the game, he's going to want the ball in his hands and to be making decisions with it. But to start the season, having him come off the ball and having him come off screens and running some plays for him, I think is where we can best utilize him."

New-look offense
Both teams were running a more uptempo style, but BC High's might be a more dramatic departure from last season, when the Eagles operated with a more conservative scheme with All-State shooting guard Jameilen Jones. With a lot of new blood in the flood, orchestrated by sophomore point guard Jack Loughnane, the Eagles run more, and are more free-flowing in the half-court.

Mobile big men such as 6-foot-6 senior Phil Leotsakos beat players off the dribble from the wing, and stepped out for three-pointers along the way as well. Players like him and Steve Young –- who sat out with injury today, but should be available soon -– are able to facilitate a fluid high-low approach, getting more players on the floor involved.

"Some of our kids have a pretty good basketball IQ, and I thought it would give them more freedom," BC High coach Bill Loughnane said. "We've been running the same thing for a number of years, and it's been good to us, but our big men are very mobile and they can beat people off the dribble, so we want to give them a chance and put them in position to do good things."

Speaking about Leotsakos, he added, "That's one of the things. Him and Steve Young, who didn't play today, they're really good off the dribble. They create mismatches when they have bigs on the outside. It's our job to try to put them in a position to be successful."

Leo the Late Bloomer
Expanding further on Leotsakos, it was just one preseason scrimmage, but one has to consider the senior as a potential breakout candidate for the 2013-14 season.

One early sequence in the first quarter gave us a glimpse of how far he's come. Posting up on defense, Leotsakos deflected then gathered a ball in the corner, then freed himself up in transition with a give-and-go pass up the sideline, and finished at the rim with a weight-shifting layup that ended up getting negated by an offensive foul. The next trip down, however, Leotsakos stepped out for a three-pointer behind the top of the key and sank it.

Later in the quarter, following an Eagles basket, Leotsakos pressed the inbounder and leaped up for an interception as the Central player tried to toss it over his head. Leotsakos then threw it to Jack Loughnane running down the lane, for an easy two points.

A year ago, Leotsakos struggled to make a dent in the Eagles' rotation, in part due to injury. This year, he looks like a much different player, who will anchor the frontcourt in a "stretch four" type of role.

"I think he did his work in the offseason," said Bill Loughane. "He improved, he put his time in in all areas. Last year, unfortunately, he was hurt a lot for us, so he never really got in great shape that he's in now. We're expecting big things from him, and hopefully all that work he did pays off."

Cambio climbing
When we last saw 6-foot-5 senior forward Nick Cambio, he was sitting anxiously on the Central bench, sidelined with a hip injury shortly before the playoffs started, unable to help the Raiders as they clawed their way to the MIAA Division 1 Eastern Mass. Final at TD Garden.

Fully healthy once again on Tuesday afternoon, Cambio played noticeably more at the rim. One of the flashiest plays of the scrimmage was his one-hop, one-handed slam in the second quarter. In the fourth quarter, Cambio outjumped a defender to tip in his own offensive rebound, then several minutes made a twisting drive from 18 feet out on the baseline, switching to his left hand then back to his right for a finish at the rim and foul for a three-point play.

At first glance, Cambio's most improved trait might be his vertical leap, aided in part by some CrossFit work he did in the offseason. Of course, some of that above-the-rim style of play is by necessity, too. Having graduated brute big men Doug Gemmell and Joel Berroa, the latter ESPN Boston's 2013 Defensive Player of the Year, Cambio is expected to man the post alongside 6-foot-6 senior Aaron Hall.

"Last year with Joel Berroa and Dougie Gemmell, he was kind of our three, slash, four guy," Nault said of Cambio. "This year, he's gotta be our 4-5 guy. Offensively, he's going to be around the rim all the time. He finishes well, he's strong, he's athletic, he's got good bounce off the floor, so he's gotta be a guy that dominates that area for us."

Nault said he is also looking for more aggression out of Cambio.

"I think what I want to see more of him is to want to dominate," Nault said. "I think at times he's so unselfish, and he really relies on his teammates to make plays. With Tyler out right now, he has to understand that he needs to be a key force for us offensively. Even when Tyler does come back, those two guys have got to lead the way. I think they open up so many things for us."