Boston High School:

Jack O'Brien
April, 16, 2014
Apr 16
7:06
PM ET
After just one year at the helm of the boys basketball program, legendary coach Jack O'Brien is stepping down, principal Tad Tokarz confirmed to ESPNBoston.com.

The news was first reported by Thomas King of MassLive.com.

Over a span of two decades in stints at Charlestown and Salem, O'Brien built powerhouses, winning a combined six state champions and producing some of the most legendary names in Massachusetts high school basketball, from Rick Brunson to Scoonie Penn, Rashid Al-Kaleem, Ridley Johnson and Tony Lee. O'Brien's most recent state championship season, with Charlestown in 2004-05, was chronicled in a best-selling book, "The Assist".

O'Brien returned to coaching basketball after a seven-year hiatus when he accepted the Central job last September, taking over from Mike Labrie, a year and a half removed from the Golden Eagles' first Division 1 state title in two decades. The early returns were promising, but the Eagles sputtered to a 10-11 finish after a season-opening win over Amherst, finishing 10-11. That included two 30-point blowouts at the hands of archrival Putnam, which won its second straight MIAA Division 1 State Championship last March.

Compounding things were an extremely difficult commute for O'Brien, who maintained his residence in Medford and his job in the physical education department at West Roxbury High School; sometimes, his daily commute back and forth exceeded 200 miles.

"He did everything we asked, and we were extremely happy to have him," Tokarz said. "We knew coming in, the drive was going to be [difficult]...It was all contingent on him getting to Central. It was always a concern, but for us and him, it was too good not to try.

"We can say we tried. He tried, and he did fantastic job. But to do it over the long haul, from a sustainability standpoint -- especially with the winter this year -- it didn't seem feasible. I don't know if it could have continued much longer."

Tokarz said he will be posting the open position "immediately", with plans to have the new coach in place in time for the summer.
January, 18, 2014
Jan 18
7:23
PM ET
By
Chris Bradley
| ESPNBoston.com
SPRINGFIELD, Mass. -– Just when the Central lead looked insurmountable, Matt Knezoic gave the Albany Academy offense just the pick-up that it needed.
Knezovic (16 points), who knocked down four threes, nailed two treys in the final two minutes to bring Albany Academy from down 10 in the final minutes. Thanks to some big shots and high-pressure defense down the stretch, the Cadets managed to pull out a 75-73 victory over Springfield Central at the Hoophall Classic.
Zavia Williams led Springfield Central with 18 points, while junior center Chris Baldwin totaled 12 points and 14 rebounds.
[+] Enlarge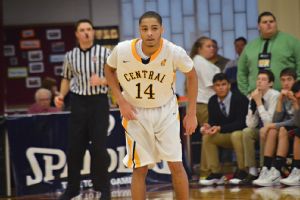 Brendan Hall/ESPNZavia Williams (18 points) came alive in Central's heartbreaking last-second loss to Albany Academy.
"Tough loss. We did so many good things out there: pressing, running, doing some real good things," Central coach Jack O'Brien said. "We turned it over, turnovers will kill you and turnovers killed us. We looked erratic against pressure and that just opened up the floodgates for them to get some momentum."
The Eagles committed 25 turnovers total, including 14 in the second half and six in the final three minutes of the game. When Albany Academy began pressuring Central's guards fullcourt, the Eagles began to unravel.
"There's nothing better than taking care of the ball. That's the big thing, we had 25 turnovers and a lot of them came in that fourth quarter. When they're going fast, we've got to go slow and take our time. We rushed, and that led to errors…stuff that you don't see every day," O'Brien said. "It was self-enduced turnovers. I don't want to take anything away from them, but I thought it was more self-enduced turnovers and erratic stuff."
Baldwin missed two free throws at the line to extend the lead, then Knezovic canned a three-pointer to tie the game at 73 with three seconds left, giving Central the ball with only a few moments to make an attempt to score following their timeout.
"Even at the end, we're up three and if we make one of those free throws, that's basketball, but if we make one then it's a four point game," O'Brien said. "You always debate 'do you foul or not?' but I thought it was a real deep three and our guy was right there. It was an NBA three, a tough shot."
Out of the timeout, star quarterback Cody Williams made an attempt to throw a full-court pass to Baldwin, who was standing at the opposite high post. Williams put a little too much power on the pass though, as the ball bounced off the ceiling and therefore possession arrow was awarded to Albany Academy.
"There were three seconds to go, we were trying to get the ball to Chris in the paint. If we didn't get it to Chris, he was going to try to tap it to one of those three guys -- it's something we've done in the past," O'Brien said. "We're trying to get it to him and if he can't get it, he's going to pass it to one of those three guys on the perimeter."
With inconsistent guard play for a lot of the second half, O'Brien was wary of trusting one of his guards to be able to get the ball down the floor in the little time left, the football-style pass was the only way the coach saw his team having the potential to score to win the game.
"We were struggling so much there, I was nervous of that," he said. "That's why I brought Chris back in the end of the game. Five seconds, six seconds we might try to get it and go."
Because the possession arrow was given to Albany Academy, the Cadets received the ball from the spot where Williams threw the pass, right under the basket, with three seconds left. In that time, Knezevich caught the inbounds pass and drove to the rim before getting fouled and hitting two game-winning free throws to complete the comeback victory.
Z. Williams a bright spot for Central:
Zavia Williams, who was the game-high scorer with 18 points, has shown quite a progression playing for O'Brien after previously not having any varsity basketball experience. Williams, who plays AAU basketball in the offseason for Expressions Elite, has emerged as a reliable scorer down the stretch for the Golden Eagles.
"Zavia has never played varsity basketball and a lot of the other kids haven't either. It's a learning experience, there's nothing else you can say. Even at the end he stepped out of bounds near our bench with a four point lead," O'Brien said. "Sometimes he's erratic, but he does a lot of things well. He's doing a good job. For three quarters I thought he was great. It was a game we should have won, I thought we totally outplayed them. You just have to move to the next one, that's all you can do."
The Eagles, with the loss, moved to 5-5 on the year. They'll next be in action on Tuesday night at Commerce.
January, 17, 2014
Jan 17
2:31
AM ET
By
Andy Smith
| ESPNBoston.com


SPRINGFIELD, Mass. -- It was an intersection of time and place Thursday night at the Hoophall Classic.

At the birthplace of basketball, on the campus of Springfield College, two schools that are less than a mile apart from each other in Springfield met on a neutral court, played for nothing more than pride. They are the last two Division 1 state champions. On one side, the always-running Putnam, last March's winners. On the other side was 2012 champ Springfield Central, coached by Jack O'Brien, who is in his first year coaching the team and most known for his success building a juggernaut at Charlestown, winning five state titles in a span of six seasons stretching more than a decade ago.

In the end, it was the most recent state champ, Putnam, who came away with a 82-57 victory. At least until the two teams play again, the Beavers will have bragging rights over their Roosevelt Ave. rivals.

"The rivalry is tough, it's real tough. We don't like Central and I'm sure they don't like us," said Putnam junior Ty Nichols (12 points, 6 rebounds). "We'll see them again later in the season, and that will probably be more of an intense game because they will have to make the playoffs. Whenever there's a Putnam vs. Central game, everybody's talking about it. We just love it. There's talent out in Western Mass. and people come out and support us."

Putnam (9-0) likes to get out of the gates fast and play in transition as much as possible, and Thursday was no different. It jumped out to a 15-7 lead in the first quarter off the back of its transition offense. The Golden Eagles (4-6) were able to hit timely three's towards the end of the quarter, which cut the lead to 18-15.

Putnam was able to maintain its pressure into the second quarter and stretch its lead to 36-27 going into halftime.

In the third quarter, the Putnam onslaught continued. The Beavers outscored Central 26-10 in the quarter to finally put the game out of reach. It outscored Central 22-6 in the fast break and 35-12 off turnovers in the game.

"I told the guys at halftime, Central is going to come out. They have pride," said Putnam coach William Shepard. "They're going to come out and fight, but it goes back to the foundation, what we do every day at practice. We're going to sustain our energy and intensity for the full 32 minutes.

"Can they do that? Can they do the same? I told the guys we let them back into the game with unforced turnovers. Just keep playing Putnam basketball, keep the intensity, and they really followed through on that in the third quarter and really turned it out."

Putnam is back in action at the Hoophall Classic Saturday at noon at Blake Arena against Woodstock Academy (Conn.).

Battling Baldwin: One of the toughest tasks for any team playing Springfield Central is defending 6-foot-8 junior center Chris Baldwin. In its halfcourt offense, Baldwin can set up in the post to exploit a mismatch against smaller defenders. Defensively, he is the prototypical rim protecter and forceful rebounder every team hates facing.

Thursday night, Putnam used its transition offense as a way of neutralizing Baldwin. When it came down with a defensive rebound, it immediately pushed the ball up the floor and forced the big man to try and catch up. Often, he was behind the play, which gave Putnam an easy lane to the basket.

"We knew Chris coming into the game, he didn't like to run up and down the court, and if he was going to run up and down the court, he was going to get fatigued," said Ty Nichols. "We switched to our full court man defense and it kind of wore them down a little bit. That's when we took control."

On offense, Central wanted to slow the pace down and work in its halfcourt offense. To combat that, Putnam set up in a 3-2 zone to keep the ball away from Baldwin in the post and was more than happy to let Central shoot from the outside. The strategy worked as Central finished the game 6-for-25 from three.

"The kids were actually calling for me to stay in man defense, but what dictated me changing the defense was how the game was being called," said Shephard. "We make adjustments to whatever is being called. Are they going to let us play or is going to be touchy? We got a couple of fouls early, so I went into the 3-2 and it worked a little bit."

For most of the game, Tyonne Malone (13 points) and David Murrell (27 points, 12 rebounds) were charged with defending Baldwin in the post. Both players were at a height disadvantage to the Central junior.

"Ty had his moments there where he was getting a little frustrated and things weren't going right for him," said Shephard. "Dave has been playing against guys bigger than him since he got to Putnam, so that's nothing new to him."

Baldwin ended the game with 16 points and 8 rebounds.
December, 31, 2013
12/31/13
1:10
AM ET
BOSTON -- Early this evening at Roxbury's Reggie Lewis Center, defending MIAA Division 2 state champ Brighton
took down Springfield Central, 70-67
.
After the Bengals won the state title last season, head coach Hugh Coleman
dedicated the season to his lifelong mentor
, Jack O'Brien, who first coached him at Charlestown High then brought him on as an assistant for three of his five state championship teams with the Townies. In a touching moment before the game, Coleman gave O'Brien, now the head coach at Central, a championship ring.
Courtesy of Brighton assistant Kurtis Grant, here are a few photos from the pre-game ceremony:
Courtesy @Coach_Kurtis, here's a few shots from Brighton's pre-game championship ring ceremony pic.twitter.com/dBH75k6iXp

— Brendan C. Hall (@BHallESPN) December 31, 2013
Brighton coach Hugh Coleman gave a ring to his lifelong mentor, Central coach Jack O'Brien pic.twitter.com/cvd5QcNNqa

— Brendan C. Hall (@BHallESPN) December 31, 2013
Coleman served as an assistant for 3 of O'Brien's five state champion teams at Charlestown pic.twitter.com/jReHAOqlBt

— Brendan C. Hall (@BHallESPN) December 31, 2013
December, 19, 2013
12/19/13
3:22
PM ET
By
Brendan Hall
| ESPNBoston.com
SPRINGFIELD, Mass. -– Jack O'Brien won't sugarcoat the facts. This is a brutal routine for him, even by his own famously hardy standards.
As early as 5:30 a.m. each morning, he rises from his home in Medford and makes the 15-mile commute south across heavy traffic to his job in the Physical Education department at West Roxbury High, a drive that can take up to 45 minutes. From there, he takes off at 1:15 p.m. and makes the 85-mile drive west to Springfield Central High, a commute that can take up to two hours.
There are nights when the Eagles get the gymnasium for a night practice, landing O'Brien home in Medford as late as midnight, only to get up in five hours to do it all over again.
[+] Enlarge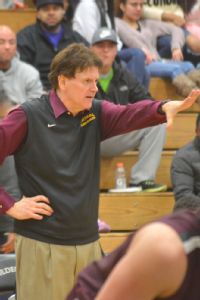 Brendan Hall/ESPNBoston.com In Jack O'Brien's first game back on the sidelines since 2006, Springfield Central blew by Amherst, 69-47.
"It's not easy, but I want to be here, so I've got to do it," O'Brien said Wednesday night, following his first game back on the sidelines since leaving his storied post at Charlestown in 2006, a 69-47 win over Amherst. "You do what you gotta do. You made a commitment, what else can you do? You either do it, or you don't do it, or you feel bad for yourself –- and you can't do that.
"You know, one of my kids needs a ride home right now, so I'm going to give him a ride home and go out of my way [before going home]. I told the kids, this is what I'm going to do, this is the way I'm going to treat you."
After winning an MIAA Division 2 state championship in 1990 with McDonald's All-American Rick Brunson at point guard, O'Brien came over to Charlestown in 1993 and built a program that was nothing short of spectacular. The Townies went on a run at the turn of the Millennium that may never be duplicated in the MIAA, winning five Division 2 state titles in a span from 1999 to 2005. Arguably his best squad, in 2001-02, finished No. 16 in USA Today's national poll and featured seven players that went on to earn Division 1 scholarships. His final state championship season of 2004-05 was chronicled by Boston Globe writer Neil Swidey in a book, "The Assist".
O'Brien left Charlestown in 2006 to take over at Lynn English; hours before the start of the first practice, however, he suddenly resigned. After sitting in the shadows, watching his disciple Hugh Coleman coach Brighton High to a first-ever D2 state title a season ago, O'Brien had to venture west to get back in the game after coming up short in several bids for openings in the Boston area. O'Brien accepted the Central job this past September.
Is this the most desirable way to get back into the game? Adding 200-plus miles on the odometer every day? No.
But truth is, this was too good of an opportunity to pass up.
People forget, before the magical run of the early 2000's, this was not a very good Charlestown program. The Townies won just one game in his first season. The same can't be said about the Golden Eagles, who two seasons ago captured their first Division 1 state title in 21 years, then last year followed up with a Division 1 West Final appearance.
Cousins Cody and Ju'an Williams are two All-State football stars who bring gridiron toughness to the backcourt (Cody, a Monmouth-bound quarterback, was named ESPN Boston's Offensive Player of the Year), a crossover O'Brien didn't always have at previous stops. The gem of the bunch may be 6-foot-8 junior Chris Baldwin, considered one of the top power forwards across Massachusetts, who flashes elite brilliance in between moments of inconsistency.
"He's just trying to feel his way right now," O'Brien said of Baldwin. "The biggest thing right now is getting him to play hard. We're pressing, we're running him around, and I thought he did a pretty good job tonight. I thought he had good moments.
"He showed some good things, but we've got to do a better job of getting him the ball, too. That zone [from Amherst] kinda clogged him up a little, so it's hard. It's early, but so far he's had some good moments on defense, blocked shots, and he's kind of unselfish too."
Against visiting Amherst last night, the Golden Eagles wore down the Hurricanes in a fashion that had blueprints of those fabled Charlestown squads all over it. After trailing in the first quarter, and leading by three at halftime, they outscored the Hurricanes 39-20 to blow the doors off.
Seven minutes into the contest, 11 players had already gotten into the game, often rotating in players three or four at a time. They pressed like crazy, most notably executing a "Diamond Trap" that made getting the ball over halfcourt an adventure at times. They caused two dozen turnovers, in part a function of the 25 deflections they recorded.
"You really don't have a man, it's more of a zone. And we don't trap a pass, we trap a dribble," Cody Williams said of the press. "We've been at this for three weeks, and I'd say after about two weeks we got a feeling for it."
For the most part, despite what the final score indicated, scoring points was an adventure, particularly in the half-court. But of the 47 rebounds they hauled down, 31 of them were offensive, leading to many second-chance points. Even the lumbering Baldwin took a charge, in his own end.
O'Brien said the press was "not even close to where it should be right now", but was pleased with the Eagles' effort in the win. Asked to reflect on his first experience back in a game in seven years, he was deferential, saying, "Honestly, I like the practices better than the games. That's where you teach the kids."
Those practices appear to be pretty intense.
"High energy," Cody Wiliams said of the new culture under O'Brien. "High energy, and very serious and blunt about things. It's his way and it's our way, or no way."
Conditioning is a paramount emphasis in practices, where O'Brien has built a culture of high expectations. Competition between players is fierce, but they find out daily about the quick hook of O'Brien, who is unafraid to boot someone out.
"For instance, he said 'Don't bounce pass' to someone, kid bounce passes and Jack says 'You've got one more time to bounce pass and you're out of the gym'. Kid bounced passed, [Jack] kicked him out the door," Cody explained. "That's it. He came back, but obviously he missed that day."
Intimidating environment, eh?
"Hell yeah," Cody laughed. "You don't want to be that kid. You want to give it all. He expects it out of you, so you better give it back to him."
There's a lot to like down the road with these kids, a loose bunch that can string together some electric fast break plays, with players like junior Terrel Morse, Isaiah Pizzaro, Rashyne Prophet and James McMillian. It's a daily grind, but one the folks on Roosevelt Ave have embraced.
That doesn't make O'Brien's daily travel any easier. But it's certainly rewarding.
"Honestly, I do the best I can. I'm not going to say it's easy. I'm gonna tell you it's hard," O'Brien said. "But tonight feels good, though."
October, 25, 2013
10/25/13
11:57
PM ET
By
John Botelho
| ESPNBoston.com
BOSTON - Before Kenny Kern ever played a game for the No. 4 Xaverian football team, and before he was even born, the school was already a big part of his family as both his dad graduated from there.

On Friday night, he added a page of his own to the family history, powering the Hawks to an impressive 19-0 win over No. 11 BC High, clinching the Catholic Conference and likely sealing the top seed for the Division 1 South playoffs in the process.

The junior tailback paced the offense, rushing 16 times for 91 yards and notching the first score of the game for the Hawks (6-1). Kern also scooped up a fumble deep in Eagles' territory in the fourth quarter to set up Shayne Kaminski's first touchdown.

"Kenny's a great player right now and gives a lot to us," said Xaverian coach Charlie Stevenson. "Not only is he a good running back, a good blocker, a good linebacker, he really bleeds gold and blue. His dad went to Xaverian, as did some of his uncles. Kenny is a really special player."

It was the Eagles (4-3) though who looked like they might steal the show early on. After receiving the opening kick, BC High picked up three first downs and marched into the red zone.

When a third down pass slipped the hands of a wide-open Eagles wideout, BC High was forced to try a 33-yard field goal. Jack O'Brien's drive fell just short and the Hawks took over.

"The biggest thing was missed chances," said Eagles coach Joe Gaff. "We move down the field on the first drive and drop a pass that probably goes for a touch down then we miss a field goal, you can't drop those.

"We had a couple other chances later on, but in all those key spots we just shot ourselves in the foot."

Xaverian's defense seemed to flip a switch going forward, completely bottling up the Eagles offense. They allowed just another four yards of offense in the first half, held BC to just 68 total yards in the game and didn't surrender another first down until the fourth quarter.

"A lot of it was just on the field and in the huddle," Kern said. "Our captains, Shayne Kaminski was pumping us up and A.J. King was pumping us up. In the huddle, we just told each other, 'They planted us for three first downs. We have to pick it up.' And we did."

It took the offense a little bit longer to figure things out, but it was Kern who kick-started thing for the Hawks in the second quarter.

After a BC High punt resulted in Xaverian starting at the 50-yard line, Kern took a handoff up the middle for three yards on the first play. The next play, he ripped off a dive right up the gut for 16 yards. One play later, Kern was slicing through the middle again, this time going 31 yards to paydirt.

"We knew against the four-four, if we got our blocks the middle would be open and we just got it done," Kern said. "If you do a play and it goes for big, you want to do it again. It was coach's call, and it was a great call."

Kaminski made it 12-0 with 9:19 to go in the game plowed into the end zone from two yards out after Kern scooped up a fumble and rumbled down to the 10-yard line.

On the first play following the kickoff, BC High quarterback Sean Holleran broke off a 25-yard run up the middle, but fumbled the ball when he was hit from behind at the end of the play. A slew of Hawks collapsed on the ball and put them back on the offensive.

They ran more than five minutes off the clock over the next nine plays before Kaminski (12 carries, 77 yards) plunged in once again, this time from three yards out, to seal the win.

A quick three-and-out for the Eagles resulted in a punt, and Xaverian was able to run out the clock and complete the shutout of their rival.

"In a game like this, the defense was big for us all night long," said Stevenson. "There was a few times where the offense put them in tough situations and they came through every time and made the play we needed them to. It really was a great defensive effort. Coming in, everyone was talking about the BC High defense and how great they were, but we're not too bad ourselves."
October, 19, 2013
10/19/13
1:48
AM ET
By
Brendan Hall
| ESPNBoston.com
BOSTON -- Trailing highly-touted St. John's Prep by a touchdown at the half, Boston College High quarterback Sean Holleran got, in short, "a good chewing" from his head coach Joe Gaff. Players were getting open, looking for a good throw, and the 5-foot-10 junior was not holding up his end of the bargain, including a bad interception late in the second quarter.

"I deserved that chewing," he recalled, with a laugh.

Tied late in the game, before a boisterous home crowd at Viola Stadium, Holleran came through with the throw his coach was looking for, then let his feet do the rest of the work. His orchestration on what would be the game-winning eight-play, 66-yard delivered BC High (4-2) its biggest statement win of the season, a 13-7 decision over Prep (4-3) that improved them to 2-0 in the Catholic Conference and gave them three straight wins since their bye week in late September.

"Sean is the toughest kid as they come," Gaff said. "He took a good chewing at halftime, and he came out in the second half and responded incredibly. He made some choices tonight, giving and not giving the ball, and he made some great runs."

No play was more important on that final drive, perhaps, than the 18-yard strike to junior receiver Geoff Stillman on third and six at their own 38. Stillman, split out wide to the right, ran a slant to hash marks, where Holleran lasered the ball into a tight window. With quick reflexes, Stillman cradled the ball in traffic and ground forward for the first down.

"He came in, the linebacker stepped up and he made a great catch over the middle," Holleran said. "It takes a lot of guts to do that, and he went up and got it. It paid off for us."

That throw to Stillman was followed up with a 16-yard scramble, then a nine-yard option keeper, sprung loose by a sealing block downfield from tight end Connor Walsh but stepping out of bounds at the Prep 19. After a Prep offsides call, Holleran scurried for eight more yards on an option keeper with a fake pitch, then Mitch LaFerriere capped the winning drive with a six-yard plunge with 46 seconds remaining.

"[I was] just reading the defense and going with it, you know?" Holleran said. "Our pass game wasn't really there for us today, we had to get it done on our feet, and that's what we did."

The point-after kick was blocked, but BC High's fortunes took a favorable bounce when Prep's ensuing hook-and-ladder attempt was fumbled on the exchange in the boundary. Ismail Asongwed pounced on the loose ball for BC High, and they proceeded to run out the clock.

With 37 seconds left, a few timeouts to spare and 64 yards to go, the decision could be considered high-risk. Yet the Prep nearly pulled it off, likely marching to paydirt if not for the fumble. Prep head coach Jim O'Leary said he even considered calling a hook-and-ladder to open the game up.

"We had practice that this week, and we actually thought about opening the game up with it," he said. "The first play, we didn't get the yards we needed or something, but it's not a bad call. It looks likes it's going for a touchdown and then he puts the ball in the ground. More than anything else, ball security was the issue tonight. We just can't be turning the ball over like that, on the road, down here."

Brendan Smith led BC High on the ground with 15 carries for 97 yards, while Prep quarterback Mike Geaslen completed 7 of 11 passes for 96 yards and ran in the lone Prep score on a sneak from the one-foot line.

Prep linemen suspended: As if it wasn't snakebitten enough with the loss of Maryland-bound all-world running back Johnny Thomas (knee) for the season, three of Prep's top linemen were missing from tonight's action due to what O'Leary called "school disciplinary action".

Asked if the suspension could carry into the postseason (Prep has a bye next week, the final week of the regular season), O'Leary said, "If we make the playoffs, we'll see. I suspect with those kind of issues, that there's consequences that extend more than one game."

Harnais makes early exit: BC High lost one of its top running backs, senior Robert Harnais, five minutes into the contest on what would have been a sure-fire touchdown. On the first play of BC's second drive, from its own 12, Harnais took a toss sweep around the edge and took off for daylight before blowing a tire around midfield. The play, officially a 48-yard scamper that could have easily been an 88-yard TD, was Harnais' last of the night. He finished with three carries for 54 yards.

It was more than just a simple cramp. Harnais had to be carried off the field by two teammates, putting no weight on either leg. Gaff confirmed it is an issue with his left hamstring, with an unknown timetable.

"Imagine? He's gone on that, that's a touchdown on that," Gaff said. "It's a hamstring issue. Unfortunately, he's worked his body so hard all season and he's been nicked up all year. Hopefully, we'll get him back at the end of the year."

The Walls of Morrissey Blvd.: Coming out of its bye week, after some miserable first-half showings, it's safe to say BC High has cleaned things up on the defensive front. Two weeks ago, in statistically its best performance to date, the Eagles held then-No. 8 Brockton to 112 yards of total offense in a 6-0 shutout victory. Tonight, they held Prep to 135 yards of total offense, including just 39 rushing yards, giving them a total of less than 250 yards allowed combined against two teams ranked in ESPN Boston's Top 10 at the time.

With a front seven led by Steve DiCienzo and Chris Solis, this defense has developed a nastiness at just the right time, with the first round of Division 1 South playoffs two weeks away.

"This is unreal," Holleran said of the defense. "It's taken a lot of pressure off me, I'll tell you that much. It was a couple plays that got it back for us, and second half we put it in."

Check Mate: At 6-foot-3 and 225 pounds, Walsh plays a unique chess piece in BC High's slowly-evolving offense. Able to set the edge lined up tight in a three-point stance, or seal an outmatched defender inside or outside for a big gain when split out on the perimeter, he plays a significant factor in the run game. In the passing game, he can be a matchup problem when isolated out wide, either in a double-slot formation or opposite trips, as BC High did tonight.

In the first half, Walsh was split out wide as a split end four times and was targeted twice, with no catches and one drop. In the opening drive of the second half, BC ran exclusively out of a double-slot formation with Walsh at split end, running mostly zone read plays but also targeting the big tight end once with no success.

On the game-winning final drive, Walsh again was put out on the perimeter, and he made several big blocks to spring Holleran loose for first-down gains.

"He's a big body, got great hands and moves really well for a big guy," Gaff said. "We've got some confidence moving him out. You've got Stillman, the tall target, with the big catch down the middle on that last drive, so it's nice to have some big bodies on the outside of Sean, who's not the tallest guy to see some big targets."

Said Holleran of tonight's strategy with Walsh, "We were just looking to hit Prep wherever we could. We saw an advantage on the outside with Walsh, and we tried to get it there. It was there, I just couldn't hit him."

BC HIGH 13, ST. JOHN'S PREP 7

SJP 0 7 0 0 --- 7
BCH 0 0 7 6 --- 13

Second Quarter
S - Mike Geaslen 1 run (Josh Hilty kick) 8:20

Third Quarter
B - Sean Holleran 1 run (Jack O'Brien kick) 2:56

Fourth Quarter
B - Mitch LaFerriere 6 run (kick blocked) :46
September, 30, 2013
9/30/13
7:44
PM ET
By
Brendan Hall
| ESPNBoston.com
Springfield Central principal Tad Tokarz officially announced that the school has hired legendary former Charlestown and Salem coach Jack O'Brien as its new head boys basketball coach.

O'Brien, who has won six MIAA state championships over a career spanning three decades, takes over for Mike Labrie, who stepped down last spring after seven years and one Division 1 state title.

"We're excited, the school is excited, the kids should be excited," Tokarz said. "We got a guy with a tremendous reputation and a proven track record. We're very excited to give him everything he needs to be successful here. He's done it before, he's got a tremendous track record. He changes kids' lives, and that's the biggest thing with us. It's not about wins and losses, it's how to get kids into college and give them opportunities outside of basketball. He convinced all of us that he's the best person to make that happen.

"For us it gives the kids the ability to learn from somebody that has all the experience, the knowledge, to get our kids not only to teach them about basketball, but to teach them about life. We're very excited about the opportunity to build on what Coach Labrie has built here."

O'Brien, a Medford native, won his MIAA state championship in 1990 at Salem High behind McDonald's All-American guard and 10-year NBA vet Rick Brunson, before taking over at Charlestown in 1993. From 1999 to 2005, O'Brien's Townies squads won five state titles in a span of six seasons; the 2002 squad finished the season ranked No. 16 in USA Today's national Super 25 poll.

He took over at Lynn English in 2006, but abruptly resigned hours before the first practice of the season. Since that sudden departure, he had remained out of coaching until now, though his name had been linked to a handful of jobs over the years -- most notably Somerville, in 2008, where he was a finalist.

Asked if there was any concerns regarding that departure, Tokarz said there weren't any.

"Not necessarily," he said. "Things happen and to be quite honest, we didn't really talk much about it. We talked about our program and what he could do for our students, that's what we were concerned about. What happened in the past [is in the past]."

O'Brien currently works in the physical education department at West Roxbury High, and plans to maintain that job while coaching the Golden Eagles. He understands what a difficult commute this will be -- the schools are nearly 85 miles apart -- but says that this was too good of an opportunity to turn down.

"It's not gonna be easy -- I'm on my way back right now -- but you know what? There's too many good things about this job to say I'm gonna let that get in the way," he said. "It's something I've gotta deal with, it's something I thought out. I saw a report somewhere that the average drive to work is 65 minutes. This is a bit further obviously, but I'm OK with that."

The Golden Eagles won the Division 1 state title in 2012 under Labrie -- their first since 1991 -- and reached the Division 1 West Final last season, where they lost to eventual state champion Putnam. Central graduated two-time ESPN Boston All-State selection Kamari Robinson, but expected to return a very competitive nucleus between guards Cody and Ju'an Williams, and promising 6-foot-8 power forward Chris Baldwin.

And while there is talent returning, that wasn't the primary factor in why he took the job.

"It's a large urban school, there's great support from the administration, and from the standpoint of helping them off the court, it's something I enjoy doing and want to do again," he said. "I don't know much about the kids, in terms of any individuals, I've never seen any of them play, but that didn't move me either way to tell you the truth. The kids we had at Charlestown were kids that developed as we went on.

"[Brighton coach] Hugh Coleman was my last kid to make JV as a frehsman, and by senior year he was one of the best players in the state. You don't know kids' heart until you get to know them as a person."

O'Brien is known for his unique brand of uptempo, running style of basketball, and plans to implement that same frenetic pace at Central.

"I wanna play fast, play a lot of kids and go up and down," he said. "I think it's fun, we've had great success with it. I think kids like playing that style. It's conducive to playing a lot of kids, and when more people contribute...When you have good athletes and you can play them, press them up and down, they're gonna contribute well."
July, 24, 2013
7/24/13
4:18
PM ET
By
Brendan Hall
| ESPNBoston.com
Scott Boyle resigned this morning as head coach of Lowell High's boys basketball team, multiple news outlets are reporting.
WCAP 980 AM of Lowell was the first to report of Boyle's resignation:
Breaking News (update): @LowellHigh Boys Basketball coach Scott Boyle resigned from the position this morning.

— 980 WCAP (@980wcap) July 24, 2013
Boyle coached the Red Raiders from 2003 to 2009, then returned to the sidelines for the 2010-11 season after a one-year hiatus. This past season was one of the Raiders' most successful in recent years, going 17-3 in the regular season and achieving as high as a No. 2 ranking in ESPN Boston's statewide pool, before bowing out to Everett in the MIAA Division 1 North quarterfinals. Boyle also coached the football team from 1997 to 2006, twice winning Merrimack Valley Conference titles, before stepping down due a conflict with the athletic department, which wished for him to choose coaching either sport but not both.
Dan Ventura of the
Boston Herald
has pointed out several interesting names for candidates
in an entry posted on the newspaper's high school blog
: current Tewksbury coach Phil Connors; Jack O'Brien, formerly of Charlestown; and Sean Connolly, who stepped down from St. John's Prep earlier this offseason.
O'Brien experienced major success in stops at Salem, where he won the 1990 Division 2 state title with former All-American Rick Brunson; and Charlestown, where he won five Division 2 state titles between 2000 and 2006. His 2002 Charlestown squad, considered one of MIAA's best of the last quarter-century, finished No. 16 in USA Today's final poll, and ultimately produced seven Division 1 scholarship players. He has remained out of coaching since backing out of the Lynn English job on the first day of practice in the 2006-07 season, but his name has come up in several searches, most significantly Somerville in 2008.
Connolly, a Peabody native, starred at Bishop Fenwick in the mid to late 1990's before enduring a successful career first at Providence College, then Ohio State. After some success coaching his alma mater Fenwick, Connolly took the Prep job in 2008 and coached the Eagles to their first state title in 2011. He went 89-25 in five seasons at Prep, including a 10-4 mark in the postseason.
March, 27, 2013
3/27/13
8:15
PM ET
By
Brendan Hall
| ESPNBoston.com
Some final thoughts as we put a close on the 2012-13 high school basketball season...
***
A FLU SHOT HE'LL NEVER FORGET
After committing to Vanderbilt last August, Lynn English's Ben Bowden told ESPNBoston.com he was
leaning towards not coming back out for basketball his senior yea
r, saying "it delayed my pitching", that he lost "alot of interest" from some colleges "because I didn't throw hard as they wanted me to."
"I'm leaning that way so I can be fully prepared, because we've got the [MLB] draft and everything," Bowden told us at the time. "Where it's at right now, I don't see myself playing. But it was fun while it lasted."
Bowden, a 6-foot-4 lefty flreballer, is one of the state's most heralded prospects following his junior season, which started with a perfect game against Marblehead and ended with a spot on ESPN Boston's All-State Team and whispers of draft potential. He was 10 minutes away from spending his winter in the gym sharpening his craft, on his own; but a chance encounter on the first day of basketball tryouts changed all that.
The school was conducting flu shots that day, and the location just happened to be near basketball coach Mike Carr's office. As Bowden's girlfriend was getting her shot, Carr light-heartedly ribbed him about spurning one last winter with the team. After Bowden wished Carr good luck and the two parted ways, Bowden bumped into a half-dozen Bulldogs players, who gave him even more ribbing.
Bowden went home, thought about it, and by 5 p.m. had changed his mind.
And boy, was he glad. The Bulldogs captivated the City of Lynn over the second half of the season and throughout their sudden run to the MIAA Division 1 North finals, with Bowden starting at power forwrad, drawing fans from all four of the high schools to come see their wildly-entertaining brand of run-and-gun. He called the Bulldogs' wild 94-87 win over Everett in the D1 North semifinals "the best atmosphere I've ever played in any sport", and doesn't regret a minute of his time this winter.
"It got me into very good shape, obviously I have no regrets at all," he said. "Even if I got hurt, I wouldn't have regretted playing at all. It was an awesome experience."
Vandy head coach Tim Corbin encourages multi-sport activity out of his high school recruits, a sentiment many high school baseball coaches support for a multitude of reasons -- primarily, that it encourages competitive spirit, and also works different muscle groups to keep the body in prime shape.
Carr heavily emphasized conditioning this year with his team, concluding practice each day with a grueling 10-minute session up and down the school's four flights of stairs, and it's paid off for Bowden. Headed into his first start of the spring, currently slated for April 10, he says this is the "best I've ever felt going into a baseball season."
"I feel my legs are stronger, I'm pushing off the mound better," Bowden said. "My core has gotten stronger. Everything we did for basketball has helped me in a positive way for baseball."
Talking about keeping his arm loose, he added, "I feel the best I've ever felt going into a baseball seasons, and I think it's because I've lost quite a bit of weight. I'm feeling a lot better and a lot lighter, and also because I was throwing more...By the time baseball started [this season] I was on my seventh week of throwing. I was a lot more ready than I was in any other season. I was smart about my decision to play basketball because I knew I had to get throws in."
As basketball becomes more individualized at younger and younger ages in this AAU-ized era of specialization, we sometimes forget that these sports can bleed into each other. Notre Dame hoop coach Mike Brey first heard about Pat Connaughton after a tip from the Irish's baseball coach. Soccer prowess helped Danvers' Eric Martin and Melrose's Frantdzy Pierrot become more elusive runners in the open floor. And some are quietly wondering if football may end up being the meal ticket for Wakefield super-sophomore Bruce Brown, who excels with the Boston Amateur Basketball Club (BABC) but also turned in a pretty nice campaign last fall at wide receiver. Same with another budding BABC star, Brendan Hill of Mansfield.
Unless you're one of the top players in the country at your position, I'll never understand why some physically-mature high school guards don't at least give an additional sport a try -- but that's a probably a topic for a whole other day. Know that for as much accolades as we've all poured on English's talented trio of guards, Bowden may have played the most important position of all -- the Joey Dorsey, the rock-solid post player down low counted on for rebounds that can keep possessions alive, and facilitate a whip-quick fast break going the other way.
And to think, if his girlfriend hadn't gone to get a flu shot that first day of tryouts, we might be talking about a whole different story in Lynn.
***
MORE THAN JUST 'WANTING IT MORE'
You have to think long and hard to find the last time a kid in the Merrimack Valley Conference went from benchwarmer on one team in one season, to league MVP on another team the next.
Chris Bardwell's transformation from garbage-time go-getter at Central Catholic in 2012 to an ESPN Boston Super Team selection at North Andover in 2013 is one that will be held up as a model example of will power. At least, that was the rhetoric being told this winter -- that if you want it bad enough as Bardwell, if you train hard enough, you can make the jump.
Sure, some of this transformation has to do with the mental element. But Mansfield wanted it just as bad as Putnam in the Division 1 state title game, and was unable to prevent the Beavers from continuously leaking out for some uncontested fast break points. Scituate wanted to just as bad as Brighton in the Division 2 Eastern Mass. title game at the Garden, but couldn't cleanly escape on-ball pressure from Nate Hogan long enough to prevent Malik James' last-second heroics.
I think of Bardwell -- also a lefty pitcher with reportedly mid to high-80's velocity -- and I think back to my first months at ESPNBoston.com, in the summer of 2010, when St. John's Prep star Pat Connaughton was one of the hottest names nationally on the recruiting front. In basketball, he was an ESPN 100 prospect with a lengthy list of suitors east of the Mississippi. On the mound, he was an overpowering righty with first five round potential, named by
Baseball America
as one of the nation's top 100 high school prospects.
Connaughton had big hype, and in turn put in a legendary summer workout regimen to back it up, sometimes putting in eight hours of training a day -- quite literally, treating it like a 9-to-5. After signing with Notre Dame, the results spoke for themselves -- a state championship, All-State recognition in both sports, and a Day 3 selection by the San Diego Padres.
OK, so Bardwell's not Connaughton. The point is, situations like Bardwell's are the product of both opportunity and preparation, and all that will power is for naught if you're not training right. Bardwell came into the last offseason more determined, but he also upped his daily cardio, played more basketball, and changed his diet, cutting out junk and carbonated beverages and increasing his protein intake. Training for both basketball and baseball certainly helped him stay sharp.
Let's not forget had Bardwell stayed at Central, he would have been battling for playing time among a deep stable of forwards, duking it out with the likes of Doug Gemmell, Nick Cambio, Joel Berroa and Aaron Hall. At North Andover, he could fit in snugly as a terrific compliment to one of the state's best bigs in Isaiah Nelsen -- though in the end, obviously, Bardwell turned out to be the star of the show.
Success stories come from anywhere. Just take a look at another former Central Catholic baseball product, Dennis Torres, who was cut four times by the varsity during his high school years yet was drafted by the Orioles last June after walking-on at UMass.
Like Bardwell, he wanted it badly. Clearly, Torres was sick and tired of being sick and tired. But as usual, it's never as simple as pure will power and mental maturation. There's a method, and Bardwell played it right.
***
RE-BIRTH OF THE RUN?
When you think of the MIAA's most dominant running teams of the 21st century, there are two programs that come to mind. One is the Charlestown juggernaut of the early 2000's, ranked nationally by USA Today and led by electric scorers like Rashid Al-Kaleem, Tony Chatman, Ridley Johnson and Tony Lee. The other is Newton North, winners of back-to-back D1 state titles behind one of the East Coast's best backcourts in Anthony Gurley and Corey Lowe.
Not about to call it a renaissance, but if there's one thing I'll take away more than anything else from this MIAA season, it's the return of quality running teams to the upper echelon. The two best running teams we saw this season represented two different styles.
There was Lynn English, pushing a white-knuckle pace, using more than 15 seconds of the shot clock only sparingly, and blitzing the opposition coming the other way with in-your-grill, full court man-to-man pressure. It took about half a season for Mike Carr's unique system to click -- but once it did, they were firing on all cylinders. The Bulldogs' backcourt of Freddy Hogan, Stevie Collins and Erick Rosario was as good as any in the state the second half of the season, with the former two earning ESPN Boston All-State honors earlier this week.
With just one real post pivot, senior Ben Bowden, the Bulldogs relied on their guards to generate transiton by forcing turnovers, sometimes flat out ripping the ball out of players' grips for easy fast break points. Carr's emphasis on conditioning was well-known, the the Bulldogs never looked tired.
Many will point to Central Catholic's stark rebounding advantage as to why they were able to lay a dump truck on English in the D1 North Final (they held a 28-7 advantage at the half), but -- follow me here -- that was practically by design. The Bulldogs flat out bailed on offensive possessions once the shot went up, surrendering the advantage and forcing Central's guards to make plays (they did, and did often).
That philosophy stood in contrast to what I felt was the state's best running team this year, Division 1 state champion Putnam. They seemed to play a physical brand of basketball in the City of Springfield this year, and nobody exemplified this better than the Beavers, who made up for lack of height with plenty of linebacker-like bulk in forwards KayJuan Bynum and David Murrell, both ESPN Boston All-State selections.
Throughout the season, Putnam coach William Shepard demonstrated enough faith in Bynum and Murrell's ability to get defensive rebounds that the Beavers' guards could continually leak out of possessions early to get fast break after fast break (Bynum and Murrell combined for 11.4 defensive rebounds, and 19.6 overall, per game this season). When an opposing team's shot went up, guards started strafing up the sidelines in anticipation of a long outlet pass. This led to a slew of production in the D1 state title game from guards Ty Nichols, Dizel Wright, Ki-Shawn Monroe and Jonathan Garcia.
Best of all, these two squads return a ton of talent to keep them in Top 10 consideration for the next two seasons. Both teams must find a replacement for their best big (English with Bowden, Putnam with Bynum), but feature a slew of talented backcourt and wing players to keep the tempo frenetic and the opposition uncomfortable.
***
INTERVIEWS OF THE YEAR
My personal favorites for interviews of the year. First, the short category...
And now, the long category...
***
WILL JACK EVER COME BACK?
After Brighton won its first ever state title, Bengals coach Hugh Coleman held court in the media room at the DCU Center, dedicating the state title trophy and season to his lifelong mentor, legendary former Charlestown boss Jack O'Brien.
Anyone familiar with the bond between O'Brien and Coleman knows it is strong. O'Brien came into Coleman's life at a very hectic time -- being born when his mother was 20, becoming the man of the house at just 6 years old, and watching a number of his family members get rung up on drug arrests. He was under supervision of the Department of Social Services when he first met O'Brien as a freshman at Charlestown in 1993.
O'Brien is probably most known for his run of five D2 state titles in six seasons from 1999-2005 at Charlestown, and Coleman was an assistant on the last three. It's worth noting the 2003 squad, which Coleman's brother Derek captained, was the last squad to win both a city and state championship before Brighton did it this year.
"The way Jack O'Brien came into my life...He never recruited me, no one ever said I was going to Charlestown, I ended up going there by chance, he ended up going to Charlestown and it was special," Coleman said. "I lucked out and got the Brighton job four years ago. I probably wasn't supposed to get it, but I did. A lot of people recruited him out of middle school to go to different schools, but he ended up at Brighton with me. So I think that's such a great blessing. I'm glad that I've been able to be a part of his life, and him a part of my life. He's made me a stronger person and I hope that I was able to rub off on him. He led us to victory this entire season, including today.
"I definitely want to dedicate this to Jack O'Brien. He should be coaching. He should be coaching, and I have no idea why he's not coaching in the state of Massachusetts. In my opinion, he is the best coach in the state of Massachusetts. He is, and not just because he won games. He changed the lives of so many of us young men at Charlestown during that time. We went on to go to college. We went on to be great men, fathers, husbands, and you know what? It's because of what he helped us do from the inside out. He helped us to be great men.
"I'll be honest with you, I coach and I took the coaching job because he's not coaching. I couldn't allow that to...When they said he couldn't coach, or they wouldn't allow him to coach for whatever reason, I said I've got to keep the legacy going. He's healthy, he's a 10 times better man, whatever lesson I guess he was supposed to learn. It's a shame he's not coaching, because he is all that and then some."
Wherever he has gone, O'Brien has had dramatic results, producing McDonald's All-Americans at Salem High and nationally-ranked squads at Charlestown. But he has remained out of coaching since his 11th-hour departure from Lynn English hours before the first practice of the 2006-07 season. His name has been linked to jobs throughout Eastern Mass. over the years, most notably Somerville in 2008, but it's unclear when he'll return to coaching.
Still, with 400-plus wins, six state titles, some of the Bay State's most captivating running teams of the last quarter-century, and his age (he just turned 55 last month), there remains faith that he will turn up somewhere. Just where is anyone's guess.
***
HALL'S TOP 10 FOR 2013-14
1. Mansfield
Hornets lost just one senior from their 2013 Division 1 state championship run and return the most talent of anyone in the state, including reigning Hockomock MVP Brendan Hill. A healthier Michael Hershman should bolster an already-deep lineup featuring Rocky DeAndrade, Michael Boen, Ryan Boulter, Kevin Conner and Kyle Wisniewski.
2. Lynn English
The returning backcourt of Freddy Hogan, Stevie Collins and Erick Rosario, along with wing Danny Lukanda, makes this team a preseason Top 5. Key will be the development of promising 6-foot-6 sophomore Johnny Hilaire, whose pogo-like leaping ability has begun to draw comparisons to former All-Stater Keandre Stanton.
3. St. John's (Shrewsbury)
Pioneers return arguably the state's best backcourt in Davon Jones and Adham Floyd, along with a dynamic frontcourt of T.J. Kelley, Drew Vittum and Charlie Murray. Next year gets interesting in D1 Central, with stalwarts such as Franklin, Westford and Acton-Boxborough joining the fray.
4. Central Catholic
A returning core of Tyler Nelson and Nick Cambio makes the Raiders one of the premier perimeter teams in Eastern Mass once again. Six-foot-6 junior Aaron Hall has big shoes to fill in the frontcourt, with the graduation of center Doug Gemmell.
5. Brookline
If all goes as planned and everyone returns, you're looking at a coach's dream. Elijah Rogers is a virtuoso at the point, and a supporting cast of Obi Obiora, Anthony Jennings, Tyler Patterson and Mark Gasperini makes them a formidable foe on size and skill alone.
6. Springfield Putnam
Beavers stand a legitimate chance at going back-to-back as D1 state champs as long as they can find an able replacement for graduating senior post KayJuan Bynum. By season's end this was the best running team in the state –- who knows what another season of David Murrell, Dizel Wright, Jonathan Garcia, Ty Nichols and Ki-Shawn Monroe will bring?
7. Brighton
All signs point to Malik James having played his last game as a Bengal in the state championship game, but freshman Javaughn Edmonds shows promise to potentially fill the point guard role. Should All-State forward Nick Simpson return, you're looking at a front line of Simpson and 6-foot-5 sophomore Jason Jones that is as good as any across Division 2.
8. Melrose
Scary as his junior season was, reigning Middlesex League MVP Frantdzy Pierrot could turn in an even more monstrous senior campaign in 2013-14 for the Red Raiders. With realignment shifting many teams in the North, and a quality stable of underclassmen led by freshman point guard Sherron Harris, next year is as good a time as any to strike.
9. Wakefield
Sophomore Bruce Brown is expected to return next season, and that alone makes the Warriors a favorite in D2 North. The question will be whether they can turn their early-season promise into deep playoff production, and whether they can get past the semifinal round.
10. Springfield Central
The Golden Eagles are not without talent, with one of the state's most promising big men in sophomore Chris Baldwin. The question will be if the guards and forwards can get on the same page, and we think after some growing pains this year, cousins Ju'uan and Cody Williams will make this team sharper coming off a disappointing Division 1 state title defense.
Others to watch:
Acton-Boxborough, Andover, Braintree, Boston English, Catholic Memorial, Danvers, Haverhill, Holyoke, New Bedford, New Mission, Newton North, St. John's Prep, Wachusett, Watertown
March, 17, 2013
3/17/13
2:09
AM ET
By
Chris Bradley
| ESPNBoston.com


WORCESTER, Mass. -– After a season that at many points could have been compared to a roller coaster ride, Brighton left nothing for question in their most important game of the year.

Behind 16 points from point guard Malik James, Brighton (21-6) captured the Division 2 state championship, knocking off Western Mass. champion South Hadley (17-8), 59-41.

James saved some of his best performances for the biggest stages -- take, for instance, his storming comeback in the state semifinal game against Scituate, Tuesday night at TD Garden. Today, he was unstoppable in the second and third quarters thanks to his ability to get to the rim and hit mid-range jumpers.

Brighton got out to a quick lead in the first half, something that hasn't often been said this year about the Bengals. Known for their slow starts and ability to turn it on in the fourth quarter, Brighton jumped out to a 19-10 first quarter lead, and never looked back. South Hadley made their runs in the second half, but the Bengals were always there to slam the door shut.

A year after the heavily-favored Bengals came up short in the state title game, and months after many question Brighton's toughness and hunger to want to get back to the state finals, they did just that -- sending James, who scored his 1000th point in today's game, off in style to finish his career at prep school.

"It feels awesome to leave on a good note...and to just leave with a state championship and a ring," James said. "It was more about being more mature...[last year] we were young-minded, we really didn't know what to do on the court. We just listened to our coach, and everything was good."

James' progression: Bengals coach Hugh Coleman said James' leadership is a big reason why the Bengals were able to make a run to the state title game. Teammate Jason Jones said after the Boston City League championship game, a game Brighton won, that James' business-trip type attitude was infectious to the rest of the team -— giving them motivation and helping them focus on beating New Mission for the Boston City League title.

It was a comment that had Coleman glowing, and a factor that made the coach reflect on James' progression as a leader.

"A lot of times I've been wondering how much he's listened to me, how much he's growing off the court," Coleman said. "What I've realized from this season and these playoffs is that he takes it in, but it shows a lot more on the court. That's meant everything for us.

"His maturity has come so much more on the court. I'm proud of him for that—he's a special, special young man."

Coleman still expresses his appreciation for getting the Brighton job four years ago. James enrolled at Brighton by chance, the same year that Coleman began his duties as the head-man of the Bengals.

"I lucked up and got the job at Brighton four years ago, I probably wasn't supposed to get it, but I did," he said. "A lot of people recruited him out of middle school to go to different schools, but he ended up at Brighton with me.

"I'm glad I've been able to be a part of his life, and him a part of my life -- he's made me a stronger person, and I hope I was able to rub off on him."

Learning from O'Brien: Coleman announced after the game that he would be dedicating the victory to his good friend and mentor Jack O'Brien, the famed former Charlestown coach who won five Division 2 state championships over a period of six seasons from 2000 to 2005. Coleman's squad this year was the first team since O'Brien's 2003 Townies team to win both the Boston City League title and the state title. Coleman was an assistant on O'Brien's staff for that unprecedented run, while his younger brother Derek was a captain on that 2003 squad.

"He should be coaching," Coleman. "In my opinion he's the best coach in the state of Massachusetts. Not just because he won games, he changed the lives of so many of us young men at Charlestown."

Coleman and his coaching staff constantly express their pride in having the opportunity to shape young men. Forward Nick Simpson (11 points), who failed off the team last year, is now the Bengals' best student -— making the honor roll in each of the first two quarters of this year. James, a player with tons of talent whose motor has sometimes been questioned, played better in the state tournament than almost any other player in the state.

"My coaching staff...the Bengal five: those guys, we strategize after every game, we talk about not just basketball, we talk about what's going on with these guys in their lives off the court," Coleman said. "It was really special to accomplish those things, but it never would have happened without the hard work of those guys."

O'Brien was long known for being a father-figure in the lives of his players—whether it was making sure they were fed, getting on them about their grades, teaching them about integrity, or introducing his players to goal-setting, his example is one that Coleman energetically replicates at Brighton.

"What I learned from Jack O'Brien at Charlestown was winning was a compliment to the young men [becoming] better people," Coleman said. "That's my passion, helping these young men become better people—and through that process, we were able to be successful today. I'm very, very proud."