Boston High School:

Jack Roberts
March, 13, 2013
3/13/13
1:44
AM ET
By
Ryan Hannable
| ESPNBoston.com
BOSTON -- Experience is everything in big games, especially when one team is the defending state champions starting four seniors, and their opponent is returning just three total varsity players.
Danvers, the defending state champions, took advantage of their experience and defeated Martha's Vineyard 50-47 in the MIAA Division 3 Eastern Mass. Championship Tuesday afternoon at TD Garden.
"It helps a lot," Danvers head coach John Walsh said of his teams' experience. "We start four seniors and they are very tough kids. It has nothing to do with our coaches -- we just have really tough kids."
[+] Enlarge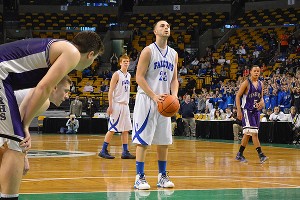 Brendan Hall/ESPN BostonNick McKenna's late free throws sealed Danvers' close call over Martha's Vineyard, and advanced the Falcons to the D3 state title game for the second straight year.
The Falcons trailed 43-41 with 2:09 left, but went on a 7-0 over the next 1:57 to take a 48-45 lead over the Vineyard's. A lot had to do with the inexperience of the Vineyarders, who turned the ball over a number of times on possessions down the stretch.
"Those last two, two and a half minutes, we got up two and had the ball, but then they felt the pressure a little bit," said Vineyard coach Michael Joyce. "It was more going too fast than not making the play. They saw it there -- they just went too fast. That comes with experience, playing here and being at this kind of venue."
With Danvers leading 48-45, Vineyard had the ball with 12.7 seconds left. Jack Roberts went the length of the court for an uncontested layup cutting the deficit to one, 48-47.
Vineyard then immediately fouled the Falcons' Nick McKenna with 4.7 seconds left. The senior sprinted to the line and calmly sank both free throws, giving his team a 50-47 lead with 4.7 seconds to go. Vineyard's Izak Browne had a deep look at three at the buzzer, but it missed giving Danvers its second EMass title in as many years.
"It was a crazy last minute, it felt like an hour," McKenna said. "The last couple of free throws you just try and go through your routine and block out their seven bus loads of people. You just go through your routine and make shots like you always do."
Of Danvers' 12 points in the fourth quarter, eight of them came from the foul line. For the game the Falcons went 12-for-23, something Walsh was very disappointed in.
"Our free throw shooting was atrocious, I don't even want to know what the numbers were," he said.
Danvers struggled on the offensive boards in the first half as Vineyard's size and skill got them plenty of second chance points. This was a point of emphasis at halftime.
"I told our kids from the beginning you have to box out, you can't just turn and jump," Walsh said. "We have athletes, but their front line is big. Holy cow."
The Falcons turned things around in the second half, limiting Vineyard to just two offensive rebounds.
"We haven't seen a team all year long with that size and athleticism," McKenna said. "Coach's halftime speech was 'you got to rebound, you got to rebound.'
"He lit a fire under us and in the second half we really tightened it up defensively, especially on the rebounding end. We boxed out as much as we could because we knew we couldn't out jump them like many other teams."
Danvers jumped out to a 17-10 lead after one quarter, but Vineyard tied the game, 24-all at the half, led by Browne's 12 second-quarter points.
For the game Browne led Vineyard with a game-high 17 points, while fellow senior Jack Roberts added 12 in the loss.
Danvers had very balanced scoring as usual, led by their seniors. Nick Bates led the way with 12, followed by McKenna who had 11 and Dan Connors added 10.
With the win Danvers moves on to defend their state championship Saturday afternoon at the DCU Center against Smith Academy.
It was something their team might not thought possible with some injuries the team has had to deal with over the course of the year.
"It's amazing with all the injuries we've had," McKenna said. "Eric (Martin) was out for awhile, I was sick early in the year. To fight through all that and get to this point, it's an amazing thing to do."
END OF A GREAT RIDE
All is not lost for Martha's Vineyard who finished the year 18-6 and was the No.7 seed in the Division 2 South bracket. Returning only three varsity players, and making it to the EMass final is something Joyce is very proud of, especially seeing his team grow throughout the season.
"We only had three returning players from last year's varsity team on the team this year," said Joyce. "There were nine new faces and we started off playing like that this year. The first five or six games we were definitely shaky and no one knew how to play with each other. As the season went on they grew how to play with each other and became unselfish and then in the tournament we started to play really well obviously."
Vineyard got tremendous fan support with seven fan busses making the trip to TD Garden, not including the parents and other adults who made the trip.
"It was a great showing by the Island community," Joyce said. "They really got behind the kids and supported them. It's been great and each game we got more and more people. It's been a blast. I think that is something the kids will keep with them after...They will start to realize it was a pretty neat year."
For Vineyard, getting to the Garden is something to build on as they accomplished something they hadn't done in over 30 years.
"This run was certainly something special," said Joyce. "We hadn't been to the Garden in 33 or 34 years. Certainly it would have been nice to win one more and get a chance to play for the state title, but that is part of getting the kids used to this type of situation. Danvers played like they had been here before – their calmness and patience in the fourth quarter."
March, 10, 2012
3/10/12
4:07
PM ET
By
Lucas Shapiro
| ESPNBoston.com
BOSTON -- Winning is something Wareham has been familiar with this season. They have beaten opponents by an average margin of 18 points per game all season, and continued their undefeated season after a 70-65 win over Martha's Vineyard today.

They were also used to having a team come back from their initial run in the first quarter, something they have faced lately. Wareham went on a 19-3 run in the first quarter, but Vineyard fought back all game long to make it a barn burner.

"It got close a few times. Cardinal Spellman did the same thing to us," said Wareham head coach Kevin Brogioli. "We had a lead on them and they came back and we were able to answer their runs. I feel like we did the same thing to Vineyard."

"They just came back, I wouldn't say we lost our momentum though," said Wareham star junior point guard Darien Fernandez, who finished with 20 points, seven rebounds, nine assists, and five steals. He was the one model of consistency throughout the game.

Vineyard (21-3) started off the second quarter with an 8-2 run, led by their center Charlie Everett. The senior came off the bench and scored 10 points in the second quarter off of drives from the elbow. With 2:08 remaining, he finished an emphatic and-one lay-up to make it a 12-point game.

In the third quarter, the Vineyarders continued to fight back. This time it was their junior guard Jack Roberts who caught fire scoring nine of his 14 total points from all over the floor. Vineyard pushed it to a four-point game at one point in the third but could not manage to get over the hump.

Wareham (24-0) and Vineyard traded baskets for the entire fourth quarter. At the 1:28 mark, Vineyard began fouling and could not finish in the clutch. Aaron Baptiste hit five free-throws in the last minute to seal the deal.

Battle of the Bigs: When asked about Everett's 22 points and 12 rebound performance, Wareham's Brogioli responded, "Is he a senior, I hope?"

The 6-5 center gave Wareham fits in the first half with his quickness and good finishing ability around the hoop.

"We knew him coming off of the bench would be tough for us," said Brogioli. "We thought Houde could cover him in the first half and he didn't but in the second half he did."

"We did everything we could to stop him in the first half," he added. "In the second half, we tried to bring a guard down to keep swiping at the ball. I think that helped a little bit."

Wareham's 6-foot-5 center Jeff Houde was equally impressive down the stretch. Houde played defense straight up, which altered many shots in the lane. He also nailed a critical turn around jump shot in the fourth quarter. Houde finished with 14 points and nine rebounds.

Fernandez Does It Again: Darien Fernandez managed to fill up the box score yet again. Fernandez hit numerous acrobatic lay-ups and shots, but Vineyard's head coach Michael Joyce thought there was something else special about Fernandez's performance

Said Joyce, "Fernandez kept taking it out of our guys' hands. His points and offense is great but I think his steals and rebounding helped make the difference for them."

At times throughout the game, Fernandez was taken out of his rhythm and had to make adjustments. He turned the ball over six times but eventually managed to hold on to it for the win.

"They played a triangle and two on us so it was kind of a different look. Coach [Brogioli] called a timeout, we broke it, and eventually they changed out of it."

These kind of adjustments are what great teams make in order to win. That is exactly why Wareham continued their win streak today and punched their ticket to the TD Garden.