Boston High School:

Jack Ryan
April, 14, 2014
Apr 14
6:26
PM ET
LONGMEADOW, Mass. -- It didn't take long for first-year Longmeadow boys' lacrosse head coach Ryan Liebel to figure out the kind of talent he had for the 2013 season.
"When I was at tryouts, I just said to myself, 'This is awesome.'"
For the then-25-year-old coach, an alumnus, himself, of Longmeadow and a standout at UMass-Amherst, his return home was truly an ideal situation. After a season as the head of Belchertown lacrosse, Liebel returned to his roots, taking over the Lancers program last season.
[+] Enlarge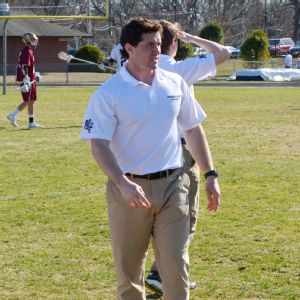 Scott Barboza/ESPNIn his first year at the helm, Longmeadow alum Ryan Liebel led the Lancers to a 25-0 season and a Division 2 state championship.
The bar was set extraordinarily high for both coach and team in that first season, as the Lancers capped an undefeated season as Division 2 state champions. With that, Liebel was named Coach of the Year by ESPN Boston.
That doesn't mean there isn't room for improvement, however.
With little surprise, the No. 2-ranked Lancers have started the season unbeaten yet again, improving to 4-0 with a 9-5 win over No. 8 BC High. Yet, after the Saturday matinee at home, Liebel was still ruminating over the things that aren't quite right with the Lancers early on.
"We had some very big role players from last year who've graduated," Liebel said, "so we're still kind of finding out where everybody fits the best."
Namely, the Lancers lost an All-American level midfielder in Keegan Dudeck, who scored more than a few timely, important goals in their state championship run last year.
But, for the most part, Longmeadow's core returns in tact this season, starting at the faceoff "X" with one of the state's best draw men in Drew Kelleher.
"The faceoff and transition game is absolutely huge in terms of setting the tone for the game," Liebel said. "So when you have the chance to have a faceoff guy like Drew Kelleher, it's absolutely unreal to have, especially at a time like now, when our offense is struggling with things like time of possession."
Watching Longmeadow any time during the last season-plus, it becomes immediately evident that the Lancers thrive on defense and the transition game. Hardly a motion is wasted, moving the ball from the defensive half of the field and through the midfield. It's what Liebel has prided the program on, and it comes with the continual repetitive motion of practice drills.
"It really comes down to working hard in practice – lots of long practices," senior goaltender Matt Draymore said. "Then, when we come to the games, we just have to play all four quarters."
Adding on how the Lancers have taken on the visage of their head coach, Draymore said, "I think we all have really good relationships with him, but he's really hard on us. He really pushes us to get better. It's a really good combination."
In front of Draymore, the Lancers return a deep core of veteran defensemen. Senior captain Reid Leveillee returns as a preseason All-State selection, while junior Daniel Cotnoir and senior long-stick midfielder Jack Ryan provide additional proven experience on the starting defense.
"They're just absolutely the best role models you could hope for," Liebel said. "Three of our five captains are defensive players and they're what's keeping us together right now. If it wasn't for them, I don't think we'd be where we are right now."
The Lancers' attack is still rounding into shape in the early going, with returning senior attack Zach Lukas sidelined due to injury. In his absence, that's given a few of Longmeadow's younger options a chance to work their way into the rotation, including the younger siblings of a few of the Lancers' aforementioned tone-setters. Sophomore Will Lukas and freshman Cam Kelleher has seen significant playing time alongside returners, such as senior midfielder Max Chipouras.
While the offense tries to find its foothold, the Lancers will rely on what has their winning streak at 29 games and counting – a commitment to defense, having surrendered less than three goals a game on average.
That, and a commitment to never becoming complacent.
"Right now, we're just fighting to make the playoffs with everybody else," Drew Kelleher said. "Coach pushes us really hard, he really knows how to get the best out of us. He leads a high-intensity practice every day and we know that makes us better."
April, 19, 2012
4/19/12
9:01
PM ET
By
Mike Scandura
| ESPNBoston.com
Defending Division I state baseball champion Cranston West has picked up where it left off last season.

Through games of April 18, the Falcons (5-0) were tied for first place with Hendricken in Division 1 Central.
And like any good team, the Falcons are doing it with pitching and hitting.
Just check their last three games:
Rich Reo pitched no-hit ball until the sixth inning – the second time this season he's lost a no-hitter in the sixth – and Frank Pettinato and Tony Crudale each collected three hits and two RBI in a 7-1 victory over Pilgrim.
Ryan Long scattered six hits and went the distance as the Falcons edged East Providence, 3-2.
Rob DeCosta led the last of the seventh with a solo home run which snapped a tie and gave the Falcons a 3-2 triumph over Cranston East.
In other games of note:
La Salle's Caleb Gardner went the distance on a three-hitter, striking out 10 in the process, as the Rams beat Lincoln, 3-1. Frank D'Amato's two-run homer and Jon Lapolla's solo blast accounted for the Rams' scoring.
Kyle Tracey threw only 95 pitches and went nine innings as Cranston East nipped Warwick Vets, 3-2.
Scituate's Scott Iacobucci tossed a no-hitter, replete with 11 whiffs and only one walk, as the Spartans blanked Davies, 14-0, in a Division II-North game.
LAWSON TOPS ALL-STATE BASKETBALL TEAM
Senior forward Jarell Lawson led Central to the state basketball championship, the Knights' first in 20 years.
Therefore, it wasn't a surprise when he was named First Team All-State.
Lawson averaged 19 points and 10.9 rebounds for the 19-4 Knights.
Joining Lawson on the First Team are North Kingstown senior center Evan Scott (he averaged 16.7 ppg. and tied the school record with 69 blocked shots); West Warwick senior forward Ryan Lawton (20.1 ppg. and 1.35 rpg.); La Salle junior guard Tom Hunt (18.9 ppg.); and, for the second consecutive year, St. Raphael junior guard Charles Correa (20.4 ppg. and 7.5 assists per game).
Second Team honors were accorded to St. Raphael senior forward Cesar Mejia, Hope senior forward Emmanuel Kargbo, Mount Pleasant sophomore guard Kip Stewart, North Providence senior guard Austin Van Bemmelen, Westerly junior guard Austin Cilley and West Warwick senior guard John Morrison.
WAS SILVA PUSHED OUT THE DOOR?
As is the case with many schools, coaches must apply for their positions on an annual basis regardless of their tenure.
That was the case with Mount Hope head football coach Ron Silva. But in what was anything but a "harmonious meeting," Silva exited his session with school administrators after confirming he would not apply to remain the Huskies' coach for the 2012 season.
In five seasons at the helm, Silva compiled a 22-19 record in Division II games and guided the Huskies to the playoffs four times.
Mount Hope advanced to the 2009 Super Bowl where it was blanked, 19-0, by Woonsocket.
Silva indicated he would like to continue coaching and noted he's already received a few offers.
October, 20, 2010
10/20/10
10:26
AM ET
By
Mike Scandura
| ESPNBoston.com
Maybe it didn't have all the glitz and glamour of the games Rogers High played against Division I rivals like La Salle, Hendricken and East Providence in the 1970s and 1980s. But the Vikings' 7-0 victory over Aquidneck Island rival Middletown High on Oct. 15 put coach Frank Newsome's team in a place that it's seldom been over the last decade and a half -- first place in Division III.

Under the legendary John Toppa, Rogers won five Division I championships from 1973 through 1978 and five more from 1985 through 1990. But entering this season, the Vikings had posted only two winning records in the last nine years (5-4 in 2000 and 6-4 in 2005).
Moreover, the program hit rock bottom from 2006 through 2009 when Rogers compiled a painful 9-23 record.
One reason for the Vikings' decline didn't require a Bill Parcells to decipher: A lack of talent brought on by the exodus of talent from Newport as families moved from the City by the Sea. Or in the case of Navy personnel, men and women were transferred and, of course, their children went with them.
As a result, Rogers dropped all the way down to Division III this season - something which would have been unthinkable as recently as the 1990s.
Middletown, meanwhile, primarily has played in Division III but has spent time in each of the Rhode Island Interscholastic League's four divisions. But the only time the Islanders played for the Division I state championship was in 1980.
After the Vikings' conquest of Middletown, they had sole possession of first place at 4-0 (6-1 overall) while Middletown and Moses Brown were tied for second at 3-1.
Understandably, Newsome isn't about to "request" that playoff tickets be printed. But this latest victory gives the Vikings a better shot at qualifying for the playoffs than might have been the case if they had remained in Division I.
The game's only score came in the third quarter when quarterback Cody Platt threw a 39-yard touchdown pass to Trevor Morgera, and Damion Rodrigo kicked the extra point.
Defense was the key for Rogers –- especially when it came to stopping Middletown's All-State running back Rico McCray.
McCray stepped on the field have scored 14 touchdowns and a total of 88 points in Middletown's four overall games.
Against Rogers, not only was he held scoreless but he also was held to less than 100 yards rushing which was well below his per-game average.
Barring an upset between last weekend and Oct. 30, Rogers can take a major step toward clinching the regular-season title -- plus the top seed in the playoffs -- by beating Moses Brown in Providence.
EXTRA POINTS:
A list of other recent football highlights:
Barrington continued to fare well against its parochial school rivals by blasting La Salle, 27-7, on Oct. 8, which helped the Eagles tie for second place in Division I. Jack Ryan, who was Barrington's No. 2 quarterback last season, threw touchdown passes of 35 yards to Vin St. Angelo and 22 yards to Alex Spiess, and also ran 60 yards for a fourth-quarter score.
Chariho (3-1) handed Johnston (3-1) its first loss in Division II-A by posting a 21-14 victory on October 15 as Joe DiSpirito ran six yards for a key fourth-quarter touchdown.
Brent Champagne was a one-man wrecking crew for Cranston West as he ran four touchdowns of 42, 32, 45 and 58 yards in a 39-13 romp over St. Raphael in a non-league game.
Tevin Dale returned a kickoff 70 yards for a touchdown and then returned an interception 50 yards for another score as Mount Pleasant blanked North Providence, 34-0, in Division IV action.
Exeter-West Greenwich's Al Georgio continued to slice and dice Division IV defenses as he ran for 328 yards and scored three touchdowns in a 26-22 victory over North Smithfield on Oct. 15. The victory enabled the Scarlet Knights to remain undefeated at 5-0 – and in first place, one-half game ahead of Mount Pleasant (4-0).
COUGAR ON THE RUN
To say North Providence's Alex Gallo was disappointed in his performance in the New Balance Ocean State Invitational in late September would be a major understatement.
The Cougar standout placed a lackluster (by his standards) 67th – one reason being he slipped and fell on the Goddard State Park course in Warwick.
Gallo ran more like he usually does on Oct. 16 in the 28th annual Brown University Cross Country High School Invitational.
He outdistanced his other Rhode Island rivals by placing eighth in the Boys' Championship Race with a personal-best time of 15:31 – a race that featured just over 100 of the Northeast's top runners.
Gallo's performance may have stamped him as the runner to beat in the class and State championship meets.
WELL-DESERVED RETIREMENT
Dick Magarian, who built Coventry High into one of New England's top interscholastic wrestling programs, recently announced his retirement as the Assistant Executive Director of the Rhode Island Interscholastic League.
The 70-year-old Magarian was named to the position in 1996. When he steps down officially in January, it will mark the first time in 48 years that he won't be involved in education as a teacher or an administrator or as a coach.
ENTER THE HALL
One-time East Providence High basketball star Kenny Bliss has been tabbed for induction as part of the Class of 2010 for the Rhode Island College Athletic Hall of Fame.
Bliss played in 96 games for the Anchormen and scored 1,311 points. That total ranked 10th all-time in school history upon his graduation in 2001.
He earned First Team All-Little East Conference honors as a senior after earning honorable mention accolades as a junior.
Mike Scandura has been covering high school sports, college basketball and hockey and minor league baseball in Rhode Island since the early 1970s. A native of Oswego, N.Y., he's a member of the Words Unlimited Hall of Fame, which is the statewide organization of sportswriters, sportscasters and sports publicists.