Boston High School:

Jack Sharrio
June, 6, 2013
6/06/13
4:56
AM ET


DANVERS, Mass. -- BC High lacrosse, in not so many words, is feeling it.

After toppling the state's undisputed dynastic program in Duxbury, BC High parlayed momentum from last week's victory over the Dragons into Wednesday's Division 1 state quarterfinal against Catholic Conference rival St. John's Prep.

BC High connected on each of its first three shots of the game and kept building. By the half, BC High had amassed a 6-1 lead. By the third quarter, the lead swelled to seven.

Still, Prep played with mettle in the fourth, pulling within two goals. But BC High's hot start was too much to overcome as the Eagles from Morrissey Boulevard claimed an 8-6 victory to advance to the state semifinals, where they will face another Catholic Conference foe in Xaverian.

After falling victim to Prep during the teams' two regular-season meetings, BC High (12-9) finally solved the puzzle – albeit with some late tense moments.

"We knew what they were capable of offensively, that they could score in bunches," BC High head coach Tim Kelly said. "But we also knew this would happen. It happens in every game, especially Catholic Conference games, which are always back and forth."

A.J. Kucinski had the hot hand early for BC High, scoring on his first two shots during a span of less than one minute of the first quarter. Finishing the first with a 3-1 lead in tow, Pat Cronin took the reins of the attack, pushing the lead to 6-1 at half with a string of three straight goals in the second.

Pete Timmins and Pat Kearney added goals in the third quarter to pace BC High to seemingly insurmountable seven-goal advantage.

"It was a difficult three quarters," Prep head coach John Roy said. "Going in down seven goals isn't really where you want to be. But they dug in and showed a lot of heart. We got it to a point where we could have pushed it to 8-7. Derek [Osbahr] picked up the pace at the faceoff X and started winning draws. That made a difference."

Prep (13-7) mounted its comeback bid on the backs of its primary offensive weapons: Andrew Gallahue (2 G, 1 A), Drew O'Connell (1 G) and Jack Sharrio (1 G, 1 A). But they would get no closer than two goals, as BC High goaltender D.J. Barrile shined in the fourth quarter, making 7 of his 15 saves in the final period.

X MARKS THE SPOT

The highlighted matchup of the day came at the faceoff X, where BC High's Billy Breen and Prep's Derek Osbahr went head-to-head.

Perhaps the most marked difference between BC High's 13-5 loss to Prep on May 7 and yesterday's victory was the man at the X.

"Billy [Breen] went beyond our expectations," Kelly said. "We were just hoping that he'd tie up Derek [Osbahr] because he's one of the best I've ever seen. We were just hoping to tie him up and make it a 50-50 ball from the wing."

Kelly added that his team went 0-for-21 on faceoffs during the teams' last regular-season meeting, which Breen missed due to injury. With the Duxbury native back in the lineup, BC High is an entirely different squad, able to generate scoring chances through maintaining initial possession.

On Wednesday, it was poetry in practice, as Breen won the majority of draws through the first half, allowing BC High to play from ahead.

"When I got hurt, I just tried to contribute where I could," Breen said. "I just might not be running the field as much as I did in the beginning."

BC High was a bit of a work in progress through the midseason, missing several key contributors on both halves of the field

"It was unfortunate when Ian [Yanulis] and I sort of went out for the same time frame and [Pat] Cronin went down for a little while during that time, too," Breen added.

But, akin to last year's second-half push to the playoffs, this BC High team is again peaking at the right moment. Perhaps all that required was a clean bill of health.

"We didn't see [Yanulis] in the second game and he definitely made a difference, shadowing [Jack] Sharrio the entire game," Roy said. "He definitely bottled Jack up some and that threw a wrench into our offense a little bit. He's a difference-maker when he's out there."

But, of course, it all started at the X.

"The fact that Billy [Breen] was able to win a number of [faceoffs], and put it out away from their side of the field made a huge bit of difference," Kelly said.

NOTEABLE QUOTEABLES

So just how good was Barrile in net during the pivotal fourth quarter, in the teeth of a monumental comeback bid?

"D.J. [Barrile] was stellar," Kelly said. "He's what stopped the bleeding. He was our tunicate."
April, 30, 2013
4/30/13
3:09
AM ET
WEST ROXBURY, Mass. – Jack Sharrio had never experienced anything quite like it before. Last week, the St. John's Prep senior attackman was driving his car when he realized he couldn't see quite as well as usual. It turned out he was suffering an allergic reaction to the eye drops he'd been taking.

Thankfully, Sharrio was fine, but it forced him to miss the Eagles' Saturday game against Division 2 power Hingham – a game they lost, 9-5.

On Monday, he made his return to the Prep lineup and put on a show, leading the No. 9 Eagles with a four-goal, five-point performance in their 14-10 win over Catholic Conference rival No. 19 Catholic Memorial.

"His presence was missed [on Saturday]," Prep head coach John Roy said. "So tonight I think there was a little bit of wanting to step up and it showed. He was aggressive all night."

The Eagles (8-3) halted a two-game losing steak with a renewed emphasis on ball movement, while sending the Knights (6-7) to their third straight defeat – all coming against Catholic Conference competition.

Shawn Waldon compiled a four-point game (3 G, 1 A) while Andrew Gallahue (2 G, 1 A) and Ben Anthony (1 G, 2 A) each had three points. Princeton-bound midfielder Drew O'Connell also dished out two key assists on fourth-quarter goals, providing the Eagles some insurance.

"When we started to cut, Drew O'Connell had his head up and was making the looks," Roy said. "For us, that's something that we've been looking for."

While Prep's streak of games not having allowed a man-up goal was broken on Monday — with CM cashing in on three man-advantages in the first half — the Eagles closed the game with authority, holding while down two men in the final two minutes of the game. Eagles goaltender Tom Casale made two of his seven saves on the game during that man-down situation, snuffing out any thought of a comeback bid.

Derek Osbahr and Anthony Merullo also were instrumental in the victory in their support on faceoffs, winning a combined 16 ground balls.

A FULL DECK
Sharrio, who quarterbacked the Eagles football team to an Eastern Mass. Super Bowl championship in the fall, has been a key cog to the lacrosse team in each of his four years.

However, this is the first year he's shifted up to attack. And while Prep has been averaging more than 10 goals a game, they struggled offensively against Hingham.

With a full complement of players, including Sharrio, the Eagles were able to get back to what's made them effective.

"We were dodging pretty well, trying to find the open man," Sharrio said. "There were sometimes we could've caught and scored a little bit better than we did, but that's something we can work on. I think it just shows that if we keep this up in the future we'll be alright."
April, 18, 2013
4/18/13
2:39
PM ET
By
Shawn Myrick
| ESPNBoston.com
Danvers, Mass. -- Ben Alpern eyed the signal from ball-handler Jack Sharrio as he worked his way the opposite direction behind the goalpost. Catching a pass yards in front of Beverly keeper Kevin Lally, the St. John's Prep midfielder faked left then quickly flicked the ball into the right side of the net.

As the Eagles sideline erupted, the senior embraced his teammates' to celebrate their first lead of the game -- a 12-11 advantage with 1:56 remaining. Playing catchup for 41:15 consecutive minutes, the Beverly native played a crucial role for the Prep boys' lacrosse team (4-1) by scoring both the equalizer and winner in what was a 13-11 comeback against their 32-year-old rival and former Northeastern Conference opponent, Beverly (5-1).

"We have been working a lot with picks on the crease," said Alpern. "They lost me on the crease and I put it in. We knew we had another half to play once we were down by six (and) we kept focusing on getting one goal."

The Eagles went on a nine to one run over the final 22 minutes and netted the last six goals to comeback from what was an early second-half six-goal deficit.

SJP junior Andrew O'Connell used his back to lose his man then bounced a shot past a sliding defender to start the six-tally streak with 2:49 left in the third quarter. Alpern equalized at 11-11 nine minutes later off an assist from junior Andrew Gallahue.

Gallahue lead all-scorers with four goals and an assist, while teammate O'Connell and Alpern netted three goals.

"It came down to momentum", said SJP coach John Roy. "We did a little better on offense possessing the ball and moving (it). We needed to be better shooters."

DIFFERENT TEAMS WITH DIFFERENT HALVES
Beverly dominated the first half by scoring the first three goals, including a 10-yard rocket from the side of the net by senior Dom Abate for the opening tally at 10:53 in the first quarter. The Panthers scored five straight during the second quarter starting with an isolated effort for a goal by Brendan Flaherty at 6:12 in the second quarter.

The senior assisted a score then ripped a 15-yard rocket from just inside the attack area for the 9-3 advantage with 1:02 left in the first half.

"We do a lot of transition in practice and everyday getting the ball into unsettled situations," said Beverly coach John Pynchon. "We have a lot of dynamic midfielders and they did a good job beating their men. They know when to make the next pass."

Flaherty converted a defensive turnover into a breakaway tally for the Panthers' second six-point margin and a 10-4 lead after 1:33 in the second half.

The senior scored three goals and assisted one, while teammate sophomore Nick Albano netted two goals and assisted one. Panthers keeper Kevin Lally was a force throughout with 17 saves.

"Some of our seniors who played football this is the first time they have lost this year," said Pynchon. "[Lally] is very mature about his preparation and has great eyes. You take him out of the game when kids are throwing at him from three yards away."
December, 2, 2012
12/02/12
12:13
AM ET
By
John Botelho
| ESPNBoston.com


WALTHAM, Mass. -– From the time Brockton muffed the opening kickoff, setting St. John's Prep up with a short field to start the EMass. Div. 1 Super Bowl at Bentley University on Saturday, it was clear there would be no momentum shifts as the Eagles cruised, 48-28, for their first title since 1997.

No, momentum stayed with St. John's for the duration of the one-sided Super Bowl showing.

Just 50 seconds after the attempted squib kick set St. John's up at their own 45, Jonathan Thomas caught a pass in the flats and streaked 33 yards for a touchdown and a 7-0 Eagles (11-1) advantage.

The Boxers (9-4) quickly went three-and-out -– marking the best part of their first possession. A bad snap resulted in blocked punt by Lucas Bavaro, and a scoop and score by senior Jake Anemoduris –- and just like that, the Eagles were up 13-0 less than three minutes into play.

"We came out and executed the way were supposed to execute our game plan," said St. John's coach Jim O'Leary. "That's what we do and that's how we played."

It got briefly better for the Boxers, who put together 10-play scoring drive capped by a 6-yard run by Moise Edouard. The rush attempt on the conversion failed.

Another attempted squib kick, this time a low line drive that settled at about the 15-yard line, resulted in bad fortune for Brockton. Gerald Kahari caught the ball inches from the turf, and took off up field. A couple blocks and a missed tackle later, he was tossing the ball to a referee 85 yards away after scoring a touchdown.

"Obviously you have to play better than that to beat a great team like St. John's Prep," said Brockton coach Peter Colombo. "Take nothing away from them, they beat us twice and they beat us in all three phases today and they deserved to win.

"Right off the bat, we gave them easy field position. They jumped out to the lead and now we're playing catch up and that's obviously not what we wanted. We were hoping to shorten the game and control, but we couldn't do it."

Brockton quickly turned the ball over on downs in their own territory, and Thomas eventually ran in from two yards out to extend the lead to 27-6.

After a Boxers punt, it seemed like Brockton would get a chance to get the ball with decent field position after a pass fell incomplete on third down at the St. John's eight yard line. An unnecessary roughness penalty instead gave the Eagles another first down.

And when Brockton forced a second stop, a roughing the kicker on fourth down planted St. John's at their 42 with a first down.
The following play was a 58-yard catch for a touchdown by Gatorade Player of the Year Alex Moore from quarterback Jack Sharrio.

An onside kick attempt by St. John's was recovered by the Boxers. Zack Kessler was hurt on the play, and left on a stretcher (later diagnosed with a severe concussion).

Austin Roberts hit Micah Morel on the next play for a 59-yard score, cutting the lead to 34-12.

In the final minute of the first half, Thomas punched in another score, extending the halftime lead to a whopping 41-12. Moore added a 19-yard fumble recovery for a TD in the second half to cap the scoring for St. John's.

Edouard added another rushing touchdown and Ricardo Calixte chipped in with a score with just under two minutes to play to wrap up Brockton's scoring, but it wasn't nearly enough to overcome their first half woes.

"We just didn't execute," said Roberts. "They played at a Super Bowl speed and we didn't. They played kicked it up today and we didn't, and that was the difference. All the credit to them, they deserved it."


November, 22, 2012
11/22/12
11:48
PM ET
WESTWOOD, Mass. -- Thousands of years later, the Greek phalanx remains one of the greatest military inventions to date. The principle was simple, relying on tightly arranged ranks with long spears protruding through packed-in shields.

You can make parallels between the Spartan tactics and this year's defensive unit of No. 3 St. John's Prep. The Eagles have been a machine-like, nearly impenetrable while surrendering an average of about nine points per game.

Also, as in those Greek battalions, Prep has been able to replenish its ranks. If one man falls, another steps up and takes his place. Eagles senior defensive lineman Chris Newton is proof positive. Originally a linebacker, Newton has stepped up to play defensive tackle in recent weeks.

Newton and his teammates showed that they haven't collectively lost a beat, putting together a thorough defensive showcase in a 9-0 blanking of Xaverian Thursday at the Hawk Bowl. In the process, the Eagles (9-1, 4-0) closed out the Catholic Conference title and advance to play Merrimack Valley Large champion Andover in Tuesday's Eastern Mass. Division 1 playoffs.

"The past three years, they've just had tons of formations coming into Thanksgiving Day that you really don't know what they're going to do," Eagles senior defensive end Tucker Mathers (2 fumble recoveries) said. "But we adapt and make plays. And that's what we're good at."

Prep took a first-quarter lead on a safety, with Xaverian punter's knee hitting the turf in the end zone, and that's the way it remained through halftime.

The defensive stalemate didn't cease but for a very brief moment in the third quarter for Xaverian. And Prep made them pay with Jack Sharrio hitting Alex Moore on a 95-yard touchdown pass.

From there, both defenses reassumed their stifling pace.

In total, there were nine turnovers between the teams (six fumbles recoveries and four interceptions). The defensive lines of both the Eagles and Hawks were dominant and disruptive.

"They've been playing like that all year long," Prep head coach Jim O'Leary said. "We've given up like nine points per game against one of the toughest schedules that anybody plays."

STEPPING UP
On a day chockfull of outstanding defensive performances, Newton might have been the player of the game. Along with fellow defensive tackle Corey Jean-Jacques, Prep was able to get an interior pass rush with Newton racking up two sacks, including a strip-sack in the first half. With Jean-Jaques occupying a double-team for most of the morning, the Eagles were also able to effectively set the edge with ends Anthony Bongiorno and Mathers (2 fumble recoveries).

"He was a linebacker, but we moved him down and made him put his hand down and he's played so tough," O'Leary said of Newton. "He's so undersized, but he goes sideline-to-sideline, he breaks double-teams, and then Corey [Jean-Jacques], they have to double him because he's so dominant."

Newton moved from inside linebacker to tackle when run-stuffer F.J. Murphy went down with a season-ending knee injury. He's taken to his new position.

"It was tough at first, but it's all about technique," Newton said. "I've just been working as hard as I can on that.

LOOKING FOR THE HOMERUN BALL
O'Leary and his team were fully prepared for the trench warfare that was about to ensue on Thursday, but it came as a surprise that Prep's big offensive play came via the pass.

The Hawks defensive line matched the intensity and pressure the Eagles brought with Xaverian's four-man line of Ray Gobbi , Mo Hurst (1.5 TFL, FF), Elijah Jolly (1 TFL, 2 FR) and Joe Gaziano (1.5 TFL, 1 sack) controlling the point of attack in the first half.

The Eagles' All-State caliber backfield of Moore and Jonathan Thomas were held at bay, with Moore (1 INT) finishing with a negative yardage mark for the first half. Although, at the end of the day, Thomas led all players with 141 yards on the ground, nearly outpacing the Hawks by himself.

"We knew they play tough defense," O'Leary said. "We had plenty of chances, in the red zone, in the first half, but we didn't score. I knew we were in trouble right then.

O'Leary continued, "They put all those people in the box and it came down to us against them. It was just man-on-man, and it was tough."

But Prep was able to put the game away on the Sharrio to Moore connection. The play was an 8-yard out, designed to pick up a first down. Moore came away with much more, however, after a missed tackle in the flat, a downfield juke and a downfield block left nothing but green in front of the Mr. Football Award finalist.

BACK TO THE PROMISED LAND
Thursday's win meant the Eagles will be right back to work on Friday, with Tuesday's playoff game against Andover looming.

But, for Prep's senior class, which returns to postseason play after an absense last year, they're right on schedule.

"We were looking for this for a while," Moore said. "We were saying senior year that we would be pretty good, and now it's here. It's great living it and we're just trying to live in the moment."
October, 13, 2012
10/13/12
8:58
PM ET
By
Brendan Hall
| ESPNBoston.com
DANVERS, Mass. -– Through the first five weeks of the 2012 season, this much was known about St. John's Prep and its vaunted rushing attack: the Eagles can play powerful.
And after this afternoon's 49-8 shellacking of St. John's of Shrewsbury, before a Homecoming crowd at Cronin Memorial Stadium, we now know this too: the Eagles (5-1) can play fast.
[+] Enlarge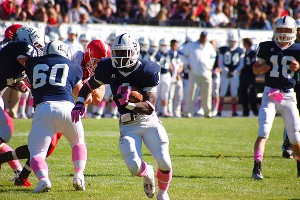 Brendan Hall/ESPNBoston.comSt. John's Prep running back Jonathan Thomas (19 carries, 238 yards, 3 TDs) went over 200 yards for the second time in three weeks as the Eagles rolled, 49-8.
Prep had a field day against the Pioneers' front seven, piling up over 330 yards in the first 22 minutes with the help of a hurry-up tempo, en route to a 35-0 halftime lead. On the ground, they ran for a total of 355 yards, with almost all of it coming from the two-headed monster of junior Jonathan Thomas (19 carries, 238 yards, 3 TD) and senior Alex Moore (8 carries, 82 yards, 2 TD). Moore also had a 54-yard touchdown catch to put him over the century mark in all-purpose yards yet again.
If you've ever watched the Eagles under head coach Jim O'Leary, you know their affinity for the power and the counter trap. But it was the way they did it today that was uniquely appealing, matching the Pioneers' Oregon-like "Blur" tempo by going equally as fast with no huddle.
"We match up against spread teams. We built our team against spread teams, because we see so many of them now," O'Leary said. "And the last couple of games, we've been going against power teams – and not that we matched up badly, we just didn't have a whole lot of points. But we're built this way. We have good athletes."
The game started off a bit wild, with a Prep three-and-out punt on the game-opening drive getting blocked by the Pioneers' Kyle Roy. Two plays later, however, Moore came up with a pick, jumping a route in the left flat and leaping at a pass from Pioneers quarterback Andrew Smiley (32-of-47, 280 yards, TD, 3 INT) for running back Shadrach Abrokwah (11 carries, 129 yards).
On the ensuing drive, Gerald Kahari set up the first of three Moore scores with a 57-yard scamper off a short screen to the left flat. Kahari accelerated then cut twice – first northeast, then at a right angle with a short step-back –- to completely reverse direction before getting hauled down out of bounds just short of the right pylon, at the Pioneers two. Moore punched it in on a dive the next play, for a 7-0 score less than four minutes into the game.
From there, seemingly the heavens opened up on the Pioneers' front seven. Moore made it 14-0 with a 54-yard touchdown reception off a simple pop pass from the left slot, and that was followed by three more scores for the 35-0 score. Thomas reeled off touchdown runs of five and 68, then Moore capped off the explosive first half with a 44-yard counter trey, shrugging off a would-be tackler amidst a scrum to break free down the left sideline.
[+] Enlarge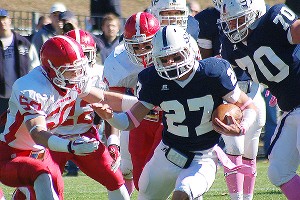 Brendan Hall/ESPN.com"It was intense" trying to replicate St. John's of Shrewsbury's speed in practice this week, said Prep's Alex Moore (8 carries, 82 yards, 2 TDs).
"I followed my pulling tackle up the hole," Moore explained. "He made a great block and I made a cut, and someone hit me, but I was able to shed it and get to the outside and get a touchdown."
(The play, we kid you not, is called "Brockton Left". Why? Moore didn't have an answer, saying simply "I don't know why, but it's a great play.")
On the first play of the second half, Lucas Bavaro picked off Smiley for a 33-yard interception return. Thomas finished off the Prep scoring on the next drive with a 75-yard scamper, followed by a six-yard dive into the end zone.
"The offensive line did a great job," said Thomas, who went over 200 yards rushing for the second time in three weeks. "That's all I can say. They opened up the holes, and I just went right through them. Alex [Moore] and I had a great day, and we give all the credit to the offensive line."
Tempo recognize tempo:
Shrewsbury is operating at a frenetic pace this season, running a "Blur" offense that is similar to the style Chip Kelly deploys at the University of Oregon, looking to snap the ball within 15 to 20 seconds after the previous play is whistled dead.
With that pace, a sharp inside zone read game with Smiley and Abrokwah, and a number of perimeter receivers sitting in zone holes, it's not uncommon to see the Pioneers score in bunches – coming into this game, they had surpassed 40 points twice and were averaging 39 points per game.
The Eagles deployed a unique method of preparation this week to get used to the frantic pace of the game, lining up two scout offenses on opposite 40-yard lines during the team defense portion of practice, and having the defensive players sprint back and forth from one scout team to the other each play.
"I really didn't expect it [the Pioneers' tempo] that much, we were pretty gassed at some times," admitted Prep defensive end Anthony Bongiorno, who registered two sacks and a few tackles for loss. "I mean, that was a fast-paced team. We kinda kept it together long enough to make some big plays."
Said Moore, "It was pretty intense...St. John's Shrewsbury gets their offense off fast, 15 seconds, it's like a blur and you don't really have time to mistakes. You gotta be ready for everything."
ST. JOHN'S PREP 49, ST. JOHN'S (SHREWSBURY) 8

SJS (4-2) 0 0 0 8 --- 8
SJP (5-1) 14 21 14 0 --- 49
First Quarter
SJP - Alex Moore 2 run (Stephen Camaro kick) 7:07
SJP - Moore 54 pass from Jack Sharrio (Camaro kick) 4:23
Second Quarter
SJP - Jonathan Thomas 5 run (Camaro kick) 10:56
SJP - Thomas 68 run (Camaro kick) 7:05
SJP - Moore 44 run (Camaro kick) 1:57
Third Quarter
SJP - Lucas Bavaro 33 interception return (Camaro kick) 10:45
SJP - Thomas 6 run (Camaro kick) 6:25
Fourth Quarter
SJS - John Giacoppe 19 pass from Andrew Smiley (Shadrach Abrokwah run) 6:25
October, 7, 2012
10/07/12
12:05
AM ET
By
Bruce Lerch
| ESPNBoston.com


BRIDGEWATER, Mass. - With two talented playmakers such as Johnathan Thomas and Alex Moore in the backfield, why wouldn't St. John's Prep have its own version of the 'Wildcat' formation ready to go?

It's not a set the Eagles rely on often, but when they spring the trap, it has the tendency to yield major dividends. In the case of Saturday afternoon's nonleague clash with No. 12 Bridgewater-Raynham, Moore turned the Prep's 'Wildcat' into a momentum changer.

On the first play from scrimmage of the second half, Moore and Thomas lined up side by side in the backfield with Moore taking the snap. Tight end Anthony Bongiorno sealed off the defensive end and Thomas cleared a hole with a nice block of his own. Moore followed right through and outran everyone down the left sideline for an 89-yard touchdown.

That was the second of three scores on the day for Moore, who totaled 159 yards on the ground with two scores and another 73 yards and a touchdown on three receptions as No. 3 St. John's Prep took down the Trojans, 20-7, at Bridgewater-Raynham High School.

"I never had any original thought in my life and that's what Everett did to us so I said, 'If Everett can do that to us, we can use that ourselves,' so that's what we did," Prep coach Jim O'Leary said with a laugh. "We've been running it but we've been running it a little differently the last couple weeks. We just put him outside and pitch and get to the edge and see what we can get."

Moore turned in terrific all-around effort, adding a fourth-quarter interception from his safety position to his stat sheet. He scored the game's first touchdown via the air, lining up as the inside receiver in a trips-right set. Moore ran a post pattern through the middle and Eagles quarterback Jack Sharrio lofted a perfect pass to him in stride for a 35-yard score.

Then in the fourth, just after Brandon Gallagher had scored to help B-R (3-2) cut the deficit to 14-7, Moore produced another big play. Lined up as the tailback behind Thomas in the I-formation, Moore took a straight handoff and followed Thomas off left tackle. Thomas created room by blocking the defensive end, allowing Moore to bounce outside and race 62 yards to paydirt.

"I was able to hit the outside and use my speed to my advantage and make it a track meet out there," Moore explained. "It was just off to the races from there."

SPREAD THE FIELD
The Prep's offense has been producing extremely well this season, and a lot of that has been due to the willingness to allow Sharrio to throw more often. The senior quarterback completed 7-of-11 passes for 103 yards and the TD pass to Moore.

Battling a very difficult wind, Sharrio's effort loosened up the Trojans defense enough to allow Thomas to join Moore in the Century Club with 110 yards on 13 carries.

"We have to be able to spread the field to get people out of the box," O'Leary said. "We have to do that and so I think that's what we try to do and what we need to do. We're not as comfortable doing that when we don't have the wind. They threw the ball better with the wind also."

'PREP'PING FOR LEAGUE PLAY
B-R coach Dan Buron has never been afraid to schedule some of the state's top teams in an effort to get his Trojans ready for their Old Colony League slate, and hopefully, a postseason berth.

B-R opened with Duxbury, currently riding a 31-game winning streak, bested perennially tough programs in Marshfield and New Bedford, and still have a date with Xaverian before playing its OCL counterparts Dartmouth and Barnstable.

Brandon Gallagher finished with 92 yards and a touchdown on 16 carries, while quarterback Jordan Cohen finished 12-of-26 for 176 yards.

"I was pleased with our effort, I think our kids played hard," Buron said. "That's a really good football team and I think we're just not quite there. Duxbury and this team, we're battling them for three quarters and we're just a step away. I think we're getting better every week and I think we can take this as a learning experience. I love playing teams like this. It gets us ready for our league games at the end of October and early November."

ST. JOHN'S PREP (4-1) 7 7 0 6 - 20
BRIDGE. RAYNHAM (3-2) 0 0 7 0 - 7

SJ - Alex Moore 35 pass from Jack Sharrio (Stephen Cammaro kick)
SJ - Moore 89 run (Cammaro kick)
BR - Brandon Gallagher 3 run (Kevin Wadsworth kick)
SJ - Moore 62 run (kick failed)
September, 29, 2012
9/29/12
2:08
AM ET


BROCKTON, Mass. – Mix up two run-oriented teams, add in some inclement weather with swirling winds and driving rain, and you could pretty much figure out what the result would be.

No. 2 St. John's Prep did what it does best, and did it a little bit better than No. 7 Brockton Friday night at Rocky Marciano Stadium. Eagles running back Jonathan Thomas was off to the races all night, tallying three touchdowns and 224 rushing yards on 23 carries. Thomas' scores supplied Prep with its 20 unanswered points, all that it needed to claim a 27-12 win over the Boxers.

Although Prep (3-1) found its groove in the second half, dominating the time of possession battle in holding the ball for the greater portion of the fourth quarter, there was also a caveat.

The Eagles have expanded their playbook in recent weeks, adding Wildcat formation plays so as to take advantage of their backfield of Alex Moore and Thomas. Prep's first touchdown of the evening came on a 70-yard run off a direct snap to Moore. In addition to Thomas' eye-popping stat line, Moore also broke the century mark, running for 104 yards on nine carries.

Having such a dynamic backfield has its advantages, particularly in terms of play-calling.

"We did it last week, too, with Johnny [Thomas]," Prep head coach Jim O'Leary said. "We have to do that [use the Wildcat] because they start keying on people and there's times we need first downs and they put too many people in the box. That gives us the ability to go outside, inside and they can't key on either one of those guys."

While the Eagles ran away with the second half, the Boxers (2-2) were the aggressors early on. Brockton was on the board with its first offensive possession of the game. Aaron LeClair capped a 14-play, 80-yard drive with an 8-yard touchdown run over the right side end zone pylon.

Prep sent a return salvo on Moore's 70-yard touchdown run on the ensuing possession, but the Boxers responded as well.

After another sustained drive, Brockton quarterback Austin Roberts plunged in with a 5-yard touchdown run off an option play. Roberts was hit in the back while making his dive into the end zone, however. He hobbled to his feet and tried to return to the Brockton sideline, but soon collapsed on the field. He was taken off the field by paramedics and taken to the hospital as a precaution.

The Boxers never got off the mat.

ONE IF BY LAND, TWO IF BY LAND
Face it, opposing defenses know what's coming when the Prep comes calling. Any defense had better commit to stopping the run and the Eagles' array of sweeps, tosses and ole fashioned power football.

Yet, with the added wrinkle of Moore and Thomas lined up in the backfield side-by-side, running the Wildcat, the Eagles have become even harder to stop.

Part of the success Prep enjoyed against Brockton, particularly in the third quarter, came with the multi-back direct snap plays. Moore and Thomas stood shoulder-to-shoulder in place of the quarterback. Where the snap was headed was another question. In addition, the Eagles ran the package with tempo. The plays were sold with quarterback Jack Sharrio fetching play calls from the sideline. When Sharrio stepped off the playing field, the Eagles would step to the line and snap. It only added to the confusion and disguise.

"We've been working on it in practice with the zones and the hits up the middle because defenses don't know whether it's going to be me or John [Thomas] getting it," Moore said. "We have many plays off of it that could go for a touchdown."

It worked from the get-go. Moore's 70-yard run came on the first Prep play with that personnel grouping.

From there, it was a matter of execution.

"Smuz [Sean Smerczynski] made a great block, I cut off of him to left and I saw a lot of green grass, so I made another cut and it was a touchdown from there."

AIR LET OUT
Aside from the obvious fact of losing their starting quarterback, the Boxers also lost their emotional leader in Roberts. Forced to go their second quarterback, starting safety Micah Morel, the Boxers attack slowed in the second half.

Postgame, Brockton head coach Peter Colombo characterized Roberts' injury as tied to the sciatic nerve. His status going forward is unknown.

On Friday, Roberts' absence was apparent. Despite getting a 10-carry, 98-yard performance from Ricardo Calixte, the Boxers faltered without their charismatic leader.

"We took the lead, Auggie [Roberts] was in the end zone, we were doing what we wanted on offense," Colombo said. I didn't know if they had an answer for what we were doing."

O'Leary admitted as much.

"It's tough to defend when you have a quarterback like him that can spread the ball, spread the field and make those good decisions with the ball. And he's tough."
September, 15, 2012
9/15/12
10:16
PM ET
By
Ryan Kilian
| ESPNBoston.com
DANVERS, Mass. -- The St. John's Prep defense continued their strong play to open the season as they held Central Catholic to just one first down in the first half en route to a 31-7 nonleague victory on Saturday afternoon.

Both teams started slow out of the gate as they tried to establish the run between the tackles. After St. John's Prep's (2-0) second possession stalled and Central took over safety Alex Moore would force a fumble and also recover it to set Prep up with the ball at the Central Catholic 18-yard line.

"We wanted to make some plays on defense to get the momentum on our side," Moore said. "We want to try to get the ball to our offense in a good position and go to work."

St. John's Prep quarterback Jack Sharrio would finish off the drive as he found senior wide receiver Gerald Kahari on a 6-yard middle screen to give Prep a 6-0 lead after a failed conversion kick.

Sharrio would strike again later in the half as he found senior tight end Anthony Bongiorno on an 11-yard pass to conclude a 59-yard drive. Sharrio added the two-point conversion pass to running back Jonathan Thomas out of the backfield to give Prep a 14-0 lead.

In the NFL they say that third-down is the "Money Down". On Saturday afternoon the St. John's Prep defense struck it rich in the opening half as they held Central Catholic (1-1) to just one first down at the 1:55 mark in the second quarter. Prep was stingy on third and fourth downs all afternoon as they continued to control the line of scrimmage.

"The defense played a great game," St. John's Prep head coach Jim O'Leary said after the game. "We have to be a great defensive team and that is what we are basing it around this year,"

Thomas, Prep's junior running back, was the workhorse all afternoon for the Eagles as he ran 25 times for 156 yards, highlighted by a beautiful 46-yard third quarter touchdown run as he broke multiple tackles and showed off his breakaway speed on the way to the end zone.

Central's lone score occurred on a 59-yard bomb from quarterback Michael Milano to wide receiver Ryan Barry with four seconds remaining in the third quarter. Barry made a nice individual effort to out-leap the Prep defensive backfield and take it the rest of the way for the score.

Senior Lucas Bavaro led the Prep defense with seven tackles including a bone crushing hit mid-way through second quarter. Bavaro also added two receptions for 33 yards on offense from his tight end position.

Sharrio's Efficiency: St. John's Prep has pounded the ball between the tackles to start the season but they have also shown glimpses of an efficient passing game due to the steady and solid play of Sharrio.

"He was more of an option quarterback last year and he worked hard in the off-season to get his throwing down."

Sharrio completed 8 of 12 passes for 135 yards and two touchdown strikes. He now has four passing touchdowns in the first two games and is always a threat to break a run when flushed out of the pocket.

"We have to make teams defend the field," O'Leary said. "He is making good decisions out there and we have good receivers who are possession guys."

Everett up next: The next team on St. John's Prep's schedule is No. 1 ranked Everett (2-0). The Crimson Tide were in attendance on Saturday to get scout on their upcoming opponent. Kickoff is scheduled for 2:30 p.m. on Saturday in Everett.

"Clearly they are the best team in the state," O'Leary said.

Everett routed St. John's Prep 35-0 last season and they come into Saturday's match-up on the heels of two straight victories over Leominster and Springfield Central.

"We know what is coming up," Moore said. "It is going to be a tough week against a tough team. We are really looking forward to getting back to work and getting our game plan in to get ready for next week."

ST. JOHN'S PREP 31, CENTRAL CATHOLIC 7
SJP (2-0) 6 8 7 10 --- 31
CEN (1-1) 0 0 7 0 --- 7

First Quarter
S – Gerald Kahari 6 pass from Jack Sharrio (kick failed)

Second Quarter
S – Anthony Bongiorno 11 pass from Sharrio (Thomas pass from Sharrio)

Third Quarter
S – Jonathan Thomas 46 run (Stephen Camarro kick)
C – Michael Barry 59 pass from Michael Milano (Thomas Jenoski kick)

Fourth Quarter
S – Sean Smerczynski 1 run (Camarro kick)
S – Cammo 26 field goal
September, 8, 2012
9/08/12
12:49
AM ET
By
Ryan Kilian
| ESPNBoston.com
DRACUT, Mass. -- The two-back attack of senior Alex Moore and junior Jonathan Thomas proved to be too much for Dracut on Friday night as St. John's Prep avenged last season's 13-7 home-opening loss as they defeated the Middies, 49-6.
Moore and Thomas did their damage early and often as the pair both scored two touchdowns with Moore's pair coming in the first half on a first quarter 12-yard run and one more in the second quarter from 15 yards out to give the Eagles a 21-0 lead deep into the second quarter.
"We have the two backs who can break it at any time," St. John's Prep coach Jim O'Leary said. "Our offensive line played well, and Jack [Sharrio] made some good choices out there."
[+] Enlarge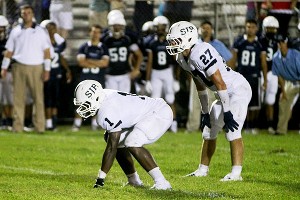 Ryan Kilian for ESPNBoston.comSt. John's Prep running backs Jonathan Thomas (1) and Alex Moore (27) combined for 200-plus yards rushing in a 49-6 win over Dracut.
Sharrio managed the game well and also connected on a pair of first half scoring strikes to Gerry Kahari (16-yards) in the opening quarter and a nice 7-yard touch pass to Anthony Bongiorno with time running out in the second quarter.
St. John' Prep led 28-0 at the half as a result of executing in the red zone, dictating offensive possessions, converting defense to offense and capitalizing on Dracut's (0-1) special teams mistakes.
In the second half Prep came out and continued to dominate on both sides of the ball as Thomas scored twice in the third quarter before the teams exchanged scores late in the fourth to give St. John's Prep (1-0) the 49-6 opening night victory.
Moore and Thomas:
Moore finished the game with 138 yards rushing on 10 carries, all coming in the first half. Thomas finished with 92 yards on the ground on just seven carries. Both players also made game-changing plays on the defensive side the ball as Moore had an interception and a jaw dropping hit from his safety position to open the second half.
"We have a lot of players returning on defense," Moore said. "We really want to use our defense to get ahead in games, get interceptions and get turnovers. We just like to hit. We are fast and we use all our abilities to our advantage."
Thomas was also impressive defensively as the heralded junior back had two interceptions from his cornerback spot, with the second beginning the second half when he picked off Dracut quarterback Tyler Duff and took it 45 yards to the house for a score.
"I can play anywhere on the field," Thomas said. "If it means stepping up on defense then it means stepping it up on defense."
Both players lauded their underrated offensive line for the holes that they used throughout the game on the offensive side of the ball.
"They open up holes and we just run through them," Thomas said. "They do not get enough credit but we let them know we appreciate them. They are the hardest workers on the team."
Bassett leads youth
: Dracut graduated a large senior class from last year's squad and only returned three players on each side of the ball. The growing pains and transition will be there for head coach Jason Houston and the Middies but there is reason to be hopeful.
"We are only going to get better by paying the likes of St. John's Prep, Mansfield in Week 3. Our kids want to play the best teams and with the always tough MVC schedule it will only make us better in the long run.
Senior running back and co-captain Zach Basset is a workhorse and two-way rock for Houston and the Middies. The veteran carried the ball 18 times for 87 yards.
"Zach is the kind of football player that any coach would want," Houston said. "He has played anywhere from freshman year at quarterback to running back to slot receiver. He plays anywhere that you need him to play and it is 100 percent all the time. He is our team leader and he has been our team captain for two years now."
A program first
: The win by St. John's Prep was the first win over Dracut in the five game history of the rivalry.
"As a program St. John's Prep has never beaten Dracut," Thomas said. "The coaches reminded us of that and we had to focus on this being the year and we came out and let them know."
Dracut took the opener last season 13-7 in Danvers as both teams struggled to get anything going offensively in that match-up.
"It is a nice start for us," O'Leary said. "It is going to get harder for us, much harder, but I got to play everyone tonight and we played well. This is the first time we have ever beat them and the fifth time we have played."
ST. JOHN"S PREP 49, DRACUT 6
SJP (1-0) 7 21 14 7 --- 49
DRA (0-1) 0 0 0 6 --- 6
First Quarter
S – Alex Moore 12 run (Stephen Camarro kick)
Second Quarter
S - Gerald Kahari 16 pass from Jack Sharrio (Camarro kick)
S - Moore 15 run (Camarro kick)
S - Anthony Bongiorno 7 pass from Sharrio (Camarro kick
Third Quarter
S – Jonathan Thomas 45 Interception return (Camarro kick)
S – Thomas 38 run (Camarro kick)
Fourth Quarter
S – Ian Kessel 30 run (Camarro kick)
D – Gabe Morales 2 run
August, 31, 2012
8/31/12
11:18
AM ET
By
Adam Kurkjian
| ESPNBoston.com
As a freshman at St. John's Prep, Jonathan Thomas watched running back Tyler Coppola rack up huge numbers for a team that made it to the Division 1 Super Bowl.
Asked what he learned by watching Coppola lead the Eagles to Gillette Stadium, the junior responded, "Just to keep moving. He played with a lot of pain, so I just learned from him to suck it up and keep moving."
He could have just taken those same cues from his own life experience.
[+] Enlarge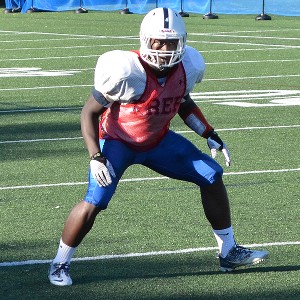 Scott Barboza/ESPNBoston.comSt. John's Prep junior Jonathan Thomas is among the best running backs in the state.
When Thomas was seven years old, the Peabody native was skateboarding with his friends, rolling out of his garage when a car coming downhill struck him on his dead end street. The injuries were so serious that he had to be taken into Boston by helicopter.
"I was unconscious when it happened. I don't remember the helicopter ride or anything," he said. "They thought I was going to have brain damage and everything. The whole right side of my face, my head, was gone, so they had to stitch it back up. There's still scars today but it's not as noticeable."
The scars may have been more noticeable back then, but they didn't slow him down. Against his mother's best wishes, by that summer, Thomas began his football career.
"My mother didn't want me to play, but it was my brother's first year, too. My brother went down to play and my dad said, 'You can help coach.' But I got in all the drills and stuff and said, 'I can do this.' I was the fastest one out there despite my injury."
By that time, Thomas felt his brush with death had no impact on his ability to play the game.
"I don't think it had any effect. It's just a miracle that I'm still alive."
When Thomas got to the Prep, he had never played cornerback in his life, but was forced to start there as a freshman because of career-ending injuries to Coppola's brothers, Jared and Brandon.
It was a trial-by-fire initiation to the varsity game if there ever was one. That season, Thomas had to cover the likes of Everett's Matt Costello (Princeton), Brockton's Albert Louis-Jean (Brockton) and St. John's of Shrewsbury's Richard Rodgers (Cal).
"It was quite an experience coming straight out of Pop Warner to playing the top players in the state. It was a learning experience but it was fun."
By the time last year rolled around, however, Thomas earned his way into the starting lineup as a running back. With sterling performances against the likes of Brockton, St. John's of Shrewsbury, Catholic Memorial and Xaverian, he showed the type of potential that already garnered the attention of a number of Division I coaches.
Always blessed with a tree-trunk lower body, Thomas worked with Prep assistant coach Jameson Pelkey over the offseason to improve his speed, which has gone down from around 4.7 in the 40-yard dash to the high-4.5 area.
"I worked on my speed, pulling sleds, hitting the weight room daily," Thomas said. "I'm working on just every part of my body to get me ready for Division I players coming at me, trying to tackle me. I'm trying to break their tackles: keep my feet moving; keep my legs going."
"He's always had that good initial burst," said Prep coach Jim O'Leary. "Now he has the other burst to go with it."
Now a junior and three-year starter, Thomas is one of the leaders for a squad that returns 18 starters and wants to go from a 4-6 team to a Super Bowl champion.
"Well, we've realized what a great opportunity we have," he said. "We have nine returning starters on offense and defense. We have pretty much the whole team coming back. It's another great mindset: we're ready to get a ring. Everybody's putting in work."
And if the Eagles encounter any adversity along the way, expect Thomas to help his teammates suck it up and keep moving.
ST. JOHN'S PREP AT A GLANCE
2011: 4-6 (1-3 Catholic Conference)
Coach: Jim O'Leary (29th season, 189-105-2)
Key Returnees: Lucas Bavaro, Sr. WR/OLB, 6-1, 198 lbs.; Alex Moore, Sr. RB/S, 6-1, 195 lbs.; Jon Thomas, Jr. RB, 5-11, 195 lbs.; Jack Sharrio, Sr. QB, 5-9, 174 lbs.; Gerald Kahari, Sr. CB/WR, 5-7, 162 lbs.; Corey Jean-Jacques, Sr. DT, 5-11, 286 lbs.; Anthony Bongiorno, Sr. TE/DE, 6-4, 233 lbs.; Michael Fawehinimi, Jr. CB/WR, 5-8, 160 lbs.; Tucker Mathers, Sr. DE/TE, 5-11, 195 lbs.; Sean Smerczynski, Jr. ILB, 5-11, 216 lbs.
Strengths: Experience, defense, kicking game, offensive backfield.
Weaknesses: Tough schedule.
Outlook: While the Prep stumbled to a 4-6 record last season, many expect the Eagles to bounce back in a big way this fall despite once again facing a brutal non-conference slate on top of the always-grueling Catholic Conference gauntlet (joked O'Leary, "We're ranked the fourth-best team in the state and the third-ranked team in our conference"). Most of the optimism centers around a starting lineup that is littered with two and three-year starters. The same defense that held BC High to just seven points last year returns nearly everyone and should be among the best in the state. Last year's offense was inconsistent but promises to explode with Thomas, Moore and Sharrio in the backfield and Bavaro and Kahari on the perimeter. The offensive line is where the team figures to make its biggest improvement. "We're so much better than we were a year ago," O'Leary said of that group, which still only projects to start one senior. Despite all the returning talent, O'Leary is aware that his team needs to find greater consistency to live up to expectations and put last year's disappointing season in the rear-view mirror. "It's nice to have players back, but we need to go out and win games now."
September, 17, 2011
9/17/11
11:49
PM ET
By
Brendan Hall
| ESPNBoston.com



LAWRENCE, Mass. -- St. John's Prep head coach Jim O'Leary was asked about going for two instead of kicking an extra point in the first overtime of last night's 7-6 overtime loss to Central Catholic. And in trademark Jim O'Leary fashion, the long-time Eagles coach shot back a look that screamed, Are you kidding me?

Say what you want about the Eagles' conservative game plan tonight on offense, but in the crunch time O'Leary isn't afraid to roll the dice. Unfortunately for them, the Eagles (0-2) came up short, as Jack Sharrio was stopped short of the goal line by a gang of Raiders defenders, as Central (1-1) went on to score a big non-conference win, under the lights at Lawrence Veterans Memorial Stadium.

"There was no decision. We were going for two," said O'Leary, who opted to play defense first in the overtime. "You have an opportunity to win the game, on the road, win the game at home, you go for the win. Because if you go back to the 25 [yard line], anything can happen. It's not like we were ripping it up, moving the ball all over the field, you know?

"I've done that forever. We were gonna go for two. That's why you defer and go on defense, so you have that opportunity to win the game. Why stretch it out?"

On the other sideline, the Raiders scored a momentum swing for their program headed into Merrimack Valley Conference play next week, after dropping a 9-7 decision to an underrated Marlborough squad in the opening week.

"We weren't happy with how we played last week," Raiders head coach Chuck Adamopoulos said. "Marlborough beat us. We're not gonna say we played bad and that's why they won -- Marlborough beat us. We needed to bounce back with the game we had. Two years ago, we go down there and Marlborough spanked us pretty good, then we upset St. John's [Prep] and Dracut back to back, and kinda got on a roll. Hopefully this game kinda does the same thing."

Some key points from the game:

Play of the game, Pt. I: Central's game-winning touchdown on the second play of their first overtime series was called "Trips Left 79 Snare". Lining up with three receivers to the left, split end Henry Rodriguez ran eight yards upfield towards the left hash mark, and sat. After corralling in Matt McDermott's pass and charging towards the left pylon, Rodriguez was sprung loose by a block near the goal line.

"He got the ball to the right guy," said offensive coordinator John Sexton.

McDermott said Rodriguez "ran it exactly as he was supposed to" and "really did all the work", but for Rodriguez, it was the least the 5-foot-11 senior could do after dropping a pass earlier in the game.

"To be honest, I just...I dropped that first pass, and I'm usually a guy that struggles with confidence, so I kept my head up and got in, because I got benched for that [earlier]. I just kept my head up, ran my route right and scored."

McDermott said that play was "open all night" and confessed he was actually looking backside, because there was no safety over the top.

"I shoulda thrown it earlier," he said. "But it worked out as it did, and I'm not going to take anything back. It was awesome."

Play of the game, Pt. II: The Eagles' most threatening scoring drive of the night was thwarted by an unusual heads-up play from the unlikeliest of players. Senior nose guard Pat Hammond is your classic one-gap, speed-rush nose guard at 5-foot-7 and 195 pounds; and on third and goal from the Raiders' four yard line with 4:45 to go in the game, Hammond slipped through the playside A-gap immediately and stole Sharrio's handoff.

"He plays like his personality, because he's a pain in the butt," Adamopoulos laughed. "He's very disruptive. He's small, but he's quick and he gets in the backfield. That was a huge play that he made for us at that point. We forced the turnovers when we had to."

Getting loose: Was it a solid defensive game or just two offenses still breaking in new parts? Perhaps the answer is somewhere in between. The two teams combined for just six first downs in the first half, with Central's Ryan Barry, Christian Nunez and Hammond giving the Eagles a game in the trenches on both sides of the ball. Adamopoulos admitted after the game that in his 15 years at the helm "we're about as inexperienced as we've been since I've been head coach".

Meanwhile, the Eagles have been adjusting to a "flex" scheme similar to what Paul Johnson runs at Georgia Tech, complete with wide splits, wingbacks flanking outside the tackles and an excellent dive back in sophomore Jonathan Thomas (21 carries, 81 yards).

The gates started to open up in the third quarter, with the teams combining for 130 yards rushing (Central had 67, including Santino Brancato's 43-yard scamper that was the longest play from scrimmage). Each team also had two turnovers.

CENTRAL CATHOLIC 7, ST. JOHN'S PREP 6

SJ (0-2) 0 0 0 0 6 --- 6
CC (1-1) 0 0 0 0 7 --- 7

Overtime
C - Henry Rodriguez 25 pass from Matt McDermott (Tommy Jenoski kick)
S - Jack Sharrio 10 run (rush failed)
September, 10, 2011
9/10/11
5:42
PM ET
By
Adam Kurkjian
| ESPNBoston.com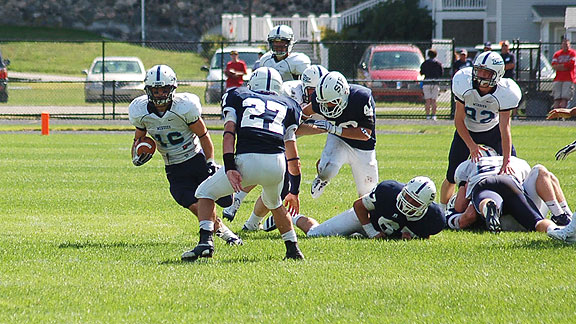 Brendan Hall/ESPNBoston.comDracut junior Zach Bassett came up with the game's first score and was in on a slew of tackles on Saturday.
DANVERS, Mass. -- St. John's Prep is usually the team with the big, experienced offensive line and overpowering ground attack.
Saturday at Cronin Memorial Stadium, however, it was visiting Dracut which fit that bill, and the result was a 13-7 win.
"We've got a lot of things to work on," Dracut coach Jason Houston said. "It wasn't pretty."
Indeed, it was a sloppy game on both ends. But if you think a senior group of linemen pushing its way forward on both sides of the ball is attractive, yesterday's performance by the Middies (1-0) was a thing of beauty. Dracut, looking to reach its fourth consecutive postseason appearance and third straight out of the Merrimack Valley Conference's Small Division, received the requisite might from seniors Anthony Metzler (5-10, 280), Mike Schiavi (6-4, 285), Conor McAnespie (5-10, 185), Jack Whelton (6-3, 200), Shawn Butt (5-11, 260) and Jacob MacShane (5-11, 200) to make up for the loss of reigning MVC Lineman of the Year Peter Salem, who was out nursing a minor injury.
Quarterback Jimmy Ryan, a junior making his first start, rushed for 103 yards and a touchdown on 19 carries and completed 10-of-15 passes for 113 yards. The Middies scored on a 2-yard Zach Bassett rush and a 16-yard zone-read keeper by Ryan in the second quarter to take a 13-0 lead into halftime.
Alex Moore (26 yards rushing, 74 receiving) dove over from a yard out for the Prep's only score with 2:58 to go, but the Middies picked up three first downs and forced the Eagles to burn their remaining four timeouts.
Game over.
"I look at it as a win is a win," said Bassett, who rushed for 47 yards and also made a key fourth-down stop on Prep quarterback Tommy Gaudet to start the third quarter. "Every win is huge, especially one like St. John's Prep. But we're going to look back, enjoy it tonight and go after it on Monday."
Some other observations...
Middies swarming:
Dracut's defense was billed as a strength coming into the season and it lived up to that reputation Saturday. In addition to the play from the linemen, the linebackers out of Dracut's 3-5-3 alignment were all over the field. Tony Ngeth, Bassett, Matt Ferrazzani, junior Pat Noonan and Ryan Schwartz were suffocating. St. John's Prep inexperienced offensive line opened very few holes and those that did appear closed fast.
"I wouldn't want to play this defense," Ryan said with a smile. "They're phenomenal. They're fast. They're strong. They just know where to be at all times."
Filling big shoes:
Ryan stepped in for his first varsity start and wasn't fazed one bit by an excellent group of defenders on the other side of the ball. He executed the zone read properly and made accurate throws in the short-range passing game. He did exactly what the offense asked him to do and more, and it looks like Dracut is going to be set at the quarterback position for another two years. He has a good group of skill players to work with in junior Bryant Tuff, Dante Torres, Ferrazzani, Bassett and Leo Lakmany. All four showed good hands and nice toughness after the catch.
Green in the trenches:
The Prep replaced every offensive lineman and it showed. The youth up front resulted in a lot of false starts and missed assignments. That will work itself out in time, though, as the Eagles were cleaner in that regard in the second half. The Prep was also missing senior Brennan Giles (6-2, 286), maybe the team's most experienced player in the trenches. Either way, Dracut had the advantage up front.
Promising Prep D:
The Eagles are going to be excellent on defense. Even with the offense sputtering like it did for most of the game, the Prep defense managed to shut out a good Dracut offense in the second half. Junior nose guard Corey Jean-Jacques (5-11, 291), a wrestling standout who just came out for football this year, is a nice anchor with ends Owen Lynch and junior Anthony Bongiorno providing speed off the edge. Junior Lucas Bavaro, sophomore Sean Smerczynski, junior R.J. Pizzano and sophomore Jonathan Thomas are a nice corps of young linebackers, while juniors Moore, Gerald Kahari and Jack Sharrio are hard hitters in the secondary. Once this offense starts clicking, look out, because the Prep's defense is good and will be even better in 2012.
DRACUT 13, ST. JOHN'S PREP 7
DHS (1-0) --- 0 13 0 0 - 13
SJP (0-1) --- 0 0 0 7 - 7
Second Quarter
D - Zach Bassett 2 run (Jacob MacShane kick)
D - Jimmy Ryan 16 run (kick failed)
Fourth Quarter
SJP - Alex Moore 1 run (Connor Shaw kick)