Boston High School:

Jack Sylvester
November, 28, 2013
Nov 28
3:15
PM ET
By
Mike Abelson
| ESPNBoston.com
LAWRENCE, Mass. – Central Catholic's Cody Demers earned his turkey, all of the sides, and two slices of pie.

The senior scored a pair of touchdowns, racked up 266 total yards, including an 86-yard interception return that salted the game away, as Central Catholic rolled past Andover 44-18 in front 2,500 people at Lawrence Stadium.

"A lot of the newspapers thought we were going to look past Andover so we wanted to come out early and definitely win this game," Demers said. "We didn't want to look past this team. Nothing would satisfy them more than to beat us on our field on Thanksgiving."

Demers' interception came after he read a screen pass perfectly out of E.J. Perry's hands, scooped it off the ground and sprinted down the sideline. Perry forced Demers out of bounds at the two.

"I saw someone coming out in the flat, he overthrew him and I picked it off," Demers said. "I got into the footrace with the quarterback. Huge momentum change for our team especially when they're driving like that. I'm not going to lie, I started cramping towards the end."

Andover put together a 98-yard drive for a touchdown to score first, but after that it was all Raiders. Central scored three touchdowns and controlled the line of scrimmage to take a 24-6 lead into the half.

Demers stole the show, reeling in a 36-yard touchdown pass from Mike Milano and running 80 yards on a sweep for another score.

"He's a big-play guy," Central head coach Chuck Adamopoulos said of Demers. "When we needed a little giddy up on offense he came through with a big play. The kid's love him. He's a scraper; he's a tough little bugger."

Milano was economical with his passes, but each one played a key role in Central's win. Milano only completed six balls but two of those were for touchdowns and three others went for first downs.

Milano also added a winding 30-yard touchdown run.

"He's just a gutsy, clutch kid," Adamopoulos said of Milano. "He's just a junior. I'm happy we've got him back next year."

After Andover's touchdown in the first quarter the Raider defense locked down. The running attack of Oliver Eberth and Jack Sylvester could not get through Central's front seven until late in the game when Adamopoulos had benched his starters.

Adamopoulos said that holding contain was the key and that his team did that.

"Discipline on defense on your backside pursuit has to stay along the line of scrimmage," Adamopoulos said. "The wind was a factor; when you were against it it was hard to throw the ball.

"The key was control the third quarter and we did that. The kids did a good job. Our defense has continued to play well."

Even in the postgame celebrations the word "Xaverian" was rarely heard as the Raiders wanted to savor beating their archrival.

"It's the seniors last time on this field," Demers said. "We wanted to leave our mark."
October, 23, 2013
Oct 23
12:58
AM ET
Here is our latest "Mr. Football Watch" following Week 7 of the 2013 season. Statistics can be sent to editors Brendan Hall (bhall@espnboston.com) and/or Scott Barboza (sbarboza@espnboston.com)
THE CONTENDERS*
Troy Flutie, Sr. QB, Natick
Completed 13 of 25 passes for 257 yards and four touchdowns, in a 42-19 win over Milton.
Brandon Gallagher, Jr. RB, Bridgewater-Raynham
Carried 24 times for 100 yards and a touchdown, in the Trojans' 20-14 loss to Barnstable.
Hayden Murphy, Sr. RB/WR, Barnstable
In the Red Raiders' thrilling win over Bridgewater-Raynham, carried 14 times for 124 yards and two touchdowns, including the game-winning 43-yard TD run with less than a minute to go.
Neil O'Connor, Sr. QB, Leominster
In the Blue Devils' 40-15 rout of Nashoba, completed 11 of 19 passes for 236 yards and three touchdowns, and also had 50 yards rushing with a fourth score.
Mike Panepinto, Sr. RB, Needham
Ran for 120 yards and two touchdowns in the Rockets' 33-6 win over Brookline.
Rufus Rushins, Jr. RB, Bishop Fenwick
Carried 19 times for 160 yards and two touchdowns in the Crusaders' 34-6 rout of St. Mary's of Lynn.
Andrew Smiley, Sr. RB, St. John's (Shrewsbury)
Completed 6 of 6 passes for 122 yards and two touchdowns, and added 91 rushing yards with two more scores, in the Pioneers' 34-9 win over Wachusett.
Cody Williams, Sr. QB, Springfield Central
Was 5 of 11 passing for 140 yards and two touchdowns, and added a rushing touchdown, in the Golden Eagles' 34-6 win over Putnam.
Kyle Wisnieski, Sr. QB, Mansfield
Completed 12 of 27 passes for 184 yards and a touchdown in the Hornets' 20-7 win over King Philip.
Isaac Yiadom, Sr. WR/DB, Doherty
Boston College commit caught a touchdown pass and threw for another, in the Highlanders' 28-0 shutout of Worcester North.
FIVE ON THE RISE
Emmanuel Almonte, Jr. QB/DB, Boston English
Totaled 254 yards of offense (190 rushing, 64 passing) and three touchdowns in the Blue & Blue's 24-6 win over West Roxbury. Through six games he is one of the state's leading rushers (1,025 yards, 8 TD, 9.5 yards per carry), in directing a read-option attack; he's also the team's leader in tackles (43).
Shaquille Anderson, Sr. RB, Cambridge
Led the way for the Falcons with 219 yards and three touchdowns on 17 carries in their 34-20 win over Medford.
Dan Henrickson, Sr. WR, St. Peter-Marian
Totaled 123 receiving yards and a touchdown in the Guardians' 14-13 loss to Shepherd Hill.
Chris Lindstrom, Jr. OL/DL, Shepherd Hill
Leading a double-wing rushing attack that has accounted for 1,661 yards, 21 touchdowns and 7.2 yards per carry through six games, the 6-foot-5, 245-pound interior guard has been a road grader so far for the Rams.
Jack Sylvester, Sr. RB, Andover
Carried 14 times for 198 yards and two touchdowns, and also hauled in a 15-yard TD catch, in the Golden Warriors' 49-32 win over Rhode Island power La Salle Academy. In the last weeks, he's gained 402 yards with five touchdowns; on the season, he's averaging 8.3 yards per carry.
TOP STATISTICAL LEADERS IN MASSACHUSETTS
Rushing
Chris Ahl, Sr., Millis/Hopedale – 1,098 yards, 14 TD
Mark Wright, Sr., Auburn – 1,084 yards, 12 TD
Emmanuel Almonte, Jr., Boston English – 1,025 yards, 8 TD
Zered McCoy, Sr., Ware – 963 yards, 7 TD
Rufus Rushins, Jr., Bishop Fenwick – 957 yards, 15 TD
Receiving
Zach Elkinson, Jr., Holliston – 662 yards, 10 TD
Nick Thyden, Sr., Quabbin – 643 yards, 9 TD
Jake Bradway, Sr., Belchertown – 638 yards, 7 TD
Dan Henrickson, Sr., St. Peter-Marian – 559 yards, 7 TD
Isaac Yiadom, Sr., Doherty – 534 yards, 3 TD
Passing
Dylan Kierman, Sr., Quabbin – 2,070 yards, 21 TD
Troy Flutie, Sr., Natick – 1,617 yards, 26 TD
Matthew Jeye, Sr., Holliston – 1,543 yards, 18 TD
John Rumney, Sr., Marlborough – 1,499 yards, 19 TD
Andrew Smiley, Sr., St. John's (Shrewsbury) – 1,320 yards, 15 TD
*Does not include players who had a bye week
September, 28, 2013
Sep 28
12:34
AM ET
By
Ryan Kilian
| ESPNBoston.com
ANDOVER, Mass. – "Nice bounce back win," Central Catholic head coach Chuck Adamopoulos told his team after the game.

After dropping a 40-21 contest to St. John's Prep last week, No. 14 Central Catholic (3-1) rebounded on Friday night with a 26-7 win over Merrimack Valley Conference rival and traditional Thanksgiving Day foe Andover (1-2).

"Last week we ran into a great running back," Adamopoulos said after the game. "He did not make us look good but we have played pretty good defense all season."

St. John's Prep running back Johnny Thomas ran for 228 yards and two touchdowns in last week's win over Central. Adamopoulos praised his defense's effort in focusing all week in practice and holding Andover's offense in check on Friday.

"We pride ourselves in our defense," Adamopoulos said. "We have played three very good teams so far this season."

Central held Andover to just 56 yards of total offense in the first half and shut the Golden Warriors out until the 1:45 mark of the fourth quarter.

Central was led by running back D'Andre Drummond-Mayrie, who gained 57 yards on 13 carries and did the majority of his work in the first half. Drummond-Mayrie also added a rushing touchdown and was a force on defense from his safety position. The Univ. of New Hampshire-bound senior had a fumble recovery and interception to go with a strong game playing against the run.

"He played well," Adamopulus said. "I liked his run support today. He was coming up well against the run."

Central also received a strong two-way effort from junior running back Markus Edmunds (8 rushes for 46 yards), who scored the first touchdown of the game on a 4-yard off tackle run, to start the second quarter.

"It was nice to get started early," Edmunds said. "We worked hard all week and came in ready to play from the start."

Complementing his work on the ground Edmunds stood tall from his linebacker position, leading a Central unit that did not budge on the line of scrimmage all night.

In a game of field position, Central Catholic took advantage of the short fields to help them mount four successful finishing drives.

"I thought our punt coverage was awesome," Adamopoulos noted. "We played on their side of the field all game, which is a good thing. Our punter Danny Wilson also came up with big punts for us when we needed them."

Mike Balsamo also played well for Central as he controlled a big fourth-quarter drive with his work on the ground, capped off with a 21-yard touchdown run.

Senior linebackers Will Eikenberry and John Oteri had strong games leading the Andover defense on the night, while freshman quarterback E.J. Perry hit Christopher Nicholas from three yards out for the only Andover score.

Milano bounces back strong: Junior quarterback Mike Milano dusted off some early-game rust and an early injury as he came back in to settled down and lead the Central offense.

"He is a tough competitor," Adamopoulos said of his veteran signal-caller.

Milano would hit wide receiver Cam Manning for a 42-yard strike in the second quarter that set up a Drummond-Mayrie 5-yard touchdown run that gave Central a 14-0 lead.

Milano also hooked up with senior Cody Demers on a 35-yard touchdown pass in the fourth quarter, as Demers would catch a sideline route and outrun the Andover defense to the end-zone.

Loss of Sylvester: Andover running back and return-man Jack Sylvester led the Golden Warriors offense on the night, despite being ejected in the third quarter after receiving his second unsportsmanlike conduct penalty of the game.

The controversial ejection, which occurred after a discussion with the official, took place at a tough time for the Golden Warriors as they were beginning to mount a drive against the stingy Central defense.

Sylvester gained 44 yards from scrimmage for Andover on the night and did a nice job in the return game.
September, 13, 2013
Sep 13
1:15
AM ET


ANDOVER, Mass. –- Steve DiCienzo stretched across the goal line to end the first overtime, and the game, as his Boston College High teammates stormed the field in celebration at Lovely Memorial Field. Only then, after a disappointing open to the season least week, could the visiting Eagles truly exhale.

"There's not a better feeling than that. It was just awesome," the senior fullback and Abington resident said of his game-winning score, a six-yard dive up the middle that gave the Eagles (1-1) a thrilling 16-10 overtime win over host Andover (1-1). "I couldn't do it without the hogs up front, I just followed their butts and they got me in.

"It was awesome, though. We've been working so hard for this win. It's great to come back after that tough loss."

A week ago, the Eagles came into North Attleborough High with high aspirations, coming off a disappointing 2012 campaign. But for the second year in a row, they fell victim to the upset by the Red Rocketeers, a 217-yard night rushing by tailback Rob Harnais seemingly wasted.

If last week was a much-needed win, then tonight was simply a must-win. And for a while, it looked like the Eagles might fall to a similar fate after surrendering 10 straight points in the fourth quarter.

After Ryan Payne's 30-yard field goal cut BC's lead to 7-3 with 10:11 to go, the Warriors' Brendan Slattery fell on an onside kick, wrestling his way into possession. Andover fumbled the ball away seven plays into its drive; but not to be outdone, BC gave them the ball right back just five plays later.

Looking for tight end Connor Walsh in the boundary, quarterback Sean Holleran was picked off at the BC 45 by Will Eikenberry. The 6-foot-2, 210-pound senior linebacker broke to the home bench and followed two kick-out blocks up the left sideline, diving over the pylon for the pick-six and a 10-7 lead with 4:35 to go. It marked the fifth turnover of the night for BC, and ninth combined for both sides.

After a favorable return, with an extra 15 yards tacked on from a penalty, the Eagles marched inside the red zone, aided In part by an 18-yard sweep from Harnais (16 carries, 75 yards), and set up Jack O'Brien for a 31-yard field goal to tie it at 10 with 2:34 to go.

Andover called three straight wide zones to Eikenberry, then stalled, then missed a 42-yard game-winning field goal attempt with no time left in regulation to force overtime.

In the overtime, Andover took the ball first and was immediately met with increased pressure, with quarterback Oliver Eberth intentionally grounding on fourth down to give BC the chance to win.

Three plays later, DiCienzo found paydirt. And it was sweet.

"We kinda shot ourselves in the foot last week, and it happened again this week," said DiCienzo. "It was relieving getting this win. We definitely needed this one."

Said head coach Joe Gaff, "You can't take anything away from that Andover team, please. Their effort tonight, this was a great high school football game. We made some mental mistakes."

Turnover Troubles: This wasn't a clean game by any stretch, with the teams combining for nine turnovers, five from BC High. One would venture a guess that ball security will be a big emphasis in the coming weeks for the Eagles, who fumbled the ball away four times. On the flip side, Andover's quarterbacks are going to have to work on scanning the field better, as they committed two interceptions.

However, credit has to go the other way as well. It's no secret BC High head coach Joe Gaff likes to deploy a Cover 1 and challenge the opposition's receivers mano a mano, but the Eagles also showed some nifty Cover 3 looks against trips formations. BC's linebacking corps in particular did a good job maintaining their zone responsibilities, forcing bad throws.

Going the other way, not enough can be said about Eikenberry, a prep school transfer who was made an immediate impact in the Warriors' program. Of the Eagles' four fumbles, Eikenberry forced two of them, both with sound tackling fundamentals. At 210 pounds and with a long reach and a lacrosse-like skill set, expect him to continue being a defensive impact. Right now, he is arguably their most important defender.

Lockdown in the trenches: Andover took the ball first in overtime, from 10 yards out, with four chances to get into the end zone. When all was said and done, the Warriors only moved backwards, the final chance a fourth down from the 25 that ended in an intentional grounding penalty.

Credit defensive ends Darren Amado and Evan Burton for playing excellent containment responsibility, maintaining a depth that did not open up running lanes for Eberth, and then flushing him out of the pocket, eventually wrapping him up for losses.

"We widened our ends out a bit," Gaff said of the overtime defensive stand. "We really made our defensive line very active today, with a lot of stunts. We didn't just want to line up and give that offensive line they have...You know, just be able to pass block. We moved a lot today, I thought that helped our D-line a lot."

Get Big: It will be interesting to watch how both BC High and Andover each integrate their big-bodied tight ends as the season progresses.

The trend right now with big-bodied tight ends is to flex them out on the perimeter and create mismatches on size and strength, a la the New England Patriots' Rob Gronkowski. Walpole toyed with this strategy last year, splitting the 6-foot-5, 260-pound Chris Collins out wide to the sideline at times, and saw very favorable results.

Mansfield's 6-foot-5 junior Brendan Hill may arguably be the best in state at this discipline right now. He is a tight end by definition, but in most games will play primarily in the slot or at split end. In last week's upset of Dunbar (Md.), Hill led the team with eight catches for 109 yards and a score.

In Andover's spread scheme, which operates primarily out of 2-by-2 and trips looks, there is an incredible mismatch developing. Six-foot-7, 220-pound sophomore Alex Marshall is already committed to the University of North Carolina for lacrosse, but has big-play capability in head coach E.J. Perry's no-huddle offense just on size alone.

In the second quarter, Marshall hauled in a 28-yard pass on the run; he found himself targeted more in the second half, only to be over or under-thrown. With his long arms and good sense of leverage, Marshall also excelled at perimeter blocking against the Eagles.

BC High's Connor Walsh, meanwhile, figures to be integrated more into the offense as the weeks progress. Lining up both tight and split out, the 6-foot-3, 220-pound Milton resident was targeted six times and recorded three catches for 44 yards.

"Walshy, the kid worked his butt off all summer," DiCienzo said. "Just to see him making plays is unreal. He deserves it. He worked his butt off. I work out with the kid, he 's unreal."

BC HIGH 16, ANDOVER 10 (OT)

BCH 0 7 0 3 6 --- 16
AND 0 0 0 10 0 --- 10

Second Quarter
B - Steve DiCienzo 6 run (Marco King kick) 5:56

Fourth Quarter
A - Ryan Payne 30 field goal 10:11
A - Will Eikenberry 45 interception return (Payne kick) 4:46
B - Jack O'Brien 31 field goal 2:28

Overtime
B - DiCienzo 6 run
November, 28, 2012
11/28/12
12:14
AM ET
By
Roger Brown
| ESPNBoston.com
LOWELL – His football team was held to 66 yards of total offense and failed to score in the first half of Tuesday night's Eastern Massachusetts Division I semifinal against Andover, so St. John's Prep coach Jim O'Leary exited the locker room at halftime with a simple plan: Give the ball to Jonathan Thomas.

Thomas, a junior running back, ran for three second-half touchdowns to propel St. John's Prep to a 21-0 victory at Cawley Stadium.

Thomas finished the game with 208 yards rushing on 28 carries.

"They take chances [on defense]," O'Leary said. "So at halftime the coaches made some adjustments in our blocking scheme. We came out and knew what we were going to do. We were going to pound it at them.

"He can play. There's a reason he's a Division I scholarship player, and it showed tonight. We're gonna put the ball in the hands of people who can make plays."

Thomas scored on runs of 1, 19 and 47 yards. His 1-yard touchdown run opened the scoring with 3:31 left in the third quarter. His two other touchdowns came in the fourth.

Thomas gained 184 of his 208 yards after halftime.

"We're a second-half team, and we knew what we had to do," Thomas said. "We came out and executed."

The game's turning point seemed to come late in the third quarter, after a 22-yard completion from Andover quarterback C.J. Scarpa to Will Heikkinen brought the ball to the St. John's Prep 12-yard line. Before Heikkinen was brought to the turf, however, Alex Moore forced a fumble and scooped up the loose ball.

The Eagles then drove 90 yards in nine plays and took a 14-0 lead when Thomas scored from 19 yards away and Stephen Camaro added the second of his three point-after kicks. Thomas accounted for all 90 yards in the drive. He gained 71 yards on the ground, and caught a 19-yard pass.

It was victory No. 200 for O'Leary. It also earned St. John's Prep (10-1) a berth in Saturday's Division I Super Bowl. St. John's Prep will face Brockton (9-3) at Bentley University at either 2 p.m. or 6 p.m.

Brockton advanced by beating Weymouth, 33-7, in Tuesday's other semifinal. St. John's Prep defeated Brockton 27-12 during the regular season.

"Coach O [O'Leary] is a great coach," Thomas said. "I'm happy for him.

"We still have a lot of work to do. We have one more game, and I'm ready for it.

POINTLESS EXERCISE
Andover moved the ball inside the St. John's Prep 15-yard line four times in the loss. Two of those drives ended with a missed field goal.

"I take responsibility," Andover coach E.J. Perry said. "We should have been able to punch it in, and that's my fault."

It was the third time St. John's Prep has shut out an opponent this season. Andover scored at least 40 points in six of its 11 regular-season games and entered the contest averaging 40.8 points per game

"Against this team here you can't let them have the home run," O'Leary said. "You just can't give up the big play. When they get down close, our athletes are very, very good. From the 30 in, we started running man to man because we can run with them there. Then we can put extra people in the box and bring pressure."

Thomas has played sparingly on defense this season, but was used there Tuesday night. He made a big hit on Scarpa on a fourth-and-five play in the fourth quarter. Scarpa was held to a 1-yard and Andover turned the ball over on downs. Two plays later Thomas powered his way through the line for his 47-yard TD run.

"We let up a lot of yards, but when other teams get into the red zone we don't let them score," St. John's Prep defensive back Lucas Bavaro said. "We knew we had to step it up because they were knocking on the door a couple times in the first half."

FOOTNOTES
Scarpa completed 16 of 28 passes for 162 yards. He was intercepted twice. Scarpa entered the contest with 32 touchdown passes and five interceptions this season. … Andover running back Jack Sylvester gained 146 yards on 15 carries. … St. John's Prep has won eight games in a row since dropping a 19-7 decision to Everett. … The Eagles will be making their first Super Bowl appearance since 2010.

ST. JOHN'S PREP 21, ANDOVER 0
St. John's Prep 0 0 7 14 – 21
Andover 0 0 0 0 –0

Third Quarter
SJP—Thomas 1 run (Stephen Camaro kick), 3:31.

Fourth Quarter
SJP—Thomas 19 run (Camaro kick), 7:12.
SJP—Thomas 47 run (Camaro kick), 4:48.
November, 22, 2012
11/22/12
8:06
PM ET
By
Tom Layman
| ESPNBoston.com
ANDOVER, Mass. -- C.J. Scarpa isn't the biggest, fastest or even your most prototypical quarterback when you first take a look at him.
[+] Enlarge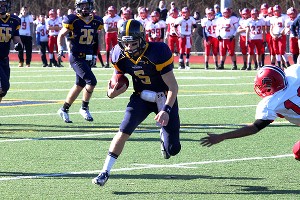 Ryan Kilian for ESPNBoston.comAndover's CJ Scarpa threw his first pick in over a month and half, but led the Golden Warriors to victory.
But if you make a short list of the best quarterbacks in Eastern Mass., you would be hard-pressed not to find his name at the top or right near it.
Scarpa was brilliant in the second half of Andover's 22-19 victory over Central Catholic (9-2) on Thanksgiving Day at Lovely Stadium. The 5-foot-9-inch, 162-pound senior quarterback finished the day 16-of-29 for 233 yards with two touchdowns and one interception.
In the second half alone, Scarpa was 12-of-17 for 128 yards and he was near picture-perfect on the first drive of the second half that basically sealed the victory, and the Merrimack Valley Conference tiebreaker, for the Golden Warriors when he picked up his lone rushing touchdown of the day.
The quarterback-head coach relationship has grown over the past couple of years between E.J. Perry and Scarpa, and this game was a perfect example of that.
"Early in his career we used to have discussions," Perry, whose team will take on St. John's Prep in the first round of the Div. 1 playoffs, said of his quarteback, "and now I have trust."
Scarpa showed the ability to connect on the long ball — like when he struck with Cam Farnham for a 77-yard touchdown in the first half — and the medium to short distance throws. The dink-and-dunk nature of taking what the defense gave him was on display on the Golden Warriors 15-play, 80-yard drive on their first possession of the second half.
Scarpa came out and divvied the ball to Will Heikkinen, Andrew Deloury, and Jack Sylvester out of the backfield. He connected with Heikkinen for an 8-yard connection on a crucial fourth-and-2, and five plays later he used his legs to get in the end zone for the 21-13 lead.
Perry went to a little bit of trickery on the extra point attempt as Scarpa pulled the hold back and fired it to a wide open Jake Flaherty for the two-point conversion pass and the 22-13 lead.
"Just getting the balls to the guys out quick," Scarpa said of the second-half tempo. "Our tempo was obviously spectacular (on that drive). It was awesome to get the tempo up, because we knew if we did they would get a little bit tired.
"[The coaching staff] probably called 100 percent of the plays [on that drive]. I just improvised."
When he needed to make connections late in the fourth quarter he did, connecting on two third-and-longs to keep the drive going and keep the Raiders from getting the ball back.
MISSED CHANCES FOR RAIDERS
This game came down to two chances for the Raiders' offense inside of red zone that never surfaced into touchdowns.
Ryan Doherty blocked a Golden Warriors punt and set up the Raiders inside the 20-yard line. The offense couldn't generate a first down and had to settle for a 39-yard field goal off the foot of Thomas Jenoski.
The Raiders took the opening kickoff inside of Golden Warriors territory, and again, the offense couldn't get across the goal-line and had to settle for a 30-yard field goal from Jenoski.
Two opportunities inside the red zone and the Raiders settled for six points instead of potentially 14. In a 3-point game, those situations need to be capitalized on.
"It's a weird game," said Raiders coach Chuck Adamopoulos. "I thought we played well defensively and I thought offensively we did some good things at times. We just didn't do enough to win a game like this."
ANDOVER 22, CENTRAL CATHOLIC 19
Central Catholic (9-2) 3 – 7 – 3 – 6 - 19
Andover (10-1) 7 – 7 – 8 – 0 – 22
CC — Thomas Jenoski 39 FG
AN — Cole Organisciak 9 pass from C.J. Scarpa (Oliver Eberth kick)
CC — Ryan Doherty 14 pass from Michael Milano (Jenoski kick)
AN — Cam Farnham 77 pass from Scarpa (Eberth kick)
CC — Jenoski 30-yard FG
AN — Scarpa 9 run (Jake Flaherty pass from Scarpa)
CC — Michael Barry 25 pass from Milano (kick failed)
November, 6, 2012
11/06/12
11:55
AM ET
By
John McGuirk
| ESPNBoston.com
ANDOVER, Mass. -- Last Wednesday, a good hour before the start of practice, Andover quarterback C.J. Scarpa was huddled inside the team meeting room along with his coaches, discussing and strategizing various offensive schemes on a large white board.
While the rest of his teammates began filtering into the stadium locker room next door a short time later to dress, Scarpa, already suited up, was using this extra time to work on the intricacies of his trade.
This routine is nothing new for Scarpa. A noted student of the game, the senior is constantly looking for ways to make himself better than he already is.
[+] Enlarge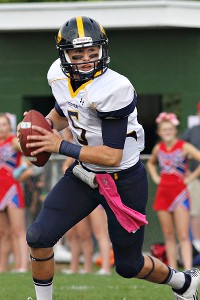 Tracy Layne/Andover Andover quarterback C.J. Scarpa is just 5-foot-8 but has thrown for 2,088 yards, 27 touchdowns and just four interceptions through nine games this season.
Now in his second season guiding the Golden Warrior offense, Scarpa is regarded by many as one of the best in the state at his position. His development over these past two years has been nothing short of remarkable.
"C.J.'s sophomore year was his development year," said Andover head coach E.J. Perry, now in his third season. "He did a tremendous job at the junior varsity level but he broke his finger in the 10th game that year. If that had not happened, he might've gotten a few snaps at varsity in our Thanksgiving Day game and playoff game that season because he was coming on so rapidly."
Although the broken finger served as a mere setback for him, Scarpa spent the following off-season attending various quarterback camps as well as putting in his own individual work. As a result, it allowed his skills to flourish immensely.
Last season, Andover finished 7-4 with Scarpa tossing 21 touchdowns. This year, he has already thrown 27 with only four picks and 2,088 yards as the Golden Warriors stand at 8-1 and possess a shot of earning a berth in the Division 1 Eastern Mass. Super Bowl.
"No doubt his personal accomplishments have been truly amazing," Perry said. "But what I tell C J all the time is the only stat that matters are wins. I tell him that is how you are truly measured as a quarterback."
What makes these feats all the more amazing is Scarpa is 5-foot-8 and 160 pounds. While he has heard his fare share of naysayers who say he is to small to play the position, Scarpa refuses to listen to any of it.
"Yeah, I've heard it from a bunch of people," Scarpa said. "But I've never doubted myself. My thinking is don't let anyone say you cannot do it. The difference between 5-8 and 6-4 is obviously the height. But if you are 5-8, like me, then you need to get into the film room, study and get into the weight room and be as strong as you can. I've leaned to never let anyone doubt you."
Scarpa says ongoing conversations he has had with former Brockton standout quarterback Tom Colombo has helped him a tremendously. Colombo, himself small in stature standing 5-foot-7, had heard the same criticisms while lining up behind center in the late 1980's for the Boxers. All Colombo did was become the state's all-time leader in touchdown passes thrown (85), before the mark was eclipsed a year ago by Everett's Jonathan DiBiaso. Upon leaving Brockton, Colombo went on to have a sensational career at Villanova University.
"Just talking with him and hearing about what he did at the high school and college level, and his height being simlar to mine, he just told me to ignore the criticisms and that I could do it too just like he did," said Scarpa, who will play at Elon College next season. "That really meant a lot to me."
Because of Scarpa's ability to read defenses so quickly and make adjustments on the fly, the Golden Warriors have effectively been able to run it's up-tempo-style offense to almost near-perfection.
"The biggest thing C.J. has is the mental aspect to the quarterback position," said Perry. "The offense we run here is quick and fast and you need to pick up blitzes and understand the routes our receivers are going. In this type of offense a lot of kids may have difficulty picking these things up. But C J understands the entire game and runs it well. What we tell C J in this offense is that it's not about the last play but the next play. If we lose two yards or the coaches or him make a bad read who cares. We just move on to the next play."
Perry's devotion to Andover's no-huddle, spread offense should come as no surprise to anyone. His brother John, head coach at Merrimack College, runs a similar style. So too does his other brother James, a former Brown University exceptional quarterback who still holds most of the Ivy League passing records, and is now the offensive coordinator at Princeton University.
"C.J. understands this offense and knows what everyone is doing on every play, including our offensive line," said Perry. "As a coach, that is the biggest concern you have with a quarterback because in our offense sometimes we have five guys speard out running various routes and you want to be sure the quarterback knows where everyone is going. Fortunately for us, C J does."
Adds Scarpa, "I know I can read defenses better than other kids. You understand a lot more with each game and each play. I think it is sometimes better that there really isn't a lot of time to think in-between plays. You just go out there and whatever you see you throw the ball in that direction. Fortunately I have some great players around me and some great coaches who have helped me along the way."
Andover has a plethora of receivers for Scarpa to choose from. Cam Farnham, Will Heikkinen, Andrew Deloury, Cam Davey and running back Jack Sylvester have all proven their worth catching the football many times over this season.
"I am definitely confident in my abilities," Scarpa said. "I know this is such a great team. With everyone here putting in the needed time and getting to know everyone and what they can do has been truly special this year. I feel everyone here believes (a Super Bowl) can happen and for me, that's the most important thing. Here, everyone believes we can do it and understands to never get complacent. As a senior you only get one shot at this so I believe you might as well do it the right way. As a team that's what we have been doing."
October, 27, 2012
10/27/12
1:03
AM ET
By
Andy Smith
| ESPNBoston.com
CHELMSFORD, Mass.- Conventional football wisdom will tell you that if a team loses its placekicker to an injury, many aspects of the team's performance will change: field goals and extra points get exponentially tougher, and kickoffs are no sure thing, which could give a team quality field position to start drives.

That wasn't the case Friday for Andover. It scored two quick touchdowns in the first, and successfully converted the ensuing two-point plays, which put Chelmsford back on its heels and forced it to play catch-up the rest of the game.

The Lions could not catch up, eventually falling 42-22 to its Merrimack Valley Conference foe.

Andover's (8-0) Mark Zavril, the team's usual kicker, watched from the sideline in street clothes while his team rolled in its first league game of the season.

"We might have gone for the two, even if our kicking game was there, because we've been working on that," Andover head coach E.J. Perry said. "We're about 65-70 percent with the two-point and when you do the numbers, it's almost better to go for the two. We also like to flip the numbers so we get a two-score advantage. They came toe-to-toe in the first quarter, but then we opened it up and made the twos and did a nice job."

Chelmsford (4-4) was caught off-guard on the kickoff after the first Andover touchdown when the Golden Warriors sent a squib up the middle and recovered the loose ball. It scored a minute and a half later to put the Lions behind by 16.

Chelmsford quarterback John Campsmith (11-of-22, 138 yards, 2 TDs, 1 INT) answered on the next drive when he hit Greg Johnson on a 34-yard bomb down the right sideline. Johnson, a speedy wide receiver, split bracket coverage and outran both defenders to get the ball and get in the endzone.

In the end, the Andover no-huddle, spread offense proved to be too much for the home team to handle. C.J. Scarpa finished the game 14-of-23 for 203 yards and 3 touchdowns, each to a different receiver. He also had a two-yard rushing touchdown in the second quarter.

--- While the Andover offense, and many other offenses in the Merrimack Valley for that matter, are known for their propensity to put up points, its defense also made a mark on the game Friday.

After allowing Campsmith to run for a first down on a third and 12 in the first quarter, it seemed like momentum had swung into Chelmsford's favor and the game could've been well on its way to a shootout. Then on the next play, Campsmith tossed a bubble screen out to his wide receiver, but the ball bounced in the dirt. The receiver thought it was an incomplete pass, but because it was a sideways pass, the ball was live. Seeing this, the Andover defense jumped on the ball, killing the drive and Chelmsford momentum.

Andover scored on its opening driving after halftime, creating a 20-point deficit. On the first play of the ensuing Chelmsford drive, Chas Haseltine picked off Campsmith. The offense scored on its next possession, which turned what was a two-possession game at halftime into a four-possession game in two and a half minutes of game time.

"The defense doesn't really get talked about a lot because our offense is so good," Scarpa said. "Our defense is one heck of a defense. They kept us in that Xaverian game (a 15-13 victory), and we just knew our defense was pretty good. We practice as hard as we can against them, and they give us great looks and we give them great looks."

--- Friday marked the first game in a four-week stretch when Andover plays league opponents. While it came into the latter part of the season undefeated, the team and the coaching staff know now is put-up or shut-up time for them.

"We told them coming in, 'We're starting 0-0, congratulations on being 7-0, but it's time to go to work," Perry said. "If you were in the huddle, one of the kids jumped in and said, '1-0,' and I like to hear that from our players."

The team does feel confident, with the season steadily moving towards Thanksgiving and the playoffs.

"Eight-and-oh is great, but as everyone knows now, we're 1-0 in the MVC, so we're basically 1-0," said Cam Farnham (3 catches, 22 yards, 1 TD). "We know if we win out, we're going to the playoffs. We've got Lowell, Billerica, Central, and honestly, I think our conference is very tough but I think if we keep coming together as a team and keep battling hard, I think we'll be in good shape."

--- Andover's quarterback C.J. Scarpa is anything but conventional. At 5-foot-8, he looks more like a scat back than a quarterback. Stand next to him, and you can not help but wonder how he can read the field beyond his offensive linemen. However, after Friday, he has tossed over 20 touchdown passes and is a senior captain of a team considered very much capable of winning the Merrimack Valley Large.

"Being 5-8 makes me me, so I just take it as it is," he said. "I'm not going to try and be anyone I'm not. I'm 5-8, so be it. My parents aren't tall, so I just take it how it comes."

NO. 13 ANDOVER 42, CHELMSFORD 22
AND --- 16 6 20 0 --- 42
CHE --- 8 0 7 7 --- 22

1st quarter
A - Andrew Deloury 37-yard pass from CJ Scarpa (Deloury 2-point pass from Scarpa good)
A - Will Heikkinen 21-yard pass from Scarpa (Heikkinen 2-point pass from Scarpa good)
C - Greg Johnson 34-yard pass from John Campsmith (Johnson 2-point pass from Campsmith good)

2nd quarter
A - Scarpa 2-yard run (Scarpa 2-point pass to Deloury no good)

3rd quarter
A - Jack Sylvester 12-yard run (Deloury 2-point pass from Scarpa good)
A - Cam Farnham 10-yard pass from Scarpa (Nolan Leblanc kick no good)
A - Brandon Marti 8-yard run (Leblanc kick no good)
C - Connor Brimley 4-yard run (Charles Calenda kick good)

4th quarter
C - Johnson 8-yard pass from Campsmith (Calenda kick good)