Boston High School:

Jacquil Taylor
January, 7, 2014
Jan 7
12:05
PM ET
McDonald's has announced the nominees for the 2014 McDonald's All American Games, and fifteen student athletes from New England are on the list, including nine from Massachusetts.

The regional nominees are:

MASSACHUSETTS
Patrick Benzan, Roxbury Latin
· Alec Brennan, Milton Academy
· Matt Cimino, Worcester Academy
· Malik James, Notre Dame Prep
· Kaleb Joseph, Cushing Academy
· Tyler Nelson, Central Catholic High School
· Jeff Spellman, Beaver Country Day
· Jacquil Taylor, Beaver Country Day

NEW HAMPSHIRE
· Abdul Malik-Abu , Kimball Union Academy
· Isaac Copeland, Brewster Academy
· Chris McCullough, Brewster Academy
· Jared Terrell, Brewster Academy
· Kevin Zabo, Brewster Academy
· Mike LeBlanc, New Hampton School

RHODE ISLAND
· Bonzie Colson, St. Andrew's School
· Kealen Ives, Classical High School
January, 21, 2013
1/21/13
2:30
AM ET
By
Terrence Payne
| ESPNBoston.com
SPRINGFIELD, Mass. -- Worcester Academy's Rene Castro grabbed an errant pass and connected on a 3-pointer to give the Hilltoppers a two-point lead with 3:44 remaining in the first half. Worcester would hold the lead for the remainder of the game, countering several Wilbraham & Monson threats, earning a well-deserved and much-need 69-62 win to conclude Day 4 at the 2013 Hoophall Classic in Springfield.

Worcester built a five-point lead heading into halftime and started the second half on a 10-4 run, with several easy baskets coming in transition. Matt Mobley and Rene Castro on two separate possessions found the trailing Darryl Reynolds for layups. The early half surge but Worcester up 37-27.

"We were strong on defense," said Worcester senior Matt Mobley. "We had a lot of help defense, we didn't let them get to the middle."

Luis Montero, Kerem Kanter, and Curtis Cobb provided much of the offense in the second half to keep the Titans within striking distance. Montero scored five straight, followed by a bucket by Kanter to cut the lead to 52-47. Worcester responded with a coast to coast finish by Mobley and a Castro layup.

Kanter and Cobb combined for a 6-0 run with 3.5 minutes to go, but Matt Panaggio connected on a three to put the lead up to 59-53.

"I think we just had breakdowns," said Wilbraham & Monson head coach Chris Sparks. "We were able to guard them in the half court, but I think where we broke down was in transition."

Worcester had a four point advantage on the boards, including two different instances late in the game when Worcester secured an offensive rebound off a missed free throw.

"When you're two possessions away and you give up two offensive rebound that kills you," said Sparks.

Worcester shot 15-of-31 from the free throw line, leaving the door open for a WMA comeback. The Titans couldn't take advantage of second chance opportunities and coughed the ball up down the stretch.

"We didn't shoot the ball well from the free throw line," said Sullivan. "We kept fighting."

Mobley had a team-high 17 points, to go along with four rebounds and four assists. Castro added 15. Goodluck Okonoboh had 11 points and 10 rebounds.

Worcester has won the first two games against Wilbraham & Monson this season. They meet again on Feb. 9 at Worcester.

Bounce-back win for Worcester: Worcester needed this win following an upset loss to Beaver Country Day the previous evening, as part of the BABC Prep Classic. Beaver Country Day defeated Worcester 71-69, even though junior center Jacquil Taylor went down with a reported ankle injury.

A day later, the Hilltoppers had to forget about that game and get back on track against a talented Wilbraham & Monson team.

"We got away from that last night playing Beaver Country Day," said Sullivan. "With Taylor going down, which is a shame, that team rose up and beat up. But tonight was a night with a quick turnaround. Being able to in the gym, right away, without having that to fester too long was great."

This bounce back win not only kept the Hilltoppers undefeated in league play, but came at the right time for Worcester Academy. On Wednesday, Worcester travels down to Connecticut to take on Class AAA opponent, St. Thomas More.

Kerem Kanter reclassifies: Back in December, during the BasketBull Hoops Fest, Wilbraham & Monson forward Kerem Kanter landed scholarship offers from Boston College and Pittsburgh.

On Friday, through Twitter, he announced he would reclassify and join the Class of 2013.

"I just thought it was time to move up," said Kanter. "I felt like I will be ready by the time next year comes."

Kanter, the younger brother of Utah Jazz center Enes Kanter, says he will decide on a college sometime in April. The 6-foot-7 forward is still working on visits, but intends on taking several before he makes a commitment. He listed Miami (Fla.), Auburn, Tulsa, and Drexel as other schools involved in his recruitment.

Kanter has been impressive this season for Wilbraham & Monson with his footwork and ability to score around the basket. Due to the size of the Titans, Kanter has also been able to step away from the basket and show off his shooting touch.

He joins Kamali Bey as WMA seniors still on the board.
September, 19, 2012
9/19/12
11:55
AM ET
By
Brendan Hall
| ESPNBoston.com
Beaver Country Day Class of 2013 shooting guard Maurice Taylor verbally committed to North Carolina A&T for the 2013-14 season, his father Maurice Taylor Sr. announced on Twitter last night.

Taylor transferred into the Chestnut Hill-based school last year along with his brother Jacquil, after three seasons at Cambridge Rindge & Latin. Maurice re-classified to the 2013 class, while Jacquil -- a 6-foot-9 center who was named to ESPN Boston's inaugural All-State Team -- moved to 2014. In his first season at Beaver in 2011-12, Maurice averaged 10.2 points on a squad that captured the NEPSAC Class B title.
July, 10, 2012
7/10/12
1:27
PM ET
By
Brendan Hall
| ESPNBoston.com
Could Beaver Country Day's Jacquil Taylor be the next Boston-area big man to break out?
ESPN basketball recruiting analyst and Northeast guru Adam Finkelstein thinks so. Today on ESPN's national recruiting blog, Finkelstein checks in with the big man, who stood out at the Elite 75 showcase, Siena College Elite Camp, and Hoop Mountain Super Week I, in succession.
The 6-foot-9 Taylor was an
ESPN Boston All-State selection
in 2011 as a sophomore at Cambridge, before transferring to the Beaver campus in Chestnut Hill and re-classifying to the Class of 2014.
You can read the entire entry
HERE
. Below is an excerpt:
Taylor stood out as one of the top players in the field, leading his team to the camp championship and claiming most outstanding player honors for the week. He also earned the award as the camp's best shot-blocker.

While Taylor holds scholarship offers from Boston University and Siena, the left-handed big man has qualities that are sure to intrigue high-level college coaches -- such as his long and athletic 6-foot-8 frame, a floor game that is as mobile as it is bouncy, an instinct for blocking shots and an evolving offensive skill set.

He also reports interest from the likes of Stanford, Michigan, Washington and Boston College, but he's yet to land his first high-major offer. One of the reasons why Taylor is still flying just a bit under the radar is that he has spurned some of New England's most notable AAU programs in favor of teaming up with his brother, Maurice Taylor Jr., to play for his father on the Prodigy Basketball Club.
June, 13, 2011
6/13/11
5:44
PM ET
ESPN's Adam Finkelstein checks in today with a recap of last weekend's
Rumble in the Bronx
, held at six different courts across the Bronx (new NCAA rules prevented the showcase from being played on the campus of traditional host Fordham University).
Cambridge's
Jacquil Taylor
and Northfield-Mt. Hermon's
Jeremy Miller
were two players Finkelstein singled out from Eastern Mass., calling them "two young post prospects from the state of Massachusetts who both showed glimpses of stardom."
Meanwhile Notre Dame Prep's
Ricardo Ledo
, a Providence native and the No. 13 Class of 2012 prospect, was one of the most dominant players on the floor. Finkelstein writes:
His individual offensive skills were head and shoulders above any other player in the field. He showed his dominance in spurts, taking over games whenever he chose to assert his will. His most consistent weapon was his jumper, which was his Achilles' heel at one point in his development, punishing defenders for going under ball screens and shaking his man enough to drill contested pull-ups from long range.
March, 25, 2011
3/25/11
5:09
PM ET
STARTING FIVE

Guard – Samir McDaniels, Sr., New Mission
The 6-foot-3 McDaniels was the steady hand that rocked the Titans' Division 2 state championship season. He averaged 18.8 points, 12.7 rebounds and 3.1 steals as the Titans became the first team in MIAA history to win the Division 4 and Division 2 titles in back to back seasons. McDaniels recently committed to the University of New Haven for next fall.

Guard – Pat Connaughton, Sr., St. John's Prep
The Notre Dame-bound Connaughton, currently ranked No. 96 in the ESPNU 100, once again saved his best performances for the postseason as the Eagles won the Division 1 state championship for the first time in school history. Connaughton averaged 21.8 points, 17 rebounds and 6.5 assists and took home the Massachusetts Gatorade Player of the Year award. Connaughton, who will play both baseball and basketball for the Fighting Irish next year, is ranked No. 77 in Baseball America's list of Top 100 high school prospects.

Forward – Richard Rodgers, Sr., St. John's (Shrewsbury)
Considered one of the best athletes to come out of Central Mass in the last two decades, the 6-foot-5, 235-pound Rodgers was a monster in all facets of the game as the Pioneers made their fourth straight appearance in the Division 1 state final. The senior, who will continue his football career next fall at Cal as a tight end, averaged 17.8 points, 10.8 rebounds, 4.5 blocks, 4.1 steals and 3.4 assists in his final season in Shrewsbury. He is also the son of Holy Cross defensive coordinator and former Cal great Richard Rodgers, and the cousin of Buffalo Bills cornerback Jairus Byrd.

Forward – Jake Layman, Jr., King Philip
The 6-foot-7 Layman lived up to his potential high-major billing in his junior season with the Warriors, helping them end a 15-year postseason drought and set a school single-season record for wins (17) before bowing out in the Division 2 South finals. Layman averaged 24.6 points, 13.6 rebounds, 4.6 blocks, 3.1 steals and 2.3 assists; he also took home Hockomock League MVP honors. Layman's 1,196 points at KP are the most by any boy in school history. He currently holds offers from UMass, Providence, Boston College, Notre Dame, Texas A&M and Brigham Young.

Center – Jimmy Zenevitch, Sr., Central Catholic
A force in the middle the last three seasons for the Raiders, the 6-foot-7 Zenevitch lived up to the hype headed into his senior season. He closed out his career with a strong finish, averaging 19 points, 11 rebounds, four assists and two blocks, and stretched many a defense with his ability to post up and shoot from long distance. He earned Merrimack Valley Conference All-Star nods, and his Raiders went 39-1 in MVC play the last two seasons. Zenevitch, whose older sister Kate is a freshman forward for Boston College, will continue his career next fall at Division 2 Assumption College.
BEST OF THE REST

Jaylen Alicea, Sr., Lawrence
Few had as explosive a postseason as the 5-foot-8 Alicea, who averaged 30.4 points in five playoff games as the Lancers became the first No. 15 seed since 1998 to advance to the Division 1 North final. The run included a 35-point effort in a shocking first round upset of No. 2 seed Cambridge, followed up the next game with 38 on Westford. For the season, Alicea averaged 19.3 points, four assists and three steals and earned a Merrimack Valley Conference All-Star nod.

Travonne Berry-Rogers, Sr., Lynn English
The 6-foot-1 Berry-Rogers made a name for himself as one of the North Shore's best finishers in his senior campaign, which ended in a D1 North semifinal loss to Lawrence but with some Northeastern Conference recognition. The senior, who was also an NEC All-Star in football, averaged 23.5 points, five assists and five rebounds to lead the 21-3 Bulldogs. He plans on pursuing basketball at the next level, and is considering several Division 2 and Division 3 colleges.

Joe Bramanti, Sr., Andover
The 6-foot-2 Bramanti was the Golden Warriors' prized horse in 2010-11, and they rode him to a 15-5 record and an appearance in the Division 1 North tournament. Bramanti averaged 22.3 points, six rebounds and four assists in his senior season, in which he took the Merrimack Valley Conference's MVP honors by an almost unanimous decision. Bramanti is currently looking into pursuing a post-graduate season at a prep school.
Grant Cooper, Sr., Northampton
Cooper, a 6-foot-3 forward, played an instrumental role in the Blue Devils' Division 1 Western Mass championship season, and established himself as one of the premier forwards in the western part of the state. He finished his career at Hamp on a high note, averaging 11 points, 12 rebounds, 4.5 assists this season while also posting a field goal percentage of .550.

Marco Coppola, Sr., Watertown
The 6-foot-1 Coppola was instrumental to the Raiders' run to their third Division 3 state title game in six seasons, and also pitched in tremendously on the defensive end -- before losing to Whitinsville Christian in the state championship, they held their previous four opponents in the 30's. Coppola was Eastern Mass' leading scorer, averaging 25.1 points per game, and finishes fourth all-time on the school's scoring list, behind his older brother Anthony, Max Kerman and Kyle Stockmal. Coppola is currently undecided on college plans, but is leaning heavily towards Worcester Polytechnic Institute.

Mark Cornelius, Sr., Westford
The 6-foot-2 Cornelius was a scoring machine this season for the Grey Ghosts, winning the Dual County League scoring title with an average of 21.1 points per game, and was co-MVP of the league. He saved arguably his best performance for last, getting 33 points and 23 rebounds in a loss to Lawrence in a Division 1 North quarterfinal. Also a standout wide receiver for the football team, Cornelius is undecided on college plans.

Alex Gartska, Sr., Westfield
One of the state's sharpest shooters, the 6-foot-1 guard averaged 19.7 points, three rebounds and two assists per game as the Bombers marched to a 20-3 record and an appearance in the Division 1 Western Mass final against Northampton. Gartska, who was recently named the MassLive/Basketball Hall of Fame's inaugural Western Mass Player of the Year, finished his career at Westfield with 1,172 career points. He is currently undecided on college plans.

Steve Haladyna, Jr., St. John's Prep
The 6-foot-3 junior was the Pippen to Pat Connaughton's Jordan on this year's squad, but that proved to be a pivotal role in the Eagles' first basketball state championship season. In 2010-11, he averaged 19.7 points and seven rebounds as the Eagles battled through the toughest Division 1 North bracket in recent memory.

John Henault, Sr., St. Bernard's
The Bernardians ended their season on a sour note with a shocking upset by Oxford in the Division 2 Central tournament, but the 6-foot-2 Henault ends his career on Harvard Street on a positively high one. He leaves St. B's as the school's all-time leading scorer (1,682 points) and led the state in scoring average (27.8 points) this season. He also racked up over 600 rebounds, 200 assists and 170 steals in his four-year career with the Bernardians. Henault is currently considering several Division 2 and 3 colleges.
Mike Lofton, Sr., Mansfield
With such a unique skill set, the 6-foot-4 senior played anywhere from point guard to power forward this year for the Hockomock League champions, and excelled in every role. Lofton averaged 13.5 points, 11 rebounds. 4.5 assists and 2.7 steals this season for the 24-3 Hornets, who won a wide-open Division 1 South before falling to eventual state champ St. John's Prep on the TD Garden floor. Lofton is currently considering several Division 2 and 3 schools.

Akosa Maduegbunam, Jr., Charlestown
In 25 games this season for the Townies, the 6-foot-4 slasher averaged 22 points, eight rebounds, three assists and two steals as they captured their first Boston City title since 2006. in his two seasons at Charlestown, he has averaged 20.5 points, seven rebounds and three assists. A two-time City all-star, Maduegbunam was also named the City tournament's Most Valuable Player.

Hans Miersma, Sr., Whitinsville Christian
Few teams in the state could match up with the Crusaders' size this season, and none was more pivotal than the 6-foot-9 Miersma. He averaged 14.3 points, 8.9 rebounds and 3.7 blocks as the Crusaders captured their first Division 3 state title since 2005. The first team All-Dual Valley Conference center will continue his playing career next fall at Gordon College.

Joe Mussachia, Sr., Manchester-Essex
The 6-foot-6, Amherst College-bound forward excelled in a multitude of roles for the Hornets, who won the Cape Ann League and advanced all the way to the Division 4 North semifinals. Mussachia averaged 25.2 points, 17 rebounds, five assists, four steals and three blocks, and finishes as the school's all-time leading scorer (1,714 points). For his career at M-E, he averaged 20.9 points, 11 rebounds, four assists and three blocks.

Jarrod Neumann, Jr., Northampton
The 6-foot-3 guard/forward helped to form Western Mass's most intimidating, swarming defenses, as the Blue Devils marched all the way to a 21-3 record and the Division 1 Central/West Final, where they lost to state runner-up St. John's of Shrewsbury. For the season, Neumann averaged 15 points and 10 rebounds. Barring the unexpected, Neumann should return next fall as one of the MIAA's top 2012 prospects.

Kachi Nzerem, Sr., New Mission
As one part of the Titans' three-headed monster of a backcourt, the 6-foot-5 Nzerem was a physical force around the rim. He averaged 17.1 points and 6.1 rebounds as the Titans became the first MIAA squad in history to win the Division 4 and Division 2 titles in back to back seasons. Nzerem is considering pursuing a post-graduate season at several prep schools.

Keandre Stanton, Jr., Lynn English
It was quite the breakout season for the 6-foot-6 Stanton, a Northeastern Conference All-Star who turned in a monster junior campaign to establish himself as one of the state's best pure athletes on the blocks. He averaged 19.5 points, 12 rebounds, six blocks and achieved 10 triple-doubles on the season for the 21-3 Bulldogs, who advanced all the way to the D1 North semifinals before bowing out to Lawrence.

Jacquil Taylor, Soph., Cambridge
At 6-foot-8, the sophomore was one of the state's most imposing forces in the paint. He has started every game in his two years on the Falcons' varsity, and has only blossomed under head coach Lance Dottin; after averaging nearly a double-double as a freshman (nine points, 10 rebounds), he turned in an even more impressive sophomore season, with 13.5 points, 11.4 rebounds and 4.8 blocks as the Falcons won the Greater Boston League outright for the second year in a row. He has already amassed 166 blocks in his young career (including over 100 this year), and is a two-time GBL All-Star.

Noah Vonleh, Soph., Haverhill
Ranked the No. 23 overall player nationally in the Class of 2013 by ESPN, the 6-foot-7 Vonleh came into the season with a load of hype, and lived up to it in spite of the Hillies' struggles to a 7-13 record this season. Vonleh averaged 18.4 points, 17 rebounds, seven assists and five blocks and earned Merrimack Valley Conference All-Star recognition. Kansas, Pitt and Boston College are among the early offers for Vonleh, but expect that list to get quite lengthy over the next six months.

COACH OF THE YEAR: SEAN CONNOLLY, ST. JOHN'S PREP
Yes, one of the North Shore's all-time schoolboy greats has had one of New England's top senior talents to work with the last three seasons. But this season, which culminated in the program's first state championship, was all about the role players. And between Steve Haladyna, Freddy Shove, Isaiah Robinson, Mike Carbone and Owen Marchetti, this season was about a different player stepping up every night to ease the load off superstar Pat Connaughton. For that, and to survive one of the most loaded Division 1 North brackets in recent history, Connolly deserves some credit.
RUNNERS-UP:
1. Paul Neal, Lawrence
2. Cory McCarthy, New Mission
FINALISTS:
Bill Daley, Westfield
Paul DiGeronimo, Fitchburg
Rey Harp, Northampton
Rick Kilpatrick, Acton-Boxborough
Sean McInnis, King Philip
Duane Sigsbury, Manchester-Essex
Malcolm Smith, East Boston
ALL-DEFENSIVE
G – Joe Bramanti, Sr., Andover
G – Luis Puello, Jr., Central Catholic
G – Akosa Maduegbunam, Jr., Charlestown
F/C – Jacquil Taylor, Soph., Cambridge
C – John Swords, Sr., Lincoln-Sudbury
ALL-SHOOTERS
Pat Connaughton, Sr., St. John's Prep
Marco Coppola, Sr., Watertown
Alex Gartska, Sr., Westfield
John Henault, Sr., St. Bernard's
Jake Laga, Sr., Northampton
ALL-FRESHMAN
G – Jonathan Joseph, Brockton
G – Tyler Nelson, Central Catholic
G – Damion Smith, West Roxbury
F – Drew Shea, Medfield
F – Aaron Falzon, Newton North
BEST FANS
1. Northampton
2. St. John's (Shrewsbury)
3. Newton North
4. Central Catholic
5. St. John's Prep
(NOTE: Some headshots were provided by ESPN's Adam Finkelstein, courtesy of his New England Recruiting Report)
February, 26, 2011
2/26/11
7:03
PM ET
By
Brendan Hall
| ESPNBoston.com
Every year, there is that one special player who erupts abuptly onto the basketball scene in March and puts many a college scout on notice. Think back to 2005, when Newton North's vicious backcourt of
Anthony Gurley
and
Corey Lowe
shone in the Tigers' first of two straight Division 1 state titles.
We saw it again in 2008, when Central Catholic's 6-foot-11 sophomore
Carson Desrosiers
filled the lane impressively and showed off his range for the Raiders in their D1 state title. We saw it again in 2009, when Lynn English's
Ryan Woumn
dropped 39 points on Brockton in the D1 EMass Finals. And we saw it again 12 months ago, when
Pat Connaughton
averaged 21.7 points and 19 rebounds as St. John's Prep made a surprise run to the D1 North finals.
So who is the next Connaughton, Woumn or Desrosiers? Below are nine underclassmen who could fit the bill.
JAKE LAYMAN, KING PHILIP
6-7, Jr. F
Why he matters:
Layman has been nothing short of phenomenal for the Warriors this season, as they set a program record for wins (14) and ended a 15-year postseason drought. Averaging 24 points, 13 rebounds and 4.8 blocks on the season, and coming close to a quadruple-double in a game against Stoughton earlier this season, don't be surprised to see him put up those kinds of numbers in the postseason. UMass, Providence and Boston College have offered him, while Notre Dame, BYU and Texas A&M have shown heavy interest.
What opposing coaches are saying:
"I think he could be a Dream Teamer this year, if you want my honest opinion. He's one of the top three players in the state. He can jump out of the gym, shoot three's, post you up, just an unbelievable talent…He can be the biggest prospect in the state of Massachusetts as far as I'm concerned. He is a major, major talent...His athleticism, he's so athletic for a 6-9 kid, and like I said, he has point guard skills. Kevin McHale moves inside, three, four, five dunks a game, just stuff you don't see in high school anymore. I mean he's one of best players I've seen in last 15 years, to be honest with you...Holy God. The thing with him is how skilled is in all facets of the game, how he runs the floor, he's so athletic. He honestly, and I hate to use the same terms over and over again, but a very high ceiling."
Scouts Inc.'s analysis of strengths:
"A long and athletic player, Layman has a terrific set of physical tools. He stands a legit six-foot-seven with great length and a solid frame which will eventually support a good deal of muscle mass. He is a very good athlete and gets his head on the rim between his length and leaping ability. He has good touch on his jump shot and projects as a very good three-point shooter down the road with a little refinement to his technique. He is a potentially versatile defensively who can change the game with his length on top of the press."
ESPN's Adam Finkelstein:
"Jake Layman may have more upside than anyone in the MIAA. At 6-foot-7 with long arms, a good frame, and athleticism that allows him to get his head on the rim he is the prototype high-major forward. He doesn't yet realize how good he is but has a tremendous future in front of him."
JARED TERRELL, WEYMOUTH
6-2, Soph. G
Why he matters:
The sophomore led the Bay State Conference in scoring (15.1 points) this season, and while those aren't eye-popping numbers, Terrell is a sight to be seen. In the mold of slashers like Charlestown's Akosa Maduegbunam, Terrell is an off-guard in a linebacker's body, able to create his own shot off the dribble but at his best when charging through the lane. Quite simply, there are few in Massachusetts with such physical maturity at this age. He's drawing an assortment of Division 1 interest, from the Atlantic-10 all the way up to schools like Washington and Clemson.
Opposing coaches:
"Jared Terrell is one of the purest athletes running around, if not the best athlete running around in the state. I think when he eliminates his dribbles and everything else like that, and just looks to take it to the hole, he can't be stopped...It's tough to make a comparison, because I think he's one of the top two athletes in the state. But as his progress keeps going up, I mean the sky's the limit. Historically? I don't know, because I'm not ready to give anything to these new jacks yet, but if I were to make a comparison I'd say his older brother Royce."
Scouts Inc.:
"Terrell is a power guard with a strong body and bouncy athleticism. He is as aggressive as he is powerful, getting after people on the defensive end and going hard to the rim offensively. He is a versatile defender who can make plays in full court pressure situations and also lock up opposing scorers in the half-court, bodying up with his upper body without fouling. Offensively, he has a good first step and quick springs and shows no fear attacking shot blockers."
Finkelstein:
"Jared Terrell is as explosive of a guard as you will find in the MIAA. He is powerful and athletic, allowing him to go through contact to make plays above the rim. If he can add a consistent jumper to his offensive repertoire his recruitment will go to the next level."
AARON FALZON, NEWTON NORTH
6-7, Fr. F/C
Why he matters:
While Falzon isn't the Tigers' top scoring option -- that falls unto guards Mike Thorpe and Avi Adler-Cohen -- the younger brother of senior Tevin Falzon is a game-changer in the middle. With his long arms and ability to step out to NBA-range three's, he has already drawn comparisons to former Tigers great and current Yale freshman Greg Kelley. The sky is the limit for Aaron, as the 14-year-old continues to grow and fill out.
Opposing coaches:
"I think his ceiling is just through the roof, he is certainly super skilled for a big kid. He has a very good touch. Right now, facing the basket is where he's best, but as he gets stronger he'll get more confident down on the low blocks. He's real tough...For us, the problem with him is clearly the size advantage. But in general, he's so skilled. With him, if a typical big guy covers him, you can draw them away from the basket, because he's got range up to and beyond the three-pointt line. The few times I've seen him go to the blocks, he's very skilled, and has versatility on defense with his length, but he's a real nice player...He's very similar [to Kelley], at 6-7 when you can draw guys out like he did. If he can extend the defense and open up shots in the lane for guys like Thorpe and Adler-Cohen, he's a tough guard for us."
Finkelstein:
"Aaron Falzon fits the new style big man in that he has the size to play down low but the skill set to step away and stretch the defense. With three more years to continue to develop his game and body, he has a chance to be a very highly pursued prospect if he continues to do the right things."
JACQUIL TAYLOR, CAMBRIDGE
6-9, Soph. C
Why he matters:
Taylor dominated the glass this year for the 19-1 Falcons, and has served as a wonderful complement to guards Deondre Starling, Kyroe Qualls-Betts and his brother, 6-foot-5 junior Maurice. There may not be a longer starting five in the state than Cambridge, and at the center is Jacquil, who runs the floor well for a player his size and can change momentum in a snap with one of his thunderous two-handed slams. A handful of Division 1 schools, including UMass and BC locally, have expressed interest.
Opposing coaches:
"He is a diamond in the rough. He's going to be real good, high-major maybe, with his shot blocking ability and rebounding ability. He's not as good as Nerlens Noel, but he's that type of player...His length is his strength, I'd say right now -- defensively especially, and on the glass, too. I think his offensive game will get better, but in terms of what he does around the basket, he's impressive...Jacquil has tremendous upside. I think he's getting ready to have breakout in the state tournament this year. Both him and his brother Mo are two outstanding basketball players."
Finkelstein:
"When you are big and mobile you have a chance to be very good and that's exactly what Jacquil is, not to mention a long lefty. His potential has never been questioned but now it's time to turn those tools into production on a consistent basis."
ADAM BRAMANTI, MASCONOMET
6-2, Jr. G
Why he matters:
One of the Cape Ann League's leading scorers (19.7 points per game), he is the cousin of Andover star
Joe Bramanti
, and could be ready to carve a name for himself on the family tree. Like Joe, he is an exceptional shooter -- most recently, Adam hit seven 3-pointers in a game with Manchester-Essex in late January -- who can give good chase on the perimeter.
Opposing coaches:
"He's a fantastic shooter. If he's on, it's in. I've seen him hit nine, 10 three's in a game, he's fantastic. He can work a little bit on his dribble-drive and finishing, but as far as being a shooter, he's top-notch."
Scouts Inc.:
"A very skilled guard with a high basketball I.Q. and terrific feel for the game, Bramanti is well schooled in the fundamentals of the game. He is an excellent three-point shooter who makes shots with deep range and also changes speeds with his dribble to get himself into the lane. He is a very efficient scorer off the catch, being tremendously efficient with his body movements, and owning a terrific shot fake. He always has his head up, has very good court vision, and can deliver quick passes off the dribble with a quick flick of his wrist."
Finkelstein:
"Adam Bramanti is a super skilled young guard with a high basketball I.Q. and instinctive feel for the game. Give him a year or two for his body to catch up, and his stock is bound to take off."
KEANDRE STANTON, LYNN ENGLISH
6-6, Jr. F
Why he matters:
In short, the junior is another one of those under-the-radar prospects. Stanton has had a breakout campaign this season for the 19-2 Bulldogs, complementing electric senior Travonne Berry-Rogers very nicely with his slashing ability in the post. With his size, length, and athletic ability on the break, Stanton has drawn comparisons to former English great
Jarell Byrd
, who is currently doing a post-graduate year at St. Thomas More (Conn.).
Opposing coaches:
"We're athletic, [but] he's freakishly athletic. The things he can do, even when he attacked the rim off the bounce, he tried to get a dunk a few times. He went right at us. Jimmy [Zenevitch, of Central Catholic] scores a lot, but he is also a good defender as far as bigs, and this kid went right at Jimmy. He's a great player, incredible athlete, and he's going to be a handful in the tournament...He's real skinny, but has a lot of athletic ability. He needs to play more. He has some big upside, too, but he needs to work on his ballhandling skils before he moves on to a higher level, because that's what he'll be with his size."
Finkelstein:
"Keandre Stanton has proven his worth this year at Lynn English but is still relatively unknown outside of Massachusetts' borders. A strong state tournament could be the first step towards a breakout summer."
TYLER NELSON, CENTRAL CATHOLIC
5-8, Fr. G
Why he matters:
The freshman, who is averaging nearly eight points a game off the bench, could very well end up winning a game for the Raiders in the postseason. He scores in bunches, often coming into the game and knocking down a pivotal three-pointer. When bringing the ball up, he directs traffic in the half-court calmly but smartly, and is unafraid to bark orders at one of his senior teammates. Overall, he's shown a maturity well beyond his years in his rookie season on the Raiders' varsity -- of course, it doesn't hurt that his father is an advance scout for the Utah Jazz.
Opposing coaches:
"He's probably the best shooter in the state, and that's no lie -- he's a deadly shooter. He's a baby he could only be an eighth grader for all we know, but the stronger he gets the better he'll get...He's gonna be a scholarship player someday, he has a real high basketball I.Q., no lie."
Finkelstein:
"Tyler Nelson gives Central Catholic a big boost with his three-point shooting and looks to have a very bright high school career in front of him. Any player who can make shots in bunches has a potential niche at the next level."
NATE ANDERSON, NEW MISSION
6-6, Soph. F
Why he matters:
Anderson is still relatively unknown on the big stage; and between the Titans' star-studded backcourt of Samir McDaniels, Darius Davis and Kachi Nzerem, the young Anderson gets a limited amount of touches, and often comes off the bench. With his ability to handle, Anderson's future with Mission could be in more of a point forward role, though in the possessions he plays around the rim he shows adept skill and rebounding and blocking. In short, Anderson's a question mark right now, but a year from now could be a firm exclamation point. A good run in the playoffs, though, could serve his stock well.
Opposing coaches:
"He has big upside, and we'll see that the more he plays and the more touches he gets. He's gonna be going to college somewhere, very athletic. He's good."
Finkelstein:
"Nate Anderson has all the physical tools for the next level with a long and strong body to match his high level athleticism. He makes his biggest impact on the defensive end right now but has shown good potential as a face-up four who can attack less mobile big men with his dribble."
CORNELIUS TYSON, SPRINGFIELD CENTRAL
6-1, Soph. G
Why he matters:
After a strong summer with the New England Playaz, the sophomore brought a considerable amount of hype with him to the Golden Eagles. And needless to say, at 11-9, they've grossly underperformed after starting the year off at No. 6 in ESPNBoston's MIAA Top 25 poll. This may be a head-scratcher, considering he's averaging just six points a game, but it's hard to ignore his creativity and the praise he's earned out of season.
Opposing coaches:
"Corn is quick as lightning, great little stroke, great on-ball defender. He's fearless, he'll step in and take a charge against 6-11 kids, he doesn't care...He's a great point guard with great instincts, knows how to find the open man, get to a guy going through the air, he's talented. On the AAU circuit, he's a 20-point scorer."
Scouts Inc.:
"A talented young point guard who already has a good understanding of how to distribute the basketball. Tyson has terrific court vision at a young age, makes good decisions handling and passing the ball against pressure, and can also get into the lane to create shots for himself and his teammates. He has also developed into a consistent shooter from behind the three-point arc. He has a terrific feel for the game for such a young player, already making good use of jab steps, jump stops, and other crafty maneuvers to open up passing/driving lanes."
Finkelstein:
"Tyson is a good looking young point guard who shows a mature understanding of the position for someone his age. He not only hits the open man but also has the creativity and vision to make plays for his teammates, making him very unique."
OTHERS TO WATCH
Aaron Calixte, Soph. G, Stoughton
Matt Droney, Jr. G, Catholic Memorial
Joey Glynn, Jr. F, Cardinal Spellman
Jameilen Jones, Soph. F, BC High
Jarrod Neumann, Jr. G/F, Northampton
Kenny Reed, Jr. G, Reading
Colin Richey, Soph. G, Whitinsville Christian
Damion Smith, Fr. G, West Roxbury
Michael Thorpe, Jr. G, Newton North
Brendan Hall is a high school editor for ESPNBoston.com. Follow him on Twitter.
February, 22, 2011
2/22/11
1:38
AM ET
By
Brendan Hall
| ESPNBoston.com


CAMBRIDGE, Mass. -- The quick release, 60-degree arc and sharp follow-through of Kyroe Qualls-Betts might as well be a hand-me-down. For years now, the Cambridge senior guard has sought out the guidance of his older brother, former Falcons great Nathan (a fine sniper himself), to the point where head coach Lance Dottin muses, "He came to us as a good shooter."

Qualls-Betts, the Falcons' 6-foot-1 marksman, was 5 for 9 from deep, part of a 17-point performance in a 60-44 stomping of Brockton (12-6) at the War Memorial Recreation Center last night.

"When he gets fired up, it feels good for the rest of us," said senior forward Deondre Starling, who had 16 points and nine boards. "We see him on the floor and we know he can shoot, and he had some pretty good shots for us today."

Said Qualls-Betts, "When we start nailing down three's, that opens up the post game, so it's easier to kick the ball inside to Jacquil (Taylor), easier for him to score."

And while nobody will question the momentum-shift Cambridge's 6-foot-9 super-sophomore center Jacquil Taylor can turn when he's loose out there -- against the Boxers, he quietly came close to a triple-double (11 points, 11 rebounds, eight blocks) -- expect Qualls-Betts to become that much more important a factor, as opposing defenses continue to try and pack it in with the type of zone looks that delivered Somerville a shocking upset over the then-No. 3 Falcons last week.

"I'd have liked him to hit even more," Dottin cracked about Qualls-Betts. "I mean, the guy was open, we've got to be able to find him. That's what he does, I mean when he's open he can really shoot the ball. He's got a very good stroke, and when he's open he's shooting with confidence, like tonight, which was nice to see.

"But that's not all he can do. Kyroe can move the ball when he needs to move the ball. He can put the ball on the floor when we want him to put the ball on the floor."

Up 25-19 at the half, the Falcons opened the third quarter on an 11-2 run led by Qualls-Betts, who first fed Taylor for a powerful two-handed slam in the post, with a laser of an entry pass from the top of the key. The next trip down, junior Maurice Taylor rebounded his own errant jumper and reversed the ball to the other side, where Qualls-Betts calmly sank his third trey of the night from the left wing to make it 33-21.

At the five-minute mark, Qualls-Betts struck deep from the left wing again, this time on a kick-out from Jacquil Taylor, to make it 36-21 before the Boxers immediately cut it to 36-27 with back-to-back treys of their own from Jamal Reuben and Shane Sims.

That was the Boxers' last punch, as Qualls-Betts came down the floor on the next possession with yet another three to make it a perfect 3 for 3 for the quarter, and give them a 12-point lead that never cut to single digits again.

Cambridge lead by as much as 19 in the second half before the reserves battled off the final few minutes of regulation.
February, 11, 2011
2/11/11
11:46
PM ET
By
Andy Smith
| ESPNBoston.com
CAMBRIDGE, Mass. -- A chant of "We want Brockton!" echoed against the walls of the War Memorial Gymnasium, at the beginning of the fourth quarter of the Falcons' Friday night game against their rival Somerville.
The boisterous, standing-room-only crowd was witnessing what the Cambridge boys' basketball team has done so often this season: take such a large lead into the final quarter that the game already felt it was over. It came into the game beating opponents by an average of 27 points. It took a 30 point lead into the final quarter, which allowed the fans to already look ahead to Cambridge's next challenge, a pivotal Feb. 21 showdown with the No. 17 Brockton Boxers.
"It was a great crowd; it was a live crowd," said Cambridge forward Deondre Starling (18 points, 7 rebounds). "Sometimes we couldn't hear what Coach (Lance Dottin) was saying so we had to go out there and play with each other and know what we see on the floor."
[+] Enlarge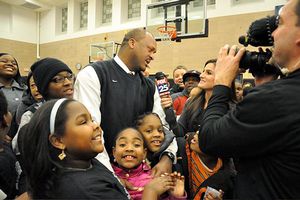 Larry Aaronson for ESPNBoston.comCambridge head coach Lance Dottin was quite satisfied with the Falcons' effort as they clinched the Greater Boston League title.
"We had to get the play from the point guard and see what his view was because he commands the floor," he added. "We went by what his call was because we couldn't hear what the call was coming from the bench."
The impressive part of their 70-39 victory was that it did not come against a conference basement dweller, but against Somerville, the team that was a game behind them in the Greater Boston League coming into Friday.
With the win, Cambridge (16-0) clinched the GBL championship and came one game closer to ending the regular season with an undefeated record.
"We were able to beat a good basketball club, a team that came in at 13-2," Dottin said. "It's a league rival so it's important to us. Tonight, unfortunately it was our night. The guys came out ready to play, and obviously the outcome was what we wanted."
Somerville (13-3) had a difficult time dealing with the inside presence of 6-foot-9 center Jacquil Taylor, who finished with 16 points and 8 rebounds. While those aren't eye-popping numbers, his presence in the paint and shot-altering ability lead to many rebound opportunities for he and his teammates, which they turned into transition baskets in the offensive end.
"We definitely want to get out and run," Dottin said. "Off the glass we want to be able to get out and run and we were able to do that tonight. That's good for us because there's been a couple games where we've been stagnant and we haven't been able to do it, so tonight was really good for us."
Starling was a beneficiary of those transition baskets early, but as the game went along, he was using his quick hands and nose for the ball to create turnovers himself and contribute offense of his own. That included two thunderous dunks that boosted the already loud Cambridge crowd.
"I'm a defensive player, I just try to play everyone," said Starling. "I just match up to the ball and go hard."
Taylor and Starling accounted for 20 of Cambridge's 30 points at halftime.
"They give us good offensive performances basically every night," Dottin said. "Both of them are great offensive players, but they're even better defensive players. With our height we're also able to take advantage on the glass, and tonight we were able to do that."
After falling behind 17-5 after the first quarter, Somerville abandoned the idea of attacking the basket and settled for long-range jump shots that could not seem to find the bottom of the basket. Because of its noticeable height advantage, Cambridge was able to corral most of those rebounds and extend their lead even further with transition baskets.
From the middle of the first quarter to the middle of the second quarter, spanning a total of 7 game minutes, Somerville did not score a basket. They were able to rally back a bit, and cut the lead to 9 with about a minute and a half to go in the half.
In the second half, Somerville had a difficult time hitting shots, and saw the Cambridge lead balloon to as much as 30 in the third quarter. However, regardless of the score, Skerby Odivin (eight points, five rebounds), Kevin Silva (eight, five), and Johnson Thomas (seven rebounds) were still hustling and diving for balls as though the score was much closer than it was.
January, 29, 2011
1/29/11
12:57
AM ET
By
Joe Jasinski
| ESPNBoston.com
EVERETT, Mass. -- Despite averaging 87 points and defeating its opponents by over 30 in each of its last two games, Cambridge entered halftime in a relatively unfamiliar situation; losing by two and totaling 16 points in the first two periods.

"It showed mentally what we didn't have in the first quarter," Falcons guard Kyroe Qualls-Betts said. "[We] weren't mentally prepared."

The second half proved far more habitual for the Falcons, whose stifling defense -- eight steals, six blocks -- limited Everett to 12 points in the third and fourth frames, while dropping 20 fourth-quarter points en route to a 48-31 victory that keeps them undefeated on the season at 10-0.

"Overall, it was a great defensive effort in the second half," said Cambridge head coach Lance Dottin, whose team forced 17 turnovers in the contest. "And it changed the game. It changed the entire complexion of the game for us."

What became clear in the second half was the Falcons' renewed toughness on the defensive end, particular on the interior. Sophomore phenom Jacquil Taylor (seven points, nine rebounds, three blocks, three steals) continually affected basket attempts around the cylinder.

"Defensively, it makes a huge difference when you've got Jacquil [Taylor] on the back side," Dottin said. "Because even if you get beat, you've got someone behind you that can change some shots, that can block some shots. He's a special player, very special."

Alongside Taylor, fellow big men Maurice Taylor (six points, four rebounds) and Marcus Faison (four points, five rebounds) also disabled easy penetration for the Crimson Tide (7-4), who shot 36 percent from the field.

After a relatively back-and-forth first half, Cambridge outscored Everett, 12-3, in the third quarter, despite committing nine fouls. However, Everett squandered on chances to cut the deficit, clanking all three front ends of one-and-one opportunities from the line in the quarter,

Early in the final stanza, the Falcons swelled the lead to 30-21, before the Crimson Tide orchestrated a quick 4-0 run, culminating in a steal and explosive one-handed, fast break dunk by Alain Jeanty (12 points, seven rebounds), his second "steal-to-slam" of the contest.

Alas, that would be the closest the home squad would come.

In rebuttal, the Falcons countered with a 13-2 run of its own, highlighted by a smooth trey-ball from the senior swingman Qualls-Betts (nine points, seven rebounds, two assists) with 4:30 to play.

"We did move the ball a lot better in the second half," Dottin said. "We tried to get Kyroe more involved on the perimeter."

Finding a way to navigate through and around Everett's hybrid 2-3 zone—often times double-teaming and overcompensating on the low-block—became easier with Jacquil Taylor as a target at the high post, Qualls-Betts said.

"The middle was open all night," he said, "And there was one wing man popping out on the shooter, so we had to attack the middle and kick it from there to the other side. They [were] double-teaming Jacquil [Taylor] … so it just gave spacing for us on the floor to get more shots."

On the night, Cambridge' shot 42 percent from the floor. However, forward Deondre Starling (12 points, six rebounds, two steals) served as somewhat of an anomaly, making all six of his field goal attempts, including five in the second half.

Likewise, Everett had its bright points. To go along with Jeanty's team-high in scoring, point guard Kenny Calaj collected 11 points and a couple dimes, while being a pesky on-ball defender, registering three steals. Senior Erno Deshommes was also impactful on the glass, swiping a game-high 11 rebounds.

And as the old adage goes, it may not be pretty, but a win is a win, which was exactly Cambridge's mindset leaving the gym, Dottin said.

"We needed the win," he said. [We got] off to a bad start, but as long as we're able to get the victory. It's a [Greater Boston League] victory, so that's important for us."
January, 12, 2011
1/12/11
2:48
AM ET
By
Brendan Hall
| ESPNBoston.com



CAMBRIDGE, Mass. -- Fifteen points, fifteen rebounds, five well-timed blocks, no matter. The countenance doesn't lie.

And Jacquil Taylor was visibly thwarted as he left the locker room following his No. 5 Cambridge Falcons' all-too-easy 60-44 win over their Greater Boston League nemesis, No. 21 Everett. It was a sloppy night, but one that started on a very high note for his teammates (a game-opening 12-4 run yielded a 32-18 halftime lead) and a very low one for him. The 6-foot-8 sophomore finished strong, and as usual made some highlight-reel dunks to spark the Falcons (7-0), but started the night off 0 for 6.

Not a totally disappointing night -- "We got the win, but we need to make some corrections," he shrugged -- but frustrating?

"Yeah, and it was very bad in my case," Taylor said. "I'd rather start the game off making all six shots instead of missing them. Going 0 for 6, to me that's bad."

Meanwhile, across the hallway, Cambridge head coach Lance Dottin was taking deep breaths and shaking his head about some other perceived deficiencies in the win. Namely, the Crimson Tide (5-1) threw 2-3 zone looks at the Falcons for extended periods of time, especially in the second half, doubling down on Taylor in the post with its long, lean tandem of senior Erno Deshommes and junior Alain Jeanty (13 points, 14 rebounds).

That left junior Maurice Taylor and seniors Kyroe Qualls-Betts and Andre Dottin with a slew of open looks on the perimeter, ones they did not convert into buckets. Overall, the Falcons shot 38 percent from the field, and were 2 of 24 from three-point range.

"There were alot of open shots, and you've got to knock them down when you're open," Dottin said. "I thought we did a poor job of moving the basketball, getting stuck on one side of the floor, but that's what happens when you're settling for shots -- you know, that first pass. We've gotta get out of that first pass syndrome, and we've got to get that ball moving and attacking the zone a whole lot better.

"We'll do that, we'll keep practicing, so we're gonna just get back to work. We're happy with the win, GBL, so we'll just make sure that we've got to work on those things."

But a win -- and a double-digit one over an ESPNBoston MIAA Top 25 team at that -- is a win. And the Falcons proved once again to be special when given the opportunity to push the tempo. Deondre Starling (15 points, 11 rebounds) capped a game-opening 12-4 run for Cambridge with a steal at the right wing and driving layup, after which Everett head coach Bippy Manuel first called for the zone.

The Falcons opened the second quarter with a 10-0 run to push out to a 22-7 lead, highlighted by the first of several explosive dunks by Jacquil Taylor. Jacquil took a long outlet pass from his brother down the left flank, gathered and slammed the ball home with two hands. They followed up on the next possession with Marcus Faison (11 points) converting a three-point play for a 15-point lead with five minutes left in the first half.

Minutes later, with Cambridge holding a 26-10 lead, Jeanty racked up his second foul, and that gave way to another Jacquil Taylor dunk with just over a minute to go in the first half. This time, it was a two-handed tip-slam off an errant three-pointer from Tyrone Dacosta to make it 30-18.

"It's like an energy boost," Starling said of Jacquil Taylor's dunks. "It gives everyone momentum. Everyone gets hyped up, the crowd goes wild, we get hyper, it gets us back to reality, knowing where we're at right now."

Starling, meanwhile, might have been the star of the night. In addition to the presence his lanky 6-foot-4 frame made around the rim at both ends, he was tasked with manning up the Tide's best playmaking guard, Manny Asprilla (13 points). The senior, who is committed to Boston College for football, made some terrific drives through the lane and connected well with his post players, but in spurts. Meanwhile Matt Costello, making his season debut after battling an ankle injury the first month, was held without a point in seven attempts from the field.

"He's always big. I mean, Deondre's big, he's a fabulous player," Dottin said. "He can do so many different things. He can rebound on both ends of the floor, he's great off the offensive glass, but he's even better on the defensive glass. And then, Deondre can pretty much cover anyone we ask him to cover. And tonight we really needed him to pressure the ball, and get on Manny, and that's what he did. That's what Deondre does, he's kind of Mr. Everything."
December, 28, 2010
12/28/10
10:22
PM ET
By
Michelle Bradley
| ESPNBoston.com
Chelsea, Mass. -- Jacquil Taylor, Deondre Starling and Kyroe Qualls-Betts all scored in double figures as No. 8 Cambridge Rindge and Latin School (CRLS) defeated Springfield's Putnam Vocational Technical High, 67-49, Tuesday at the BABC Holiday Classic.

The Falcons improve to an overall record of 3-0, while the Beavers fall to 3-3 on the season.

CRLS came out strong to start the game, scoring 20 points during the opening quarter, while securing its defensive presence on the court by holding Putnam to just 10 points.

The Falcons continued to maintain a double-digit lead for the opening minutes of the second quarter, but Putnam chipped away to the score, coming with five points, 35-27, to end the half.

Lance Dottin, head coach for CRLS, said that during halftime, "I told [my team] to slow down, to be patient."

The halftime pep-talk seemed to work as the Falcons remained dominant on offense, going on a 12-0 run, extending its lead over by Putnam by 16 points. A layup by Putnam's senior guard Alonzo Johnson snapped the Beavers' offensive dry spell, who closed out the quarter with a 9-3 run, making the score 48-37.

During the first minutes of the fourth quarter, the Beavers cut its deficit to nine points, 52-41, but CRLS fired back with a 15-6 run. The Falcons never looked back, recording its third victory of the season, 67-49.

Taylor, the 6-foot-9 sophomore center for the Falcons, led the team with 20 points, while seniors Staring and Qualls-Betts added 14 points each.

Of his 14 points, Qualls-Betts scored 11 points during the first half, including nine points from beyond the arc.

Junior guard Jordan Almore led the scoring for the Beavers, scoring 10 of his 12 points from the free throw line. Seniors Jesus Rosario and John Toledo also chipped nine points each for Putnam.
December, 21, 2010
12/21/10
1:24
AM ET
By
Brendan Hall
| ESPNBoston.com
CAMBRIDGE, Mass. -- Lance Dottin can try, and try he will.
He can blame plain ol' ignorance.
He can blame print's ever-shrinking news hole.
But at some point, the Cambridge boys basketball coach is going to have to come around to the fact that soon there will be nothing mystifying about his 6-foot-8 sophomore big man, center Jacquil Taylor, of whom he can't help but grin when he says the 15-year-old "must be the state's best-kept secret". Talent like this -- someone for his size so adept at getting liftoff around the rim, and getting up and down the court -- can only fly under the radar for so long.
UMass has already offered the sophomore, and Boston College assistant Akbar Waheed was in attendance last night at War Memorial Recreation Center to watch as the Falcons crushed Dorchester, 78-21, in their season-opener. With exception of studs like Haverhill's
Noah Vonleh
, New Mission's Kachi Nzerem and St. John's Prep's
Pat Connaughton
, few players among the MIAA talent have risen on the radar over the last six months as rapidly as Taylor, and that was on display in a variety of ways in the win.
On the opening tip, Taylor merely slapped the ball down court to Deondre Starling, who laid it in. On Dorchester's first two possessions of the game, 6-foot-7 center Debrien Cora-Perez took it into the post only to find himself on the receiving end of a swat, the first two of five on the night for Taylor, the crowd ovations louder with each one.
Then, in the second quarter, Taylor shrugged off an 0-for-4 start from the field with two great displays of athleticism. First, he started the quarter tip-slamming home his brother Maurice's errant three-point play attempt, getting half of his forearm above the rim ("That was amazing," laughed Maurice). Then, with three minutes left, he took a quick outlet pass on the fast break and landed a two-handed dunk to make it 41-13 and force a timeout.
"Last year, my first few games, I was shaky, I didn't know if I wanted the ball in my hands," Jacquil said. "Now, I want the ball, and when I'm double and triple-teamed I want to pass the ball out."
When all was said and done, Jacquil finished with 14 points, eight rebounds and five blocks in three quarters, and didn't get his first foul until 3:35 left in the third (by then with the game well in hand).
"Jacquil is just scratching the surface right now," Dottin said. "Last year he came to us as a freshman, didn't start the first few games, but then when he came back and got in the starting lineup, I mean there was no turning back. Just fabulous all year, and he was the difference maker. I tell everyone he's the different maker at both ends.
"You'll feel his impact alot, especially on the defensive end, but now on the offensive end he's a guy that's capable of putting up double digits. He's got a nice stroke, he makes his free throws, great down in the post, and he's a guy who has a great motor. He's always looking to get better, a desire and determination to get better every day."
If last night's win was a small sample, and not an anomaly, then offensive skill is still an area of improvement. Jacquil missed a handful of shots facing the basket from close and mid-range, and for that he says he stays after practice every day -- often up to an hour, usually with Maurice and an assistant -- working on his game around the rim.
Still, this is a disciplined team with plenty of length in the frontcourt, reinforced by the 6-foot-5 Maurice's abilty to create his own shot off the dribble and through traffic, and perhaps further emboldened later this week when 6-foot-4 junior center Kevin Lovaincy returns to the lineup. The Falcons suffocated in the press last night, and with their length are able to disrupt passing lanes and force offenses back out to the perimeter.
So don't expect Cambridge -- or Jacquil -- to be able to lay low for too much longer.
"Again, he can't be the best-kept secret, but if he is...hey, we'll take it, man," Dottin laughed. "We'll keep flying under the radar."