Boston High School:

Jahkari Carpenter
August, 20, 2014
Aug 20
12:44
PM ET
On Monday,
we unveiled our statewide MIAA Top 25 preseason football poll
. Today, we continue our annual countdown of the poll with Nos. 20 through 16.
ICYMI:
25-21
NO. 20 DOHERTY
Coach:
Sean Mulcahy (24th season, 112-141)
2013:
12-1, Division 4 State Champions
Returning Starters:
10 (5 offense, 5 defense)
Key Returnees:
Jahkari Carpenter, Sr. RB/DB, 5-7, 160 lbs.; Javon Watkins, Sr. WR/RB/DB, 5-9, 170 lbs.; Eric Vecsey, Sr. QB/S, 5-10, 175 lbs.; Rickey Webster, Jr. DB/RB, 5-8, 160 lbs.; Dominique Lee, Sr. DB/RB, 5-9, 165 lbs.; Tavian Vassar, Jr. RB/DT, 6-1, 230 lbs.; James Shaugnessy, Sr. LB/WR, 5-11, 185 lbs.; Fitzroy Spencer, Sr. OL/DL, 6-2, 240 lbs.; Sean Moran, Sr. OL/DL/LB, 6-0, 240 lbs.; Manny Obisui, Sr. OL/DL, 6-2, 260 lbs.; Tariq Massenberg, Jr. DB/WR, 6-0, 160 lbs.; Aaron Adu, Jr. DB/WR, 5-11, 160 lbs.; Jack McGrail, Sr. DE/LB/TE, 6-1, 160lbs.
Strengths:
Athleticism, offensive line, defensive line, senior leadership
Weaknesses:
Inexperience at skill positions, inexperience at LB and DB
Outlook:
Repeating as state champions is never easy, nor is replacing a pair of Division 1 athletes and arguably the best quarterback in school history. That is the challenge Doherty is faced with in 2014, with Isaac Yiadom now playing for BC, Alfred Adarkwah off to UMass and Luke Brennan pitching for Franklin Pierce. Still, the Highlanders should be right in the thick of things in D4 Central thanks to one of the state's most experienced and athletic offensive lines, and the versatility of speedy running back Jahkari Carpenter. Consistent targets will need to emerge for senior quarterback Eric Vecsey, but the Highlanders never seem to lack for athletes. Doherty is stacked up front on defense, where junior Tavian Vassar's quickness and the power of both Fitzroy Spencer and Manny Obisui should provide some cover for a back seven looking to replace six starters. Some talented options are available in the secondary, where juniors Rickey Webster and Aaron Adu will fight for playing time against classmate Tariq Massenberg, who started at corner last year when Adarkwah was nicked up. The linebacker corps will be totally overhauled, but the move of star guard Sean Moran to MLB should make things a little easier, and the return of James Shaugnessy from injury is certainly a welcome site for defensive coordinator and Associate Head Coach Steve Bucciatlia. This year's group isn't quite as talented or experienced as last year's title team, but sleeping on Doherty would be foolish for anyone in Central Mass.
-JOE PARELLO
NO. 19 PLYMOUTH NORTH
Head Coach
: Kevin Cobban (3rd season, 11-10)
2013
: 8-3, lost to Plymouth South in Div. 3 Southeast final
Returning Starters
: Eight returning starters on offense; six returning starters on defense.
Key Players
: Christian Carr, Sr. RB; Cullin Cosgrove, Sr. QB; Jack Gallagher, Sr. OL; Gavin Johnson, Sr. C/G; Justin Cabral, Jr. OL; Brian Proctor, Jr. OL; Ryan Boudreau, Sr. S/CB;
Strengths
: Rushing game; experience on the offensive line and defensive secondary.
Weaknesses
: Depth on defensive line; special teams.
Outlook:
There was no secret to Plymouth North's formula for turnaround success last season: give it to Christian Carr. "That was our forte last year," Eagles head coach Kevin Cobbin said. "Everybody in the stadium knew what we were going to do, but we just kept doing it." The ground game will again be the bread and butter for North, with Carr coming off a season in which he broke the school's single-seasons rushing record. The Eagles return four starters on the offensive line, including Jack Gallager, who was lost after the second game of the season last year but Cobban says "might have been our best lineman." However, Cobban also sees the Eagles airing it out a bit more in 2014 behind incumbent three-starting quarterback Cullin Cosgrove. The Eagles also have an abundance of experience in their defensive secondary, where they return a full corps of three-year starters. While North lacks the same kind of experience along the defensive line, Cobban is confident the Eagles will be able to win the point of attack on either side of the ball. "The kids have bought into offseason workouts and we're bigger and stronger than we've been," Cobban said. This year also marks the Eagles' first year in the Patriot League, moving from the Atlantic Coast League. The shift means North will be establishing some new rivalries and reigniting some lost in time. "It doesn't matter that we're moving into a new league, we're just excited to play," Cobban said.
-SCOTT BARBOZA
NO. 18 ATTLEBORO
Coach:
Mike Strachan (Second Year, 9-2)
2013 Record:
9-2 (6-1), lost to Xaverian in Division 1 South sectional final
Returning Starters:
12 (6 offensive, 6 defensive)
Key Players:
Kyle Murphy, Jr. OL/DL 6-3, 235 lbs.; Brenden Massey, Sr. WR/DB, 6-0, 170 lbs.; Thomas Belin, Sr. RB, 5-11, 170 lbs.; Matt Elliot, Sr. WR/DB, 5-9, 190 lbs.; Nick Desmaris, Sr. WR/DB, 6-1, 160 lbs.; Tim Christensen, Sr. OL/DL, 6-2, 235 lbs.; Ross Killion, Sr. QB, 6-3, 185 lbs.; Tyler McGovern, So. QB, 6-1, 140 lbs.
Strengths:
Offensive and defensive line
Weaknesses:
Inexperience at quarterback and skill positions
Outlook:
Last season was one to remember for the Bombardiers with a change of leadership under new head coach Mike Strachan and his staff and a trip to the Division 1 South final. Now the test for the Bombardiers is to build off the success of last season and prove that they can be a perennial threat in the Hockomock League. That will be a difficult task without star quarterback Tim Walsh, whose dynamic ability to make plays with his feet and his arm aren't easily replicated, which head coach Mike Strachan admitted at the league's recent Media Day. While Attleboro may not have a settled quarterback position heading into camp, with Ross Killion being the senior but a lot of people close to the program talking about the talent of sophomore Tyler McGovern, the Bombardiers can rely on strength in the trenches. Senior Tim Christensen and junior Kyle Murphy, who is receiving interest from Clemson University after a breakout sophomore season, will anchor the offensive and defensive line and try to open holes for running back Thomas Belin. The senior did not see action until the fourth game of 2013, but he will be the focal point of the offense this year and his breakaway speed will be crucial. If teams bunch the line of scrimmage, then Attleboro can also look downfield to senior wideout Brenden Massey, who made several remarkable catches last season and was named to the ESPNBoston.com 2014 Preseason All-State team. Every team has to deal with the loss of great players to graduation and Strachan is expecting his players to step up in camp to prove that 2013 was not a fluke. "I think if we're going to build our program long term than we need to be like the Mansfields, North Attleboroughs, and KPs, and continue that level of player from year to year," he said. "We expect a lot of competition in camp."
-JOSH PERRY
NO. 17 SPRINGFIELD CENTRAL
Coach:
Valdamar Brower 6th season (45-16)
Last Year:
10-2. Beat Longmeadow 35-12 in WMass Divison 2 semifinal. Beat Westfield 44-20 in WMass Division 2 final. Lost to St. John's (S) 37-32 in Division 2 state semifinal
Returning Starters:
10 (5 offense, 5 defense)
Key Returnees:
Antoine Williams, Jr., RB/WR/S, Justin Bolden, Sr.,RB/MLB, Nate Smith, Sr, WR/S/KR, Issac Morales, Jr., WR/DB, Kaleb Hunter-Sams, Sr., OL/DL, Aaron Williams, Sr., QB/S; Tysean Williams, Sr., WR 5-11, 170; Tyreque Estrada-Crapps, Jr., RB/CB, 5-8, 170; Daryl Wiggins, Sr., OL/DL, 6-0, 340; Noah Mayberry, Sr., C, 5-11, 248.
Strengths:
Offensive line, team unity
Weaknesses:
Inexperience
Outlook:
The Golden Eagles have a major task ahead of them as they try to replenish their arsenal following the graduation of several key contributors from last year's highly-successful season. This will most-likely be felt on the offensive side of the ball. Cody Williams, the brilliant duel-threat quarterback, now playing for Monmouth University (NJ), was a three-year starter, having passed for 5,290 yards and 59 TDs during his remarkable tenure here. On the ground, Williams had a career rushing mark of 801 yards, scoring 19 times. Last season he threw for 2,214 yards and 24 TDs, while rushing for 578 yards and 12 TDs. Also gone are WR/CB/K Ju'an Williams, who finished last year with 823 receiving yards and 7 TDs, WR/CB Malik Johnson (595 receiving yds, 7 TDs), HB/S Troy Morrow (986 rushing yds, 4 TDs) and RB/SS DaQuan Clemons (536 rushing yds, 4 TDs). That group was the primarily nucleus in guiding the Golden Eagles to within a game of playing in the Division 2 Super Bowl before losing to St. John's of Shrewsbury in the state semifinal round last November. Without question, it was a very gifted and uniquely talented group of seniors _ all of whom will be sorely missed. However, as Brower is quick to point out, this is not the time to reflect on the past.The focus now turns to him and his staff attempting to developed a young squad, many of whom are considered to be untested and unproven, in preparation for this season.
"We are returning just three guys that started on offense and four that started on defense so right now we have a lot of inexperience and a lot of unseasoned guys," Brower said. "A lot of these kids will need to step up to the challenges that lie ahead of us this season. We will be able to evaluate throughout the preseason and especially after our first game to see where we are at and make the necessary adjustments along the way. Hopefully some of our younger guys took a few mental and physical notes by watching how those kids from last year conducted themselves, not only in games, but on the practice field and inside the locker room as well. But now it is their time. We continue to have high expectations for this program. No matter how we do, we still need to weather any storm that comes our way and continue to get better and not beat ourselves up when things go bad. There are many other teams that have younger players too so, for us, we just need to keep getting better everyday and not stop working until someone tells us our season is over."
Despite the number of departures, Central still has be considered one of the favorites to win the highly-competitive AA Conference mostly because Brower and his staff, as proven, are well-versed in getting the most out of their players. Last season, the Golden Eagles finished 7-0 in conference play, but are expected to face some fierce competition this season particularly from the likes of Westfield, East Longmeadow, Longmeadow as well as much-improved Holyoke and West Springfield squads. Central opens its season with a home date against powerful Everett on Sept. 5 -- marking the fourth consecutive year these two clubs have squared off against one another. The Crimson Tide hold a 3-0 lead in the series. "We love playing against Everett and it is my hope that this series will continue," said Brower. "Obviously they are a great team with a great tradition and are well-coached. We really enjoy playing them. For us, we want to continue to play the top programs in the state. That's how you get better as a team." As far as returners go, Crapps gives Central a solid two-way threat as a rusher and receiver out of the back field. He is a talented downhill runner who saw limited action last year due to the emergence of Morrow and Clemons. Bolden and Antoine Williams will also get their fair share of the work load as well. Tysean Williams should be the Golden Eagles' top receiving threat. The fleet-footed wide out hauled in four touchdowns a year ago. But it will be difficult for opposing teams to double up on him with Smith and Morales also on the field. Look for Mayberry to anchor a strong offensive line from his center position. And obviously, with Aaron Williams taking over the signal-calling duties, he will have some big shoes to fill however no one is questioning his pure athleticism to excel at the position. Defensively, Wiggins, at 6-foot, 340-pounds, is a beast with unlimited potential to be a sure-fire gap stopper. He will also be counted on heavily to keep constant pressure on opposing quarterbacks. One of the biggest question marks surrounds Hunter-Sams. At 6-2, 280, Hunter-Sams has shown traces of developing into a solid two-way lineman, but does he have the high motor to go along with it? Only time will tell as the skill level seems to be there. One intangible in the Golden Eagles' favor is the addition of Bill Watson, the former Putnam Voc head coach. Watson, who enjoyed a successful two-year stint holding down the reins with the Beavers, decided to leave the position at the conclusion of last season, moving across town to join Brower's staff and will serve as defensive coordinator. Watson's particular attention to detail, ability to motivate players and calling out the proper defensive packages on the fly will certainly be a major asset for Central moving forward. "He's a great addition," Brower said. "We've coached against one another and have gotten to know each other very well. He and I have always talked about working together someday. It didn't seem like it would be a reality until this last spring when things just happened to pan out. All of us here are ready to accept him with open arms. We both have similar philosophies and we both have a strong passion for the game. It is going to be exciting to have him with us."
-JOHN McGUIRK
NO. 16 LEOMINSTER
Coach:
Dave Palazzi (Fourth season, 29-8)
2013:
10-1, lost in Division 2 Central Final
Returning Starters:
Five (2 offensive, 3 defensive)
Key Returnees:
Nate Lambert, Sr. OG, 5-11, 195 lbs.; James Gurley, Sr. RB/CB, 5-9, 190 lbs.; Kevin Beran, Sr. DL; Hector Aponte, Sr. DL
Strengths:
Size, defensive line.
Weaknesses:
Inexperience
Outlook:
After a dominant three-year stretch that included back-to-back Super Bowl titles, an historic shutout of long-time rival Brockton and a district final appearance, the Blue Devils are hitting the reset button. Gone are All-State safety Jarell Addo and last year's Gatorade Player of the Year, Neil O'Connor. In their places are a whole lot of fresh faces, from linemen Alex Bourgeois and Jared McDonald; to skill guys like tight end Carlos Santana and receivers D'Andre Addo, Shane Crayton and Mike Lovewell; to a promising sophomore class led by Anthony Dandini, Dylan Tanner and 6-foot-4 athlete Noah Gray. "To be honest with you, I'm more excited than ever to coach this year," Palazzi said. "We know what we have this year, but we don't know what we have because there's no experience. So, it makes it more exciting, to see kids grow. It might be painful, it might be frustrating, but you know, that's why I love coaching." Defensive coordinator Charlie Raff has taken over at Oakmont, and in his place Palazzi promoted line coach and long-time compatriot Kevin Murphy, and also added former North Middlesex head coach John Margarita to the defensive staff. The Blue Devils under Palazzi have never blown you away with size, but they'll have more of it this year with the new blood. Still, the newbies are going to have to grow up quick this fall. They open with three preseason Top 10 opponents (at No. 5 St. John's, Sept. 13; vs. No. 7 Lowell, Sept. 19; vs. No. 8 Shepherd Hill, Sept. 26), then host No. 20 Doherty on Oct. 10. That's a brutal stretch for even the most experienced team, never mind one as green as the Devils.
-BRENDAN C. HALL
July, 8, 2014
Jul 8
11:52
AM ET
Don't look now, but the first day of MIAA football practices is just 40 days away. Per our tradition every summer, ESPN Boston High Schools editors Brendan C. Hall and Scott Barboza whet your appetite for the gridiron with some players on the rise, surprise teams to watch, top teams and some food for thought.
Brendan Hall
ESPN Boston High Schools Editor
FIVE PLAYERS ON THE RISE
Drew Jean-Guillaume, Sr. QB/DB, Shepherd Hill
With a powerful frame and impressive speed honed during track and field season, Jean-Guillaume is a throwback-type option quarterback, a converted running back who's as adept at powering through defenders as he is at evading or blowing by them. The Rams will be heavy favorites in Division 4, and Jean-Guillaume will have plenty of room to work behind a reportedly heavy line led by Boston College commit Chris Lindstrom.
Mekhi Henderson, Soph. DB, Xaverian
In a defense full of household names, Henderson is one of the Hawks' brightest young stars. Often last season, he was left on an island against an opponent's top target, and often he held his own. With his coverage skills and raw ability, the coaching staff has a luxury to get creative in the secondary.
Shane Combs, Sr. ATH, St. John's (Shrewsbury)
It's assumed that Combs, a Notre Dame baseball commit and ESPN Boston All-State selection during the spring, will take the reins at quarterback from last year's Mr. Football finalist Drew Smiley. The Missouri transplant was one of the state's most productive rushers during the playoffs, going over the century mark in all five postseason contests as the Pioneers reached the Division 2 state final.
Mike Maggipinto, Jr. RB, East Longmeadow
Somewhat quietly, the 5-foot-5 scatback eclipsed the 2,000-yard mark last year for the Spartans, running behind a great blocking scheme that continued to find unique ways to get him in space. Between Maggipinto and Plymouth North's Christian Carr, this could be the year of the pint-sized running back.
Jahkari Carpenter, Sr. RB, Doherty
Among the area's most elusive, Carpenter was a weekly highlight reel during the Highlanders' run to the Division 4 state title, with runs like
THIS
, or
THIS
, or
THIS
. Junior Tavian Vassar is expected to have a bigger role in the backfield this year, which could make for an imposing thunder-and-lightning combination.
FIVE TEAMS THAT WILL SURPRISE
Billerica
The Indians hit a home run this offseason with the hiring of Duane Sigsbury as their new head coach, though they are considered a year or two away. Still, Sigsbury is one of the area's brightest offensive minds, with a track record of making programs relevant in a hurry (see: Boston Cathedral). Similar to his other stops, there are already some terrific talents coming up the pipe.
Boston English
The Blue and Blue made history last fall to end Brian Vaughn's first season at the helm, beating Boston Latin for the first time since 1997. Now, with dynamic dual threat Emmanuel Almonte leading the offense, they'll look to continue last year's momentum.
Cambridge
Long considered a powder keg for skill talent, head coach Ryan Saulnier has tapped into it, and found a lot of success running his brand of spread offense in his first season last fall. With Marcus Collins returning under center, and a new home in the Dual County League, the Falcons ought to be one of the most entertaining teams to watch in Division 2 North.
Leominster
Blue Devils graduated one of their most talented classes ever, but this is a program built to reload, not rebuild, under a great offensive mind in Dave Palazzi. Defensive coordinator Charlie Raff left to take over at Oakmont, but in his place comes former North Middlesex coach John Margarita. It's too early – not to mention, lofty – to make any Neil O'Connor comparisons yet, but keep an eye on sophomore Noah Gray this fall.
Springfield Central
Similar to Leominster, the Golden Eagles have many holes to fill on the heels of its most successful season in school history. But they should have a solid defense again, led by lineman Kaleb Hunter-Sams, and the coaching staff should get a boost from the addition of former Putnam head coach Bill Watson.
Hall's Preseason Top 10:
[+] Enlarge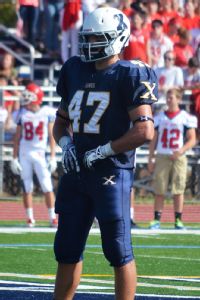 Brendan Hall/ESPNESPN Boston's reigning Defensive Player of the Year, Northwestern commit Joe Gaziano, leads a stacked Xaverian defense.
1. Xaverian
Little drama here as to who's the top dog. With a star-studded defense that includes the likes of Northwestern commit Joe Gaziano, ESPN Boston's Defensive Player of the Year in 2013; linebackers Noah Sorrento, Kenny Kern and D'Aundre Holmes; and defensive backs Damion Wood and Mekhi Henderson; as well as a potent running game behind UMass-bound tackle Joe Parsons, and an innovative playmaker in quarterback Jake Farrell; the Hawks figure to start the year No. 1 in many polls.
2. Everett
Crimson Tide are licking their chops after a disappointing end to 2013 season, and as usual they reload with some of the most gifted skill players in the area. The interesting question is how they'll fit Boston College-bound cornerback Lukas Denis into the offense; originally slotted as the successor to Jonathan DiBiaso at quarterback before injuries derailed his sophomore season in 2012, Denis showed flashes of brilliance in a multitude of positions last year.
3. Central Catholic
The Raiders' featured one of the state's best defenses a year ago in their D1 state title run, and they'll be held in high regard again thanks to linebacker Markus Edmunds and safety Mike Balsamo, who is fielding multiple Division 1 FCS offers at the moment. Also keep an eye on Matt Milano, who was statistically one of the state's most productive quarterbacks in the playoffs last year.
4. Mansfield
The Hornets dramatically altered their offense on the fly late in the season following a season-ending injury to wideout Brendan Hill, and it worked out as they took the D2 state title. A fully healthy Hill and another year of running back Miguel Villar-Perez, one of last fall's most pleasant revelations, should make the Hornets the favorite in a tough D2 South.
5. Bridgewater-Raynham
Trojans always get the benefit of the doubt for their powerful running game and their "anyone, anywhere, anytime" approach to scheduling, and they'll be a force again with Brandon Gallagher returning at tailback. But the question is whether the Trojans can sustain momentum and avoid last year's fate, when they reached No. 1 in our statewide poll early, only to sputter in the second half.
6. Shepherd Hill
In short, Boston College-bound offensive lineman Chris Lindstrom Jr. is a force. But the fact that he is the Rams' most dominant, yet possibly their lightest, should tell you something about what to expect in 2014. They're arguably Central Mass.'s most talented team this fall, and while there's a couple other heavy hitters contending in D4 – Holliston, Dennis-Yarmouth and Wahconah, for starters – these guys are my odds-on favorite. Look for them to put up a ton of rushing yards in head coach Chris Lindstrom Sr.'s double wing scheme.
7. Lowell
The Red Raiders made one of the biggest statements of the playoffs last fall in blanking St. John's Prep 41-0 in the first round of the D1 North tournament. Syracuse commit Shyheim Cullen was exceptional at interior gap blitzes, baiting and confusing potential blockers to create chaos up the middle, and he'll lead a talented defense that includes linebacker Nicolau Coury and defensive back Theo Bryant.
8. St. John's (Shrewsbury)
Boston College-bound free safety Davon Jones is one of several early candidates for Defensive Player of the Year after recording 125 tackles and eight picks a year ago. Offensive coordinator Chris Moriarty is as creative as they come, and how he utilizes Jones and athlete Shane Combs in the offense will be one of the more interesting storylines of the season's earlygoings.
9. Brockton
We're still in wait-and-see mode after another season of unrealized expectations in Brockton, but it's hard to deny the talent the Boxers have coming back. Keep an eye on Boston College-bound lineman Aaron Monteiro, who has some raw potential and a powerful frame at 6-foot-6 and nearly 300 pounds.
10. Dennis-Yarmouth
Division 1 recruit Michael Dunn lined up at nearly every offensive position last year for the Dolphins in their run to the D4 state final, and he may very well do it again. Defensively, this kid is a treat, regarded as one of the state's premier shutdown corners. As usual, Paul Funk's frenetic read option scheme will be a tall task to keep up with.
Others to Watch:
Attleboro, Barnstable, BC High, Doherty, Holliston, Marblehead, Oliver Ames, Plymouth North, Pope John Paul II, St. John's Prep, St. Peter-Marian, Tewksbury, Wahconah, Walpole
FOOD FOR THOUGHT:
1.
Spread offense has been the growing trend in Massachusetts over the last decade, and we're now seeing its influence at all levels of the game. But at the other end of the spectrum, we're seeing more and more teams dip into playbooks from decades and decades ago for some wild success in the running game. We've romanticized Nauset's Single Wing offense for years. At Holy Name, Mike Pucko dug into Dutch Meyer's World War II-era playbook and installed a fullback-less "Triple Wing" offense for the Naps' Thanksgiving contest with Milford, a game they won 35-14. Last year's D5 West Final featured a Pistol Flex Bone (Hoosac Valley) versus a Wishbone (Easthampton). Tewksbury, last year's D3 state champ, calls running plays out of an encyclopedia of formations from every family of offense. Factor in all of the traditional Double Wing success stories like Shepherd Hill, Holy Name and Somerset-Berkley, too. Running offense continues to diversify in this corner of the country, and if you're an X's and O's junkie like me, you are having a blast watching it.
2.
LSU took some negative backlash last fall when they received a verbal commitment from a freshman early in his season after an apparently intense summer of recruitment from a number of SEC schools, but this doesn't appear to be a trend going away any time soon. Early offers are still fairly uncommon for football prospects in this part of the country, though it's worth noting St. Sebastian's incoming sophomore Blake Gallagher received an offer from Nebraska last month. Beyond the concerns about pressure and bloated expectations, the biggest question I have is this: What if the recruit stops growing, or has just peaked earlier than his peers? I'm interested to see if Maryland head coach Randy Edsall's proposals for recruiting reform gain any traction. Among other things, his plan stipulates schools can't make a written offer until a player's senior year, and that the offer must come with permission from the school's admissions department.
3.
I'm on record as saying I hope the true state championship format the MIAA rolled out last year is here to stay, but I'm also in favor of giving it some tweaks. First and foremost, get rid of the second automatic qualifier for leagues. Weak leagues were rewarded at the expense of teams like Medway and Pope John Paul II, teams who finished with winning records in qualification period but were pushed all the way out of the eight-team field in their respective divisions to satisfy undeserved automatic berths. Leagues should be restricted to one automatic qualifier, or two if it is a two-tier league. I also question whether a seven-game regular season is enough of a window to properly gauge a team's strength. Expanding to an eight-game season and starting it on Labor Day Weekend could satisfy that, and could be a good gate opportunity for many schools as well.
***
Scott Barboza
ESPN Boston High Schools Editor
FIVE PLAYERS ON THE RISE
Michael Balsalmo, Sr. RB/FS, Central Catholic
A standout on the Raiders' Division 1 championship season a year ago, the 6-foot-2, 200-pounder holds a couple of offers (Bryant, Wofford) entering the season. Here's better there will be more to follow.
Christian Carr, Sr. RB, Plymouth North
For what Carr might lack in stature, he makes up for in elusiveness. A consistent 100-yard-per-game rusher in his junior season, he broke out with a 351-yard performance in the Eagles' playoff win against Dighton-Rehoboth.
Jake Gibb, Jr. QB, Stoughton
In his first season under center, Gibb led the Knights to the Division 3 South final before falling to Plymouth South. Gibb will have them contending for the Davenport division title again.
Kyle Murphy, Jr. OL/DL, Attleboro
The two-way lineman was a driving force behind the Blue Bombardiers' breakout season last year. It's only a matter of time before the 6-foot-4, 240-pounder starts getting colleges' attention.
James Sullivan, Sr. RB/S, Tewksbury
Sullivan announced himself to a statewide audience on the biggest stage last year, racking up 125 yards and three touchdowns in the Redmen's win over Plymouth South in the Division 3 state title game. With graduations, Sullivan will take on an even bigger role this year.
FIVE TEAMS THAT WILL SURPRISE
Braintree
The Bay State Carey should again be one of the more interesting races to watch across the state this year, and the Wamps might be primed to take a big step forward after last year's 4-7 mark. One to watch is inside linebacker Derek Anson, who's only added to his 6-foot-2, 225-pound frame.
Doherty
The Highlanders were historically good in 2013, capturing their first state title while beating Dennis-Yarmouth for the Division 4 championship. Although several key contributors have graduated, they can still make a run
Natick
It might not be the aerial display we've seen in recent years with Troy Flutie at quarterback, but the Redhawks will be one worth watching as Brian Dunlap returns from a season missed due to injury (Lisfranc fracture) last year.
Quincy
After a 7-4 campaign last season, are the Presidents ready to challenge for the Patriot Keenan title? With promising running back Jhave Handsom-Fields (8 TD as a sophomore) and quarterback James Lam returning, the time could be now.
Somerset-Berkley
The Raiders return a big class of juniors, including feature back Chip Wood back in the fold and Jacob Cabana rushing off the edge. Another EAC title could be in the cards.
Barboza's Preseason Top 10:
1. Xaverian
The Hawks will have some questions to answer on offense, but deserve the top spot on defense alone, with Defensive Player of the Year Joe Gaziano returning along with the state's best secondary group.
2. Central Catholic
The Raiders peaked at precisely the right time last year, capturing the first true statewide Division 1 title. Some of their biggest playmakers have graduated, but Michael Balsamo's primed for a breakout year.
3. Everett
The Crimson Tide are undoubtedly still smarting over last year's home playoff loss to Central Catholic. We all know what that means.
4. Bridgewater-Raynham
Here's betting tight end/defensive end Connor Reagan is one of next year's breakout performers.
5. St. John's (S)
You never know what you're getting from the Pioneers' offense game to game, and it'll be intriguing to see how the group develops this season. But you have to like any group with athletes of ilk of Shane Combs and Davon Jones.
6. Lowell
I'll take my chances with the linebacking corps the Red Raiders have returning, anchored by Shyheim Cullen and Nicolau Coury.
7. Brockton
The Boxers will not be pushed around inside the tackle box, with perhaps the biggest returning offensive line in the state, including Aaron Monteiro (6-6, 300) and Uzziah Hilliard (6-0, 280)
8. Mansfield
Mike Redding will come up with creative schemes to avoid Brendan Hill being double-teamed on both sides of the ball. Connor Finerty will also look to expand on a promising sophomore season.
9. Dennis-Yarmouth
The Dolphins fell just shy of the Div. 4 state title in a riveting matchup with Doherty. They might not be denied this year.
10. Tewksbury
The Redmen might not match the size and physicality of last year's state championship squad, but having James Sullivan in the backfield is still enough to win.
Others to watch:
Arlington, Attleboro, Billerica, BC High, Holliston, Leominster, Oliver Ames, Shepherd Hill, Stoughton, Wahconah, Walpole.
FOOD FOR THOUGHT:
1.
The football playoff system is here to stay – well, at the very least for two more years. While there are still pockets of dissent, the sentiment across the state is that the first year determining true state champions across six divisions was a success. It even drew over some who'd been opposed to the playoff proposal originally and voted against the measure. The build up and drama of the first seven weeks leading up the start of the tournament brought a different dimension of intrigue to the season. Still, detractors remain and, as Brendan ruminated earlier in this feature, there's still room for improvement regarding the means of automatic qualifiers and the discrepancies that exist between the respective athletic conferences' rubrics – including, most importantly, the weight of league games. But with one year in the books, I declare the system to be a success. Now, let's start tweaking the framework.
2.
Which brings me to my next point: get rid of Thanksgiving. This is going to be a highly unpopular opinion in some neck of the woods, but it's simply a reality of what's put in front of us. At the end of last season, I talked to many athletic directors who complained about a diminished gate return from their Thanksgiving Day games. That's a natural feedback of the playoff system – which in some place requires teams to "double up" with their Thankgiving rivals. In change, that has deemphasized the pomp and circumstance surrounding Turkey Day. As a result, that left some Thanksgiving Day matchups to resemble more of an exhibition game in tone – althought don't tell that to St. John's Prep and Xaverian, or Foxborough and Mansfield. The result is a hodgepodge of situations that follow teams into what used to be the biggest day of the regular-season football calendar: ie a non-playoff team vs. a team that's bound for a championship game, or two teams who are playing out the string on a season that's already ended. I counter those scenario's are really no different than what existed in the year B.P. (Before Playoffs), but the current arrangement has only emphasized was already apparent – Thanksgiving is an exhibition. Minus the Catholic Conference or Merrimack Valley Conference duels which resulted in playoff berths in previous years, Thanksgiving largely was such. Only now have the detractors used the playoff system to highlight the faults in Thanksgiving Day that already existed. What Thanksgiving Day has always been about is the rivalry. I ventured to North Attleborough last year when the Red Rocketeers (already eliminated from the playoffs) hosted Attleboro (who were just eliminated the previous week in the sectional final). The scene was what you'd become accustomed to – with an overflow crowd at Community Field. They were all there to watch an exhibition game. Why not make that game mean something more again? Why not play the game before the first frost?
December, 13, 2013
12/13/13
12:28
AM ET
By
Brendan Hall
| ESPNBoston.com
Saturday's six inaugural MIAA State Championships put a bow on another thrilling season of high school football in Massachusetts. This year was filled with highlight reel-worthy plays, including two that made SportsCenter's "Top 10 Plays" in consecutive months. This year, more than any other year, it felt like there was a deep volume of wild plays and wilder finishes.
Here are my 10 best plays from the 2013 MIAA football season:
(Video clip of play No. 2 is courtesy of The Needham Channel. All other clips are courtesy of HUDL.com)
Honorable Mention -- The Megatron
In case you missed Cody Demers' ridiculous touchdown catch for Central Catholic,
our No. 1 play from last Saturday's state championships
, here it is again. Because it is that good:
10. Velociraptor Valenza
Foxborough linebacker Luc Valenza, a UMass lacrosse commit, dished out his fair share of violent hits this fall for the Warriors. Arguably none were more brutal, though, than the one he delivered here in the third quarter of their Thanksgiving loss to Mansfield:
9. Behind the Back
This Top 10 list is littered with nifty run-backs, but on pure athleticism, Weymouth sophomore defensive back Matt Long makes a strong case here. Watch as he returns a
behind-the-back
interception 52 yards to the house in the Wildcats' 49-14 rout of Braintree:
8. Juke 'Em Jahkari
There was a point this season where it seemed like every week, Doherty junior running back Jahkari Carpenter was ripping off a ridiculous run like the 55-yard catch-and-run TD he made here in the D4 Central semifinals against Hudson:
7. Zach's Zig-Zag
As the name implies, watch as Holliston junior Zach Elkinson pounces on an errant pass and, after some shake and bake, puts on the afterburners for a 70-yard interception return touchdown, late in the Panthers' win over Medway:
6. Phone Booth
We've seen some nice-looking one-handed catches from time to time, but none in as tight of quarters as Attleboro tight end Luke Morrison, who reels in this catch with a Xaverian defender sewing him up nicely, in this Division 1 South Final:
5. The Pinball Run
Penn State-bound St. John's Prep tailback Johnathan Thomas led all rushers statistically in Massachusetts through three games, before being lost for the season with a knee injury. It's possible that with a full season we could have dedicated an entire Top 10 entry to his best runs, because we're pretty sure he would have made runs like this 42-yarder in the Eagles' win over Brockton -- in which he breaks about a bajillion tackles -- somewhat routine.
4. The Ed Reed
It takes endurance to pull off interception returns like the one Leominster's Neil O'Connor did here late in the second quarter of the Blue Devils' rout of Wachusett. The state's Gatorade Player of the Year changes direction several times as he takes it 89 yards to the house:
3. The Miracle at Mahar
Strictly reading by box score, this was one of the season's best finishes, as Greenfield evaporated an 18-point deficit in the final four minutes of regulation to knock off Mahar, 30-29. But the ending, a 40-yard tip-drill Hail Mary from Connor Eckstrom to Parker Hickey with five seconds left, puts this over the top:
2. Can't Catch Cliff
Needham's Cliff Kurker made national headlines with this 70-yard punt return in a win over Framingham, breaking free of five tacklers after he was thought to initially be stopped on forward progress. He was the talk of the town after this play, which reached No. 1 on SportsCenter's "Top 10":
1. Johnny Unstoppable
This one never gets old. You might go another decade without seeing a play quite like this. Thomas made No. 1 on SportsCenter's "Top 10" after this record-setting 107-yard interception return late in Prep's win over Central Catholic, the longest touchdown in school history.
December, 7, 2013
12/07/13
7:02
PM ET
By
Phil Garceau
| ESPNBoston.com
FOXBOROUGH, Mass. -- Issac Yiadom and Alfred Adarkwah have been giving defensive coordinators across the state nightmares all season.
Throw Jahkari Carpenter into the mix from the backfield and Luke Brennan as "the straw that stirs the drink," you might as well give up trying to stop them and just call it a victory if you can find a way to slow them down.
[+] Enlarge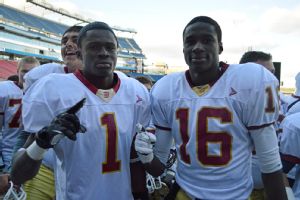 Brendan Hall/ESPNBoston.comReceivers Isaac Yiadom and Alfred Adarkwah strained the Dennis-Yarmouth defense in the Highlanders' D4 state title victory.
The Dolphins took their best shot to defeat the high-octane offense of Doherty and played very well most of the game, but in the end it was too much to handle.
"I think we were well prepared it came down to them making a couple more plays than us," said Funk.
D-Y placed their best defensive back and arguably the best coverage cornerback in all of Division 4, Michael Dunn on Adarkwah. Liam Matheson and L.K. Metz took turns taking on Yiadom. But both receivers still found big plays that ended in the end zone.
What's the key to the Doherty success? Well for starters, they understand that it is a team game and that they are at their best when they use all their weapons.
No one knows that more than Adarkwah, "I like to win, so whatever it takes to win. The end zone if that's what it needs to be, if blocking is what I need to do, whatever it takes."
Out of the 358 total yards of offense the Highlanders gained in the Div. 4 state title game victory, the ball was very evenly distributed.
Adarkwah streaked down the sideline on the final play of the first half and hauled in a 41-yard pass in double coverage which in addition to giving Doherty a 14-7 lead, also kicked the Highlanders offense into gear as they took that momentum into the second half.
"It just got us going, Alfred's catch is got us going. He's a big time player," said Yiadom. "No corner in the state can cover him, he's tall, and he's long, he gets up and makes plays."
Yiadom on the other side is the one who has harnessed most of the attention this season. He was the third highest recruit in the state and is Boston College-bound next fall. Yiadom hauled in six scores with 748 yards this season and then added another four scores on the ground. He finished with seven catches for 138 yards. He's the complete package: size, speed and a tremendous set of hands.
The scariest part of this offense is that while defenses are respecting that dual-threat of receivers, Carpenter is free to run wild from the backfield. When Doherty goes into their three- and four-receiver sets, it is anyone guess where the ball is going. Carpenter ran for 87 yards and a score in the Div. 4 and ended his season at nearly 1,400 yards and nine touchdowns.
Once this offense is running on all cylinders, they are nearly impossible to stop.
Next year, despite losing Yiadom, the Highlanders still have another highly recruited wide receiver.
"I think Alfred is going to be a steal scholarship kid for somebody," said Mulcahy.
"Who ever gets him is going to realize, he is just starting to explode right now."
December, 7, 2013
12/07/13
5:42
PM ET
By
Phil Garceau
| ESPNBoston.com
FOXBOROUGH, Mass. – As the old saying goes, you live by the big play, you die by the big play. Both teams in the Division 4 final had gotten to this point with their homerun hitters so it was only fitting that the team that made the bigger plays would take home the hardware.
The dual threat of Doherty's Issac Yiadom and Alfred Adarkwah torched the Dolphins secondary for nearly 200 yards and a pair of long scores as the battle of two explosive offenses went in favor of the Highlanders, 28-26.
"It's crazy, it feels like it is unreal," said Yiadom. "At the beginning of the season, we were all talking about being state champs we finally got here and accomplished our dream."
A Highlander touchdown score midway through the fourth quarter gave the Central champs a 28-14 lead and seemingly the Div. 4 state championship game, but the never-give-up Dolphins made for an interesting final five minutes. L.K. Metz had his game of the season and Spencer Tyler orchestrated two scores setting up a 2-point conversion with 56 second remaining to tie the game.
[+] Enlarge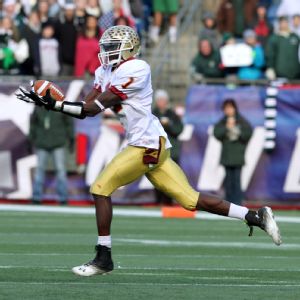 Brendan Hall/ESPNBoston.comBoston College signee Isaac Yiadom (7 catches, 138 yards, TD) was a terror for Doherty as the Highlanders captured their first state title in school history.
Tyler seemed to have Andrew Jamiel open in the end zone, but penetration from the Highlanders defense forced Tyler to his right and the pass intended for Mike Anderson fell harmlessly at his feet.
"When it was 21-7 and 28-20, we didn't expect to lose, we still though we were going to win and we played all the way to the end," said Paul Funk who coached his Dolphins to their second finals appearance in three years. "That's how those kids play, they play hard like that."
In the end it was the play of Yiadom and Adarkwah that separated the teams.
Adarkwah continued his torrid pace this postseason catching his seventh touchdown in his fifth postseason game, and it could not have come at a better time.
With 10 second remaining in the first half in a 7-7 ball game, the Highlanders were facing fourth and 10 from the Dolphin 41-yard line when they sent Adarkwah deep. He beat Michael Dunn, who was pressing off the line, and the safety help in Liam Matheson was a moment too late as Adarkwah hauled in the deep bomb from Luke Brennan to give the Highlanders a 14-7 lead heading into the half.
"As the game goes on with short quarters, you try to figure out what they are doing to you, they were doing a good job pressing our outside kids," Doherty coach Sean Mulcahy said after his team earned the second Superbowl title in the programs history. "Alfred finally beat the press coverage and got over the top on them and Luke made a great throw."
"It was a big play for us right before the half and big momentum for us."
On Doherty's first drive of the second half, Brennan dialed up the long ball again, finding Yiadom alone on a deep crossing route. Brennan hit him in stride and the Boston College commit went 64 yards untouched for to put the Doherty up 21-7 midway through the third quarter.
The Dolphins got life on the following drive when Spencer Tyler marched his troops downfield, setting up a Cory Desimone 2-yard scoring run to cut the deficit to 21-14.
But the Highlanders responded with an 8-play, 71 yard drive capped off by Jahkari Carpenter's 1-yard run to seemingly bury the Dolphins 28-14 with just under five minutes to play.
But L.K. Metz returned the ensuing kickoff 64 yards to the Highlanders 9-yard line and Tyler found sophomore Andrew Jamiel on the following play for a 9-yard score. On the PAT, Jahkari Carpenter broke through the protection and blocked Drew Tardiff's kick to keep the score at 28-20.
"Metz was outstanding. Metz is a gamer," said Funk. "I'd take him any day. He's a gamer, he was ready, he played great on both sides of the ball."
After the onside kick failed, the Dolphins needed to rely on their defense for a stop, which they had a difficult time with in the second half. Facing a third and third and four with just over two minutes remaining, Brennan couldn't handle the snap and lost 11 yards on the play.
The Dolphins took over on their own 21 with no timeouts. Tyler converted a fourth down to Dunn and a long screen pass to Metz set up D-Y at the Doherty 13. Two plays later, Tyler called his own number and scampered into the end zone from six yards out to set up a game-tying two-point attempt.
With the Dolphins season and championship hopes hinging on one final PAT, the Doherty defense rose to the occasion with penetration from their line and good coverage in the secondary to secure their first championship title since 1980.
"We're tough. We've been down before in games and come back," said Tyler. "We've had tough games long the way, tough games in Marshfield. We've had a lot of tough games so we were prepared for this one but bad play at the end."
After watching his team build for the last few years, Sean Mulcahy was proud to see his players finally brake through.
"It says that a Worcester city team with good players can play with anybody. Right now, we are very competitive team at the highest level of football in central mass and we're proud of that and this team caught fire at the end of the year and finished the job of what has been building for a few years."
DMHS 0 14 7 7 -- 28
DY 7 0 7 12 -- 26
First Quarter
DY-Spencer Tyler 11 run (Drew Tardiff kick), 0:16
Second Quarter
DMHS-Luke Brennan 8 run (rush fail), 1:38
DMHS-Alfred Adarkwah 41 pass from Brennan (Jahkari Carpenter run),, 0:00
Third Quarter
DMHS-Issac Yiadom 64 pass from Brennan (Brennan kick) 4:57
DY-Cory Desimone 2 run (Tardiff kick), 2:21
Fourth Quarter
DMHS-Carpenter 1 run (Brennan kick), 4:43
DY-Andrew Jamiel 9 pass form Tyler (kick blocked), 4:13
DY-Tyler 6 run (pass fail), 0:56
December, 4, 2013
12/04/13
12:27
AM ET
Ahead of Saturday's six MIAA Football State Championships at Gillette Stadium, today we are bringing back our "Tale of the Tape" series to break down each participating team's matchups headed into the game.
In the Division 4 Final, ESPN Boston High Schools editors Brendan Hall and Scott Barboza take a closer look at Central champ Doherty and South champ Dennis-Yarmouth, respectively.
Division 4 State Championship
DOHERTY (11-1) vs. DENNIS-YARMOUTH (10-2)
at Gillette Stadium, 11:30 a.m.
When Doherty has the ball:
Quarterback Luke Brennan, a Franklin Pierce baseball commit, has a live arm. And with Boston College-bound athlete Isaac Yiadom (31 catches, 748 yards, 6 TD), tight end Mitch Celaj (24 catches, 441 yards, 2 TD) and boundary receiver Alfred Adarkwah (27 catches, 513 yards, 11 TD) at his disposal in the passing game, he has put up terrific numbers in his senior season (2,079 yards, 24 TD). Yiadom is averaging 17.7 yards per touch as a factor in both the running and passing games, as dangerous on speed sweeps from the slot (30 carries, 334 yards, 4 TD) as he is receiving.
Package that with Adarkwah on the other side, and that has left many a defense in a bind. Measuring 6-foot-4 with a 6-foot-7 wingspan, Adarkwah has an exceptionally large catching radius – seemingly any ball landing from his knees up above his head is catchable. This is perhaps none more evident than his ridiculous four-game stat line for these playoffs: eight catches, six touchdowns.
The key, however, may lie in the running game. Often deploying a two-back three-receiver set out of a shotgun, Tyler Kmon provides a nice change of pace for their most elusive weapon, junior tailback Jahkari Carpenter. As one of Central Mass.'s rushing leaders (134 carries, 1,287 yards, 8 TD), he has been on a tear through these playoffs, averaging 9.6 yards a carry. Don't let him get to the edge, because every single week of these playoffs, it seems like he comes up with some ridiculous run where he jukes about 100 defenders.
EVERY
. . .
SINGLE
. . .
WEEK
. . .
When D-Y has the ball:
With the Dolphins offense, seemingly any of its talented athletes can break a big play at any given moment.
The fulcrum is senior quarterback Spencer Tyler. From the Dolphins' spread, Tyler can create with his feet and is well-capable of striking downfield on big-hit plays. Yet, for Tyler's arm strength, D-Y is at its best in the screen game. The Dolphins utilize a plethora screen concepts and funnel the ball through a cadre of athletes set out across the formation -- whether in the backfield or out wide. Michael Dunn, L.K. Metz and Jake Pawlina are among the tide of seemingly interchangeable, yet dynamic athletes D-Y pulls out at every turn. Meanwhile, sophomore Andrew Jamiel has emerged as a downfield threat as the season has progressed.
In its matchup with Doherty, however, D-Y senior running back Cory Desimone should have an increased workload. Desimone is as close to a three-down back that the Dolphins have and they will rely on him to gain tough yards inside the tackle box.
When Doherty is on defense:
In short, there's lots of athleticism abound in the back seven here, between Yiadom (100 tackles) at free safety, Adarkwah shuffling in and out of the box, and linebackers Celaj and Peter Franco (84 tackles, 6 sacks, 2 INT) roaming the middle. While Yiadom doesn't have the interception totals of his breakthrough 2012 season, he still covers a ton of ground in the deep field, forcing quarterbacks into second-guessing throws.
Don't overlook the Highlanders' defensive line, which packs both bulk and punch. Senior Matt Smalls (63 tackles, 6 sacks, 1 INT) is a load off the edge at 6-foot-3 and 230 pounds, equipped with an explosive first step and a good rip move to the outside. Keep an eye on promising sophomore Tavian Vassar (56 tackles, 12 sacks), who alternates between middle linebacker and defensive tackle. The 5-foot-11, 220-pounder is built low to the ground and disruptive.
When D-Y is on defense:
In the early going of its Division 4 Eastern Mass. final against Bedford, D-Y struggled early to slow down Bedford's Olan Abner. While the Highlanders don't have a back as physical as Abner, the Dolphins will have to contend with Jahkari Carpenter, who could exploit D-Y's difficulty in containing stretch plays. The group tasked with leading the charge will be an underrated Dolphins defensive line, led by tackles Spike Elizondo and Angelo Hardaway.
The strength of D-Y's defense might be its linebacking corps, anchored by Chip Evangelista and Metz. After a strong second-half effort against Bedford, Dolphins head coach Paul Funk praised the efforts of his linebackers, calling Metz the factor that "stirs the drink," defensively. The art of the Dolphins defense is to collapse the interior line and allow for its athletic group of linebackers to step up and make tackles.
Of course, the greatest question entering is how the Dolphins secondary will match up with Doherty's tall, rangy receivers. A player like Metz could be used to shadow Yiadom across the formation, but how does D-Y game plan for Adarkwah on the perimeter?
November, 23, 2013
11/23/13
10:02
PM ET
By
John McGuirk
| ESPNBoston.com
LEOMINSTER, Mass. -- Before they had time to blink, the Doherty Highlanders were trailing 16 points to Western Mass. power Wahconah Regional.

Like a Mike Tyson fight (pre-Buster Douglas, of course), Doherty found itself lying on the canvas in a heap after the Warriors came out swinging right from the outset.

With one foot firmly planted on the Highlanders' throats, Wahconah failed to complete the task when it had the chance and let Doherty off the hook. Helped by a couple of Warrior miscues, Doherty was able pull itself up, and in the process, save its season after rallying back to post a 22-16 triumph in today's Division 4 state semifinal played at Doyle Field.

"It seemed our kids were so excited about this game and the atmosphere that we got tired after two plays," said Highlanders head coach Sean Mulcahy, his team finishing with 325 yards to the Warriors' 257. "Wahconah took it to us early and I think our kids did panic a little bit."

Doherty (10-1) faces Dennis-Yarmouth (a 21-14 winner over Bedford on Saturday) in the final on Dec. 7 at Gillette Stadium – time to be announced.

While some pundits assumed the Highlanders' overall talent-level would be far too great for the Warriors (10-1) to handle, it appeared to be the other way around in the early going.

On the Warriors' opening possession, senior quarterback Ethan Wells, who played marvelously all game long, directed his club on a 53-yard scoring drive with Wells completing the drive by connecting with junior wide out Ryan Washburn for a 26-yard scoring reception. Matt Salvatore's proceeding conversion catch had the Warriors in front, 8-0.

Wells put his diversity on display for the Highlanders, demonstrating his capabilities throwing the football as well as running with it. He finished with 129 yards on 30 carries and was 6 of 13 passing for 93 yards. Lining up in the shotgun throughout, Doherty's defense appeared baffled about what Wells would do next, consistently loading the box to take away the run.

Yet, the strategy didn't seem to faze Wahconah. After a second consecutive Highlanders punt, the Warriors were given a short field to work as they set up on Doherty's 43-yard line. Four runs by Wells, netting 17 yards, positioned running back Darrow Brown to bust through for a 10 yard scoring run with just over a minute remaining in the initial quarter. Brown then threw a pass to Cole Morrison for the two-point conversion pushing the Warriors out to a 16-0 advantage.

In spite of the deficit, it was certainly still within reach for Doherty, and its plethora of talent, to jump back into it. All the Highlanders needed was something to fall their way and provide a much-needed lift. It came in the form of running back Jahkari Carpenter.

With Doherty's running game totally inept during the opening frame, Carpenter changed that early in the second thanks to his 59-yard jaunt. That was immediately followed by senior quarterback Luke Brennan's 19-yard touchdown scamper to make it 16-6 after the conversion run failed.

"Our defense made some great adjustments after [Wahconah] went up by 16 points," said Brennan, who finished with 93 yards on 6 of 15 passing. "Our offense eventually clicked and that's what we did the rest of the game. Everyone kept their poise. We knew it was going to be a war. We knew we needed to grind for four quarters and keep our composure the whole game no matter what happened and that's what we did."

On the ensuing kickoff, the Warriors made a critical error which in turn provided the momentum shift Doherty grasped hold of and didn't surrender.

Senior Eli Pease had the ball squirt through his hands that ended up sitting on the 1-yard line. After a delay-of-game penalty, Wells had no place to go inside his own end zone and was smothered by the Highlander defense resulting in a safety.

"Once we got that safety I felt our kids could finally breathe a little and now start to play," Mulcahy said.

He added, "We'll enjoy this and now get ready for Burncoat on Thanksgiving. We'll worry about Gillette after Thanksgiving."

With 4:47 still left before halftime, Doherty came all the way back. Carpenter's 42-yard zig-zag touchdown and Mitch Celaj's conversion catch had this contest knotted at 16-16. Carpenter finished with 114 yards on 14 attempts.

"We did a great job coming out for this game," Warriors coach Gary Campbell Jr. said. "Offensively and defensively we were executing. But in the second quarter the wheels came off. All you can ask for are opportunities. If you get them phenomenal and if you don't that's the way it goes. Doherty is a quality team but I was pleased to see our kids hang with them through four quarters like they did. We'll fight with anybody but this one will sting a little.

"I thought Ethan [Wells] played great for us today. He is our heart and soul. He's a tough kid who is still deciding on attending either RPI and WPI. It doesn't matter where you put him on the field. He's just a very smart, tough player that can play anywhere."

It only got worse Wahconah after a shotgun snap deflected off of Pease, who was in motion, resulting in Highlander senior Peter Franco's recovery on Wahconah's 40. But Doherty running back Issac Yiadom gave the ball back to the Warriors, coughing it up inside the 10. Yiadom carried the ball four times for 40 yards.

Wahconah's offense did nothing following the turnover and had its punt partially blocked. Doherty took over on the 16 and needed only one play to take a 6-point lead. Alfred Adarkwah's 16-yard scoring grab from Brennan with 16 seconds before halftime had the Highlanders in a much-better frame of mind than what transpired during opening 11 minutes.

The second half was a bend-but-don't break style offense and defense from both teams. Doherty had a chance to pad its lead late in the third but Carpenter lost control of the ball inside the Warriors 10. Likewise, Wahconah put forth its best drive of the game following the turnover. Beginning at his own 8-yard line, Wells' legs did much of the work in moving the Warriors all the way the Highlanders' 6. Facing a fourth-and-goal Wells' pass to the back of the end zone was battered down by senior Shawn Jackson.

Doherty regained possession and eventually ran out the clock for the triumph.
November, 20, 2013
11/20/13
2:21
AM ET
By
Brendan Hall
| ESPNBoston.com
Here is our latest "Mr. Football Watch", following the third weekend of MIAA State Championship Playoffs. As always, coaches and/or statisticians are encouraged to send statistics to editors Brendan Hall (bhall@espnboston.com) and/or Scott Barboza (sbarboza@espnboston.com)

EDITOR'S NOTE: This will be the final "Mr. Football Watch" of the 2013 season. The five finalists for our Mr. Football Award will be announced on Monday, Nov. 25, with the winner announced on Dec. 9.

***

THE CONTENDERS

Luke Brennan, Sr. QB, Doherty
Threw for 191 yards and three touchdowns, but most importantly delivered the game-winning touchdown pass to Isaac Yiadom with five seconds left, as the Highlanders captured their first Central Mass. title since 1980 with a thrilling win over Shepherd Hill.

Davon Jones, Jr. FS, St. John's (Shrewsbury)
Totaled 10 tackles and an interception, in the Pioneers' 51-42 thriller over Leominster for the D2 Central title. He leads the team in tackles (91) and interceptions (5).

Neil O'Connor, Sr. QB, Leominster
Totaled 289 passing yards and two touchdowns, in a 51-42 loss to St. John's in the D2 Central Final.

Dylan Oxsen, Sr. RB, Plymouth South
Carried a career-high 39 times for 160 yards and a touchdown in the Panthers' 7-6 win over rival Plymouth North for the D3 Southeast title. He is the state's leader in playoff rushing yardage, with 737.

Andrew Smiley, Sr. QB, St. John's (Shrewsbury)
Completed 14 of 22 passes for 250 yards and three scores, and added 201 yards rushing and three more scores on 20 carries, in the win over Leominster. That puts him over the 2,000-yard passing mark for the second straight season; he currently has 2,787 yards of offense with 38 touchdowns.

Cody Williams, Sr. QB, Springfield Central
Completed 15 of 22 passes for 344 yards and four touchdowns in the Golden Eagles' win over Westfield in the D2 West Final.

Ju'an Williams, Sr. WR, Springfield Central
Made five catches for 119 yards in the Golden Eagles' 48-22 dismantling of Westfield in the D2 West Final.

Kyle Wisnieski, Sr. QB, Mansfield
Completed 20 of 27 passes for 284 yards and four touchdowns in the Hornets' 41-16 win over Barnstable in the D2 South Final. He is completing 70 percent of his passes in the playoffs.

FIVE ON THE RISE

Olan Abner, Sr. RB, Bedford
Ran for 139 yards and a touchdown in the Buccaneers' overtime win over Pentucket for the D4 North title, his third straight week going over 100 yards rushing.

Jahkari Carpenter, Jr. RB, Doherty
Ran for 119 yards and two touchdowns to help lead the Highlanders past Shepherd Hill for the D4 Central title. He has 230 yards rushing and four touchdowns in the last two weeks.

Michael Dunn, Jr. CB, Dennis-Yarmouth
Held Holliston's top target Zach Elkinson without a catch, and made an interception for his own cause -- his sixth of the season -- as the Dolphins captured the D4 South title.

Michael Hershman, Sr. WR, Mansfield
Exploded for seven catches for 132 yards in the Hornets' 41-16 win over Barnstable, for the D2 South title.

Shayne Kaminski, Sr. RB, Xaverian
Ran for 200 yards and two scores to help rally the Hawks past Attleboro for the D1 South title, his second 200-yard rushing game in three playoff games.

PLAYOFF STATISTICAL LEADERS

Passing
Kyle Wisnieski, Sr., Mansfield – 689 yards, 9 TD
Matthew Jeye, Sr., Holliston – 647 yards, 5 TD
Luke Brennan, Sr., Doherty - 607 yards, 11 TD
Drew Smiley, Sr., St. John's (Shrewsbury) – 588 yards, 10 TD
Neil O'Connor, Sr., Leominster – 575 yards, 5 TD
Mike Milano, Sr., Central Catholic – 516 yards, 4 TD
Troy Flutie, Sr., Natick – 504 yards, 6 TD
Dana Parello, Sr., Waltham – 494 yards, 6 TD
Tim Walsh, Sr., Attleboro - 469 yards, 8 TD
Cody Williams, Sr., Springfield Central – 417 yards, 5 TD

Rushing
Dylan Oxsen, Sr., Plymouth South – 737 yards, 8 TD
Alex Givins-Perry, Sr., Bartlett – 710 yards, 5 TD
Christian Carr, Jr., Plymouth North – 618 yards, 8 TD
Brooks Tyrrell, Jr., Marblehead – 512 yards, 6 TD
Koby Schofer, Soph., Northbridge – 466 yards, 8 TD
Malik Garrett, Sr., Melrose – 466 yards, 7 TD
Shayne Kaminski, Sr., Xaverian – 447 yards, 5 TD
Mike Panepinto, Sr., Needham – 418 yards, 6 TD
Olan Abner, Sr., Bedford – 395 yards, 3 TD
Shane Combs, Jr., St. John's (Shrewsbury) – 386 yards, 5 TD
November, 2, 2013
11/02/13
12:42
AM ET
By
Joe Parello
| ESPNBoston.com


WORCESTER, Mass. -- A game that had the makings of a shootout quickly turned into a route for host Doherty, as Highlander quarterback Luke Brennan threw five touchdowns in a 54-27 win over Quabbin in the first round of the MIAA Division 4 Central playoffs.

While the final score wasn't indicative of a competitive game, the visiting Panthers and senior quarterback Dylan Kierman made the home crowd nervous early. Kierman, the Central Mass. leader for passing yards and touchdowns, opened the game by leading Quabbin on a 7 play, 84-yard drive that ended when he found classmate Nick Thyden for a 16-yard score.

"They were playing zero coverage (No high safeties), and we knew they were going to play zero coverage," Kierman said. "We also knew we would get a quick touchdown against them, because that's what we do to zero coverage. But after that they started mixing things up, rotating and jamming, and really starting messing with my reads... They're a great team, and I take my hat off to them."

"(That first drive) they got to us," Doherty senior receiver and defensive back Alfred Adarkwah said. "We just had to come back and tighten up the coverage. We got a few coverage sacks and were able to force him out of the pocket. We started to just play as one, because on defense, it's 11 hats to the ball."

Adarkwah would also have a hand in Doherty's great offensive day. The 6-foot-4 receiver has been unstoppable in the red zone, and on Doherty's first drive, he hauled in a 12-yard fade route for a touchdown from Brennan. On Quabbin's next drive, Doherty senior Tyler Kmon came on the blitz and sacked Kierman for an 11-yard loss.

After the Panther punt, junior running back Jahkari Carpenter quickly ripped off a 38-yard run, before Kmon punched it in from 14 yards out.

Kierman would again drive the Panthers deep into Doherty territory, but four straight incompletions ended their next drive. Two plays later, Brennan found Adarkwah deep down the left side for a 74-yard touchdown to put the Highlanders up 21-7.

But Quabbin wouldn't fade away quite yet. Facing fourth and 15, Kierman found classmate Justin Coppolino for 24 yards, then hit Thyden for a 19 yard score. But just before the half, the Highlanders would begin a run that would put the game away.

Two minutes before intermission, star receiver Isaac Yiadom lined up in the Wildcat and took it himself for a 20-yard rushing touchdown to give Doherty a 28-14 halftime lead. Only five plays into the second half, Brennan found Adarkwah for the third time, this one an 11-yard score on a hard out route.

A sack from Doherty senior Peter Franco led to a Quabbin four-and-out, and Brennan struck again moments later, this time to junior Javon Watkins from 18 yards out. Finally, Brennan's day ended after the next Doherty drive, when he evaded the rush, sprinted right, then fired a 49-yard bomb downfield to senior Mitch Celaj for his fifth touchdown of the game.

"I'm a big believer in giving respect where respect is due," Kierman said of Brennan. "He definitely deserves all the respect he's going to get after a game like tonight. I've always thought he was a really great quarterback, one of the best in Central Mass."

Next up for Doherty is a match up with undefeated Hudson, a team that will present many different challenges than Quabbin. While the Panthers' spread passing game is difficult to prepare for, Doherty's team speed on defense made it well equipped to handle Quabbin's style. The Hawks, meanwhile, are a power running, ball control type of offense.

It will be yet another challenge in Division 4 Central for the Highlanders, but they're not going to complicate things.

"We're good, but to get to the Super Bowl, we have to be great," Adarkwah said. "We just have to work as a unit in practice... We have to just keep the media (And outside expectations) out of our heads, because if we don't play well, the media won't be here."