Boston High School:

Jake Fay
January, 28, 2013
1/28/13
3:11
PM ET
By
Chris Bradley
| ESPNBoston.com
CHELSEA, Mass. -- It was the most vulnerable moment of Sammy Mojica's life.
A day after a fire destroyed his family's apartment in Chelsea, Brimmer and May's star guard walked through the tattered remains of his home. In what seemed like an instant, everything that Mojica and his family owned was destroyed, leaving them without any of the belongings or a place they can call home.
Last Wednesday was a normal day for Sammy, making the drive to Chestnut Hill's Brimmer & May School from Chelsea and attending his first few classes before sitting down with some of his teammates for lunch.
That was when he got a call from his older sister, who lives in New York City.
"She called when I was at lunch and asked 'Have you talked to mom? The house is on fire and she's still in there'."
[+] Enlarge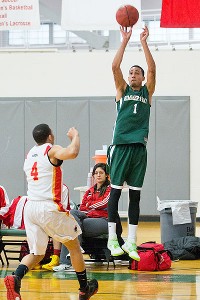 David Barron/Oxygen GroupBrimmer & May junior Sammy Mojica lost everything in a fire at his home in Chelsea last week. The support so far has been wide-reaching.
In a moment of disbelief, he walked outside the loud lunchroom to better hear his sister. She repeated her question, and to Sammy's dismay, he had heard her correctly the first time. After he hung up the phone and attempted to grasp his composure in the hallway, he went to the classroom of Jill Iuliano.
Iuliano, Sammy's math teacher whom he felt he could trust and confide in, talked to Sammy and immediately made moves to help him get home to his mother.
"She's one of my favorite teachers," he said. "She asked me what's wrong, and I told her my mom is still in the house. I started breaking down and crying."
Her husband Joseph, the headmaster of Brimmer & May's Upper School, quickly saw to it that Sammy had a ride to Haymarket Square, where he and his younger sister Kiara met their father, Sammy Mojica, Sr., a Chelsea policeman.
Their father reminded Sammy and Kiara several times in the car that their mother was OK. Sammy also talked to his mother briefly on the phone, but nothing was quite like seeing her in person and embracing her for the first time since he had left for school that morning.
"[Seeing her] was the best thing ever. It was like 'OK, that's just a big chunk off my shoulders'," he said. "She was not burned or hurt. It was such a relief."
Sammy, Kiara, and their mother, Awilda Morales, lived on the third floor of their Congress Ave. apartment building. It was determined that the cause of the fire came from a neighbor directly below. The neighbor had a bucket on his porch where he threw used cigarette butts, and after throwing a lit cigarette into the bucket, a fire ignited that quickly burned through the second story ceiling. The man disappeared after the fire and hasn't been seen since.
Morales, after banging on her neighbors' doors to tell them that she was calling the fire department, ran back to the apartment to get the family's dog, and quickly exited the building.
Following Morales' exit, the fire destroyed the ceiling on the second floor, causing their third floor apartment to cave in and go up in flames. Shortly after, Sammy and Kiara arrived to the scene with their father.
That night, Sammy and Kiara stayed with their father, who lives in Peabody, while their mother went to stay with their grandmother, who resides in Chelsea. Because both children had no clothes, they were unable to go to school on Thursday, so Sammy went with his father to buy clothes and necessities, while his sister went with their father's wife.
On Thursday afternoon, Sammy and his family went to visually take in the damage that had been done to their home. His father led the family into the apartment, and it was the first time Sammy had stepped inside his home since leaving for school on Wednesday morning.
Everything Sammy and Kiara owned was gone. He had nearly $700 saved in his dresser to buy himself a car, and he also lost his Xbox, laptop, and all of his clothes. That devastated him, but losing the things that didn't have a set monetary value -- his basketball trophies -- was what hurt him the most. Peering down at a pile of rubble that once contained dozens of shiny trophies, he couldn't hold back tears.
Sammy has come onto the radar of several local Division 1 school since he left Chelsea High School and transferred to Brimmer and May this past fall. Northeastern, Holy Cross, Boston University, Robert Morris, Quinnipiac, and several others, are all vying for Sammy, who boasts a 3.3 GPA. Needless to say, his trophy case was full.
"I had a big trophy case of all my trophies and awards, and all of them had been ruined," he said. "That hurt me, and my dad was destroyed by that. He and I were both really emotional when we saw it. Honestly, it sucked."
Sammy went home to Peabody that night with his dad, and was surprised with a visit from all of his teammates, who came up to visit Sammy with Brimmer head coach Tom Nelson.
"We just hung out a little bit, had a good time," Mojica said. "It made me happy, it was the only time I smiled that day. I felt like I hadn't laughed in forever."
Brimmer's tightly-knit hoops squad made sure that Sammy felt right back at home when he arrived at school the next day. The school allowed Sammy and his two best friends, teammates John Powell and K.J. Baptiste, to go off-campus during the lunch hour to get food.
"My teammates were really good to me," he said. "They took me to go eat out at lunchtime. John and K.J. got me some stuff at Star Market. They kept saying 'We're going to take care of you, no worries'."
That afternoon, Brimmer took on NEPSAC Class AA rival Wilbraham & Monson Academy. WMA, boasting a stacked frontline led by shot-blocker Goodluck Okonoboh and blossoming young guards Mustapha Heron and Luis Montero, needed the win in order to avoid dropping a couple of spots in the Class AA standings.
Sammy was nervous going into the game. He hadn't picked up a ball in a couple days. He tried to make time to go to Chelsea High School on Thursday night with his dad, but between visiting his old home and making the drive back to Peabody, he was unable to find time to get some shots up.
However, the junior guard didn't miss a beat. He led the Gators to a 67-63 overtime victory in what was one of his best games of the year: 17 points, seven assists, and five rebounds. Basketball was exactly what he needed to help him get his mind off of what had been a very traumatic couple of days.
"During the game, it focused my mind off everything else but basketball," Mojica said. "My mom and little sister were there, it was so good to get a win like that. It was a big win that we needed."
"Sammy loves his mother a lot, it was hard for him to see his mother like that," Nelson said. "When we played on Friday the team was really just trying to win for him and his mom, who was there. They both were very emotional [after the game]."
As the final buzzer sounded, Sammy's teammates jumped up and down around him, hugging him and reminding him that he was their motivation.
"John Powell went up to Sammy and said, 'We did this for you'," Nelson said. "It helped Sammy take his mind off the situation for a little while. That was my best win ever as a high school coach, and it was my proudest moment. I was so proud of how hard those guys played.
"You could see all of it come out of him the end, the emotions, it was all about togetherness. It made him and us feel like we can overcome anything. Bad things happen, but you can overcome them no matter what."
That night, Nelson and his good friend Sherwyn Cooper, a family friend to Sammy and his mother, started an online donation page on GoFundMe.com, to raise money to help Sammy and his family get back on their feet. With a goal of $10,000, the page has already brought in almost $3,000 of donations in the last two days.
"The support from people means so much, it would help a lot," Mojica said.
"We still don't have a place to stay, we really need it. My mom loves our grandmother, but my mom is independent and doesn't like depending on anybody else. She's proud. I appreciate the help so much."
For the foreseeable future until Sammy, Kiara, and their mother are able to find a home, Sammy will spend nights staying with his father and his teammates. Jake Fay, a senior from Lynn who will play college basketball at Fordham next year, is one of several members of the team who have offered Sammy a place to stay.
Donations can be made at: http://www.gofundme.com/1x62hk. All collected proceeds will go to Awilda Morales, and her children, Sammy and Kiara.
January, 13, 2012
1/13/12
6:00
AM ET
Boston Amateur Basketball Club (BABC) Director of Operations Jay Demings forwards along some information regarding this weekend's BABC Prep School Classic, this Saturday and Sunday at the Kroc Center in Dorchester.
BOSTON -- This weekend's Boston Amateur Basketball Club (BABC) Prep Classic at the Kroc Center in Boston will not only feature some great games, but will give fans an up-close look at the elite-level basketball talent that permeates the New England region.

In the event's first matchup on Saturday, two talent-laden teams in Notre Dame Prep and the Tilton School (NH) feature two potential NBA lottery picks in Notre Dame's Steven Adams and Tilton's Nerlens Noel.

Adams is a seven-foot center from New Zealand who just arrived at Notre Dame Prep as a post-graduate and will make his debut on Saturday. He is signed to play at the University of Pittsburgh for the Fall of 2012. Only a junior, Noel is a 6'11'' center from Everett, MA who is ranked second in the class of 2013 by ESPN. Both players have drawn serious attention from NBA scouts.

"I have yet to see Steven Adams play live but, based on all accounts and video I've seen, this is a can't-miss matchup between him and Nerlens," said BABC's Director of Operations, Jay Demings. "Many of us are familiar with Nerlens' skill set, but fans will get to see how Adam's size, strength and skills translate to the American game. Experts believe that both players are certain future NBA lottery picks."

The two-day event will also feature many signed Division 1 collegiate players and those that are expected to make their college choices soon. The field of teams include the following committed players:

Myles Davis - ND Prep - Xavier
Adonis Filer - ND Prep - Clemson
Mandell Thomas - ND Prep - Fordham

Georges Niang - Tilton - Iowa State
Dominique Bull - Tilton - Missouri
Kevin Crescenzi - Tilton - Dartmouth

Evan Cummins - NMH - Harvard
Tommy Carpenter - NMH - Dartmouth
Ethan O'Day - NMH - Vermont

Nick Lund - Rivers School - Claremont McKenna

Akosa Maduegbunam - Winchendon - Penn State
Tevin Falzon - Winchendon - Sacred Heart

Jake Fay - Brimmer & May - Fordham

Others to watch:

Tilton - Goodluck Okonoboh, Wayne Selden, Jr., John Witkowski, Cameron Durley
Wilbraham & Monson - Kamali Bey, Jaylen Brantley, Marcel Pettway, Djery Baptiste
Worcester Academy - Matt Cimino, Rene Castro
Marianapolis Prep - Kristian Medina, Nigel Sydnor, Bobby Ahearn
Brimmer & May - John Powell, Adrian Oliveira
Rivers School - Shaquor Sandiford, Kyle Reardon, Andrew Kaufman, Carlin Haymon
Boston Trinity - Elijah Okagbare, Zach Petion
Winchendon - Tre Tipton, Tom Bajda, Malique McLaren, Malcolm Smith
Putnam Science - Oscar Assie, Tyree Robinson, Jonathan Joseph, Dayshon Smith
Notre Dame Prep - Sam Cassell, Jr., Nehemias Morillo
Northfield Mount Hermon - Ryan Oliver, Lucas Van Nes, DeKeeba Battee
April, 8, 2011
4/08/11
5:02
PM ET
The New York Post is reporting that Fordham University landed two verbal commitments yesterday from brothers
Jared
and
Jake Fay
of Brimmer & May School.
Jared, a 6-foot-3 senior shooting guard, will join teammate Ryan Canty in head coach David Pecora's five-man recruiting class of 2011, and will join three other players with ties to New England prep schools: sophomore Chris Gaston (New Hampton) and freshmen Marvin Dominique (Winchendon) and Lamount Samuell (Notre Dame Prep).
Jake also held an offer from UMass at the time of his commitment, and Scouts Inc. currently evaluates the sophomore as follows:

Strengths:
Fay is a shot maker with good size and bounce for the backcourt. Even at a young age Fay has the same outward confidence and swagger that every great shooter owns. He shoots it with range and needs only a split second to get it off thanks to his size and quick trigger. He also shoots the ball well off the dribble and has developed an attacking game off the catching making quick rip through and step back moves to get to his pull-up. Fay plays the game with no hesitation and is an instinctive offensive player.

Weaknesses:
Fay is still physically undeveloped and needs to get much stronger in his upper body. He can't play through contact on either end of the floor right now and although his long arms are an asset defensively, he is limited laterally. Defensively, he must give a more diligent effort in order to better compensate for his lack of quickness and strength. Offensively, he isn't much of a decision maker in the backcourt as he doesn't handle or pass and is essentially a one-dimensional catch and score player.

Bottom Line:
Fay is developing into a pretty big time shooter and with a frame that is now stretched out to six-five, good length, and athleticism he has all the makings of a high level prospect.
September, 29, 2010
9/29/10
12:04
AM ET
The third annual "New England Elite 75 Showcase -- Frosh/Soph Edition" took place on Saturday at Boston University's Case Gymnasium and included many of the top underclassman prospects the New England region has to offer. The event featured two sessions, with the freshmen taking the court in the morning and the sophomores in the afternoon.

Here is a look at five lessons we learned after taking in the day's action:

1. Noah Vonleh is a Potential Star in the Making

Haverhill High School sophomore Noah Vonleh stood out as the most impressive prospect at the event. What sets him apart is a combination of three factors. First, he has the talent to dominant his peers right now. Second, he has demonstrated the work ethic to consistently improve his game. Third, his physical upside is tremendous. Vonleh only recently celebrated his 15th birthday and already stands 6-foot-7 with a strong body. He could still be growing and is certainly still growing into his body and consequently hasn't nearly peaked athletically. He has terrific economy of motion, taking the ball off the defensive glass and going coast to coast in three or four dribbles and only requiring a single bounce to get to the rim in a half-court set, to go along with a rapidly developing skill set. If this young man continues to work hard and make good decisions, the sky could be the limit.

2. The Class of 2013 has Tremendous Depth

New England has some very well known talent in the class of 2013. Connecticut native Kuran Iverson is the second ranked player in the country and Everett native Nerlens Noel is third, according to ESPNU's most recent Terrific 25 list. But beyond the obvious star power of Iverson, Noel, and Vonleh the region, and the state of Massachusetts specifically, has great depth in the class. Beaver Country Day guard Rene Castro already owns a scholarship offer from Boston College, Brimmer & May's Jake Fay has one from UMass, and a variety of others in action on Friday had the potential to earn similar opportunities including Milton Academy's Ikemefuna Ngwudo, Cushing Academy's Andrew Chrabascz, Springfield Central's Cornelius Tyson, and Weymouth's Jared Terrell.

3. Getting to Know the Class of 2014

This was our first major opportunity to check out the incoming freshmen and there was plenty to like. Milton's Jeremy Miller has the size and raw talent to potentially be a high level prospect down the road. Fellow big men Aaron Falzon (Newton North) and Bonzie Colson Jr. (St. Andrew's) have similar upside. There are plenty of talented local guards including Lawrence Academy's Johnnie Vassar, Cushing Academy's Idris Taqqee and Stoughton's Jonathan Joseph. The state of Connecticut also offers a particularly talented group with the likes of Jared Wilson-Frame, Levy Gillespie Jr., Winston Morgan and Kahari Beaufort.

4. Prep Talent Arriving Earlier than Ever

New England has always been the hub of prep school talent in the country, but it used to be that talented players only arrived for their post-graduate, or sometimes senior, seasons. Saturday's event showed they are now coming much earlier and opting to play in the NEPSAC for multiple seasons. Some of the event's top prospects, like Northfield Mount Hermon's Dekeeba Battee, Worcester Academy's Asur Madison, Winchendon's Dennis Green and the Kent School's Travis Berry are all from outside of the region but are boarding students at local prep schools.

5. One Year Can Make a Big Difference

There was a notable difference between the morning and the afternoon session as the sophomores delivered a significantly higher quality of play. The biggest difference was obviously physical as players were bigger, stronger, faster and more athletic given the extra year of physical maturity. But the other interesting trend was the higher caliber of basketball acumen. Some examples were more obvious as the sophomores tended to both share the ball more as well as play without it, but others were more subtle like looking into the post, using jab fakes or understanding how to defend from the weak side of the floor.