Boston High School:

Jake Foote
August, 3, 2014
Aug 3
1:52
AM ET
HANOVER, Mass. – Paul Calobrisi was as perfect as you can be shooting a basketball for two straight. But he still wasn't completely satisfied with his performance.
"I'm happy with the way I started, but I kind of got cold at the end," the recent Westwood High graduate and hoop standout said Saturday.
[+] Enlarge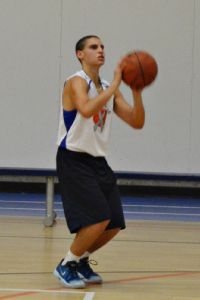 Scott Barboza/ESPNWestwood's Paul Calobrisi shot 87.8 percent from the field to claim the second annual Shot For Life Challenge championship.
While taking the title at the second annual Shot For Life Challenge, hosted by A Shot For Life at the University Sports Complex, Calobrisi shot 87.8 percent from the field in the two-hour long shooting competition.
"I'm happy that I pulled through and won," said Calobrisi, who will study at UMass-Lowell next year, forgoing continuing his basketball career. "There's a lot of great shooters her and I'm proud to be in the same company as them."
The event, which features the top boys' and girls' shooters from across Massachusetts high school basketball, is more than just the physical challenge for its participants. The shooters also are required to raise funds for brain cancer research at Children's Hospital in Boston as well as the Dr. Curry Research Laboratory at Massachusetts General Hospital.
A Shot For Life reported more than $27,000 in proceeds from the event, doubling the figure from last year's event.
Calobrisi, who was shooting at a 92 percent clip through the first 45 minutes, outdueled a field of 16 competitors to claim the title, outpacing Sandwich's Joey Downes (2nd, 84.7 percent) and Duxbury's Jake Foote (3rd, 79.5 percent).
Calobrisi became the second event winner, following Walpole's Scott Arsenault, who presented the championship trophy along with A Shot For Life founder Mike Slonina.
"My mom will find a nice spot for it," Calobrisi said of the trophy.
Rebels dominance:
Another addition to this year's Shot For Life Challenge was a girls' competition. Following in the footsteps of Arsenault a year ago, Walpole sophomore Kelly Fogarty became the second Rebel to win a title.
Fogarty knocked down 1,108 of 1,278 shots on the day.
"I was just trying to have fun, I wasn't worried about winning because I have next year," she said.
Fogarty, whose older brother was in the same class as Arsenault, conferred with last year's boys' champion in preparation for Saturday.
"We would all work out together since we were young, so it's kind cool that we both won with him winning last year," Fogarty added.
Along with the girls' competition, the Shot For Life Challenge also added a slam dunk competition at the end of the day, highlighting some high-flying talent from across the state. It too was won by an underclassmen, as Cardinal Spellman rising junior Nick George wowed the judge, including a string of perfect 10 scores with a second-round dunk, leaping over the back of a Cardinals teammate.
August, 4, 2013
8/04/13
10:19
AM ET
By
Paul Lazdowski
| ESPNBoston.com
HANOVER, Mass. –- Even Mike Slonina was impressed.
More than two years since the 20-year old Watertown resident hoisted jumpers for 24 consecutive hours and created A Shot For Life Foundation (ASFL) -– a non-profit dedicated to funding brain cancer research at Mass General Hospital and Boston Children's Hospital -– the former Catholic Memorial School varsity basketball manager was awestruck by his surroundings.
As he stood in the middle of the eight basketball courts that comprise the University Sports Complex in Hanover –- site of Saturday afternoon's inaugural "A Shot For Life Challenge" – the rising junior from Quinnipiac University pronounced, "The amount of shooting talent in this room is . . . it's tough to match. And the fact that they're all doing this, really, to make a good impact on the world, outside of basketball, is awesome. All these kids deserve a ton of credit for this."
When the two-hour exhibition – which challenged 11 competitors to 20-minute intervals of specific shot types, including mid-range jumpers, free throws and three-pointers – concluded between the Commonwealth's top marksmen, Scott Arsenault, who will be a senior at Walpole High this fall, was crowned the "Best Shooter in Massachusetts."
With a large crowd of friends and family looking on, the Rebels two-guard knocked down 90.6 percent of his attempts to better runner-up Shiraz Mumtaz of Brookline High, who finished at an 81.8 percent clip. Newton North's Tommy Mobley placed third with a shooting percentage of 79.2.
Arsenault, who led throughout, also received a trophy and will have his number retired at future ASLF events.
"I was just trying to hit as many as I could in a row," he said. "I knew I was going to get tired because it was for two hours. So, I made sure to stay disciplined and not break my form."
Drawing visions of Jimmy Chitwood -– the lean, smooth-shooting sniper from the film
Hoosiers
-– Arsenault battled through the final half-hour despite "feeling [his] leg kind of giving out."
Such physical ailments were commonplace amongst a field that included Ben Judson (St. John's Prep), Sam Bohmiller (Franklin), Nick McKenna (Danvers), Jake Foote (Duxbury), Ryan Roach (Cardinal Spellman), Mike Nelson (Bishop Feehan), and Tyler Gibson (Rockland), the Massachusetts' Gatorade Player of the Year who will play at Bentley University next season. Vinny Clifford (Danvers) was a late scratch after injuring his knee during a recent pickup game.
"Extremely tired," said Mobley in the competition's immediate aftermath. "I think my right arm is significantly stronger than my left arm now."
Judson acknowledged similar symptoms.
"It was definitely tough," said the Plaitstow, NH product. "My arms and legs were so tired halfway through, but I just had to keep pushing."
Said Bohmiller, who will play at Babson College next season, "My arms are heavy and I'm pretty tired, but I had a lot of fun."
Despite their collective fatigue, there was a general sense of elation that each competitor had pushed themselves to their physical limits for a worthwhile cause.
And though many were aware that what they had accomplished –- regardless of their final stats -– was significant, they also knew it paled in comparison to Slonina's 24-hour shooting marathon.
"It seems impossible to do that," Mobley said of shooting for a full day. "I'm right now very exhausted. I'm probably going to sleep the whole car ride home. And when I get home, I may take a shower and sleep some more. He shot for 12 times longer than I did, so, I mean, doing that 11 more times, back-to-back, I can't even imagine what it must mean. It's incredible that he was willing to work that hard for the cause; it's incredible that there are people out there with that much passion to help others."
Echoed Bohmiller, "No way, I don't know how he [did] it . . . Props to him for 24 hours. That's something special."
Still, Slonina knows that for now his shooting days are over. He's traded in his sneakers for wingtips as he focuses on expanding ASFL and its marquee event each year.
"For A Shot For Life to grow in the way that I want it to grow," he said, "A Shot For Life can't be synonymous with Mike Slonina. It just can't be. A Shot For Life needs to outgrow me in that sense. I [received] a big outpouring of support for the 24 hours; that's great and I appreciated all of it. But I want A Shot For Life to grow to the size of Livestrong. I want A Shot For Life to be nationwide. If it's about one kid shooting over and over, it can't do that. The face has to change."
With Saturday's one-day event already topping $10,000 in proceeds, Slonina understands that there is more money to collect and donate and additional events to plan.
"Raising money is the part that counts," he said. "We raised $10,000 without any corporate help whatsoever. In my mind, I think, we can easily turn that into $50,000. That's with no corporate sponsorship; that's a really good sign."
As for the structure of next year's event, Slonina said, "We're definitely having a dunk contest, I can guarantee that. We're almost going to turn it into an NBA All-Star Saturday where they have the skills competition, three-point shootout and dunk contest. That's what this event will eventually evolve into."
While Slonina will no longer be doing the shooting, it's undeniable that the legacy he created and the standard he set with his courageous effort in April 2011 will endure.
Paul Lazdowski can be followed on Twitter: @plazdow
July, 23, 2013
7/23/13
2:42
PM ET
By
Josh Perry
| ESPNBoston.com
WEST ROXBURY, Mass. -– Mike Slonina has always found solace and strength on the court. In 2010, when he learned that his mother had been diagnosed with brain cancer, the Watertown resident went straight to the Waltham YMCA and shot jumpers for four hours, while trying to process the news. Gratefully, the initial diagnosis turned out to be incorrect and he became determined to try and prevent others from suffering from the hopelessness that he felt that afternoon.
It turned out that basketball would provide more than just a coping mechanism, it also became the method by which Slonina, then a senior at Catholic Memorial High School, would try and fight back.
"I'm one of those people that, when something goes wrong, I feel like I have to do something," he recently reflected. "The thing with cancer is that it makes you feel helpless and that's what makes me so mad. I just wanted to give that hope back and show people that you can make a difference."
He formed a non-profit foundation, trained for several months, and, on April 9, 2011, took to the Ronald S. Perry gymnasium court and
shot jumpers for 24 hours straight
. That day, A Shot For Life Foundation (ASFL) raised more than just awareness about brain cancer; it also raised nearly $30,000 for Mass General Hospital and Boston Children's Hospital.
Two years later, as a rising junior at Quinnipiac University, Slonina has organized another competitive event to further his organization's mission of funding cancer research.
On Saturday, August 3, at the University Sports Complex in Hanover, 11 of the best shooters in Massachusetts high school basketball -- including Rockland's Tyler Gibson, the state's Gatorade Player of the Year -- will fire jumps shots for two straight hours. The winner of the "A Shot For Life Challenge" (to be determined by field goal percentage) will not only be crowned the "Best Shooter in Massachusetts," but will also have his number retired for all future ASFL events.
"I think it's great because you hear so many terrible things happening in youth sports today and here are 11 really tremendous basketball players unselfishly using their talents for a good cause," said Slonina last week during a break in a youth camp that he is helping to run at his alma mater. "It was so great seeing that many young kids embracing it and realizing the good that they can do with basketball."
His own basketball career was cut short in seventh grade by a nerve problem in his ankle, which it was later determined was caused by a bone being in the wrong place, but the game remained a huge part of his life. Slonina was the team manager for the CM team that won the 2008 MIAA Division 2 state championship and, when he needed an outlet for his desire to give back, basketball (and his great jump shot) was a natural fit.
He showed up at CM every morning at 6:30 a.m. to shoot, would lift during lunch periods, and then shoot for hours again after school. He demonstrated the same determination off the court, going door-to-door to raise funds for the event. While Slonina admits that ASFL is not yet raising the type of money that will make a huge difference, he firmly believes that every penny counts. He also believes that this is just the beginning for his foundation.
He explained, "That's what everyone needs to grasp. On a bigger scale, that's what I was trying to do with the 24-hour thing. People kept saying, 'But, you're only one person.' It only takes one person."
Following his feat, Slonina's life changed and the profile of A Shot For Life was at its highest point. He hopes that the foundation, which he loves, can reach that potential again through the August competition and that the players will feel honored to be taking part in the event. There is no question that Slonina is already eyeing the future and placing high expectations on himself and the foundation.
"I want to be the Nike of non-profits," he said with total sincerity and a contagious enthusiasm for what the future holds for ASFL. The inaugural "A Shot For Life Challenge" is still more than two weeks away, but Slonina is already thinking of ways to make it bigger and better in 2014. He exclaimed, "I can tell you right now that next year is going to have a dunk contest!"
Since his record-breaking effort, Slonina and A Shot For Life have inspired countless people and he can recount numerous examples of people that have shared stories that, he says, nearly bring him to tears. An example was a comment from one of his former teammates from the 2008 state title-winning team, who came back to rebound for him that day.
"[One of the players], who was a senior when I was a freshman, told me, 'You don't know how many people you just inspired.' I look up to him, so him saying that...It just means so much to me," marveled Slonina. "I don't want to say a cliché, but it means the world to me."
After several other tries to put into words just what it meant to read the letters and emails that he received after the 2011 event or to have people tell him how about how he affected their lives, Slonina simply shook his head and laughed, "This is the first time I've been speechless in an interview. I don't know how to word it. It's awesome."
The "A Shot For Life Challenge" will take place on Saturday, August 3 at the University Sports Complex in Hanover beginning at 1 p.m. The 11 shooters are: Ben Judson, St. John's Prep; Sam Bohmiller, Franklin; Tommy Mobley, Newton North; Nick McKenna, Danvers; Jake Foote, Duxbury; Ryan Roach, Cardinal Spellman; Vinny Clifford, Danvers; Scott Arsenault, Walpole; Mike Nelson, Bishop Feehan; Shiraz Mumtaz, Brookline; and Tyler Gibson, Rockland.
To donate to the A Shot For Life Challenge,
CLICK HERE
.