Boston High School:

Jake Giovanucci
June, 18, 2011
6/18/11
12:39
AM ET
FOXBOROUGH, Mass. -- With about five minutes remaining in Friday's Shriners All-Star football game at Gillette Stadium, Tyllor MacDonald knew his team need a big play. The North squad was trailing the South, 14-10, and driving into North territory.

That's when the Lynn English standout laid a wicked hit on North Attleborough's Dan Johnson, prying the ball free. MacDonald capped the play by falling on the loose ball and gaining possession for the North.

North quarterback Cal Carroll of Methuen took care of the rest, leading the team on a 13-play drive to victory that he capped with a 1-yard touchdown run to the North a 17-14 victory.

"As saw [Johnson] coming across the middle and I hit him as hard as I could," MacDonald said of his game-changing play. "I just knew that I had to. I had to pick my team up."

With the ball back in his hands, Carroll led North downfield, completing two key pass attempts for 37 yards on the drive. The Rangers' signal-caller found Everett's Matt Costello, ESPN Boston's inaugural Mr. Football Award winner, for a 22-yard connection on third and 16. Two plays later, Carroll hit BB&N's Peter Savarese with a 15-yard pass to give North a first down and goal at the South 5-yard line.

Carroll then punched in the game-winning score with 1:33 remaining.

"I think once we connected on that third and long, I think we really felt like we were going to pull through in the red zone," Carroll said.

Trae Weathers provided the counterpunch to North's aerial attack, which was quarterbacked by both Carroll and Dracut's Matt Silva. The bruising Revere running back was named the North's Offensive MVP following his 12-carry, 70-yard performance, forming part of a talented backfield alongside Gloucester's Jordan Shairs.

"We saw the ISO was working," Weathers said. "We were just trying to pound it in. It'd been working all game, so we just stuck with it."

Not to be overlooked was North's defense, which racked up five sacks including three consecutive sacks of Holliston's Sean Mayo to negate South's final drive of the game, sealing the win.

The Dexter School's Jake Giovanucci capped the performance with two sacks in the final minute. Billerica's Justin Hood, Lynn Classical's Daniel Omorgie and Gloucester's Chris Unis collected sacks for North.

"We really came together as a unit the last two weeks in practice," Giovanucci said. "We had a lot of really skilled guys. It's tough to block four skilled pass rushers. Someone might get the sack, but the other guys were taking up blockers."

South opened scoring with Mayo connecting on a 10-yard touchdown pass to Attleboro's Nate Robitaille with 6:49 remaining in the first quarter.

Carroll came back to tie the game with a 5-yard touchdown pass to Tewksbury's Anthony Acari with 9:25 to play in the second. Costello added the extra point to tie the game, 7-7.

North would take the lead into the locker room at halftime following James Brao's 24-yard field goal with 5:01 remaining.

South reclaimed the lead four minutes into the third quarter with Scituate's Tyler Park connecting with Cohasset's Jack Carrier on a 15-yard touchdown pass.
May, 5, 2011
5/05/11
10:32
AM ET
The North-South game of the 33rd Annual Shriners Football Classic kicks off this June 17 at 7 p.m., and for the second year in a row the contest will be held at Gillette Stadium. Below are the rosters for both squads participating in the game:
NORTH
Ryan Adams, Northeast, DE
James Aloisio, Masconoment, OT
Eric Apgar, Acton-Boxborough, RB
Anthony Arcari, Tewksbury, RB
Manny Asprilla, Everett, WR
Derek Bent, Shawsheen, TE
Brian Bourque, Reading, DB
James Brao, Hamilton-Wenham, LB
Cal Carroll, Methuen, QB
Brendan Casey, Boston Latin, DT
Thomas Chub, Masconomet, OL
Mitchell Colley, Arlington, LB
Sean Connolly, Tewksbury, FS
Tyler Coppola, St. John's Prep, RB
Matt Costello, Everett, WR
Anthony Courtouis, Lowell, WR
Jeff Covitz, Reading, OL
Nate Cyr, St. John's Prep, OL
Ned Deane, Andover, LB
Ryan Delisle, St. John's Prep, TE
Jake Giovanucci, Dexter, DE
Mike Grassa, BB&N, DB
Will Guinee, Malden Catholic, OL
Mike Harper, Methuen, LB
Zach Hayes, Chelmsford, S
Justin Hood, Billerica, DE
Brian Hurley, Wilmington
Zach Ingalls, Westford, DB
George Kallas, Beverly, OT
Ben Koopman, Marblehead, C
Chris Malonis, Dracut, WR
Tyllor MacDonald, Lynn English, DB
Tom Meade, Malden Catholic, LB
Trae Musumarra, Central Catholic, LB
Zach Nardone, Bishop Fenwick, DT
Paul Nwokeji, Thayer Academy, OL
John O'Connell, Northeast, DL
Daniel Omorgie, Lynn Classical, DE
Xavier Peralta, Central Catholic, DB
Ony Ramos, Lawrence, DB
Peter Savarese, BB&N, RB
Jordan Shairs, Gloucester, RB
Matt Silva, Dracut, QB
Bradley Skeffington, Salem, DB
Zach Smerlas, Lincoln-Sudbury, DL
Brian Strachan, St. Sebastian's, WR
Dave Summiel, Shawsheen, DT
Chris Unis, Gloucester, DE
Trae Weathers, Revere, RB
Sean Whittaker, Methuen, OL
Peter Yasi, Swampscott, DE

SOUTH
Matt Allen, Pembroke, SE
Ryan Barrett, Holliston, TE
Rob Barrus, Weymouth, LB
Adam Boari, King Philip, OL
Blaise Branch, Cardinal Spellman, RB
Lance Burlingame, New Bedford, OL
Jack Carrier, Cohasset, SE
Dylan Colarusso, Weymouth, RB
Joe Colton, Xaverian, DB
Tom Condon, Whitman-Hanson, OL
David Conroy, Walpole, SE
Nate Crary, Dennis-Yarmouth, DL
Seth DeMello, Somerset, RB
Mike Devin, Bridgewater-Raynham, OL
Mike Driscoll, Rockland, FB
Connor Fraser, Abington, DL
Jake Golden, Hingham, OL
Mitchell Graziano, Silver Lake, DB
William Greene, Oliver Ames, DE
Ernest Guy, Foxborough, OL
Joseph Hak, East Bridgewater, OL
Matt Hallisey, Duxbury, SE
Brian Harrington, Rockland, DE
Jordan Henderson, Barnstable, WR
D.J. Jamieson, West Bridgewater, RB
Randall Jette, Martha's Vineyard, DB
Dan Johnson, North Attleboro, SE
Andrew Kestenbaum, Dartmouth, OL
Matt Lockwood, Seekonk, RB
Albert Louis-Jean, Brockton, SE
Denis Maguire, Duxbury, LB
Jamel Marshall, Mansfield, RB
Zach Martin, Mashpee, RB
Alec May, King Philip, TE
Sean Mayo, Holliston, QB
Paul McCarthy, North Attleboro, DB
Kyle McGuire, Mansfield, OL
Dave McSweeney, Medway, OL
Obum Obukwelu, BC High, OL
Trevon Offley, Brockton, RB
Jon Page, Bourne, RB
Tyler Park, Scituate, QB
Liam Porter, Natick, OL
Ethan Rayner, Holliston, OL
Nate Robitaille, Attleboro, DB
Andrew Siden, Natick, TE
Kevin Stanton, Cardinal Spellman, LB
Jeff Synan, Plymouth North, OL
Chris Tamasi, Xaverian, LB
Ryan Vaughn, Norwell, OL
September, 9, 2010
9/09/10
1:36
PM ET
By
Brendan Hall
| ESPNBoston.com
We're just a few hours from the MIAA football kickoff (three Central Mass games go down tonight), but in the NEPSAC things are still underway (first game is in two weeks). One of the more intriguing scrimmages of the prep preseason took place yesterday in Brookline, where ISL power Buckingham, Browne & Nichols traveled to Dexter School. There is no loss of familiarity here; Dexter head coach Casey Day has taken over the reigns in Brookline after serving as an assistant the previous five years under John Papas.
[+] Enlarge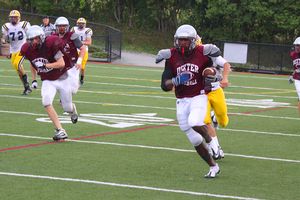 Courtesy Steve OlsonNew Hampton transfer Abner Logan has already made his presence felt at Dexter.
The Knights scored four times -- two runs by St. John's Prep transfer Chris Coady, and two touchdown passes from Needham resident Eric Bertino -- while Dexter failed to reach the end zone. That said, Cambridge native and New Hampton transfer Abner Logan, a 6-foot-3, 220-pound athlete, made quite the impression, as did 6-foot-2, 265-pound lineman Jake Giovanucci.
From Papas:
"Lots of great hitting by both teams. Even though BB&N ended up on top, 28-0, it was a lot closer than that. Dexter is very young, but very aggressive to the ball and made some big plays defensively. When they mature, they will be a force to reckon with. The player to watch for Dexter is junior Abner Logan, a 6'3 220 lb. athlete. He is a D1 prospect at numerous positions and will be one of the best players in the Evergreen League this year. BB&N's standouts included running back Chris Coady, quarterback Eric Bertino and offensive lineman/defensive tackle Dan Connaughton. BB&N is still feeling their way after graduating five Division 1 athletes, but they are gradually getting better. BB&N steps it up this Saturday when they scrimmage NEPSAC Class A Phillips Exeter Academy."