Boston High School:

Jake McKennelley
March, 2, 2014
Mar 2
5:29
PM ET
By
Mike Abelson
| ESPNBoston.com


BOSTON – No one knew it at the time, but before the game really started it was over.

A pair of goals in the opening three minutes were all Austin Prep would need as it held on to defeat Central Catholic 2-1 in the opening game of their first round series in the Super 8 at TD Garden.

Bobo Carpenter got the Cougars rolling with a high wrist shot that beat Central's Colin Soucy just 41 seconds into the game. Jake McKenelley slid one home through Soucy's five-hole two minutes and 10 seconds later.

"We just wanted to come out as hard and fast as we could," Carpenter said. "We knew we'd have to get the first jump so we could build off of it. My linemates got the puck. Just got a lucky bounce for me."

The early lead allowed Austin to set the tone early. The Cougars outshot the Raiders in the first and kept Central on its heels. The Raiders controlled the final two periods but were unable to dig themselves out of the hole.

Christian Thompson stepped up to the moment and scored Central's lone goal, hacking the puck out the air with just over a minute remaining in the game.

"Honestly I don't think our team showed up to play in the very beginning," Thompson said. "We gave a half effort in the beginning; in the end we kind of picked it up but it was too late. I think we let the Garden get in our head a little bit. Hyped it up and kind of came out flat."

After rejiggering the lines over the last month-plus, Central coach Mike Jankowski settled back into the line pairings he used for much of the first half of the season. Jankowski reunited Lloyd Hayes, Alex Lester, and Corey Webber on the Raiders' top line.

The last time Austin and Central played on Feb. 3, the Cougars won 3-2 with Central in the midst of juggling it's lines. With the old lines back the Raiders looked to have some of the zip that powered them to an 8-1-1 record at the start of the season.

"We changed it up quite a bit to get people scoring to show our true depth," Jankowski said. "If you see us play you know that we're deep. The goal [was] in getting everyone into the scoring and finding the scoring touch and it worked really well. Blue's back together and those guys, with their senior leadership, leading by example as well can carry us through to something."

The Raiders pressed hard in the third period, peppering AP goalie Elijah Harris with 15 shots, but ran into a brick wall.

Harris turned aside 27 Raider shots, including three in frenetic last-minute flurry, to secure the win.

"When he's on he's on," Austin Prep defenseman J.J. Layton said. "It starts from him, onto the [defense], and onto the forwards. When he's playing well it seems like everyone else is playing well."

AP DEFENSE RISES: Central's old lines started to roll, but Austin Prep's defense was able to stall them out at almost every turn. Layton and Andrew Cross led the charge on the back end for the Cougars. The Prep defense was able to congest the middle and force Central's forwards to the outside.

Despite allowing 23 shots over the last two periods, the Austin defense was able to hold Central off.

"We're mostly a defensive team," Layton said. "We have all the offensive components, so we stress on the defense now because defense wins hockey games, as coaches say. We just buckled down, tried to take the body when we can, make the quick, easy plays, and try to keep it out of our zone the best we can."

The defense carried over onto the penalty kill. The Cougars killed off four of the five penalties they committed.

"We did a real nice job on penalty kill," AP head coach Louis Finocchario said. "I thought our pairs did a real nice job."

SAME OLD OPPONENT: Adding in next Thursday's second game of the series, Central and Austin will have played three times in 31 days and four times this season. Playing against the same opponent so often opens up doors for rivalries to form and lessens the room for errors.



"What it comes down to now is little things," Finocchario said. "Good line changes, staying disciplined, making dumps when you don't have odd-man rushes: all good choices. The team that makes the least mistakes at the end of the night is going to win."

So far Austin holds a 2-1 edge in the wins department while Central had outscored the Cougars, 7-6.

"It gives you that much more reason to win," Carpenter said. "We've grown a little rivalry ever since. It's just fun to play with some friends too."
March, 2, 2014
Mar 2
2:06
AM ET
There are less than 24 hours remaining before the puck drops on the Super 8 tournament Sunday at TD Garden.

So we're taking this opportunity to break down the final eight. We're taking a look at the head-to-head breakdowns for each series first-round, best-of-three series, along with predictions:

Series: No. 1 BC High (14-2-4) vs. No. 8 Xaverian (12-3-6)

Players to watch: BC High – F Steve DeForge, F Patrick Kramer, F Jake Lemanski, D Billy Roche, D Ryan Shea, D Sam Topham, D Trevor Davis, G Brandon Payzant; Xaverian – F Jon Beniers, F Andrew Durkin, F Antonio Marini, F Connor McCarthy, F Tim Sweeney, D Ricky Smith, G Aidan Murphy.

Previous meetings: 2-2 tie, Jan. 4; BC High, 5-1, Jan. 22.

The skinny: The top-seed Eagles take on their Catholic Conference rival Hawks, who endured a double-overtime classic against Archbishop Williams to slide in as the No. 8 seed. Xaverian will have to take a page from the playbook of Duxbury – which handed BC High a loss in its season finale at the Buddy Ferreira Classic – playing a tight-checking game through the neutral zone to stick with the Eagles' slick transition game. Murphy has shown flashes of brilliance in his freshman campaign and the Hawks will have to rely on him and a big series from All-State hopeful Marini if they want to keep up with BC High.

X-factor: Payzant. The Eagles' sophomore netminder has performed admirably in his first season taking the reigns from All-Stater Peter Cronin. But until a goaltender sees his first rubber in the playoffs, the book is still out.

Prediction: BC High in two.

Series: No. 2 Malden Catholic (16-4-0) vs. No. 7 Catholic Memorial (10-7-4)

Players to watch: MC – F Matt Filipe, F Ara Nazarian, F Tyler Sifferlen, F Jake Witkowski, D John McLean, D Nick Rolli, G Alex Reissis; CM – F Aaron Clancy, F Anthony Panaggio, F Mike Stathopoulos, D Frank Cosolito, D Tim Weinstein, G Brandon Collett.

Previous meetings: CM, 3-2, Jan. 25; MC, 11-0, Feb. 14.

The skinny: Once again the Lancers went on a February run, going 7-1-0 in February, despite a loss to Cathedral in the teams' season finale at the Panthers vacation week tournament. Meanwhile, on the flip side, the Knights back their way into the tournament, having been blanked in the final month of the season, as CM didn't win a game until Monday's play-in game victory over Braintree in a one-goal game. However, as one-sided the matchup between Catholic Conference rivals might seem, CM does have the blueprint on how to take down MC, evidenced in the Knights' 3-2 win in the teams' first meeting at Walter Brown. In that game, CM was able to harass the Lancers breakout with an aggressive forecheck. In order to skate with MC, the Knights will have to repeat that performance or risk having their first-round series resemble more of the teams' second meeting.

X-factor: Filipe. The Northeastern commit has provided a strong presence throughout the season on the Lancers' second unit. While teams have a difficult enough time contending with MC's vaunted top line, with Filipe and the second unit rolling, the Lancers' attack is that much more difficult to match up with, defensively.

Prediction: MC in two.

Series: No. 3 Springfield Cathedral (15-2-5) vs. No. 6 Duxbury (16-2-3)

Players to watch: Cathedral – F Peter Crinella, F Johnny Leonard, F D.J. Petruzzelli, F Riley Prattson, D Dan Petrick, G John Liquori, G Keith Petruzzelli; Duxbury – F Nick Marrocco, F Matt Murphy, F Shayne O'Brien, F Trevor O'Brien, F Matt Saia, D Shawn Errasti, D Tyler Powers, G Tucker Kelly.

Previous meetings: N/A.

The skinny: In perhaps the most intriguing matchup of the first round, the high-flying Panthers offensive juggernaut squares off against a sound, defensive-minded squad from Duxbury. Cathedral enters the tournament ranked among the statewide leaders in just about every statistical category and host two of the top scorers in the state in Crinella (28-26-54) and D.J. Petruzzelli (21-32-53). Meanwhile, the Dragons played their best hockey down the stretch, beating BC High in the Buddy Ferreira Classic final to punch their Super 8 ticket. John Blake's group excels with countering the team's speed through the neutral zone, so the Panthers could be in for some tough sledding.

X-factor: Crinella. A contender for the Mr. Hockey award this season, the Holy Cross commit is capable of taking games over – something to be said on a roster full of Division 1 commits. This could be his coming out party on a statewide scope.

Prediction: Cathedral in three.

Series: No. 4 Austin Prep (13-4-4) vs. No. 5 Central Catholic (16-3-3)

Players to watch: AP – F Bobo Carpenter, F Eric MacAdams, F Jake McKennelley, D Andrew Cross, D J.J. Layton, G Elijah Harris; Central – F Zach Cote, F Richie Greenberg, F Lloyd Hayes, F Alex Lester, F Eric Robbins, F Corey Webber, D Conrad Jepson, D Cam Smith, G Colin Soucy.

Previous meetings: Central, 4-1, Jan. 1; AP, 3-2, Feb. 3.

The skinny: In a rarity with non-league opponents, the teams faced off twice during the regular season and, somewhat predictably, split the series. The teams are near carbon copies of each with a mix of top-flight offensive skill, depth and quality goaltending. AP, a Super 8 finalist last year, is a bit of an unknown commodity this season, as the Cougars lost multitudes of man games to injury through the year. In fact, AP didn't even practice with its full fold of players until February, so we likely haven't seen the Cougars' attack at its fullest potential. Meanwhile, the Raiders can consistently roll three lines, with little drop off from the first to the third. So this one will be about as close as you can find.

X-factor: The goaltending. Both Harris and Soucy made names for themselves at last year's Super 8. Regarded as two of the top goaltenders in the state, both offenses will be hard-pressed to find room to shoot.

Prediction: AP in three.
February, 4, 2014
Feb 4
1:01
AM ET
By
Mike Abelson
| ESPNBoston.com
SALEM, N.H. -- Saturday's brutal draw against St. Mary's left Austin Prep battered and short -anded going into their tilt at Central Catholic last night. Top-scoring forwards Bobo Carpenter and Cam Russo were out, as was Eric MacAdams.

No problem. The No. 4 Cougars were held to only nine shots but converted when they had to and escaped with a tight 3-2 win over the No. 6 Raiders.

With the game tied at two five minutes into the third period, a Central turnover sprung Jake McKenelley and Ryan McDonough on a shorthanded two-on-one. McKenelley fed McDonough who buried it over a sprawling Colin Soucy.

"Guys stepped up tonight who don't usually play," Austin Prep coach Louis Finocchiaro said. "I'm so proud of our guys tonight. They're a very good team. [It was] a tough road game for us.

"What I liked most importantly was at the end of game was our poise with the puck. We didn't panic. We were able to hold on to the lead and make good choices with the puck."

The Raiders set the tone early as the Lloyd Hayes knocked down a rebound and chipped it over Austin goalie Elijah Harris for the goal. Three minutes later, Soucy left a bad rebound loose atop the crease and Louis Finocchiaro Jr. lifted it over him to tie the game going into the first intermission.

The Raiders set the tone and tempo for the bulk of the game, outshooting AP 23-9 overall and 11-2 in the second period alone, but were unable to finish many of the chances they had.

On Austin's first shot on goal of the second period, with just over five minutes left, Scott Duarte wristed home a shot in the shot to put the Cougars up 2-1. It took a while for AP to find its bearings on the Olympic-sized sheet at the Icenter, but once they did they worked it to their advantage.

"It's an Olympic-sized rink so it's hard to get things going," McDonough said. "We're not used it, but when they made a mistake we capitalized."

The Cougar defense was able to keep Central to the outside in the offensive zone and off-balance. When the Raiders did attack successfully Harris stood tall in goal, turning aside 20 shots.

"I thought our defensemen did a nice job, defending the middle, forcing them to the outside, and not giving up quality shots," Finocchiaro said. " I thought [Harris] was on his game tonight. I thought he played a sharp game form sharp to finish. He did what we need him to do and what he usually does."

Corey Webber had Central's second goal, sliding a backhander home early in the third.

MIX AND MATCH: After getting thumped 8-2 by Malden Catholic on Jan. 20, Central coach Mike Jankowski changed up his offensive lines in an attempt to mix things up. The most noticeable change was the second line of Zach Cote, Webber, and Kevin Regan.

Webber has played much of the season on the top line with Hayes and Alex Lester while Regan got his ice time on the "white" line alongside Richie Greenberg and Eric Robbins.

Despite the loss, Jankowski said he was pleased with the reworked lines.

"We're just trying to spark a few things," Jankowski said. "It's just balance; we have some great balance up there. Corey got one today, Lloyd got one today so each line got one today. We played really, really well we just couldn't find the back of the net."

In Central's two games before last night's game they scored eight and four goals respectively.

"They're coming it's just at different times we get snake-bit there and can't make the conversions," Jankowski said. "We've been able to find the back of the net for the most part. Tonight just wasn't our night."
December, 29, 2013
12/29/13
3:02
AM ET
By
John McGuirk
| ESPNBoston.com
MALDEN, Mass. -- When Malden Catholic's front line of Ara Nazarian, Tyler Sifferlen and Jake Witkowski are working in unison, opposing teams know that a long night is in store for them.
On Saturday night, the dominant trio exploited Austin Prep, each registering a goal, en route to a 4-1 triumph in the title game of the second annual Christie Serino Christmas Classic at Valley Forum II.
The victory marks the second for the Lancers in this event. Last year, they slipped past AP, winning in a shootout.
The No. 2 Lancers improve to 4-0, while the top-ranked Cougars fall to 3-1-1.
"Ara and I have been playing three years together now," said Sifferlen, a senior. "This year we have Jake fitting in and he knows where to find us. He fits right in with us. Tonight we did pretty good together. We just go out there and look for each other and if we score, we score."
[+] Enlarge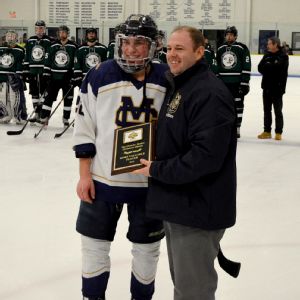 Scott Barboza/ESPNBoston.comReigning ESPN Boston Mr. Hockey winner Ara Nazarian was named MVP of the Christie Serino Christmas Classic, as No. 2 Malden Catholic beat No. 1 Austin Prep in a rematch of last year's Super 8 final.
Following a scoreless opening period, MC opened its offense up in the middle frame, scoring three unanswered goals to grab a commanding lead. Junior defenseman John McLean got things started with a shot from behind the AP net that deflected off the skate of goaltender Elijah Harris and across the goal line at 1:50 to give the Lancers a 1-0 lead.
While a banged up Cougar squad had trouble passing the puck around once inside the MC zone, the Lancer offense continued to dictate the tempo. At 6:14, Sifferlen made a well-executed pass to Nazarian in front of Harris, who slipped the puck past Harris to make it a two-goal game.
Harris, a junior, finished with 22 saves.
Six minutes later, it was Sifferlen's turn. Solid puck movement from Nazarian and Witkowski set up his score, as he beat Harris glove side to make it 3-0.
The flow of this game remained unstable throughout. MC was whistled for 10 penalties as it tried to gain the physical edge over its opponents. But on the flip side, AP's power play became obsolete. The Cougars would just once playing with the man-advantage. That coming on Anthony Cieri's late third period tally when this contest was already secured. The Cougars could manage only 12 shots on freshman netminder Kyle Casey.
"Obviously they are a very good team," AP head coach Louis Finocchiaro said. "We didn't do anything on the power play tonight. We're banged up (losing forwards Jake McKenelley, Eric MacAdams and defenseman Mike Disciullo to injury). I thought MC played a strong, physical game. We've got to learn from it, make ourselves better and not dwell on it. It's done with."
Just 33 seconds into the final period, MC added to its total, again, with the first line doing the damage. Nazarian and Sifferlen worked the puck inside AP's zone. Witkowski was left all alone in front of the net. The junior gained possession of a loose rebound before quickly depositing a shot over Harris' left shoulder, extending the lead to four goals.
Shortly after Cieri's score, the Cougars had a golden chance to cut into the deficit a little more after being handed a 5-on-3 opportunity. But AP failed to convert the two-man advantage as the Lancer penalty kill unit rose to the challenge as the final minutes ticked off.
"We had a little bit of practice tonight with our penalty kill," said MC head coach John McLean. "I wasn't very happy with some of the penalties we took. It is what it is and we had to bear down. We practice it a lot and I thought we did a good job tonight. We have guys that buy into it and they go out and execute it. The big thing is they block shots. They're willing to get in front of pucks. Overall, I'm very pleased."
December, 24, 2013
12/24/13
12:41
AM ET
By
John McGuirk
| ESPNBoston.com
WORCESTER, Mass. -- For No. 1 Austin Prep, everything begins and ends inside the defensive zone. The Cougars take homage knowing they have superior strength in goal along with six top-notch defenders that are all capable of shutting down an opponent at anytime.

Tonight, versus No. 8 St. John's (Shrewsbury), Austin Prep's defense rose mightily to that challenge after posting a 4-0 shutout at the Holy Cross Hart Center. The Cougars improve to 3-0-0, while the Pioneers even their record at 1-1-1.

"This is a tough place to come into in terms of a long bus trip (from Reading) and against a very good team," said Austin Prep head coach Louis Finocchiaro. "St. John's is big and physical and I thought we did a pretty good job keeping ourselves under control. We have six really good defenseman that I wouldn't worry about putting on the ice at anytime. I have confidence in all of them and our goalie Elijah Harris has been excellent.

"When you build a team, you want to build it from your goaltender to your defensemen and then to your forwards. Having six defensemen, it allows us to stay fresh. At the high school level it's tough to find six good defensemen and fortunately for us we have that."

The Cougars defense, made up of seniors Brendan Leach, Andrew Cross, juniors Kevin Kiley, Mike Disciullo, Matt Morgan and sophomore J.J. Layton, kept St. John's in check throughout. The Pioneers were limited to just 16 chances on net, with only a handful of quality attempts.

That, in turn, opened up a solid transitional attack by their talented forwards. With the game scoreless for much of the opening period, sophomore Jake McKenelley changed that after ripping a hard wrist shot past Pioneer netminder Mario Pizzeri (31 saves) at 8:26. Just a minute and change later, while on the power play, junior forward Cam Russo took a cross-ice feed from Eric MacAdams and slipped a shot past Pizzeri to send the Cougars into the first intermission on top 2-0.

The Pioneers offense had their fair share of difficulty moving the puck up ice. Austin Prep took away the neutral zone and continuously tied up St. John's anytime it had the puck on its collective sticks.

The Cougars' offense continued to shine in the second period, putting up ample shots on net. However, they could not add to their margin due to the play of Pizzeri, who was doing everything possible to keep his club in this game. But at 12:50 of the frame, Cougar forward Ryan McDonough got behind the defense, and after taking a clean pass from Bobo Carpenter, the junior skated in alone on Pizzeri, beating the senior with a quick back hand to increase Austin Prep's advantage to three goals. Moments later, with the Pioneers again playing a man short, Russo notched his second marker of the evening, blasting a shot through traffic which sailed just under the crossbar to make it 4-0.

Both teams were whistled for seven infractions apiece. The difference being the Cougars were able to convert a couple of their man-advantage opportunities while the Pioneers could not.

"Our chemistry in our lines is really clicking right now," Russo said. "The power play contributed big-time tonight as well. We have great defense and they just move the puck up to our forwards and we get down in the offensive zone and do our dirty work and get as many chances as we can. We feel we are the team everyone wants to beat so we come into buildings and just continue to play hard like we did tonight."

Although there was no scoring during the final 15 minutes, Austin Prep knew a four-goal cushion at this juncture appeared safe. The defense, along with Harris, continued their mastery over the Pioneers, limiting them to only a few chances before finally closing the door on this one.

"Mario played great for us," St. John's head coach Mike Mead said. "They had two power play goals and one other goal went off his skate. Overall I thought he played very well. We matched up with (Austin Prep) at times. The difference was they capitalized on our mistakes and we didn't capitalize on theirs. We are learning together and need to stay together as group while moving forward."