Boston High School:

Jake Pierce
September, 15, 2013
9/15/13
12:11
AM ET
By
John Botelho
| ESPNBoston.com
BRIDGEWATER, Mass. -- When the Millis-Hopedale football team played against East Bridgewater at Bridgewater Raynham on Saturday, just about every player looked ready for a knockdown, drag out kind of tussle, in which they peppered each other with jab after jab looking for the eventual win.

East Bridgewater's Owen Harrington looked more the part of a prize fighter with knockout power as the Vikings slipped past the Mohawks, 28-21.

The Mohawks landed the first blow, marching nine plays in just under five minutes to score on the opening drive. After Chris Ahl opened the game with a 24-yard return, Millis/Hopedale used a steady running attack to grind down the field. Quarterback Sean Heffernan threw his first pass of the day on a third-and-goal from the three, connecting with Joe Caretta for a touchdown.

East Bridgewater didn't need nearly the time of possession, nor total plays to tie things up, because Harrington took the ensuing kickoff 83 yards straight up the middle of the field for the game-tying score.

"That was an absolute backbreaker for us," said Mohawks coach Dale Olmstead. "We had a great drive moving down the field to score, and we really thought we had punched them a bit, but he punched right back."

M/H used the remainder of of the first quarter to set up its next score, as they put together another marathon drive, finishing the quarter still with the ball - meaning EB didn't run an offensive play in the first.

Heffernan connected with Sager Dasai for a 24-yard touchdown pass to open the second quarter, on the 10th play of the drive.

After a touchback, EB quarterback Mike Kelly authored an impressive response for the Vikings. For the next 8:30, the Vikings matriculated the ball toward the other end, finally hitting pay-dirt on a 2-yard dive to cap a 15-play drive.

Kelly finished the day with 50 rushing yards on seven carries, and was a perfect 2-for-2 passing, including an impressive 16-yard heave to Jake Pierce with just two minutes to go on a long third down.

"Mike ran the offense very well, I'm very happy with him," EB head coach Shawn Tarpey said. "He did just what I wanted him to do - take what they give you, make a couple plays in the pass game, get north and south and don't try to do much. He did all of that today."

The Mohawks maneuvered the ball back into the Vikings' red zone before halftime, falling short of a score when the drive halted at the 9-yard line. When the teams reached the locker room, the score was knotted at 13 and M/H had out-gained EB, 188-70, on offense.

Harrington made the yardage look a lot more even, while unevening the scoreboard on just the second play of the second half. He took a handoff toward the right hash mark, and by the time he hit the line of a scrimmage a big hole had formed. He plunged through and never looked back, racing 61 yards for a score.

Even the heavy hitting of Harrington couldn't knock off M/H right there, and the Mohawks followed with another impressive and lengthy drive that culminated in a score by Ahl. A 2-point conversion was successful, and M/H grabbed a 21-20 lead.

After the kickoff, Harrington needed just one play to remind everyone what he was capable of. He dashed 63 yards to the Vikings back ahead, this time for good. A 2-point conversion made it a seven point game.

"We've had some stud players, and maybe Owen is going to be one of those guys," Tarpey said. "I'm not going to anoint him that just yet, but he had a great game. The thing is, he's worked his butt off and he's really wanted this. I can't say enough about him."

EB sealed the win in the final minute when Sean Pierce, who had a game-high nine tackles, intercepted a pass just past midfield. A knee by Kelly ran the remaining seconds off the clock.

Harrington finished with 166 rushing yards on 16 carries, and had 100 return yards to go with his three scores in the win against a team led by Jon Baker, a supremely talented lineman headed for Boston College next year.

"Our O-line was pretty amazing, especially on how they handled Baker. I just saw big holes and went right through," Harrington said. "I'll definitely be thanking the offensive line for what they did out there."
June, 10, 2012
6/10/12
8:30
PM ET
By
Shawn Myrick
| ESPNBoston.com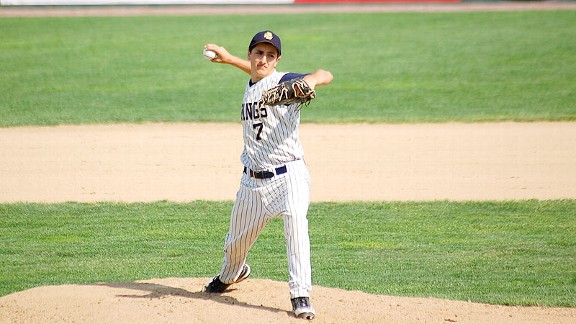 Brendan Hall/ESPNBoston.comEthan Forrest threw a complete-game shutout to clinch East Bridgewater's first Division 3 South title in nearly two decades.
BROCKTON, Mass. -- When starter Ethan Forrest woke up yesterday morning he could barely get out of bed. On Sunday he was unbreakable.
In what was East Bridgewater's fourth game in five days, the junior ace tossed four strikeouts to lead the third-seeded Vikings (18-4) to a 5-0 complete-game sweep of defending regional champs No. 8 Apponequet (14-6) in the Division 3 South finals at Campanelli Stadium in Brockton.
The victory was the first sectional title for East Bridgewater since 1993 as it returns to Brockton at 4 p.m. on Tuesday to play the North champs North Reading (20-4) in the state semifinals.
"I iced, I took it easy, and I came back today and just threw," said Forrest. "I let my arm do the healing. Coach needed someone so I raised my hand and stepped up to the occasion."
The Vikings pulled ahead 1-0 in the third off a low rip by senior Casey DeAndrade. After three straight singles loaded the bases with two outs, DeAndrade knocked the ball into the ground and up off the chest of the second baseman to force a bobble on the throw to first.
DeAndrade went 3-for-4 with two RBI's, while falling one home run short of the cycle. Teammate and freshman Jake Pierce also cracked 3-of-4 for two RBI's and a run.
"I saw our third base coach waving so I thought I had a chance," said DeAndrade. "We have been working hard in the cages so it pays off."
Senior Tim O'Brien swatted a roller up the middle then stole third on a pitch in the dirt to set up the Vikings' second run two innings later. An outfield single by Pierce brought O'Brien home.
"(O'Brien) is just a star athlete," said East Bridgewater coach Pat Cronin. "They are smart base runners. We did not get here by stopping people at third base."
Apponequet put a runner in scoring position during both the first and fifth, but was unable to score.
A double and a stolen base by Zachary Bernard placed the sophomore on third with two out in the first, but Forrest forced a ground out to the shortstop. After a double play to open the fifth, junior Joshua Cabucio knocked a frozen rope over the shortstop to push senior Timothy O'Malley to second.
Forrest again pressured a hit out to the second baseman.
"Single elimination baseball and we never came up with the timely hit," said Apponequet coach Bob Lomp. "We could not string together anything offensively."
East Bridgewater finished Apponequet in its final at-bat with three hits and three runs.
After a balk moved senior James Sullivan to third, junior Brett Palaschak hit a deep right field sacrifice fly for a 3-0 edge. Junior Andrew Benson walked with four pitches then stole second with two outs to set up the 4-0 knock.
A rocket by Pierce was bobbled by a sliding centerfielder to bring Benson home. The following pitch, DeAndrade caught a long drive along the center-field wall to bring O'Brien home, but the senior was tagged out turning third for the final out.
"It was a fastball and I was on my front foot," said DeAndrade. "I just flicked my wrist and hit it well. Coach was waving me and I saw every one up on the stands yelling so I just wanted to score."
Not So Sunny Disposition:
Apponequet starter sophomore Joshua Fickert tossed the entire game allowing 11 hits and striking out five with five earned runs. Despite the sun shining over the backfield press box the entire game, Lomp did not link any of his team's fielding mishaps to the stadium.
"I do not think we played poor defensively," said Lomp. "We have been a pitching and defensive team all year. They just hit some gap balls there."
Day In and Day Out
: The victory was the Vikings' third on the weekend. Forrest pitched six innings in a 5-4 win over No. 6 Dover-Sherborn (15-7) on Friday, while tossing 93 pitches against the Lakers.
"They said 'Coach all we want to do is win today and get to the next game'," said Cronin "(Forrest) was throwing harder in the last inning than he was in the first. When it is your turn to hit, go hit then you just come back and sit in the shade."
May, 25, 2012
5/25/12
1:21
AM ET
By
Tom Layman
| ESPNBoston.com
COHASSET, Mass. — Jamie Faber said pitching is all about confidence.

After his performance against East Bridgewater, the confidence felt by the coaching staff and the rest of his teammates probably grew ten-fold in the Skippers' (17-2) right-handed pitcher.

Faber was brilliant in Cohasset's 1-0 victory over the Vikings (13-4) to take the outright lead in the South Shore League as he struck out 10 and only allowed two hits in a complete-game shutout.

The coaching staff has held back Faber from logging major innings before the biggest game of the year, and Faber credited some extra rest to why he was so sharp from the first pitch to his 92nd.

"All day I was thinking about this game," said Faber. "I knew how good they are and how they can put the ball in play. I just focused...I had more than a week off to prepare myself for this game, so I was full-throttle today.

"It's not something that I need, but it helps a lot. My velocity tends to get lower towards the end of the innings, but my arm doesn't even hurt right now, so it helps a lot."

Freshman Jake Pierce lined a single into right in the first inning off of Faber, but that was all the Vikings would get until their final at-bats. Faber retired 18 in a row at one point, and from innings two through six he was throwing a perfect game. The righty picked up eight of his 10 strikeouts in that timeframe and only went to one, three-ball count as he was putting hitters away quickly.

"That's one of the best games I've seen from my team pitch over the last four or five years," said Skippers head coach Peter Afanasiw. "Against that lineup, it was unbelievable. I didn't think one run was going to hold up in the first inning. I'm glad it did."

Tense Situation in Seventh: Casey DeAndrade — who also started, but more on that later — only saw four pitches in his first two at-bats against Faber. He stayed a little bit more patent in the bottom of the seventh as he broke the string of 18 hitters retired by the Cohasset starter with a liner to right.

DeAndrade put his head down out of the box and with the infield playing back — because of the power the Vikings star posses to all field — he motored his way on to second to put the tying run in scoring position with one out.

Faber locked in to get a fly out to second base on the next hitter, and Colin Gideon-Murphy just got Brett DeBenedictis with his throw from the shortstop position to record the final out of the game.

"(In) last year's state championship game, I've been here before and even in a worse situation with bases loaded no outs in that game," said Faber. "I fought through that, so I feel it I can get through that then I can get through anything. It's a game of confidence and I think I had that today."

DeAndrade Shakes Off Earler Struggles: DeAndrade has been on the losing end of a 1-0 game already this season when he pitched good enough to get a win against Marshfield. In the first inning, DeAndrade was overthrowing, most notably on the third pitch of the game when he let out a loud grunt as he released a high fastball, and not commanding the strike zone.

He needed 24 pitches to get out of the inning and a miscue in the outfield allowed Faber to come around with the only run of the game.

DeAndrade came out for the second inning and the Skippers' hitters helped him out with an aggressive approach that netted two outs with three pitches thrown. From that moment on, DeAndrade matched Faber pitch for pitch.

DeAndrade was near perfect from the second inning on as he only allowed a single to Faber in the sixth inning for the second hit of the game for the Skippers. The Vikings ace threw 49 pitches after the first inning to get the complete game. He threw 73 pitches and only 20 balls and finished with six strikeouts.

"I think was overthrowing (in the first inning)," said DeAndrade. "I was a little pumped up. That was the football player in me. I started to settle down."

"With Casey he's a football player," added Vikings head coach Pat Cronin. "I always tell him before the game started that 'you have to gear it down. If you can someway put it on the backburner we need you under control.'"