Boston High School:

Jake Secatore
March, 23, 2012
3/23/12
4:01
PM ET
First Team:
F – Brendan Collier, Sr., Malden Catholic
The two-time ESPN Boston All-Stater closed out his senior season with a second straight Super 8 title and claimed our Mr. Hockey Award. The Charlestown native and Boston University commit scored 26 goals with assists for 65 points, a figure which led all Division 1 scorers. Collier, who also plays golf and lacrosse at MC, plans on playing a year of juniors next year before joining the Terriers.
F – Ryan Fitzgerald, Jr., Malden Catholic
The Lancers' top-line pivot makes his second All-State team appearance, his first on the First Team. The North Reading native and Boston College commit again eclipsed the 50-point plateau (31-21-52), despite missing the first couple weeks of the season with a shoulder injury, and helped the Lancers to their second straight Super 8 title.
F – Sam Kurker, Sr., St. John's Prep
When looking up the term power forward, the Eagles senior winger and captain fit the mold. The 6-foot-2, 210-pound forward finished with 32 goals and 28 assists for 60 points. The Boston University commit has also seen time with U.S. National Team Development Program and skated with the U-18 select team at the Ivan Hlinka Tournament during the summer.
D – Colin MacGillivray, Jr., Malden Catholic
The Lancers blue-liner is made in the mold of an old school rugged defenseman. The 6-foot-1, 185-pound Peabody native played on MC's top pairing through the season while posting three goals and 10 assists for 10 points for the repeat Super 8 champions.
D – Nikko Markham, Sr., St. Mary's (Lynn)
The Catholic Central Conference Most Valuable Player and Spartans captain finished a sound career by leading St. Mary's to a No. 2 seed in the Super 8. The Salem native was among the top point-scoring blue-liners in the state with six goals and 12 assists for 18 points.
G – Peter Cronin, Jr., BC High
For the second straight season, the Eagles went as their netminder went, and Cronin led BC High to its first Super 8 finals appearance since 2007. Playing in each of the Eagles' 25 games, the Norwell resident posted a 2.00 goals against average and a 91.7 save percentage.
2nd Team:
F – Kevin Emmerling, Sr., St. John's (Shrewsbury)
Perhaps the most skilled skater in the state, the Pioneers' center provided a dynamic offensive punch to their Super 8 run. The Whitinsville native finished third in Division 1 scoring with 26 goals and 30 assists for 56 points. Emmerling is exploring his options for next year and hopes to play college hockey.
F – Conal Lynch, Sr., Boston Latin
Lynch also showed that Charlestown is again a hotbed of hockey, carrying the Wolfpack to a DCL/MVC Div. 2 championship. Lynch finished second in Division 2 in scoring with 35 goals and 18 assists for 53 points. The Wolfpack captain is weighing his options in pursuing prep or junior hockey next year.
F – Matt Sullivan, Sr., BC High
The senior captain was a true two-way center with a high hockey IQ. The Duxbury resident anchored the Eagles' top line, scoring 12 goals and 16 assists for 28 points and lifting BC High to its first Super 8 final appearance since 2007. He is pursuing prep and junior hockey opportunities for next season.
D – Casey Fitzgerald, Fr., Malden Catholic
The younger brother of Ryan, Casey catapulted himself onto the scene in his first year, filling the role of a puck-moving defenseman previously held by former All-Stater Conor Evangelista. The North Reading resident and Boston College commit tallied two goals and 15 assists for 17 points in his first year.
D – Peter Sikalis, Sr., Acton-Boxborough
The Colonials' captain was the impetus behind their run to the D1 North semifinals. Sikalis had eight goals and 11 assists for 19 points while eating up boatloads of ice time for head coach Bob Lavin. The imposing 6-foot-3 defenseman is exploring his hockey options for next year.
G – David Letarte, Sr., St. John's Prep
The captain has been the Eagles' backbone during the last three seasons, leading Prep back to the Super 8 once again. Letarte had a 2.08 goals against average and a 91.3 save percentage in 18 games played. He is currently mulling over college and junior hockey offers for next year.
"Best of the Rest"
Nick Bertoni, F, Franklin
Tom Besinger, F, BC High
Tommy Bishop, F, Chelmsford
Matt Brazel, F, Hingham
Trevor Cimino, F, Burlington
Frank Crinella, F, Springfield Cathedral
Paul Curran, F, Milton
Vin D'Amato, F, St. John's (Shrewsbury)
Jarrod Fitzpatrick, F, St. Mary's (Lynn)
James Gordon, F, Hingham
Danny Holland, F, Woburn
Mike Iovanna, F, Malden Catholic
Connor Irving, F, Beverly
Mike Kelleher, F, Central Catholic
Chris Leblanc, F, Winthrop
Bobby Mullins, St. Mary's (Lynn)
Ara Nazarian, F, Malden Catholic
Andrew Newis, F, Natick
Jack O'Hear, F, Catholic Memorial
Cam O'Neill, F, St. Mary's (Lynn)
Jake O'Rourke, F, Medway
Cam Owens, F, Wilmington
Brian Pinho, F, St. John's Prep
Dalton Rolli, F, Wilmington
Joe Strangie, F, Danvers
D.J. Walsh, F, Needham
Bryan Carter, D, Hudson
Connor Fenton, D, Braintree
Brian Furey, D, BC High
Pat Houghton, D, Westford Academy
Steve Mattos, D, Burlington
Nick Pandalena, D, St. John's Prep
Jake Secatore, D, Woburn
Brendan White, D, Malden Catholic
Joe Cerulo, G, Wakefield
Jordan Davis, G, Norwood
Mike Donadio, G, Franklin
Bailey MacBurnie, G, St. Mary's (Lynn)
Connor Murray, G, Needham
Connor Roddy, G, Medfield
Shane Starrett, G, Catholic Memorial
Steven Waites, G, Winthrop
Kyle Williams, G, Central Catholic
Coach of the Year
Chris Spillane, Franklin
Losing 15 seniors off of 2011's Division 2 state finalist team posed no problem to Spillane in guiding his team back to the Garden again. The 13-year Panthers bench boss is regarded as one of the finest in the state, but no season might have been more impressive for Spillane than getting this team back to the finals.
Finalists:
Karl Infanger, Natick
Mark Lee, St. Mary's (Lynn)
John McLean, Malden Catholic
January, 24, 2012
1/24/12
12:30
PM ET
BOYS MIDSEASON ALL-STATE
F - Brendan Collier, Malden Catholic
F - Ryan Fitzgerald, Malden Catholic
F - Sam Kurker, St. John's Prep
D - Jared Beckwith, Catholic Memorial
D - Jake Secatore, Woburn
G - David Letarte, St. John's Prep

Others garnering consideration:
Tom Besinger, Soph. F, BC High
Tom Cahill, Sr. F, Pembroke
Liam Centrella, Sr. F, Andover
Frank Crinella, Sr. F, Springfield Cathedral
Peter Cronin, Jr. G, BC High
Kevin Emmerling, Sr. F, St. John's (Shrewsbury)
Connor Fenton, Sr. D, Braintree
Jarrod Fitzpatrick, Soph. F, St. Mary's of Lynn
Brian Furey, Sr. D, BC High
Danny Holland, Sr. F, Woburn
Pat Houghton, Sr. D, Westford Academy
Mike Iovanna, Jr. F, Malden Catholic
Mike Kelleher, Jr. F, Central Catholic
Chris LeBlanc, Sr. F, Winthrop
Conal Lynch, Sr. F, Boston Latin
Colin MacGillivray, Jr. D, Malden Catholic
Nikko Markham, Sr. D, St. Mary's of Lynn
Bobby Mullins, Sr. F, St. Mary's of Lynn
Brian Pinho, Jr. F, St. John's Prep
Casey Shea, Sr. F, Woburn
Shane Starrett, Jr. G, Catholic Memorial
Joe Strangie, Jr. F, Danvers
Kyle Williams, Sr. G, Central Catholic

GIRLS' MIDSEASON ALL-STATE
F - Natalie Flynn, Arlington Catholic
F - Kayla Smith, Woburn
F - Kati Goguen, Acton-Boxborough
D - Martha Findley, Duxbury
D - Emily Loebs, Acton-Boxborough
G - Courtney Davis, Woburn

Others garnering consideration:
Cassandra Connolly, Jr. D, Woburn
Lily Connolly, Jr. F, Duxbury
Jackie Denning, Jr. F/D, Lexington
Rachel Donahoe, Sr. D, St. Mary's of Lynn
Jane Freda, Jr. F/D, Hingham
Haley Gaughan, Sr. F, Canton
Samantha Girard, Fr. F, Dedham
Erika Kelly, Sr. F, Watertown/Melrose
Cali Loblundo, 8th G, Acton-Boxborough
Brooke Matherson, D, Walpole
Caroline McCarthy, Sr. F, Belmont
Tori Messina, So. D, Hingham
Annie Messuri, D, Acton-Boxborough
Megan Messuri, Soph. G, Arlington Catholic
Hannah Murphy, Jr. F, Duxbury
Rachel Myette, So. G, Duxbury
Shannon O'Neil, G, Austin Prep
Danielle Phalon, Sr. F, Stoneham
Casey Schaejbe, Sr. G, Arlington
Sarah Schwenzfeier, Jr. F, Hingham
Caroline Shaughnessy, So. D, Duxbury
Kaitlyn Spillane, Jr. F/D, Franklin
Bethany Welch, Jr. G, Walpole
Rebecca Zappalla, Sr. D, Arlington Catholic
January, 12, 2012
1/12/12
1:16
AM ET


WOBURN, Mass. -- Wednesday night's grudge match between Middlesex League rivals No. 5 Woburn and No. 16 Winchester was about what you'd think it to be — one physical hockey game.

Despite trailing 2-0 in the second period, the Tanners were lifted on the strength of a three-goal second period. All Woburn had to do was endure the onslaught of the Sachems' best shot in the third period to grind out a 3-2 win.

"They tough, they're aggressive, they're really gritty," Woburn head coach Jim Duran said. "We knew we had our work cut for us."

The Tanners (6-0-0, 3-1-1) thought they'd claimed a 1-0 lead in the first, only to see Jared Baker's breakaway shot, which zipped out of the net nearly as quickly as it arrived, washed out.

Winchester (3-4-2, 1-1-1) capitalized on the no-goal call, gaining the lead on Drew Mills' tally midway through the first period. Mills followed with his second of the game in the second period, boosting the Sachems to a 2-0 advantage four minutes in.

That's when Woburn turned a switch on. The Tanners owned the rest of the period, scoring three straight goals, for which Winchester had no answer.

Senior co-captain Casey Shea was the catalyst to all three Tanner goals, picking up three assists, even if he might have been a little rusty.

"He was a little sluggish in the first period,"Duran said of Shea. "He's been out for a week and a half with chicken pox and he hasn't played. He's only been able to practice one day, on Tuesday, it just shows that he's got a lot of heart."

Shea's linemate Danny Holland was the beneficiary of two of his dishes. Holland's goals, which were sandwiched around Jake Secatore's blast from the point, included the game-winner, which was scored with eight seconds remaining in the second period off a neutral zone turnover.

Winchester carried play for the bulk of the third, but were limited in their chances to get clean looks at netminder Jeremy Flibotte.

Weathering the storm of the Sachems' best shots in the final minute, Woburn escaped with the two points.

"We got caught in a long change, and one line was out there longer than they should've," Duran said. "And then, we had to mix and match a little bit … We were lucky to get through those final 20 seconds or so, Jeremy came up with a couple big saves for us."
December, 29, 2011
12/29/11
2:26
AM ET


WOBURN, Mass. -- St. John's Prep and Woburn provided one of the many highlights to last year's Super 8 tournament with a riveting overtime battle.

The Eagles got the better of that one, edging the Tanners 4-3, en route to their Super 8 final appearance.

Wednesday night's matchup between the two squads didn't disappoint either, but the No. 5 Tanners emerged with a more favorable result this time around, sweating out a 3-2 win over No. 2 Prep at O'Brien Rink.

Senior winger Danny Holland collected the game-winning goal midway through the third period, breaking a 2-2 deadlock.

"My wingman Johnny Dirienzo, he made a great pass coming across," Holland said the goal. "I made a tip around one of the defensemen, I beat him to the corner, came out and just took a shot on net."

Down the stretch, the Tanners defense held with senior captain Jake Secatore logging Chara-like minutes and sophomore goaltender Jeremy Flibotte making the saves.

Otherwise, the matchup was about as even as can be with the teams hitting the dressing room tied 1-1 at the first intermission and 2-2 after two.

Prep (3-1-0) claimed an early advantage with sophomore center Tyler Bird collecting his third goal on the young season. Woburn (2-1-1) tied the game just a minute later with John Concannon burying a wrister set up by talented freshmen siblings Nicholas and Christian Baldino.

The teams' stars took over the action in the second, with two Hockey East commits trading goals.

UMass-Lowell commit Casey Shea broke his goalless skid with his first tally of the season. The Tanners senior captain skated circles around two Prep defensemen before beating goaltender David Letarte five-hole with a backhander.

With 12:31 remaining in the second, Prep star Sam Kurker left his imprint on the game. The rugged forward and BU-commit broke off the left wing boards, muscling off a Woburn defenseman before cutting to the slot and letting of a wicked wrister, beating Flibotte stick-side.

"We told ours wings to watch him coming off the wall in the second period," Tanner head coach Jim Duran said of defending Kurker, who tallied his eighth goal of the season. "He was just too strong sometimes when he was coming off the half wall. He just fought through our checks."

Woburn's adjustments were evident in the game's final minutes. The Tanners did good work to keep the Eagles to the outside and keeping sightlines clear for Flibotte.

"I don't think we generated enough quality scoring chances," Prep head coach Kristian Hanson said. "We had some shots from the perimeter, but we weren't able to get to the net, try to get a rebound goal. I didn't see that and I would've liked to."

SEE YA LATER?
It's not a stretch to say that the Super 8 squads from last season could find themselves in the same situation come the end of the season. But plenty has changed for Prep, which lost two-thirds of its top line from a year ago.

"It's such a new group that, right now, it's game by game," Hanson said. "We have a lot players stepping into new roles."

The constants for Prep are Kurker, Letarte and fellow senior captain and defenseman Nick Pandalena. Pandalena, who is committed to playing for BC's golf team next season, is a big, physical blue-liner who's not afraid of contact. With an improved skating game, Pandalena will be the crucial cog to an otherwise green blue line.

However, he wasn't the only ESPN Boston preseason All-State defenseman on the ice. That honor also goes to Secatore, who proved his value in the third period. After a slow start to the game, the Tanner captain hardly left the ice during the final seven minutes of the contest, as Prep set up shop in the offensive zone and increased the forecheck.

Secatore's effort is old hat to his teammates though.

"Jake Secatore, he's just unbelievable," Holland summed it up.

"He's a great leader," Duran added about Secatore, who played strong as a pairing with senior Adam Tanner. "He doesn't say much, but he just works so hard in practice … He's so strong, he skates so well. I just don't think he realizes how good he can be."


December, 14, 2011
12/14/11
6:06
PM ET
With a good number of team's kicking off their hockey schedules on Wednesday night, we thought we'd take a closer look at our
Top 5 preseason teams
, handicapping the field of could-be Super 8 contenders this season:
(All records and stats from 2010-11)
1. Malden Catholic (21-1-2)
Players to watch:
Brendan Collier, Sr. F, 24-39--63; Ryan Fitzgerald, Jr. F, 24-42-66; Mike Iovanna, Jr. F, 10-18--28; Tyler Sifferlen, So. F, 4-7--11; Brendan White, Jr. D, 2-7--9; Colin MacGillivray, Jr. D, 1-7--8.
Key losses:
F Mike Vecchione, D Connor Evangelista, F Nick Roberto, G Pat Young.
The skinny:
The returning Super 8 champions now have the bull's-eye on their backs, and they're OK with that. The Lancers finally finished the season on top, in no small part thanks to the leadership of Vecchione. Now the torch has been passed to Collier, who inherits the "C' this season. The Charlestown native and BU commit leads a re-tooled lineup. However, MC isn't without its questions. Top-line center Ryan Fitzgerald is on the shelf until around New Year's with a seperated shoulder. Catholic Conference All-Star Connor Evangelista is among the offseason defections and leaves a hole at the top of the Lancers' blue line corps. MC will also breaking in junior goaltender Connor Maloney after the graduation of Pat Young (1.33 GAA). On top of that, the Lancers have a new head coach in John McLean, who's filling in for Chris Serino, who's taken a medical leave. Still, for all those questions, there's still an awful lot of talent around with Iovanna figuring to make a big leap, playing the wing spot vacated by Vecchione. Freshman Ara Nazarian is a name that will be mentioned around the state for quite some time.
X-factor:
White and MacGillivray. For all the attention paid to MC's front-line offensive talent, when you get down to the nitty-gritty of playoff time, teams need the horses on the blue line to take control of games. Both are more-than-capable defenders. Fitzgerald's younger sib, Casey, a freshman blue-liner is also a name to watch in the coming seasons.
2. St. John's Prep (18-6-1)
Players to watch:
Sam Kurker, Sr. F, 15-10--25; David Letarte, Sr. G, 2.52 GAA; Nick Pandalena, Sr. D, 2-10--12; Dillon Gargano, Jr. D, 1-1--2; Tyler Bird, So. F, 3-3--6.
Key losses:
F Colin Blackwell, F Shane Eiserman, F John Farrow, D Joe Currie.
The skinny:
Perhaps none of last year's Super 8 field lost more front-line talent than the Eagles. ESPN Boston Mr. Hockey Colin Blackwell matriculated to Harvard and is now tearing up the ECAC. Also, talented freshman Shane Eiserman left for the prep schools. What the Prep returns, however, could also be envy of most teams. It all starts up front with BU-commit Kurker, who's a true power forward in the old sense of the word; the Eagles will lean on Kurker to improve upon his 15-goal campaign last season. The Eagles also lost most of the blue line, with Nick Pandalena the only returner from their top 5. But the Prep is still built from the net out with Letarte returning between the pipes.
X-factor:
Letarte. With a young defense in front of him and possible dip in scoring, it will take an even larger effort from the senior netminder to return Prep to a Super 8 title game.
3. BC High (15-6-3)
Players to watch:
Matt Sullivan, Sr. F; Tom Besinger, So. F; Brian Furey, Sr. D; Peter Cronin, Jr. G.
Key losses:
F Mike Cashman, F Terence Durkin, F Andrew White,
The skinny:
Last year was about the Eagles' return to prominence. Now, this year is all about taking that next step. Still, the roster is young, but they're also battle-tested. "The guys we had last year were excellent leaders," BC High head coach John Flaherty said," now we're asking this group to build upon that moving forward, being leaders on and off the ice." That leadership now falls to Sullivan and Furey. Still, for a unit that's relatively young, there's some talent to be had, including Besinger who was among our Top 5 rookies to watch from last season.
X-factor:
Cronin. The then-sophomore netminder turned some heads during the Super 8 tournament last season, as the Eagles went toe-to-toe with MC in the crossover round. If he can repeat that kind of performance, the Eagles are in good hands.
4. Catholic Memorial (8-10-2)
Players to watch:
Liam Coughlin, Jr. F, 10-11--21; Jared Beckwith, Sr. D, 4-10--14; Shane Starrett, Jr. G, 1.77 GAA; Jack O'Hear, Jr. F.
Key losses:
D Marc Hetnick, F Dan O'Hear, F Chris Stathopoulos, G Tommy Knox.
The skinny:
By far the best team in the state not involved in the playoffs last season. With that said, the Knights were fairly green on the blue line last year and took their lumps. The hope is that they'll learn from those experiences. carrying into this season. CM figures to turn a weakness into a strength this year with a deep D corps led by Beckwith, in addition to returners Kevin Bletzer, Dennis Medeiros, Justin Ryder, Ryan Sullivan and John Allaire. The Knights also figure to be strong in net with Starrett after posting a .968 save percentage last year in nine games.
X-factor:
Coughlin. An ESPN Boston All-Stater, bears watching in his second year with the Knights and could be the breakout performer of the year. He has the talent and size to change the complexion of game. If he applies himself physically, there's no defense in the state who can match him.
5. Woburn (18-5-2)
Players to watch:
Casey Shea, Sr. F, 21-28--49; Danny Holland, Sr. F, 10-14--24; Jake Secatore, Sr. D, 1-12--13.
Key losses:
F Alex Holland, D Brian Dulong, G Cam McGlashing, D Brian Smith.
The skinny:
A year later, we still find ourselves wondering what could've been in the Super 8 tournament -- had the Tanners gotten a couple of bounces here and there. But, as Woburn head coach Jim Duran told us at the time, "Teams make their own luck in hockey." This year, the Tanners hope the luck breaks their way because they don't lack on talent. UMass-Lowell commit Casey Shea will be perhaps the most dynamic offensive threat in the state (save for the top-liners at MC), and Holland isn't far behind. This group can skate and make plays in tight spaces. In a word, they're fun to watch. The Tanners also return one of the steadiest D-men in the state in Secatore.
X-factor:
Sophomore goaltender Jeremy Flibotte. He's tabbed to be McGlashing's replacement in net and saw time sparingly during last season. Can the netminder hold up to the rigors of postseason play? We'll find out.
December, 9, 2011
12/09/11
6:04
PM ET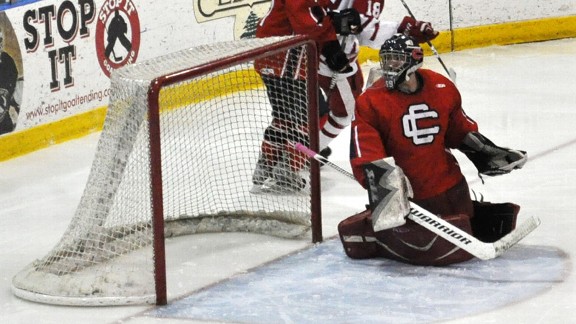 ESPNBoston.comCentral Catholic goaltender Kyle Williams surrendered just 43 goals last season while being named to ESPN Boston's All-State team. This year, the senior netminder kicks off the season in the same place on our First Team preseason All-State team.
Here is ESPN Boston's preseason MIAA All-State boys' ice hockey teams:
FIRST TEAM
F - Brendan Collier, Sr., Malden Catholic
F - Ryan Fitzgerald, Jr., Malden Catholic
F - Sam Kurker, Sr., St. John's Prep
D - Jared Beckwith, Sr., Catholic Memorial
D - Peter Sikalis, Sr., Acton-Boxborough
G - Kyle Williams, Sr., Central Catholic
SECOND TEAM
F - Liam Coughlin, Jr., Catholic Memorial
F - Casey Shea, Sr., Woburn
F - Matt Sullivan, Sr., BC High
D - Brendan White, Jr., Malden Catholic
D - Jake Secatore, Sr., Woburn
G - Peter Cronin, Jr., BC High
THIRD TEAM
F - Kevin Emmerling, Sr., St. John's (Shrewsbury)
F - Mike Kelleher, Jr., Central Catholic
F - Conal Lynch, Sr., Boston Latin
D - Connor Fenton, Sr., Braintree
D - Nick Pandalena, Sr., St. John's Prep
G - David Letarte, Sr., St. John's Prep
March, 13, 2011
3/13/11
2:03
PM ET
By
Roger Brown
| ESPNBoston.com
NORTH ANDOVER, Mass. –- It wasn't the experience either team envisioned when the Super Eight tournament field was announced.

Sixth-seeded Needham and seventh-seeded Woburn each entered Sunday's third-round game with an 0-2 record in pool play and no chance of advancing to the semifinals. Each team completed the tournament without a victory as well, as the teams skated to a 2-2 tie at Merrimack College's Lawler Arena.

"Very proud of the way our kids played," Woburn coach Jim Duran said. "It's such a difficult game to come back and play when you're not really playing for anything except for pride. There was no bologna out there. It was a good showing by both teams."

Needham was trying to protect a 2-1 lead, but Woburn's John Concannon capped the scoring with 5:28 to play. Because St. John's Prep (2-0) and BC High (2-0) had already secured spots in the semifinals from Group 2, there was no overtime period.

Following the game, Needham coach Bill Giusti suggested it might benefit everyone if the tournament format is changed.

"It's a tough game to play when you have two 0-2 teams," he said. "I think maybe the format should be changed and maybe go to a Hockey East format (best-of-three series) and the winner moves on. Really I don't think there's gonna be any more games or any more time. Not only that, it makes the first and second seeds that much more important.

"I think it's a better way. Unfortunately we've been involved in this game two years in a row. Last year with Winchester 0-2 and us 0-2. No one is in the stands either."

Junior forward Daniel Holland also scored for Woburn, which completed its season with an 18-5-2 record. Junior defenseman Jake Secatore assisted on both Woburn goals.

The Tanners won a play-in game against Springfield Cathedral, and then lost one-goal games against St. John's Prep (4-3 in overtime) and BC High (1-0) before Sunday's contest.

Needham received goals from junior forwards D.J. Walsh and Timmy Parlato. The Rockets completed their season 12-8-5. The Rockets lost to BC High (2-0) and to St. John's Prep (5-1) in its other tournament games.

"A tie was probably just for both of these teams," Guisti said. "Luckily both teams were pretty disciplined."

Woburn opened the scoring when Holland converted a rebound from close range at 4:46 of the second period.

Needham answered quickly. Walsh tied the contest 32 seconds later, and Needham took its first lead when Parlato beat goaltender Cam McGlashing on a shot from the right point at 7:12 of the second. Parlato's goal came with one second left on a Needham power play.

"We talked before the game, not only did we want to play this for the seniors but also we wanted to play it for next year," Duran said. "We showed we can play in the tournament. If we came here and had lost 5-0 they might have said we were just lucky to hang in there against those two teams [BC High and St. John's Prep].

"I think we had a good effort tonight, and I think this gives us a lot of experience for next year. It gives us an idea do of what to expect and what it takes to get to that next level."
March, 1, 2011
3/01/11
1:43
AM ET


BILLERICA, Mass. -- Typically, when Casey Shea is on his game, he isn't standing center stage. A deft playmaker, the junior forward takes pride in playing an unselfish game, making the key transition pass or setting up a teammate for a goal.

During Monday night's Super Eight play-in game at Chelmsford Forum, Shea was thrust into the spotlight with a performance to be remembered, scoring each of the seventh-seed Tanners' five goals in a 5-2 win over No. 10 seed Springfield Cathedral.

"Casey's at his best when he's distributing the puck to everybody," Woburn head coach Jim Duran said of Shea. "And he's a finisher, he doesn't always seem like that because he's usually setting somebody up, but tonight he finished."

Shea netted a natural hat trick during the first period, kicking Woburn (18-3-1) off to a 3-0 lead.

"We put them back on their heels," Shea added.

He then scored for two more in the second period with one coming on the power play and another coming shorthanded, in the most unlikely of circumstances.

Shea first scratched the scoreboard midway through the first. He beat Cathedral goaltender Zac Rondeau, finishing on the backhand through the 5-hole. Assists went to Alex Holland and Cole Connolly on the play. Shea then transitioned a defensive zone turnover into his second goal with 2:31 remaining, beating Rondeau who was caught out of the crease.

He finished the trifecta with a power-play goal with five seconds remaining.

"We were cycling down low and nobody came near me," Shea said.

So he stepped out front, in on Rondeau, faked the pass the slot and buried it 5-hole. It was the first power-play goal for the Tanners on three attempts with the man advantage in the period.

"Their goalie is good, but we capitalized on our chances early," Duran said. "It took the wind out of their sails and they weren't getting many chances."

Although the Panthers (12-10-1) were given four power play chances in the second, they failed to cash in with any goals.

Meanwhile, Shea kept up his pace, nabbing his fourth of the game on the man-advantage with assists from Jake Secatore (his second) and Adam Tanner.

Shea's fifth came on the strangest of hockey sights. With 7.7 seconds remaining in the second, when Rondeau vacated his net on a delayed penalty call. As Rondeau charged toward the net, an errant Panther pass back to the point skipped along the length of the ice into the Cathedral net.

Confusion ensued as to which player should receive credit for the goal. It was originally given to defenseman Brian Dulong by the official scorer. However, video taken by Boston Herald staff pointed to Shea as the last Tanner to touch the puck. The consensus among media row was that Shea had in fact scored No. 5 after taking a look at the incontrovertible evidence.

However, in addition to Shea's brilliance, the Tanners put forth a solid defensive effort early on with senior goaltender Cam McGlashing making some key saves. Coupled with a pesky forecheck and a quality penalty kill, Woburn took the Panthers out of the game before they could even get started.

"That's really the name of the game for us, getting turnovers and trying to get the puck to net and, hopefully, get a rebound."

Cathedral head coach Brian Foley added, "I think if we could play them four times in a row, maybe we'd draw even, but clearly we caught them on their night. They did everything they needed to do to win."

Sam Burke and Matt Peloquin scored late goals to get the Panthers on the board.

Cathedral now moves onto play as the top seed in the Division 1 South tournament while Woburn moves on to Saturday's Super Eight play at Merrimack College.