Boston High School:

Jake Stalcup
August, 2, 2013
8/02/13
4:35
PM ET
By
Roger Brown
| ESPNBoston.com
It's a different year with different players and different coaches, but the storyline leading up to Saturday's 60th Shrine Maple Sugar Bowl hasn't changed: Can Vermont find a way to upset New Hampshire, or at least make it a competitive game?

New Hampshire will bring a 12-game winning streak into Saturday's contest, and has outscored Vermont 433-145 in those 12 games. New Hampshire leads the overall series 44-13-2.

New Hampshire head coach Ray Kershaw (Mascoma Regional) said he has warned his team about the danger of being overconfident.

"They do know not to take them lightly," Kershaw said. "I tell them that every single day. I tell them it's not going to be handed to them."

Saturday's game will be played at Dartmouth's Memorial Field. The opening kickoff is scheduled for 5:30 p.m., and all proceeds benefit the Shriners' Hospitals for Children.

"Different set of circumstances," Vermont coach Jason Thomas (Burr & Burton) said. "I wouldn't be doing my job if I didn't have my guys ready to go and believing they could win."

Goffstown's Connor Benjamin will lead the New Hampshire offense. Benjamin played running back in the New Hampshire CHaD All-Star Game, but will be New Hampshire's starting quarterback Saturday. He was a quarterback during his junior and senior seasons at Goffstown.

Exeter's Tyler Grant, Concord's Tolbert Nemo, Trinity of Manchester's Romeo Masuku and Manchester Memorial's Jared Ombati are among New Hampshire's running backs.

"Our backfield has a lot of speed and a lot of depth," Benjamin said.

Vermont will have to deal with a New Hampshire defense led by Portsmouth defensive lineman Ricky Holt, who will play at the University of New Hampshire.

Vermont fans are hoping quarterback Jake Stalcup can guide their team to victory.

Stalcup, a three-year starter for Thomas at Burr and Burton, was named Vermont's Gatorade Player of the Year in 2011, when he tossed 31 touchdown passes as a junior. Stalcup passed for 2,613 yards and 31 TDs last fall. He will play for Middlebury College this season.

Stalcup will direct a fast-paced spread offense that Thomas learned from Philadelphia Eagles head coach Chip Kelly while both were assistant coaches at UNH.

"I think the game will be won or lost up front," Thomas said. "If we can't protect the QB, keep him upright so he can get the ball off, the skill kids aren't going to matter.

"We feel like we have to score points against these guys for sure. New Hampshire is big and athletic. I imagine they'll be a very difficult team to stop."

New Hampshire set a record for points scored by one team when it won last year's game 62-24.

"Both teams have been working hard and it's going to be a tough game," Benjamin said. "Regardless of who wins, this game is all about fund-raising. It's for kids who can't do what we do."
January, 9, 2013
1/09/13
2:20
PM ET
By
Roger Brown
| ESPNBoston.com
When Jason Thomas became Burr and Burton Academy's head football coach in 2008, the Bulldogs had suffered through nine consecutive losing seasons. Four years later he guided Burr and Burton to the Division II championship game.

Thomas will face a similar challenge this summer, when he coaches Vermont's Shrine Maple Sugar Bowl team.
New Hampshire has won the last 12 meetings with Vermont, and has outscored Vermont 433-145 in those 12 games. New Hampshire set a record for points in a game last summer, when its posted a 62-24 victory and increased its lead in the series to 44-13-2.
"I'm a Vermonter, and I have a lot of pride in our state," Thomas said. "We're small, but we have some really good football players here.
"When you look at the size difference we don't have the linemen to line up and pound it at New Hampshire. I want to play at a tempo New Hampshire is not used to."
Thomas, who played football at the University of Massachusetts, said he learned the basics of his fast-paced offense while he was an assistant coach at the University of New Hampshire, and current Oregon head coach Chip Kelly was UNH's offensive coordinator..
"Chip really laid the foundation for me in terms of offense and what I wanted to do," Thomas said.
Mascoma Regional's Ray Kershaw will be New Hampshire's head coach. Mascoma, which began playing varsity football in 2008, had never posted a winning record until last season, when the Royals lost to Franklin in the Division VI championship game. Kershaw became Mascoma's head coach in 2010.
"Being named New Hampshire's Shrine coach was very exciting for me," Kershaw said. "It's a great honor because of what the game is all about [raising money for the Shriners' hospitals]."
This year's Shrine Maple Sugar Bowl will be played Aug. 3 at Dartmouth's Memorial Field. The Vermont and New Hampshire rosters will be released later this month.
One of the first players Thomas selects will likely be quarterback Jake Stalcup, a three-year starter at Burr and Burton. Stalcup was named Vermont's Gatorade Player of the Year in 2011, following his junior season.
Stalcup passed for 2,613 yards and 31 touchdowns (nine interceptions) last season. He also threw 31 touchdown passes as a junior.
"He's as steady as they come," Thomas said. "He doesn't really get rattled. He's 6-2, 200 pounds and has a live arm. He has 'it' as a quarterback."
Practice for this year's game has been shortened from nine days to seven. There have also been added restrictions placed on how New Hampshire must select its roster. New Hampshire's initial roster before any injuries) must feature six players from each of the state's six divisions. In past year's New Hampshire was allowed to take more players from its larger schools.
New Hampshire has 57 schools with varsity football. Vermont has 34.
"To be honest I don't care about their selection process," Thomas said. "I want their best against our best. This seems like it gives them an excuse if we do beat them."
ROBERE NETS 1,000TH POINT
Brianna Robare became the second Winooski girls basketball player to score 1,000 career points when she tossed in 20 during a 53-42 loss to BFA-Fairfax on Saturday.
Robare reached the milestone when she made a 3-pointer with 2:06 left in the first quarter. Robare's sister Bobbi also scored 1,000 points for Winooski.
Chace Carpenter (17 points), Kayla Baczewski (15) and Meghan Bochanski (11) scored in double figures for BFA-Fairfaix, which improved to 6-0. The Bullets trailed by two points entering the fourth quarter, but outscored Winooski 17-4 over the final eight minutes.
The loss dropped the Spartans to 5-2.
TOOF REACHES CENTURY MARK
Mount Mansfield-South Burlington girls hockey coach Mickey Toof earned his 100th career coaching victory when MMU-SB defeated Colchester last week.
Toof is in his ninth season as a head coach. He was Burlington's head coach for four years, and is now in his fifth season with South Burlington.
Toof has an overall record of 100-64-15 in nine seasons.
VERGENNES BOYS OFF TO STRONG START
The Vergennes boys basketball team made 26 of 29 two-point field goal attempts during an 87-59 triumph over U-32 during the first round of the Fran Pinard tournament on Dec. 28.
Vergennes, which lost to Mount St. Joseph in last year's Division II championship game, is off to a 10-0 start this season. The Commodores picked up victory No. 10 by beating Montpelier 53-43 Saturday.
Roger Brown is a staff writer for the New Hampshire Union Leader, and has been covering high school sports throughout New England since 1992.
November, 28, 2012
11/28/12
11:40
AM ET
By
Roger Brown
| ESPNBoston.com
Recapping Vermont's three state championship football games:

Division I - Hartford 35, BFA-St. Albans 27:
The top-seeded Hurricanes received 149 yards rushing and three touchdowns from Josh Claflin and stretched their winning streak to 26 games. Hartford has won the last three Division I titles, and five of the last six.
Hartford, which has gone 11-0 in each of the last two seasons, led 35-19 after Claflin scored his third TD with 6:08 to play, but the Bobwhites responded with a 21-yard touchdown pass from Nick Jaslowich to Darren Callan. Jaslowich added the two-point conversion to make it 35-27.
BFA-St. Albans (9-2) made things even more interesting when it recovered the onside kick, but the Bobwhites turned the ball over on downs with 2:11 remaining. Callan finished the game with six receptions for 69 yards.
Hartford became the first team to win three consecutive Division I championships.
Division II - Rice 23, Bellows Falls 14:
Billy O'Brien rushed for 111 yards and two touchdowns to help top-seeded Rice complete an unbeaten season (11-0).
O'Brien's second touchdown came on a 46-yard run that increased Rice's lead to 23-14 with 5:48 to play. The Green Knights won their second championship in three years despite three fumbles and an interception in the first half.
Second-seeded Bellows Falls (9-2) trailed 16-6 before Ian McKeen scored on a 16-yard run midway through the fourth quarter.
Rice beat Bellows Falls 8-0 during the regular season.
Division III - Woodstock 38, BFA-Fairfax 18:
Top-seeded Woodstock (11-0) repeated as the Division III champion, but it wasn't as easy as the score would indicate.
The Wasps trailed 12-0 before they ran an offensive play from scrimmage, and were down 18-14 entering the fourth quarter. Fullback Ed Doton scored two TDs in the fourth, the first of which gave Woodstock the lead for good with 11:51 to play. Doton rushed for 117 yards and three touchdown on 17 carries in the victory.
Kris Wehner led BFA-Fairfax (9-2) with 125 yards on 16 carries. The Bullets were making the program's first appearance in a championship game.
SOUTH STARS SHINE
Burr and Burton quarterback Jake Stalcup passed for 308 yards and four touchdowns to lead the South All-Stars to a 39-36 victory over the North All-Stars in the 12th Annual Senior Bowl at Castleton State College.
Stalcup's fourth touchdown pass came with 1:25 left in regulation and gave the South its first lead in the second half. Fair Haven's Dakota Euber caught passes for 178 yards and two TDs, including the go-ahead touchdown for the South in the fourth quarter.
The victory gave the South a 7-5 lead in the series.
Woodstock's Ed Doton (3-yard run), Hartford's Josh Claflin (10-yard run) and Rutland's Kyle Arnold (3-yard catch) also scored for the South, which trailed 36-20 with 12:05 to play.
BFA-St. Albans running back Doug Saffo rushed for 158 yards and two TDs on 26 carries to lead the North offense. Mount Abraham's Cody Alexander also scored twice.
PURRIER REMAINS ON FAST TRACK
Champlain Valley Union's Elle Purrier won her second consecutive New England high school cross country championship earlier this month in Cumberland, Maine.
Purrier, a Richford resident, completed the 3.1-mile race in 18 minutes, 42.44 seconds. CVU's Taylor Spillane ran second in 19:03.11.
Autumn Eastman, who finished eighth (19:22.68), was the only other CVU runner who placed in the top 10. The CVU girls finished third in the team competition. Barrington, R.I., won the team championship.
Mount Anthony's Marc Brandmeyer was the top finisher among Vermont boys. Brandmeyer finished sixth in 16:29.75. South Burlington's Malcolm Plunkett (eighth/16:37.34) and Montpelier's Daniel Grosvenor (10th/16:38.16) also placed in the top 10.
Bishop Hendricken of Warwick, R.I, won the boys team championship. South Burlington, Vermont's top team, ran 10th.
Roger Brown is a staff writer for the New Hampshire Union Leader. He has been covering high school sports throughout New England since 1992.
December, 8, 2011
12/08/11
11:50
AM ET
By
Roger Brown
| ESPNBoston.com
It was not the outcome Bob Davis was hoping for in his final game as a high school football coach, but Davis said the South's 35-8 victory over his North team in the 11th Annual Senior Bowl was a memorable experience nonetheless.

"It was a great experience," Davis said. "These games are what they are: an exhibition to get the kids out there for [college coaches] to see. But more importantly it's about having fun, and the kids did."
Davis, who announced that he wouldn't return as North Country's coach next season after the Falcons lost in this year's Division II semifinals, watched the South score on each of its first four second-half possessions to build a 28-0 lead early in the fourth quarter.
Hartford running back Troy Bell rushed for 142 yards and two touchdowns in the victory. Bell scored on runs of 20 and 62 yards.
Mill River's Adam Mackey opened the scoring with a 1-yard run 5:04 into the third quarter.
Bell's 20-yard TD run made it 13-0, and then Fair Haven quarterback Robert Coloutti hooked up with Levi Ellis, one of his Fair Haven teammates, for an 18-yard touchdown pass with 2:39 left in the third quarter. Hartford quarterback Tucker Stone connected with Middlebury's Marshall Hastings for the two-point conversion and a 21-0 lead.
Bell's 67-yard TD run extended the South's lead to 28-0 34 seconds into the fourth quarter.
The North got on the scoreboard on a 2-yard touchdown run by North Country quarterback Tre Sanville early in the fourth quarter. Sanville hooked up with Winooski's Devon Rollins for the two-point conversion.
The South capped the scoring on an 18-yard touchdown sprint by Windsor's Matt Rafus.
"Our offense never found a rhythm," Davis said. "You have different players coming in on every series so it's not like the regular season.
"I've been running on adrenaline since August. Now the reality [of retirement] is going to settle in."
December, 1, 2011
12/01/11
8:18
AM ET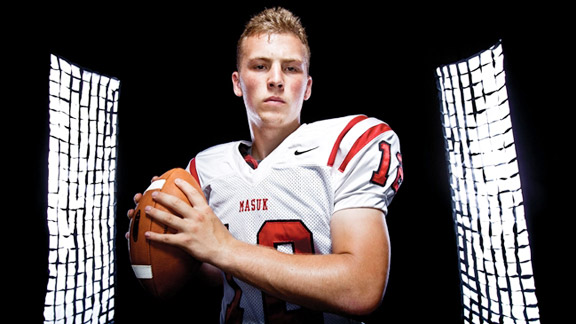 Christopher Beauchamp/ESPNHSWith 10,000 passing yards and 108 TD passes for his career headed into Saturday's state championship, UConn-bound QB Casey Cochran of Masuk was named Connecticut's Gatorade Player of the Year this morning.
In its 27th year of honoring the nation's best high school athletes,, The Gatorade Company, in collaboration with ESPNHS, today announced Casey Cochran of Masuk High School as its 2011-12 Gatorade Connecticut Football Player of the Year. Cochran is the first Gatorade Connecticut Football Player of the Year to be chosen from Masuk High School.
The award, which recognizes not only outstanding athletic excellence, but also high standards of academic achievement and exemplary character demonstrated on and off the field, distinguishes Cochran as Connecticut's best high school football player. Now a finalist for the prestigious Gatorade National Football Player of the Year award announced in December, Cochran joins an elite alumni association of past state award-winners in 12 sports, including Mark Sanchez (2004-05, Mission Viejo HS, Calif.), Wes Welker (1999-00, Heritage Hall HS, Okla.), Terrell Suggs (1999-00, Hamilton HS, Ariz.), Anquan Boldin (1998-99, Pahokee HS, Fla.) and Jerome Bettis (1989-90, Mackenzie HS, Mich.).
The state's returning Gatorade Football Player of the Year, the 6-foot-2, 205-pound senior quarterback led the Panthers to an 11-0 record and a berth in the Class L state semifinals against Hand High, scheduled for Dec. 3. Cochran passed for 2,801 yards and 36 touchdowns through 11 games, completing 119-of-167 attempts while throwing just four interceptions. He also rushed for four touchdowns. Cochran won a Class SS state title with New London High as a freshman in 2008 and with Masuk in 2010. He is the state's career leader in two categories with 10,501 yards passing and 108 touchdowns.
Cochran has maintained a 3.92 GPA in the classroom. The winner of the Masuk High Book Award for Introduction to Engineering and Algebra I and Geometry, he has volunteered locally at area food banks for the needy, as a youth football coach and as a peer tutor.
"It's scary how someone can be that accurate," said Joe Lato, head coach of rival Weston High. "It's unbelievable what Casey Cochran can do. I haven't seen a high school quarterback like him. He makes everybody look silly."
Cochran has verbally committed to play football on an athletic scholarship at the University of Connecticut beginning in the fall of 2012.
Cochran joins recent Gatorade Connecticut Football Players of the Year Kevin Pierre-Louis (2009, King Low Heywood Thomas), Mike Osiecki (2008, Seymour) and Alex Thomas (2007, Ansonia) among the state's list of former award winners.
In Massachusetts, Jonathan DiBiaso of Everett High took home Gatorade Player of the Year honors. Here are the four other winners from New England:
RHODE ISLAND: JOSH MORRIS, LA SALLE
The 5-foot-9, 170-pound junior running back and cornerback led the Rams to a 10-1 record and a berth in the Division I state championship against Bishop Hendricken High, scheduled for Dec. 3. Morris rushed for 1,278 yards and 16 touchdowns on 134 carries through 11 games and caught nine passes for 175 yards and a score. A 2010 First Team All-Division I selection, he is averaging 39.8 yards per kickoff return, with one touchdown, and has recorded two interceptions on defense.
Morris has maintained a B average in the classroom. He has volunteered locally as a youth mentor and football coach and as part of multiple community service initiatives in association with his church community.
"Every game, he's getting better," said Geoff Marcone, La Salle Academy's head coach. "The kid wants to be great in everything that he does. A lot of high school kids say they want to be the best, but very few work to be the best. He's doing everything he can to make himself better."
Morris will begin his senior year of high school next fall.
Morris joins recent Gatorade Rhode Island Football Players of the Year Ben Willett (2010, Portsmouth) Mike Read (2009, Barrington), Dave D'Errico (2008, North Kingstown) and Bobby Bentsen (2007, Warwick Veterans) among the state's list of former award winners.
NEW HAMPSHIRE: JAKE KILEY, NEW HAMPTON
The 6-foot-2, 180-pound senior quarterback, running back and defensive back rushed for 358 yards and 11 touchdowns on 62 carries this past season, leading the Huskies (7-2) to the New England Prep School Athletic Council's Jack Etter Bowl. A two-time Evergreen League Player of the Year, Kiley also passed for 235 yards and three touchdowns, caught 15 passes for 328 yards and five touchdowns and returned a kickoff for a score. On defense, he recorded 46 tackles and four interceptions, and he averaged 40.3 yards on 16 punt attempts.
Kiley has maintained a B average in the classroom. He has volunteered locally as a New Hampton School campus tour guide, a youth basketball referee and as part of multiple community service initiatives in association with the New Hampton School Service Learning Program.
"I have coached against Jake Kiley for three years and have marveled at his athletic talent each time he steps on the field," said Ben Rulli, head coach at rival Proctor Academy. "He has progressed throughout the years as one of the most athletic players I have seen. Jake is fast, agile and always a threat to make a big play."
Kiley has verbally committed to play football on an athletic scholarship at Penn State University beginning in the fall of 2012.
Kiley joins recent Gatorade New Hampshire Football Players of the Year Max Jacques (2009-10, Salem), David Zocco (2008, Nashua South) and Billy Ferriter (2007, Nashua South) among the state's list of former award winners.
MAINE: LOUIS DiTOMASSO, WELLS
The 6-foot, 180-pound senior linebacker and fullback led the Warriors to a 12-0 record and the Class B state championship this past season. DiTomasso rushed for 1,559 yards and 18 touchdowns on 203 carries. The 2011 Campbell Conference Player of the Year, DiTomasso recorded 133 tackles, forced a fumble, recovered a fumble and blocked a field goal. He ran for 134 yards and a touchdown in the state final win over Leavitt High.
DiTomasso has maintained a B-plus average in the classroom. An avid photographer and artist, he has volunteered locally as a youth football coach.
"Louis DiTomasso has great instincts at linebacker and flies to the play," said Jeff Guerrette, head coach of rival Westbrook High. "At the point of attack he is extremely physical and consistently delivers the blow."
DiTomasso remains undecided upon a collegiate destination.
DiTomasso joins recent Gatorade Maine Football Players of the Year Peter Gwilym (2010, Cheverus) Jack Mallis (2009, Windham), Jack Heary (2008, Deering) and Justin Villacci (2007, Gorham) among the state's list of former award winners.
VERMONT: JAKE STALCUP, BURR & BURTON
The 6-foot-4, 185-pound junior quarterback passed for 2,448 yards and 31 touchdowns this past season, completing 163-of-286 passes while throwing 10 interceptions, leading the Bulldogs (7-4) to the Division 2 state final. A 2011 ESPNHS preseason All-State selection, Stalcup passed for 202 yards and a pair of touchdowns in the Division 2 semifinal win over North Country Union.
Stalcup has maintained a 3.54 GPA in the classroom. He has volunteered locally as a youth football and baseball coach and has assisted in relief efforts for Hurricane Irene flood victims.
"Jake Stalcup has become a first rate quarterback in every sense," said Burr and Burton Academy head coach Jason Thompson. "Every single week he gave us a chance to win and he will only keep getting better."
Stalcup will begin his senior year of high school next fall.
Stalcup joins recent Gatorade Vermont Football Players of the Year Christian McCormick (2010, Rice Memorial) Max Librizzi (2009, Essex), Mick Wong (2008, Hartford) and James Durham (2007-08, Spaulding) among the state's list of former award winners.
November, 16, 2011
11/16/11
5:47
PM ET
By
Roger Brown
| ESPNBoston.com
Woodstock Union High School football coach Jim McLaughlin won the 200th game of his coaching career Saturday, and it couldn't have come at a better time.

McLaughlin guided top-seeded Woodstock to a 27-7 victory over third-seeded Windsor in the Division III championship game at Castleton State College. It was the eighth state title McLaughlin's teams have won in his 30 years as a head coach.
Junior fullback Ed Doton did most of the damage for Woodstock, which began the season with back-to-back losses before winning nine in a row. Doton rushed for 255 yards and three touchdowns.
"If you look at it as a puzzle, the pieces really came together for us as the season went along," McLaughlin said.
Woodstock, which led 14-0 at halftime, held Windsor running back Matt Rafus to 40 yards on 14 carries. Rafus finished the season with 1,881 yards rushing and 27 touchdowns.
Windsor's only touchdown came on a blocked field goal attempt that Ethan Hill returned 75 yards. Windsor completed its season with a 7-4 record.
In Saturday's other championship games top-seeded Hartford beat third-seeded Middlebury 42-6 to win the Division I title; and third-seeded Fair Haven outscored fourth-seeded Burr and Burton 57-34 to win the Division II title.
Hartford 42, Middlebury 6
Hartford dominated on both sides of the ball and won its fourth championship in the last five years.
Miles Latham rushed for 102 yards and two touchdowns, and Troy Bell ran for 109 yards to help the Hurricanes completed an unbeaten season (11-0). Hartford scored four second-half touchdowns.
Middlebury (9-2) played without quarterback Dillon Robinson, who was injured in the team's semifinal victory over BFA-St. Albans. Middlebury's only touchdown came when Marshall Hastings returned a kickoff 79 yards for a score.
Hartford, which had a 444-88 edge in net offense, outscored its opponents 508-112 this season.
November, 3, 2011
11/03/11
1:54
PM ET
By
Roger Brown
| ESPNBoston.com
Fair Haven Union quarterback Robert Coloutti made a mistake that could have haunted him for the rest of his life.

Coloutti was called for two unsportsmanlike conduct penalties and was ejected following a touchdown during last Saturday's game against Otter Valley. An ejection often results in a one-game suspension, which meant Coloutti could miss his team's Division II semifinal at Milton on Friday.
The Vermont Principals' Association ruled Tuesday that Coloutti will not have to serve a suspension, however, and will be allowed to play in Friday night's playoff game.
"Based on the information that was gathered, there will be no further suspension," VPA associate director Bob Johnson told the
Burlington Free Press
. "When there's an ejection, if a school wants to contest, they notify me. This happens routinely; not a new case. In soccer this year, we've had at least eight and of those eight times, at least half of those decisions were changed."
Second-seeded Milton (7-2) sacked Coloutti five times during a 28-19 victory over third-seeded Fair Haven (7-2) during the regular season. Coloutti completed 19 of 41 passes for 203 yards and two touchdowns in the loss. He also ran for a touchdown.
The Milton/Fair Haven winner will face either top-seeded North Country (9-0) or fourth-seeded Burr and Burton (6-3) in the Division II championship game.
North Country received two rushing touchdowns from Nick LeClair and beat Burr & Burton 36-26 during the regular season. Burr & Burton quarterback Jake Stalcup completed 23 of 37 passes for 297 yards and two touchdowns in the loss.