Boston High School:

Jaleel Brown
October, 8, 2012
10/08/12
6:15
PM ET
THE CONTENDERS

Drew Belcher, Jr. QB, Reading
Called his own number for the winning touchdown with less than a minute left, as the Rockets rallied past Burlington, 22-15.

Brian Dunlap, Soph. WR, Natick
Caught six passes for 121 yards and two scores in the Red Hawks' 42-7 rout of Dedham.

Troy Flutie, Jr. QB, Natick
In the Red Hawks' 42-7 romp of Dedham, completed 12 of 16 passes for four touchdowns, and added 41 yards rushing with a score.

Jon Hurvitz, Sr. RB, Duxbury
Reached the end zone twice, the second time putting the Dragons ahead for good, in a 20-16 thriller over Xaverian.

Marshall McCarthy, Sr. LB, Duxbury
Recorded 13 tackles and two sacks, both for forced fumbles, in the Dragons' 20-16 win over Xaverian.

Alex Moore, Sr. RB, St. John's Prep
Racked up over 200 yards from scrimmage and all three of the Eagles' scores in a 20-7 win over Bridgewater-Raynham, rushing for 159 yards and two TDs, and three catches for 73 yards and a third score.

Nick Peabody, Sr. QB, Barnstable
Threw for three touchdowns in the Red Raiders' 19-14 win over New Bedford, bringing his season total to 18 touchdown passes.

C.J. Scarpa, Sr. QB, Andover
In the Golden Warriors' wild 51-42 win over Tewksbury, completed 17 of 24 passes for 382 yards and three touchdowns.

Jakarrie Washington, Sr. WR, Everett
Scored five times for the Crimson Tide (three rushing, two receiving) as they avoided a scare against Cambridge, 51-30.

Quron Wright, Sr. RB, Holy Name
Had his lowest total of the season in a 38-20 loss to Doherty, but still went over 100 yards (18 carries, 105 yards, 2 TD) and crossed the 1,000-yard barrier. He needs 370 yards to break the school's all-time rushing yardage record.

ON THE RISE

Andrew Benson, Sr. QB, East Bridgewater
In the Vikings' 39-26 win over Hull, carried 17 times for 296 yards and four touchdowns, and added a 20-yard touchdown through the air.

Chance Brady, Jr. RB, Haverhill
Ran for 204 yards and two scores in the Hillies' 30-23 thriller over Chelmsford.

Jaleel Brown, Jr. RB, Springfield Putnam
With feature back Wayne Lowery leaving the game with an ankle injury, Brown came through with 165 yards rushing and three scores to help the Beavers in a 40-19 win over Chicopee Comp.

Kayjuan Bynum, Sr. QB/LB, Springfield Putnam
Racked up 299 passing yards and three touchdowns, to go along with nine tackles, in the Beavers' 40-19 win over Chicopee Comp. Through five games, Bynum leads the team in tackles (46) and forced fumbles (four).

Andrew Deloury, Sr. WR, Andover
Caught seven passes for a ridiculous 226 yards and three scores in the Golden Warriors' 51-42 win over Tewksbury.

Brendan Flaherty, Sr. RB, Beverly
Became the school's all-time leader in rushing touchdowns with his 47th score in a 49-0 blanking of Peabody

David Maaghul, Jr. QB, Cambridge
Had an impressive showing in the Falcons' 51-30 loss to Everett, throwing for 274 yards and four touchdowns. On the season, he already has over 1,500 yards and 19 touchdowns passes.

Justin Mount, Sr. ATH, Westford
In the Grey Ghosts' 42-7 win over Newton South, carried three times for 60 yards and two scores, and added 24 receiving yards.

Matt Phelan, Sr. QB, Northbridge
In the Rams' 28-21 win over Grafton, completed 9-of-17 passes for 176 yards and three touchdowns, and added 79 yards rushing on 16 carries.

Jimmy Sullivan, Jr. QB, Nauset
In the Warriors' 28-20 win over Scituate, completed all five of his pass attempts for 121 yards and two scores, and added 88 yards rushing.

Juwan Williams, Sr. ATH, Springfield Central
Filled in marvelously for his cousin at quarterback, in the Golden Eagles' 40-7 rout of East Longmeadow. Through the air, he was 4-of-5 passing with 114 yards and two touchdowns; on the ground, he carried 10 times for 94 yards and two more scores.

August, 22, 2012
8/22/12
8:38
AM ET
By
Brendan Hall
| ESPNBoston.com
How do you move on from a legendary head coach like Lou Malvezzi, and keep the Putnam machine rolling?
You go internal and promote an enthusiastic, energetic mind like William Watson, who's in his first head job after serving in various coordinator positions under Malvezzi the previous 13 seasons.
And how do you replace 2,889 rushing yards and 43 touchdowns?
[+] Enlarge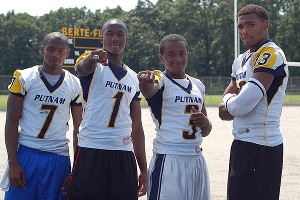 Brendan Hall/ESPN BostonPutnam's (L to R) Tavis Frazier, Rishawn Harris, Wayne Lowery and Kayjuan Bynum will look to lead the Beavers to their fourth Western Mass. Super Bowl in six seasons.
You don't. You simply smile, and you move on to the next one.
Melquawn Pinkney put Putnam football on the map last fall with his mind-boggling rushing totals, in the process breaking the two most sacred state single-season rushing records held by one of the greatest running backs ever in Massachusetts high school history, Holyoke's Cedric Washington. Five times the elusive Pinkney went over 250 yards; that included a record 421 against Agawam, and 341 in the Beavers' 48-6 win over rival Commerce for the Division 2 Western Mass. Super Bowl title, their third championship in five seasons.
Dynamic junior Wayne Lowery is the favorite to take the reigns as Putnam's lead back this year, and he demonstrates some of the same one-cut, fleet-footed instincts of Pinkney last year, and Lavaughnte Love before him. But Watson notes that junior Milton Crawford will be right on his tail pushing for the job -– just as Pinkney's magical season nearly never was, on account of some competition.
"A lot of people don't know that Melquawn was in a dogfight last year at running back," Watson said. "Jordan Almore had it, but he got hurt the first game after five carries, 36 yards and a touchdown. They were going back and forth at the position."
Still, it's hard to ignore the way the 5-foot-9, 175-pound Lowery's flashes his speed. He showcases some of that speed at camps this summer, taking home hardware in the inaugural Super 7 Showcase in Springfield last month. While a little more powerful than Pinkney, Watson thinks Lowery has similar vision.
"Wayne seems to have those instincts," Watson said. "Read those holes and make the right decision. He's not dancing out there. He makes the cut, trusts it and hits the hole full-speed. We haven't been able to put the pads on yet…I know he has the speed, he's a fast kid, and I know he has the power because of what he does in the weight room. The tools are there."
In terms of work ethic, Lowery won over his teammates this offseason with his dedication and no-nonsense demeanor.
"He doesn't flex on the field," said senior wide receiver Rishawn Harris. "He pushes everybody else, he doesn't like walking around, telling everyone about himself, he listens as much as possible.
"He has a lot of confidence, that's good though, [but] he's very humble also. He's not cocky, he doesn't go around bragging about his stats, he just likes to get on field get it done."
Elsewhere in the backfield, senior Kayjuan Bynum moves from tight end to quarterback, and has put on muscle to his 6-foot-2 frame over the offseason, bulking up to 210 pounds from 190. Bynum took a greater focus on leg power in the offseason, harnessed his speed during spring track, and won't be afraid to swing his newer, bigger frame around.
"There's a lot less contact in practice," he says of the transition. "You have to kind of know everyone a little more. As a tight end, you're worried about blocking assignments, now you've got to worry about what everyone on the defense will do."
As a dual-threat quarterback, Watson likes the options Bynum presents.
"He's a good athlete. I expect him to run well," Watson said. "He's a good size kid. If he can get to the second level he's not gonna be an easy task, at his size, to bring down. He's got good size and he's physical, he's tough. He knows how to protect the football, make sure not to turn it over. We will ask for a lot of things out of him in the run game as well."
SPRINGFIELD PUTNAM AT A GLANCE
2011:
12-1, won Western Mass. Division 2 Super Bowl
Coach:
William Watson (First year)
Key Returnees:
Kayjuan Bynum, Sr. QB/LB 6-2, 210 lbs.; Rishawn Harris, Sr. WR/DB, 5-10, 175 lbs.; Tavis Frazier, Sr. WR/S, 5-9, 170 lbs.; Wayne Lowery, Jr. RB/DB, 5-9, 175 lbs.; Jonathan Burris, Sr. OL/DL, 6-1, 365; Lincoln Edwards, Sr. OL/DL, 5-11, 285
Strengths:
Skill positions, team speed, size.
Weaknesses:
Inexperience.
Outlook:
Watson inherits a slew of fresh faces that will have to grow up fast if they are to defend their D2 WMass title. With Bynum moving to quarterback from tight end, the Beavers have a true dual-threat quarterback that can allow for a more balanced offensive attack. Expect Bynum, who also plays linebacker, to throw his weight around. The most talented group may be the secondary, where Lowery is locked into one cornerback spot and the trio of Jaleel Brown, Mecca Gonzalez and Eddy White will battle for the other one. Frazier and Harris will assume the safety spots, flexing between the free and strong positions as the Beavers like to play two-high. And if the target isn't already on their back, the Beavers practice in the same park as archrival Springfield Central. The two schools are less than a mile apart, and they annually open up the season against one another. Putnam won last season's contest to kick-start their Super Bowl run.