Boston High School:

James Bourque
January, 28, 2012
1/28/12
1:17
AM ET
By
Brendan Hall
| ESPNBoston.com



READING, Mass. -- Kenny Reed calmly brought the ball over half-court, planted, hesitated, then calmly watched as the feathery, NBA-range three-pointer he jacked up landed with seemingly the same effortless force he exerted walking into the shot. That gave Reading High a nice 16-6 cushion just five minutes into this big Middlesex League tilt.

And from that point on, it was all...Wakefield.

The Warriors responded immediately, soundly and forcefully over the remaining 27 minutes, outscoring the Rockets 28-6 over the remainder of the first half to take a commanding lead into the break. From there, Wakefield turned in some solid defensive rotations, created some key second-chance points, and hit their free throws to ice a 59-48 win at the Hawkes Field House.

"We just knew that we couldn't bow down, and had to step up our intensity," senior guard Keyon Armstrong (12 points) said of the Warriors' play following those opening minutes. "And just know that we couldn't let that get away from us."

But how did he feel after that all-too-easy walk-up three?

"A little...aggravated that I let it happen," Armstrong confessed. "But I know when the team comes together, we'll be alright."

Perhaps it wasn't that particular play, but rather the Warriors' own play on a whole, that woke them up. Whatever the case, Wakefield (9-3) turned up the pressure over the ensuing 10 minutes to take a 34-22 lead into halftime.

It started with some heady play around the rim from the Warriors' star freshman swingman Bruce Brown (18 points, 15 rebounds). He created some transition points with a steal in the halfcourt and some offensive rebounds to cut the Rockets' (10-3) lead to four at the end of the first quarter.

Then, to start the second, down 16-12, Brown crashed the glass on an errant jumper and tipped in a put-back, followed by a Kendall Hamilton (12 points) 16-footer from the baseline, cleared by a Mikol Blake-Green screen. On the ensuing Rockets trip down the floor, an errant Reed windmill layup was scooper up by Armstrong, who dribbled up to the near volleyball line, threw an outlet to Brown and watched as the frosh laid it in easily for an 18-16 lead.

Hamilton extended the lead to five the next trip down when he inbounded from the baseline to the left corner, where a wide open James Bourque sunk a three. From there, the Warriors never surrendered the lead; Reading never came within eight points in the second half.

"We never let the student body get into the action," Wakefield head coach Brad Simpson said. "That was nice. But, Reading's a good team, obviously you've got to bring your A-game if you expect to beat them. I think for most of the 32 minutes we played pretty well."

Playing through pain: Armstrong has been battling through a wrist injury recently, and Simpson made it a point to applaud the senior captain for his perseverance. One of the Warriors' most dynamic scorers, Armstrong is also often asked to defend the opposition's most dangerous scorer.

Tonight, that task was marking Reed when in man-to-man, with the bum wrist and all, and he held the senior point guard to a respectable 8 of 19 campaign from the field. Reed totaled 21 points on the night to lead Reading.

"He's playing with a lot of pain, and he just gave us a great effort tonight, despite the fact that he's not really 100 percent with his wrist," Simpson said of Armstrong. "He's kind of the motor that keeps us running at an optimum level."

Commanding the paint: With his stocky 6-foot-5 frame, and complimentary lower-body strength, Reading senior center Jerry Ellis-Williams looks the part of someone that, at this level of competition, can control the boards at will.

But there's a twist with Ellis-Williams' game -- the big guy can step out and get hot from deep. And with that in mind, the Warriors fed into that strategy, letting him fire away from the perimeter but keeping him grounded when he wandered into the paint. It worked, as Ellis-Williams finished with six points on 2-of-12 shooting from the field. But more importantly, he was just 1-of-8 from three-point range, picked up his second foul with 3:19 left in the first quarter, and third with two minutes left in the second quarter.

"My freshman year, he hit two three's to beat us in overtime," Hamilton said. "He's normally a good shooter, but we saw he kept missing, so we let him keep shooting."

Overall, the Warriors held a 38-32 advantage on the boards.

Brown a star in the making: Brown, a 6-foot-1 forward, has a unique skill set that demonstrates maturity beyond that of a 15-year-old. With a lean build and a skill set similar to that of high-major recruits like Wayne Selden or Jared Terrell, it isn't just that Brown is fearless attacking the rim -- it's that he makes it look smooth.

In one sequence, Brown picked up steam from behind the play and delivered a block on a would-be layup, getting called for a questionable on-the-arm foul. In the fourth quarter, he took off from just below the volleyball line across the paint for a one-handed slam and picked up a foul.

Doesn't seem like the work of a freshman, does it?

"It doesn't at all," Hamilton said. "He's one of those kids that's coming into his own. I mean, he's an amazing talent. He's like a little brother to me. He's getting there."

Hamilton added, "Hopefully, he stays one more year, so we can make a run at it," alluding to the growing public perception that at some point -- perhaps sooner rather than later -- Brown will try and take his talents to one of the more competitive prep school programs that operate under the NEPSAC.

Simpson called Brown's seamless, effortless-looking play "silky", drawing on his memories of watching former UCLA and Lakers star Jamaal Wilkes (nicknamed "Silky" himself) for added effect.

"I think he's just blessed," Simpson said of Brown. "You know, you look at another 15-year-old, they've got talent, they've got skills and stuff, but you also have to have that...he's 6-1, and he's blessed with the ability to jump. And when he jumps, he's up there."
November, 5, 2011
11/05/11
12:55
AM ET
By
Ryan Kilian
| ESPNBoston.com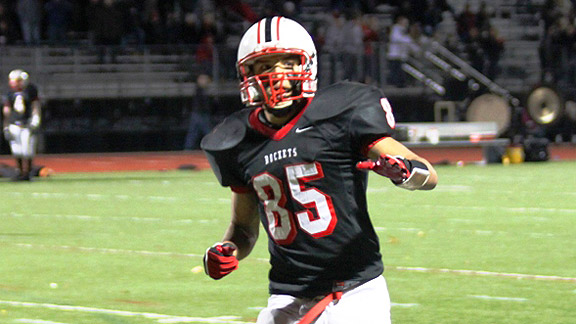 Ryan Kilian for ESPNBoston.comRyan Maney's circus catch was one of several highlights for Reading in its 28-27 thriller over Wakefield.
READING, Mass. -- No lead was safe in Reading on Friday night, as the Reading Rockets pulled out a come from behind, one point victory over the Wakefield Warriors, 28-27.
With less than two minutes remaining and Reading trailing by seven points, sophomore quarterback Drew Belcher led Reading down the field and into the end zone, on a six-yard plunge, with 38.5 seconds remaining in the game.
"We work on that stuff a lot," said Fiore of the game-winning drive. "We spread them out and made some plays to get our guys in space."
Belcher's touchdown run pulled Reading to within one point, 27-26, and Reading head coach John Fiore called for two. With his team struggling in the kicking game, Belcher took the field out of the shotgun, lowered his head and plunged in for the go-ahead conversion. Belcher had executed the same play earlier in the game, and this time the sophomore's score gave Reading the comeback win.
"We play for 44 minutes", said Fiore. "We made plays and made some adjustments at the half to some things we wanted to do. I am real proud of the kids and their effort tonight."
The game was a back and forth battle throughout, with both teams coming up with big plays and turnovers to shift momentum on multiple occasions.
Reading senior Anthony DeSimone had two interceptions at crucial junctures for the Rockets, while Wakefield's James Puccio had an interception late in the game and a lot of tough in between the tackles running on the night.
Wakefield wide receiver Matt McKenna made a juggling 16-yard touchdown reception on a halfback pass from junior running back Dan Cardillo in the third quarter. McKenna made big plays all night, as the senior also hauled in a spectacular 70-yard reception earlier in the first quarter that set up an early Wakefield touchdown.
"They are 7-2 for a reason," Fiore said of Wakefield. "They are a physical team with some excellent kids, and we took their best shot."
Catch of the Year:
Reading wide receiver Ryan Maney made the catch of the year tonight as the junior battled pass interference and jumped up in the back of the end zone to haul in a one-handed touchdown grab while falling to the ground. Maney managed to keep possession and get one foot in bounds for the 26-yard touchdown reception.
"That was a great catch," said Fiore.
The 6-foot-2 junior is fast becoming a household name as he has become a favorite target for Belcher and runs smooth routes and has the athleticism, strength and vertical leap to stretch a defense and haul in the big catch.
Bates Returns:
Wakefield senior running back Zach Bates made his return to Reading, where he played for the past two years before coming to Wakefield this season.
Bates scored on a 15-yard touchdown run and had 64 yards on the ground on the night. The signal-caller on defense also filled the gaps from his linebacker position and came up with some key stops early on.
The Playoff Picture:
Reading will match up against Tewksbury as the winner of the Middlesex Large conference. Tewksbury, despite losing to Haverhill on Friday, clinched the Merrimack Valley Division 2 conference with a Lawrence loss to Dracut.
Wakefield is also looking for a 2011 playoff berth, and plays Watertown next week in an important league match-up.
READING 28, WAKEFIELD 27
READ (6-3) 0 – 14 – 6 – 8 --- 28
WAKE (7-2) 14 – 0 – 13 – 0 –-- 27
First Quarter
W - James Bourque 1 run (Brian Auld kick)
W - Zach Bates 15 run (Auld kick)
Second Quarter
R - Alex Valente 9 run (kick failed)
R - Ryan Maney 26 pass from Drew Belcher (Belcher run)
Third Quarter
R - Jared Barros 20 pass from Belcher (kick failed)
W - James Puccio 11 run (kick failed)
W - Matt McKenna 16 pass from Dan Cardillo (Auld kick)

Fourth Quarter
R - Belcher 6 run (Belcher run)