Boston High School:

James Comer
November, 10, 2012
11/10/12
9:31
PM ET
By
Ryan Lanigan
| ESPNBoston.com


MANSFIELD, Mass. -- Mansfield had its 1,000 yard rusher sidelined, lost their starting center and tackle during the game, and faced a second half deficit to a strong Franklin Panther team.

No big deal, right?

The Hornets overcame it all behind a strong rushing performance from senior Kevin Makie (28 rushes, 133 yards, 3 TD) and forced three interceptions to rally past the Panthers, 28-21, and clinched the Hockomock League's Kelley-Rex Division.

"I've been here 23 years," Mansfield head coach Mike Redding said. "It was one of the best second-half performances I've ever seen by a football team."

Despite drawing first blood on Makie's first score –- a six yard run -– the Hornets found themselves behind at the break.

After Mansfield's scoring drive, Franklin responded with a six-play drive that ended with Panther quarterback Nick Zucco finding a wide open Brandon Eccher over the middle for a 41-yard score.

Momentum swung back and forth as Mansfield went three-and-out but the Hornet defense responded with an Aurian Dawkins interception. But Mansfield's drive stalled and the momentum swung back to Franklin as Jeff Gray blocked a Mansfield punt.

After three straight rushes from senior Kyle Finamore (102 yards, TD), Zucco went over the middle again, this time to Robert Dellorco for an 18-yard touchdown to give Franklin a 14-6 lead at half.

"I thought the big thing in the second half was that we avoided penalties," Redding said. "No turnovers, very few offensive penalties, we executed great.

"The defense came to play in the second half, that was the critical piece, getting the ball back to our offense."

The defense started off right away, forcing a three-and-out from Franklin on their first drive. The Hornets then took the ensuing drive 10 plays, capped off by a Chris Buchanon run from 14-yards out. Quarterback Kyle Wisnieski found sophomore Brendan Hill in the back of the end zone for the successful two-point conversion to tie the game at 14.

It was a déjà vu performance from the Mansfield defense on the next drive, again forcing a three-and-out that led to more points o the ensuing Hornets possession. Senior James Comer, a 260 pound defensive lineman who had an interception in the first half, came up with the key stop on third down.

The Panthers used eight rushing plays –- a combination of Makie, Buchanon, and Alexander Rudy –- and one pass play to take their second lead of the game. On fourth and goal from the one-yard line, Makie took it to the right and into the end zone for the first play of the fourth quarter.

Franklin looked to respond on their next drive, getting into Mansfield territory behind the legs of Zucco, but their drive came to abrupt halt when Zucco was picked off by Michael Barressi.

Mansfield's next drive was the knockout punch.

The Hornets went 62 yards, including two huge third down conversion passes from Wisnieski (one to Michael Hershman for 14 yards, the other to Makie for 18) and a division-clinching fourth-down conversion from Mike Cunningham at the Franklin 11.

After the fourth down conversion, it was announced at Alumni Field that Hockomock rival King Philip had taken down North Attleboro 16-14, meaning if Mansfield won, they would clinch the Kelley-Rex.

Two plays later, Makie found the end zone for the third time on a three-yard burst to give the Hornets a 28-14 lead.

The Panthers didn't go quietly though, as Zucco orchestrated a 69-yard drive finished off by a 14-yard touchdown run from Finamore. With just 35 seconds left and no timeouts, Franklin attempted an onside kick but Barressi was able to recover for the Hornets, giving them the Kelley-Rex Division.

"It feels great," Makie said. "Everyone came in doubting us and we proved everyone wrong. KP got the big win and we're going to the playoffs."

Mansfield now has a date with Patriot League Keenan champ Duxbury, ranked No. 6 in ESPN Boston's latest statewide poll, on Nov. 27. The time and location are to be determined.

Big-Makie: With leading rusher Robbie Rapoza (1,067 yards, nine touchdowns) sidelined with an injury, the focus of Mansfield's offense turned to Kevin Makie.

Makie, who came in with 730 yards and eight touchdowns, took full advantage of his opportunity, racking up 133 yards and scoring the winning touchdown with just 2:28 left in the game.

"We just wanted to put up points, we knew that they had a good offense," Makie said.

Redding made it a point to note that Makie isn't playing at 100% either.

"Makie's been tough," Redding said. "Kevin has really stepped up and he's playing at about 90 percent with a high ankle sprain. We've got some tough cookies here."

Not much to be thankful for: When the ball is kicked off on Thanksgiving, there will be no playoff implications at stake in the Hockomock league. Entering this week, it looked as though it was going to come down to Turkey Day to decide who would represent the league in the playoffs, but Saturday changed that.

Earlier in the day, Sharon was able to edge out Foxboro to clinch the Davenport Division and earn a date with Pembroke, leaving 9-1 Stoughton on the outside looking in.

On the large side, it will be 9-1 King Philip left out of the playoffs. Ironically enough, it was KP's win over North Attleboro that allowed Mansfield to clinch with a win.

With no playoff implications, all teams will be playing for pride, including King Philip and Franklin who will play each other.

MANSFIELD 28, FRANKLIN 21
Franklin (7-3) 0 – 14 – 0 – 7 --- 21
Mansfield (7-3) 0 – 6 – 8 – 14 --- 28

Second Quarter
M – Kevin Makie 6 yard run (2 point failed)
F – Brandon Eccher 41 yard pass from Nick Zucco (Mike Carden kick)
F – Robert Dellorco 18 yard pass from Zucco (Carden kick)

Third Quarter
M – Chris Buchanon 14 yard run (Brendan Hill pass from Kyle Wisnieski)

Fourth Quarter
M – Makie 1 yard run (Michael Hershman kick)
M – Makie 3 yard run (Hershman kick)
F – Kyle Finamore 14 yard run (Carden kick)

August, 23, 2012
8/23/12
4:19
PM ET
MANSFIELD, Mass. -- As a rising high school senior, Mansfield's Will Palanza is wise beyond his years. Talking to him for even a few minutes, you quickly find he's concerned with matters that often escape the grasp of adults.
For that reason, and many more, Palanza was named one of the Hornets' five senior captains for the upcoming football season. He's taken the job seriously, getting as much input from outside sources to prepare for his job as a leader.
[+] Enlarge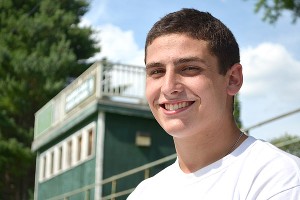 Scott Barboza/ESPNBoston.comMansfield football captain Will Palanza looks to lead the Hornets back to the postseason this year.
That quest for knowledge led Palanza into an unlikely friendship with the subject of a recent Oscar-winning documentary.
Palanza, a second-generation Mansfield athlete, met Manassas (Tenn.) football head coach Bill Courtney earlier this year at the Massachusetts premiere of
"Undefeated"
, a feature-length documentary by filmmakers Daniel Lindsay and T.J. Martin. After the film won the Oscar for Best Documentary Feature, Courtney made an appearance at a premiere event at the Patriot Place Showcase Cinema in Foxborough. Palanza and his teammates were given special invitation to attend. There, he struck up a conversation with Courtney, the beginning of a correspondence that continues today.
The subject of their talks and emails have been wide ranging.
"I've asked him questions on how can I do this better, or that better, or how to keep the team as one unit," Palanza said. "You can have problems with other people's egos on a team or whatnot; I want this year to be different. I want this team to come together. I asked him how to do that, how we can do things differently. We talked a lot about that."
Palanza, a 6-foot, 210-pound offensive guard and linebacker, knows a thing or two about football in Mansfield. His father, Rich, was a standout basketball player and his mother Martine ran track at Mansfield High. The eldest of seven children, Will has followed in the family tradition, as has his younger brother, Bo, who's a sophomore football player.
They both know what Hornets football means.
"This is town is pretty much formed around football, this sport," Palanza said. "It's amazing how it brings a lot of people together. I don't think any other sport is like this.
"It's an amazing thing. You come out here, starting in second grade, and it's something that builds over the years. You come and watch the high school team and you think 'I'd like to be like them some day.' And then one day you're already here."
So this fall, Palanza will have the opportunity to lead his teammates onto the field.
Mansfield football, after all, is a family. And that's something Palanza doesn't want to forget. It's also something he's discussed with Courtney, taking cues from his big-screen example.
"You have to put others before yourself," Palanza said. "We weren't elected captains to boss other people around. It's not about what the captains want, it about what they can do to make the unit better and more successful on the field."
Palanza wants to study criminal justice in college and he's considering the Coast Guard and Mass Maritime Academies in addition to Endicott and Assumption. He's keen on the idea of military academies and their high job placement track record.
He talked about the economy and his parents ability to put him and his six siblings through college and the struggle that can present.
He hasn't yet graduated high school, but Palanza's well versed in life.
He slipped his helmet on and ran back to practice. Lines of players were going through stretches.
Palanza took his place at the front of the lines, leading his team through the drills.
MANSFIELD AT A GLANCE 2011:
9-2 (Hockomock Kelley-Rex co-champions)
Coach:
Mike Redding (24th season, 196-61-4)
Players to watch:
Robby Rapoza, Sr. RB/LB, 5-10, 170; Kevin Makie, Sr. RB/DB, 5-11, 170; Brendan Hill, Soph. TE/DE, 6-3, 180; Mike Hershman, Jr. WR/DB, 5-11, 160; Will Palanza, Sr. OG/LB, 6-0, 210; Antonio Medeiros, Sr. OT/DE, 6-3, 245; Brian Spillane, Sr. WR/DB, 5-9, 150; James Comer, Sr. DT/OG, 5-11, 250; Ryan Galanti, Sr. OL/DL, 6-1, 200; Kyle Wisnieski, Jr. QB, 5-11, 160.
Strengths:
Playmaking ability in the passing game.
Weakness:
Lack of game experience at running back and linebacker.
Outlook:
Mansfield's graduating class of 2012 left the high school with a combined record of 21-3, with that also went many of the key members of the Hornets' 2010 Super Bowl championship squad. So there's been a bit of a sea change through the last two years. This year's model returns short on game experience, but with great potential. Hornets head coach Mike Redding has raved about the progress junior quarterback Kyle Wisnieski has made throughout the summer. Wisnieski will not be without targets either, as Brendan Hill and Mike Hershman are both among the state's most skilled at their positions. The question for the Hornets will be in who claims the bulk of the carries with leading rushers Greg Donahue and Blaine Taylor gone. Mansfield also graduated its leading tackler, linebacker Zach Schafer, who concluded his career ranked fourth on the Hornets all-time tackles list. Still, the Hornets do have some key returnees on the defensive side of the ball, with captains Robby Rapoza and Kevin Makie picking up the slack at linebacker and in the secondary, respectively. Defensive tackle James Comer will be a run-stuffer up the middle while rangy end Antonio Medeiros can pressure the quarterback.
August, 30, 2011
8/30/11
10:41
PM ET
By
Adam Kurkjian
| ESPNBoston.com
MANSFIELD, Mass. -- Last year, Mansfield rag-dolled BC High in a scrimmage in Dorchester, as Jamel Marshall, George Busharis and Jeff Hill put on an offensive clinic against the Eagles at Viola Stadium.

On Tuesday, the Eagles returned the favor, but it was not as one-sided. Still, BC High looked pretty impressive, as starting running back Preston Cooper and both starting junior tackles -- returning starter Jack McDonald and Pat Connolly -- were in attendance but not suited up, nursing minor injuries.

It was fairly obvious, though, that BC High didn't have any depth issues.

"They are big, strong, physical," said Mansfield coach Mike Redding of the Eagles. "I think the difference is this year, they're big and physical and they just seem better at all the skill positions. Their quarterback's a little better; Cooper's a little better; their wideouts are taller, a little faster..."

He was then interrupted and told that the player who housed a 55-yard toss to the left sideline was actually backup Deontae Ramey-Doe.

"Oh, (Cooper) didn't play?" he said. "I thought it was him. OK. They just got nice skill kids everywhere. The height that we kind of wish we had -- they all seem like they're 6-1, 6-2, they can run and they've got the big horses up front. They'll be tough to defend the way pound you and then play-action. The quarterback's very poised. They're getting a lot of hype, and rightfully so. They've got a nice package.

"But I think we held our own against a good football team. We're making strides. It's just building that depth a little bit. Unfortunately we can't make the kids bigger when we go to practices. We just make them tougher, make them smarter and do the best we can with what we got."

Cooper was a de facto coach on the field for the Eagles, and spoke about the importance of developing the depth that BC High is going to need for the schedule it plays.

"I mean, everyone gave it their all," Cooper said. "Of course we have backups come in and do the job. So even if I'm hurt or I'm out or whatever like that, no one should worry. Everyone should play 100 percent and everyone did that."

Some other thoughts...

-- Usually, BC High looks big up front, but not athletic. That is not the case this year. The linemen are leaner and quicker. It looks as if the Eagles spent as much time running in the off-season as they did lifting - which is not always how it's been at that program.

"Offseason conditioning was a huge thing for us -- weight room, speed development, particularly for our linemen," said BC High coach Jon Bartlett. "We need quicker, faster, stronger linemen. Hopefully that will continue as the season goes along."

One player in particular who has slimmed down and increased his speed is senior tight end and Temple commit Jameson McShea. Although the coaches have slid him down to defensive tackle, he's lighter on his feet and more nimble. The defensive line as a whole is still a strength despite the graduation of ESPNBoston All-State Obum Obukwelu (Harvard).

-- Speaking of the former Eagle defensive tackle, don't be surprised to see senior Oderah Obukwelu sneak into the lineup at some point in the season. A basketball player who didn't come out for football until this year, the 6-foot-3, 215-pounder made a number of plays in the backfield at defensive end. The BC High staff wishes it could have had him sooner. But there's another one in the pipeline. Eighth-grader "Mookie" Obukwelu is built more in the mold of Nnamdi, also at Harvard and the oldest of the brothers, who led the 2008 team to a Division 1 Super Bowl.

-- Redding wasn't kidding about the speed and size at the skill positions for BC High. Seniors Gordon McLeod, Tom Lomenzo, junior Lincoln Collins are all tall, fast players with good hands that make nice plays after the catch. The Eagles are three-deep at quarterback with returning starter Bartley Regan, junior Brendan Craven and running threat Richard Roach.

-- As for Mansfield, the Hornets are trying to build some depth as well. They just don't have as much of it as BC High.

"We've got three or four guys going both ways and what we're trying to do is get answers for getting everybody going one way," Redding said. "We'd like to get to the (Carrier) Dome (in the opener against Syracuse's Christian Brothers Academy) with 22 starters because it's 12-minute quarters up there. And they're going to do some no-huddle, we're going to do some no-huddle. The more one-way we go, the better. So we're trying to build some depth here in the preseason."

-- Still, Mansfield has some nice pieces to work with offensively. Quarterback George Busharis has another year of experience under his belt and tossed a nice middle screen over the trees to senior Blayne Taylor, who motored downfield for a long touchdown on the first series.

"I think the idea with Greg (Donahue) and Blayne is to get the ball in the open field," Redding said. "We're not going to line up and run iso and pound people but I think our fullbacks can keep people honest inside. And I think with Blayne, it's whether it's toss or screen or passes, he's going to make something happen like Greg. We just want to get the ball to those guys in space."

-- Mansfield didn't give up too much in between the tackles. Defensive ends Nick Chiocco and Brent Doherty and junior defensive tackles James Comer and Ryan Galanti combined with linebackers Dylan Finerty, Derrion Walker, Nick Leonard and Zack Schafer to form a stout group in the 4-4 scheme.