Boston High School:

James Sullivan
December, 4, 2013
12/04/13
7:13
PM ET
Ahead of Saturday's six MIAA Football State Championships at Gillette Stadium, today we are bringing back our "Tale of the Tape" series to break down each participating team's matchups headed into the game.

In the Division 4 Final, ESPN Boston High Schools editors Brendan Hall and Scott Barboza take a closer look at North champ Tewksbury and South champ Plymouth South, respectively.

Division 3 State Championship
TEWKSBURY (12-0) vs. PLYMOUTH SOUTH (10-2)
at Gillette Stadium, 6 p.m.

When Tewksbury has the ball: Bar none, this has got to be the most fascinating high school offense in Massachusetts to watch. You may see as many as 25 different formations in a game, and from just about every family of offense imaginable. Their game-opening drive against Melrose in the D3 North Final featured a half-dozen formations, for starters – starting with a gun empty with two tight ends, followed by a Wing-T, a Flex Bone look, the I-Formation, an unbalanced Power-I, and the dated "Notre Dame Box" formation made famous by Knute Rockne nearly 100 years ago.

And that was just one drive. When you're scouting Tewksbury's offense, there is a lot to digest in a short window of time. One of the concepts they've been pretty effective with is their ability to set up the run, not the pass, out of empty formations, with quarterback Johnny Aylward leading the way on an inverted veer or a power. But to single out one guy is like picking one's favorite grandchild – between James Sullivan (21 TDs), Eddie Matovu, tight end Tom Casey and receiver Kevin Dick, there is a load to handle. In another offense, Dick might catch 100 passes. But in Tewksbury, he is one of a half-dozen dangerous weapons, making the Redmen that much more intimidating.

In the trenches, look out for a senior-laden line led by Matt Lacascia, Alex Hamilton, John Melloni, John DeVito and Dan Donovan. This is a unit that moves quick off the ball, and should provide a quality matchup for a beefy South line led by Shaun Duncombe.

When Plymouth South has the ball: No running back has seen the ball more the last two seasons in Massachusetts football than Panthers senior running back Dylan Oxsen. After setting the state's single-season rushing touchdowns record (40) in 2012, Oxsen's already surpassed 2,000 rushing yards (2,145) on the season, while averaging just about 30 carries per game.

Of course, for Oxsen's success, much credit is due to the Panther's line, as well as lead blocker Matt Bremis, running out of South's I-formation and pistol looks. Senior captain and Bryant University commit Shaun Duncombe is a true road-grader, while senior center Brendan Harty has been a solid two-year starter. Meanwhile, Bremis has been a steady two-way contributor for South for a few years now. While South might not have faced such a hard-hitting defense as Tewksbury's throughout this season, the Panthers have the size to match a physical Redmen front eight at the point of attack.

When Tewksbury is on defense: In their previous two playoff games, against Melrose (D3 North Final) and Marblehead (D3 Northeast Final), the Redmen found success with quarters looks, sprinkled with enough pre-snap movement to disguise coverage or simply create some confusion. That's led to a monster season at safety for Sullivan, who came up with three picks in a game earlier this season. We're just going to assume they come out with something new for this game, because South presents a wholly different offensive attack than Melrose's read option.

Lucky for Tewksbury, the guys they have in the back seven are versatile, and they embrace contact. With Matovu and Casey at linebacker, and Johnny Aylward roaming at strong safety, it wouldn't be a surprise to see the Redmen load up the box to combat South's "22" personnel and heavy pistol looks. If grit and grind is the name of the game, Tewksbury can play right along with it.

When Plymouth South is on defense: In what could be a defensive struggle in a ball control-oriented game, turnovers should loom large. The Panthers won the turnover battle in the Division 3 South final, thanks to a last-minute interception from senior captain Anthony Schena, against Stoughton.

The matchup will likely be determined on the lines, so the impetus is on the down linemen in South's 4-4 stack to control the gaps against Tewksbury's multipronged ground game. Duncombe and Harty anchor the line, alongside Nick Eaton and Justin Lamb.

But the difference-maker is Bremis, the 5-foot-10, 200-pounder can lay down the lumber, so expect plenty of car wreck-caliber hits laid out by both defenses.
November, 23, 2013
11/23/13
9:31
PM ET
By
Paul Lazdowski
| ESPNBoston.com


LOWELL, Mass. -– Some thought it might be a matchup that would surprise the masses; a game where the outcome would be decided in the closing seconds as one team drove for a game-winning score.

Others projected that the multipronged offensive ground attack of Tewksbury and the dual run-pass threat of Melrose senior quarterback Malik Garrett would engage in a high-scoring, back-and-forth battle, especially given both sides' penchant for points (each entered with averages of more than 31 points per game).

Everyone, however, agreed that the Division 3 North state semifinal winner would earn a ticket to Gillette Stadium and a Super Bowl berth against Plymouth South, which defeated Stoughton, 14-12, on Friday night to capture the Division 3 South title.

So when the final horn sounded at Cawley Stadium around 1:15 pm on Saturday in a game that could have been so many things, the outcome revealed just one: a stepping stone for Tewksbury, which easily dismantled Melrose, 32-14, but was much more one-sided than the final score indicated, to advance to Foxborough for the second time in three years.

"When we were sophomores we got out (butts) kicked by Duxbury," recalled Tewksbury senior Kevin Dick of his team's 35-0 drubbing back in 2011. That was "a great Duxbury team. It was two years in the making that we were trying to get back there . . . it's a great thing. I can't wait. It's a great thing for Tewksbury; it's a great thing for everyone."

And while many Redmen factored into the victory, especially with five different players recording touchdowns, arguable no one was more significant than Dick.

With Tewksbury, which remained a perfect 11-0, clinging to a 13-7 lead late in the second quarter and Melrose driving, Dick made a play that ultimately changed the game's complexion.

Behind Garrett, who completed 13-of-30 passes for 171 yards, one touchdown and two interceptions and also rushed for 61 yards and a touchdown on 18 carries, the Red Raiders drove from their own 20 down inside the Tewksbury 10-yard line.

The Redmen lead appeared in limbo as Garrett fired a pass towards the right sideline of the end zone while scrambling to his right and the receiver simultaneously broke back towards the pass and prepared to make the catch.

However, Dick beat the receiver to the ball, and returned the interception from two yards in the end zone to Tewksbury's 12-yard line.

"We were doing it all week," Dick said. "We had the scout running it all week. At the beginning of the week they were catching it, completing it. I was like, 'What the heck?' But as we progressively moved through the week, I was catching on.

"I just jumped it, and that's that."

The play was just as critical to the Red Raiders.

"Obviously, you can't have turnovers and expect to win," said Melrose coach Tim Morris after his team fell to 9-2. "We haven't really turned the ball over this year that much, (but) I think in the two losses we've had this year we've turned the ball over."

Dick's pick preserved the Redmen lead heading into halftime, and also set the stage for a dominant seven-plus minute span to open the third quarter.

On its first two second-half possessions, Tewksbury scored 13 unanswered points to extend its lead to 26-7 with 3:51 remaining in the quarter.

James Sullivan (20 carries, 117 yards, touchdown) started the outburst with a four-yard scoring burst up the gut. After Mitchell Miskell split the uprights on the PAT and Tewksbury held Melrose to its second consecutive three-and-out, Johnny Aylward connected with Dick on a flanker screen in the left flat. Solid blocking and the speed Dick showed to get to the left sideline turned what looked like a short gain into a 55-yard touchdown catch and run (PAT failed).

Meanwhile, over the same span the Melrose offense managed just six plays for minus-five yards. Red Raiders running plays were repeatedly snuffed out in the backfield by Tewksbury's defensive line, and Garrett was also sacked during the six-play sequence.

"We talked all week about winning on first down," said Tewksbury coach Brian Aylward of the Redmen defensive line. "If we could win on first down it puts them in position to do stuff that they don't particularly want to do. Our guys got off the ball pretty good. I give them a ton of credit."

"We just couldn't get anything going in that third quarter," admitted Melrose's Morris.

The teams traded scores in the fourth quarter.

Tewksbury struck first when Tom Casey (eight carries, 72 yards, touchdown) rushed in from three-yards out (PAT failed) to give the Redmen a 32-7 advantage with 7:12 left. Melrose responded as Garrett found Colby Andrews for a 29-yard touchdown toss. Sean Foley added the PAT to close out the scoring.

Though Tewksbury set the tone early by orchestrating a 10-play, 69-yard drive, which spanned more than five minutes, to open the game and culminated in an 11-yard touchdown run by Aylward off a fake jet sweep handoff in which he sprinted in between the tackles for the score, Melrose displayed resiliency even after its first drive stalled.

The Red Raiders defense came up with a big interception deep inside Redmen territory on Melrose's next series.

Aylward launched a pass towards the right sideline but the intended receiver, who dove while attempting to make the catch, tipped the ball in the air and into the arms of Melrose's Aaron Aveni. The Red Raiders cornerback returned the pick 12 yards to the Tewksbury 14-yard line.

After working the ball inside the one-yard line, Garrett snuck it in on the first play of the second quarter. A Foley PAT knotted the score at 7-7.

It was, however, the last time the score was tied.

On its ensuing possession, Tewksbury put together a 55-yard drive that consumed 5:10 and ended with Eddie Matovu (seven carries, 27 yards, touchdown) rumbling in for a three-yard touchdown. A failed two-point conversion brought the score to 13-7 and set the scene for Dick's interception.
November, 16, 2013
11/16/13
9:54
PM ET
By
Mike Abelson
| ESPNBoston.com
TEWKSBURY, Mass. -– Down six points and time dribbling away, Tewksbury called for James Sullivan to take a sweep to the left from the 21-yard line. As he rumbled behind a pair of blockers Marblehead's Dean Fader lined him up and locked on his target.

Sullivan slipped out of Fader's grasp and finished off the touchdown run, the Redmen's second touchdown in 30 seconds. The home sideline erupted in a fit of ecstasy. Fader laid prone on the ground, he and his team's chance at a title gone. Victory is sweet. Defeat is sour.

Sullivan's second touchdown of the game capped Tewksbury's entertaining 34-21 win over the Magicians in the Division 3 Northeast final at an over-capacity Doucette Field.

"It must have been fun from an outsider's perspective," Tewksbury coach Brian Aylward said. "Two teams that never quit and kept fighting."

With the game tied at 21 late in the fourth the Redmen forced the Headers to make a mistake. Tom Casey jumped a sideline route, picked off Matt Millett and returned the ball 25 yards for the eventual game-winning touchdown with 2:43 to go. Eddie Matovu strip-sacked Millett on the Magicians' next offensive play that set up Sullivan's late touchdown.

"Plays like Casey make are really what change games like that at the end," Motavu said. "That was the biggest play of the game by far."

22-MINUTE TRACK MEET
The first half was an emotional ride for all involved.

Marblehead turned over the Redmen 81 seconds into the game and capped the ensuing 58-yard drive with a five-yard touchdown reception from Brooks Tyrrell. Tyrrell caught four balls for 55 yards and ran for a team-high 124 yards all while nursing a sprained ankle.

"He probably shouldn't have been in today," Marblehead coach Jim Rudloff said. "Anything he gave us was gravy. I give him a lot of credit. We had a lot of kids banged up today. They played a great game today."

Two plays later, Matovu took an inside-counter toss 78 yards to tie the game. The teams traded interceptions on consecutive plays four minutes later.

Sullivan scored from five yards out on the first play of the second quarter to put Tewksbury ahead only to see the lead disappear immediately when Mark Cohen took the ensuing kickoff 95 yards for a score. Millett and Tewksbury's Johnny Aylward exchanged passing touchdowns in the waning minutes of the half to end the chaotic first 22 minutes tied at 22.

ADJUST AND ADVANCE
If the first half was all about explosion then the second half was a slow burn.

The first two possessions of the third quarter were three-and-outs, and seven of the first eight combined possessions of the half ended with punts.

"The defense is definitely one of the better ones we've seen," Johnny Aylward said. "Every adjustment we made they adjusted right back. It just came down to our execution and finishing strong."

Rudloff said that his team played well defensively, but blinked at the wrong times.

"Defense played great the entire game except those five minutes and even then it was a play here, a play there," Rudloff said. "That's been the story of us all year. I thought the things our team did in the second half that kept them from putting yards together helped us a lot and made us a much better team."

The teams combined for three plays of 30 or more yards in the first half, but the defenses held them to just two plays of 20 yards or more in the second half.

As a two-way player, Matovu said that it was hard to adjust but that there was a job to be done.

"Coach has a saying that he read in a book, 'Charlie Mike', and it really just means to keep going forward no matter what," Matovu said. "That showed in this game a lot. Don't think about the last play; think about the next play."

GILLIS BOYS SHINE
Marblehead cousins Jeremy and Liam Gillis were a menace on defense from kickoff to final gun. The hard-hitting pair of linebackers were able to put a wrench in Tewksbury's ground attack for much of the game.

Jeremy also caught a pair of balls for 13 yards.

"Liam Gillis has been our leader on defense for two years," Rudloff said. "Jeremy, this year, was the first year he really stepped up especially with about six games to go. Immense leadership from both of them. Mature kids."

Rudloff said that the cousins Gillis lead by example and are model players on and off the field.

"They're the type of kids you want dating your daughter," Rudloff said. "They're just good people, and they're important to this team because it's important not only to be good football players but to have good leaders, good young men on your team. It makes coaching fun; you come back to coach kids like that."

KEVIN DICK DOES IT ALL
Tewksbury's Kevin Dick did everything he could for the Redmen and more. He caught four passes for a game-high 72 yards and a touchdown, and he intercepted two balls on defense.

Having a multi-faceted weapon like Dick on the field is pivotal at this time of the year, a fact that wasn't missed by Johnny Aylward.

"Kev's an outstanding player and a great athlete," Aylward said. "He's just a gamer no matter what the situation is. You can always rely on him to make a play."
November, 9, 2013
11/09/13
11:46
PM ET
By
Chris Bradley
| ESPNBoston.com
TEWKSBURY, Mass. – When Mike Decaro broke up the middle for a 91-yard Gloucester kickoff return in the third quarter, all Tewksbury (9-0) coach Brian Aylward could do was shake his head and stare from the sideline.

The return gave the Fishermen a 17-14 lead, but Aylward was confident, as he has been all season long, that his team's hard work in the offseason wouldn't soon go to waste. The result: a 28-25 victory for the Redmen in one of the most thrilling games of the MIAA football tournament.

"Vince Lombardi always said 'the harder you work, the harder it is to surrender.' You've got to dig deep into the 95 degrees in July and August when you're making all kinds of sacrifices to be down here lifting weights and running," Aylward said. "You're gonna need it at some point in November, and we talked about that through the summer."

"We dug in deep when we needed to. I'm proud of the kids, we've got good leadership. The whole boatload of them did so much work that they were ready to keep fighting."

The Redmen (9-0) were anchored on the ground by James Sullivan, who turned in a tremendous performance, rushing for 103 yards and all four of Tewksbury's touchdowns. Shortly after Decaro's kickoff return energized the Gloucester (6-3) sideline, Sullivan caught a 21 yard catch from quarterback Johnny Aylward to give the Redmen the lead for good.

"They paid a lot of attention to a couple of different sets that we have that confused me a little bit. It wouldn't be the ones I would have picked if I played against me and our team," Aylward said. "We settled into a couple things that we thought would work —- get upfield and inside. We usually go inside-outside and do some throws, but they pressed pretty good on the outside -- we were able to get one on the outside to Sully."

Gloucester held a 10-7 lead going into halftime, thanks to a 26-yard field goal by Eli Horne and some big runs from bruising fullback Jon Good (15 carries, 100 yards).

The Fishermen had the ball to start the second half, but were forced to punt following a three and out. The snap was far over Jordan Pallazola's head, with a fumble as the result. Following the turnover on downs, Tewksbury found themselves with the ball on the Gloucester six yardline. Sullivan took care of the rest on the next play, running in the six yard score.

"They're a tough team, they've always been known to fight -- they're all tough. We just had to keep grinding it out, we had some things go wrong but it's the playoffs; it's all about adversity and fighting through it," Sullivan said.

Sullivan added one more score after his TD catch and Decaro's kick return, but Gloucester put one last drive together to makes things interesting at the end of the game. The Fishermen went to John Curcuru for his first carry of the game, bringing in a 46-yard touchdown and converting a two point conversion. Ultimately though, their final effort came up just short.

Tewksbury will move on to play Marblehead next week, but don't expect Aylward to alter the gameplan much. With several athletic weapons on the ground, the Redmen will bring a fast-moving attack in hopes of advancing further.

"We've got a lot of guys that put in the work and have been blessed with some ability. We can kind of play to whoever the hot hand is...We've been trying to play it that way," Aylward said. "They were tough up front, they did some things that kind of threw us out of sync with what we normally do."
October, 31, 2013
10/31/13
4:21
PM ET
EDITOR'S NOTE: Picks for Western Mass. are omitted, as the district concludes its final week of regular season this weekend)

Brendan Hall
ESPN Boston High Schools Editor

Division 1 North: Everett
Plain and simple, I just don't see John DiBiaso getting outcoached in this field.

Division 1 South: Attleboro
One of several surprise picks I'm going to lay down here. The Blue Bombardiers' program has long been a sleeping giant, and they've finally awoken this fall with a slew of skilled athletes, including quarterback Tim Walsh, tight end Luke Morrison, receiver Brenden Massey and promising young two-way lineman Kyle Murphy. The key may be junior Damon Belin, a speedy pass-catching running back who is elusive in space.

Division 2 North: Haverhill
Hard to think just two years after an 0-11 campaign, the Hillies are the No. 1 seed in a playoff tournament. Sophomore running back Ian Kessel, one of the area's leaders in yards from scrimmage, has been at the forefront of the renaissance, and I expect him to have a breakout campaign this next month.

Division 2 South: Natick
If there is one player capable of carrying his team on his back, it is quarterback Troy Flutie, who has put up video game numbers yet again (2,500-plus yards, 35 TD) with an assortment of supporting cast members.

Division 2 Central: Leominster
This is the most talented team of Dave Palazzi's tenure, and it may be his best coaching job yet. They are not the most physically intimidating team, but they are one of the most disciplined, and they squeeze every inch out of their talents, led by dual threat QB Neil O'Connor. The Blue Devils brought the biggest crowd ever to Gillette Stadium two years ago. I can only imagine what kind of caravan from this football-mad city would show up this year.

Division 3 Northeast: Tewksbury
There may be some bumps in the road in this field, but at the end of the day there isn't a team as deep as the Redmen in this field. They were the most dominant team in the MVC this season, and with a stable of running backs led by James Sullivan and Eddie Matovu, along with a scheme that draws formations from seemingly every family of offense throughout history, I just don't see how anyone knocks these guys off.

Division 3 Northwest: Arlington
Two Dubzinskis are better than one, and the father-son duo of head coach John Jr. and his father John Sr. as defensive coordinator has taken the Middlesex by storm this fall after showing promise a year ago. I don't know what direction this bracket is headed in, but the Spy Ponders are a safe pick.

Division 3 Southeast: Plymouth South
As long as Dylan Oxsen is carrying the rock, I don't see anyone but the Panthers taking this bracket. It's a different story after that, though.

Division 3 Southwest: Walpole
The Rebels' ground game has come along well, after hitting a few bumps. As long as the defense can hold up, their multi-dimensional stable of backs can do the rest.

Division 4 North: Bedford
Another field that can go in an assortment of directions, the ground game dictated by Olan Abner could be the difference.

Division 4 South: Dennis-Yarmouth
The Dolphins typically hit their stride in the second half of the season, and the way this offense is clicking, it's going to take a flawless defensive performance to shut down Spencer Tyler, Michael Dunn and company.

Division 4 Central: Doherty
Twitter follower and familiar 98.5 The Sports Hub caller "Aidan From Worcester" guarantees Shepherd Hill beats Doherty in this bracket. The Rams are a dangerous bunch, but the Highlanders have arguably the best grouping of pure athletes statewide across Division 4, so I'm sticking to my gut.

Division 5 North: Bishop Fenwick
Rufus Rushins gets much of the glory in this dominant run for the Crusaders, and deservedly so, but quarterback Nick Bona is the catalyst of this offense, and will be the difference in a close game somewhere down the line.

Division 5 South: Abington
The Green Wave lost some key bodies to start the year, but have been rolling ever since, capped with a convincing 36-7 rout of East Bridgewater. The versatile backfield of Al Freeman, Jason Halpin, quarterback Bryan Dwyer and promising sophomore Shawn Donovan will wear front sevens down.

Division 5 Central: Leicester
Tom Rodrick has been the driving force on both sides of the ball, but quarterback Drew Mazzeo puts the Wolverines over the top.

Division 6 North: Latin Academy
There are trendier picks in this field, such as Boston Cathedral, but the Dragons have one of the better overall athletes in this field in quarterback/safety Kyle Dance. He will be the difference.

Division 6 South: Upper Cape
Mike Hernon has done a fantastic job with this program, and while the Rams are a low seed headed into this wide-open field, Jon Dumont is a dangerous asset to this triple-option scheme who can take them deep.

Division 6 Central: Blackstone Valley Tech
Nic Wojnar is as elusive with his feet as he is throwing the ball in the Beavers' read option scheme. Expect big numbers from the senior this postseason.

***

Scott Barboza
ESPN Boston High Schools Editor

DIVISION 1 NORTH: Lowell
I've gone on record since the summertime months saying the Red Raiders are making an appearance at Gillette Stadium this year. Lowell has a tough road there, staring with a first-round road game at St. John's Prep in the No. 4 vs. No. 5 swing matchup, but I've like the strides this defense has made behind Alex Quintero and Shyheim Cullen.

DIVISION 2 NORTH: Haverhill
One of the tougher races to project in Eastern Mass., the Hillies enter as the No. 1 seed. Preseason favorite Reading, a buzz worthy Waltham team and old stalwarts Lincoln-Sudbury could all claim the prize, but I'm going with the upstart Hillies, vindication for the terrific job Tim O'Connor has done since taking over the program.

DIVISION 3 NORTHEAST: Tewksbury
Marblehead might have the best athlete in the field with two-sport standout Brooks Tyrrell, but Tewksbury proves too much to handle, with a three-headed rushing attack and a stout defense.

DIVISION 3 NORTHWEST: Melrose
The Red Raiders lone loss of the regular season came against Middlesex Freedom division rival Wakefield, coming on a late field goal, but I like Melrose the second time around. The teams couldn't meet until the sectional final and who wouldn't love ensuring a third meeting of the season by Thanksgiving rivals.

DIVISION 4 NORTH: Watertown
Perhaps a surprise pick coming out of the division, the Red Raiders have some athletes on the boundaries with T.J. Hairston. I think Bedford might be the team to watch here, but just playing a hunch.

DIVISION 5 NORTH: Bishop Fenwick
Pick the Crusaders to go all the way, on a tear through Gillette. They haven't just beaten teams, they've annihilated the CCL's best, including St. Mary's (first-round opponent) and Austin Prep, which they both will/can see down the road.

DIVISION 6 NORTH: Cathedral
Another North-based team I have running the field. As I mentioned earlier in the state championship Roundtable, I think the Panthers are just hitting their stride now. This could be the second championship of more to come.

DIVISION 1 SOUTH: Xaverian
Almost wanted to pull the trigger and go with Bridgewater-Raynham here, but I think the Hawks' defense, which has carried them through the regular season, continues to be the story in the postseason, leading them to Gillette.

DIVISION 2 SOUTH: Mansfield
If this were the World Cup, this would be referred to as the "Group of Death." Seriously, whichever team survives this gauntlet will be battle-tested. Ever since Week 1, it seems as though Mansfield's been a team of destiny; they follow through.

DIVISION 3 SOUTHEAST: Plymouth South
An intriguing bracket, littered with some of the Atlantic Coast League's finest, so look no further than the Panthers, the league's playoff representative from last season. Nauset and Plymouth North are lurking, but also don't look past an underrated rivalry game between Somerset-Berkley and Dighton-Rehoboth as a first-round appetizer.

DIVISION 3 SOUTHWEST: Oliver Ames
Another division strongly influenced by the presence of one particular league, in this case the Hockomock. OA and Stoughton drew the top two seeds, but let's not sleep on No. 4 seed North Attleborough, which plays up in the Kelley-Rex division. Whichever team emerges from the Red Rocketeers' first-round duel with Walpole could be a dark horse for the sectional title.

DIVISION 4 SOUTH: Westwood
Tons of Tri-Valley League talent to go around here, but I'm sticking with the regular-season champion. It wouldn't shock me in the slightest if Dennis-Yarmouth wears the sectional crown, but the Wolverines are a team that simply seems to get it done when the chips are on the table, led by dynamic senior quarterback Bo Berluti.

DIVISION 5 SOUTH: Cardinal Spellman
Old Rochester Regional enters the tournament with the No. 1 seeding, having posted some gaudy offensive numbers throughout the year behind running back Richie Phillips. I picked the Cardinals to win the state title from the start of the season, and while I like Fenwick a little more in terms of the state championship, I still envision Spellman returning to Gillette.

DIVISION 6 SOUTH: Millis/Hopedale
Perhaps no injury will have a greater impact on the outlook of the division than that of the Mohawks and lineman Jon Baker. Granted, I still like M/H's chances emerging from a wide-open field, thanks to running back Chris Ahl. That being said, the Mohawks' first-round date with Mashpee could determine the sectional champion.

DIVISION 2 CENTRAL: Leominster
I like the Blue Devils to advance to Gillette, but the sectional field is fraught with peril, too. Marlborough and St. John's (Shrewsbury) can score with the best of them, but I don't think anything short of an act of god slows down the Leominster caravan.

DIVISION 4 CENTRAL: Doherty
From season's start, I've tabbed the Highlanders as my statewide Division 4 championship favorite. However, the toughest matchup in the path might very well in their first-round test against No. 6 seed Quabbin.

DIVISION 5 CENTRAL: Leicester
Coming into the season, it would have been easy to project Auburn running away with another championship of sorts, but I'm going with the No. 1-seeded Wolverines, led by linebacker Tom Rodrick – a strong Defensive Player of the Year candidate.

DIVISION 6 CENTRAL: West Boylston
This is a case of what have you done for me lately? While No. 1 seed Littleton rolled through its Mid-Wach schedule undefeated, scoring at a clip of nearly 43 points per game, West Boylston notched a thorough win over previously mentioned Leicester two weeks ago. Granted, the Lions' lone loss of the season came at the hands of Littleton, but after a one-possession loss in Week 1, I'm banking on the second meeting having a different outcome.
October, 19, 2013
10/19/13
12:28
AM ET
By
Ryan Kilian
| ESPNBoston.com
TEWKSBURY, Mass. –- With the lights shining bright, for the first time in Doucette Stadium, it would be business as usual for the hometown Tewksbury Redmen on Friday night.

Tewksbury (6-0) secured their third consecutive Merrimack Valley Conference Division 2 title as they defeated Haverhill 28-14 in the first ever night game played in the history of Doucette Stadium.

The Redmen brought in the portable lights for the "Friday Night Lights" event and the players responded, coming out strong on their opening drive of the game.

The 12-play, 70-yard drive was capped off by a 5-yard touchdown pass from quarterback Johnny Aylward to fullback Tom Casey, out of the backfield, to give Tewksbury a 7-0 lead with four minutes remaining in the first quarter.

Haverhill would respond with 7:57 on the clock in the second quarter, as running back Ian Kessel scored to tie the game at 7-7. The sophomore showed off his speed and explosiveness on the 14-yard touchdown run that concluded an 85-yard Haverhill scoring drive.

Kessel's touchdown was set up by a beautiful 33-yard completion from quarterback Shane Finn to wide receiver Piero Garcia. Kessel rushed for 43 of his team-high 65 yards on the scoring drive.

"They are a strong team up front," Tewksbury head coach Brian Aylward said of Haverhill's offensive line. "They have three very good backs and have a lot of good, hard-nosed kids."

Tewksbury would regain the lead on the following possession, as they would execute another 70-yard scoring drive that Casey would complete, as the junior took it in from three yards out to give Tewksbury a 14-7 lead with 3:23 remaining in the half.

Key Moment: With time running out in the first half Tewkbury backed Haverhill up deep in their own territory and forced a punt that gave the Redmen favorable field position at the Haverhill 27 yard line with 2:47 remaining in the half.

James Sullivan (124 rushing yards) would capitalize on the short field, as the junior running back would take it in from two yards out, with 1:17 on the clock, to give Tewksbury a 21-7 lead that they would take to the half.

"That was huge," Aylward said of the final scoring sequence. "It ended up being real huge with how the second half played out. That was a critical time there. We were pretty conservative right there with the timeouts and we have a tremendous amount of respect for that coaching staff at Haverhill."

Both teams would exchange fourth quarter touchdowns as Johnny Aylward tossed a 38-yard touchdown pass to Kevin Dick for Tewksbury and Kessel would run in another touchdown (18 yards) for Haverhill, as both teams turned up the defensive intensity and limited each other's scoring opportunities in the second half.

Winning Balance: With the win the Tewksbury continued to show a balanced team approach of using a strong running attack, timely passing, strong special teams and a staunch defensive effort.

Tewksbury is now averaging 35 points per game and has outscored their combined opponents 206-82 through their first six wins.

"All around I think our guys made plays when we needed to make plays," Aylward said. "Special teams too; I thought they made some great plays on the kickoffs."

The defensive effort and the running game (280 yards rushing) were the stories all night as both factors seemed to eventually wear down the big and strong Haverhill front lines.

Haverhill received strong defensive performances on the night from seniors Michael Kwegyir-Attah (2 Sacks) and Matt Burns.

Tewksbury middle linebacker John Saunders was everywhere for the Redmen on the night as he patrolled the field, going sideline-to-sideline, and exploding through the line to tackle Haverhill ball carriers.

Eddie Matovu also had a big game for the Redmen on both sides of the ball as he had 70 yards rushing on the night along with a strong defensive performance in which he held the edge all night from his outside linebacker/rover position.
October, 15, 2013
10/15/13
10:54
PM ET
By
Brendan Hall
| ESPNBoston.com
Here is our latest "Mr. Football Watch" following Week 6 of the 2013 season. Statistics can be sent to editors Brendan Hall (bhall@espnboston.com) and/or Scott Barboza (sbarboza@espnboston.com)

THE CONTENDERS

Troy Flutie, Sr. QB, Natick
Completed 15 of 22 passes for 325 yards and five touchdowns, with no interceptions, in the Redhawks' 42-10 win over Dedham.

Brandon Gallagher, Jr. RB, Bridgewater-Raynham
Ran for 232 yards and a score, and added a 70-yard touchdown reception, in a 27-7 win over Dartmouth.

Hayden Murphy, Sr. RB/WR, Barnstable
In the Red Raiders' 29-20 comeback win over Marshfield, carried 12 times for 116 yards and a touchdown, and caught two passes for 74 yards and another score.

Neil O'Connor, Sr. QB, Leominster
Accounted for a season-high 359 yards of offense (287 passing, 72 rushing) and two scores in the Blue Devils' 47-26 win over Doherty.

Dylan Oxsen, Sr. RB, Plymouth South
In the Panthers' 27-7 win over Nauset, carried a personal record 37 times for 243 yards and four touchdowns.

Mike Panepinto, Sr. RB, Needham
Carried 18 times for 132 yards and a score in the Rockets' 21-0 shutout of Braintree.

Rufus Rushins, Jr. RB, Bishop Fenwick
Ran for 80 yards and a score in the Crusaders' 48-18 rout of Austin Prep.

Andrew Smiley, Sr. RB, St. John's (Shrewsbury)
Completed 19 of 33 passes for 243 yards and two touchdowns in the Pioneers' upset loss to cross-town rival Shrewsbury.

Cody Williams, Sr. QB, Springfield Central
Completed 12 of 17 passes for 232 yards and three touchdowns in the Golden Eagles' 40-12 rout of Minnechaug.

Ju'an Williams, Sr. WR, Springfield Central
Caught five passes for 69 yards in the Eagles' win over Minnechaug.

Kyle Wisnieski, Sr. QB, Mansfield
Completed 13 of 15 passes for 240 yards and two touchdowns in the Hornets' 47-8 rout of Taunton.

FIVE ON THE RISE

Matt Banchs, Sr. FB/LB, Leominster
In the Blue Devils' win over Doherty, recorded 22 tackles and two sacks, and also added 40 yards rushing with a score on offense. Banchs is slowly rising as one of the top defensive players in Central Mass.

Christian Carr, Jr. RB, Plymouth North
In the Eagles' 33-6 win over Falmouth, carried 35 times for 254 yards and four touchdowns, giving him over 700 yards rushing on the season.

Mike Maggipinto, Soph. RB, East Longmeadow
Carried 20 times for 259 yards and five touchdowns in the Spartans' 40-34 win over Springfield Putnam. He currently leads all Western Mass. running backs in rushing touchdowns (13).

James Sullivan, Jr. RB/DB, Tewksbury
Collected three of the Redmen's four interceptions, while adding 75 yards on nine carries with a touchdown on offense vs. Methuen.

Miguel Villar-Perez, Jr. RB, Mansfield
Caught three passes for 95 yards and a touchdown in the Hornets' 47-8 win over Taunton. Through five games he has 575 yards of offense as a pass-catching running back, with eight touchdowns.

TOP STATISTICAL LEADERS IN MASSACHUSETTS

Rushing
Mark Wright, Sr., Auburn – 950 yards, 11 TD
Brooks Tyrrell, Jr., Marblehead – 931 yards, 9 total TD
Chris Ahl, Sr., Millis/Hopedale – 895 yards, 11 TD
Dylan Oxsen, Sr., Plymouth South – 852 yards, 14 total TD
Zered McCoy, Sr., Ware – 843 yards, 5 TD

Passing
Dylan Kierman, Sr., Quabbin – 1,680 yards, 17 TD
John Rumney, Sr., Marlborough – 1,372 yards, 17 TD
Troy Flutie, Sr., Natick – 1,360 yards, 22 TD
Matthew Jeye, Sr., Holliston – 1,298 yards, 13 TD
Ryan Barabe, Jr., Pope John Paul II – 1,255 yards, 14 TD

Receiving
Zach Elkinson, Jr., Holliston – 513 yards, 14 total TD
Jake Bradway, Jr., Belchertown – 489 yards, 7 TD
Brian Daly, Jr., Marblehead – 487 yards, 10 TD
T.J. Hairston, Jr., Watertown – 472 yards, 5 TD
Jack Galvin, Sr., Lowell – 438 yards, 8 TD
October, 15, 2013
10/15/13
1:02
AM ET
In the past two years, Plymouth South senior running back Dylan Oxsen has more than carried the load for the Panthers. But, even in a string of tough-nosed performances, Oxsen may have outdone himself in Friday's 27-6 win over Atlantic Coast League rival Nauset.
Oxsen ran for 243 yards and four touchdowns on 37 carries against the Warriors. Even more impressive is the fact that Oxsen put up those numbers after missing the Panthers' previous game with an ankle injury.
For his efforts, Oxsen was named our Player of the Week, presented by Sports Authority and the Bay State Games.
Editor Brendan Hall caught up with Oxsen for this interview Monday:
Including Oxsen, here are the Top 5 performances from Week 6:
Dylan Oxsen, Sr. RB, Plymouth South - Ran for 243 yards on 37 carries with 4 TD vs. Nauset.
Joe Gaziano, Jr. DL, Xaverian - Put on a defensive clinic with four sacks, two tackles for loss along with an interception vs. Brockton.
Peter Graves, Sr. DE, Milton Academy – 4. 5 sacks, blocked punt (returned for touchdown) vs. Roxbury Latin.
Dana Parello, Sr. QB, Waltham – Racked up 270 offensive yards (150 rushing, 120 passing) and also pocketed an interception in the Hawks' shut-out win vs. Lincoln-Sudbury.
James Sullivan, Sr. RB/DB, Tewksbury – Collected three of Redmen's four interceptions, while adding 75 yards on nine carries with a touchdown on offense vs. Methuen.
October, 13, 2013
10/13/13
12:17
AM ET
By
Brendan Hall
| ESPNBoston.com
TEWKSBURY, Mass. -– The cold rain just couldn't cool off Tewksbury's dominant defense on Saturday afternoon.

After pitching a shutout in the first half, the Redmen held steady in the second—knocking off a talented Methuen Rangers squad 41-14 on Homecoming weekend at Tewksbury. James Sullivan was the star of the afternoon for the Redmen, pulling in three interceptions off of Methuen quarterback Austin George-Williams (10-14, 158 yards 1 TD, 4 INT). Ryan Bednarik also had in INT for the Redmen.

"Sully did great, he's one of those guys that you see growing up as a kid that he has the potential to be very good if he has the right kind of work ethic and the right kind of character -— he's got all of that," Tewksbury coach Brian Aylward said. "He's a great kid to be able to coach, he can do everything that we have to do in a football game: he runs hard, he blocks hard, he's 100 miles an hour in practice all the time."

While Aylward praised his star junior, Sullivan downplayed the big day like it was just another day at the office.

"Getting into your reads, getting depth, and just making a play on it. We preach that all time, we preach that all week, and I just trusted my reads and everything worked out," Sullivan said. "I was getting calls from the sideline that they were probably gonna pass, probably play action, so I kind of knew it from the start and he happened to run where I was -— just made a play on the ball."

The Redmen were led offensively by quarterback Johnny Aylward (9-11, 88 yards 3 TD) and running backs Tom Casey (5 carries, 64 yards, TD) and Sullivan (9 carries, 75 yards, TD). Aylward got things started in the first quarter, running it in from the Methuen two yard-line to put Tewksbury on the board first. Soon after George-Williams' interception to Sullivan, Sullivan helped anchor a drive downfield, punching in a touchdown to give Tewksbury a commanding 14-0 lead.

Before halftime, Aylward extended the lead when he threw a touchdown pass to John Saunders to give the Redmen a 21-0 lead after two quarters.

Methuen responded early in the third quarter on a touchdown by Brian McAndrew to cap off an 11 play, 75 yard drive. However, Aylward and the offense came back quick, as the quarterback strolled into the endzone minutes later to help build what seemed to be an insurmountable lead. After an Aylward fumble on the next drive, Sullivan intercepted a George-Williams pass. Casey took care of the rest, running it in from 15 yards out.

"I think a lot of it had to do with different kinds of things we were doing, we were trying to run a couple things every week that we hadn't run before, so when I tell ya I don't know what we're going to do next week...I don't," Aylward said. "I'll critique myself more than anything else before we move on to next week. I thought we got a big conservative, and [Methuen] had a lot of firepower to get some points on the board quickly. They have good, hard-nosed kids."

Going up against one of his own former assistants, Methuen head coach Tom Ryan, the older Aylward admitted it was a bit of a trip around memory lane. Aylward joked that since he and Ryan used to wake up at 6:30 on the morning of every game day to work out together, he laughed that he almost extended the invitation for old-times' sake.

"He's a good friend. We've been through so many battles, and we've gone through all the prep work together," Aylward said. "I told him this morning I was gonna give you a call at like 6:30 this morning and say 'hey, you wanna get a lift in before the game?' He laughed at that."
September, 7, 2013
9/07/13
1:09
AM ET
By
Ryan Kilian
| ESPNBoston.com
CHELMSFORD, Mass. – It was the "James Sullivan Show" in Chelmsford on Friday night as the senior running back did it all for Tewksbury, rushing for 90 yards, with two touchdowns, one interception, and a big sack, as the Redmen defeated the host Lions, 27-6, in a Merrimack Valley Conference crossover game.

Chelmsford (0-1) would strike first early in the game as quarterback Jack Campsmith would lead the Lions down the field and find Nick Philippon on a screen pass for a 26-yard opening touchdown. A penalty on the ensuing point after try would lead to a blocked second try, giving the Lions a 6-0 lead with 5:26 remaining in the opening quarter.

Tewksbury (1-0) would answer back as Sullivan would cap off seven-play, 74-yard drive by taking it in from six yards out for the first of his two rushing touchdowns on the night. The conversion kick was muffed to knot the score at 6-6 with 3:12 remaining in the first quarter.

Tewksbury would add another score before the end of the first half as Sullivan would score his second on a 10-yard scamper to give the Redmen a 12-6 lead at the break.

Tewksbury would score first in the second half on Sullivan's second touchdown of the game from three yards out and never look back as they controlled the line of scrimmage, dominated the early down plays and used a combination of speed and aggressiveness to seal the win.

"I think the defense was the story tonight with the running game," Tewksbury head coach Brian Aylward said after the game.

When asked about his team's success on early downs Aylward stressed the importance of owning the first downs.

"I think that is huge," Aylward said. "I have a tremendous amount of respect for Coach (Bruce) Rich and certainly since I have been coaching against him I have learned as much about coaching as any of the coaches I have coached against. If you give them those short second-and-five downs, they will own you."

Sullivan also stressed the importance of team defense in controlling the tempo of the game.

"Our defense was real young last year and we learned a lot over the course of the season," Sullivan said. "We are a lot more mature and experienced this year and everyone really just executed their assignments, made the plays and we did it together."

Balance and Toughness: Tewksbury controlled the time of possession behind the running attack of Sullivan, Eddie Matovu (81 yards) and Tom Casey as they ran between the tackles to keep the chains moving and each other fresh all night.

"If we are going to be good we are going to have to get it from all of them," Aylward said of his stable of backs. "The teams we play are too good and the coaching staffs that we play against are too good to be beaten by a one trick pony."

Sullivan did the bulk of the work early in the game, followed by Matovu for the majority of the middle quarters, with Casey closing it out on the ground at the end.

"We wanted to pound the C-gap and we just felt it out as they shifted all over throughout the game," Sullivan said. "We have pretty good weapons everywhere so we feel that we have confidence to use everyone."

The Tewksbury line, led by two-way lineman Ethan Eloi also stood out on the evening.

Big Conversions: Johnny Aylward's stats may not tell the entire story but the senior signal caller came up with two of the biggest plays of the game as he used his legs and elusiveness to scramble outside of the pocket and complete two drive-saving passes.

The first came on a fourth-and-eight play early in the second quarter with the game tied at 6-6. Aylward rolled right and found Kevin Dick on a 9-yard sideline-route, toe dragger, for a first down that eventually led to 10-yard Matovu touchdown run.

Aylward would do it again early in the third quarter as Tewksbury led 12-6 with a third-and-long backed up in their own territory. Aylward took the snap, rolled across his body left and found a streaking John Saunders for a 15-yard gain for a critical first down.

Not Enough D'Auria: All-MVC D1 running back Jeff D'Auria of Chelmsford saw limited touches on the evening, despite gaining 61 yards on limited carries. Chelmsford had a difficult time getting into rhythm offensively and thus D'Auria's touches suffered.

"Some of it was situational," Rich explained. "I think we also came out right away and threw the ball well and probably loosened up a little too much out there."

Expect to see a steady dose of D'Auria and the Chelmsford run game when Chelmsford hosts Westford Academy and Billerica the next two Fridays.

"Our M.O. is to run the football and to play action pass off of that," Rich added. "I do not think we were able to execute the play action as we did not run the ball often enough. We have to get better everywhere and we will."

Lekan Banged Up: Chelmsford played for most of the night without the services of senior Co-Captain Devin Lekan. The 6-foot-2, 220 pound defensive end/ tight end is one of the top returning two-way players in the MVC and left big shoes to fill on both sides of the ball in his absence.

"He has been banged up for a couple of weeks now," Rich said. "He did it in an early scrimmage and he has just not been right. He is a great football player and we really need him to be healthy and that certainly hurt us as well."
June, 10, 2012
6/10/12
8:30
PM ET
By
Shawn Myrick
| ESPNBoston.com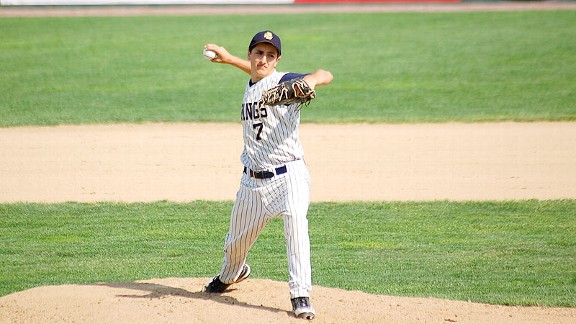 Brendan Hall/ESPNBoston.comEthan Forrest threw a complete-game shutout to clinch East Bridgewater's first Division 3 South title in nearly two decades.
BROCKTON, Mass. -- When starter Ethan Forrest woke up yesterday morning he could barely get out of bed. On Sunday he was unbreakable.
In what was East Bridgewater's fourth game in five days, the junior ace tossed four strikeouts to lead the third-seeded Vikings (18-4) to a 5-0 complete-game sweep of defending regional champs No. 8 Apponequet (14-6) in the Division 3 South finals at Campanelli Stadium in Brockton.
The victory was the first sectional title for East Bridgewater since 1993 as it returns to Brockton at 4 p.m. on Tuesday to play the North champs North Reading (20-4) in the state semifinals.
"I iced, I took it easy, and I came back today and just threw," said Forrest. "I let my arm do the healing. Coach needed someone so I raised my hand and stepped up to the occasion."
The Vikings pulled ahead 1-0 in the third off a low rip by senior Casey DeAndrade. After three straight singles loaded the bases with two outs, DeAndrade knocked the ball into the ground and up off the chest of the second baseman to force a bobble on the throw to first.
DeAndrade went 3-for-4 with two RBI's, while falling one home run short of the cycle. Teammate and freshman Jake Pierce also cracked 3-of-4 for two RBI's and a run.
"I saw our third base coach waving so I thought I had a chance," said DeAndrade. "We have been working hard in the cages so it pays off."
Senior Tim O'Brien swatted a roller up the middle then stole third on a pitch in the dirt to set up the Vikings' second run two innings later. An outfield single by Pierce brought O'Brien home.
"(O'Brien) is just a star athlete," said East Bridgewater coach Pat Cronin. "They are smart base runners. We did not get here by stopping people at third base."
Apponequet put a runner in scoring position during both the first and fifth, but was unable to score.
A double and a stolen base by Zachary Bernard placed the sophomore on third with two out in the first, but Forrest forced a ground out to the shortstop. After a double play to open the fifth, junior Joshua Cabucio knocked a frozen rope over the shortstop to push senior Timothy O'Malley to second.
Forrest again pressured a hit out to the second baseman.
"Single elimination baseball and we never came up with the timely hit," said Apponequet coach Bob Lomp. "We could not string together anything offensively."
East Bridgewater finished Apponequet in its final at-bat with three hits and three runs.
After a balk moved senior James Sullivan to third, junior Brett Palaschak hit a deep right field sacrifice fly for a 3-0 edge. Junior Andrew Benson walked with four pitches then stole second with two outs to set up the 4-0 knock.
A rocket by Pierce was bobbled by a sliding centerfielder to bring Benson home. The following pitch, DeAndrade caught a long drive along the center-field wall to bring O'Brien home, but the senior was tagged out turning third for the final out.
"It was a fastball and I was on my front foot," said DeAndrade. "I just flicked my wrist and hit it well. Coach was waving me and I saw every one up on the stands yelling so I just wanted to score."
Not So Sunny Disposition:
Apponequet starter sophomore Joshua Fickert tossed the entire game allowing 11 hits and striking out five with five earned runs. Despite the sun shining over the backfield press box the entire game, Lomp did not link any of his team's fielding mishaps to the stadium.
"I do not think we played poor defensively," said Lomp. "We have been a pitching and defensive team all year. They just hit some gap balls there."
Day In and Day Out
: The victory was the Vikings' third on the weekend. Forrest pitched six innings in a 5-4 win over No. 6 Dover-Sherborn (15-7) on Friday, while tossing 93 pitches against the Lakers.
"They said 'Coach all we want to do is win today and get to the next game'," said Cronin "(Forrest) was throwing harder in the last inning than he was in the first. When it is your turn to hit, go hit then you just come back and sit in the shade."
October, 7, 2011
10/07/11
11:05
PM ET
By
Adam Kurkjian
| ESPNBoston.com
BILLERICA, Mass. -- At some point, opposing teams and players are going to have to figure out how to keep Billerica junior Matt Clifford from hurting them.

Add Tewksbury to the list of teams he's torched.

For the second week in a row, the wide receiver/defensive back had a huge night on offense, defense and special teams, scoring all three touchdowns in Billerica's 20-14 win over Tewksbury in a Merrimack Valley Conference crossover game.

Clifford caught two touchdown passes, returned a kickoff for a score and also made an interception, putting up nearly 300 all-purpose yards. His 91-yard kickoff return for a touchdown in the third quarter -- his second kick return for a touchdown in as many weeks -- swung the momentum back in the hosts' favor and completed the scoring as the Indians improved to 4-1 overall and 3-0 in the MVC.

Tewksbury fell to 2-3 and 2-2.

"Like I said last week, we were great out here," Clifford said. "Great coaching. We were a little up and down (in the) first half. Second half we came around."

Tewksbury, coming off consecutive wins over MVC Large opponents Andover and Central Catholic, showed grit and ingenuity after losing starting quarterback Kevin Saunders to injury. Running back Chris Bettano (15 carries, 122 yards) had a successful night on the ground, and the Redmen expertly executed two trick plays in the first half, but in the end Clifford and Billerica had a few more weapons.

Some other quick thoughts on this entertaining contest...

No secondary concerns: Billerica has been solid in the defensive backfield the past two weeks. In addition to Clifford, the Indians also got some huge plays from Nick LaSpada (209 yards passing, 2 TDs), Cam Slatton and Jason Ferri. First, Slatton batted away a sure touchdown pass near the left pylon on fourth down to deny Tewksbury from the Billerica 9-yard line at the end of the first half. Then, in the fourth quarter, Ferri dropped Bettano for a 6-yard loss to force a punt. LaSpada then helped seal the win with an interception on Tewksbury's last possession. It was the second straight week LaSpada and Clifford each had an interception.

On the 'Mike': Friday night showcased two of the top middle linebackers in the MVC in Billerica's Brian Thompson and Tewksbury's Derek Tarpey. Each plays with a high football IQ and hits with authority. Tarpey made a big interception of LaSpada in the third quarter to set up a James Sullivan 22-yard touchdown run and Thompson simply made running between the tackles a difficult task for the Redmen for most of the night.

Thompson is listed at 5-foot-11, 210 pounds; and although Tarpey's measurements are not listed, he looks around the same. Each plays with that mixture of intelligence and tenacity you look for in a middle linebacker and strike a little bit of fear in opposing ball-carriers.

Redmen keep you guessing: Good luck trying to game plan for Tewksbury's offense. The Redmen showed a variety of looks and found ways to move the ball in almost every one. The Redmen lined up in everything from the single-wing to the I to the spread and you could almost never figure out exactly what was coming based on formation. Tewksbury scored on a 19-yard reverse pass from Frankie McLaughlin to Kevin Saunders and hit a 63-yard lateral pass from Dean Alves to James Sullivan, both in the first half.

When Saunders went down to injury, the Redmen used two backup quarterbacks -- sophomore Johnny Aylward and junior Zak DiRocco -- in the second half. Tewksbury coach Brian Aylward always seems to have a trick up his sleeve, and it's very difficult to game plan for everything he throws at you.

BILLERICA 20, TEWKSBURY 14

TEW (2-3) 0 6 8 0 --- 14
BIL (4-1) 0 7 13 0 --- 20

Second Quarter
T - Kevin Saunders 19 pass from Frankie McLaughlin (kick failed)
B - Matt Clifford 78 pass from Nick LaSpada (Steven Trask kick)

Third Quarter
B - Clifford 43 pass from LaSpada (Trask kick)
T - James Sullivan 22 run (Chris Bettano pass from Zak DiRocco)
B - Clifford 91 kickoff return (kick failed)